Complete Guide to Wedding Photography Ideas in 2022 & 2023
Publication date:

09/27/2022

Updated:

07/03/2023
Wedding day is a single day and it will pass in the blink of an eye. Your wedding photographs are the only thing you eventually get. If your wedding snaps are meaningful, taken skillfully and thoughtfully, they will cherish the most precious  moments of your 'big day' even throughout the years. What are the most amazing wedding photography poses, advice, and tips? Let's see!
Bride & Bridesmaids Wedding Photography Ideas and Getting Ready Shots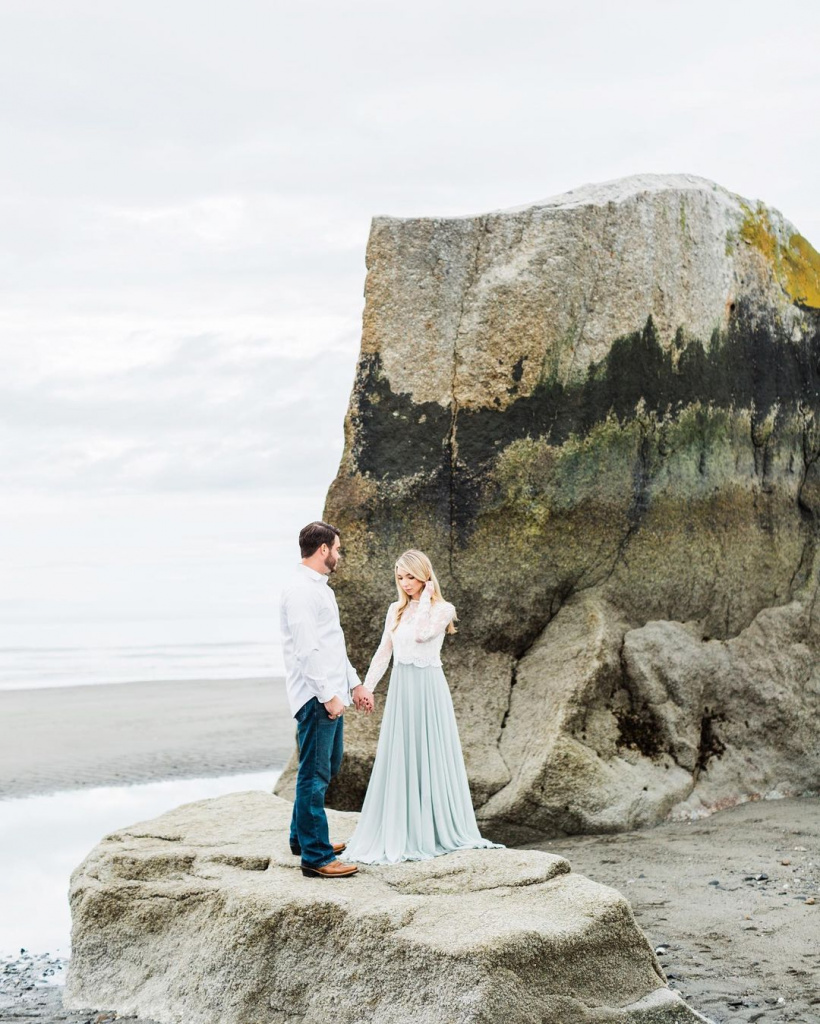 What comes to your mind when you imagine your perfect bridal morning? We want to assure you that there are way more non-standard and outstanding wedding photo ideas than you can imagine! Let's get started!
Beauty Moment | Make-up and Hair

Photo by andrealudwig.at

Well, this part is quite essential if we talk about getting ready photos. A magical moment of a gentle touch is vital to transmit a unique wedding morning vibe and every detail such as a lovely braid, beautiful curls, or cute stylish hairpins.

Robes

Photo by @pablo_laguia

You may choose the robes of the same theme or color and make some cool shots! There are plenty of options to choose from lazy and cozy shots on the bed to fun and emotional dancing snaps.

Gift Moment

Photo by bridetobe.co.nz

You'd probably love to give your bridesmaids 'thank you' presents. They might be a pair of cute earrings or a lovely buckle with a small note. This unique moment has to be captured anyway.

The Dress

Photo by @foolishlyrushingin

Think of a great place for your wedding dress as it's probably the most special attire you ever wear. Although it's beautiful when you put it on, some of the details might be visible only on a hanger.

Admiring the gown

Photo by Abby Luvera Photographer

This photograph must be on your wedding photo ideas list! Your eyes are shining with a desire to wear your special dress yet pause a little on the moment of awe because of its beauty and uniqueness. Touch the lace, pearls, and embroidery with a gentle smile to take some lovely pictures.

Putting It On

Photo by Jaye Avery Photographer

It's such a personal and intimate moment you share only with the ones who are truly special to you. Whether it's your mum, sister, or bridesmaids (or even all of them together), take your time and don't hurry. Let your photographer take these precious shots.

Last Touches

Photo by Brigitte Renee Photographer

Fitting the accessories, and helping with the veil and shoes are also important moments you should enjoy and capture with your dearest or alone.

Mirror Photo

There are quite many options to choose from and the mirror is a romantic way to reflect your morning preparations literally. The right angle and pose matter so trust your photography specialist while taking such pictures.

Bride's Father First Look

Photo by Alicia Yarrish

You can't miss this exciting moment. The emotions of the father and the bride are unique and uncommon, they won't come again!

Looking at the Bride

Photo by Lauren E Bliss Photography

Your bridesmaids may stand around watching your beauty with genuine smiles or candid laughter.
Wedding Details Photography Ideas
At the wedding, all details are important and should be captured and remembered. Here you'll find some wedding photography examples of wedding details and accessories.
Wedding Rings

Photo by @hannahelizabethphoto_

This is the first day when you wear them, so having pretty symbolic meaning your wedding rings are quite important. They might be combined and photographed with other wedding details.

Wedding Rings Box

Don't forget this detail if you've prepared a special one. Remember, it should suit your wedding style and concept.

Engagement Ring

Why don't you give it a go as well? The snap of you holding the engagement ring will bring you back to the day when you said 'Yes' and your decision accordingly led to this special day. Quite cute, isn't it?

Perfume

Photo by @jaymojaymes

There aren't any photos that can capture the scent though a stylish bottle of the perfume you've decided to wear on your wedding day may be photographed beautifully in the morning.

Shoes

Photo by @jillsahner

If your wedding gown is floor-length, you and other people at the wedding won't even see your perfect shoes. Every bride carefully chooses even the hue of her shoes and the model, so it's a bit upsetting. You need to get them photographed!

Invitations and Wedding Cards

Photo by The Ganeys Photographer

Discuss with your wedding photographer if they are going to take such a photo on the wedding day or later in the studio. Provide them with all needed stuff (invitations, cards, envelopes, and so on).

The Veil

Photo by @dovephotography

You will wear this accessory only once in your life, so it deserves enough attention! Don't underestimate the gorgeous photos you can get with it!

Wedding Flowers

Photo by @wildsoundphotography

Your wedding bouquet is the freshest in the morning, at the beginning of the day, and there are never too many shots of it and with it. It accomplishes any type of snap and makes them stunning!

Boutonnieres

Photo by Levana Melamed

They look cool when there are plenty of them but give it a try anyway! Even if you have only a few, allow your wedding photographer to capture them as well and you might be surprised.

Bridesmaids' Floral Bracelets or Bouquet

If your girls have them, you should take some photographs. Floral masterpieces are usually united by one theme or concept and look gorgeous altogether.

Wedding Gown Train

Photo by @carlymphotography

A wedding dress train is a huge source of wedding photography inspiration. If your wedding dress has one, please, pay attention and insist on capturing this beautiful thing. You'll never regret it!

Jewelry

Photo by @ashleyrfondon

You may plan to wear some other pieces of jewelry except for your wedding rings. Afterward, you'd like to see them in the pictures separately as an uncommon set of beautiful things and very special ones.
Getting Ready Wedding Photography Ideas | Groom
As to the groom's wedding photography ideas, they might be of a slightly different style and mood than the bride's ones. Such shots might seem less romantic but they are original and quite important to take to tell a full wedding story!
Chilling Out and Relaxing

Photo by Volodymyr Ivash Photographer

It's just the best way of spending the wedding start for the bridegroom and his mates and accordingly to take some nice relaxed and cool photos. Just enjoy each other's company!

Suiting Up

Photo by Volodymyr Ivash Photographer

It's vital part of preparation. Tying the ties and putting on the jackets must be included.

Cufflinks

Pay your photographer's attention to these accessories and let them take some close-ups if the cufflinks are customized or unique (for example, if something is engraved or depicted on them).

Holding a Glass

Photo by Off Path Photography

Some 'men's' drinks might be associated with the last day as a single or unmarried man. Remember about such an option to take some impressive and fashionable snaps. At the same time, be prepared with some stylish glasses and appropriate drinks (whiskey, scotch).

Toasting the groom

Good drinks, great companions - what else does the groom need? Smile and take a picture!

Laughing and Joking

Photo by BOTTEGA 53® STUDIO

To take such pictures you should try to relax. Ask one of the mates to tell a joke and just behave naturally.

Staged and Serious

Photo by Carmen and Ingo Photography

Funny and relaxed pictures are great but make sure you take at least a small series of serious and staged photos and portraits.

Mirror Final Check

A handsome look, friendly hugs, and shaking hands might seem to look like a fine symbol of your true friendship on this special day.

Buttoning Up the Jacket

Photo by Ira Lippke Studios

Just do it, look up, look down, look at the camera. You'll never regret these simple though exclusive photos.

Near the Window

Dreaming and looking out of the window isn't only for the bride. You're waiting for a new and special chapter in your life. What's on your mind? Only you know and the picture saves the moment.
Bridal Portraits Photo Poses Ideas
Bridal portraits are always considered to be something vital and that's absolutely true! So as not to miss any crucial details of the bride's look, consider our wedding photography guide for the bride!
The Veil

Photo by @hannahbriiphotography

There are quite many of them you are free to take to capture and cherish its gorgeous flowing beauty. You can start with a calm look and hold the veil gently and finish with other more playful photographs.

The Train

Photo by Rafal Ostrowski

Even if you've taken a picture of it as a separate detail, be sure there are way more magnificent wedding photo poses to pick from. For example, a simple lookback may seem just perfect.

The Gown in Detail

Photo by @lexiehand

Let your photographer take more close-ups: a neckline, a design element, a small pearl.

The Back of the Gown

Photo by @summergrace.photo

Being usually invisible (because most of the photos are from the front side), it's so eye-catching, captivating, and unfortunately underestimated sometimes!

In Movement

Try something more extraordinary. You don't have to limit yourself by standing calm. Catch the moment in the movement, such as dancing and twirling.

Formal and Serious

Don't forget about some classic and strict options.

Looking Out of the Window

A dreamy and lovely 'must-have' photo option.

Holding the Bouquet Gently

Photo by @upasanamainaliphotography

It's your opportunity to practice holding the bouquet before the ceremony. Keep it at waist level and smile!

Holding the Bouquet Playfully

Raise your hands and play with the flowers a little, smell them, and throw them but be careful!

Editorial Portrait

This type of wedding photograph presupposes posing like the models in some glossy magazines. To look confident you should relax and trust your photographer!
Wedding Ceremony Photo Ideas
Before the Ceremony

Photo by @upasanamainaliphotography

It's just ideal to capture the perfection of your wedding venue even before guests' first arrivals.

Accents Matter

All the details of the venue have to be in the photos. Being busy all day you may not notice the elements that were accomplished in your perfect wedding ceremony decor.

Car Capture

Photo by @by_matthew

If you arrive at the venue by a retro car or another special means of transport, let it be captured as well.

Groom's Waiting

He will be waiting for the bride before the ceremony, probably stressed and a little worried but that is what he feels!

Bridesmaid's Coming

Photo by @michellebellerjpg

They're like flowers in your wedding garden, your friends and company. So there must be tons of photos of them!

Here Comes the Bride

That's the moment when everyone is excited and happy. The bride's walk to the aisle must be captured in the very best way.

First Look

Photo by @zailaffitte

One of the most touching moments! The emotion is unique and extremely valuable. Take your time, don't come in a rush, and enjoy!

The Vows

Photo by Trin Jensen Photography

Everything should be included: laughter, tears, hugs, and the first kiss afterward.

Ring Exchange

Photo by Adam Hudson Photography

Again, don't hurry and let your photography specialist take enough shots of this intimate and moving part of the ceremony.

Guests Reaction

Yes, yes, and again yes! That's about emotions and candid feelings, so cherish these memories forever!

Ceremony Signing Table

Make it quite visible and your photographer will take a photo of this welcoming place and the bridesmaids and parents waiting there for the guests.

Champagne Time

Photo by @morganaugustaimages

It's time to relax after the ceremony, drink something and meet your guests in person, of course!
Wedding Reception and Party Photo Ideas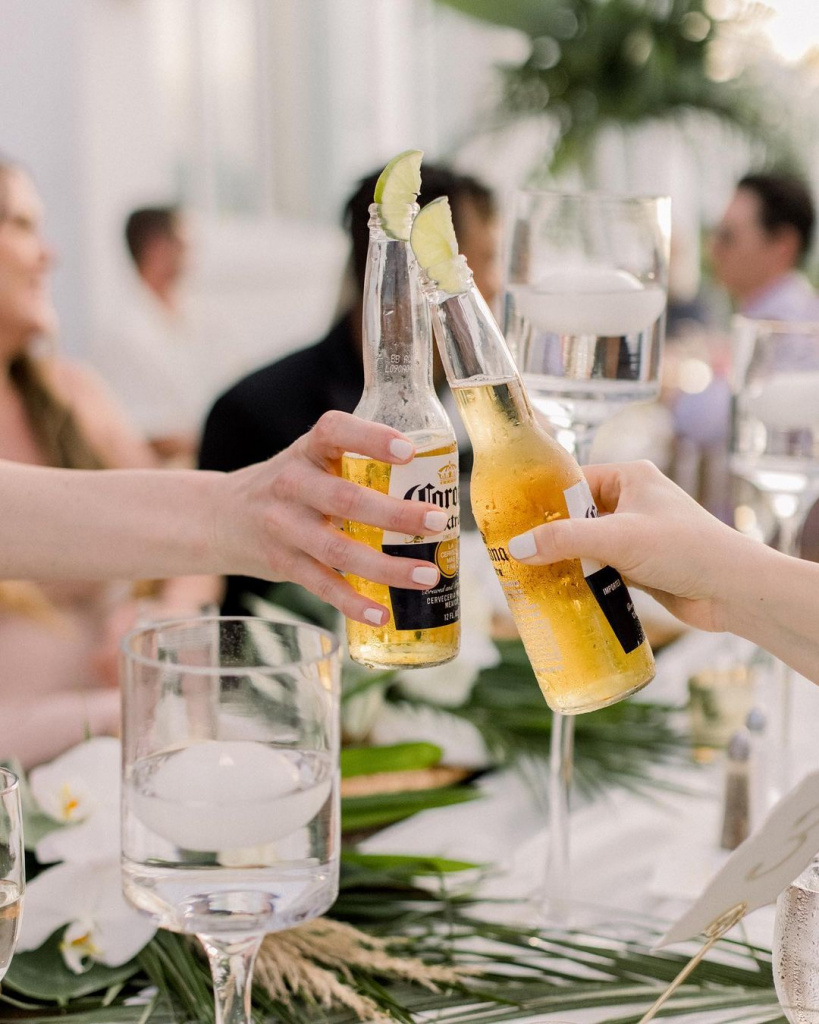 Photos With Guests

Group and individual wedding photo ideas are about standing together and having fun, cheering, and celebrating!

Snacks and Cocktails

If there are any elegant snacks and cocktails you'll be happy to see them in the photos later!
Wedding Party
Simple and Classic Group Photos

Make some usual and common wedding group photos. Just stand in the middle and let your guests surround you.

Natural Vibe

Photo by @michellebeller

Another type of group photo where you're more relaxed, just chatting and feeling good.

Champagne Shower

Photo by @aybeephoto.co

It's creative and fun with a total vibe of celebration and happiness.

Cutting the Cake

Photo by @weddingnovelle

The first thing you do as a couple, so it's definitely worth capturing!

Champagne Tower

Photo by @foolishlyrushingin

First Dance

Photo by Teale Photography

Whereas you can fully cherish your first wedding dance with a perfect video, photos of the dance will show the best seconds and highlights of it.

Dance Floor

In order to get some beautiful snaps, you need to dance with your friends and family!

Bouquet toss

Photo by A Bryan Photo

A symbolic and nice tradition so the key moments are going to be caught!

Photo by @stephanievegliante

The Aerial Picture of the Venue
Candles and Lightning Features
Greenery and Gardens (if there are any)
Outstanding Furniture and Decor
Unique Glassware and Decorations

Everything at your wedding that is personalized somehow is unique and was prepared exceptionally for your day. Therefore, your photographer will need time to capture everything properly.

Wedding Photo Booth

If you're going to have such an attraction, make sure that you fully use it! Pose with your guests, and use the props and backdrops!
Wedding Couple Poses and Photography Ideas
Direct Look and Gentle Embrace

Photo by @photosbysarahmarie

It's a super intimate and soft picture you must have!

Lookback

You walk, hold your hands and look back. It's more than amazing and so simple!

Forehead Kiss

Try this one as it's super gentle and looks so cute in the picture.

Whispering in the Ear

Photo by @hunter.hennes

Just give it a try and you'll see what an awesome photo you'll get! This wedding photo idea gives a mysterious and affectionate vibe.

Hands on the Waist and Around

Embracing each other this way shows your trust and looks so moving. Give it a try!

Looking at You

Photo by @kristencamiellephoto

Try this and change the roles. First, you're looking directly at the camera and your partner at you and vice versa.

Under the Veil

Photo by @kelseyshea.photo

Wedding photo ideas under the veil should be implemented and considered. It's just a must-have wedding photo for you as a couple.

Perfect Sunset Snap

It's a great idea for wedding photoshoots for couples as 'the golden hour' is the perfect time to take flawless portraits due to its dreamy soft light.

On the Shoulder

The pose 'head on the shoulder' is laconic and simple though romantic and touching, so don't miss it.
Crazy and Fun Wedding Pictures
Three Generations in One Photo

A unique photo you may take if there are two or more couples of different generations in your family. This is a creative wedding photography idea that might become your favorite snap! The picture of you, your parents and grandparents standing in a row and doing the same thing, for example, hugging or kissing, seems to be cute!

Funny Grimaces

Making some funny facial expressions isn't the main thing but give it a try as well if you want to make it a little crazier!

Jumping on the Bed

Photo by @emileebrownphoto

Besides romantic and formal portraits try some more outstanding options like this one because it's all about emotions!

Balloons and Funny Props

These things might give some fresh ideas on how to pose and what to do to take some awesome crazy snaps!

Socks

Wearing colorful and patterned socks for the groom and his mates has been a trend in recent years. If you have this element, you should use it for a funny snap!

Fun with Bridesmaids

Photo by @camera_shi

Take your time to have more fun with your bridesmaids and capture some crazy moments together (throw the shoes, and pillows and jump on the bed)! Try to behave in a relaxed way to make the photos natural and playful.
Family Wedding Photo Ideas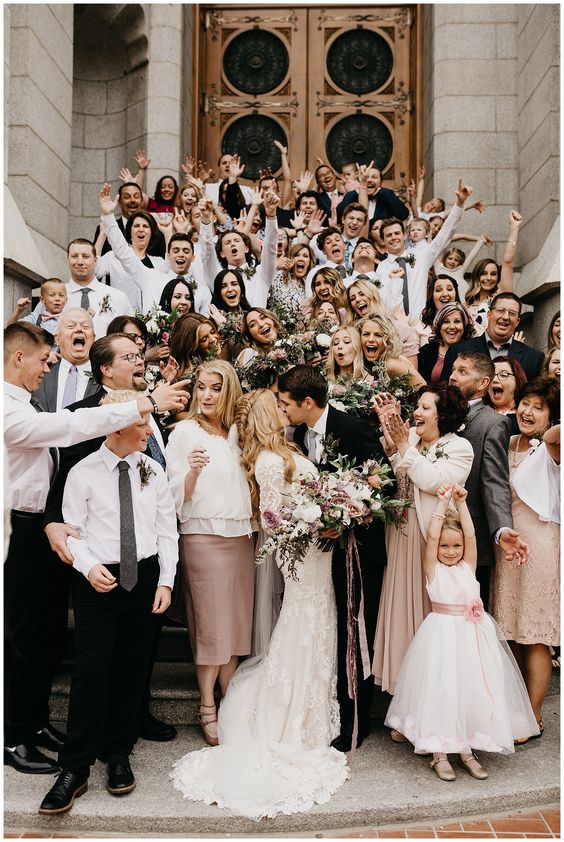 Don't forget to take photographs with all members of your immediate and extended family. It's your 'big day', so all of them must be there:
Parents (both families);
Siblings;
Cousins;
Nieces and nephews;
Uncles and Aunts;
Grandparents;
All Together.
Pay attention to people who traveled long distances to come and visit your wedding, and make sure you've taken enough photographs with them.
Wedding Photos With Kids
You can't imagine anything more adorable than photos with kids at the wedding! So, check and use these ideas!
Flower Girl

Photo by @sidneybischerphotography

You might allow your little guests to feel a part of the celebration and excitement with some small things such as applying a little makeup and involving them in getting ready shots.

Children Under the Veil Photographs

Whereas under the veil couple photo ideas are romantic, these snaps are rather cute and moving.

Mirror Shot

It's cuter than you can think! A little girl adoring the dress and dreaming of her own wedding day is a great idea for the morning photo shoot!

Walking Down the Aisle

Photo by @findinglightphotography

If you pick this idea, you'll not only get impressive and touching wedding photographs but also surprise and amaze your guests, as they will be looking at small cute children at the ceremony in great admiration and delight.

Standing in a Row

Photo by @reneejeanphotography

If kids are wearing similar smart styles, it's a perfect option to take a picture of them together!
Unique Wedding Photos with Your Pets
If you have four-legged friends that play an important role in your life, pay enough attention to them at the wedding as well. You can include them in your wedding pictures!
Getting Ready

Your little friend may be with you during some of the 'classic' getting ready shots and support you!

Pet Accessories

Photo by @bonphotage

Add a unique touch by choosing special accessories such as small tuxedos, a flower collar, a bow tie, or even some lace elements for your furry friends. It looks extremely cute and is a quite cool wedding photo idea!

At Your Feet

Photo by @kathleenmariephoto

A kind of common but needed photo where you're sitting and posing pretty formally and your pet is nestling on the floor.

Playful Shots

Photo by @margaretelizabethphoto

You need to be careful with your wedding attire though you may take some playful and candid snaps of you and your little friend!

Giving a Paw

As a symbol of your friendship and their unconditional love, you might want to take such a lovely picture!

Couple Picture

Photo by @ashleyboyan

Your furry friend now becomes a part of your family and that's how you can show their importance in your life even at the wedding!

A Tip: Make sure that your venue allows pets and inform your photographer about your plans to take such shots.
Last Wedding Touches Photography Ideas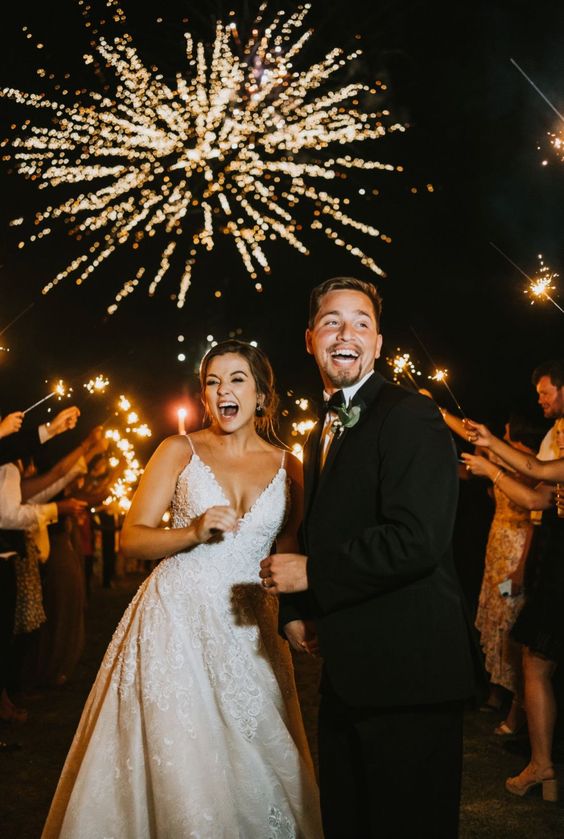 The way and style you finish your wedding aren't less important than the beginning! Choose some of these perfect wedding photography ideas for an unforgettable last-party touch!
The Last Kiss
Watching Fireworks
Starry Sky Night Photo
Bengal Fires Sparkles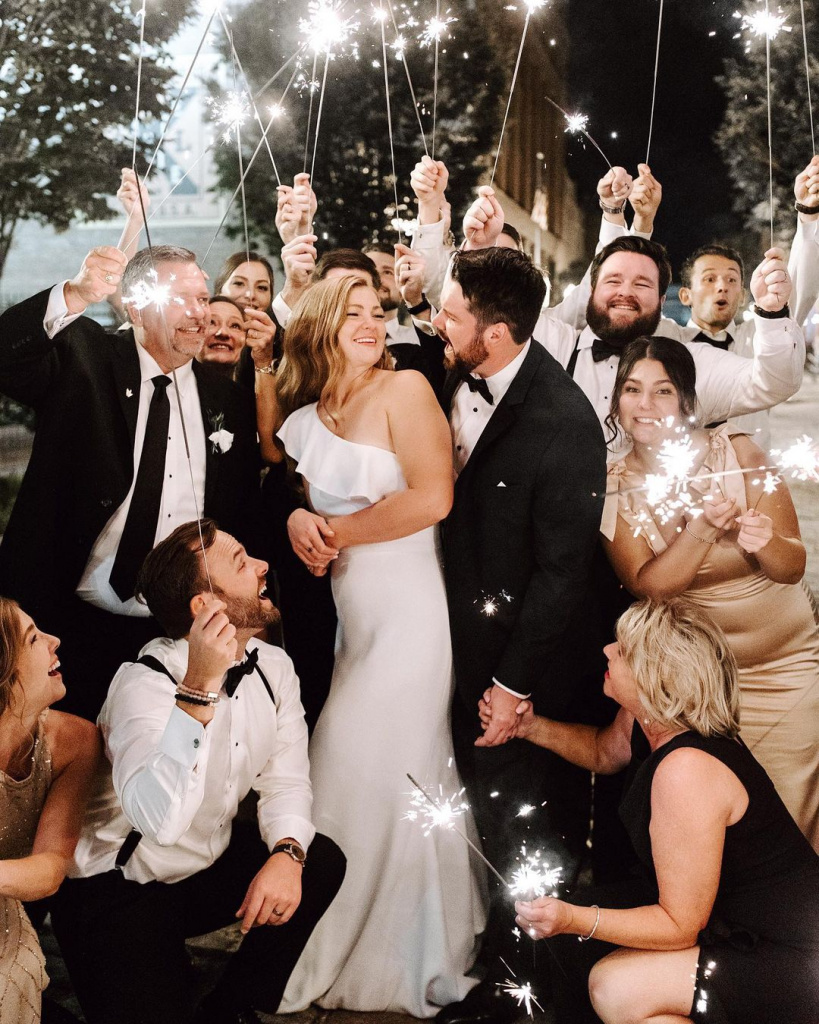 Your guests may form the corridor, holding the sparkles and giving you the way. You're at the center of everyone's attention, walking, smiling, holding hands, hugging and kissing! You have probably seen such wedding photo ideas and they look awesome!
Remember, you may combine two or more ideas just plan it carefully for each event to be captured!