Bridal Fashion Trends in Wedding Make-Up
Your wedding is by far one of the most touching events and you need to be fully prepared. Every detail is vital: your dream dress, great accessories, and, of course, your wedding make-up. All the components should enhance the bride's outfit and fit her style in the most harmonious way. Today we'll talk about the coolest bridal make-up trends.
P.S. You'd better take screenshots:)
Classy Bridal Make-Up Styles
Make-up can enhance the beauty of the bride, and make her look brilliant and unforgettable. By emphasizing any part of the face you can achieve the needed results. Let's see what is trending right now!
Nude Make-Up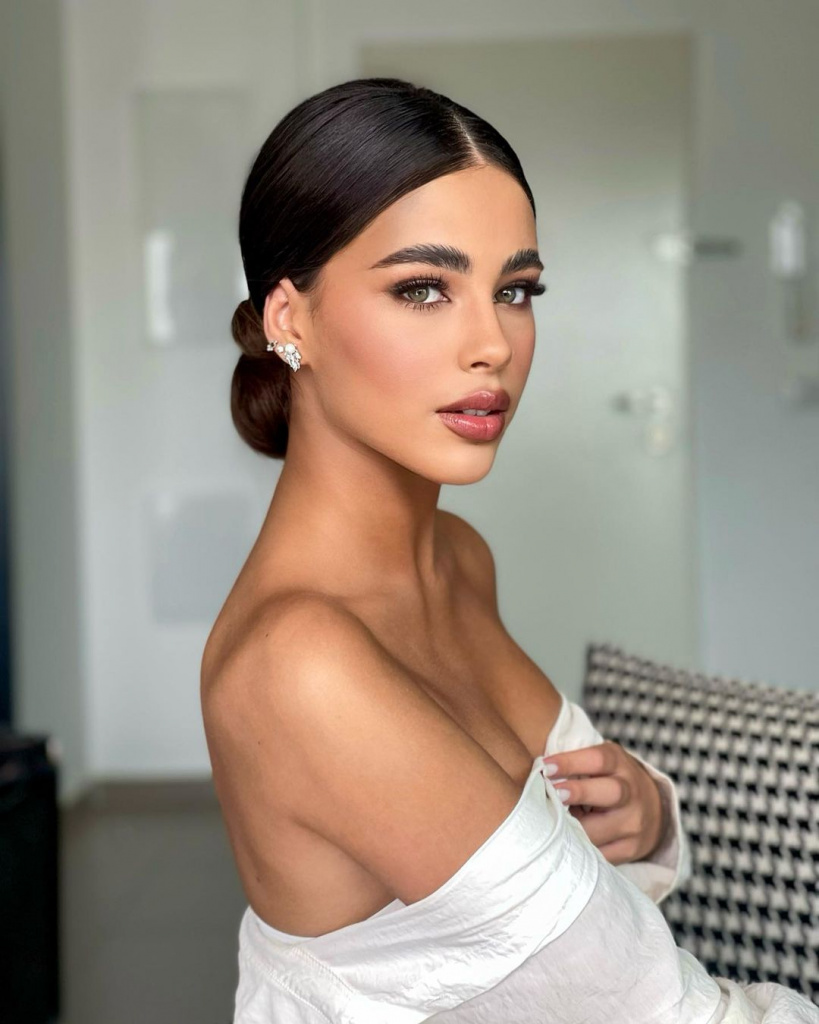 In recent years, the trend of naturalness is taking over every sphere. Wedding make-up is no exception. Many brides prefer light nude shades, which make the face look fresh.
Stylists note that this make-up requires smooth and clean skin. Special attention should be paid to the eyebrows. Fixed with gel they look super trendy.
Also, for the look to be expressive, you need to emphasize the eyelashes. For a fresh-faced effect, apply a small amount of peach blush on the cheekbones, and add some soft shades for the lips.
Emphasize The Eyes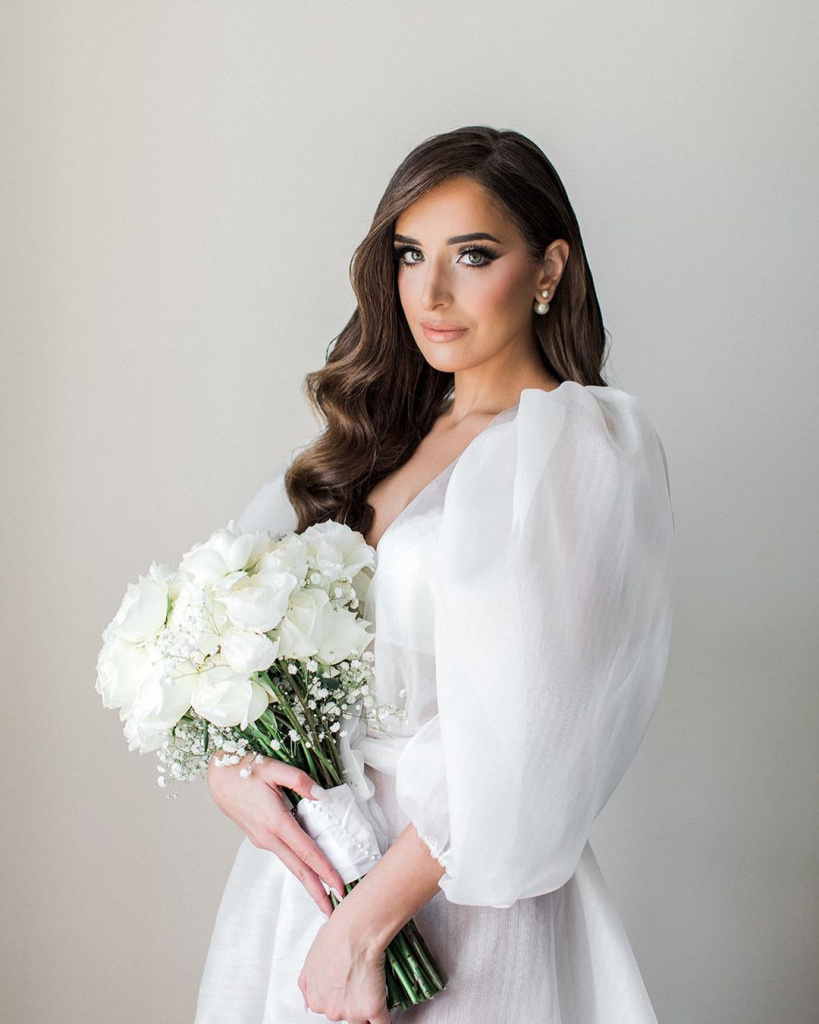 The color of your eyes matters! Pay attention to the list below to choose the appropriate shade for you.
Brown Eyes

Photo by @juliakaptelova_photography

A brown palette is the best bridal make-up look for brown eyes. Apply beige or chocolate shadows on the upper eyelid, and add some shimmering bronze shades on top. Black eyeliner will add expressiveness to your look.

For Blue Eyes

Photo by Heather Anderson Photography

Experts recommend paying attention to warm shades, like peach or light beige for brides with blue eyes. Light brown shadows and brown or black eyeliner can also work.

For Green Eyes

Photo by Nadia Amber Jones Photography

If you have green eyes, peach or nude eyeshadow will be just fine. Emphasize the lower lash line with light brown shadows. Enhance the look with black eyeliner.

For Gray Eyes

Photo by @makeupbycarlyg
Pearl white or light gray shadows are just perfect for gray-eyed bridal make-up looks. Highlight the outer corners of the eyes with a brown shade. Apply eyeliner, as well.
Red Lips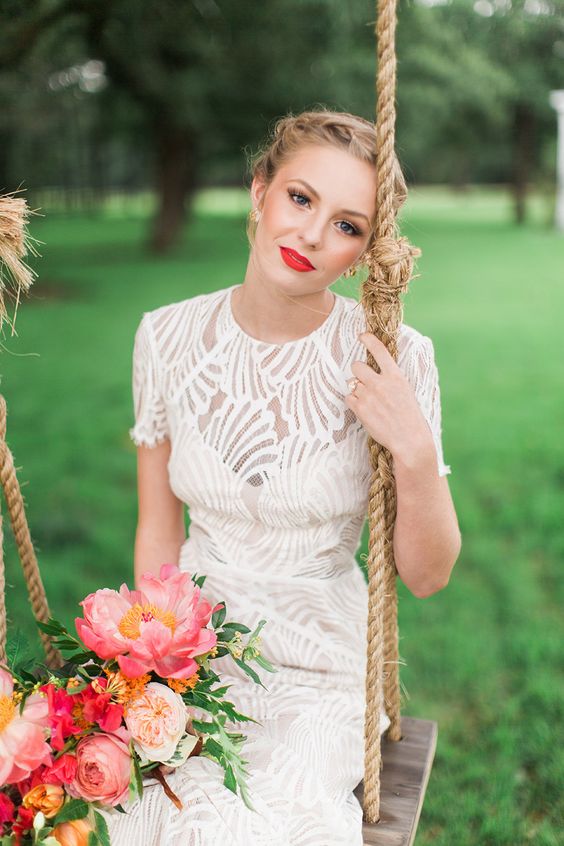 Black arrows and red lipstick are classic beauty bridal trends. There are several tips for choosing the right red lipstick, as it all depends on your skin color. Light porcelain skin usually goes with berry and wine shades. Warm shades of red will suit copper-golden skin. Classic tones of red lipstick, as well as rich dark wines, will suit dark skin types.
All Eyes On Lips
Another bridal make-up trend in 2022 is to point all attention to the lips. However, be careful when deciding on the shade and consult your make-up artist, as not all tones can suit you. Well, for example, brides with blue eyes should rather choose pink color, green-eyed ones should look at warm beige or peach tones of lipstick, and brides with gray eyes can choose plum shades.
Tip: to achieve the effect of smoky make-up, you can blend the shadows both horizontally and vertically.
Eyebrows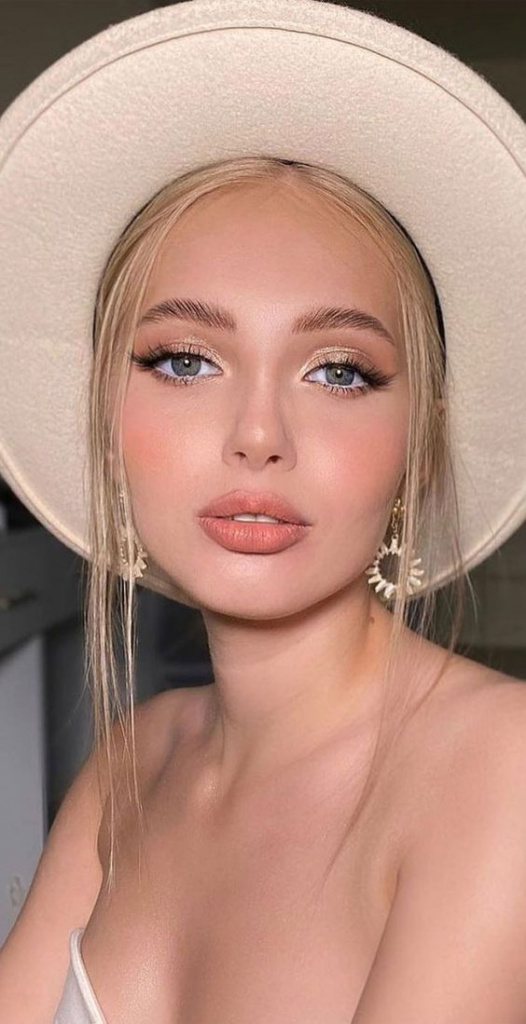 Natural eyebrows, as a trend, will definitely stay with us for a long time. Although the fashion industry is moving on to much bolder decisions, promoting thin or bleached eyebrows, brides still stick to the good old full natural ones.
Smokey Eyes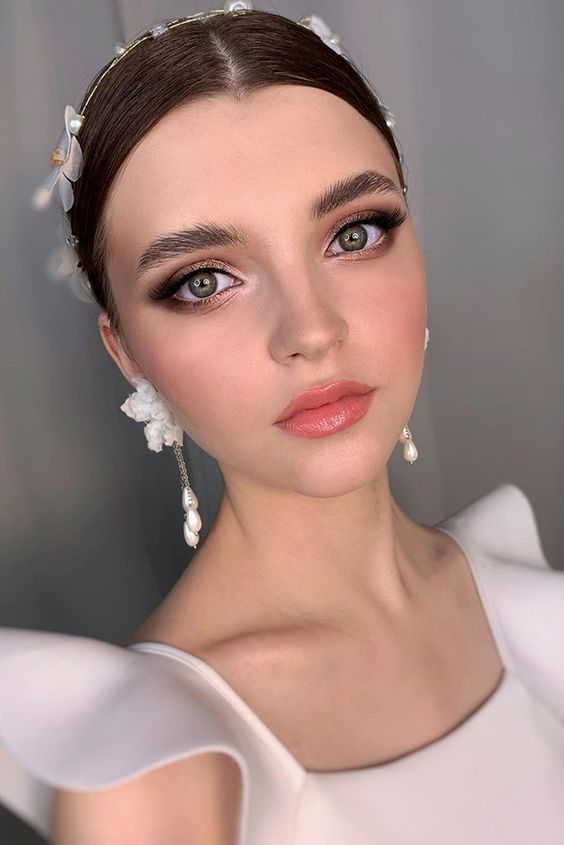 Smokey make-up is considered a classic. This year, artists add blue, gray-black, and brown shades of eyeshadows. By the way, this make-up can be worn any time of year. Warm brown shades look especially great in Fall.
Tip: to achieve the effect of smoky make-up, you can blend the shadows both horizontally and vertically.
Latest Bold Bridal Make-Up Trends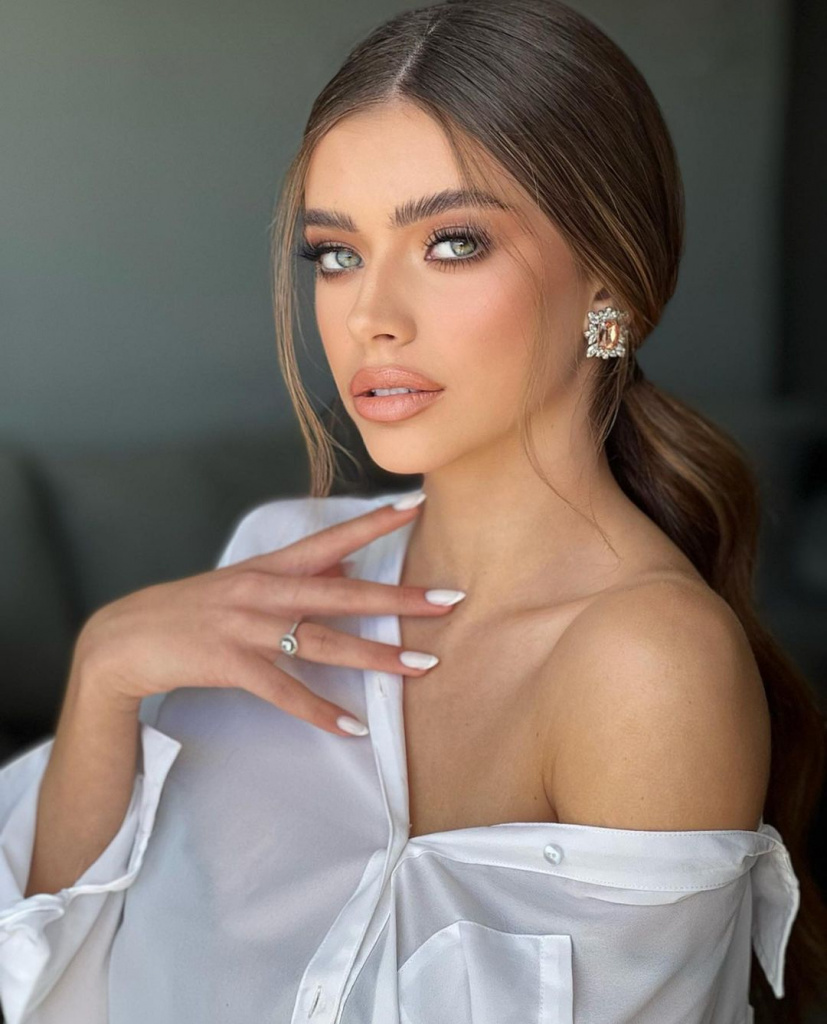 What do we call trendy make-up in 2022? Natural, glowing skin with blush is popular as ever, but this year we're also seeing brides selecting bolder eye make-up solutions: glitter, metallic, and bright-colored eyeliners!
Reverse Cat Eye
Another of the top bridal make-up trends. As you might have already understood, we're talking about moving classic arrows upside down, thus from the upper eyelid to the lower lash line. This can create a beautiful haze under the bride's eyes.
Gemstones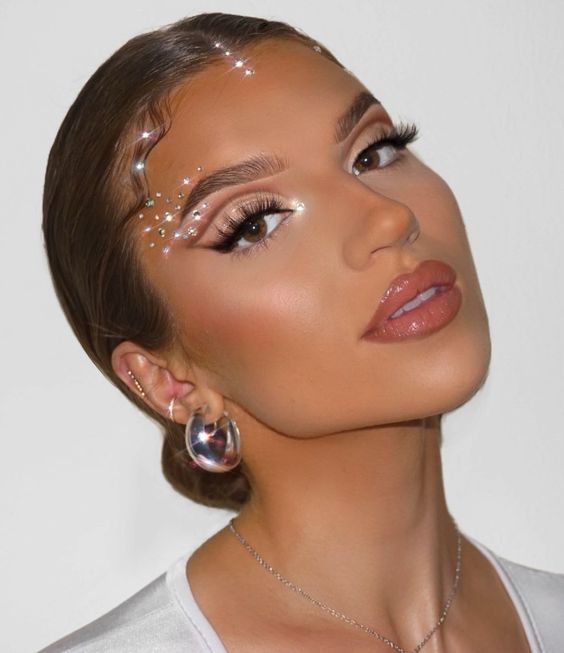 Gemstones and pearls have become a bridal make-up new trend after the Euphoria series was released. Its heroines use big eyelashes and gemstones, spectacular arrows, and smokey eyes in different shades in their looks. You are free to experiment too!
Grunge Black Eyeliner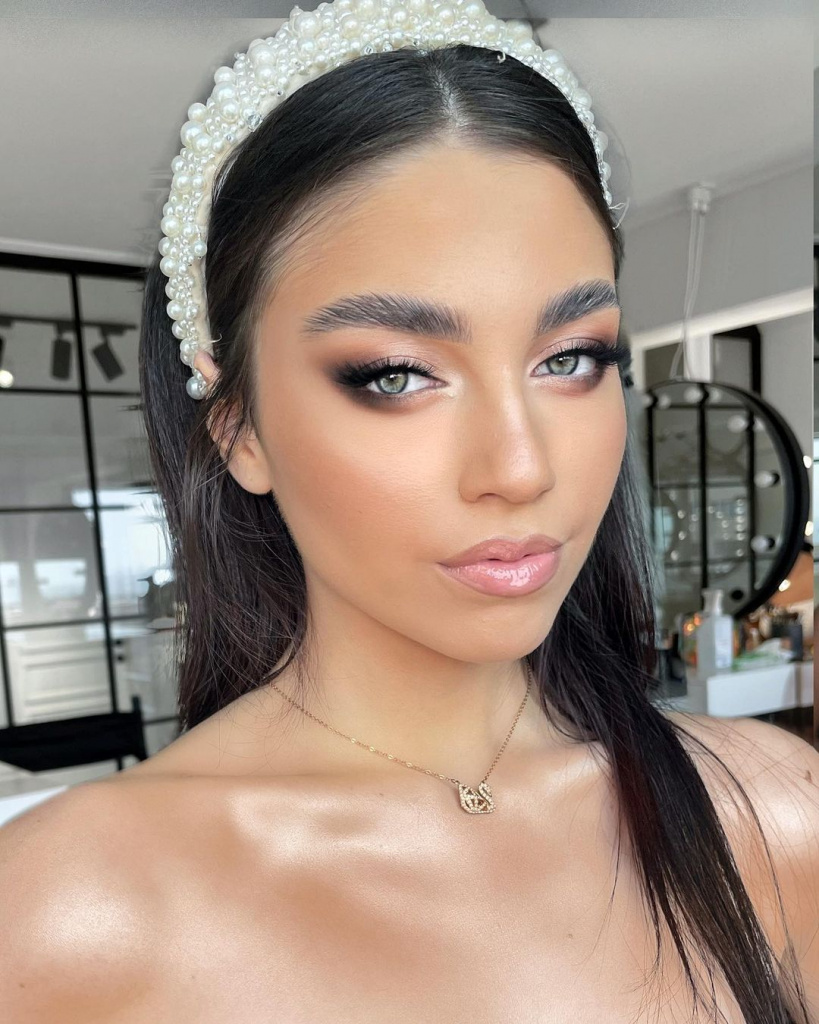 Get black eyeliners from the back shelf again, like in the 90s, and start circling the eyes with a thick line. Note: brides with small eyes should skip this trend as it will make your eyes look even smaller. Think twice before doing such make-up.
Neon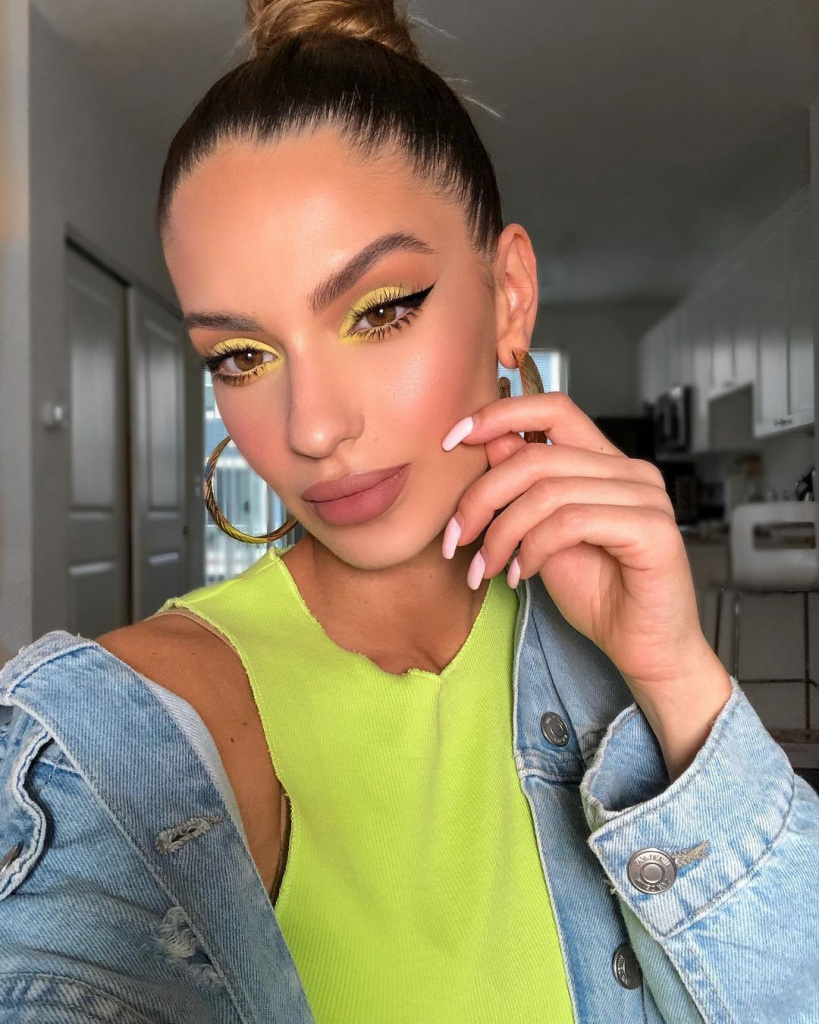 Neon, bright shadows are an absolute trend! Light green, pink, crimson, emerald, blue, orange-carrot, and many more colors for your stunning look. Brave brides are up for the challenge! You can experiment as much as you want, as long as it all looks harmonious.
Monochrome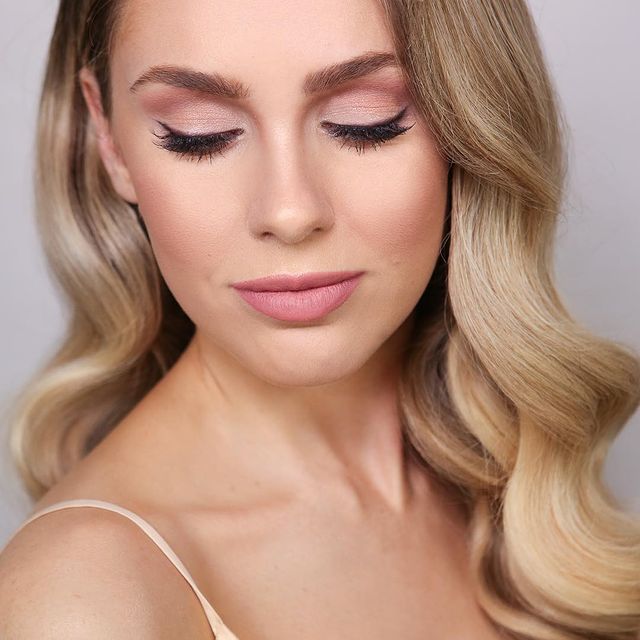 Monochrome make-up is gaining huge popularity not only in the wedding industry but in everyday life, as well. The thing is to pick the color that'll:
Look good on your skin color.
Suit your bridal outfit.
Go together with the wedding color.
If everything's a match, you'll look absolutely fantastic.
Double Arrows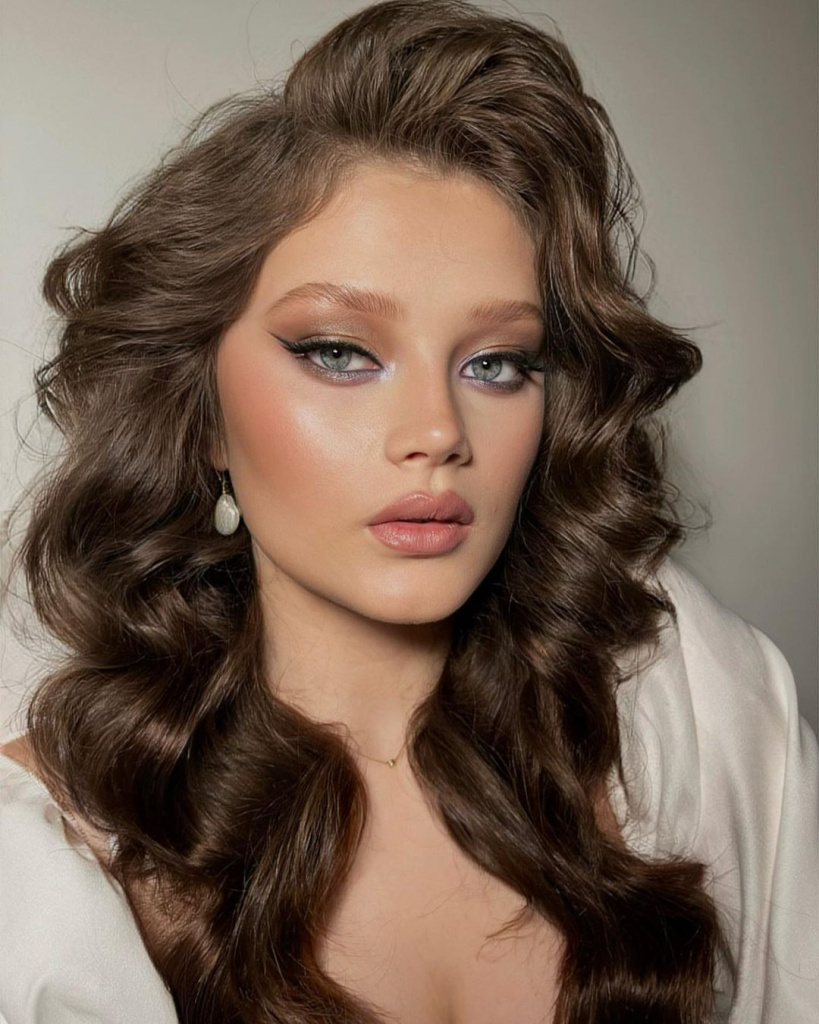 Even classic black arrows can scream about your boldness and self-expression. After all, are there any rules? These are still the same arrows, but a little bit spicier.
Shine Bright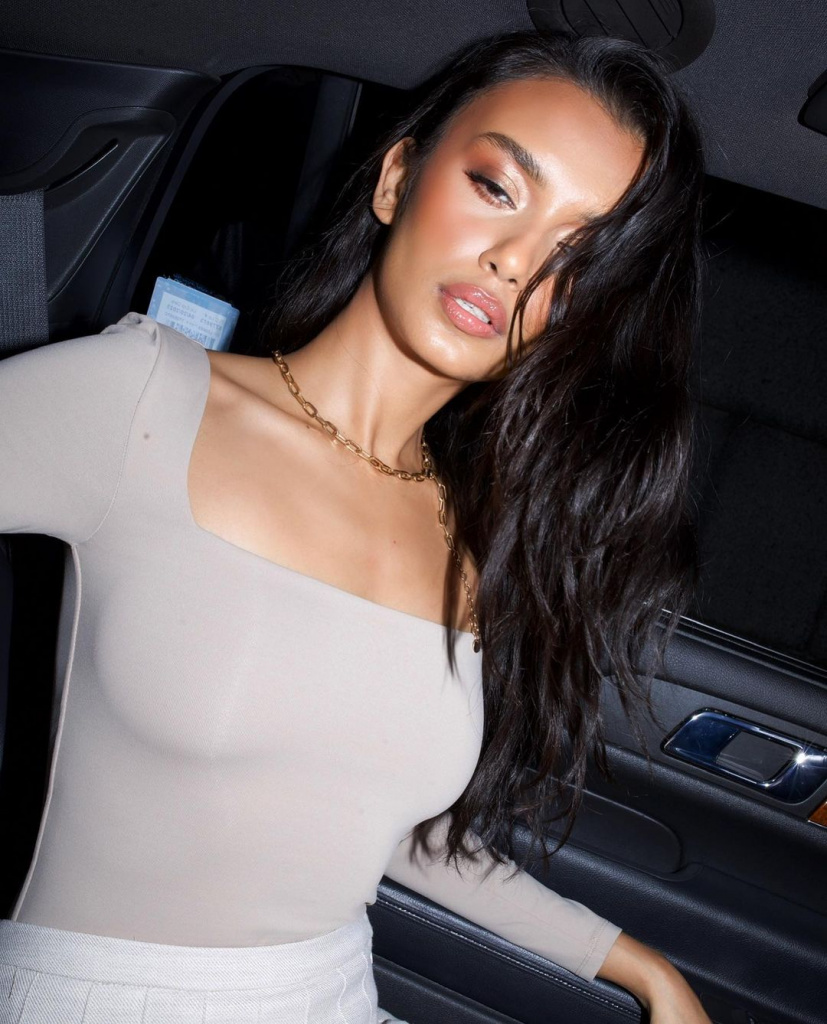 Recently, 2000s-like glosses and lip balms have become popular again. They let your lips shine bright like a diamond and add additional volume, as a good bonus. What's more, it looks great both with nude and bright eye make-up.
Graphic Colored Arrows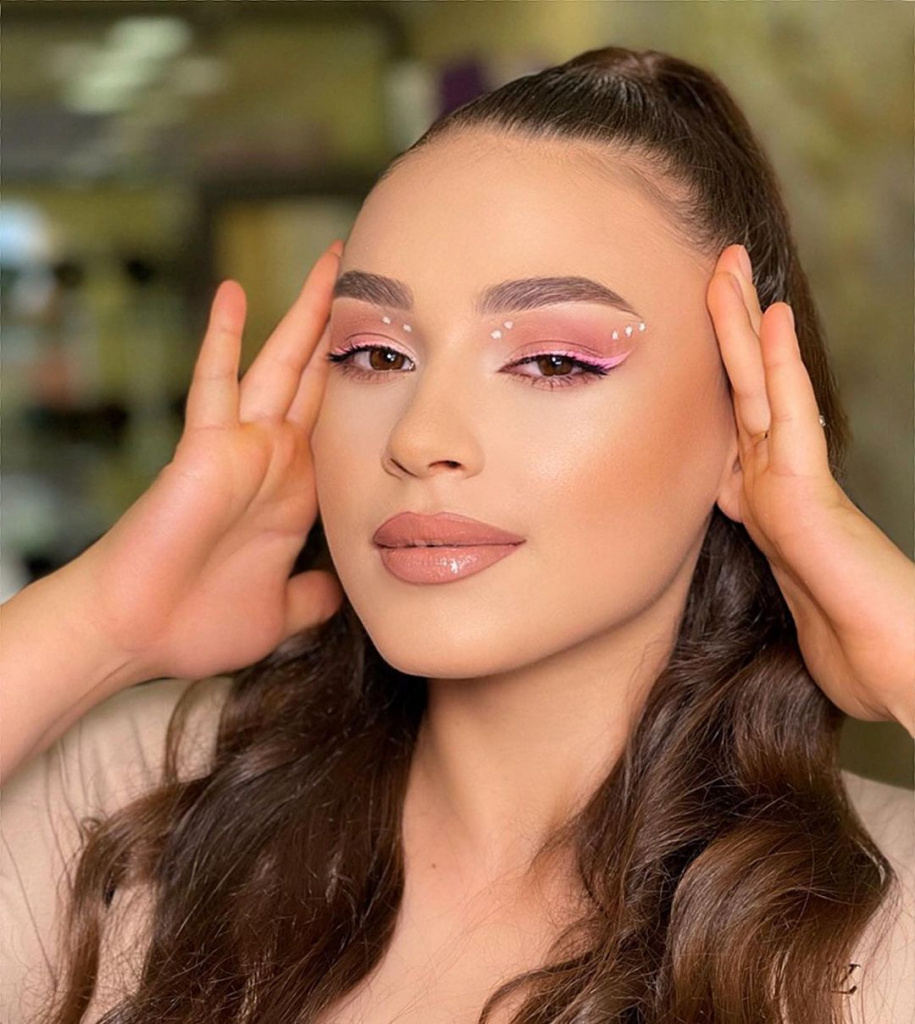 Trendy 2022 arrows offer a variety of shapes and shades! Wide, thin, shaded, or clear, choose whichever you want. Your imagination is your only limit.
Tip: pick the right shades so that they resonate with your wedding bouquet.
Top Fall/Winter 2022/23 Bridal Make-Up Trends
Fall is already here, so it's high time to talk about the hottest make-up trends of the season!
Pink Blush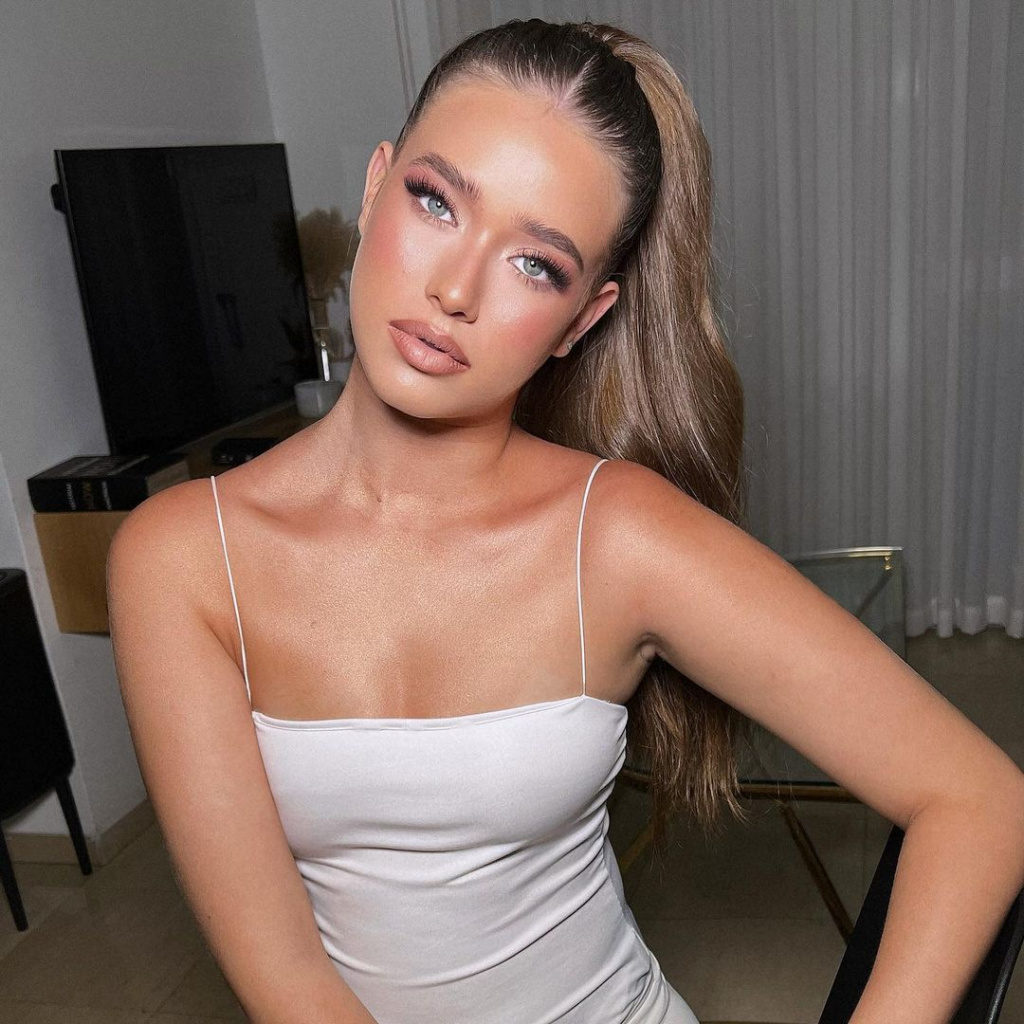 The natural blush we see on our cheeks during the winter has inspired make-up artists this season. Although the fashion industry leans towards expressive blush, brides are better to be delicate with it.
Emphasize The Cheekbones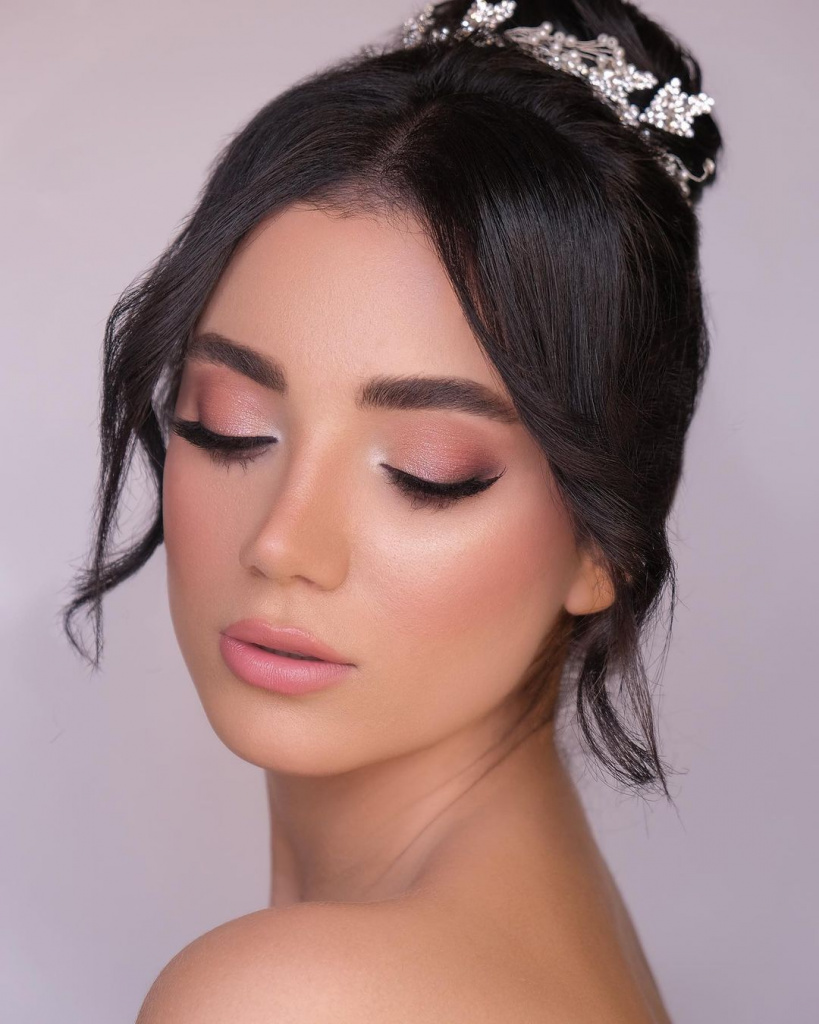 Emphasized cheekbones enrich your face with an unusually luxurious look. In fact, only thanks to the cheekbones you can create an ideal top look.
Wet Skin Effect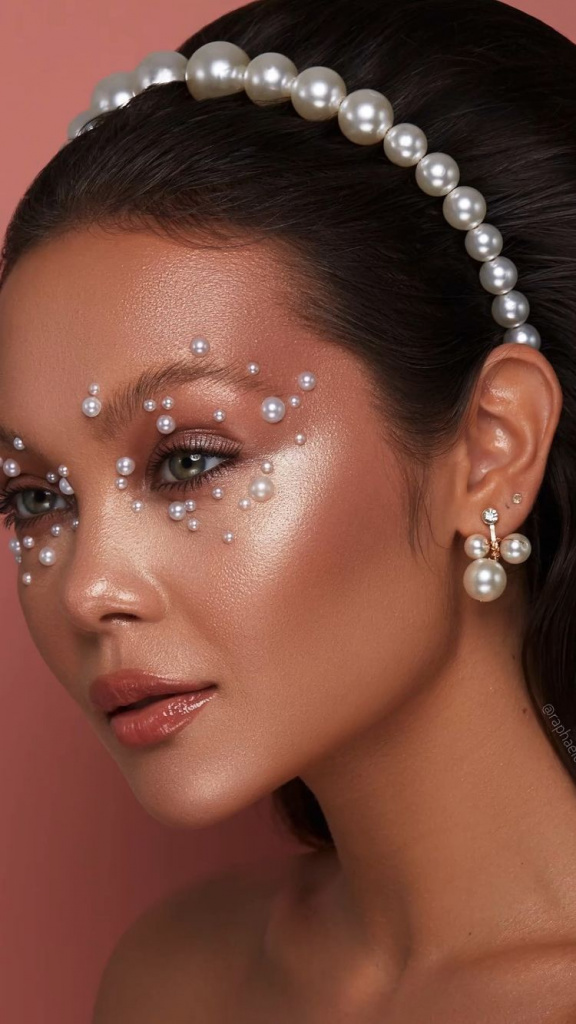 Wet skin effect make-up is one of the main trends of recent seasons, and it's not going anywhere. Make-up artists are moving away from deliberately matte textures in favor of the natural glow of the skin. Your face looks as healthy and moisturized as possible. Looks like you're glowing from the inside.
Blue Eyeshadow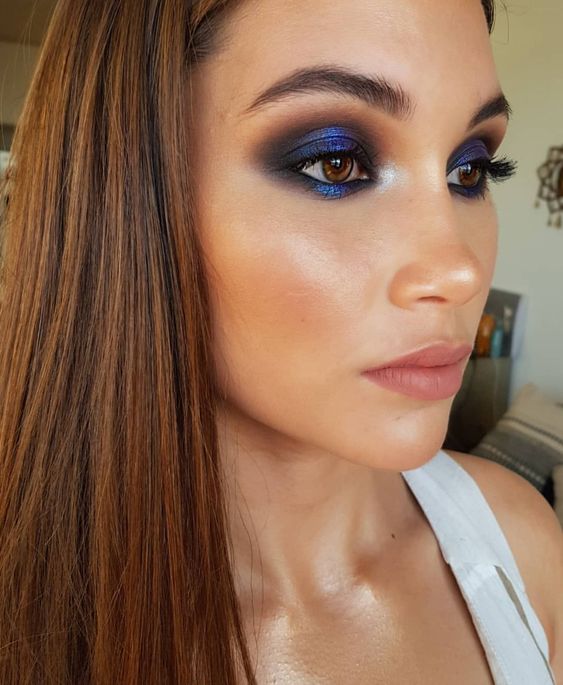 From the wispy flicker to the sweeping streak all over the lid, and the shimmering cloud around the eyes. Blue eyeshadows, bright and pastel, matte and metallic, will look amazing on your Bridgerton-style wedding.
Metallic Make-Up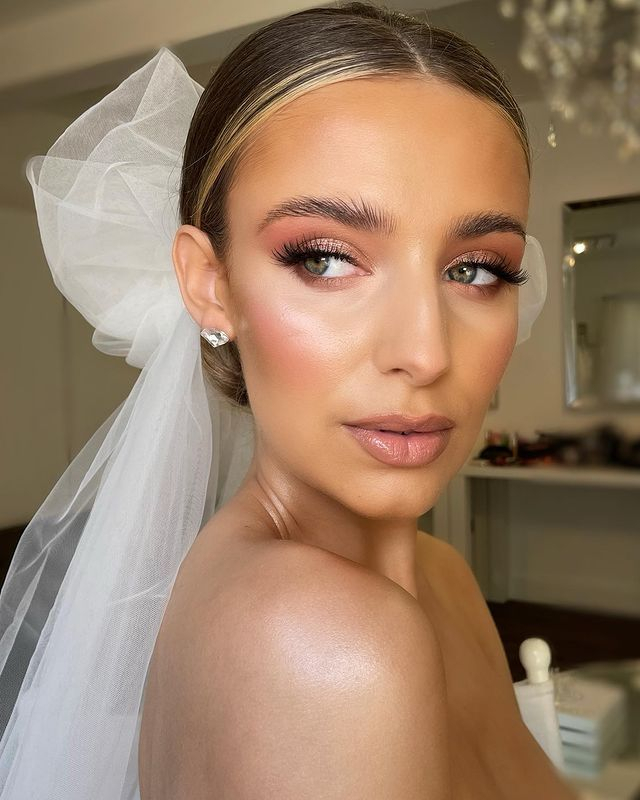 One of the main trends is using lots of glitter, and the more, the better. Metallic make-up with golden and silver shades is great for winter brides. Put silver shades slightly in the corners of the eyes or do silver arrows to create your bold bridal look.
Cute Pink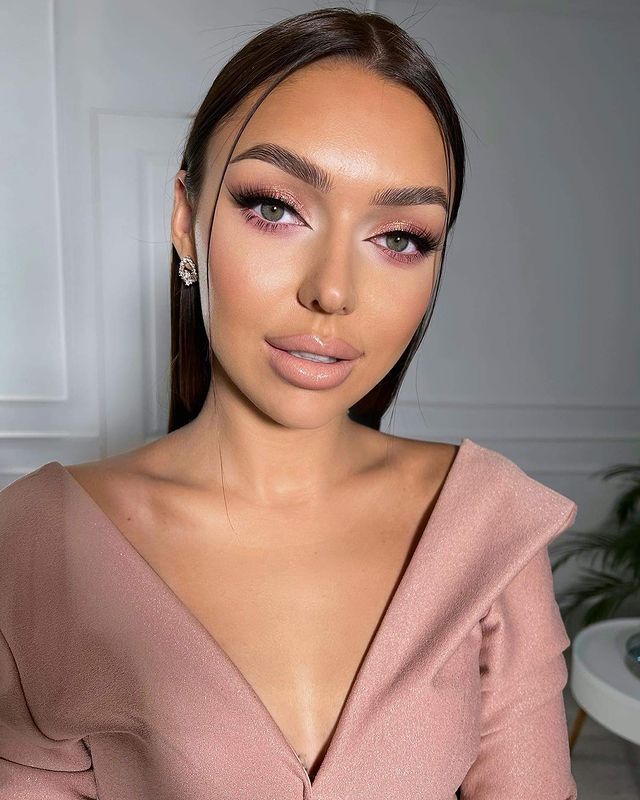 Pink-colored make-up is now more popular than ever. This fact can greatly please all romantic and sophisticated brides. Emphasize the eyes, cheekbones, or lips. Or even everything at one time!
Visible Lip Liner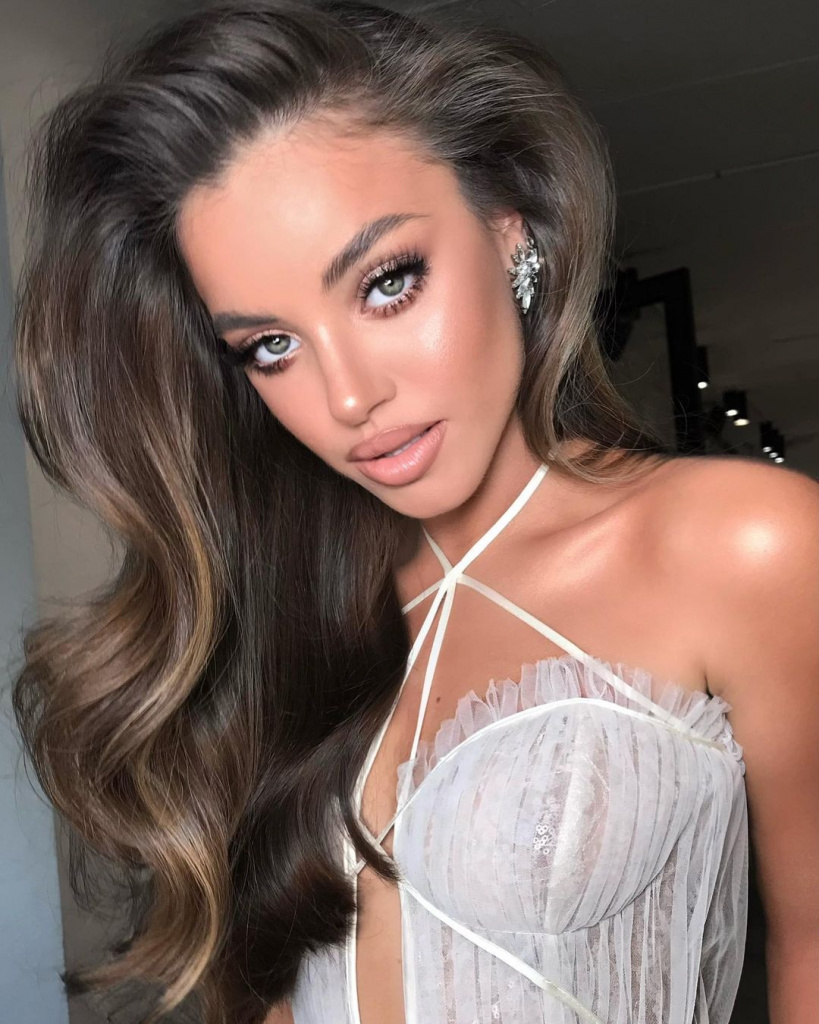 This will visually enlarge the lips and focus people's attention on them. The thing is to choose the right pencil, draw a visible contour and choose slightly lighter lipstick.
Spider Lashes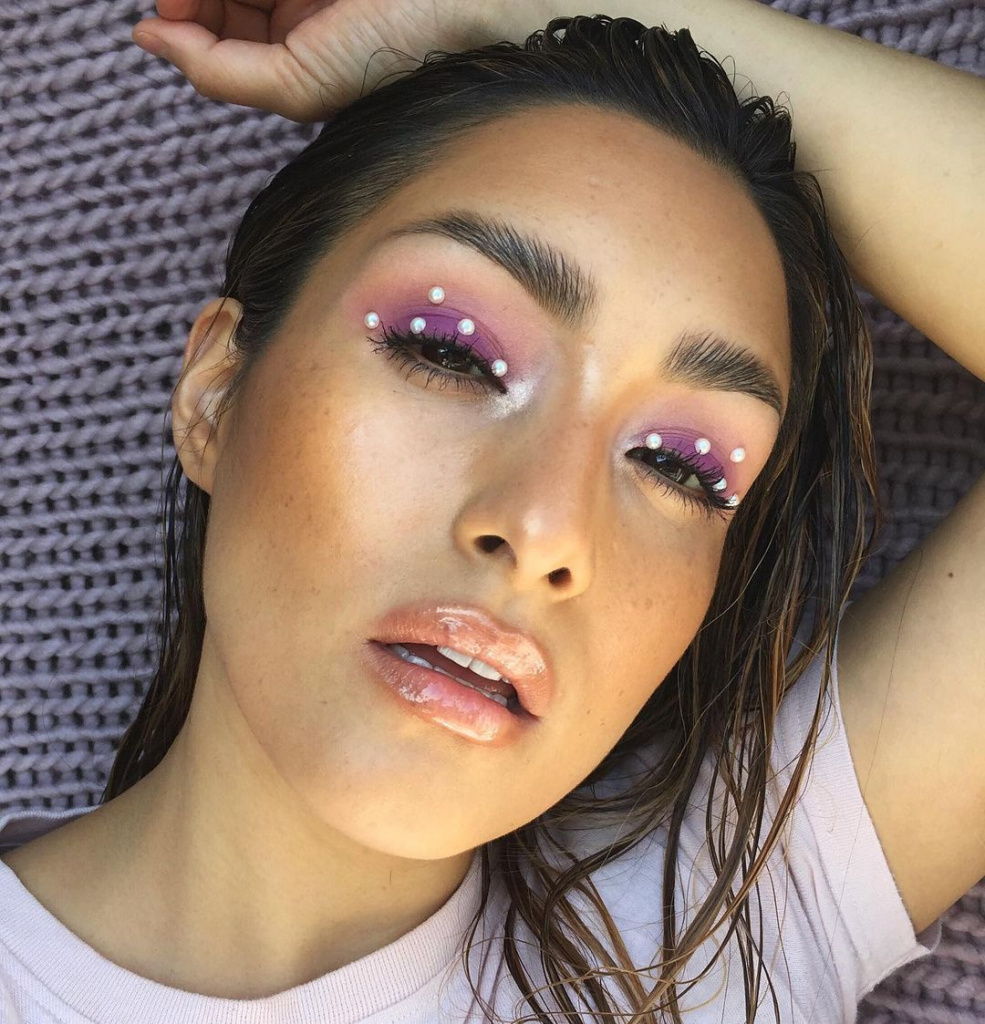 Unexpectedly, the so-called spider lashes appeared in the trends. Use colored mascara instead of basic ones to add brightness and uniqueness to your look. It's pretty easy to reach the spidery effect. Just apply mascara several times without separating the eyelashes.