The Hottest Looks from New York Bridal Fashion Week Spring 2023
Publication date:

12/14/2022

Updated:

04/10/2023
We have to accept the truth that wedding fashion has evolved a lot in recent years. In addition to conventional bridal silhouettes, designers now give brides a variety of looks in a variety of styles. Designers are counting on wedding gowns made of delicate materials that gently contour the shape, designs with voluminous sleeves, dresses embellished with bows of various sizes, and sparkling outfits for the new season. White trouser suits, blue bridal gowns, asymmetrical necklines, and floral appliqués are also popular. Wezoree team has visited the New York Bridal Fashion Week 2023 and is ready to spoil you with the latest trends!
What We Saw At New York Bridal Fashion Week
If you had to describe wedding fashion in 2023 in one word, it would be "variety." Any style and design will be acceptable this season, with no limitations. In a gown of whatever length, splendor, or degree of openness, every bride will seem trendy and original. The sole requirement is that the outfit should not be boring!
New York Fashion Shows usually have something new to show their audience. To say we were enthralled by all of the bridal ensembles would be an understatement. We adore each and every one of them! Brides of 2023, this article is for you!
Bows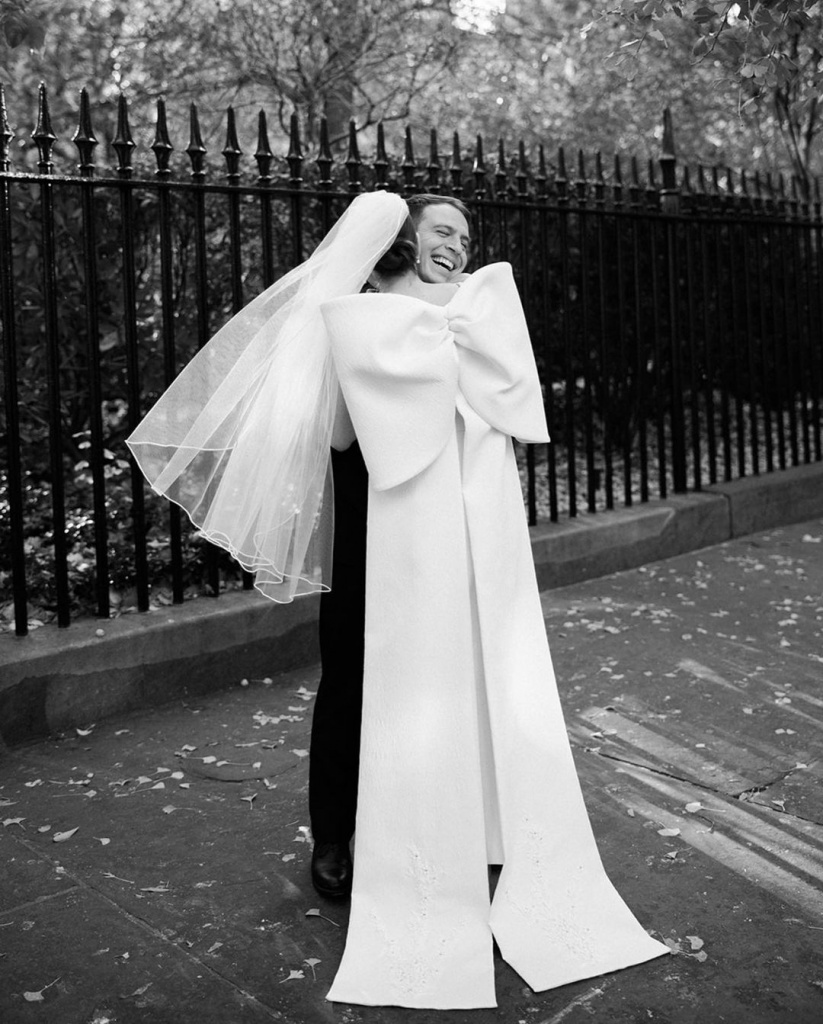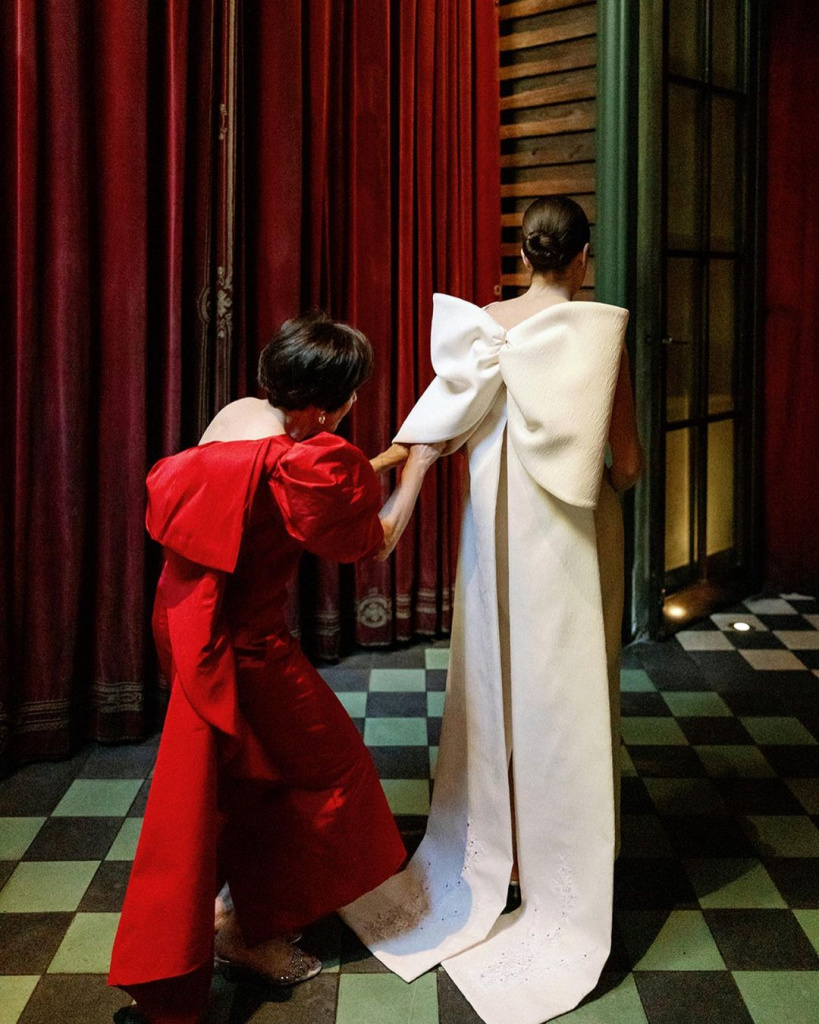 Designers are always looking for new ways to include unique elements in their collections, and bows have become that special accent this season. Monique Lhuillier Bliss placed a huge bow on the waist to a minimalist wedding gown, Viktor & Rolf added lovely bows on the straps, and Lela Rose gave a veil-cape made of delicate mesh and embellished with a white ribbon bow.
Blue Shades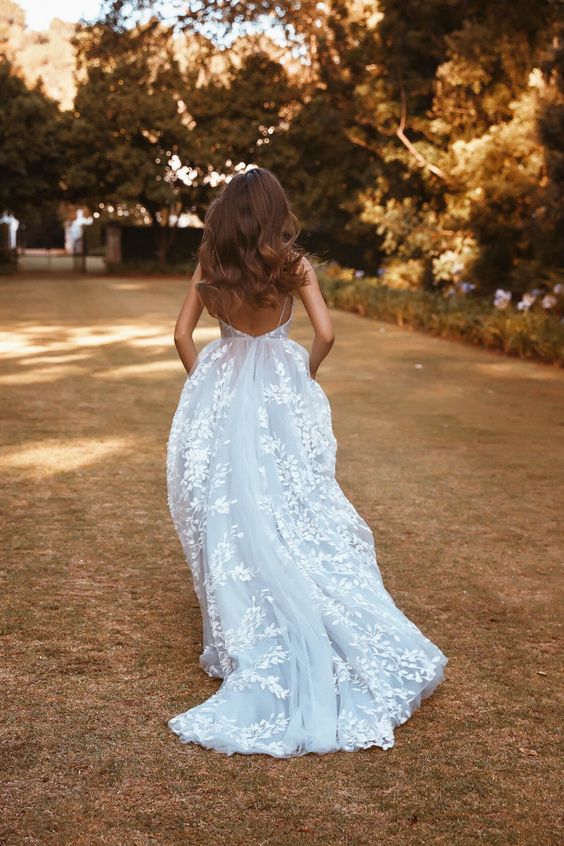 We've seen countless variations of colorful wedding dresses worn by celebrities at their nuptials over the years. As a result, Victoria Beckham wore a purple gown by Antonio Berardi as a second costume, Gwen Stefani was wedded in a light gown with a pink gradient by Christian Dior, and Poppy Delevingne wore a floral wedding gown by Peter Dundas.
All shades of blue are the focus for the spring-summer 2023 season. Sarah Nouri, Allison Webb, and Legends Remove Keveza took a chance and recommended blue wedding dresses as the new fashion trend.
Delicate Fabrics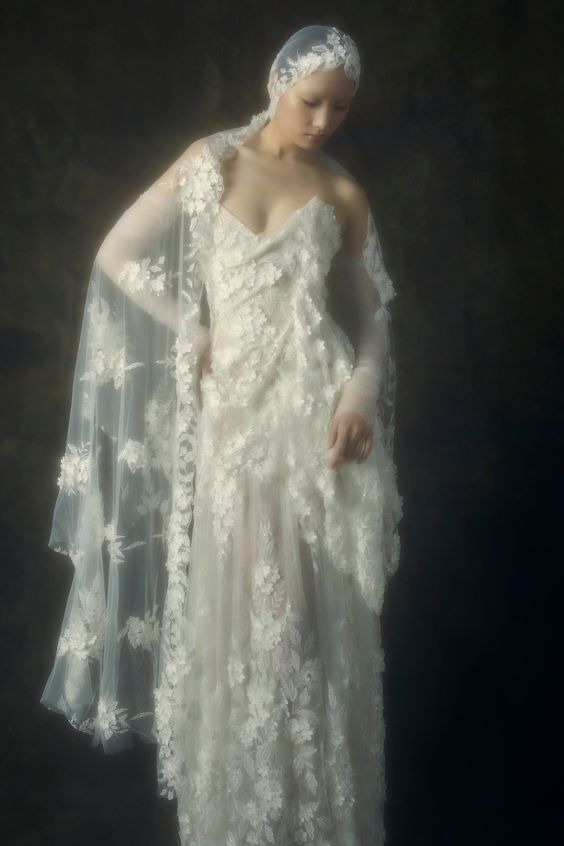 This season rich royal gowns have given way to light designs made of delicate materials that have an attractive and sophisticated appearance. Elie Saab debuted a classic silhouette dress with long sleeves and open collar bones made of openwork lace, Dana Harel adopted the idea and introduced a closed white translucent dress, and Mira Zwillinger opted for an A-line style made of delicate mesh, allowing the feminine silhouette to peek through.
Voluminous Sleeves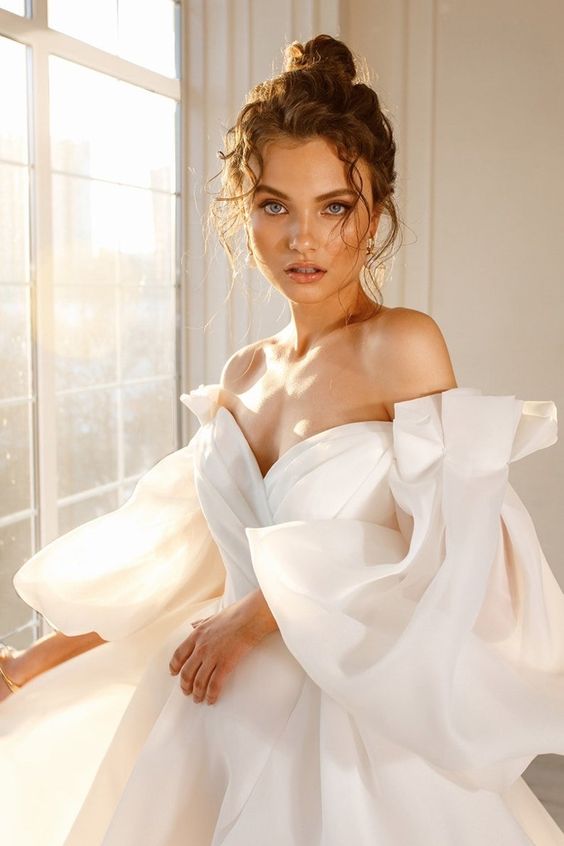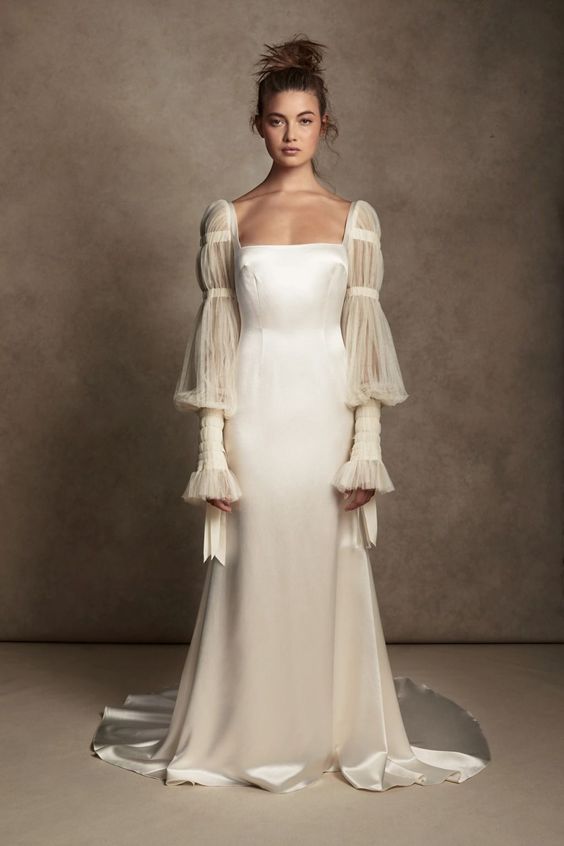 For the second season in a row, bridal gowns with voluminous sleeves have been popular. Yes, even Princess Diana picked a wedding gown with luxuriant sleeves that appeared to be filled with air from the inside in 1981. This pattern will remain in the coming season.
So, in the Amsale collection, there is a reference to Lady Dee's wedding gown, in Oscar De La Renta there is a silhouette dress with ultra-volume tulle sleeves, and in Rivini by Rita Vinieris there is a regal dress with romantic sleeves made of multiple layers.
Floral Applications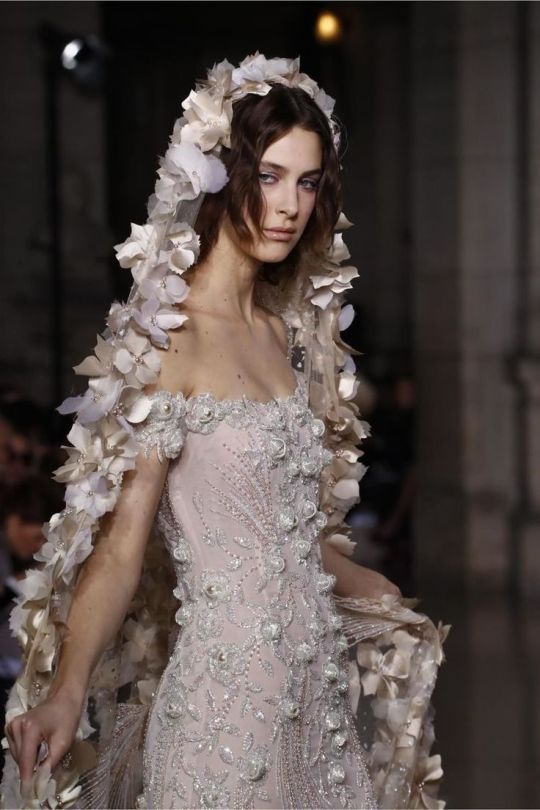 Floral themes are a bridal fashion staple, but this season, these iconic designs have taken on a new spin. Floral designs were reworked by brands and used extensively on bridal gowns. Viktor & Rolf embellished a white minidress with 3D embroidery, Marchesa Couture strewn blooms across the entire outfit, and Elie Saab presented a beautiful cape with huge flowers.
Pantsuits
In recent years, the number of brides who have abandoned classic wedding dresses in favor of more practical modern styles has increased. Many females select white trouser outfits, which can be worn after the solemn event. We support this trend and recommend looking at classic pantsuits like Galvan, Amsale, Scorseca, and Safiyaa.
Glitter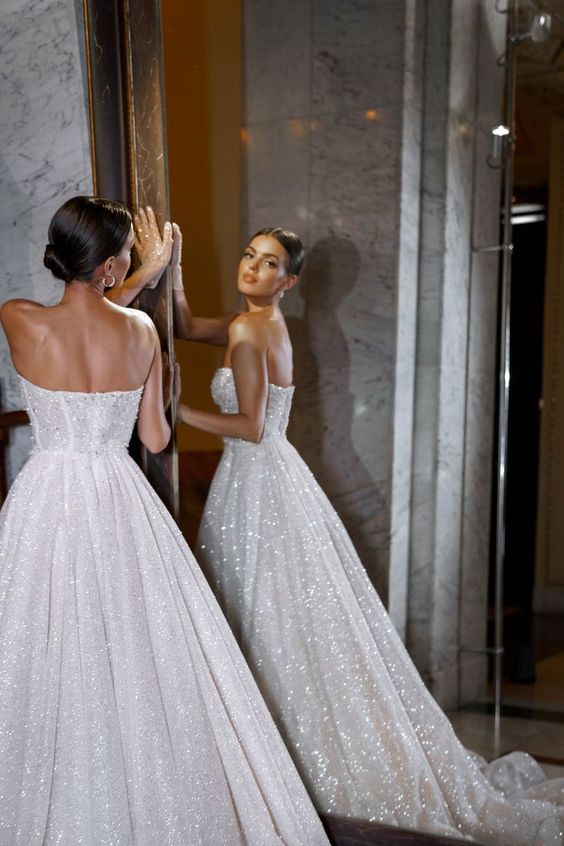 Glitter, which was formerly popular for cocktail dresses, has recently made its way into bridal gowns. Modern brides want to stand out at their weddings, and designers consider their customers' demands. Galia Lahav offered a silhouette fish dress in the new season that will make you shine brighter than the stars in the sky; Mira Zwillinger added a dazzling touch, and Zuhair Murad presented a breathtaking regal dress.
Note that not every make-up suits the sparkling dress!
Asymmetric Neckline
Asymmetry is one of the aesthetic tactics that always add charm to even the most simple attire. The neckline was made asymmetrical in next spring's collections by designers. So Elie Saab added a non-trivial twist to a ball gown buster, Romona Keveza barely concealed one collarbone and shrouded the wedding dress in mystery, and Savannah let the silk fall perfectly from one shoulder, exposing the other.
Detachable Details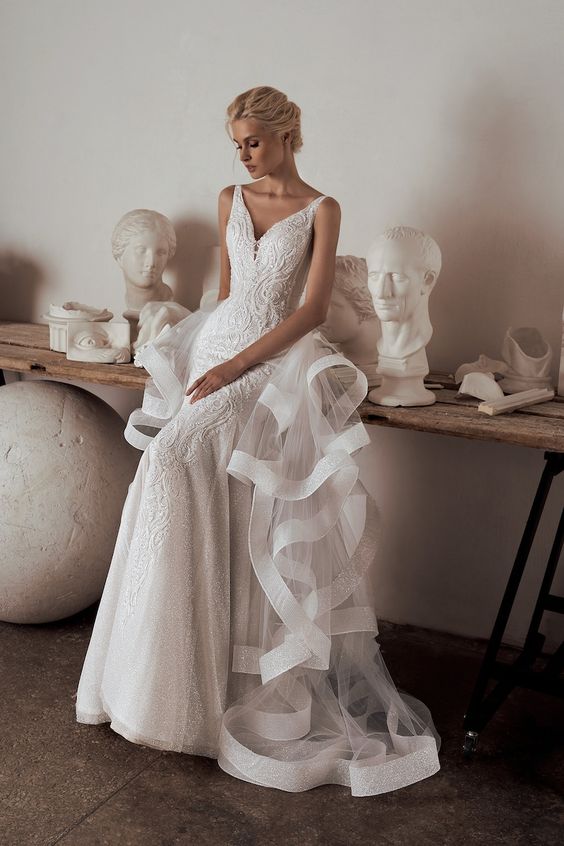 Transformer dresses, aside from their intriguing design, are extremely practical and comfortable: with a wave of the hand, brides can change the style of their outfit after the official part of the wedding: throw off the long puffy tier of the dress and stay in a straight cocktail dress or a short and comfortable mini dress.
Halfpenny's designers always put the bride's comfort first.
High Neck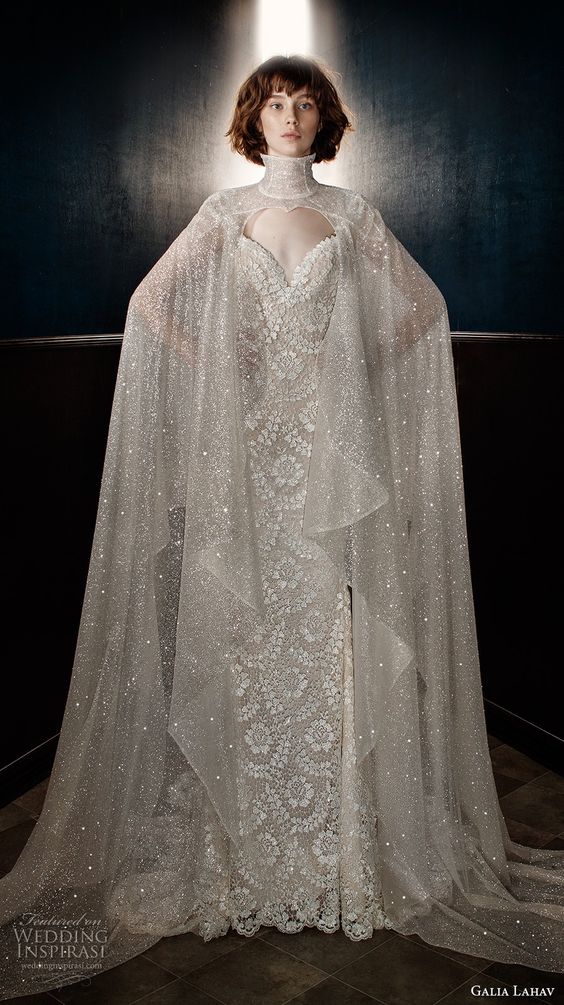 Both an open and a closed dress with a high collar and, especially pertinent for the 2023 season, a halter collar are the perfect choices for brides who prefer an aristocratic wedding style. A long dress with a straight cut visually stretches the bride's silhouette, making her appear even slimmer. This gown is a wonderful blend of minimalism and regal grace.
Classic, But With A Twist
A good option for brides who prefer luxurious classics. A high slit in the skirt offers comfort yet remains modest and classy. Depending on the neckline the dress can be complemented with some classic jewelry.
Mini Dress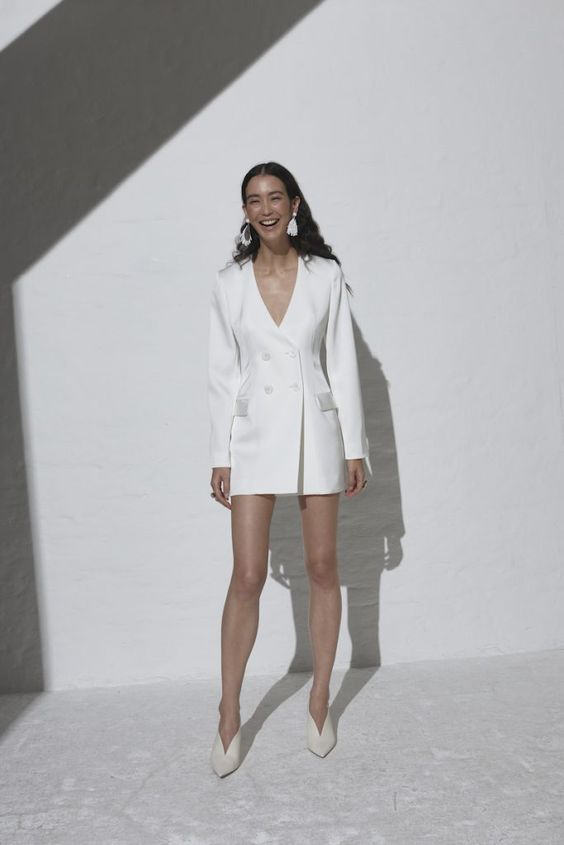 Short wedding dresses are more popular than ever (and this trend will undoubtedly continue in the upcoming years). Alternatively, it might be shortened in the front and lengthened in the back. In general, experimenting with length is one of the most recent global wedding fashion trends, which has been at its peak for several years.