Celebrity Weddings in New York
Publication date:

11/20/2022

Updated:

04/10/2023
The city that is even called 'the Capital of the World' welcomed so many couples and heard millions of 'I do' vows. We are often intrigued by celebrity weddings, their approaches to wedding preparations, details, wedding gowns, and accessories. So, who tied the knot in New York? Let's see!
Kevin Love & Kate Bock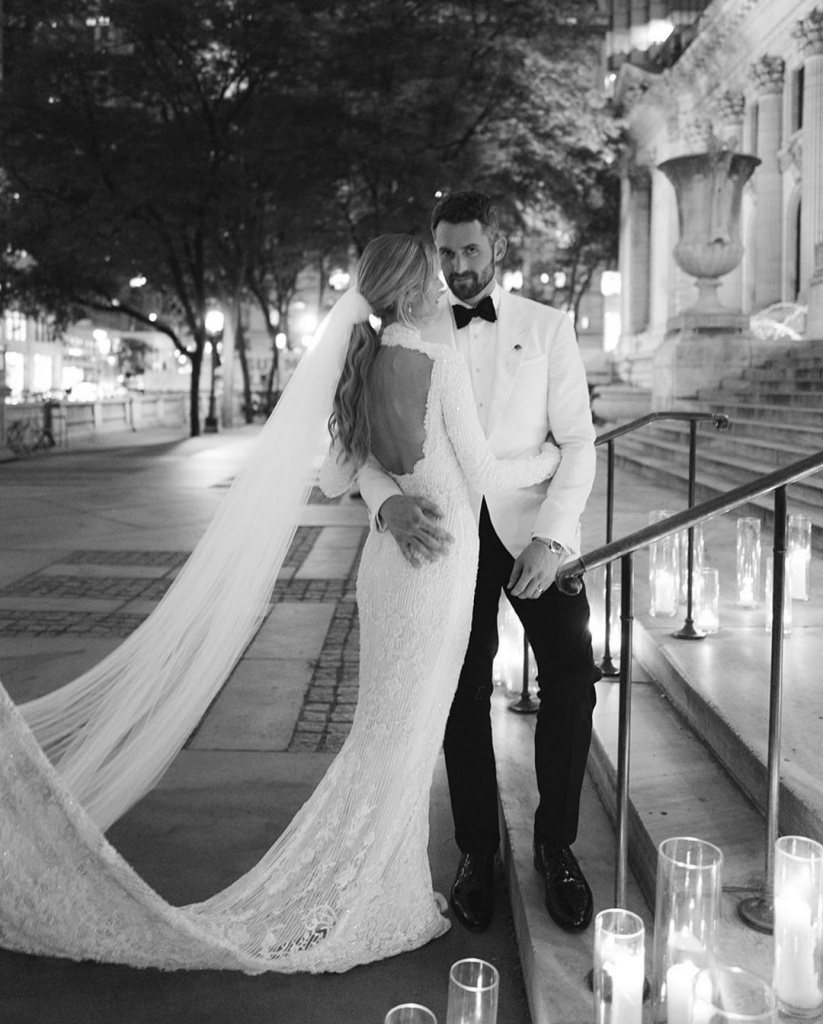 A model and a professional basketball player got married at one of the most iconic places in New York City, the Public Library. The Big Apple was the city where they actually met, so choosing it as a wedding location seemed to be quite symbolic and logical.
If you look at the pictures of their Great Gatsby-inspired ceremony, you'll feel the vibe of a magical atmosphere. According to Kate, the hardest part was to pick the smallest details for the wedding, whereas the choice of wedding style and attire was a lot easier. The bride had no doubt about the Ralph Lauren brand that designed her dreamy dress. It was a marvelous lace gown with a train that became just a perfect match for the old-school style of the wedding. Kate kept her accessories simple and classic, wearing vintage earrings (that was a wedding gift from the groom) and Tiffany & Co pieces of jewelry. The bride wanted to bring her hair back but keep it soft, so they came to a low ponytail with a few locks out. At the reception, Kate wore another elegant and glamorous short silk dress. Kevin has changed his attire twice as well: a black and white suit, both classical, from Ralph Lauren.
Sarah Jessica Parker & Matthew Broderick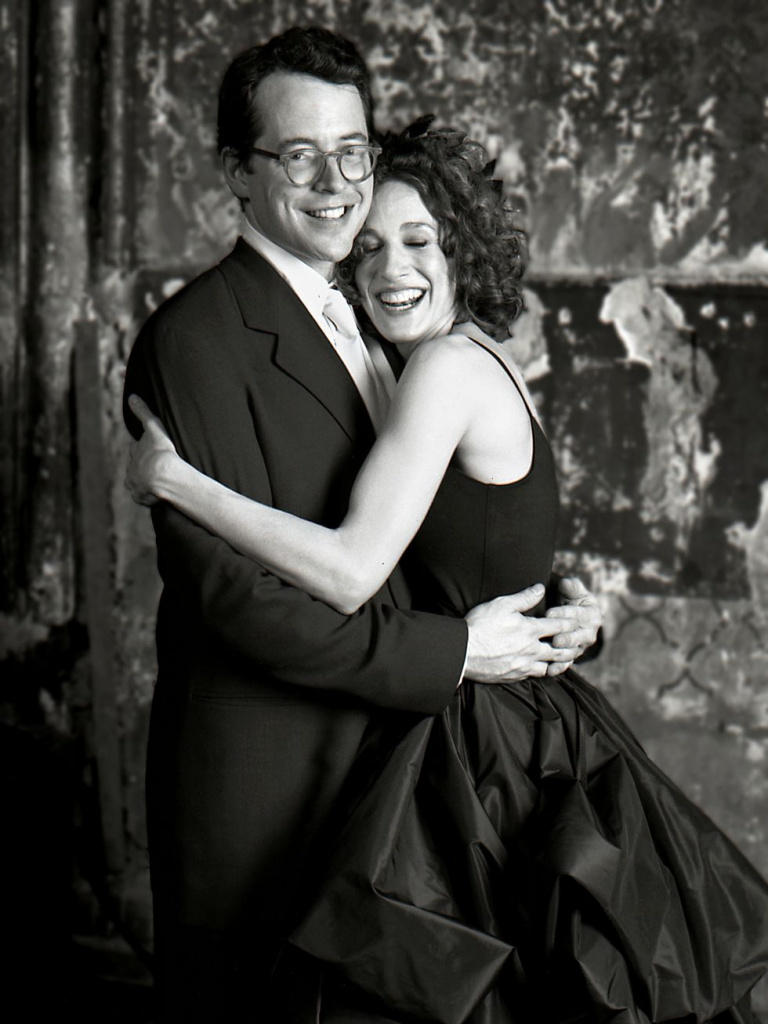 Parker and Broderick tied the knot in NYC, in 1997, but it became a memorable event with a unique approach to everything at it. Whereas celebrities are quite often known for their luxurious wedding parties and short marriages, Parker and Broderick have picked another scenario - a humble wedding festive and 25 years of a happy marriage.
The couple brought 100 guests to New York for the relatively small surprise party in order to avoid too much attention from the press. Their embarrassment was also one of the reasons for buying a black ruffled Morgane Le Fay wedding dress instead of a white one. Sarah admits that was an impulsive purchase. Since that time Parker's choice has been discussed as one of the most extraordinary wedding outfit decisions. Although Sarah's choice even became a fashionable trend for millions of brides throughout the years, it's the only thing the celebrity regrets now. She thinks she should have chosen something more classical and proper for the wedding, like a white one.
Marc Jacobs & Char Defrancesco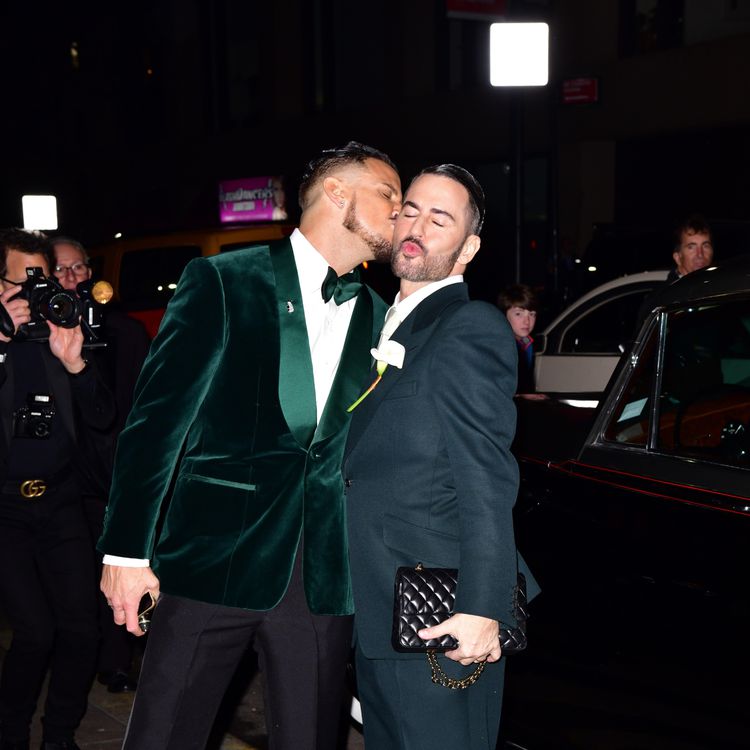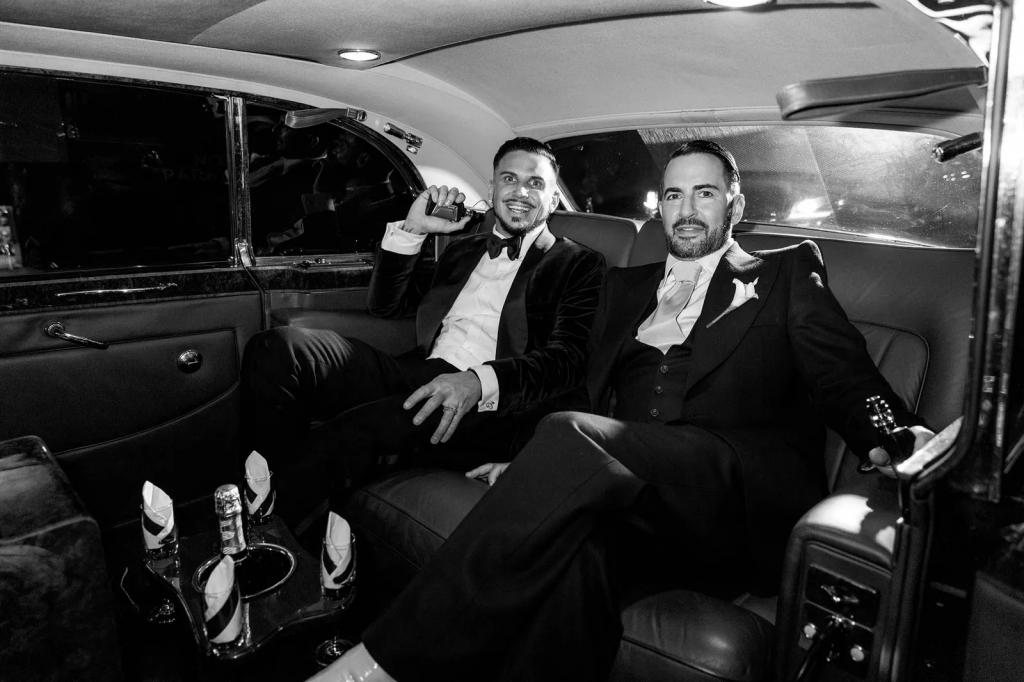 A famous designer and a model got married in New York City, Manhattan, in April 2019. Reportedly, 700 guests, including many celebrities (Kate Moss, Emily Ratajkowski, Gigi Hadid, and others) were invited to the wedding. They were surprised by plenty of shows and performances: a giant disco ball, singers, and dancers. The grooms cut a huge 5-tier cake at the end of the evening. The ceremony was fashionable and even dramatic. An exclusive detail that was noticed - the grooms were wearing onyx and diamond penguin pins. They were a symbolic and meaningful present, as penguins are said to have only one mate in their life, so they're the symbol of loyalty. Marc wore a classical black suit with a black waistcoat, and Char opted for an outstanding velvet green jacket.
Mottola Tommy & Mariah Carey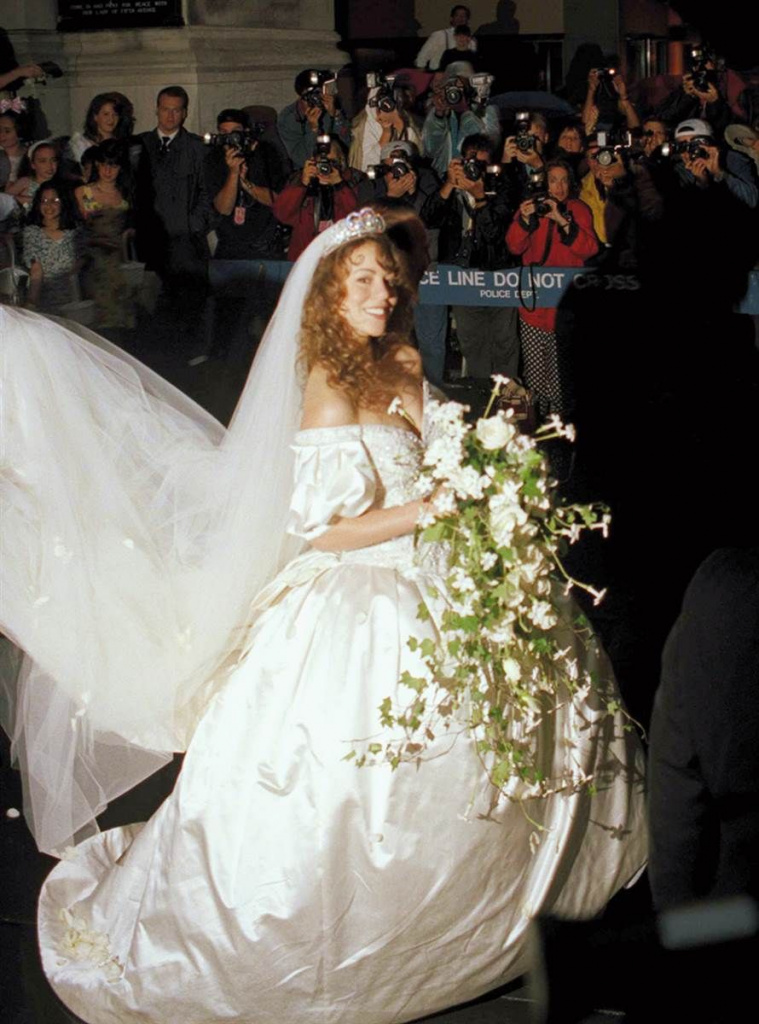 The ceremony took place at the iconic St Thomas Church in New York. 50 flower girls were present at the ceremony, throwing flower petals. An outstanding Vera Wang wedding dress with a 27-foot train and a diamond tiara. Just the dress was reported to cost about $25,000.
Michael Douglas & Catherine Zeta-Jones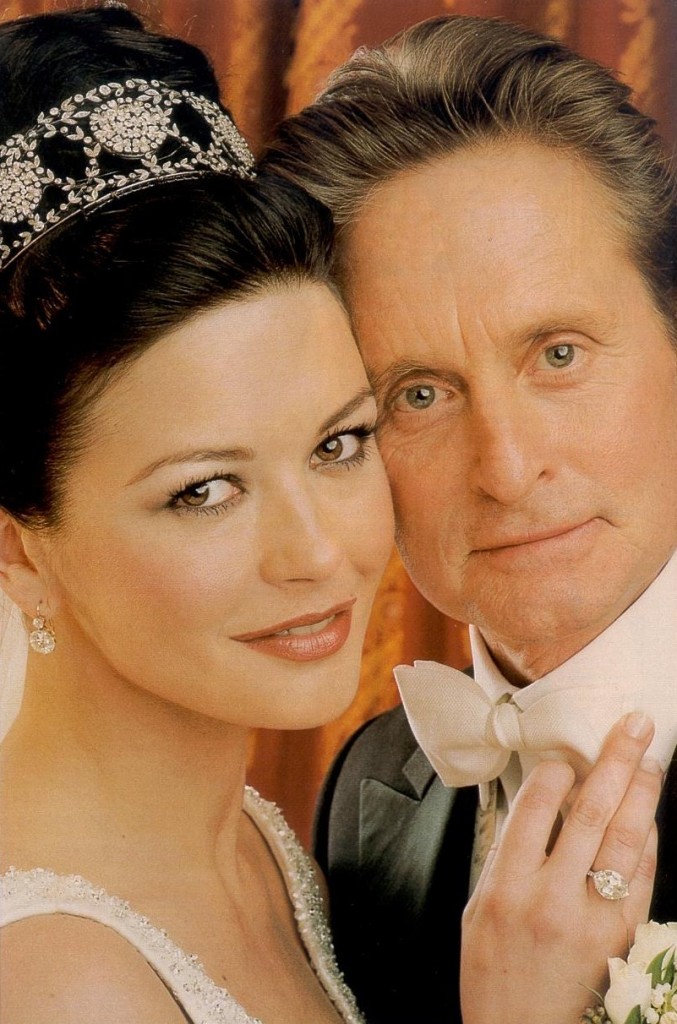 A singer got hitched in 2000 at the famous Plaza Hotel, where the newlyweds had their reception and first wedding dance. Their fairy-tale wedding was really luxurious and magnificent. The couple had sent unique hologram invitations. The bride wore an adorable tiara and an ivory gown by Christian Lacroix.
Justin & Hailey Bieber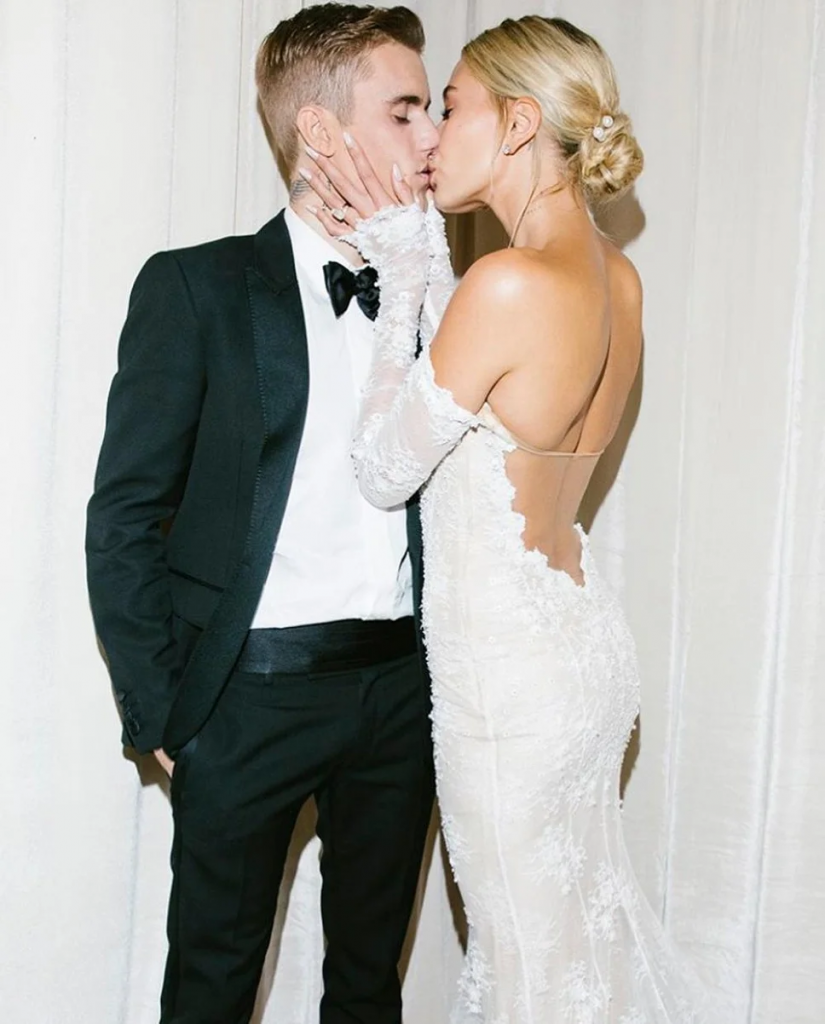 Justin and Hailey got hitched at the courthouse in New York in September 2018. We don't know all the details, though Justin was said to be quite emotional and even cried that day.
Robert Kraft & Dana Blumberg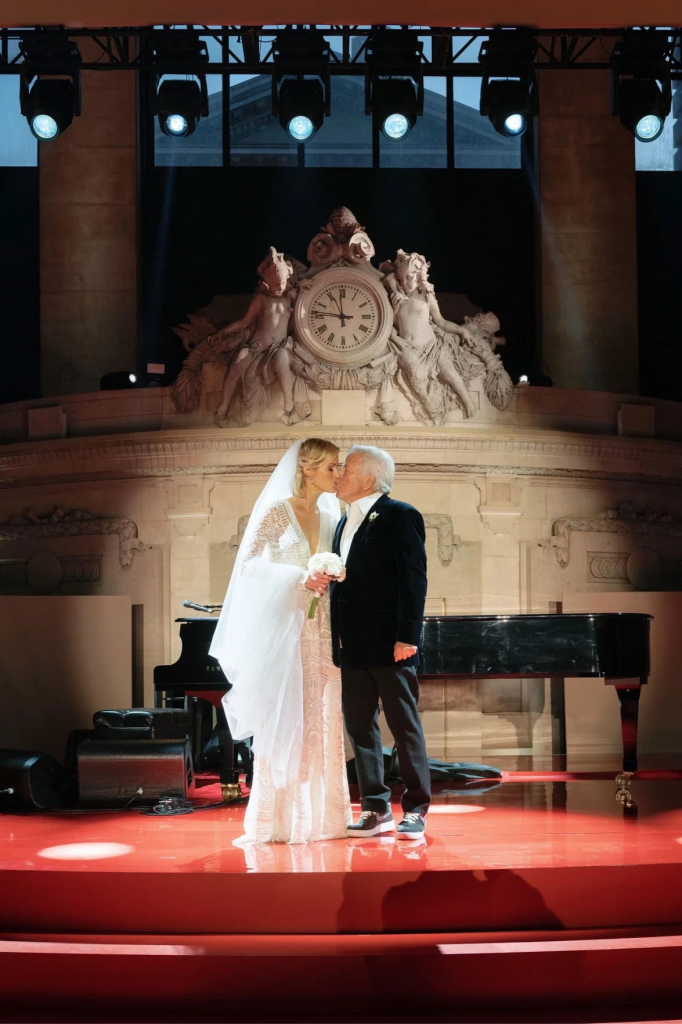 American billionaire, Robert Kraft and his beloved, Dana Blumberg, recently got married at a surprise party in New York City in 2022. More than 250 guests were invited on October 22. Everyone was amazed at the announcement that the celebrities were getting married! Meek Mill wrote the song for the couple. Dana was wearing an elegant dress and a gorgeous long veil, holding a laconic white bouquet. Her fiance's attire was also stylish: a pure white shirt, a black classical suit, and fashionable shoes.
Chelsea Clinton & Marc Mezvinsky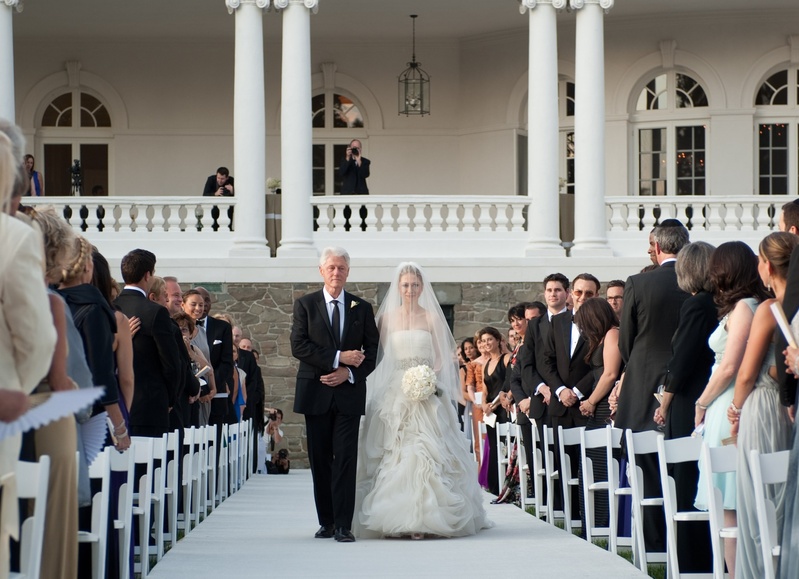 Fans easily remember the luxurious wedding day that took place in New York, in 2010. 400 friends and family members were invited. Among the guests, you could see actors, producers, and famous politicians, including Chelsea's parents, of course, former US President Bill Clinton and Hillary Clinton. The wedding gown was designed by Vera Wang. A classical silhouette with romantic swirls created just a timeless style. Only the belt was said to cost about $25000. A simple and elegant ivory monofloral combination wrapped and joined with a pure light ribbon. Clinton kept her accessories simple to leave the belt as the main accent of her attire. A light and transparent veil accomplished the perfect bride's look, covering the high simple bun of hair.
Alec & Hilaria Baldwin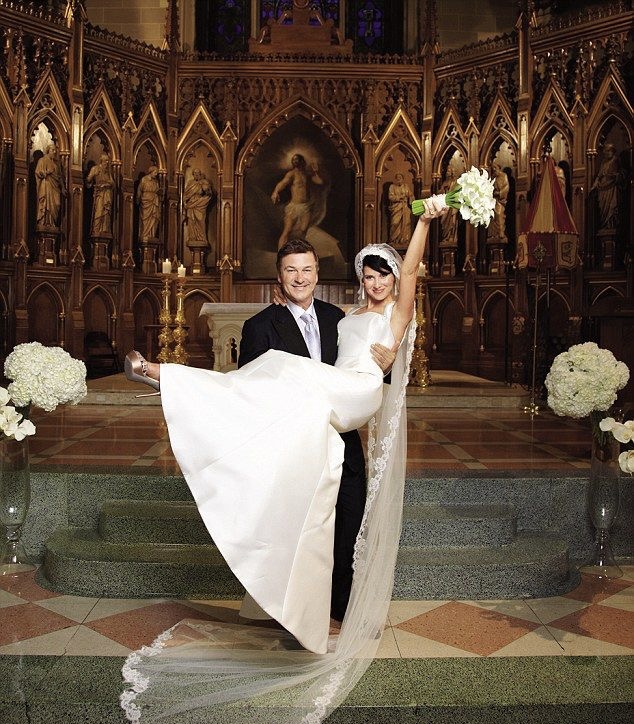 Alec and Hilaria tied the knot in 2012, at St Patrick's Old Cathedral, New York. The wedding reception and ceremony tended to be quite glamorous and chic. The bride picked an elegant simple gown with a crystal-decorated back. Additionally, there were vivid Spanish motives in her long embroidered veil and throughout the whole wedding day.
Matt Damon & Luciana Bozan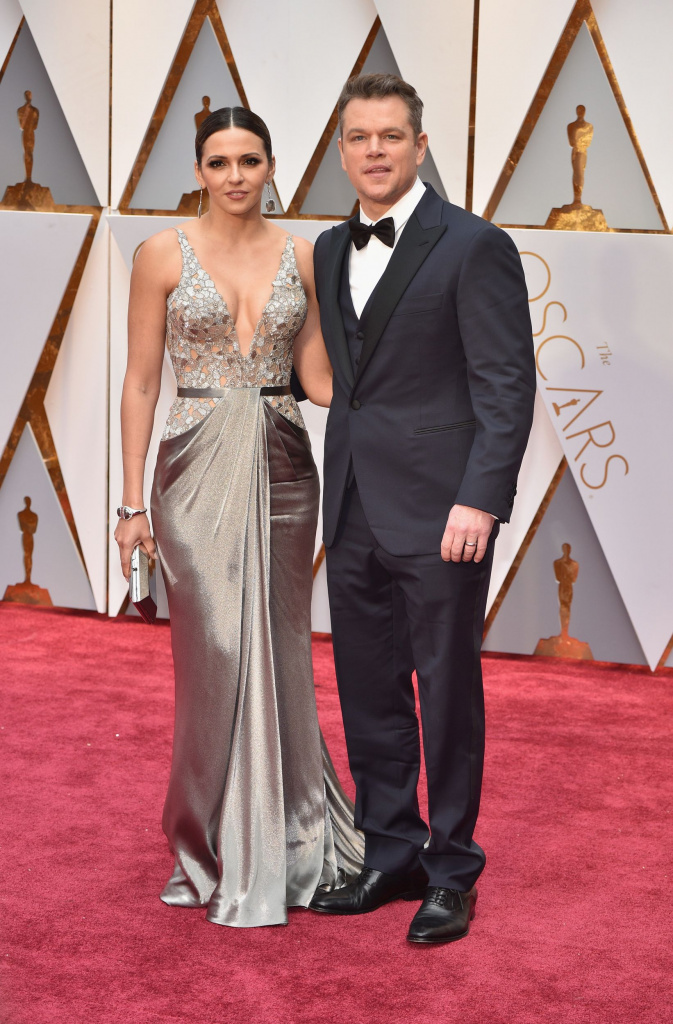 A small and intimate ceremony was so sudden that even some of the closest friends weren't present. It took place in Manhattan, in 2005. The couple got married at New York's City Hall. The cutest thing was that Bozan's daughter witnessed the ceremony.
Michael C Hall & Morgan Macgregor
The actor and the editor tied the knot at a surprise ceremony in New York's City Hall in 2016. The wedding was really small and private, as they wanted to keep it that way. It's Michael's third marriage and the date they chose was also amazing - February 29th.
Vanessa Selbst & Miranda Foster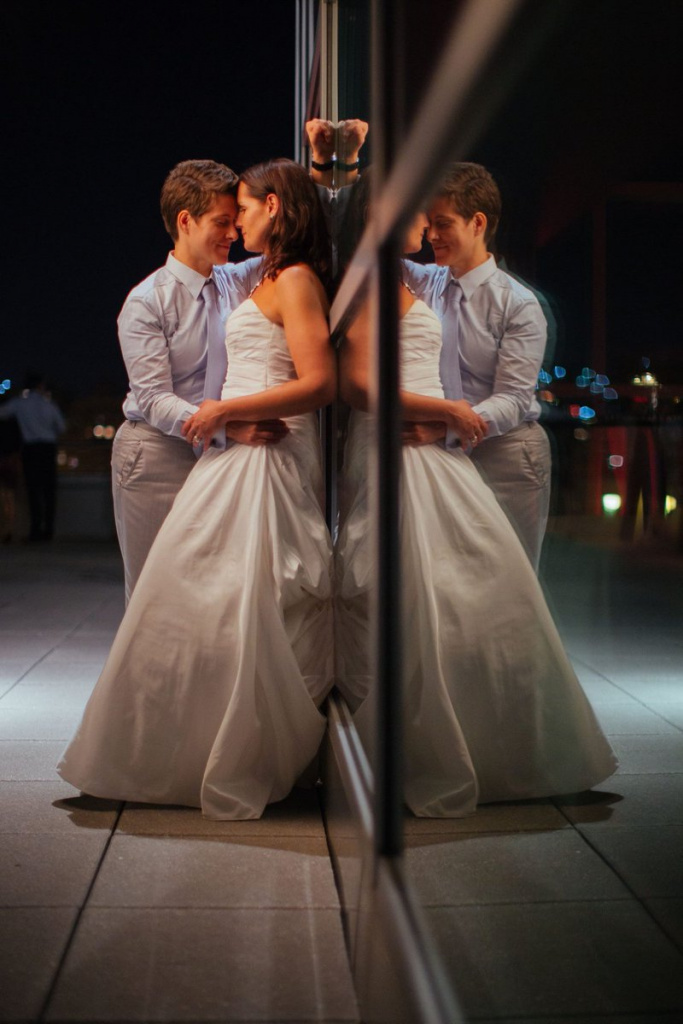 Vanessa Selbst is a kind of unusual celebrity, rather well-known in a quite specific field. She is the best female poker player and she got married to her girlfriend in 2013, and the couple has been together since that time. They shared some of the wedding pictures, where we can see a Brooklyn view from one of New York's rooftop terraces. The view and the landscape of the city are definitely majestic and beautiful. As both Vanessa and Miranda are Jewish, the ceremony and the wedding included special elements, important for the friends and family. There was a performance of the poem read and some speeches the family gave. There also was some dancing and music, and the DJ was hired to provide the reception part.
Derrence Washington & Nick Denton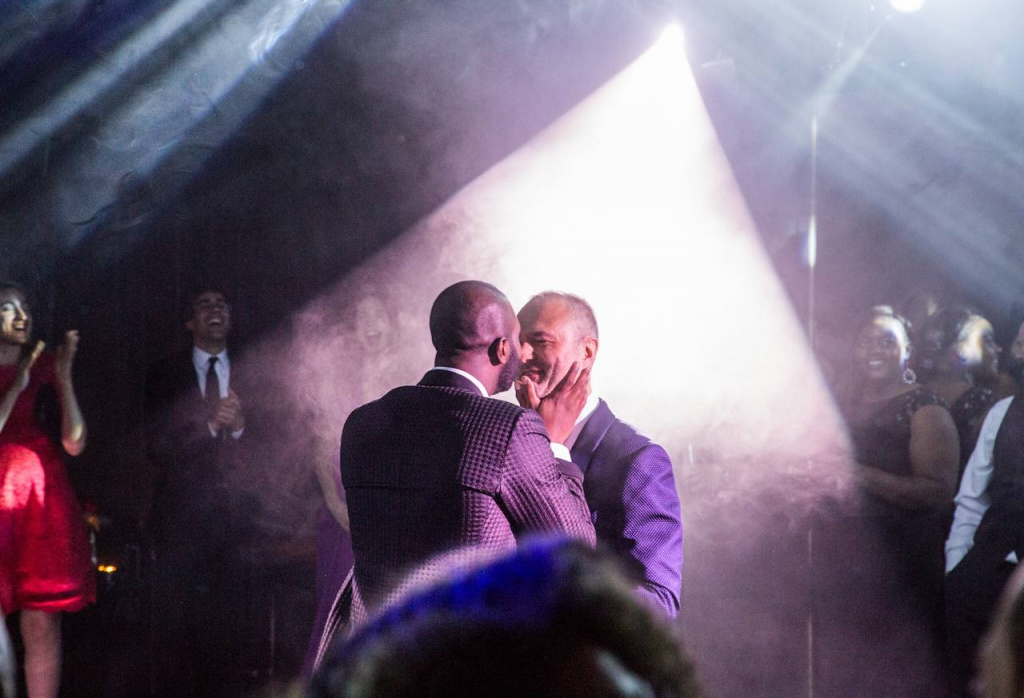 The non-standard location of the wedding ceremony brought the attention of the media. The couple decided to rent space in the American Museum of Natural History. The wedding ceremony was held in a total atmosphere of the universe and a star trip.
Emily Ratajkowski & Sebastian Bear-McClard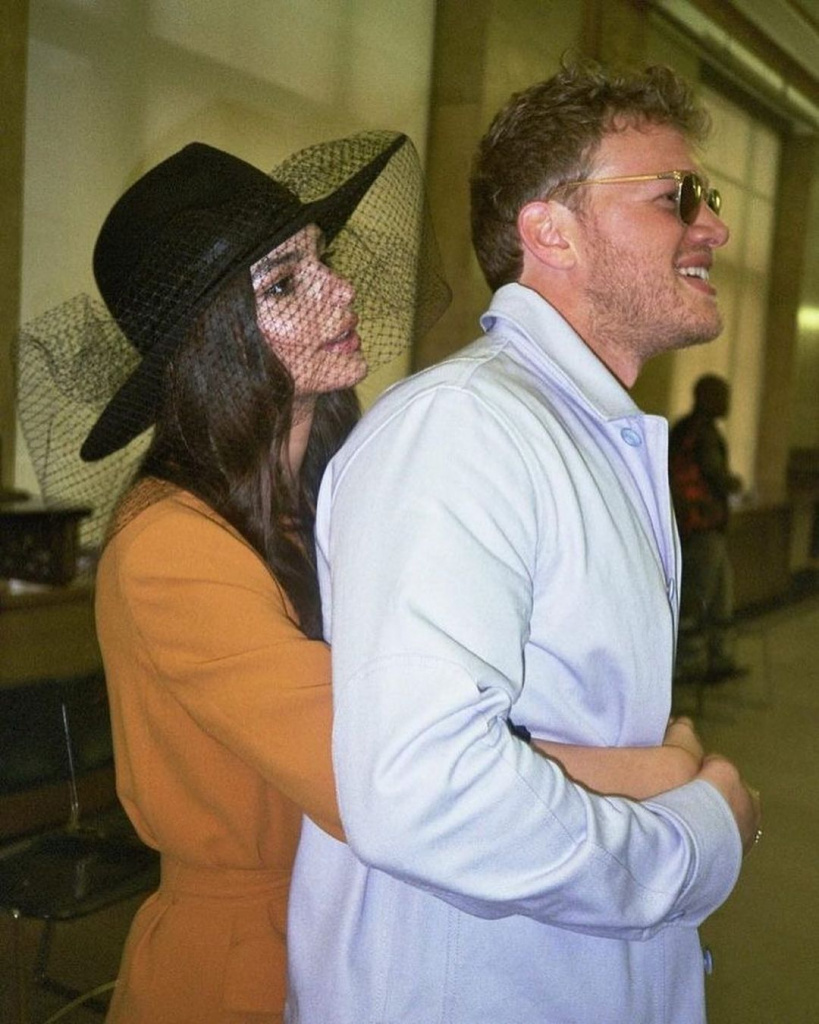 The couple surprised their fans with the announcement about their relationship just on a wedding day in 2018. They picked a small wedding ceremony at the courthouse, in NYC's City Hall. Emily's outfit wasn't too traditional as she picked a yellow Zara suit and a hand-made black exclusive hat.
Elizabeth Lail & Nieku Manshadi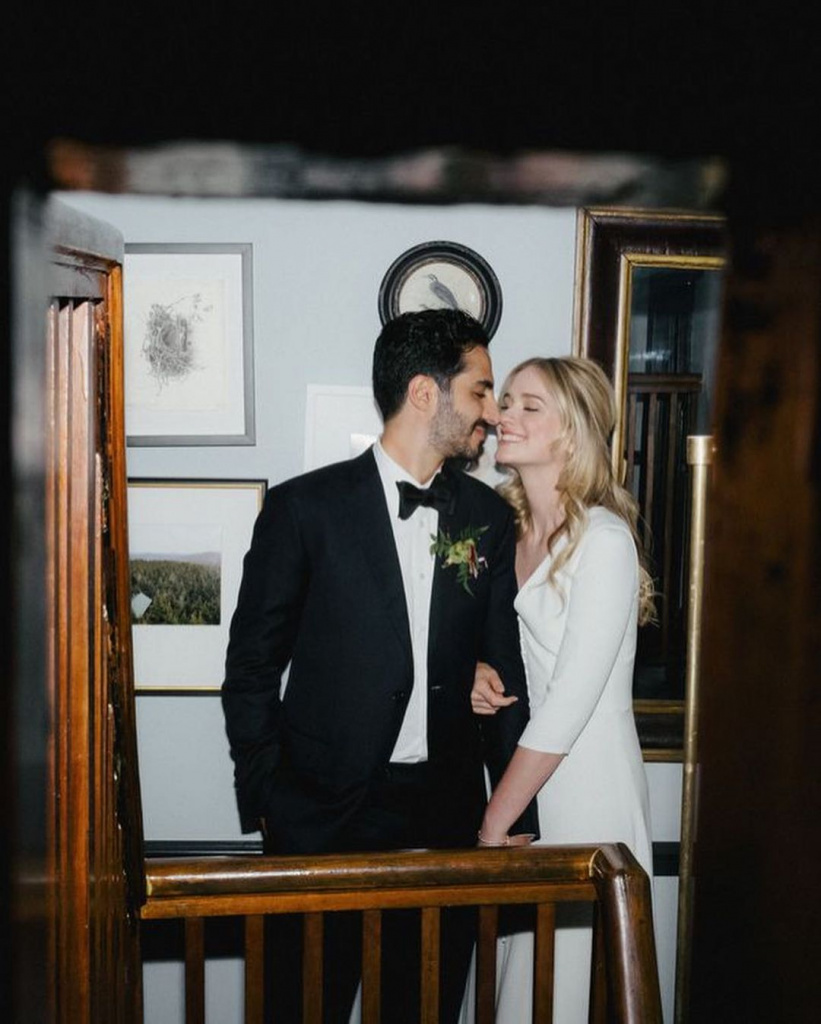 The couple successfully organized a cozy and atmospheric outdoor spring wedding ceremony in April 2021, in Stone Ridge, NYC. The actress has chosen a laconic white dress (that was stylish indeed) and wore minimalistic and simple pieces of jewelry. A bouquet became a gentle and pleasant accent with its juicy spring and romantic colors of vibrant flowers and luscious greenery.