Bridesmaid Dress Colors That Will Be Everywhere in 2022
Publication date:

06/10/2022

Updated:

03/29/2023
You've already chosen your wedding gown and the wedding style, so it's time to opt for the attire for your bridesmaids! What an astonishing task! Some brides stick to one-color outfits, and others decide to choose different colors of bridesmaids' dresses to create an amazing palette! What are the trendy colors for bridesmaids' dresses in 2022? Check the following ideas in the article and opt for the one you'd love to use! Get here to read about the selection of dresses for bridesmaids!
Dusty Shades
Dusty Sage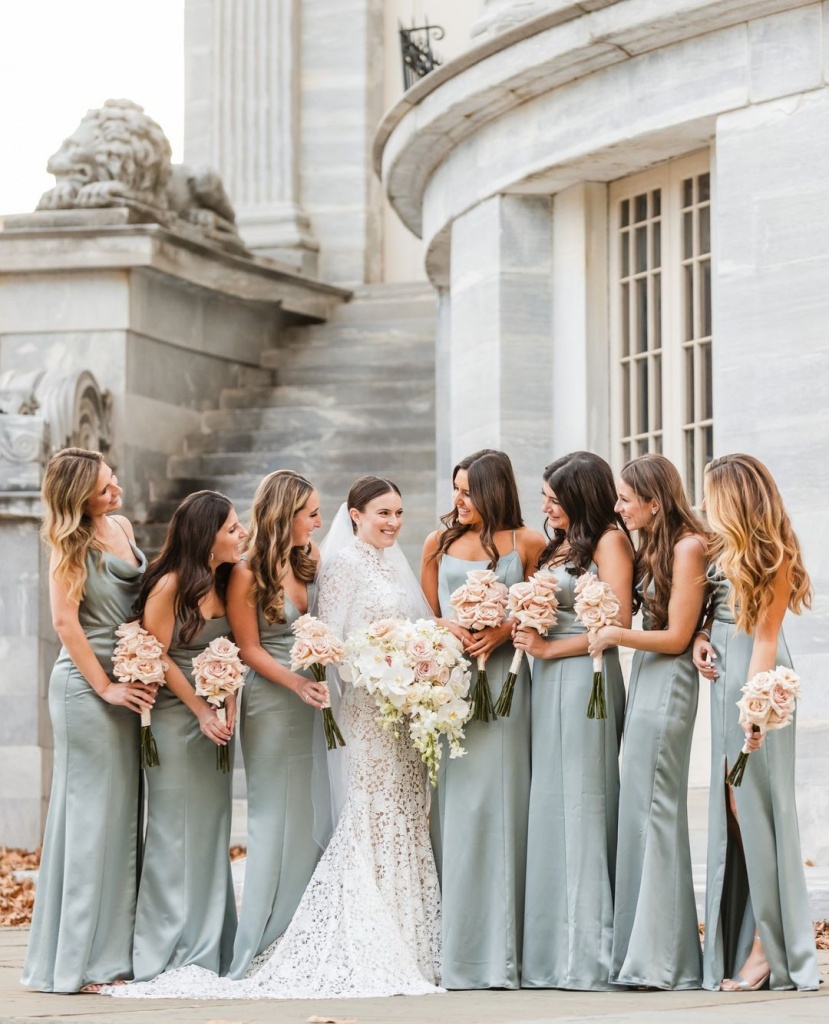 Photo by
Anastasia Romanova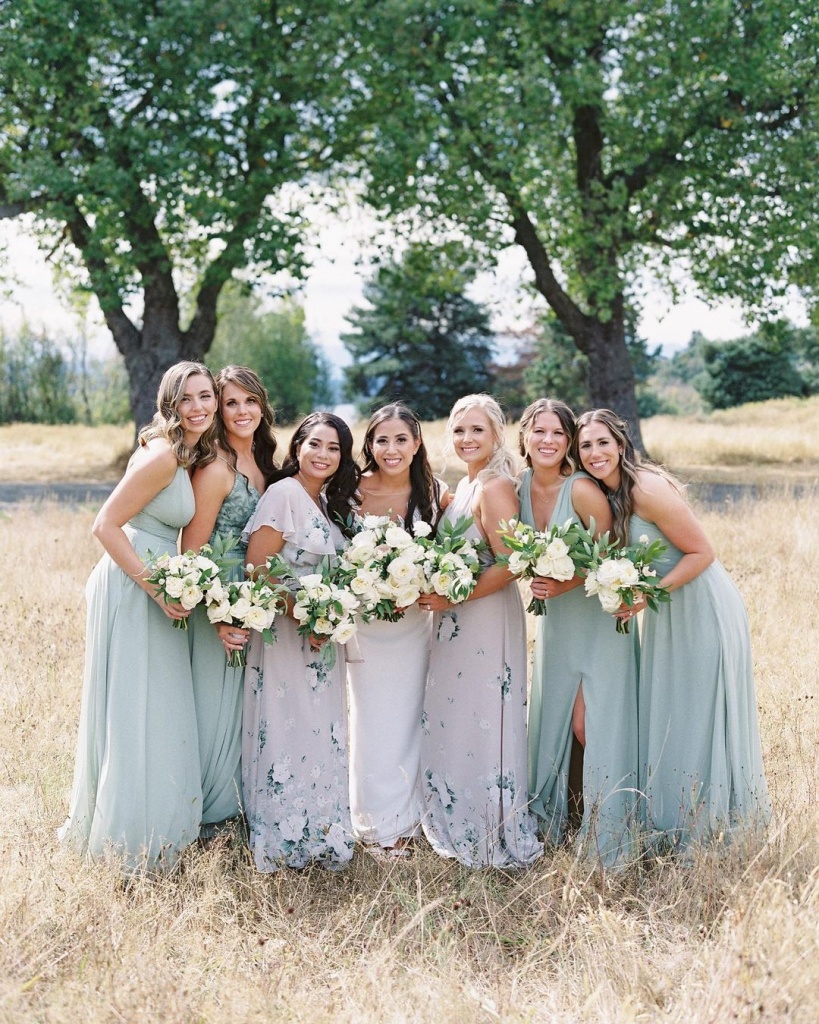 Photo by @jacquelinebenetphoto
As one of the best color dresses for bridesmaids, it looks great along with some other tender shades. Named after a healing plant, dusty sage gives an especially natural vibe and perfectly matches any white or beige shades of a bride's wedding dress.
Dusty Blue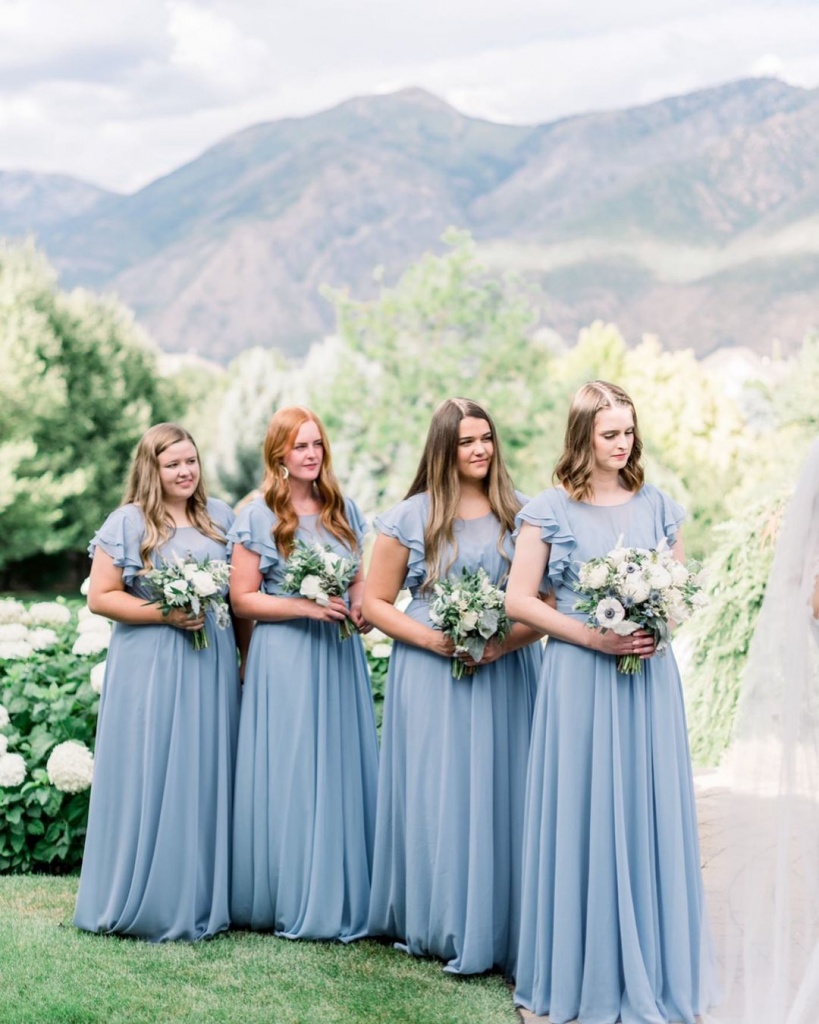 Photo by @laurendautelphoto
Goes perfectly with almost all the colors in all seasons, and looks confident but still tender, calming, and romantic. Dusty blue looks super feminine in lace, satin, and chiffon, so give it a try!
Dusty Rose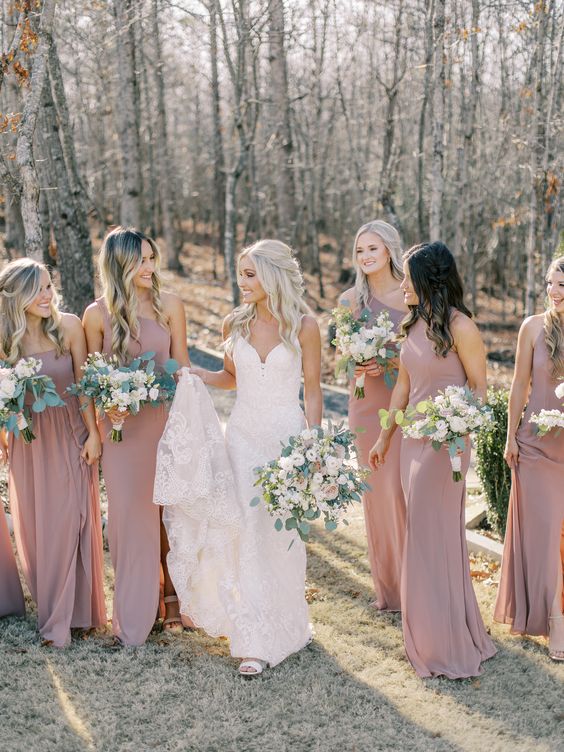 Photo by Katie York
Being delicate as for a princess, a dusty rose is both fresh and sensitive. It's nicely combined with all skin tones and creamy or beige accents.
Pastel Palette
Blushing Pink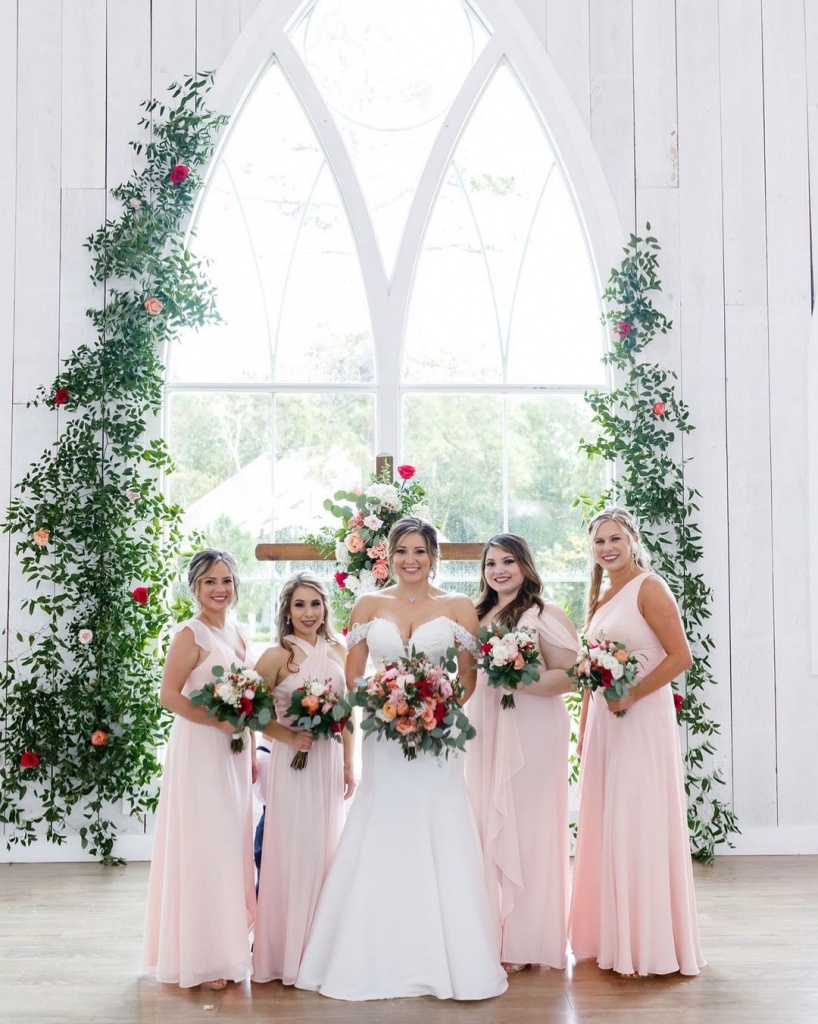 Photo by @violetmartinezphoto
A hue that every lady will fall in love with. It's a pure and delicate shade of pink. Opt for this one if you'd like to make your bridesmaids' style truly girlish.
Sky Blue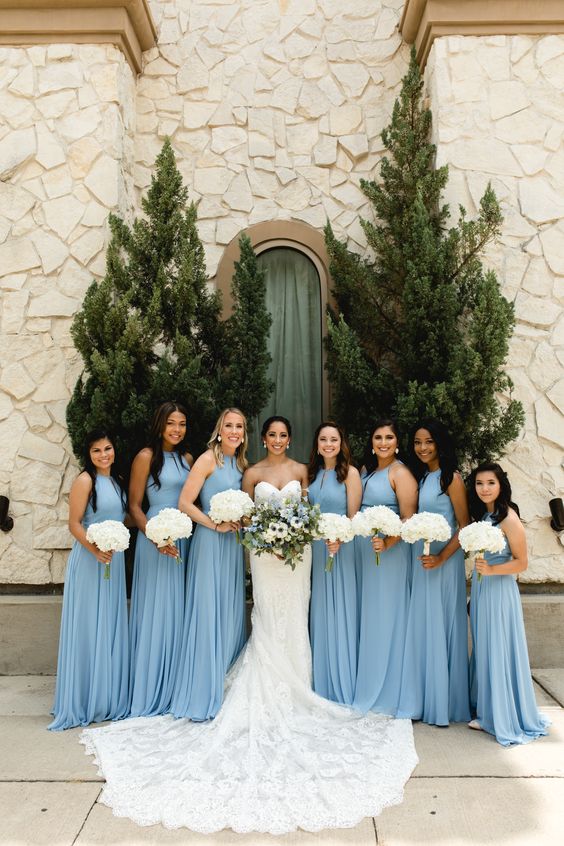 Photo by Christy Archibald
Such shade is always associated with something clean and pure, a fresh vibe of the sky or the ocean in the summer and an icy or snowy mood in the winter.
Champagne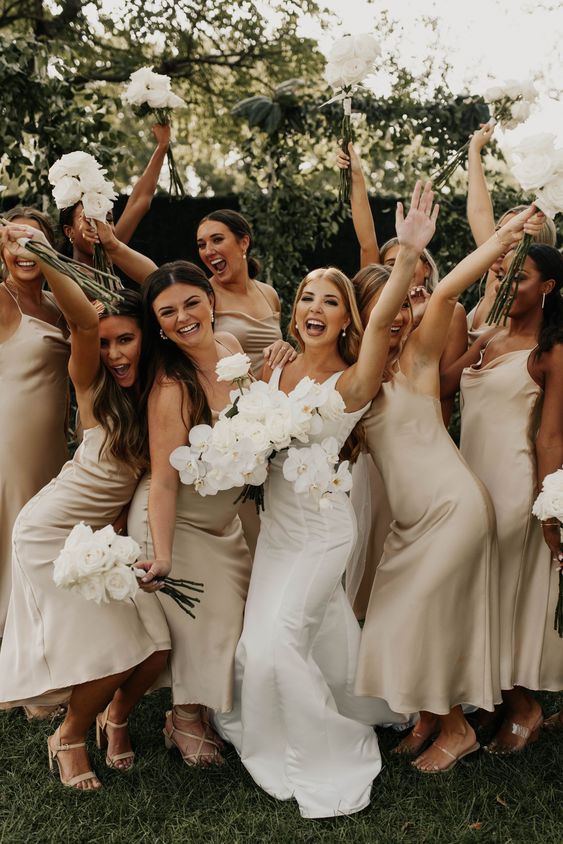 Photo by Taryn Lynn Photography
Photo by
The Ganeys
The drink itself is connected to celebrations and parties and this idea perfectly fits the wedding vibe. The color of champagne includes many shades starting even from a light ivory to an almost golden hue.
Rose Gold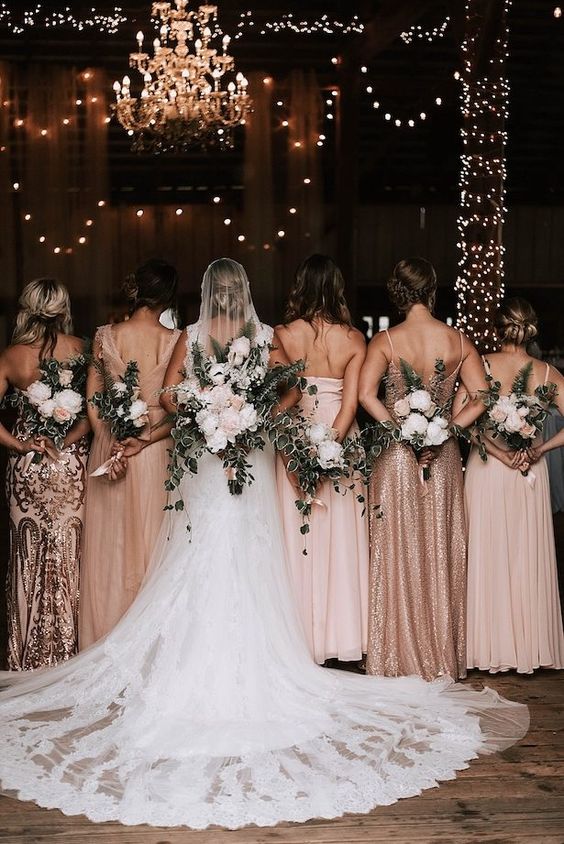 Photo by Nicole Briann Photography
A perfect metallic color for a summer wedding if you'd like to make your bridesmaids shine bright like a diamond!
Deep Colors
Dark Navy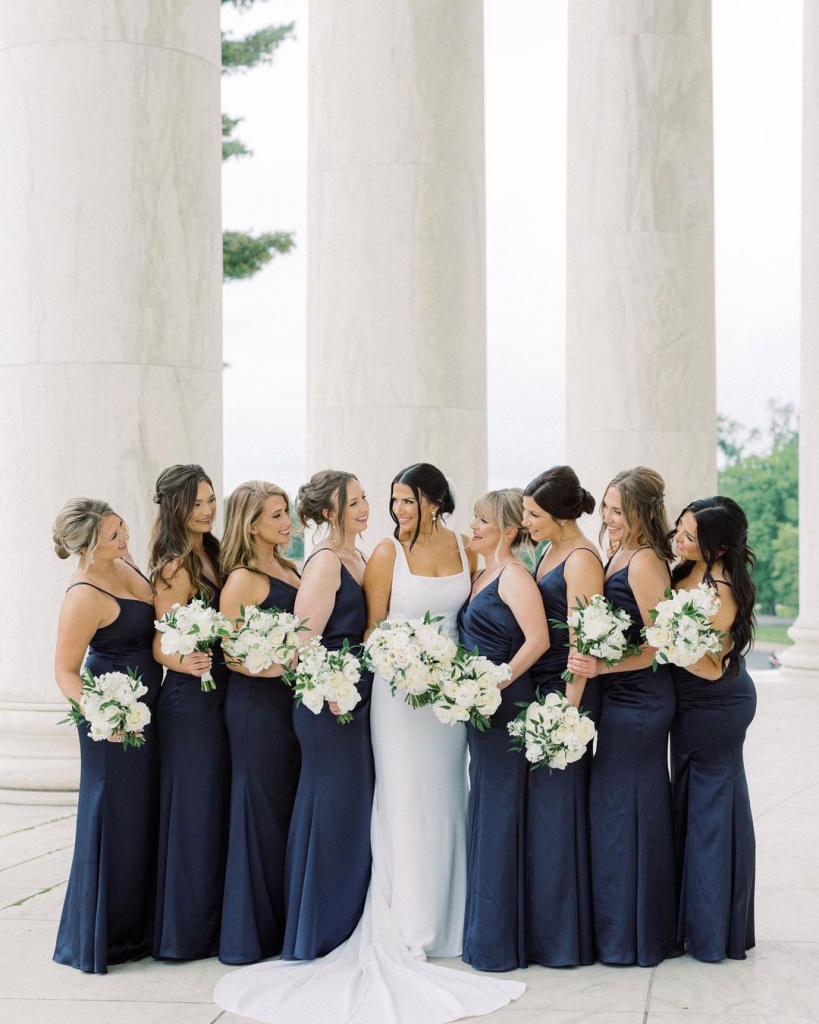 Photo by
Brigitte Renee
It's deep though not dull, classic though not boring, powerful but still womanlike. Dark navy might be combined either with bright or neutral colors.
Emerald Green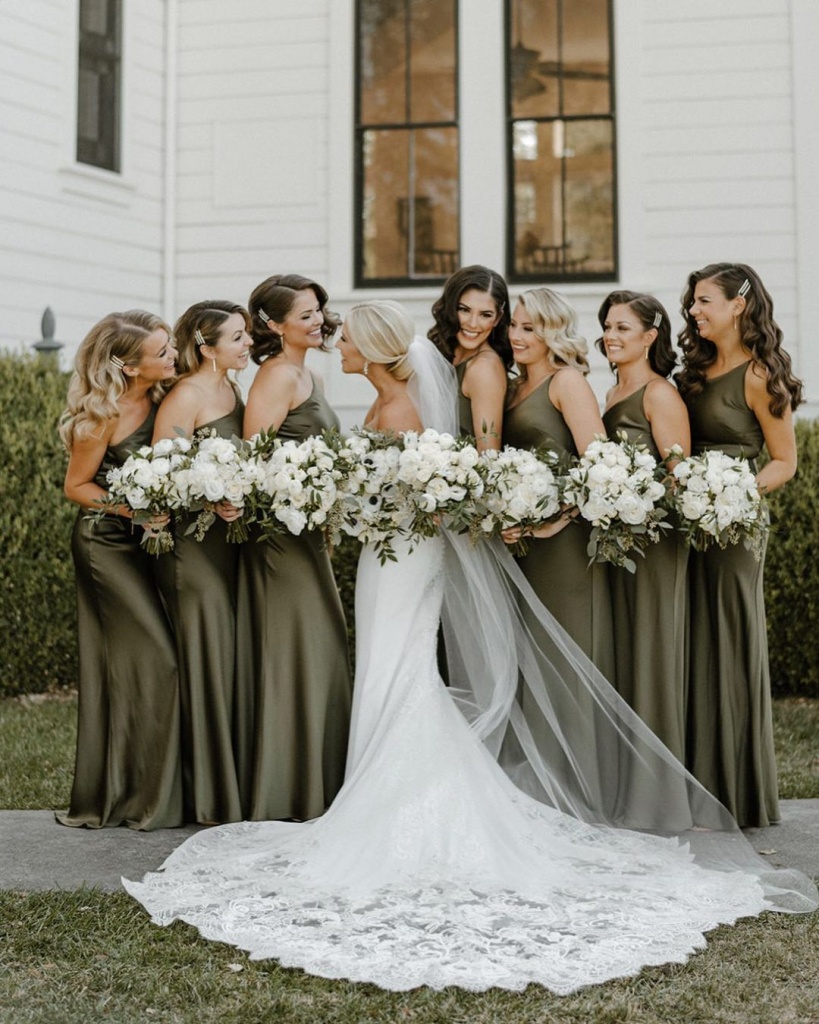 Photo by @julianaaragonphoto
Have you imagined luscious and juicy greenery or a valuable stone?  Both associations are exciting and give you a great picture. Additionally, it matches all skin tones. Emerald green is a great option if your bridesmaids have different complexions.
Mulberry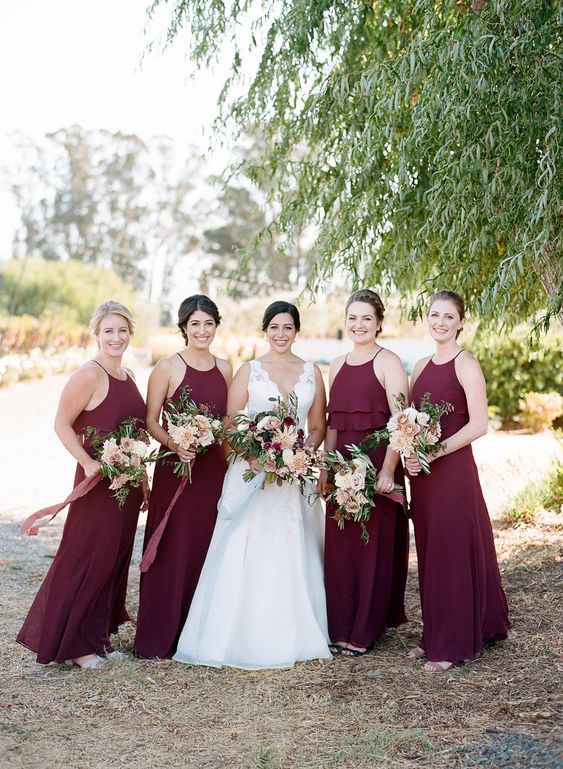 Photo by Sylvie Gil Photography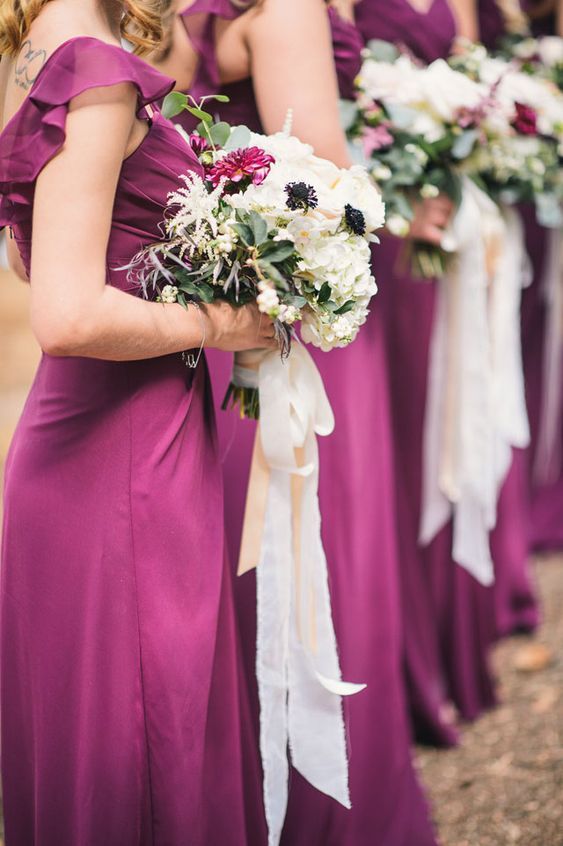 Photo by Stephanie Messick
Looking for a gorgeous and rich color? Stop here and look at mulberry. It's elegant, royal, and deep. There are various styles of dresses for your bridesmaids to use this color. Try classic A-line chiffon gowns or one-shoulder satin dresses.
Cabernet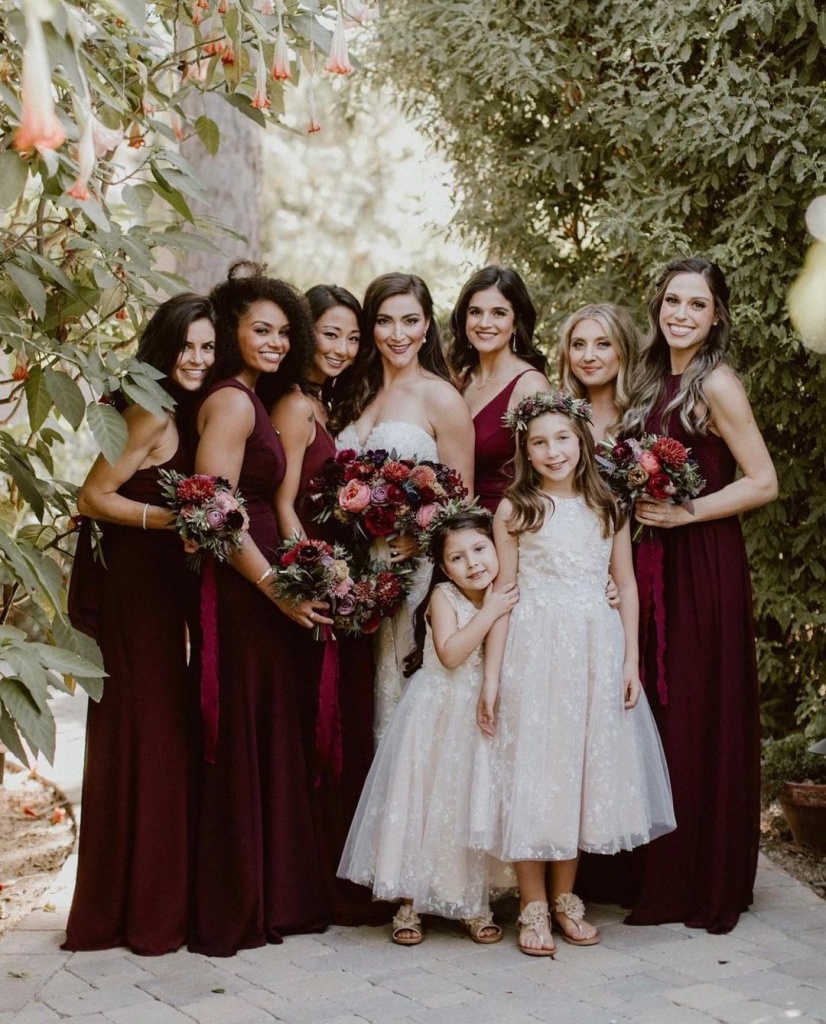 Photo by @jesworkman
If we could taste the color, this one would be a great example. Deep and rich in color as wine, cabernet is a complex shade combining tones of purple, chocolate, dark red, and rose. This one always creates a sweet feeling and bright accents of a general picture of the wedding.
Always Classy
Black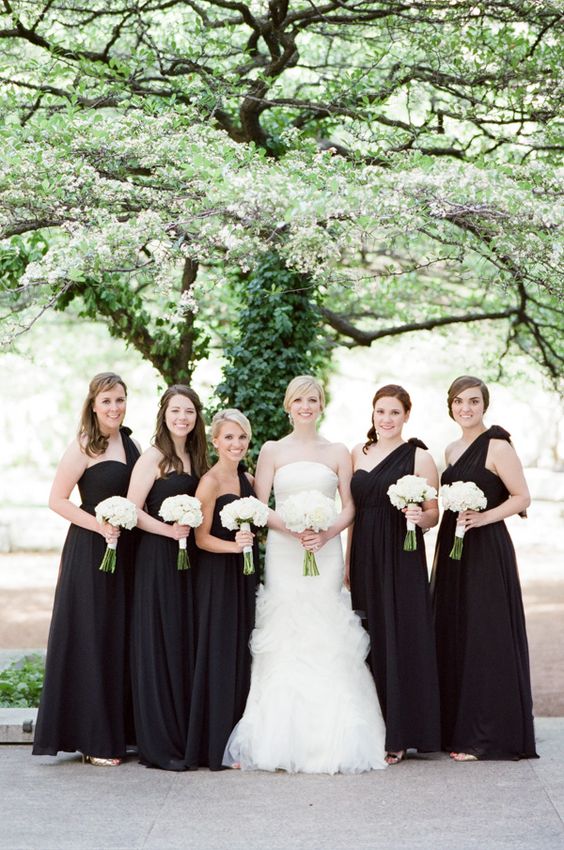 Photo by Tamara Gruner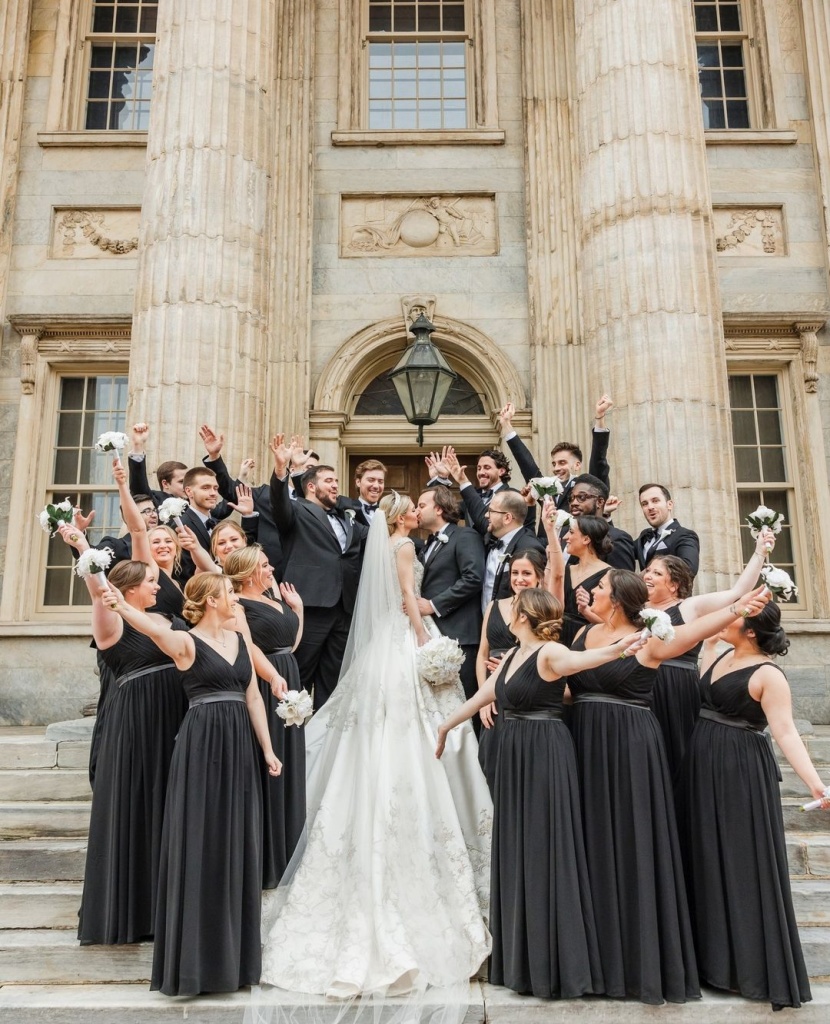 Photo by
Anastasia Romanova
Is black inappropriate for weddings? Is it unsuitable as a maid of honor dress color? Forget it! Black is the most gorgeous and stylish color ever! It's never out of date and suits absolutely everyone with its elegance and simplicity.
White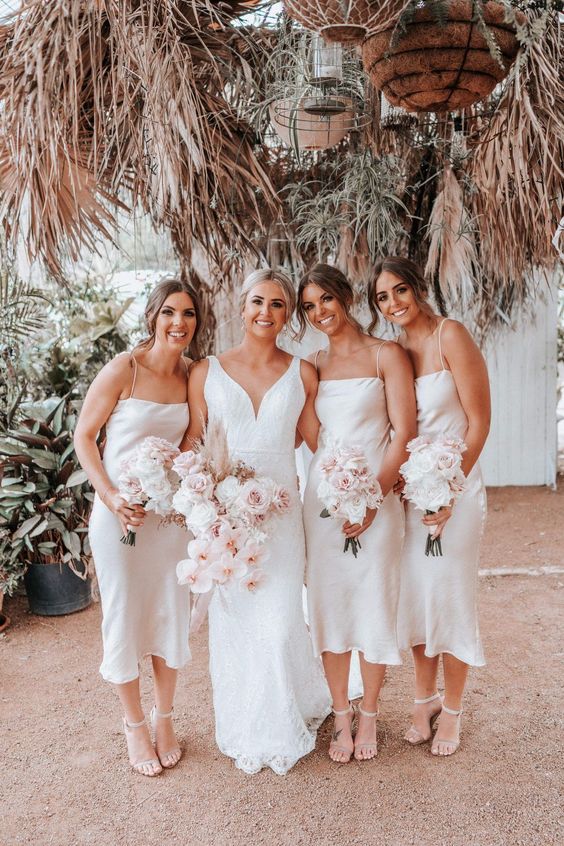 Photo by @theevokecompany
Is white only for the bride? No way! Although it is traditionally thought that white belongs to the bride, you have to mind what a stunning and timeless picture you'll get if your bridesmaids wear it! Also remember, that there are plenty of white shades and they all differ.
Burgundy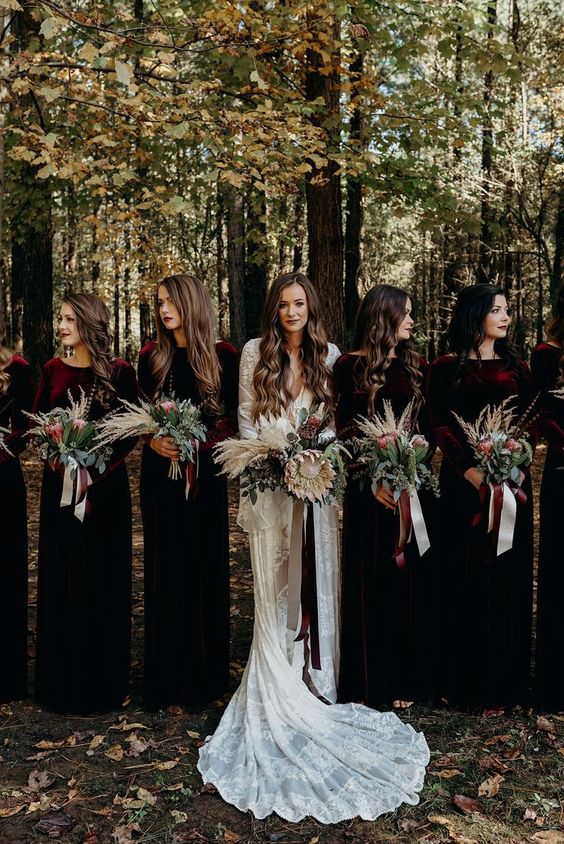 Photo by The Forwards Photography
As the color of red wine, burgundy is one of the best colors for winter and fall bridesmaids' dresses. It looks great with lighter hues like pale pink, light blue, gold, silver, black and white. Get here to know what the fall wedding is!
Royal Blue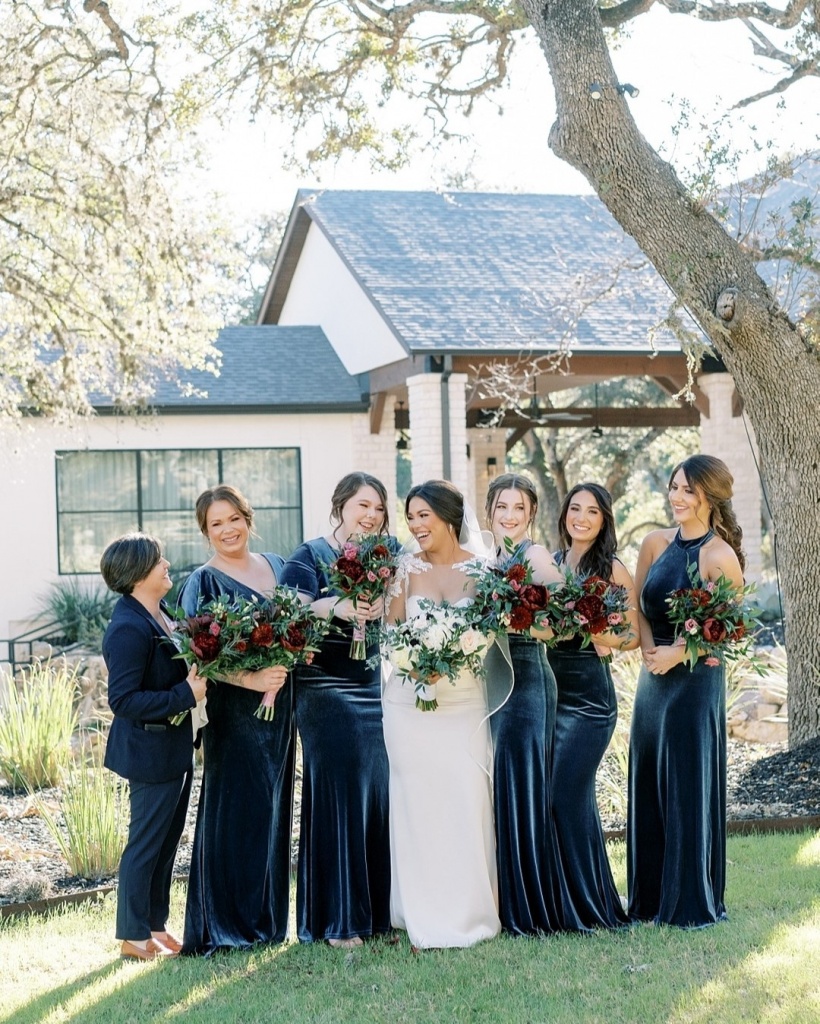 Photo by @amy_odom
Deep as the ocean, and beautiful as a noble sapphire, dark blue is vivid and intense. It remains a source of inspiration for many brides and grooms when it comes to the choice of bridesmaid dress colors. Royal blue appears to be an amazing combination with some bright accents and perfectly matches a beach wedding.
You can also check out our photographers' portfolios for some inspiration photos!