What's the fall wedding
Publication date:

04/07/2022

Updated:

02/06/2023
Many couples prefer to say "I do" during the autumn season, and there is no surprise why. The temperature during September and October is comfortable for outdoor ceremonies and celebrations, the bright foliage sets the gorgeous scenery for wedding photos, as well as plenty of seasonal fruits and vegetables that can be turned into delicious meals. And let's admit, autumn is just the coziest and most beautiful season. If you're currently in search of fall ideas for weddings, keep on reading to get inspired.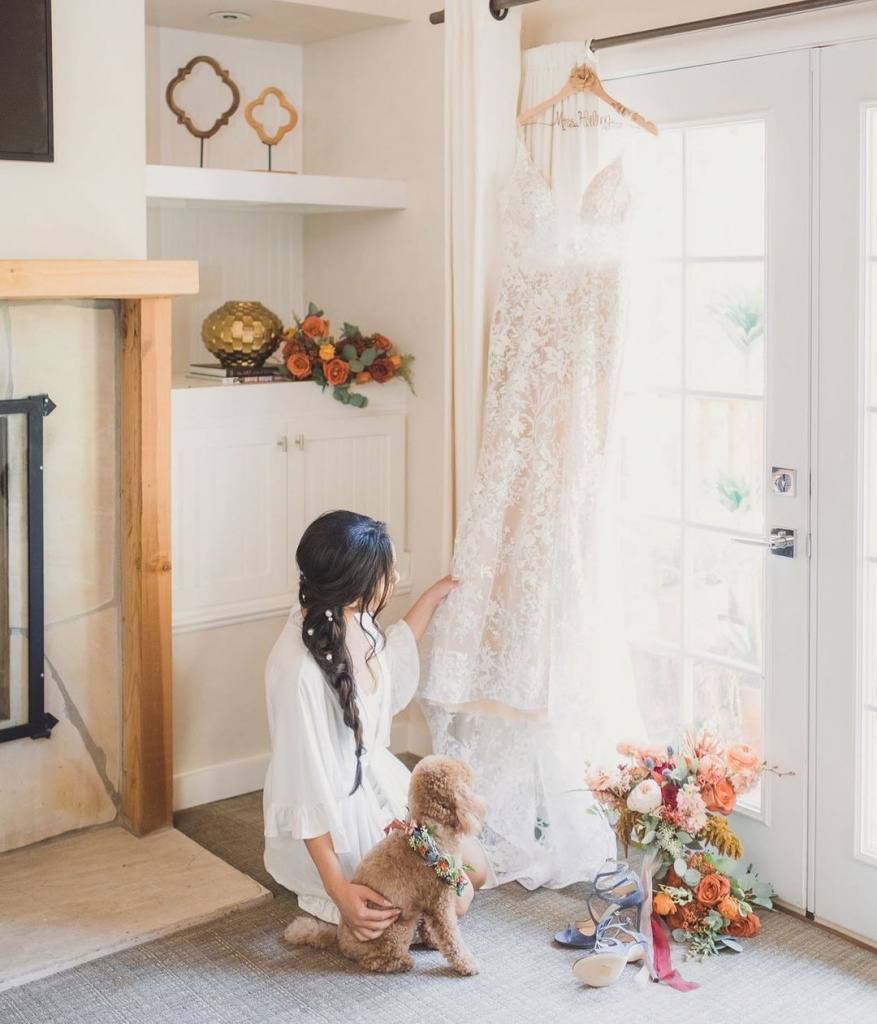 Photo by Sun & Sparrow
Picturesque fall photos
Fall is a magical season that comes with a fascinating aesthetic, bold colors, and deep hues that are hard to find during any other season. Having a fall wedding gives you an opportunity to take stunning photos that will preserve the warmth and joy of your wedding day. Find an outdoor location with amazing fall colors - red, orange and gold - and try to take advantage of them. Shooting in the colorful landscape will help your photographer use the beauty of nature to make the images truly outstanding.
Also try to shoot during the Golden Hour. A photography session an hour before the sunset will allow you to catch the setting sun in the background that amplifies the yellow and orange tones and add a soft warm glow to your photos. If your celebration takes place at a venue that does not have many autumn colors, try to take a short trip to a natural location to take lucent wedding photos.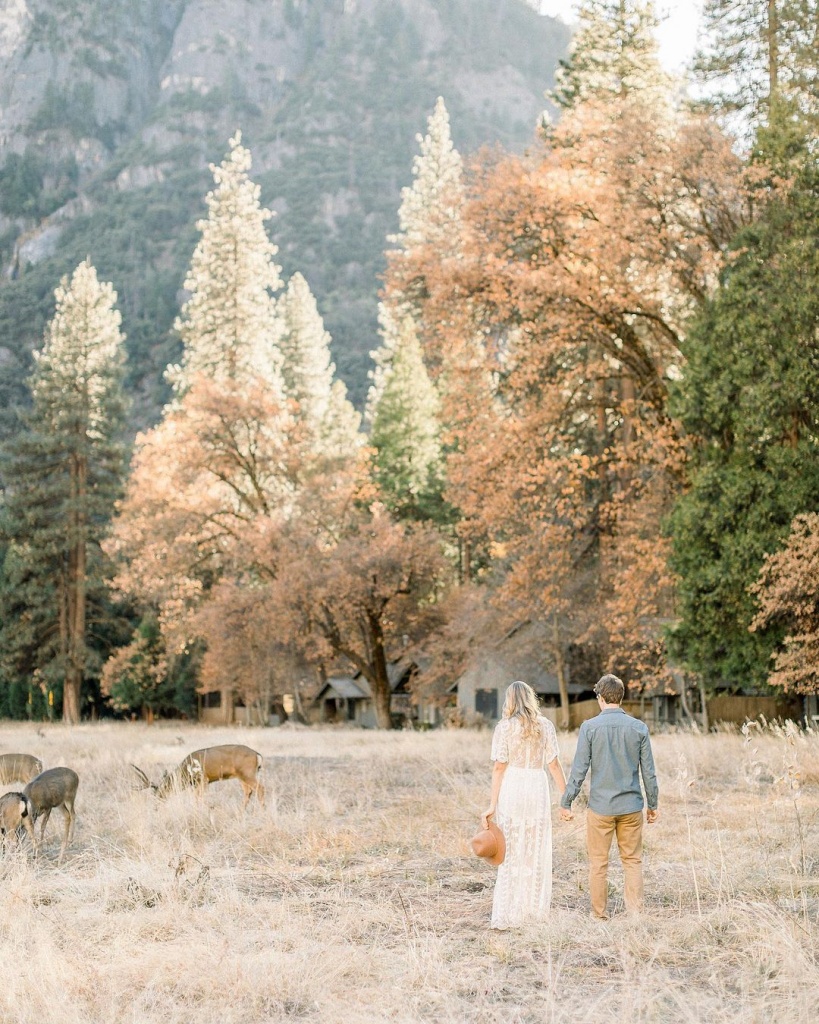 Photo by Eva Moskalets
Falling Foliage
As the summer slowly changes to fall, the leaves begin to transition to acquire yellow, orange and red colors. One of the benefits of a fall wedding is a chance to use the beauty generously granted by nature in wedding decor and photography. Use the falling foliage and fall florals to create an autumn feel: incorporate them into centerpieces, escort cards, archs and even the altar itself. The fallen leaves together with pumpkins or potted mums can also serve as great wedding aisle decorations.
If you're planning to have a wedding in autumn, be sure to use the bright foliage in your photos. Take your portraits outside - you'll get amazing shots even if you get a bit chilly. You should also ask your photographer to use colorful foliage for creative photos. For example, a gorgeous one-of-a-king leaf can become the best backdrop for a stunning ring shot.
Seasonal Food
Weddings in the fall mean sweet and savory cuisine. Ask your caterers to create a serve-yourself fall harvest grazing table full of cheeses, bread, seasonal vegetables, meats, and nuts. Surprise your guests with a creamy soup in mini-pumpkins. You can also add a Thanksgiving vibe by serving turkey with mashed potatoes and gravy. Of course, anything with a pumpkin. For dessert, offer seasonal fruit pies or cinnamon-sugar donuts.
Don't forget about warm beverages. Since the weather might get rather chilly, weddings in autumn require a good supply of warm drinks. Consider creating a hot cocoa and coffee bar or serve mulled apple cider garnished with rosemary and cinnamon as your signature cocktail.
The special atmosphere of the autumn wedding can be also emphasized with seasonal wedding cakes. Fall theme needs to be present everywhere. Choose cakes in a rustic style with "rough" icing and decorated with berries, foliage, or feathers. Both semi-naked and naked cakes are very popular. With no icing, but embellished with autumn fruits and dark flower buds, these cakes look gorgeous in the center of the fall wedding table decoration.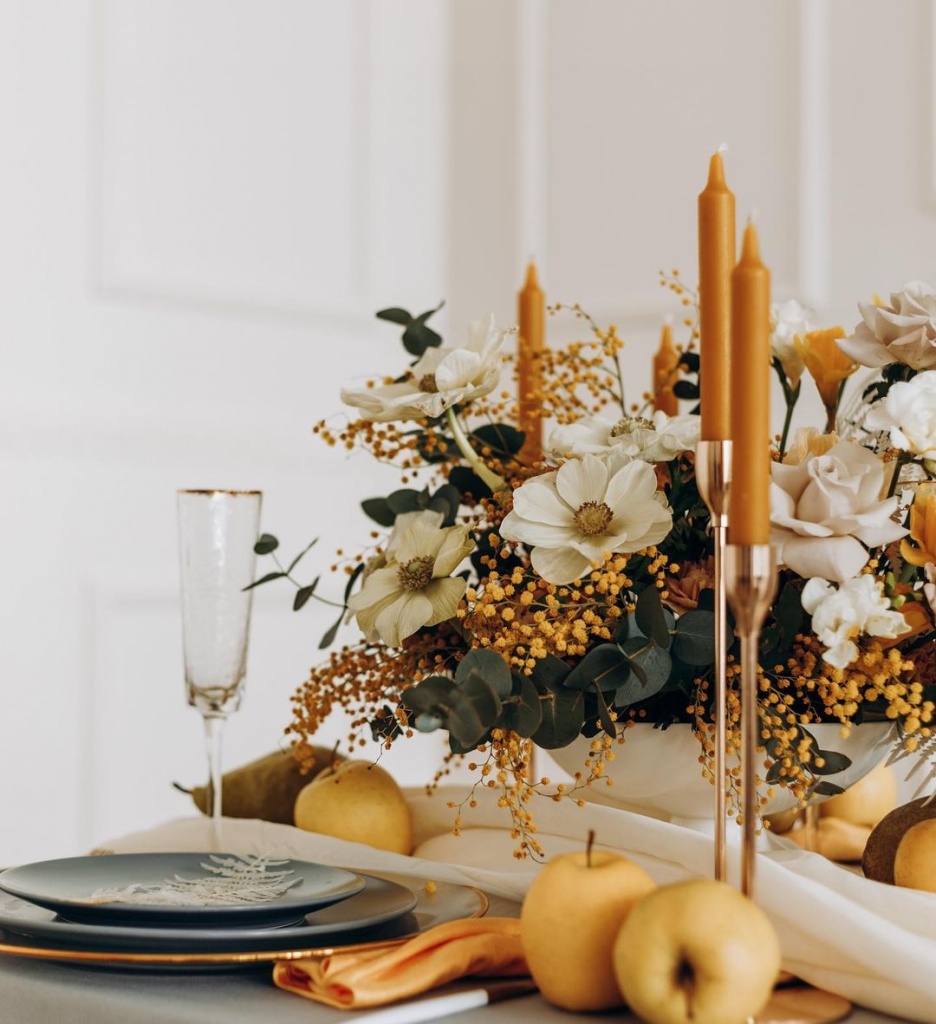 Photo by Ksusha Viter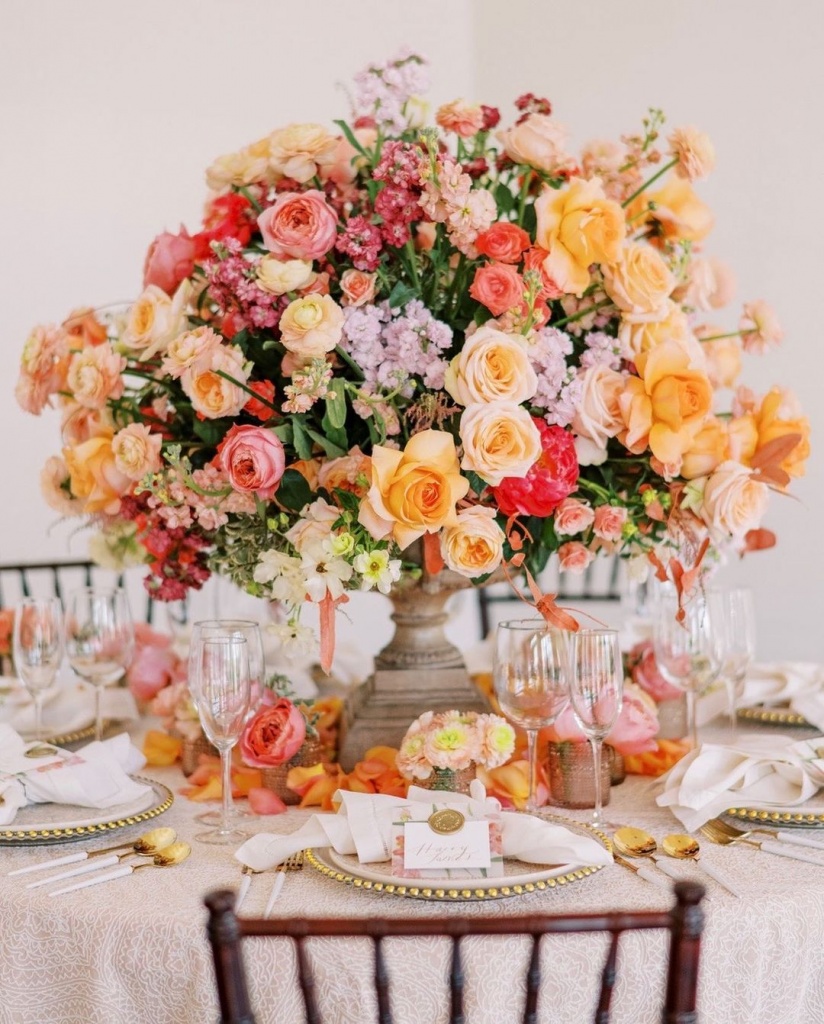 Photo by Ashley Dey
Opt for Rich Fabrics, Colors, and Textures
Autumn is the time when nature changes its colors from saturated green to yellow, orange, and deep red. Consider these as the main colors or use the Internet to find ideas for a fall wedding color palette. Even though the results would most probably mimic the hues of the falling foliage, don't limit yourself with traditional red-yellow and brown. Colorful details always work perfectly. For instance, gold, copper and burgundy accents look marvelous in fall color schemes.
Besides, feel free to experiment with fabrics and textures. Create a cozy atmosphere by adding soft elements, such as light scarves and warm throws, or decorate the table with leather accessories. The groom and groomsmen can wear fall wedding suits made of tweed. These will not only help everyone feel the autumn spirit but also will keep dear guests warm during the outdoor celebration. The girls also need special autumn wedding dresses. Choose thicker fabrics for your bridesmaids' attire, especially if your wedding venue is not well heated or is located outdoors.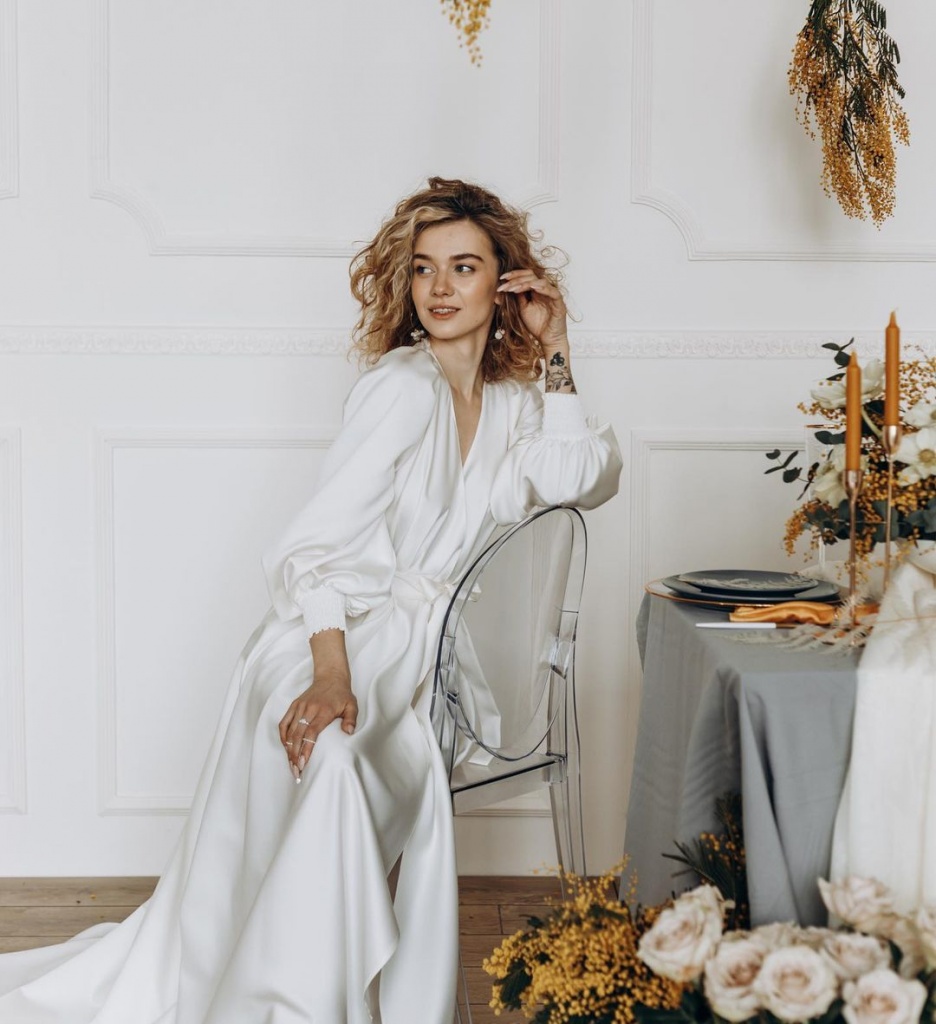 Photo by Ksusha Viter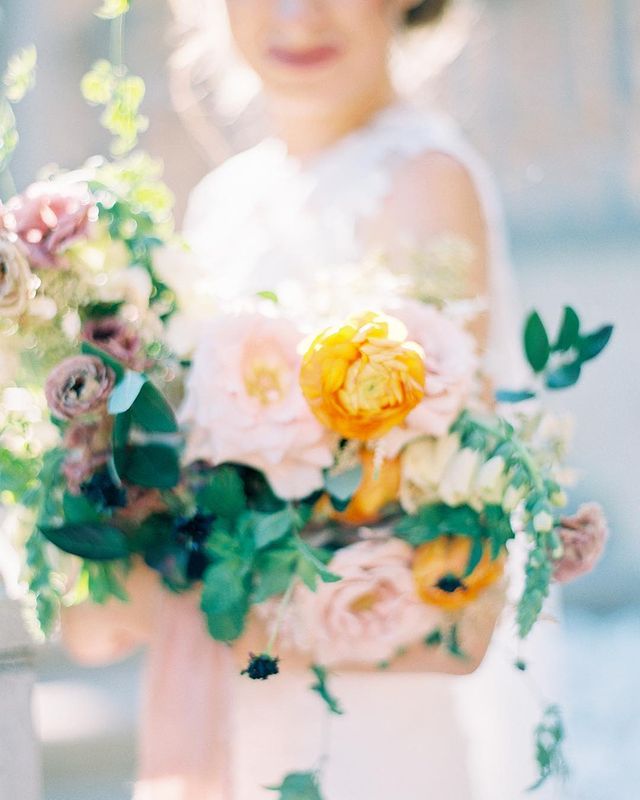 Photo by Danielle Bacon
Wedding dress for autumn
Since most of the weddings take place outdoors, fall wedding dresses should be both elegant and warm. Choose a dress with long sleeves: these will not only protect you from getting the goosebumps but also will make your look truly refined.
If long sleeves aren't your favorite option, or you'd like to add an extra layer to your outfit, consider faux fur collars and capes. With these chic accessories, you'll keep your shoulders warm during the ceremony and reception.
Finally, if you've selected a simple fall wedding dress, add textured and bright accessories. Finish your look with velvet shoes, soft bow for the hair or a bolero.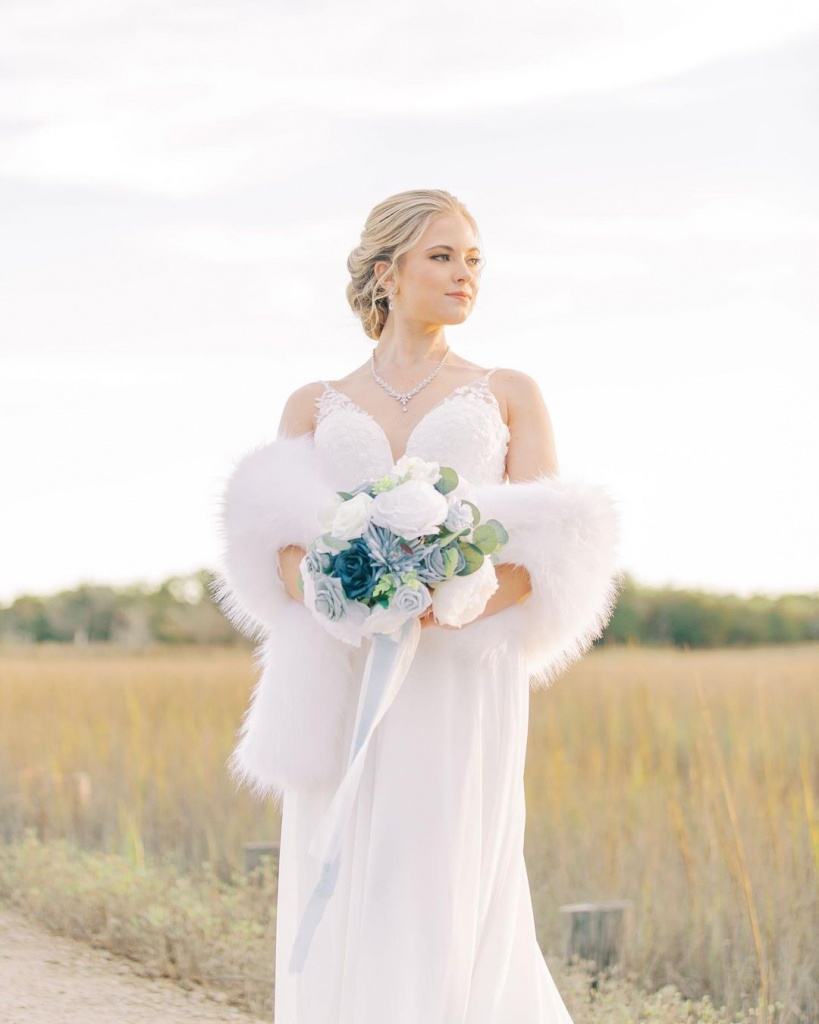 Photo by Jessiva Jaydee