Beach Wedding Photography Ideas
Publication date:

05/26/2022

Updated:

03/28/2023
Are you dreaming of gorgeous beach wedding photographs, with the ocean as a background? Well, what can look more stunning than such a luxurious backdrop, highlighting the perfect unity of you both in love, same as harmonic landscapes behind you? And the waves, crashing against the shore as a symbol of a permanent and mighty feeling that you're confirming by tying the knot - aren't they magnificent?
If you want to get the perfect result of a beach wedding photoshoot, you have to mind some important details and realize that there is a lot of hard work behind all those dreamy shots. But don't worry: this article is all you need to know about beach wedding photography ideas and tips to organize a great photoshoot and even enjoy it a lot! So, let's get started!
Beach wedding photography tips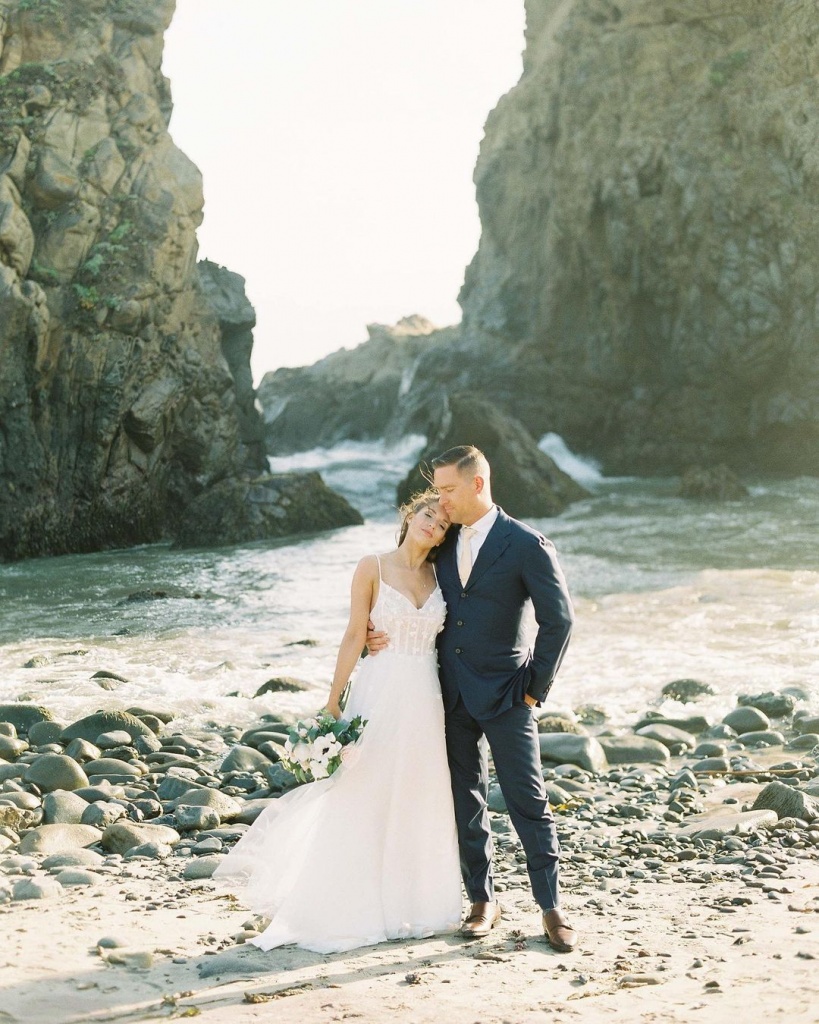 Photo by @kdimeg_photo
Though the beach wedding photos look amazing, the weather there isn't always so great. The wind, sand, water, and harsh sunlight might be a challenge for you while being photographed. Be ready to overcome all those obstacles in the name of the best photographs ever! Listen carefully to your photographer's instructions, act fast, be flexible and outgoing. 
Think over such important things as part of your beach wedding photography outfit. Comfortable shoes and clothes will make you feel uninhibited while shooting, so as not to get distracted from your main goal - great pics.
Arrange everything you need, agree with your photographer all vital details: beach wedding photography venue, the time you meet and decorations you need.
Consult your photographer, discuss ideas
Don't neglect recommendations from your wedding photographer. Talk over with them and don't ignore their advice. They might have extremely important experience in this type of shooting and a lot of beach wedding photo ideas. They'll recommend the best time to go and the locations. For example, shooting during 'golden hour' might be a great option - the sunlight isn't so harsh then as at noon.
Find out about the best ideas for such a photoshoot
Do a little research - analyze other couples' wedding beach photographs and define which one you love the most. Share the pics with your photographer. You'll get to know about some must-have beach wedding photography ideas a little bit later in this article.
You might love the idea of having a tiny beach photoshoot BEFORE the wedding. This will give you some practice and you will feel way more confident and relaxed on a wedding day. You will find some great ideas for such a photo session below.
Beach pre-wedding photoshoot ideas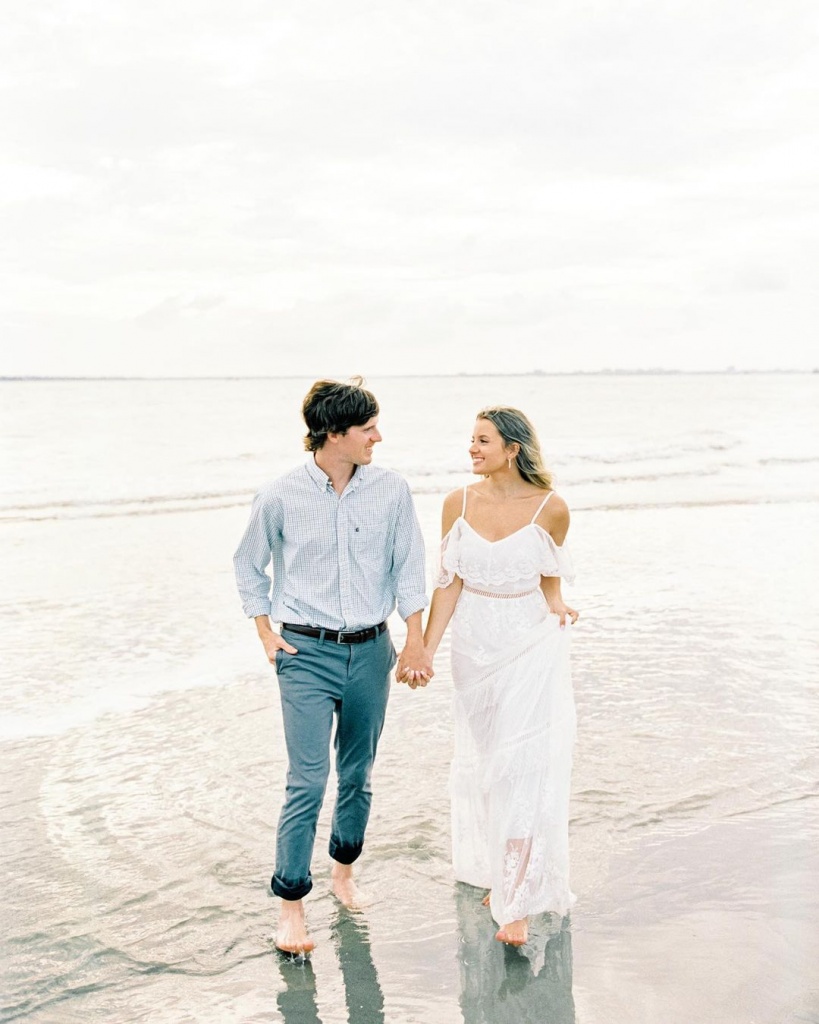 Photo by
Katherine Photographer
Add some colors - why not? Smoke bombs became a trend in photography a few years ago and they're still popular. In combination with the ocean, they will create a magnificent atmosphere in the pictures.
Experiment with the Outfits
Play with colors and style, there are various options: couple clothes, fairytale gown with a train, sporty outfits - there aren't any standards for such a shooting. 
There are plenty of happy brides who said 'yes' at the seaside. Take some photos at the romantic sunset and play out the proposal. Later, you may even use such photographs for your wedding invitations, website, etc.
Must-have beach wedding photos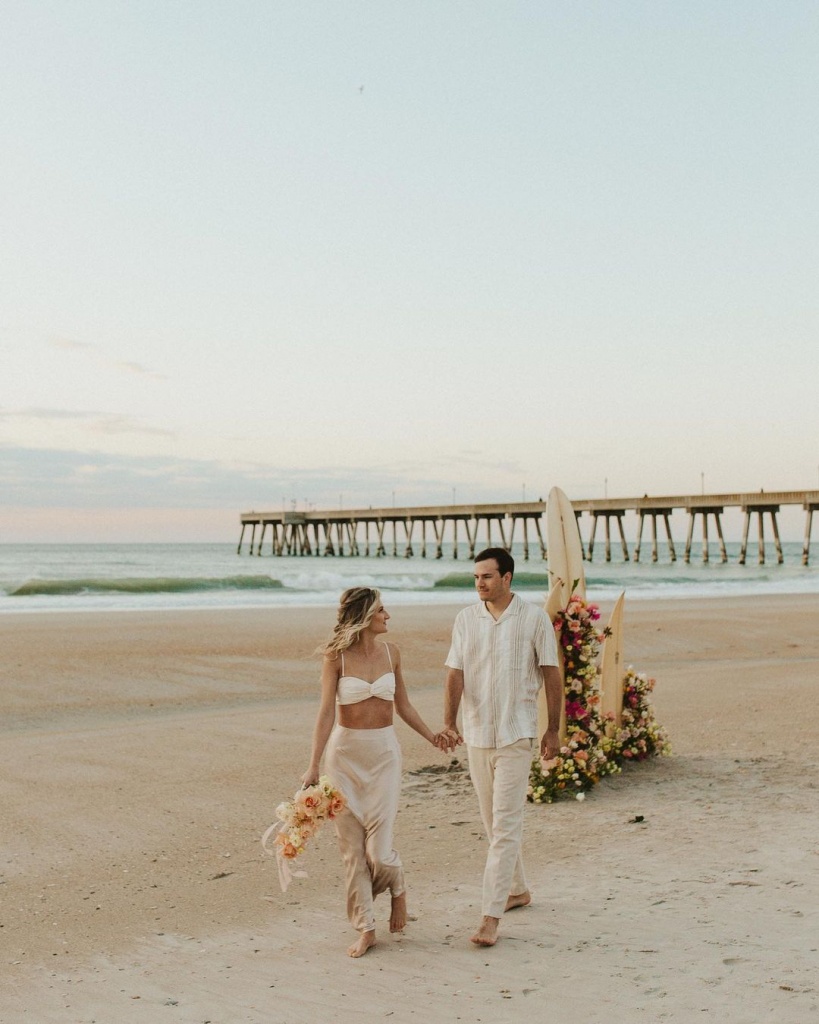 Photo by @nikkinetzerphotos
It's important to mind the location you're going to choose but there are still some super universal must-have beach wedding photo ideas that you can realize on most of them. Look at some examples below:
Emotional beach shots are delightful and don't demand a lot - just show your true happiness and feelings. Running, lifting, carrying the bride, having fun, and playing with sand or water always work well. 
The Blacked-Out Silhouette Shots
Such photos are both romantic and mysterious. They look like a piece of art even without any additional decorations.
Showing the majesty of nature never fails, especially when that's a combination of ancient stones, water, and sand.
Quite cute and romantic at the same time. Don't think it's too simple. Such shots might become a great element of your beach wedding photo collection.
Drops of water in the air might be shown as a symbol of capturing the very moment, its importance, and the uniqueness of your couple.
That's a type of shot that might seem insignificant at the first glance but usually creates an intimate and cozy atmosphere. Make it touchable - the shooting of such details helps save even tactile effects and will keep your memories alive throughout the years.
Trendy beach wedding colors & decorations for stunning photos
Photo by @sabrinakthomasphotography
Amazingly, how gorgeous the simplest decorations usually look. A beachy bouquet with a lot of greenery, tropical drinks, atmospheric lanterns, or candles (but mind the wind) - they all are small but vital elements.
As to colors, the tropical color scheme of creamy and green will complete the picture and the atmosphere of your beach wedding photoshoot. Not only does the green tone work well here, but try out another one, a rather neutral, bohemian theme (gray, brown, black and white). 'Total white' will look so elegant - it's timeless, while deep sea with grayish-green combinations is relaxing and refreshing.