The only thing that can be even more challenging than selecting a bridal wedding dress is the search for several bridesmaids dresses. Being the bride and responsible for this process, you should bear in mind a lot of important details that affect the final choice. Among them, you can highlight girls' individual styles, body shapes and different personalities. Though it'll be a difficult task to satisfy everyone, here are some helpful tips that can come in handy.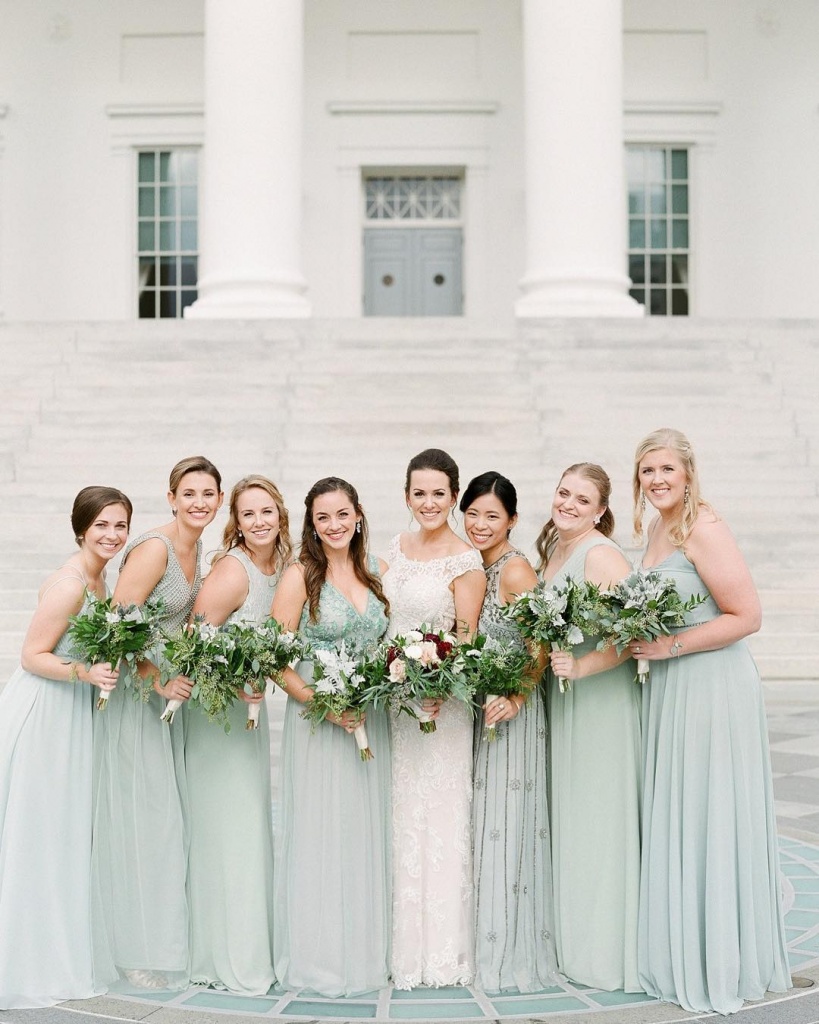 Photo by davidabel.co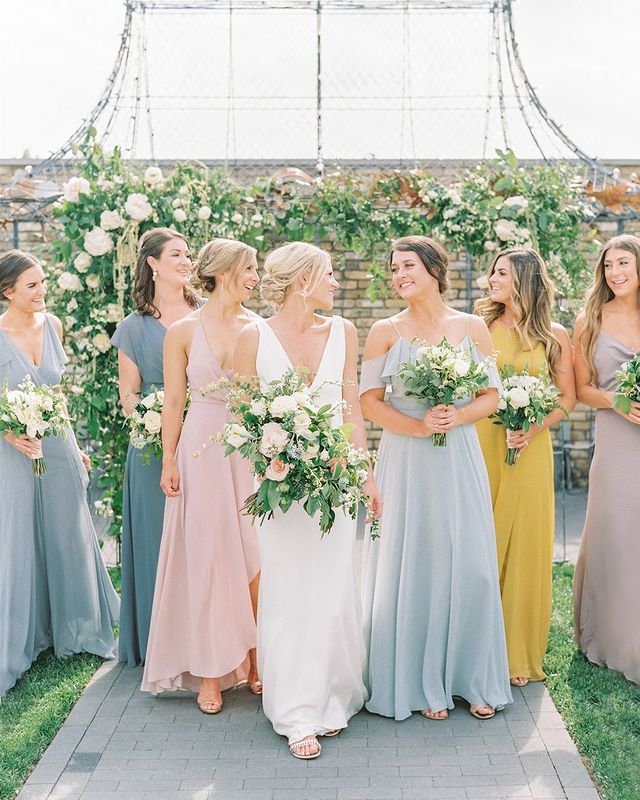 Photo by @laurenfair
Select the style of dresses
Trying to maintain your wedding theme in every item, think about it while deciding on the ladies' outfits. The venue, decorations and the whole concept will give you a clear idea of the right direction, the right color, fabric, silhouettes, shoes, accessories and even bouquets. Usually, floor-length gowns are much more popular than above-the-knee ones. Due to their versatility, they're easy to pair with a variety of  wedding themes, and these dresses look amazing regardless of the body type. Choose classy and minimalistic dresses adding some nice accessories to elevate the entire look. However, if you buy similar gowns for each girl, let them complete the outfit with their own jewelry and shoes. Thus, your bridesmaids will be able to bring their own personal and unique take on the final festive outfit. In addition, especially if you have a fall or winter celebration, don't forget to use pretty cover-ups. Modern and elegant shawls, boleros and scarves will not only keep girls warm, but will also serve as a great accessory that will decorate the simplest dress.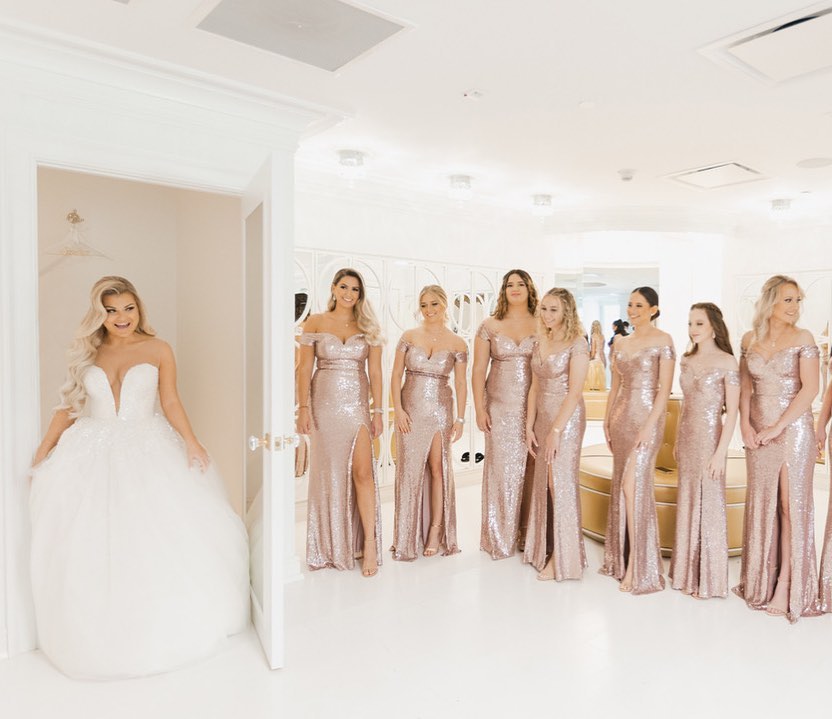 Photo by jaylimstudio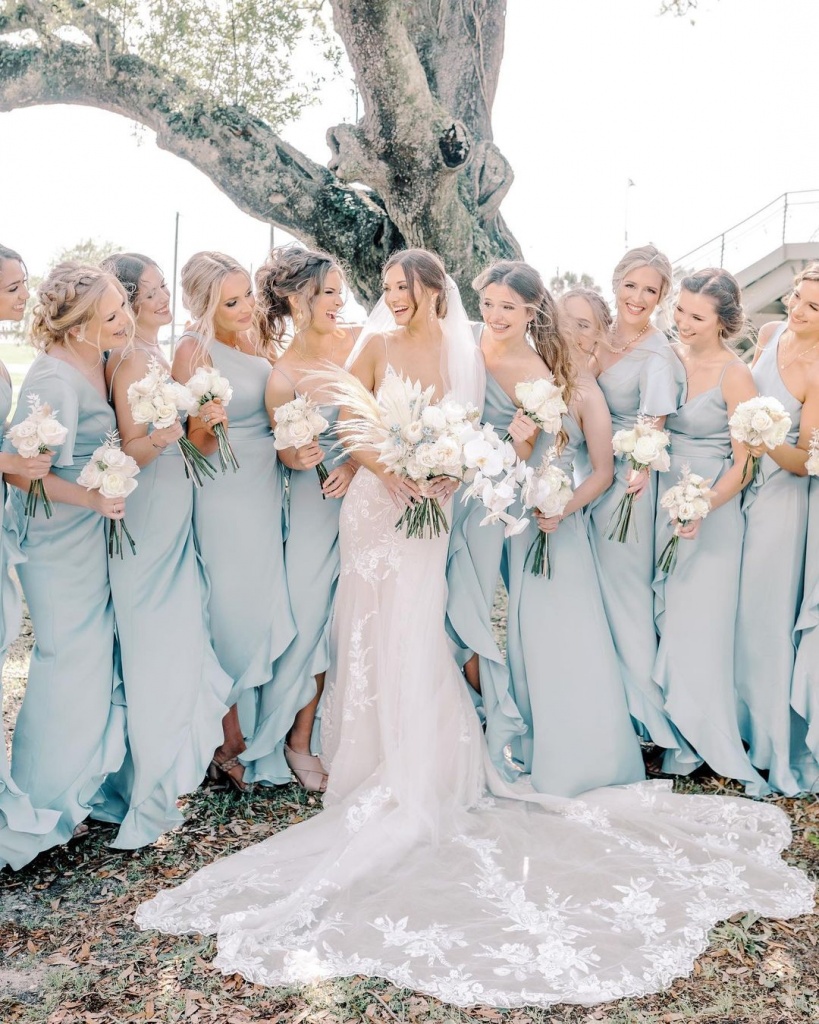 Photo by sheagibsonphotography
Choose a great fabric
Selecting bridesmaid dresses, pay attention to the materials from which they are made. The reason for this is best seen in the photographs. The sparkly dresses look incredible in real life, but when looking at the photos, you may be a little bit disappointed with the produced effect. That's why more and more brides are trying to choose matte ones. Anyway, if you've been dreaming of sparkling sequin dresses for your lovely gang, feel free to make it all come true because it's your big day and it's worth it. It's advisable to take a closer look at chiffon and silk items with delicate lace if you're planning an outdoor summer or spring wedding. Such options will look gorgeous, and you can find any type and color that you can imagine. As for the indoor events, pick satin or rayon to keep your girlfriends warm and comfortable without sacrificing beauty.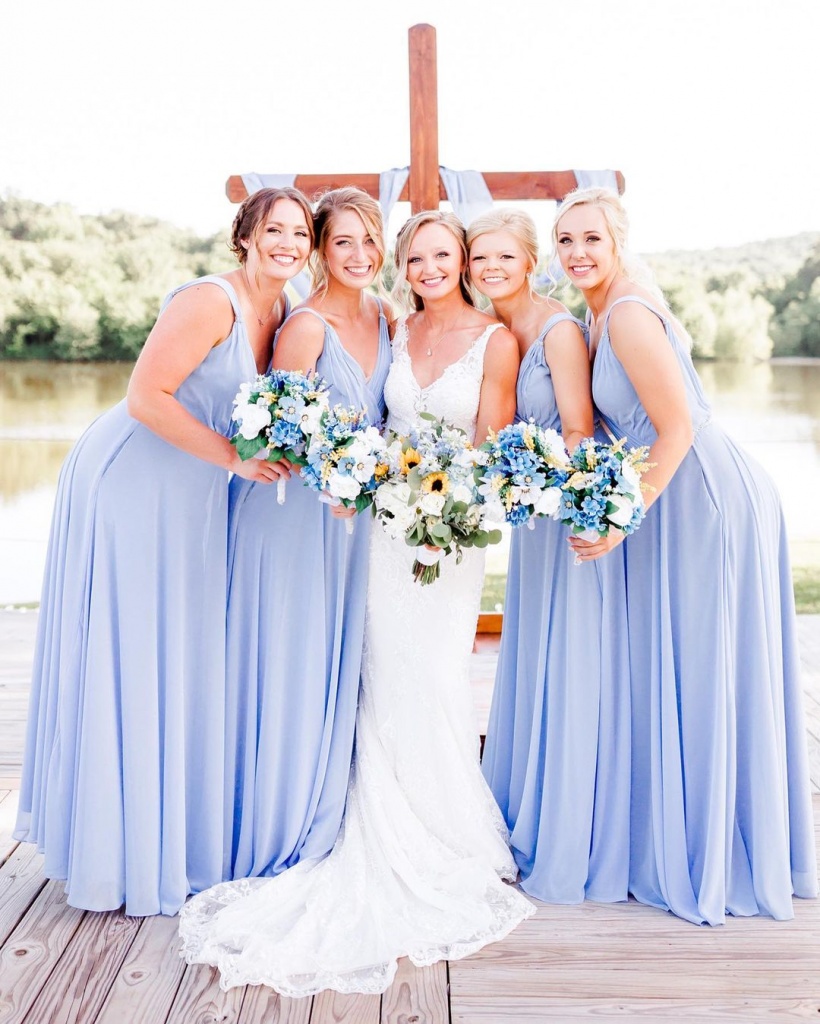 Photo by danielleambryphotography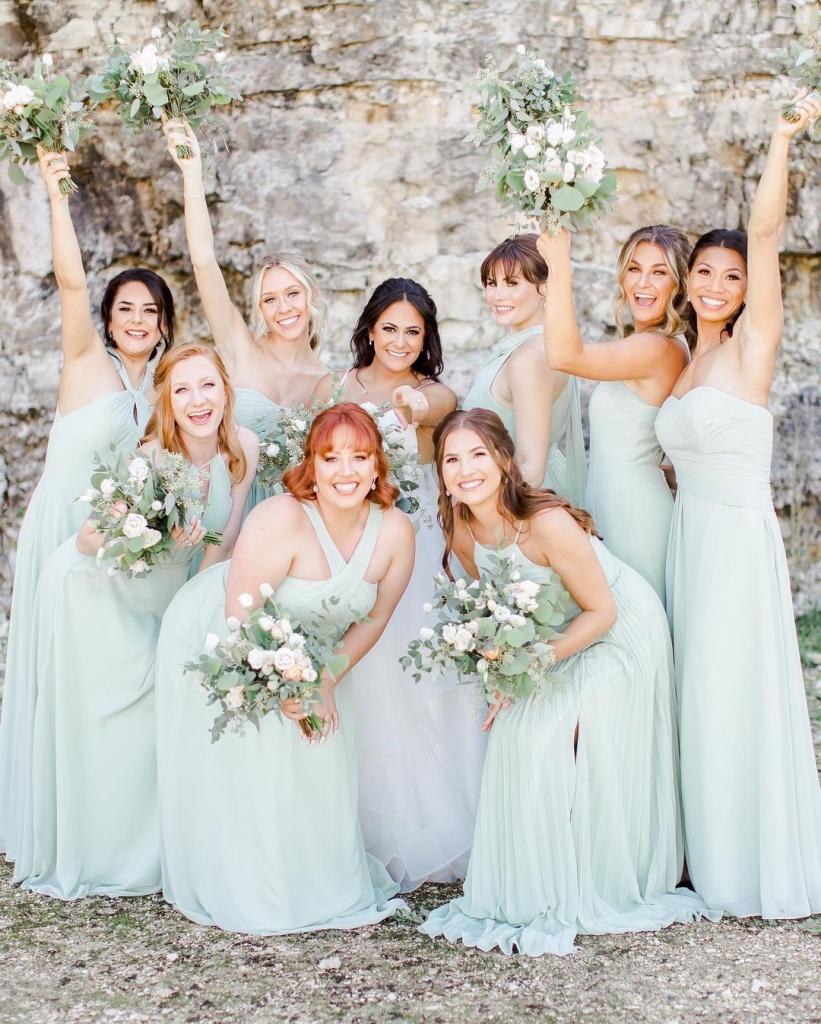 Photo by danielleambryphotography
Prioritize girls' comfort (Take great care to choose a dress in which every girl will feel comfortable and beautiful)
Dealing with the comfort of your bridal crew, make sure you've picked the right silhouette for all the bridesmaids. Nowadays, the majority of brides tend to choose between the two options. The first one is a high-waisted dress to emphasize the natural curves so that it suits any girl. A-line gown is another popular style that flatters every bode type and is widely-used by women around the world. It's worth listening to the suggestions of your girls and being attentive to their reaction when offering a festive attire. Be ready that not every girl is into wearing mini, crop tops, super fitted clothes or high slits. Therefore, more stylish looks are always a good idea because they have experienced the long-standing trust. Actually, to rule out the possibility of disappointing or dissatisfying someone, give preference to individual items that still look similar, but have a different style. In this way, each bridesmaid will be in love with her outfit, which means that she will be able to fully enjoy the wedding day. Keep an eye on dresses with different necklines to find what each girl likes the most.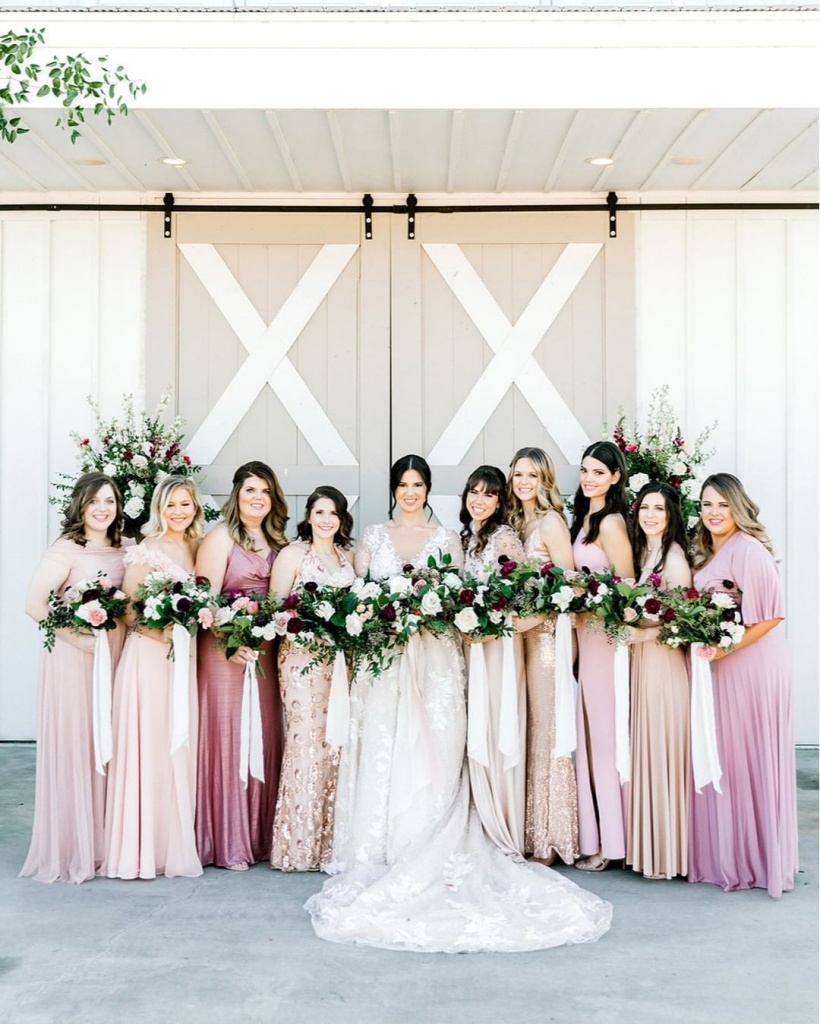 Photo by amandalanephotography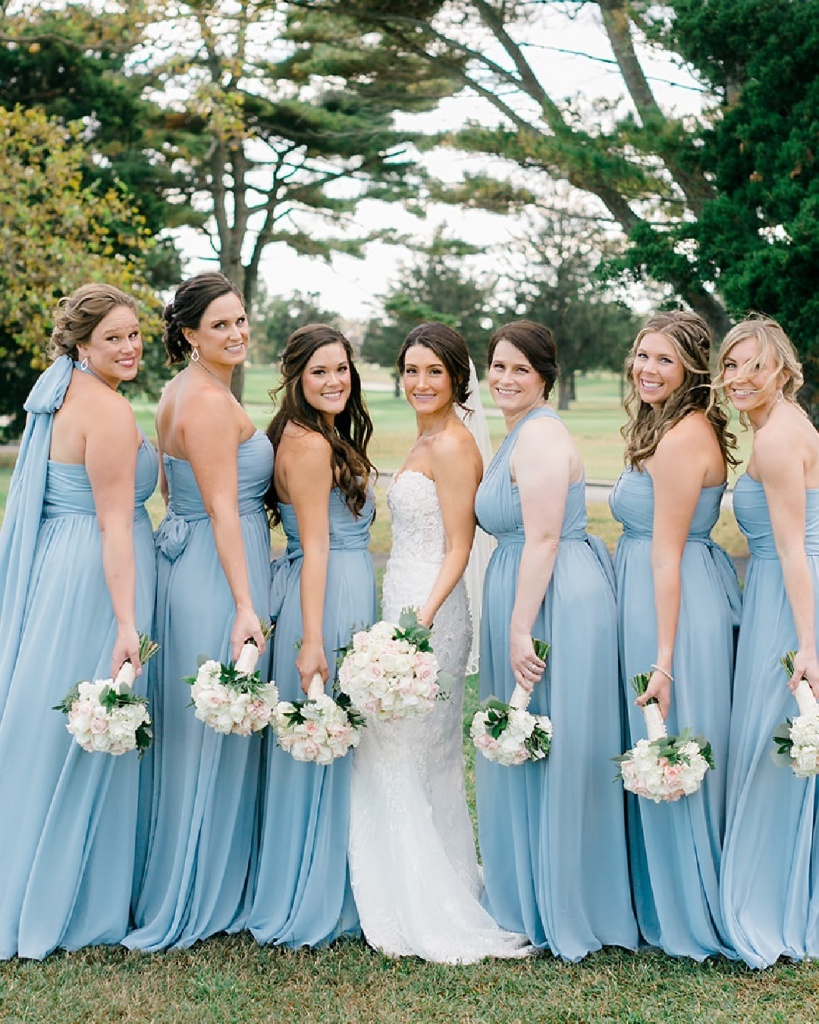 Photo by magdalenastudios
Choose the color palette (Choose a palette of just a few hues, and let your bridesmaids find their own dresses)
Frankly speaking, there is no special need for all your bridesmaids to be dressed in the same color. It's more important to specify the main one, or rather a palette of shades that you're going to maintain. The overall impression has the general significance, so focus on creating a nice and unified look of the bridal party. Sticking to the theme and decorations, mostly to pastel light hues, rarely bright or dark, start selecting the suitable dresses. The range of colors is thought to be unlimited, although in many cases white or black outfits are the top choice. The risk here is that girls in beautiful white dresses can outshine the bride, so subtle blue, light green or blush is definitely a win-win. If you don't want the dresses to be one-colored, add some embellishments like beads, feathers or laces, or even pick a printed floral fabric that will look great in celebration of the hot season. Finally, you don't have to narrow down the color choice to just one shade, instead of voting for a mix-and-match bridal party instead. So, there is a lot of room  for your imagination and vision to get the best outfits ever.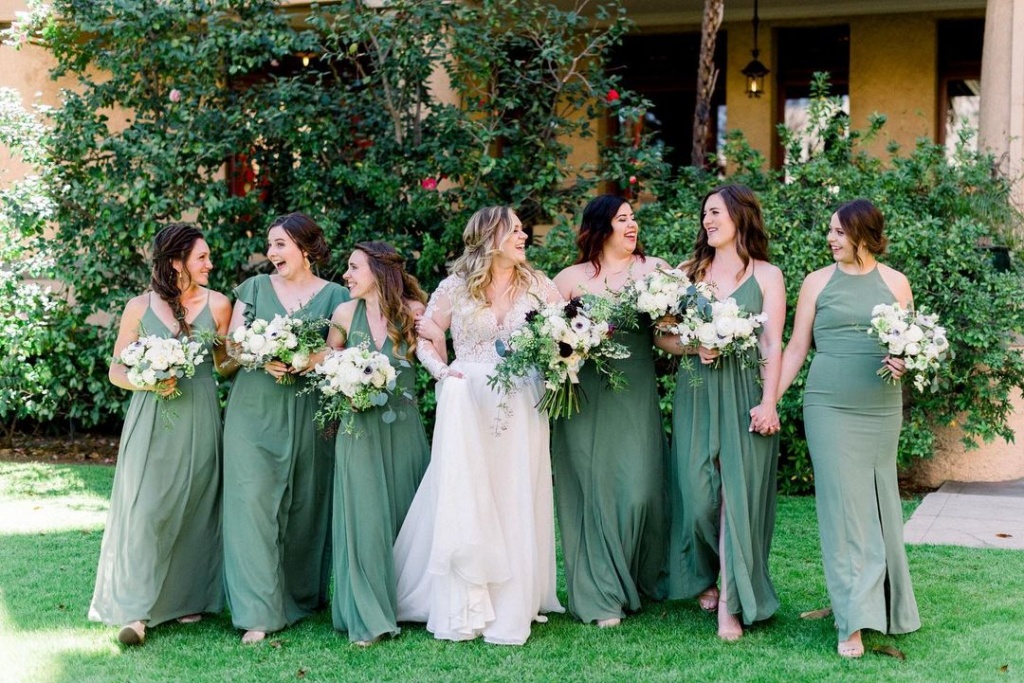 Photo by lovelylight_imagery
Be clear about the rules or wishes
(If you have rules or wishes, make them known!)
Traditionally, all the expenses for the bridesmaid dresses are borne by the girls. However, there are situations when someone can't afford to buy another pricey dress that will be worn just once. So, when looking for the options you like, try your best to make them budget-friendly. That's true that you can find really great pieces that will fit the concept, and won't cost a fortune. Moreover, consider renting dresses because you can save some money and select something gorgeous. At the same time, you give the girls an opportunity to do everything on their own, just by agreeing with you on the final choice; you should be precise in the instructions of what is recommended and what is a real taboo. It will both save time and nerves. If there are no wishes on your part, also keep your girls informed.
During the wedding planning, the search for the bridesmaid dresses seems to be one of the most difficult and exhausting. When in fact, it's a thrilling process to get to know your girlfriends better. Try to consider everyone's opinion, but remember that it's your big day, and only you have the final say.