The Ultimate Guide To Drone Wedding Photography
Photography is one of the most sensual means of conveying your moment of happiness. They can bring you directly to the moment you feel so excited. You will no longer remember yourself like that. Tomorrow you will be married and today is your special day. You will be able to feel the emotions of parents, joy, and empathy of the guests, again and again, thanks to wedding photos.
Drone wedding photography meaning and why it is so fascinating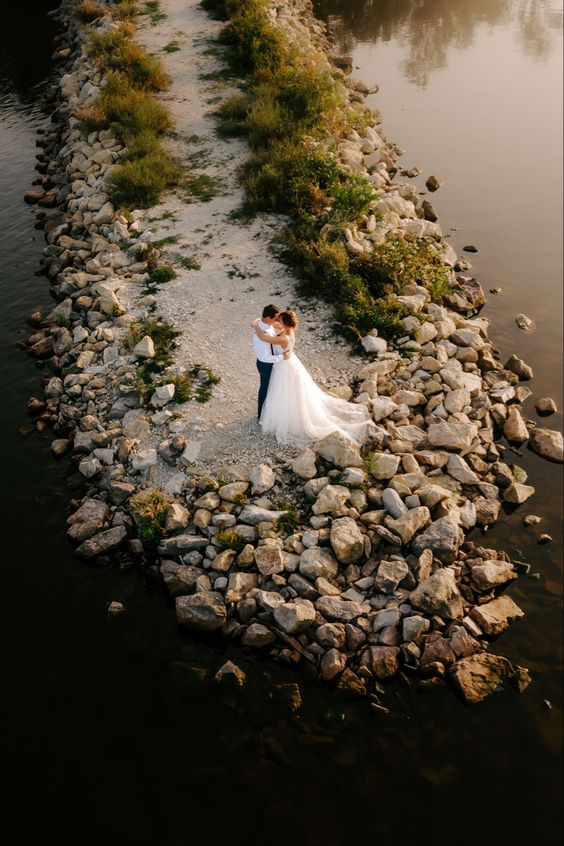 Photo by KMP Photography
A drone is a small aircraft that is controlled remotely. It takes off into the air and takes shots from the height. These photos have several special features:
they are large-scale;
they look like footage from movies;
they require high-quality shooting;
a special angle makes you in the frame as if "from a third party"
shooting height allows you to take unusual shots.
This fact and many others make wedding photography with drone a unique and relevant phenomenon.
Who is especially interested in wedding photography with a drone?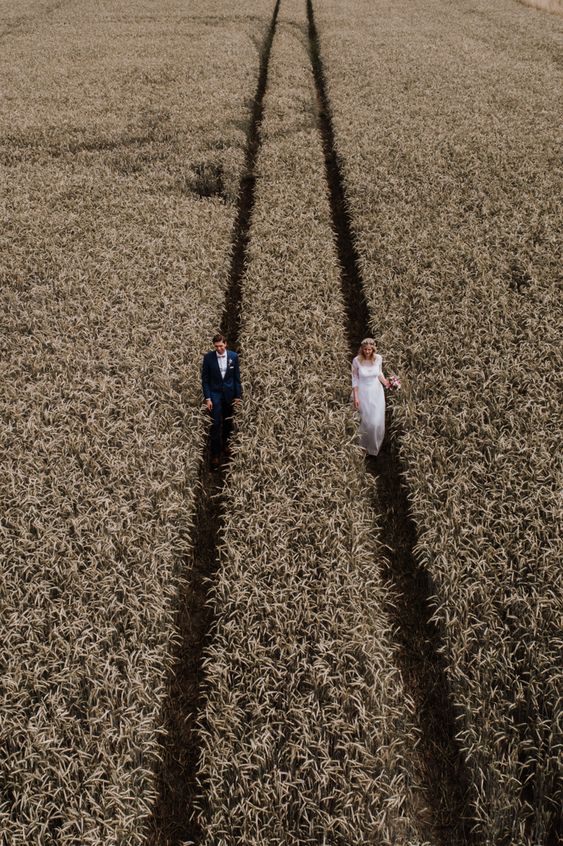 Photo by Sven Hebbinghaus Hochzeitsfotograf
First of all, couples who have a backyard wedding or a destination wedding.
Also, those who have a significant part of the wedding that takes place outside.
Those couples who have an outing ceremony, and those who have a walking photo shoot in a special place of nature.
In general, drone photos are relevant for everyone in the 2022-2023 season. But keep in mind that if 90% of your wedding takes place inside, it can be a dubious investment. Such drones can not fly indoors and it does not make sense.
But if you are making wedding photos near a waterfall, on the beach, next to the water, in the woods, in locations where there are many mountains, rocks or incredible nature around, drone wedding photography can make your shots truly stunning and alive.
If you like watching movies with the characters in love, you will be happy to watch yourself too.
Why do you need a drone photographer for your wedding?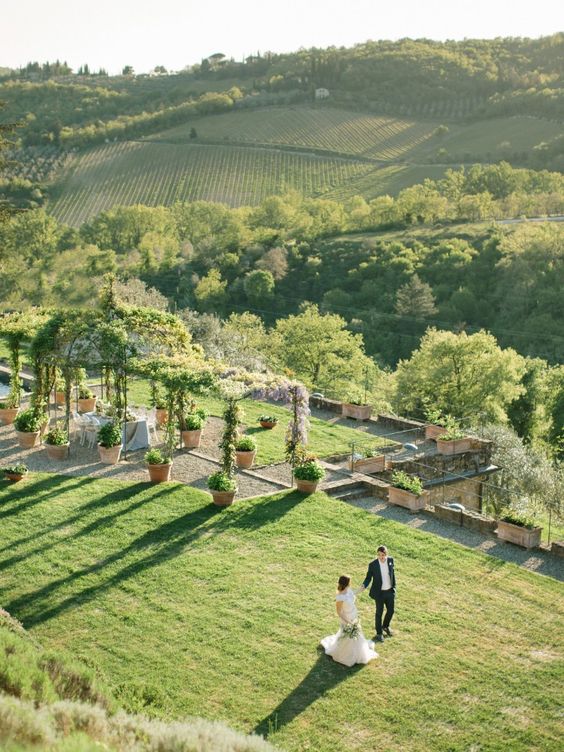 Photo by Facibeni Fotografia
When you choose a photographer, you decide on the time, duration of the shooting, the number of photographers, assistants, and props. At that moment the question arises: Do we need a drone photo shoot?
To make this difficult choice easier for you, we specified the advantages and disadvantages of such a shooting.
| | |
| --- | --- |
| PROS | CONS |
| special shooting angle | footage from afar |
| relevance for outdoor photos | additional price |
| filmographic style | you need to come up with additional ideas for photography |
| unique nature photography | desire to go to a beautiful nature park, and as a result spend more time |
| the opportunity to make wedding ceremony photos from heights | the desire for additional pre-wedding or post-wedding photography |
| the opportunity to capture the entire space of the celebration in one shot | |
| interesting photos from a height with a wedding dress and a train/ veil | |
| footage of "spying" / mystery | |
These are not all the advantages and disadvantages, only significant ones. The choice is yours. For some couples, additional ideas for a photosession can be a burden, and it can be a great opportunity for others.
If you have not decided on the exact timing of wedding photography yet, it will be useful to How to create a perfect wedding timeline.
What time of day is best for drone photography?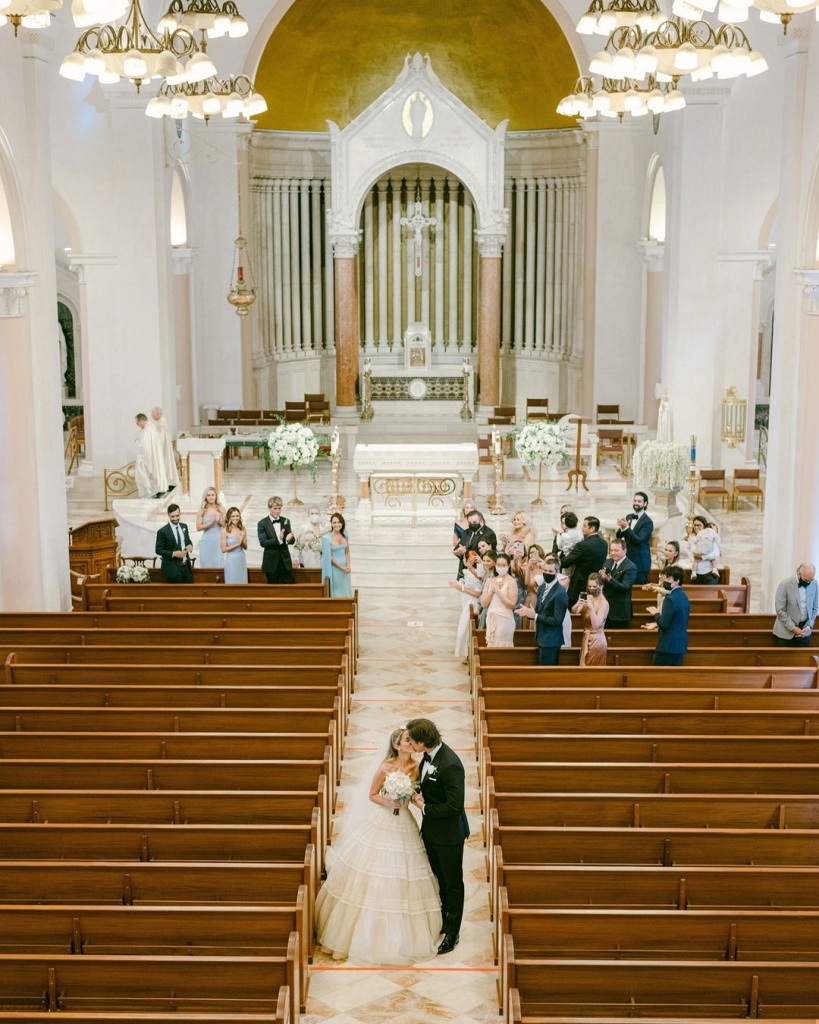 Photo by @ktmerry
Drone photography is best when the light is not aggressive. We recommend choosing colorful landscapes at sunrise and sunset. This is a common rule for romantic shots. If a photoshoot of the bride and groom takes place in soft sunset light, these photos will have a particularly delicate hue and character.
3 DO NOT rules for wedding drone photography
Do not ask the photographer to take a drone photo when it's raining and other bad weather conditions.
Do not plan to take portrait photos by drone.
Do not take pictures from a height if bright daylight blinds and depletes you.
Drone photography is that unobtrusive shooting when you're not posing,  but behaving as naturally as possible. You don't wait for the photographer to take a picture, you just smile, hug and move. That is why such shooting is relevant for those couples who find it difficult to relax in front of a camera.
It is worth highlighting the periods of the wedding when photography by drone is especially appropriate:
Bride's morning if it takes place outside.
Meeting of the bride or groom. It's a great opportunity when the first look takes place in a private family estate or other open location.
Pre-wedding or post-wedding photo shoot outside, in particular in the mountains or by the sea.
The moment of the ceremony.
Cutting the cake.
Wedding lights or fireworks time, launching lanterns into the sky.
Exchange of wedding vows.
Banquet outside.
Dancing outside.
The golden rule of drone wedding photos!
The best wedding moment to use the drone is when you and the guests are outside and do not need close-ups. For some couples it is 90% of their wedding, others spend less than a half or even a third part of their big day outside. Take into account your needs and desires.
Drone wedding photography prices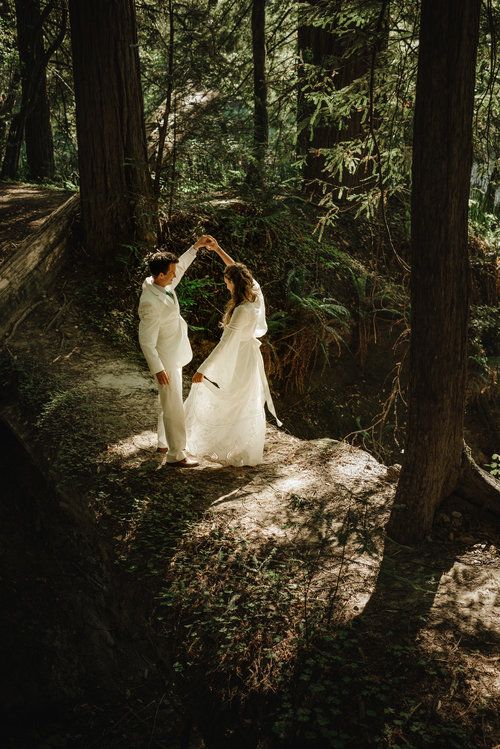 Photo by Kate Donaldson
Prices for wedding photography by drone vary greatly depending on the location, staff, number of photographers, number and quality of drones, the experience of photographers in this type of shooting, and many other factors.
In general, the cost of drone wedding photography varies from $400 to $800. This amount varies depending on the time you plan to shoot. Drone photography pricing rates from $50 per hour and up to $250. Traditionally, the most expensive price is in Yellowstone, Yosemite, New York and California.
But think carefully about the photographer and look at examples of such works, because professionalism is the most important thing in drone photography.
7 Drone wedding photo ideas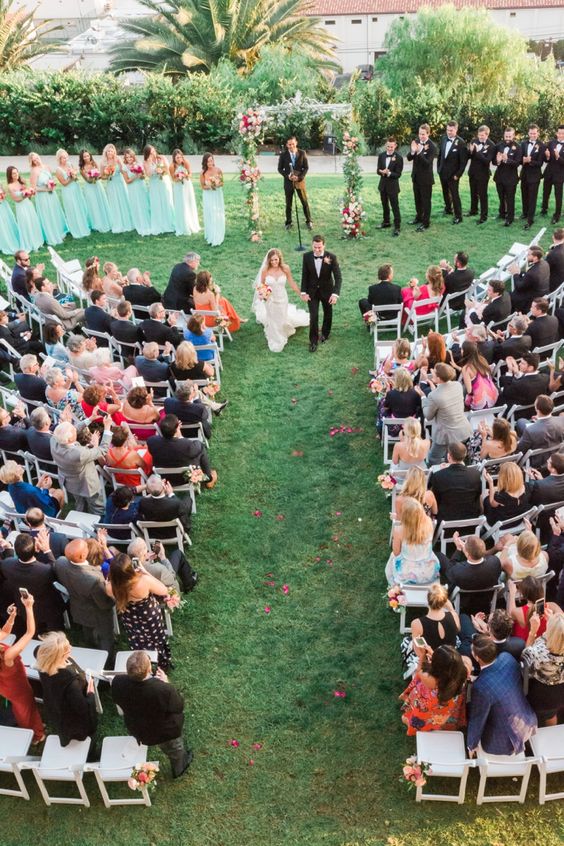 Photo by Valorie Darling
If you order such a special kind of shooting, do your best Generate ideas, do not be afraid to tell the photographer which side is better to take photos, what details you would like to capture, and how large-scale photos look in your dreams. But if you have not prepared a list of ideas yet, consider the following:
Take care of the dress code. Overall photos from a height will be much more harmonious if the color scheme matches.
Pick up a veil and a long train of your wedding dress. These photos will be very exquisite both from afar, behind and from above.
Choose bright accents. Your decor will be more noticeable.
Think about taking such photos in a national nature park.
Take a photo with a large number of guests - you can even think of a word or figure for the guests.
Play with light. Arrange decorative lights and lanterns, candles with waves and figures.
Take a photo lying on the grass or flowers. Look in the eyes. Get high.
This is not the limit for your ideas. Get inspired and turn on your imagination. Be sure to take these photos in a calm and good mood. And if you're thinking about how to do it naturally, read How to do a natural wedding photo session.