30 Best Places for Wedding Photoshoot in New York
Publication date:

06/08/2022

Updated:

04/04/2023
Iconic Wedding Locations in New York
Brooklyn Botanic Garden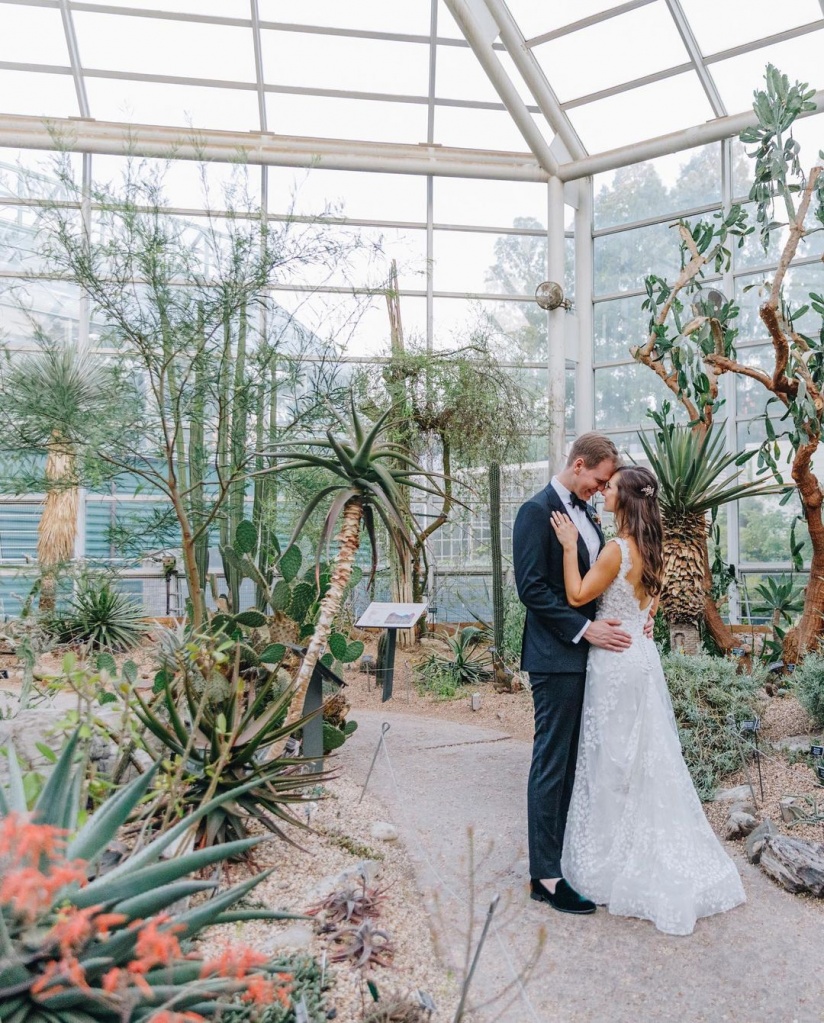 Undoubtedly, the Brooklyn Botanic Garden is among the best places to take pictures in New York. This place will surprise you with the diversity of charming places, creating a fascinating backdrop for your wedding pics with its atmospherical gardens.
TIP: Looks best in the spring with blooming trees and in the autumn with its magnificent defoliation.
Brooklyn Bridge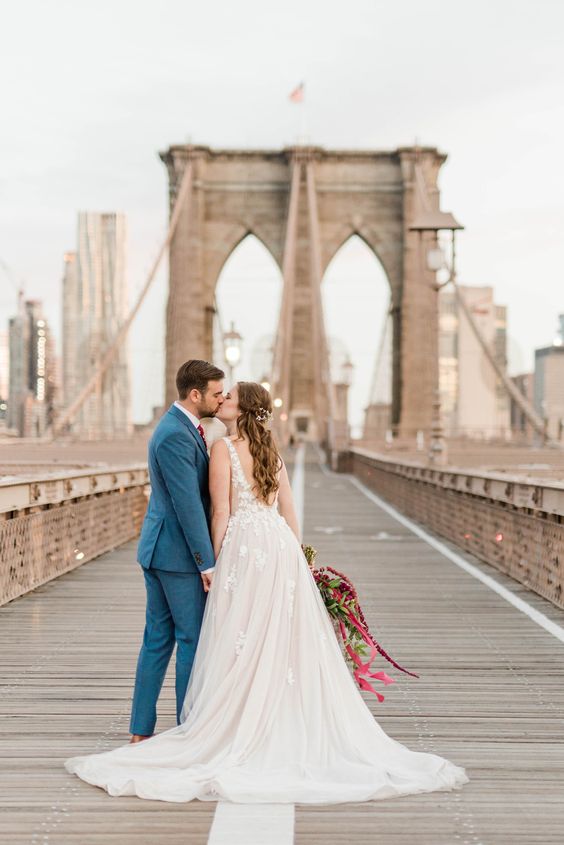 The Brooklyn Bridge is one of the most popular in the world, that's why it's never quiet and always touristy. If you don't mind posing while being watched by hundreds of people why don't you choose it for a wedding photoshoot? Although it's so lively, the Brooklyn Bridge doesn't seem to be less picturesque.
TIP: you might avoid huge crowds if you go to take the photos early in the morning or when it's cloudy and a little bit rainy. A couple of cute umbrellas (for example, transparent) and water drops may create a stylish though romantic composition for your wedding shots at this gorgeous place.
Brooklyn Bridge Park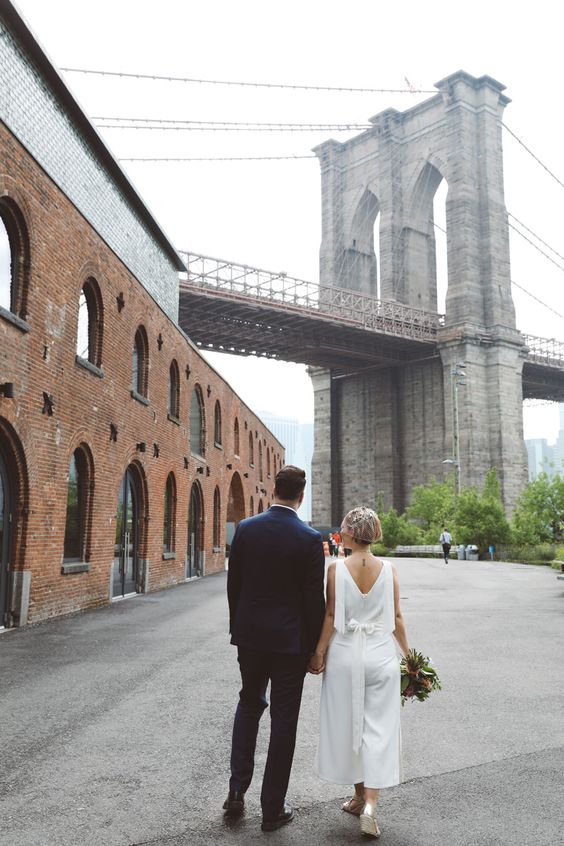 Brooklyn Bridge Park takes a top position on the list of the best places for photo shooting in NYC. What can be more iconic than the views you get there among which it's worth mentioning the marvelous skyline of a thriving city with the Manhattan Bridge and the Brooklyn Bridge.
TIP: Check beforehand if there aren't any festivals or other parties on your wedding date. Try entering the park at Main Street and Plymouth Street.
Sunset Park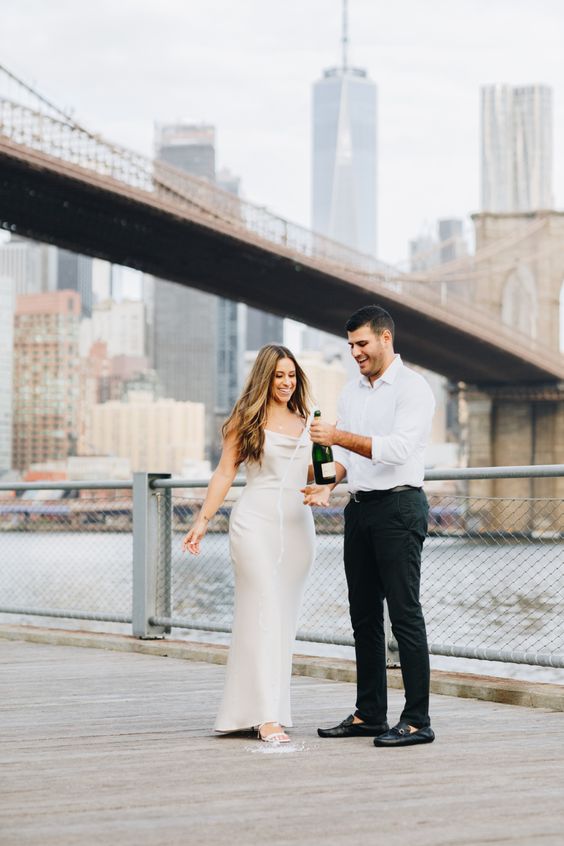 What comes to your mind when you're asked about the best places for photography in Manhattan? Sunset Park is both remarkable and heart touchy, as the Manhattan skyline is best visible from there. If you'd like to get some fascinating shots with such a backdrop, choose it and you won't regret it!
TIP: Especially charming views in Sunset Park are 'surprisingly' … yes, at the sunset! So don't forget about the 'golden hour' rule. This is a great period to take the best wedding shots due to the gentle sunlight, as it isn't so harsh and too bright as at noon. Choose an hour before the sunrise and about one hour after the sunset.
Brownstone Stoops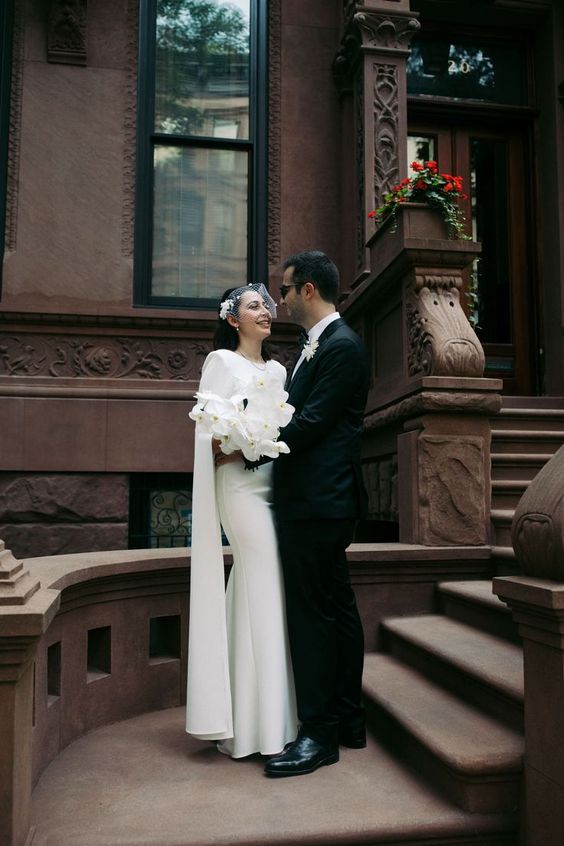 Brownstone Stoops are a unique peculiarity of NYC and you can find them all over the city. If you love this backdrop, try Brownstone Stoops as one of the best places to take pictures in Brooklyn, especially on the Upper West Side. Aren't they eye-catching and classic?
TIP: Look through different ideas for posing on the stairs beforehand.
Central Park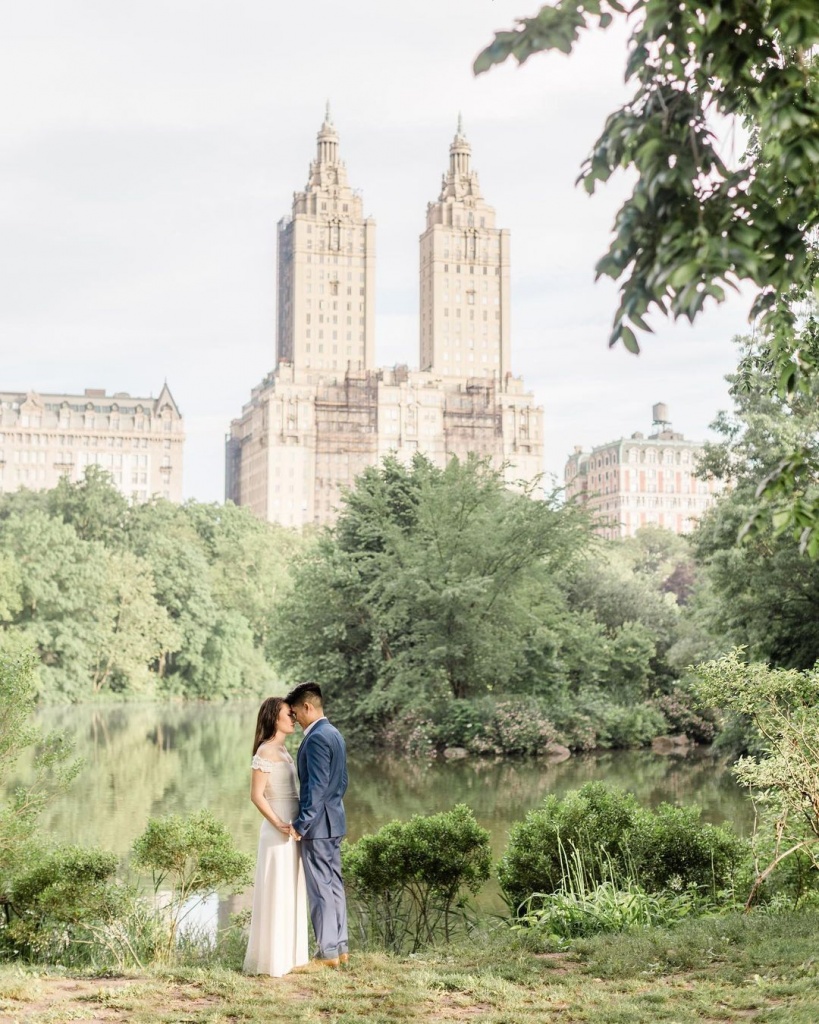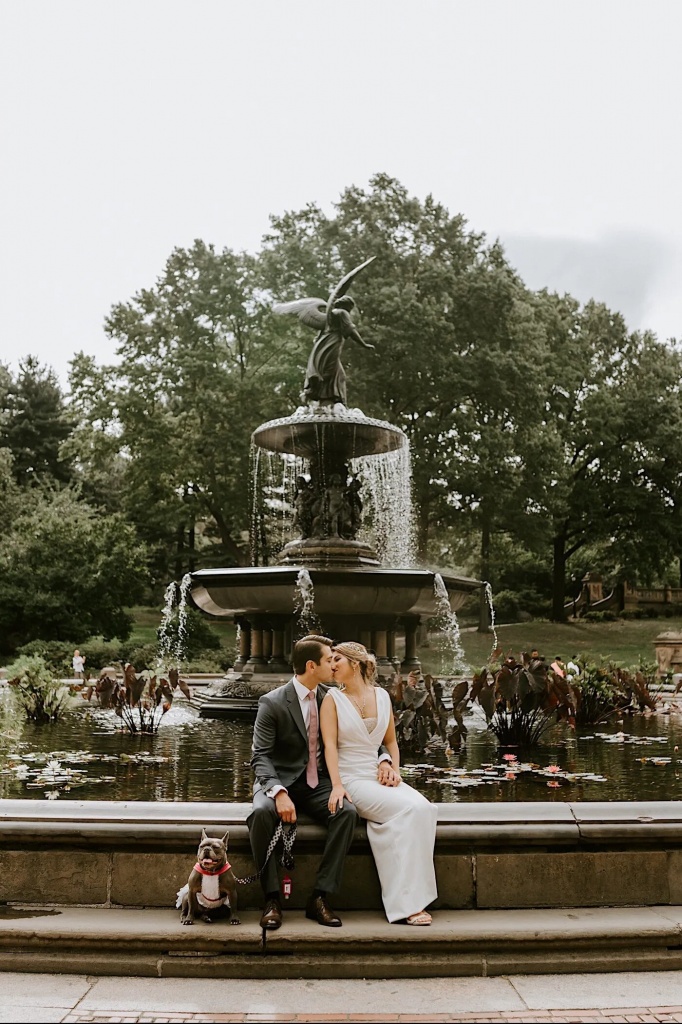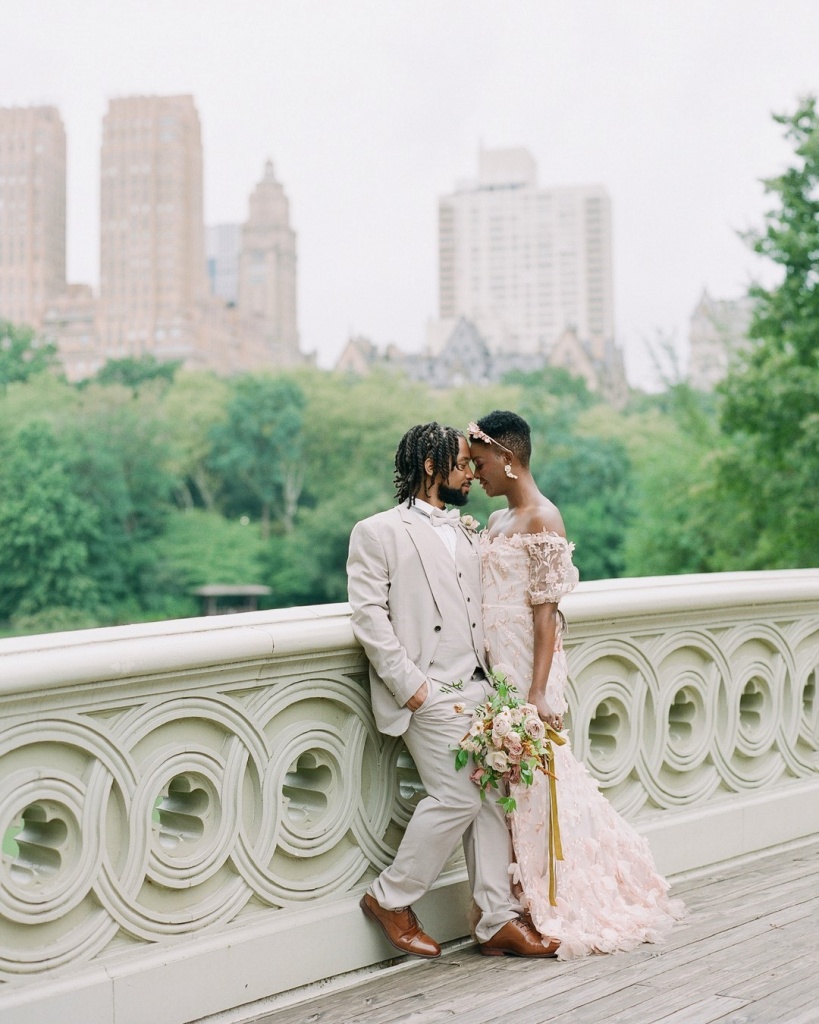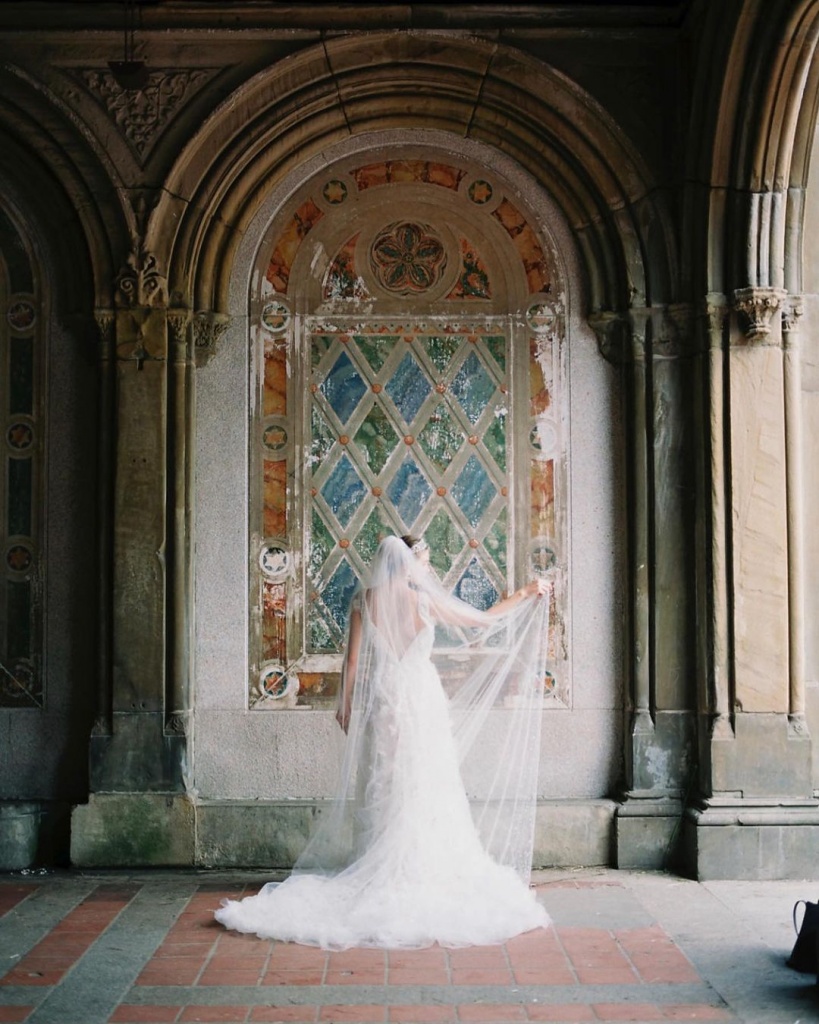 As a masterpiece of landscape architecture, Central Park contains all the features you need: privacy, majesty, and a fairy-tale-like look. Therefore the location is extremely popular as one of the best places for wedding photo shoots in Manhattan.
Prospect Park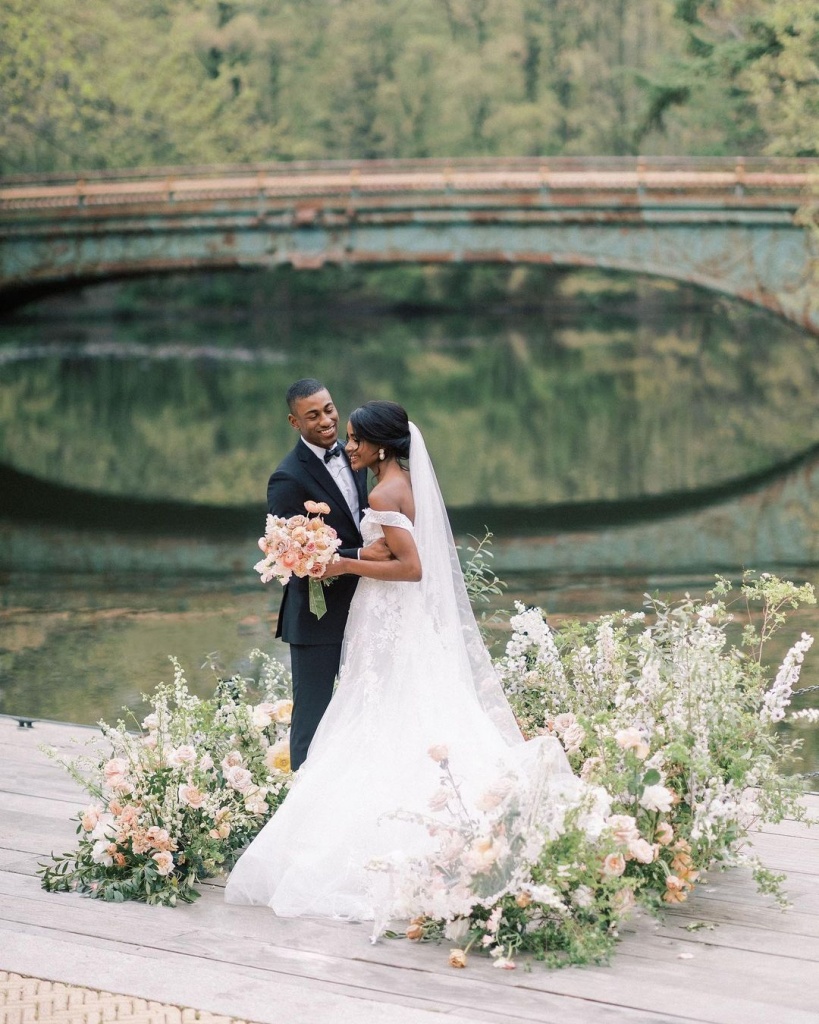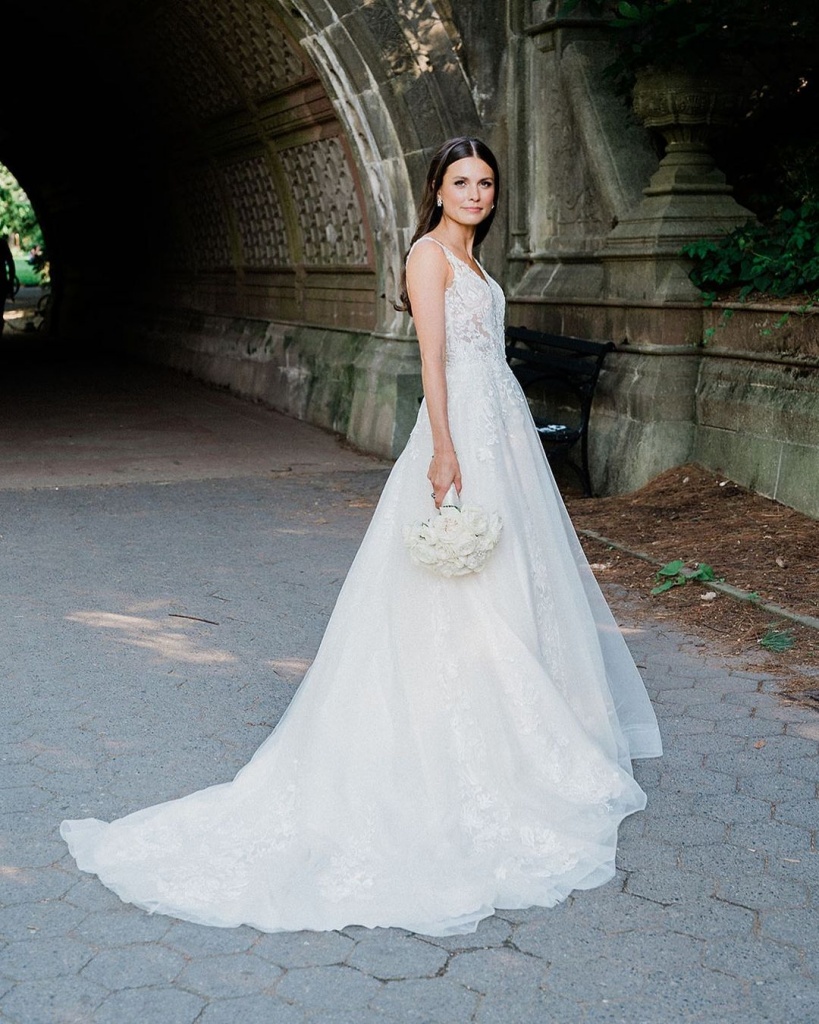 That's a wonderful option for couples that want to achieve a rather intimate and relaxed atmosphere in the photographs. Mind the cherry blossoms in the spring. They look awesome.
TIP: You'd love to take some snaps in front of the Boathouse to create an inspiring vibe (not so well-known but still a gorgeous spot.
Conservatory Garden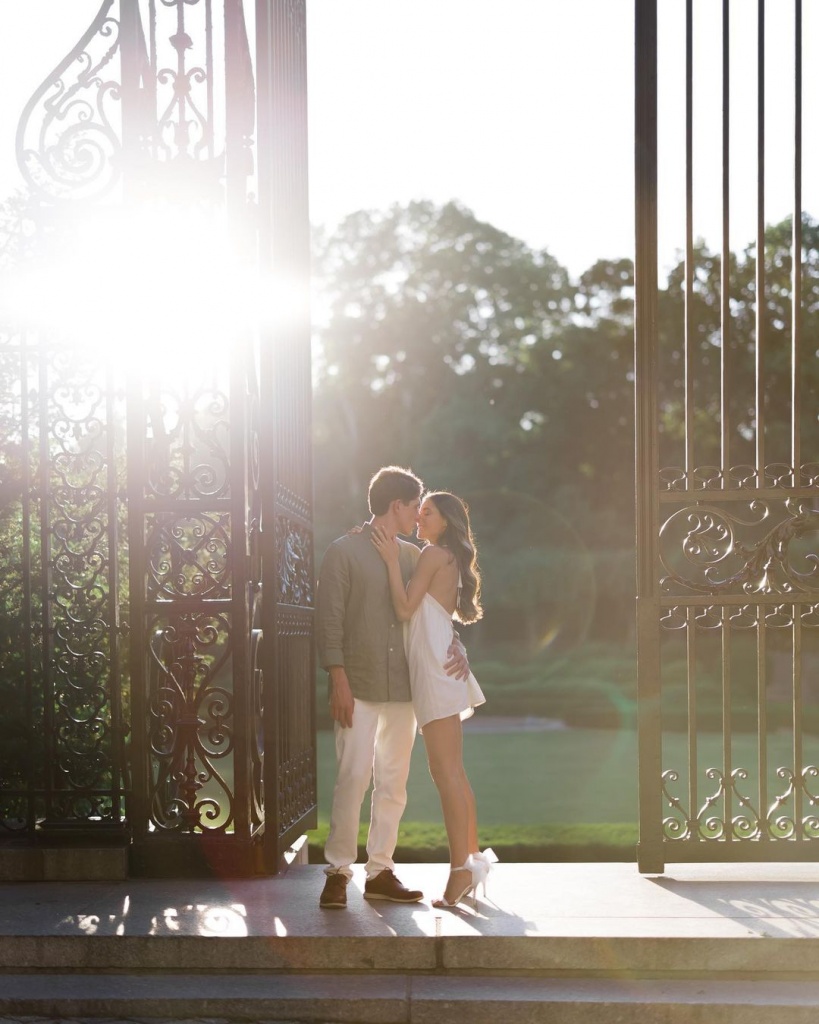 As a separate part of Central Park, the place is a purely peaceful oasis inside a pulsating city. If you'd love to get your wedding photoshoot in a luscious garden with flowers and greenery, opt for this one.
TIP: You may even check the Conservatory Garden's Bloom Schedule to discover whether your favorite plants and flowers are blooming!
Belvedere Castle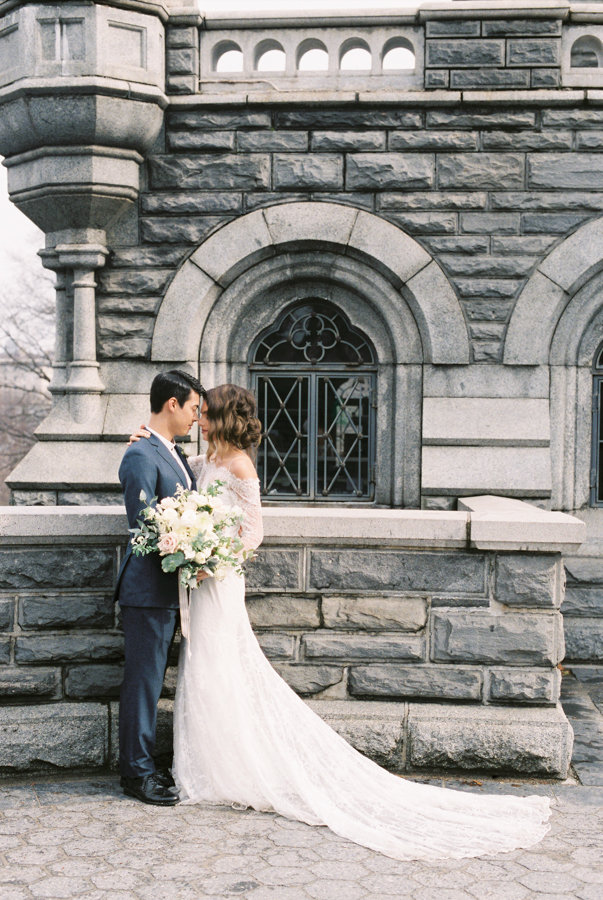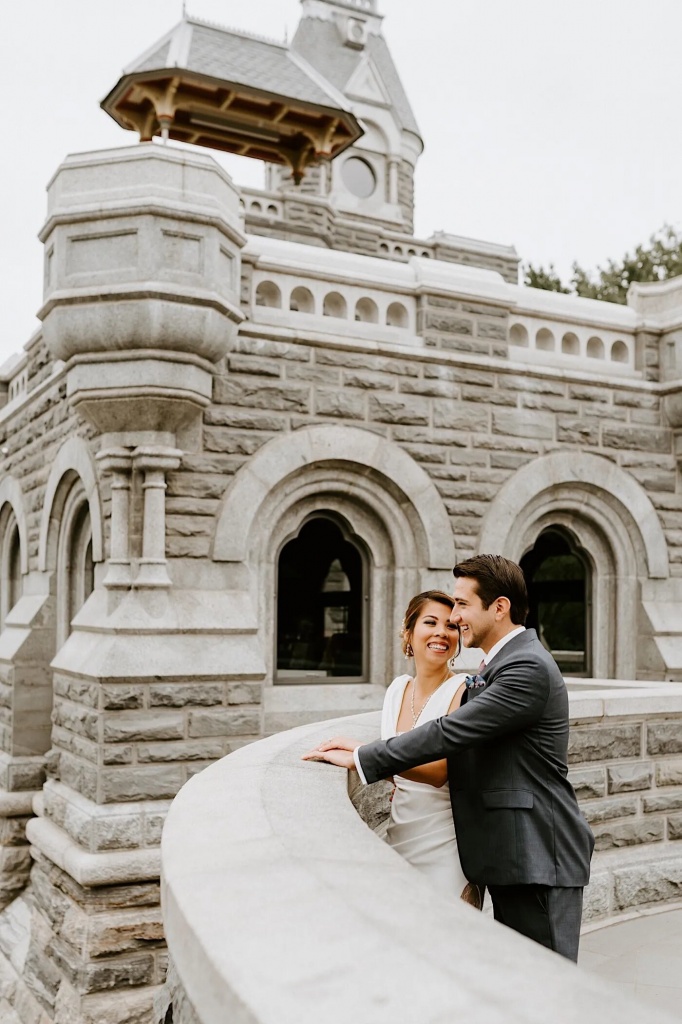 A marvelous building looks according to its name. 'The Belvedere' means 'beautiful view' in Italian and it is, indeed. That's the place from which you might enjoy wonderful views and capture fairy-tale-like pictures. It's a mysterious and bewitching backdrop to take your romantic wedding photographs.
Riverside Park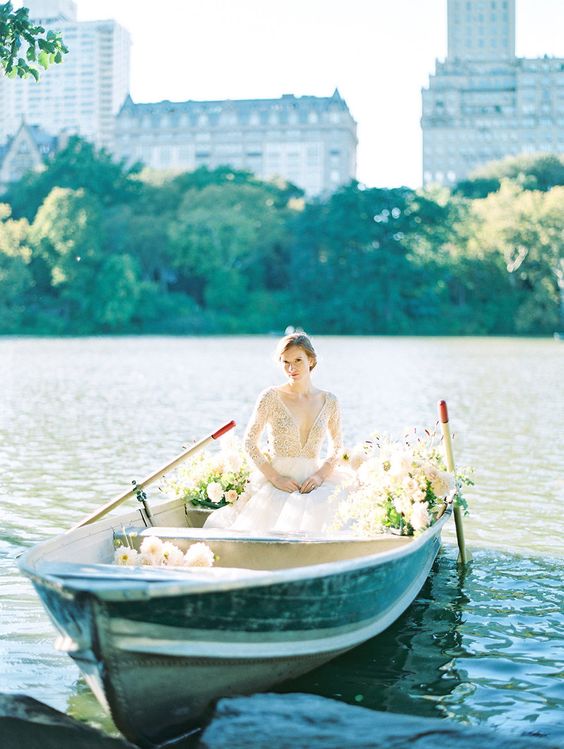 It's less touristy and less crowded, providing you with pristine natural sites in the waterfront park area. An awesome option to get some playful shots and tender wedding portraits as well. Get here to read why it's worth taking bridal portraits and how to take them!
Battery Park City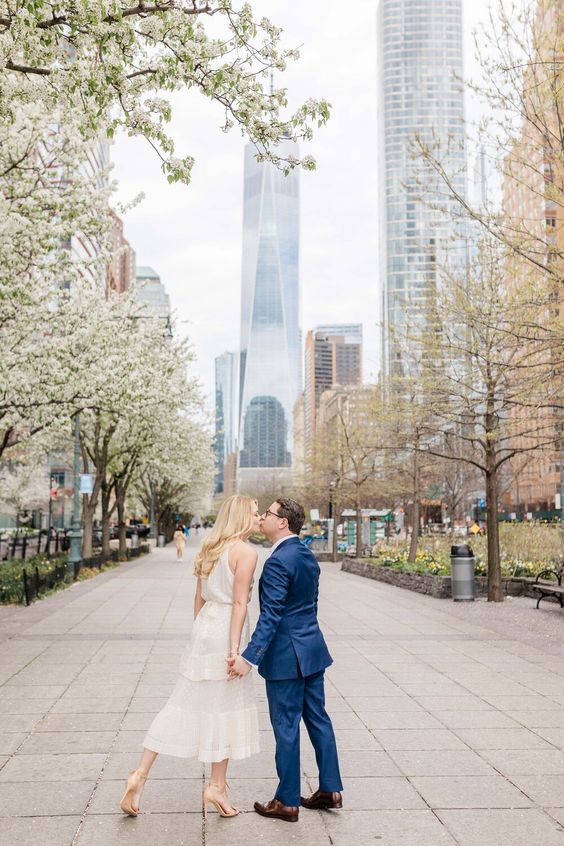 Battery Park is the green space at the lower tip of Manhattan, a peaceful place, perfect for wedding portraits and charming shots of you walking on the paths.
Gantry Plaza State Park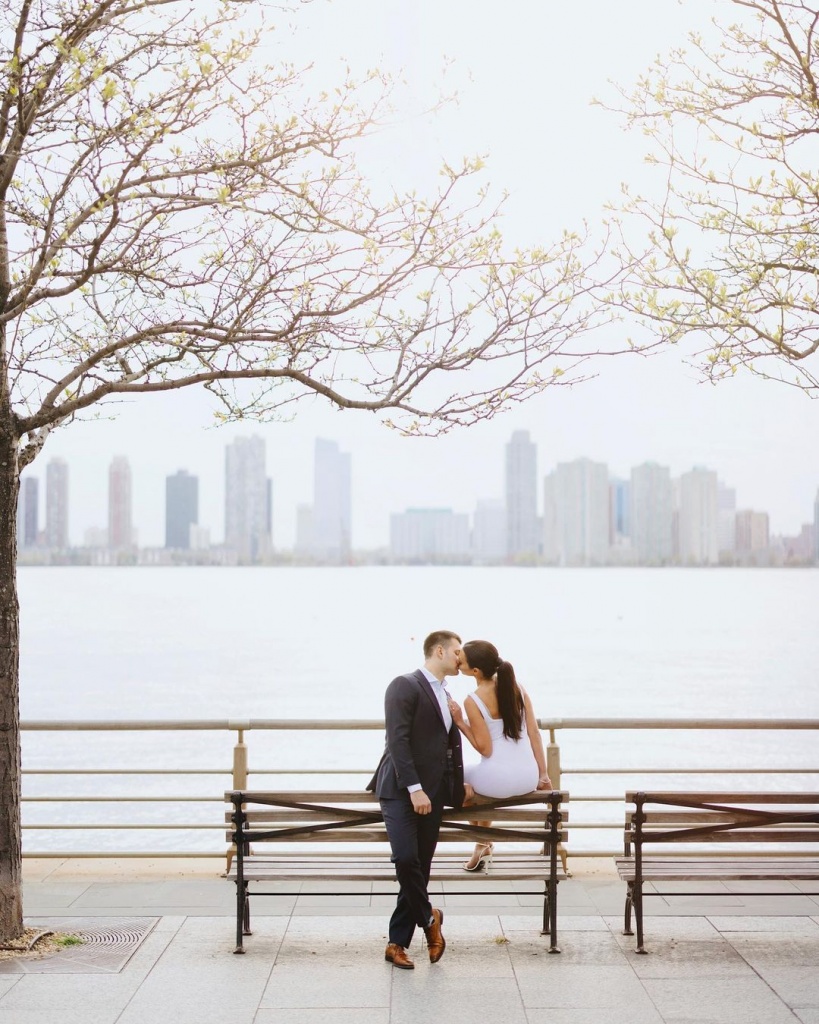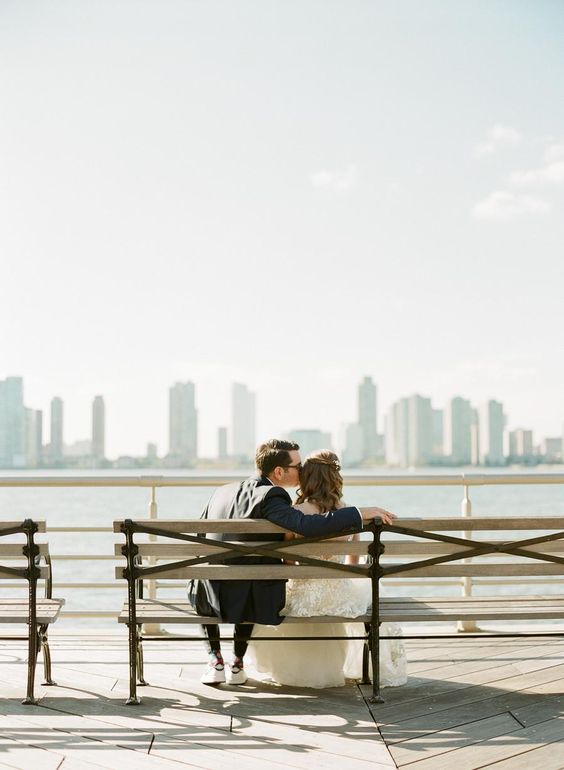 The park remains one of the most stunning places for a wedding photo shoot in New York though less popular among tourists and calmer.
TIP: There are plenty of great restaurants, hotels, and bars so you might think about visiting such locations as well to spice up the photo shoot a little.
Bushwick Collective
Looking for aesthetic value in modern art? The Bushwick Collective, located in Brooklyn, might become the greatest street art backdrop for edgy and unique wedding shots. There are plenty of bright and colorful paintings on the street walls to use as a background.
The most popular places to take wedding pictures in NY
Grand Central Terminal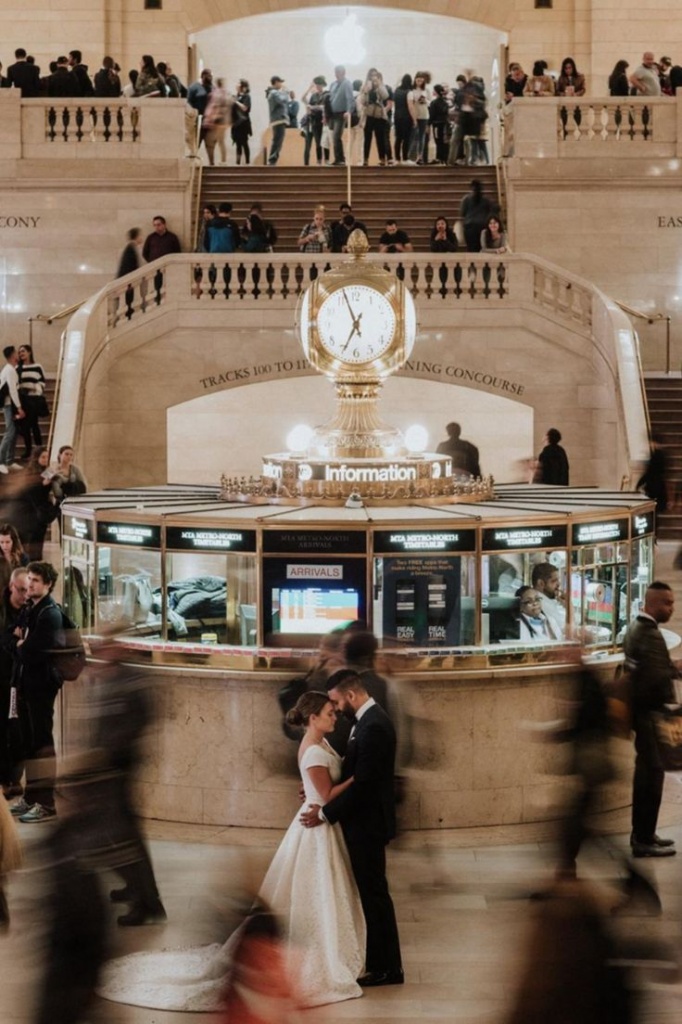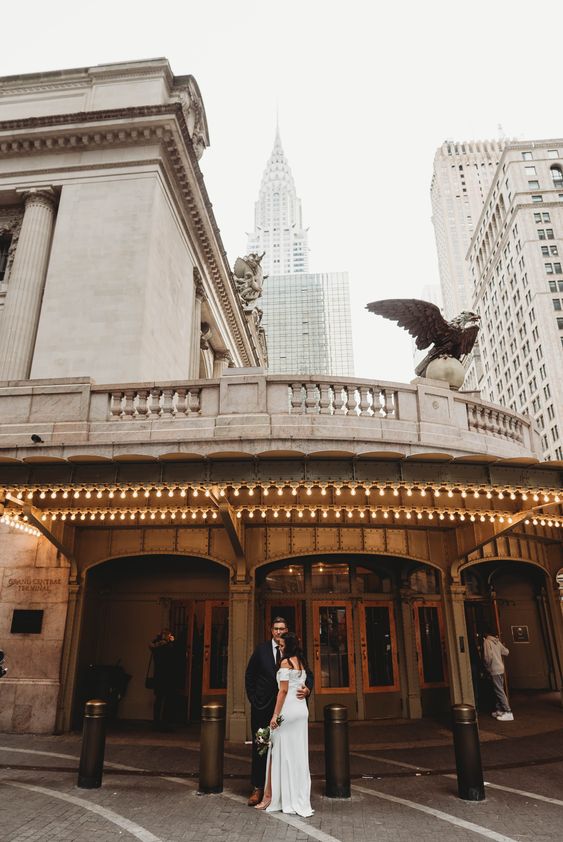 That's an impressive place with rich history, showing how vibrant the city is anytime. Amazingly eye-catching and just best for timeless and stylish photographs.
TIP: Opt for this popular location in case of rain on your wedding day.
High Line Park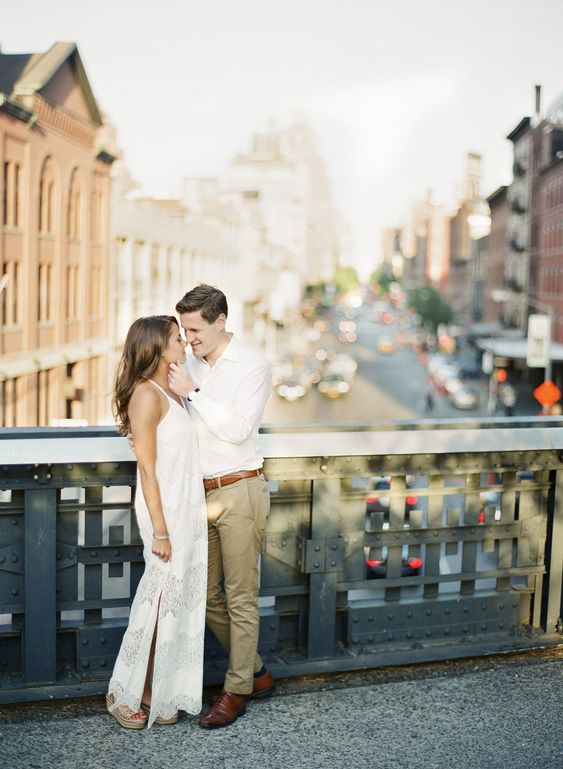 It's a unique place, not just a park. It's worth visiting and taking some photographs there!
TIP: Make a list of locations together with your photographer. Think over shelters in the case of unpleasant weather.
Public Library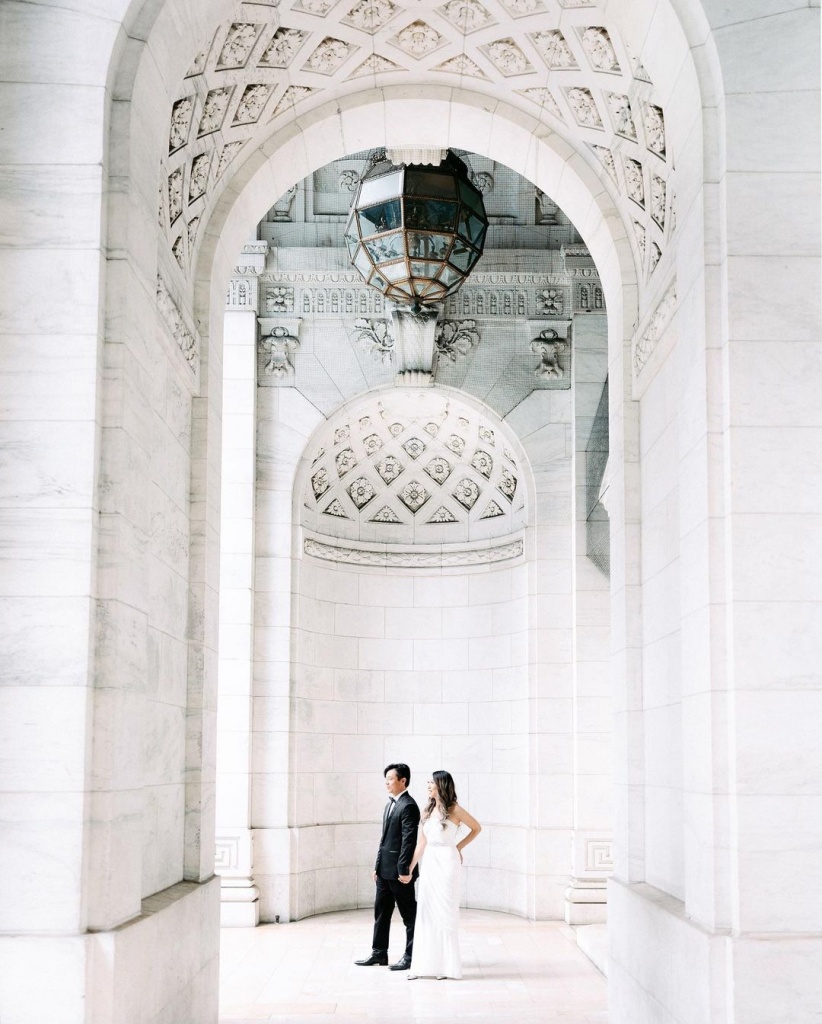 As a well-known place, it's truly iconic and majestic. The New York Public Library might become your perfect wedding spot to take awesome pictures.
TIP: It is situated near other picturesque locations, so you can combine a few of them and save time. In addition, some parts of the public library are covered in case of rain.
Streets of New York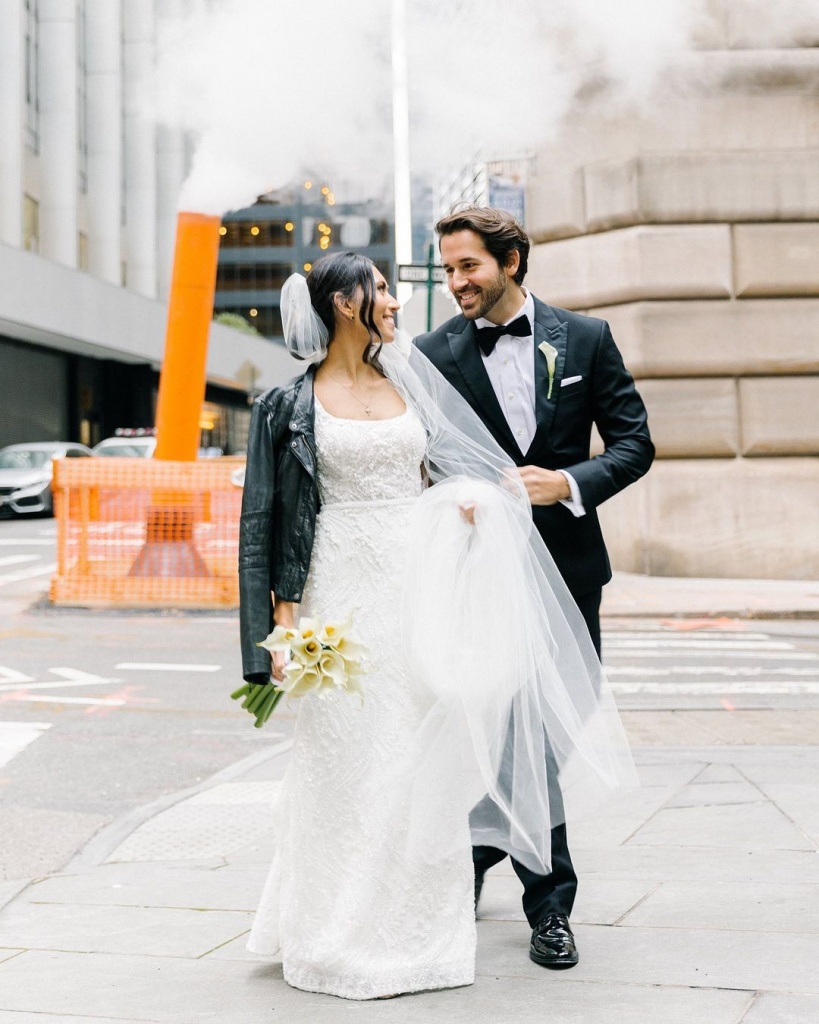 Is there anything more exciting than exploring some cozy streets and cute corners of this great city on your own? Each street is wonderful and unique, so just walking around and looking for some amazing places might be your small adventure on the wedding day.
TIP: You may find a lot of places to hide if the weather is bad on your wedding day.
Subway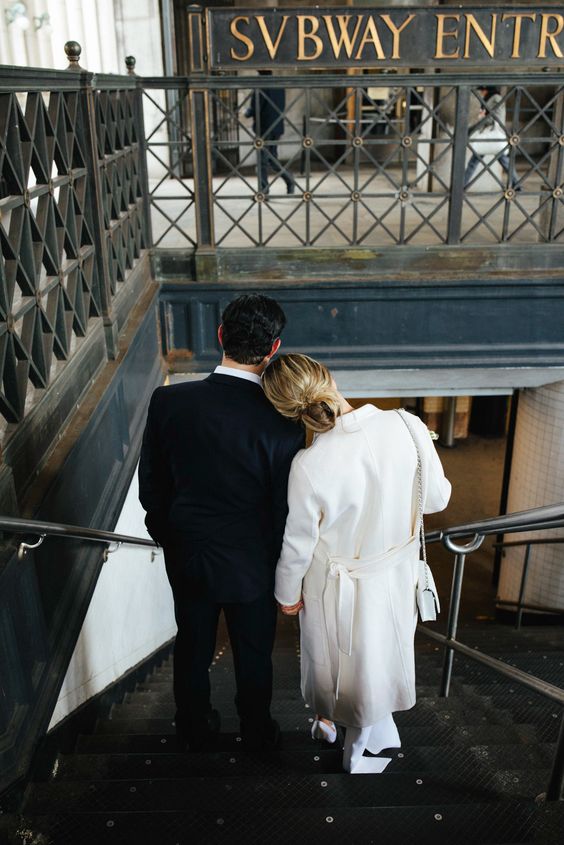 Simple but various, romantic but adventurous. Subways are everywhere in NYC. Such snaps are artsy, and edgy and give a special vibe.
TIP: You may take such photographs even while traveling from one location during your wedding photo shoot, so it actually doesn't take any additional time if you plan it carefully.
The Top of the Rock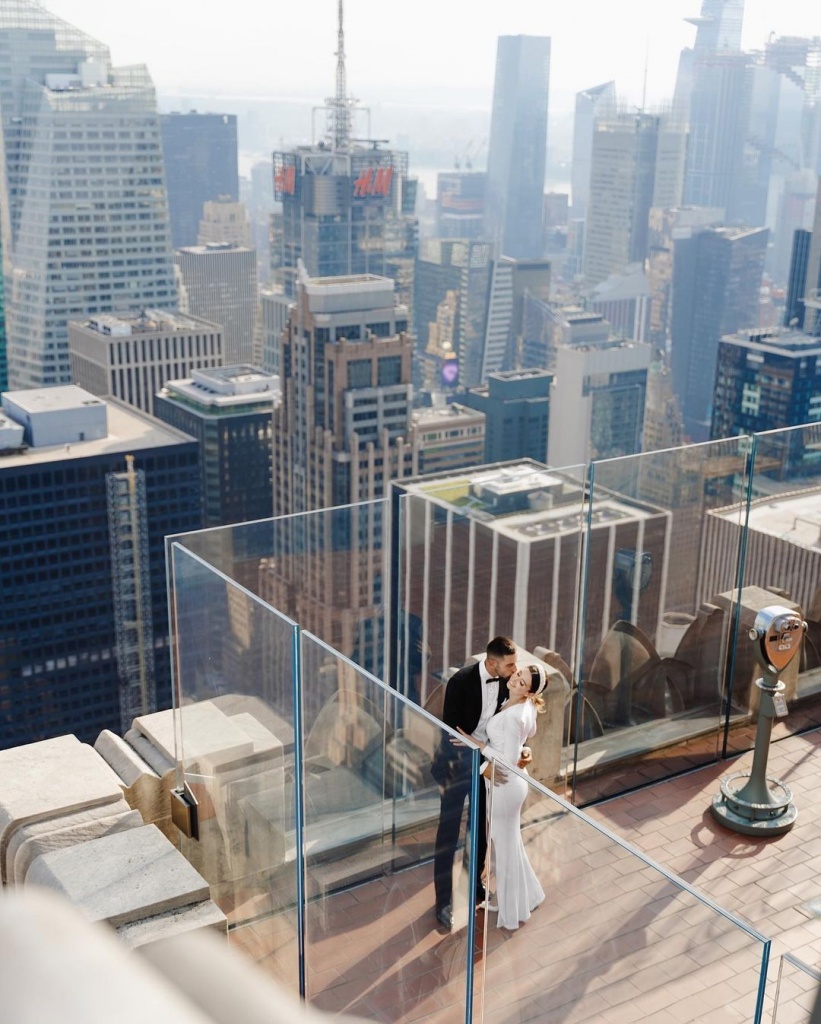 An amazing place to get a city view from the roof is worth your time! It's a truly iconic location - classic, unique, eye-catching, and just timeless in all seasons.
TIP: Take VIP tickets and you won't regret it! Some extra money spent on them will save your priceless time on the wedding day because you'll omit a big line.
Washington Square Park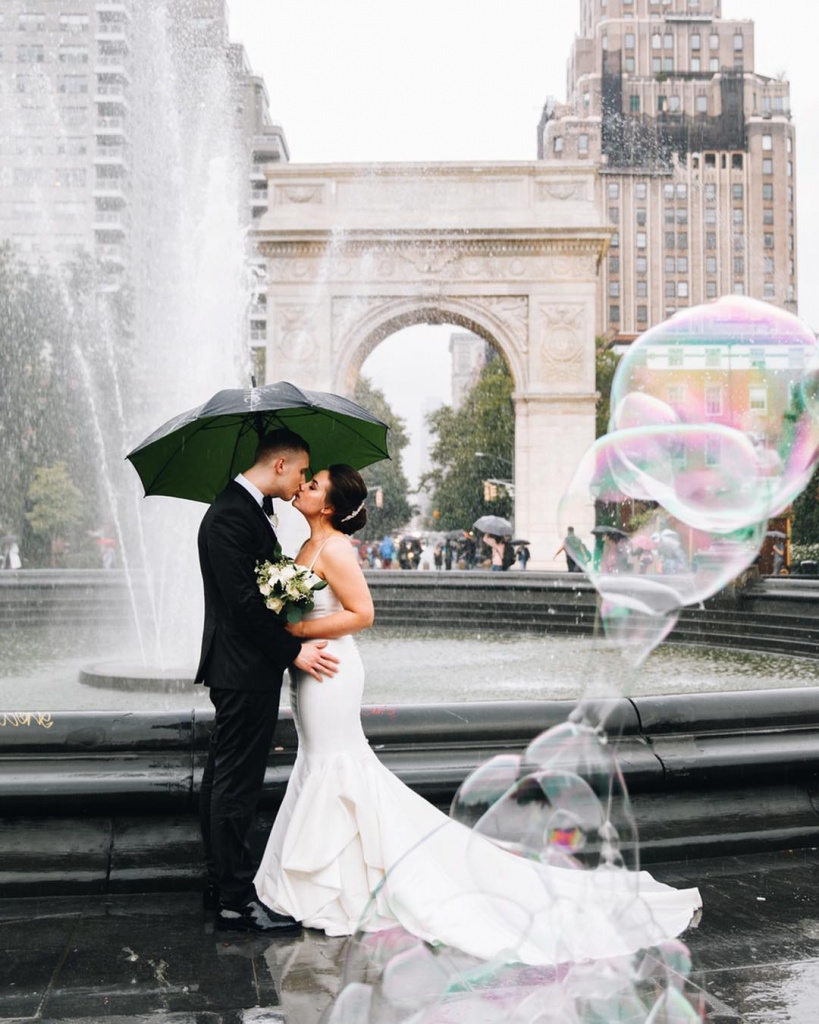 Washington Square Park is a heart-touching venue for many citizens. There are oceans of remarkable spots and gorgeous gardens to create a stunning backdrop.
Liberty State Park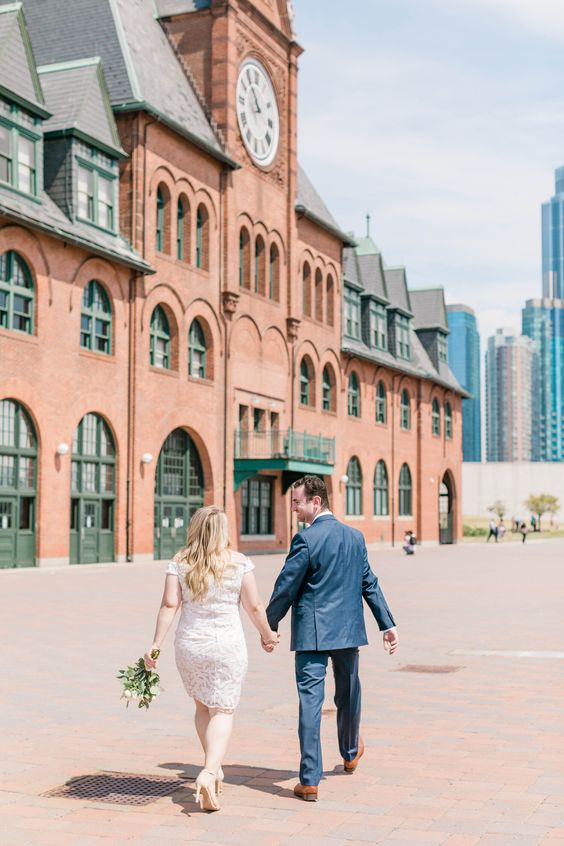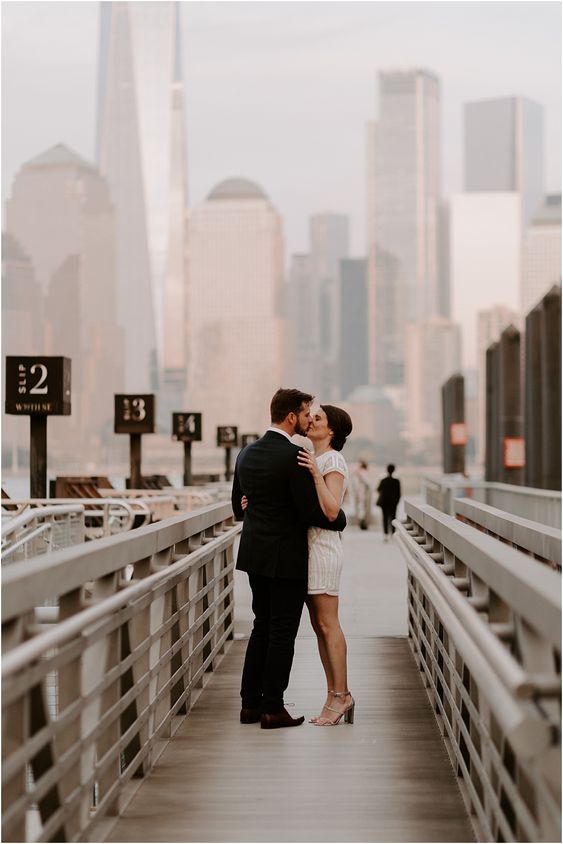 The Park is peaceful and inspiring, with a lovely cityscape of the Statue of Liberty and an old locomotive that are combined into both a funny and charming background for diverse wedding pictures.
New York Botanical Park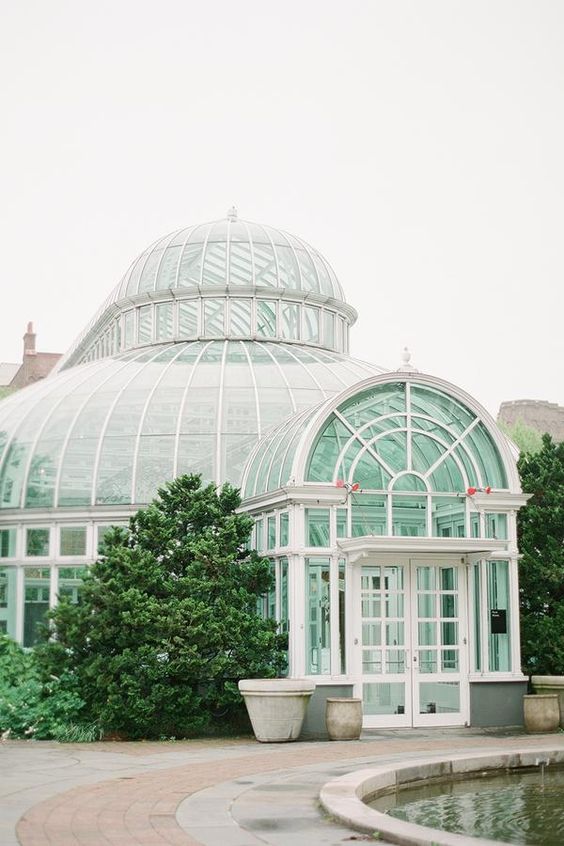 If you're keen on flowers, check the blooming period when the plants (there are plenty of kinds) are especially fascinating there and hit it!
Oheka Castle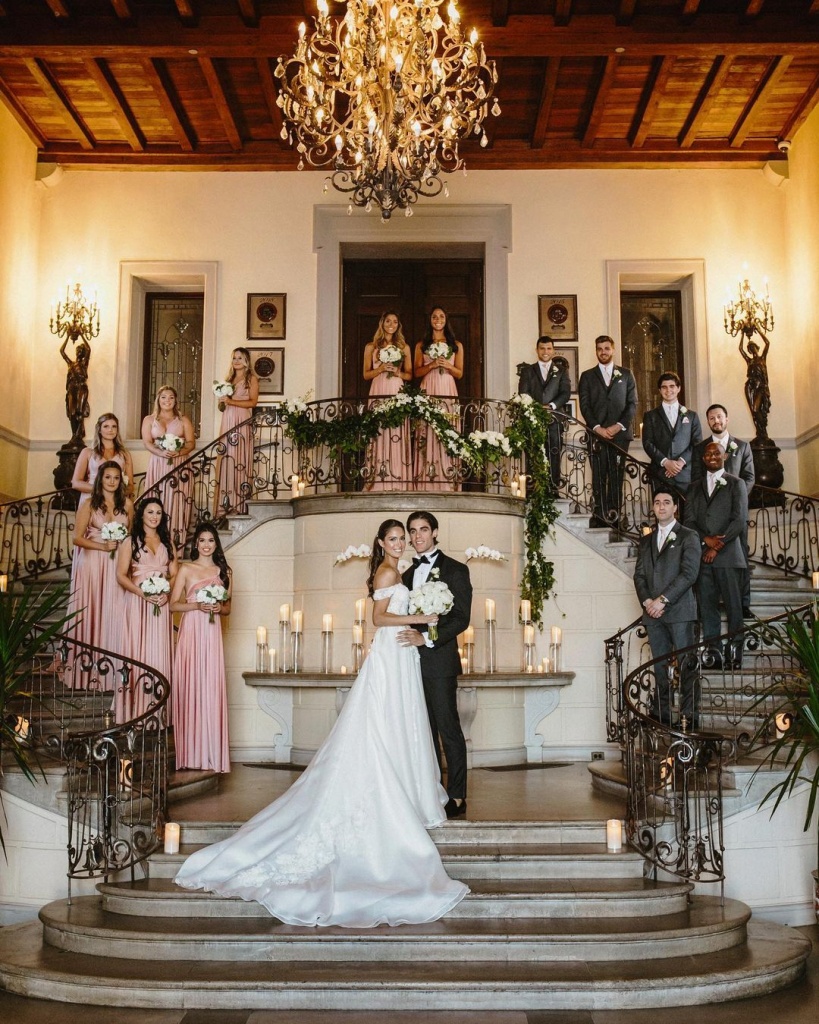 Oheka Castle is absolutely royal, great for photo shoots both inside and outside. Tranquil landscapes, gardens, and ponds along with luxurious buildings of a historic hotel itself are a marvelous backdrop for the best wedding photographs.
Old Westbury Gardens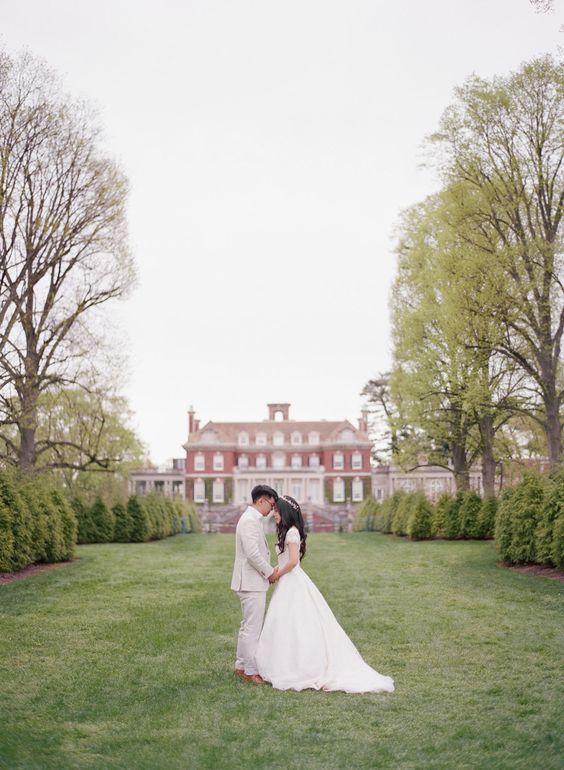 Just a perfect place for your wedding shots if you'd like to get charming pictures in front of a historic mansion, neat gardens, and flawless lawns.
Oculus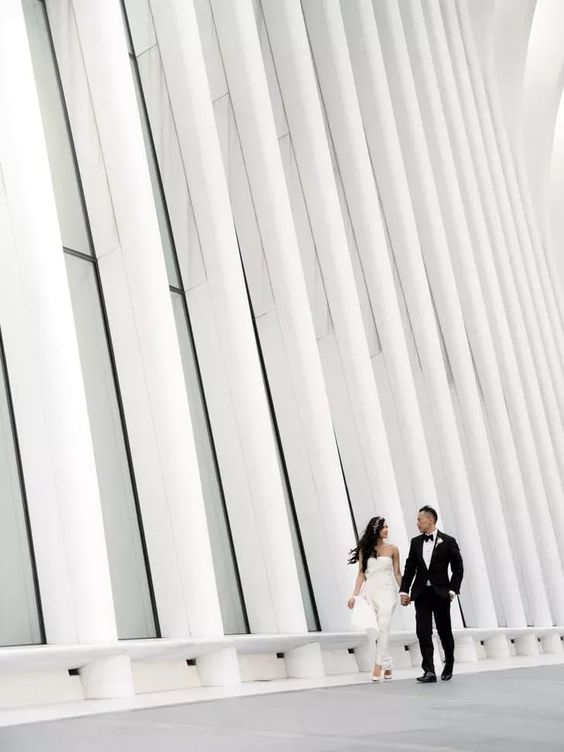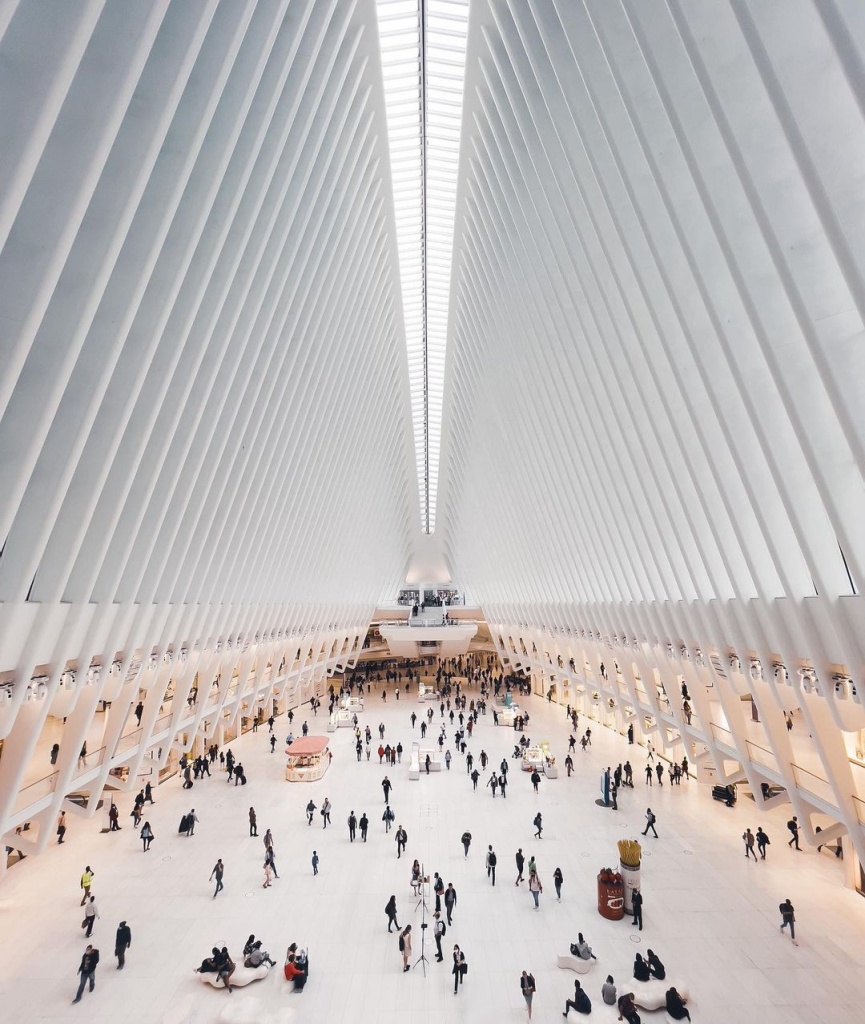 The Oculus NYC is not only a great Transportation Hub and the most expensive train station but also a piece of sophisticated architecture. The structure has the shape of a bird, as a symbol of hope and new beginnings. Therefore wedding photographs taken there, especially at certain angles, look majestic and gorgeous.
The Vessel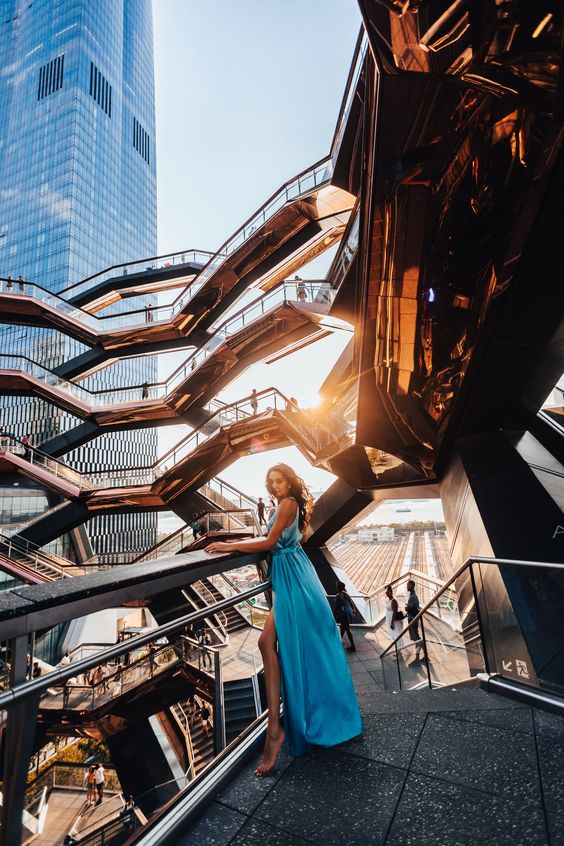 The Vessel is believed to be one of the best places for wedding photography in Manhattan. The elaborate honeycomb-like structure allows finding fresh angles and shapes. Both unforgettable portraits and lovely couple shoots might be taken there on different floors. The shots do look stylish and modern.
A TIP: Choose early morning time to avoid crowds of tourists at the location.
Literary Walk
In warm seasons you might get really green and juicy wedding photos in this extremely popular park in NYC. A nice spot for a long walk and truly relaxed shots.
The Natural History Museum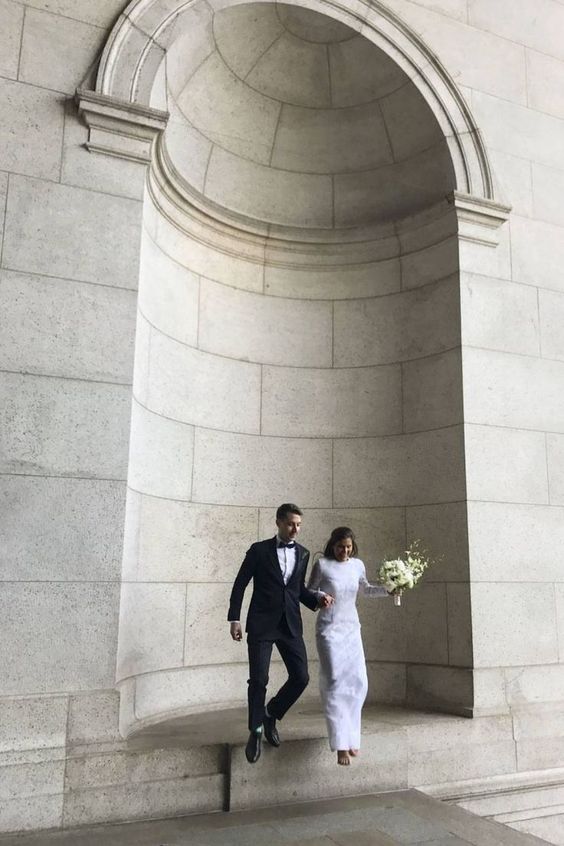 That's a place to feel ancient times and precious moments of history and create your own timeless story, captured by a photographer! Get here to read about secret tips on how to choose your perfect photographer for a wedding!
Streets of Soho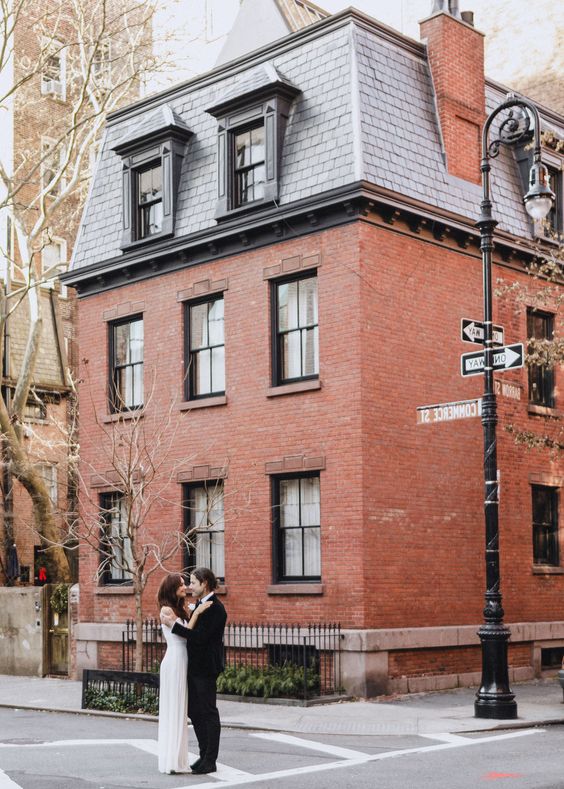 The streets of this bright neighborhood are diverse and trendy, this charming district is urban and pulsating but romantic at the same time. Colorful buildings are hiding rich history in their cozy corners, so if you are into architectural sites, go for it!
East River Park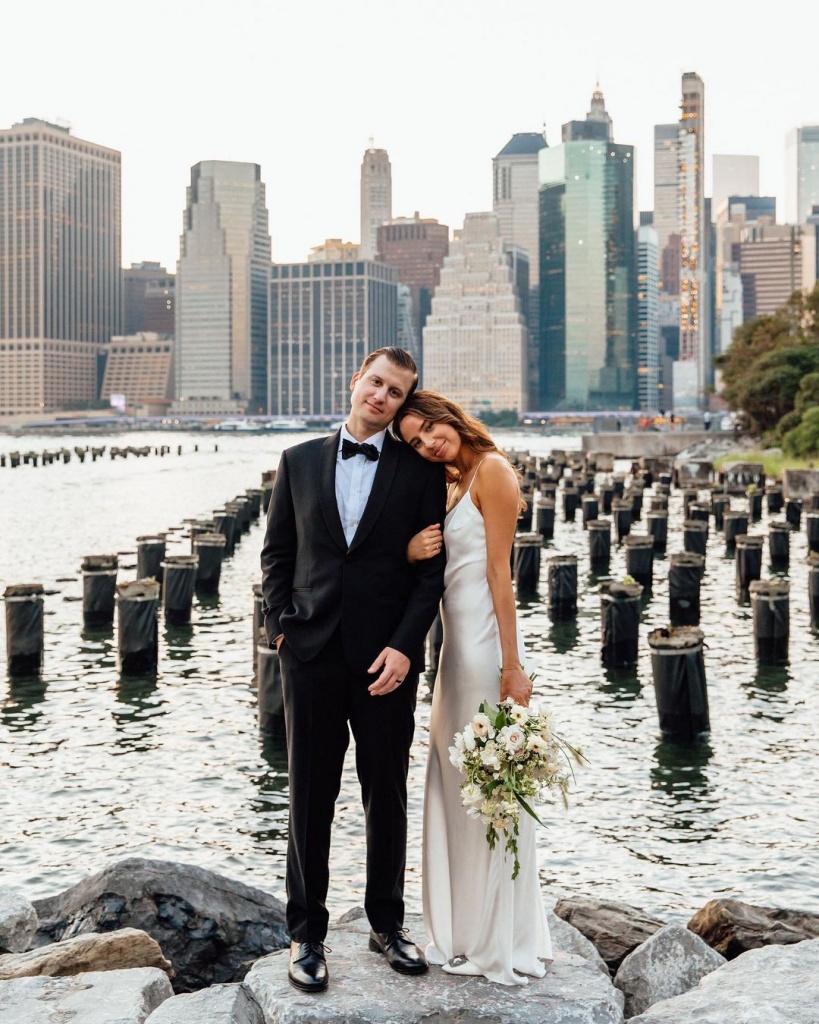 This beautiful spot in Brooklyn opens Manhattan's skyline as a backdrop for taking breathtaking wedding pictures. The spot is a combination of vibrant industrial city life and natural sites.
We hope you've found lots of inspirational ideas. Let's get it started to make your own list of locations you want to take shots on your wedding day.