Fall is the most romantic season for weddings. More and more couples are choosing this time of the year to get married. September, October and November are special months because nature gives you an incredible chance of scenery that impresses with its enigmatic colors. Warm flowers, yellow leaves, mild temperature, perfect light, and early evenings make the fall season especially beautiful and magical as well as inspire you with hundreds of ideas for your wedding.
What is more, it is ideal weather for holding a wedding ceremony since the days are no longer hot and the afternoons still don't have the winter cold. It is true that the chance of rain can be somewhat higher than in the summer months. However, a professional wedding organization will always have a plan B in case of unforeseen weather conditions. If you are planning a fall wedding, you are in luck! This article gives you a detailed guide to the organization of a fall wedding.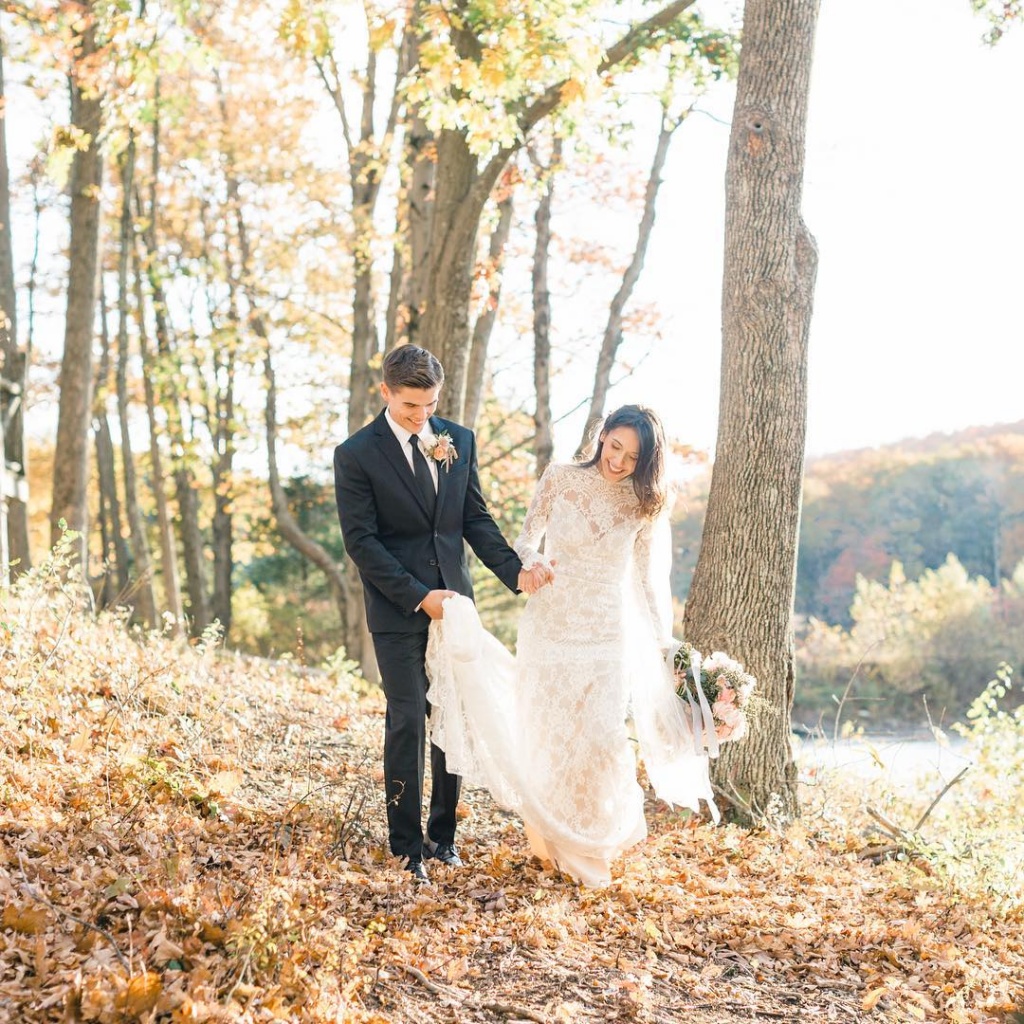 Photo by Lauren Fair
Choosing a Fall wedding Venue
When we talk about a wedding venue, we mean a place for having a banquet or party after the wedding ceremony. However, in recent years, many venues have become equipped for holding both the wedding ceremony and reception. Without doubt, in fall it is easier to find a free venue than in spring or summer. Even if you book it a few weeks before the celebration.
There are many options for a fall wedding venue, such as castles, villas, country houses, hotels or restaurants. If the weather allows, there is nothing more beautiful than being able to enjoy an outdoor banquet in a garden or courtyard. In the case of rainy or cold weather, indoor space will always be an alternative to celebrate a wedding. Remember to prioritize locations that are easily accessible or where hotels are located nearby.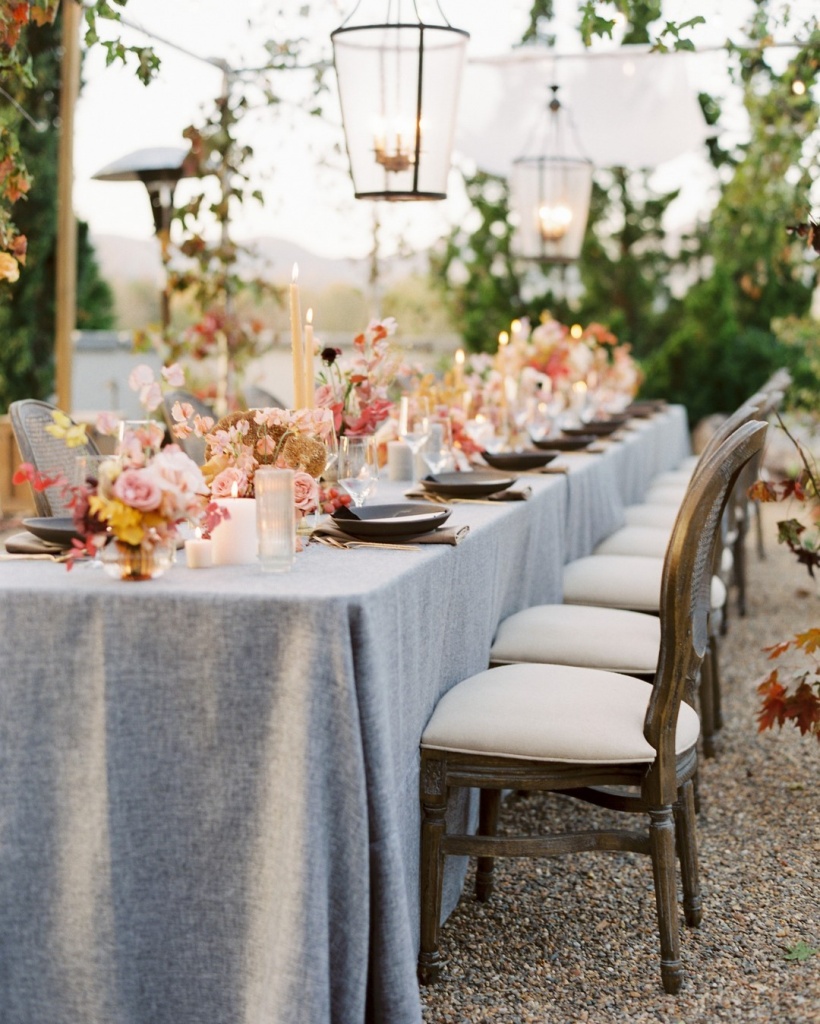 Photo by Courtney Bowlden
Creating a Fall-Inspired Menu
When creating a fall-inspired menu, it is worth adding a seasonal flavor to your wedding dinner. The fall menu is known for creamy vegetable soups. To start dinner, choose a pumpkin soup with crispy toast that will delight everyone. Continue with roast turkey and apple stuffing or cranberry maple-glazed ham with mashed potatoes. Wines are an important part of the fall menu. It is mainly based on red wines, but also there is a place for sparkling ones.
Don't forget about fall fruit: apples, pears, oranges, pomegranates, grapes, plums and figs. Play with this immense variety that nature offers you. For example, you can serve cheese platters with grapes and figs.
In the final part of dinner, delicious desserts, namely cheesecakes, chocolate brownies, fruit or pumpkin pies, and apple strudels. Keep in mind that your desserts should not be too heavy so as not to overshadow the wedding cake. They can go with coffee and tea, which are essential hot drinks for any wedding celebration. No doubt, traditional fall foods for wedding dinner are especially tasty!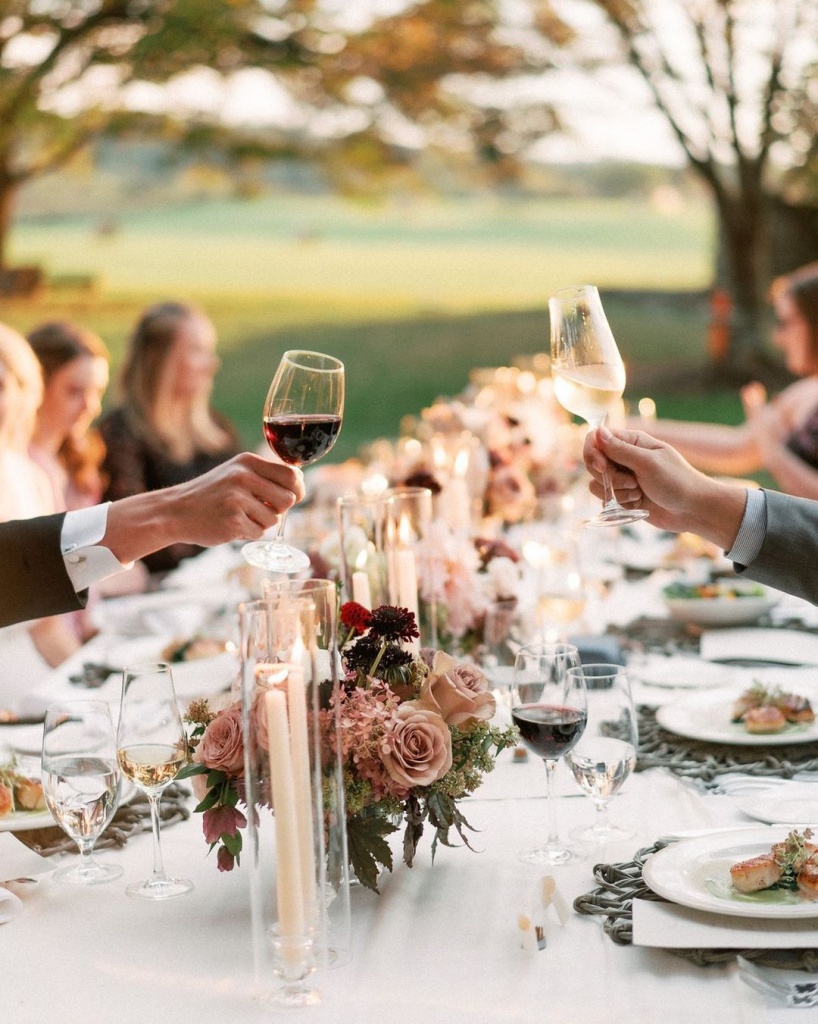 Photo by Audra Wrisleyphoto
Include a Cozy Fall Cocktail Lounge
After walking in nature, guests may freeze a little. You can warm them not only with love and snug blankets but also with hot aromatic drinks. To do this, organize a сozy fall cocktail lounge with coffee tables and soft cushions.
Honey tea or hot chocolate is an easy way to keep warm! Marshmallows, macaroons, and cinnamon sticks go well with them. Everyone will feel their magical mood-lifting properties. Another extraordinary fall drink is a pumpkin latte.
For those who like alcoholic drinks that warm the soul and body, offer: mulled wine, punch or hot cider. Well suited to them are ginger biscuits, crackers, pies with apples or pears, Viennese strudel, and different cheeses. Your guests and you will be warmed not only with drinks but also with the general atmosphere of joy and romance.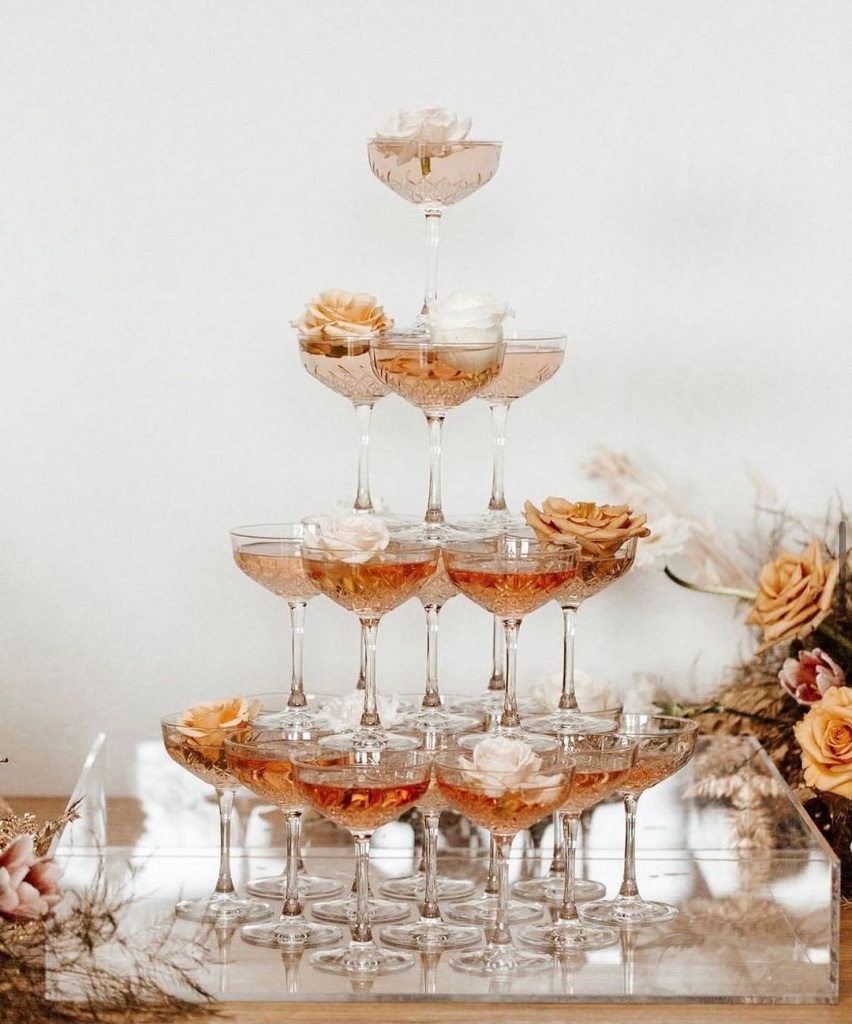 Photo by Darian Shantay photo
Serve fall wedding cake for dessert
A fall wedding cake is an exquisite work of art. It usually looks very elegant and creative. When choosing a wedding cake, pay attention to its design and flavor. Apparently, white is the most preferred color for wedding cakes. However, in fall décor, this traditional color is splendidly combined with shades of orange and brown. Another very popular type of wedding cake is a naked cake with a thin layer of frosting, which reminds you of something warm, homemade, and pleasant. This is what the newlyweds need in the fall season.
If you want to delight your guests with fresh products and increasingly original flavors, you can use apples, pears, plums, grapes, figs, or even pumpkins. Also, nuts, hazelnuts and spices add more flavor and crispiness to your cake.
Fall also presents amazing options for cake decoration. It is possible to personalize all the details with the fall theme and use flowers and leaves of the season to crown your wedding cake. Finally, this wedding cake can be presented on a wooden tray. It looks delicious, doesn't it?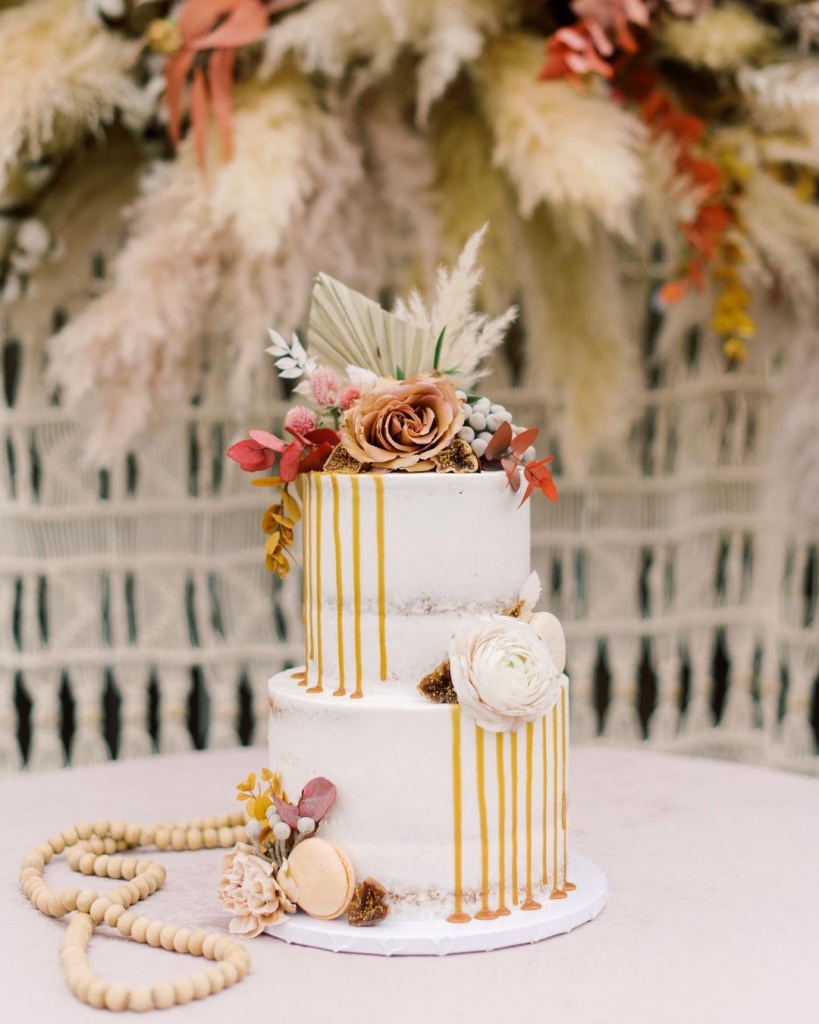 Photo by lovelylight_imagery
Decorating for a Fall Wedding
The natural textures and warm autumn colors will give you a lot of opportunities for your wedding decoration. The season offers you the shades of red, orange, yellow, green, brown, gold, and ochres. Take advantage of a vintage style to fill your wedding with magic and charm. Fall foliage and colorful seasonal flowers are combined with apples, pears, chestnuts and pumpkins to create a beautiful fall atmosphere.
The wedding altar can be beautifully adorned with bright fall leaves and flower compositions of chrysanthemums, dahlias, asters and gerberas. To get the most fantastic result, place candles and spread flower petals along the path to the altar.
Tree branches with leaves will be perfectly incorporated in the wedding reception area. Besides, pumpkins of different sizes are used to make fall compositions, floral vases and even luminaries that will delight the eyes of guests.
When decorating for a fall wedding, remember about the garland lights or paper lamps to make your wedding night brighter. As for the furniture, aged tables and chairs will add a vintage touch. They can be covered in satin, silk or velvet fabric. A little shine of fabrics blends well with the vintage style of other decorative elements. Ochra will contrast more with fall leaves and wood furniture. Just be sure that the classic fall will breathe in every corner.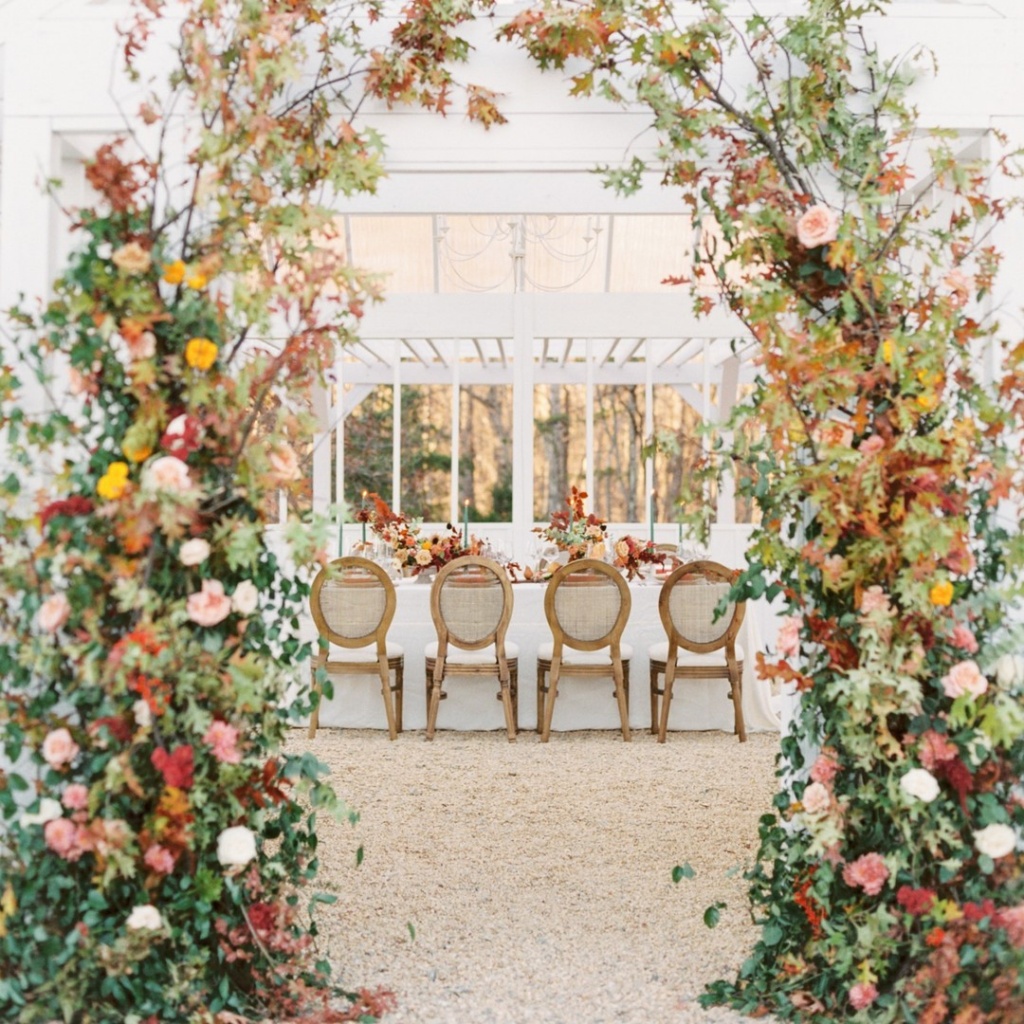 Photo by Megan Travis Photography
Use fall foliage in the decor
You can find colorful fall foliage everywhere: in the city park, in the forest or in the yard of your house. It is best collected in a variety of shades, ranging from light green to bright red. The acorns, chestnuts, bunches of rowan or viburnum also go so well together with the décor.
Fall foliage will decorate banquet tables, invitations, a wedding arch, a bridal bouquet, and the groom's boutonniere. Even wedding cakes can be adorned with small bright leaves.
To diversify the warm shades with other colors, it is recommended painting some leaves with gold. At a wedding ceremony, they are perfect for presenting rings. Apart from this, fall foliage is used to create place cards for guests, festive garlands and other interesting decorations.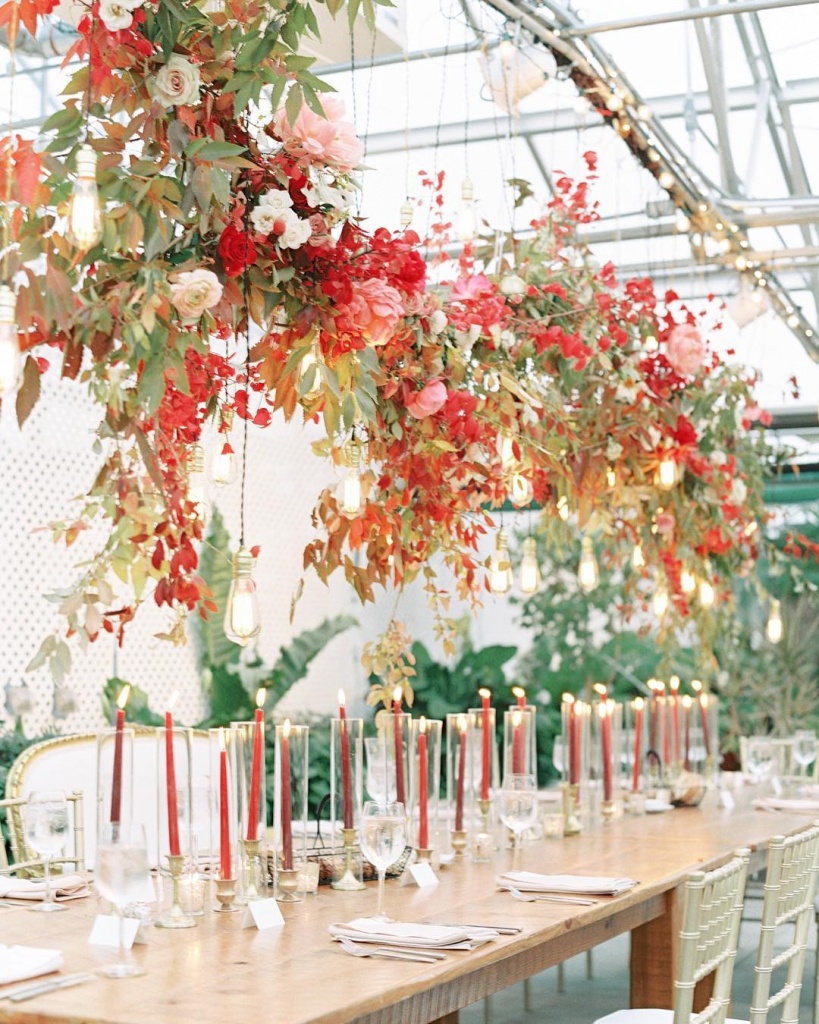 Photo by Lauren Fair
Fall Wedding Bouquet
A fall wedding bouquet is the main attribute of a stunning bride. It accompanies her during the wedding ceremony. What matters is that the style of the bouquet should be matched with the bride's dress and the theme of the wedding ceremony. Professional florists use stylish décor to combine harmoniously different types of flowers as well as their shades.
Certainly, the warm shades of red, orange, yellow and brown inspire to create bright fall bridal bouquets. A composition of seasonal flowers, such as chrysanthemums, dahlias, asters, zinnias, and gerberas, is extraordinarily beautiful when it comes with white roses. Also, autumn motifs of a wedding bouquet can be highlighted with a natural décor, namely yellow leaves, clusters of viburnum, cranberries or rowan or miniature apples. Besides, the ears of wheat or heather twigs will perfectly suit a romantic bride. A great choice, isn't it? In this fall bouquet, you can read about the wealth of the season, the generosity of the Earth and women's harmony with nature.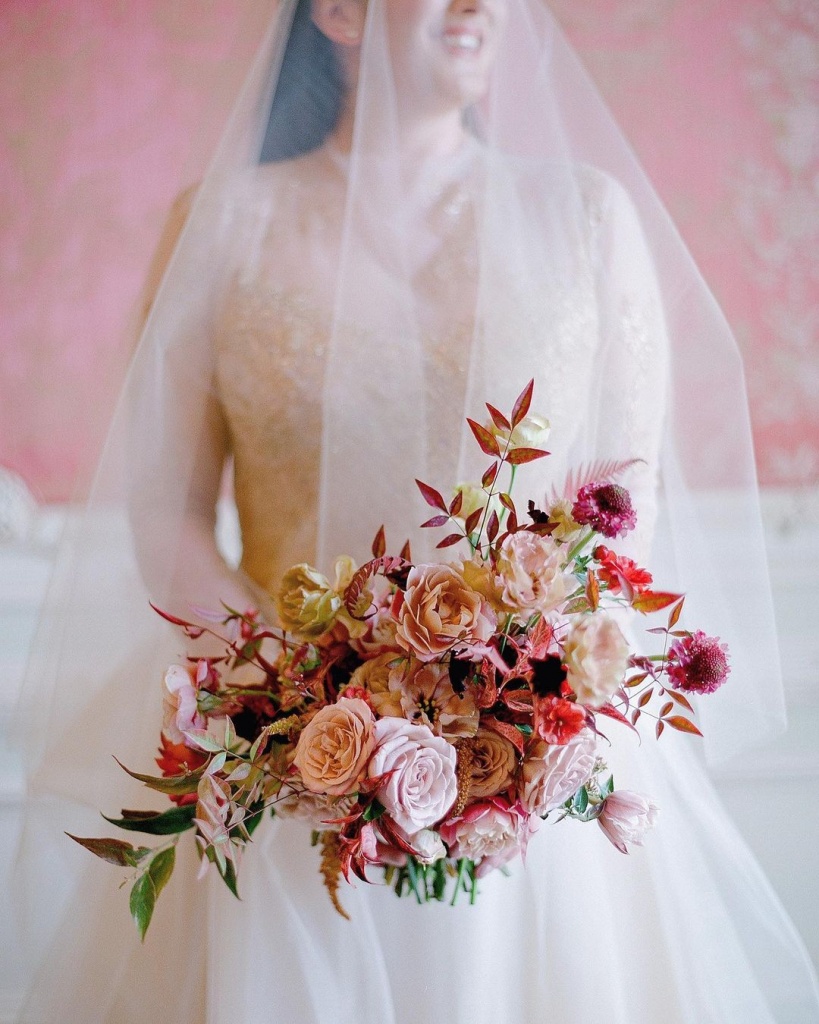 Photo by Jose Villa
Add Fruit and Pumpkins to Your Fall Place Setting
It's a great idea to decorate your fall setting with fruit and pumpkins. Doubtlessly, pumpkins are the kings of fall décor. They appear in all varieties, sizes and colors. In the fall wedding décor, not only pumpkins of natural coloration, such as orange or green, are used, but the vegetables are also painted in a wide variety of colors and decorated with lace or burlap. Apart from this, you can carve pumpkins and put candles inside of them. These handmade luminaries will create a particularly romantic wedding evening.
As for seasonal fruit, fall compositions of apples, pears, oranges, pomegranates and grapes will beautifully adorn tables and give you and your guests a fall mood. Surely, your wedding place setting will look fantastic!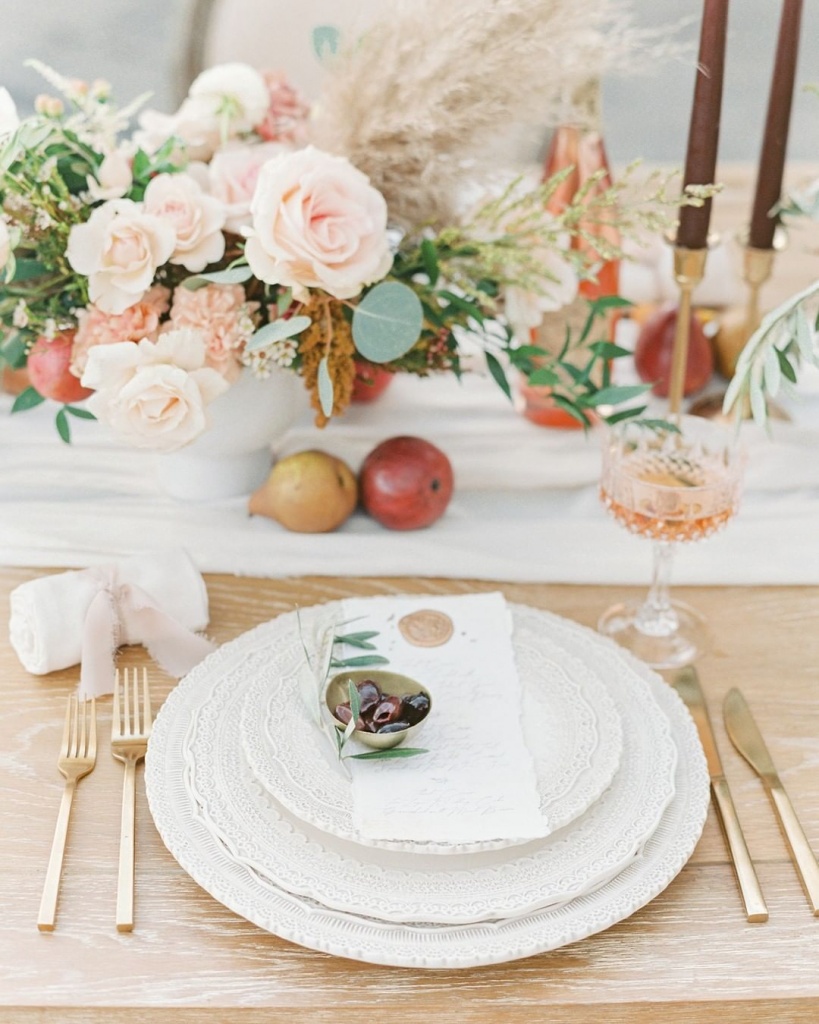 Photo by Lauren Fair
Dressing for a Fall Wedding
Fall is the time of year when the weather is unpredictable and changeable. Therefore, it is necessary to choose not only stylish dressing for a fall wedding but also suitable for different types of weather conditions.
Fall wedding clothes combine fashion with comfort to stay warm and look amazing. It is worth preparing coats for the newlyweds. You can complete the bride's look, and also warm her with a light fur shawl and gloves. Bear in mind that your shoes should be elegant and comfortable at the same time.
When creating the wedding outfit, it is advisable to take into account the color palette of the season. Warm rich colors dominate in fall. Also, accessories will add an accent to your look. Correctly chosen wedding attire can brighten the look of the bride and groom and give them romance and style. Don't be afraid to experiment!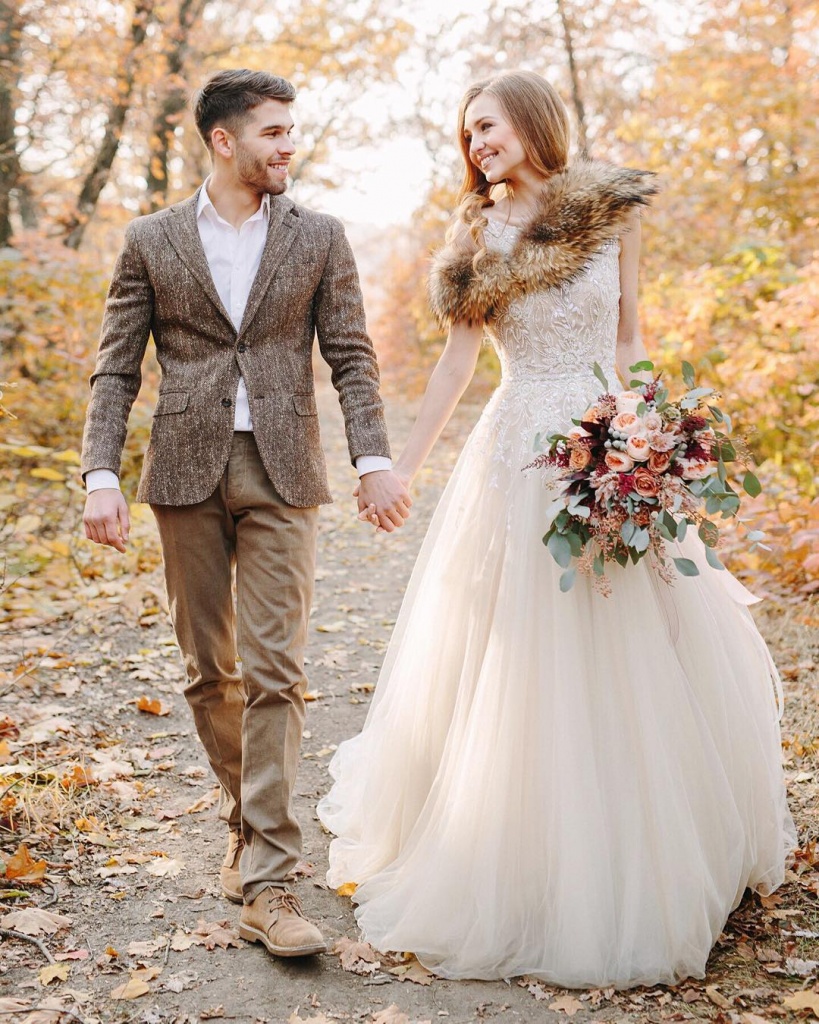 Photo by Masha Golub
Choose a wedding dress with the weather in mind
For every bride, the choice of a wedding dress is the most exciting moment in her life. She dreams of being beautiful and charming on her wedding day. The perfect choice of a wedding dress does not only depend on the bride´s preferences but also on the weather. In the first place, a fall wedding dress should protect you from the wind and allow you to look sophisticated without being cold.
The most popular fall model is a wedding dress with long or three-quarter sleeves. Its classic style will add elegance and delicacy to your appearance. Moreover, if you prefer having lace sleeves, you will give a special touch to your fall wedding dress. You can choose dense fabrics such as satin or silk Mikado, which are usually heavier and warmer. Most wedding dresses are white. However, ivory or beige will suit your fall style very well.
In addition to a wedding dress, it is also important to have a coat or cardigan. When the weather is cold, it will help the bride to keep warm. Pay attention, it should be matched to the style of the bride's look.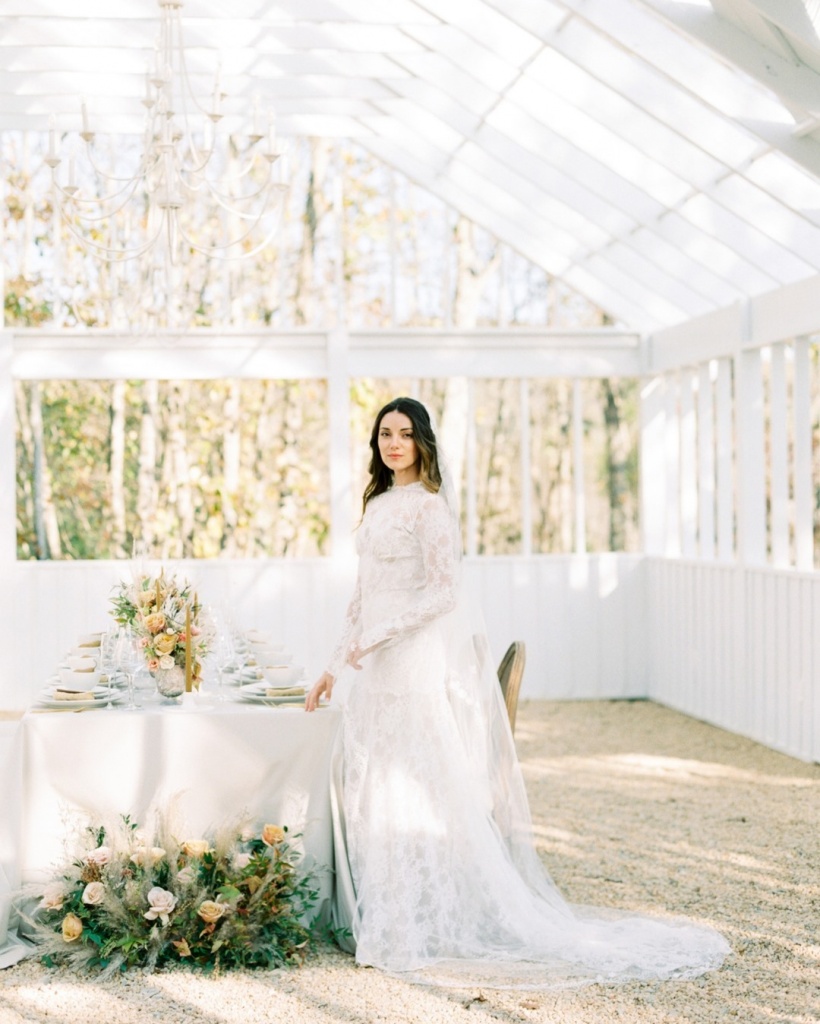 Photo by Megan Travis Photography
Choose a wedding tuxedo or suit fit for fall
A fall wedding is ideal for men who love the classic style of suits. Preparing for a wedding, a man does not always know what the groom should wear. They often hesitate over the choice of a wedding tuxedo or suit. A three-piece suit has been the hottest trend for several years. It combines classic and elegant styles. Usually, these suits are made from woolen, cashmere, or woven fabrics. You can experiment with their colors: black, blue, gray, mustard, brown, green and burgundy. Another option is a tuxedo, which is more suitable for a vintage wedding.
The wedding suits can be complemented by a tie or bow tie. Don't forget about the groom's boutonniere, which is a graceful miniature of the bride's bouquet made of natural flowers. Remember that your wedding suit should be in the same style as the bride's dress and the theme of the wedding.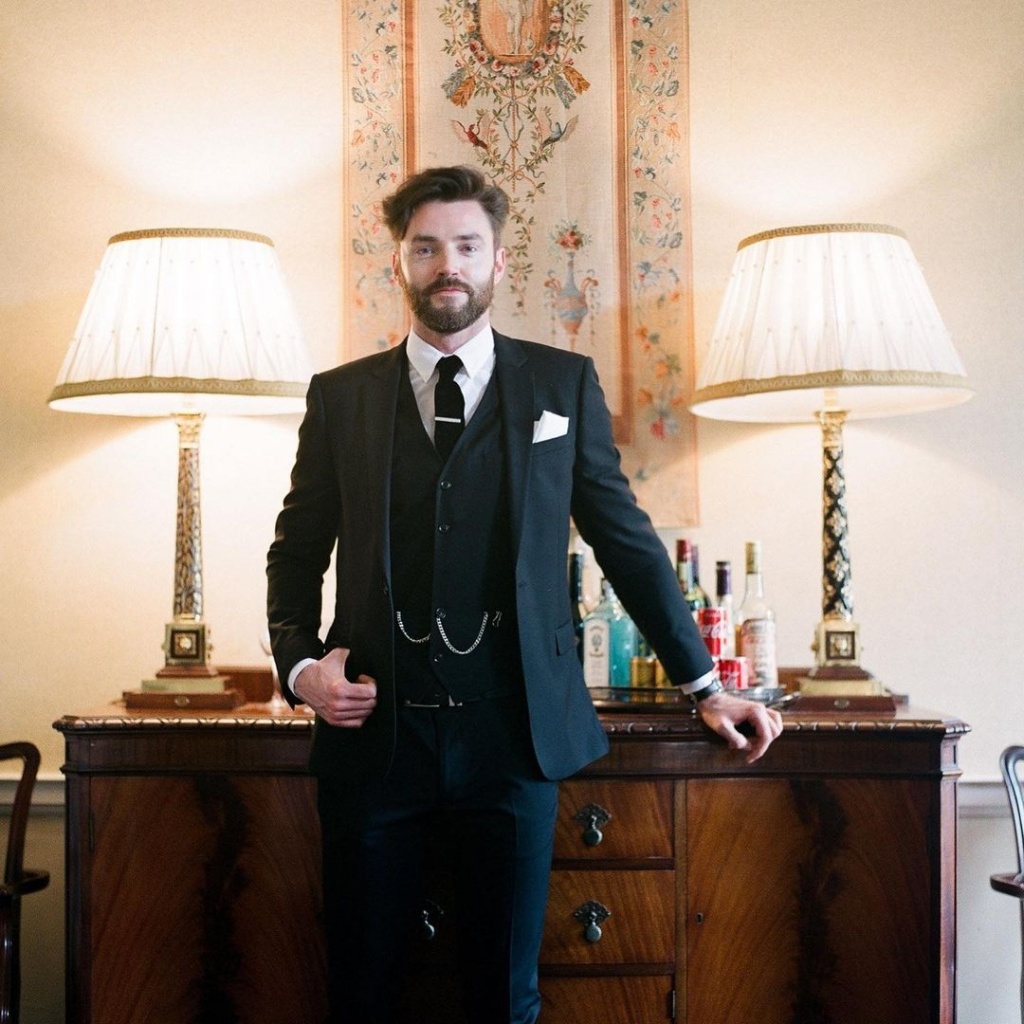 Photo by Ashley Noelle Edwards
Dress Your Bridesmaids in Velvet
Glamorous velvet is back in fashion. It is warm, soft, and pleasant to the touch. Due to these features, velvet is the best fabric for a fall wedding. In long sleeve velvet dresses, all bridesmaids will look beautiful, elegant, and luxurious. It is better to select a color from the fall palette. Different shades of dresses of the same color will emphasize the uniqueness and importance of each of the bridesmaids. They all differ in colors like fall leaves. Velvet shoes will complete a bridesmaids' look.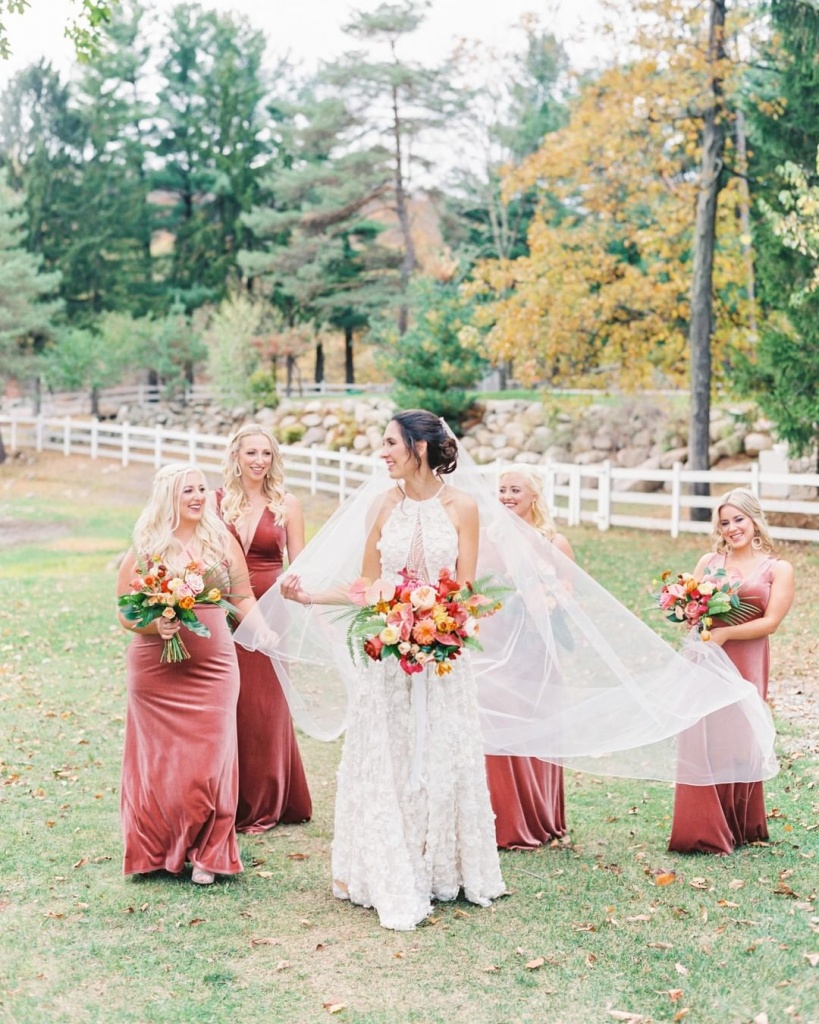 Photo by Lauren Fair
A fall alternative to dresses is trendy suits consisting of a jacket and a skirt or trousers made of velvet fabric with a floral print. In the case of cold and rainy weather, beautiful coats or cardigans will warm the girls.