Top 10 Flowers for Your Summer Wedding
Beautiful flowers are the main decorative element of any wedding, which emphasize the uniqueness of the ceremony, and at the same time, are an essential part of the bridal look. The choice of flowers is often a real challenge for the newlyweds because they largely reflect the bride's and groom's personalities and harmonize with the wedding theme.
When creating a wedding bouquet or decorations, it is worth considering that everything depends not only on your taste but also on the wedding season, your wedding budget, and floral longevity.
A wedding couple is offered different summer flowers varying in type, shape, and color. Therefore, it may be difficult for you to give your preferences for one of the most beautiful wedding flowers.
To help you make the right choice, we have prepared the necessary information about the top 10 flowers for your summer wedding in 2022.
Let's start!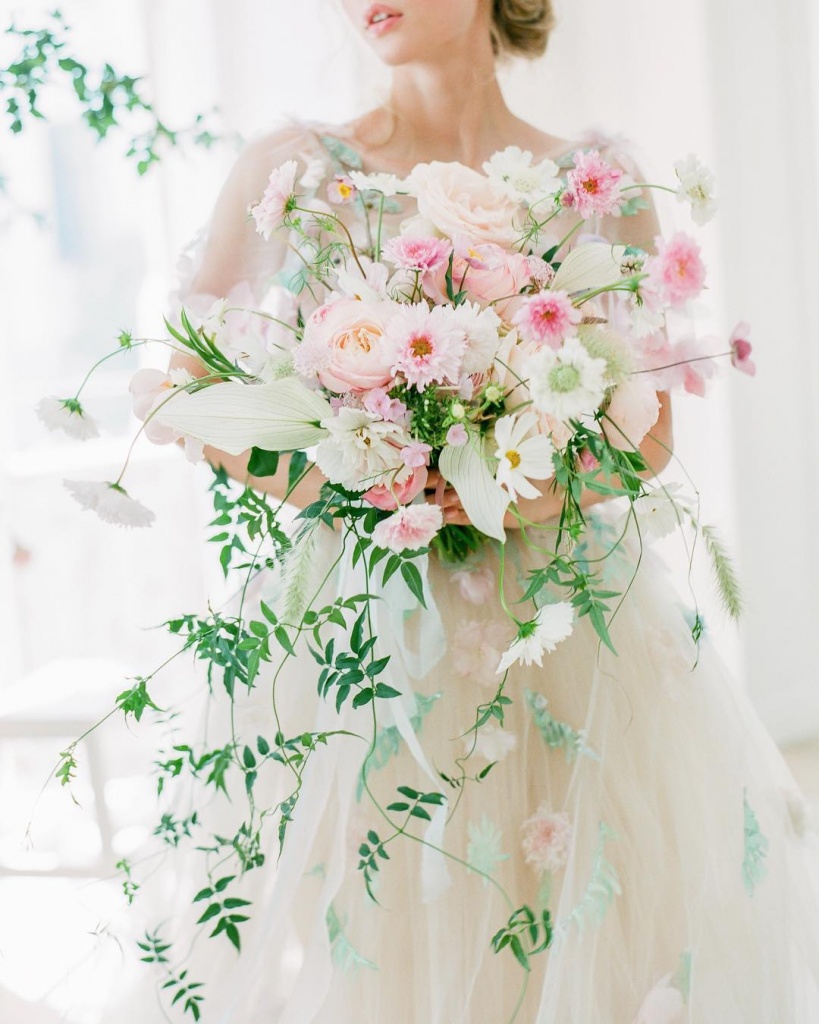 Lilies in Bridal Bouquets
A lily is the true flower of grace. From ancient times it has been considered the quintessence of femininity and beauty. A lily symbolized the virginity and purity of a bride. Now, this flower can decorate not only a wedding bouquet but also a wedding venue. Lilies can be used alone or in multiple arrangements, harmoniously complementing the floral design. There are more than a hundred varieties of lilies differing in color, size, and scent. What is more, lilies are elegant and striking white, pink, or yellow flowers that, due to their huge size, are perfect for creating impressive floral centerpieces. 
When choosing these wedding flowers for your bridal bouquet, you just need a few amazing lilies tied up with a stylish ribbon to get the WOW effect.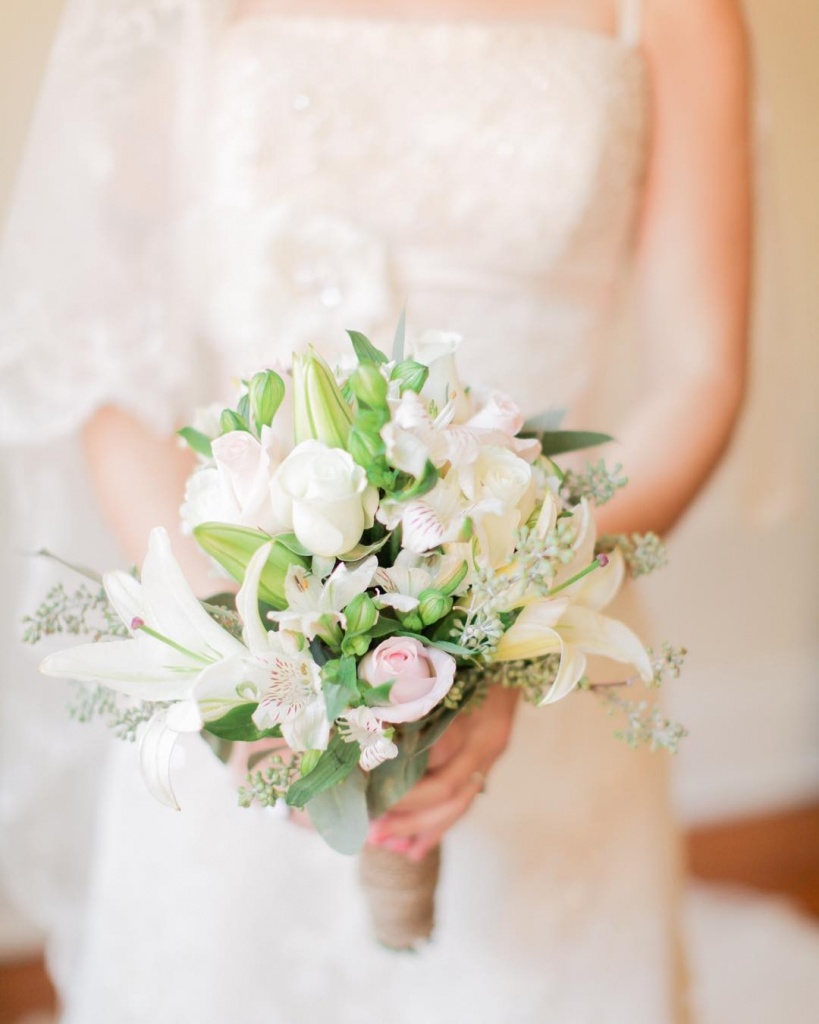 Why Brides Choose Gardenias
Gardenias are exotic flowers of white or cream color, which have a tropical and sweet scent. They symbolize sincerity and pure love. Brides can choose gardenias for their wedding bouquets instead of roses since these flowers are very similar to each other. However, they are more expensive than roses. Keep in mind that gardenias have a delicate appearance and are very fragrant, so special care should be taken when using these flowers indoors or for the guest table decor.
If you love the white flowers and are thinking of a more classic and sophisticated option for your wedding, gardenias are a good choice! They will create an atmosphere of romanticism, love, and tenderness.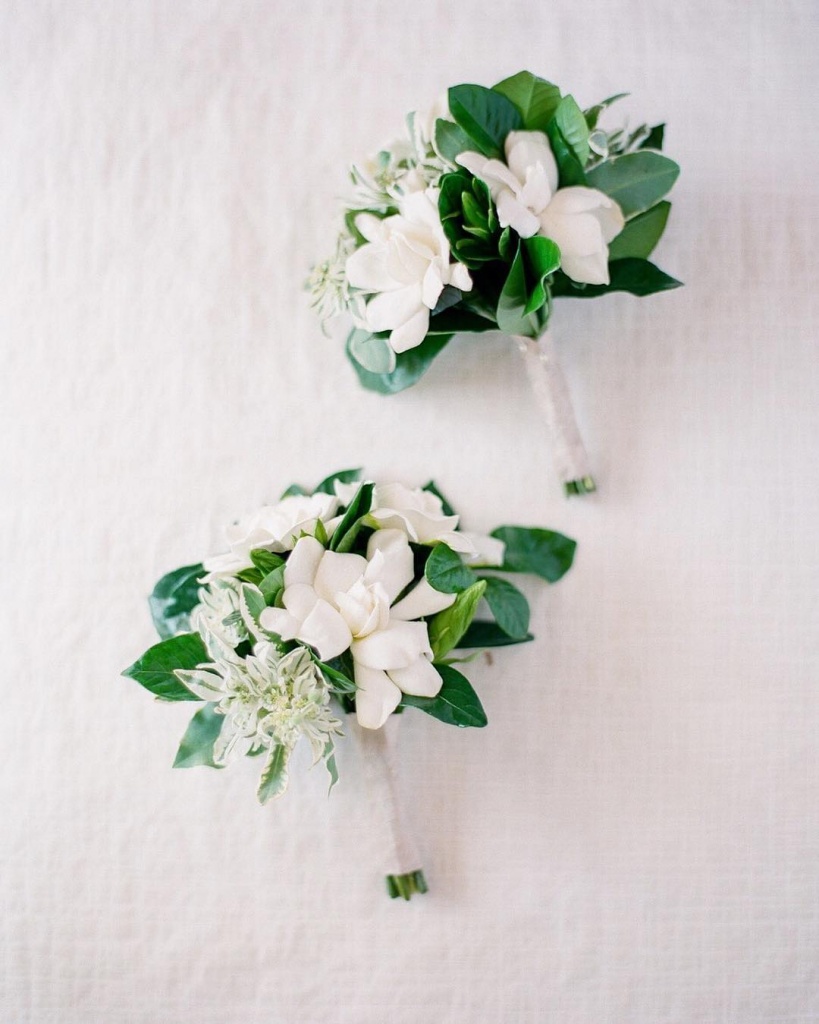 Daisies in Bridal Bouquet
A daisy was once considered the flower of virginity and innocence. Today, it symbolizes youth, love, and sensitivity and refers to the feelings of the bride's soul. The flower is believed to attract good luck to help make the right choice when it comes to marriage. Who doesn't play "he loves me, he loves me not" with daisies?
Delicate white petals and yellow center captivate couples for their grace and make daisies the favorite flowers to be used in wedding decorations for the ceremony and reception, or even in the wedding look of newlyweds, namely the bridal bouquet and the boutonnière of the groom.
They can also be combined with other white, yellow, blue, and pink flowers creating a stunning bouquet design. You will find a bridal bouquet with daisies so sweet, delicate, cheerful, and fun. Especially, it's a charming option for weddings in the country style.
Daisies fit on a modest floral budget, but they will give a touch of romanticism, elegance, and love to your wedding. If you plan an outdoor celebration, you can be sure that these flowers are the best option for your summer wedding.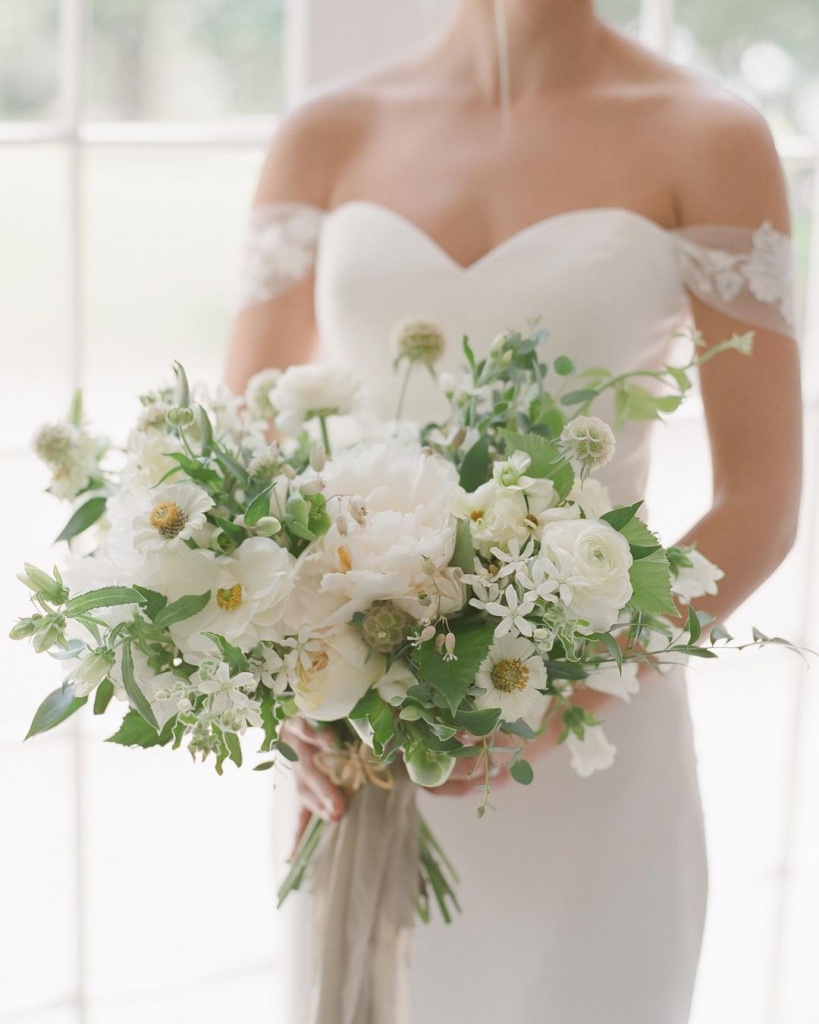 Freesias in Wedding Floristry
Freesias are extremely delicate and subtle flowers that are often used in wedding floristry. They symbolize the innocence and purity of the bride as well as the happiness and trust that the marriage brings to the life of newlyweds. In the language of flowers, freesias seem to say: "I believe in you"
Freesias are available all year round and come in a variety of colors: white, ivory, yellow, fuchsia, red, orange, and purple. These romantic flowers look phenomenal in a wedding bouquet and table decorations combined with eustoma, roses, and peonies. Although freesias have more delicate petals and stems, they work well in a wedding bouquet and floral centerpieces. In addition to this, their fabulous scent will not leave indifferent the most captious guests.
All of these reasons probably make freesias the best flowers for your summer wedding.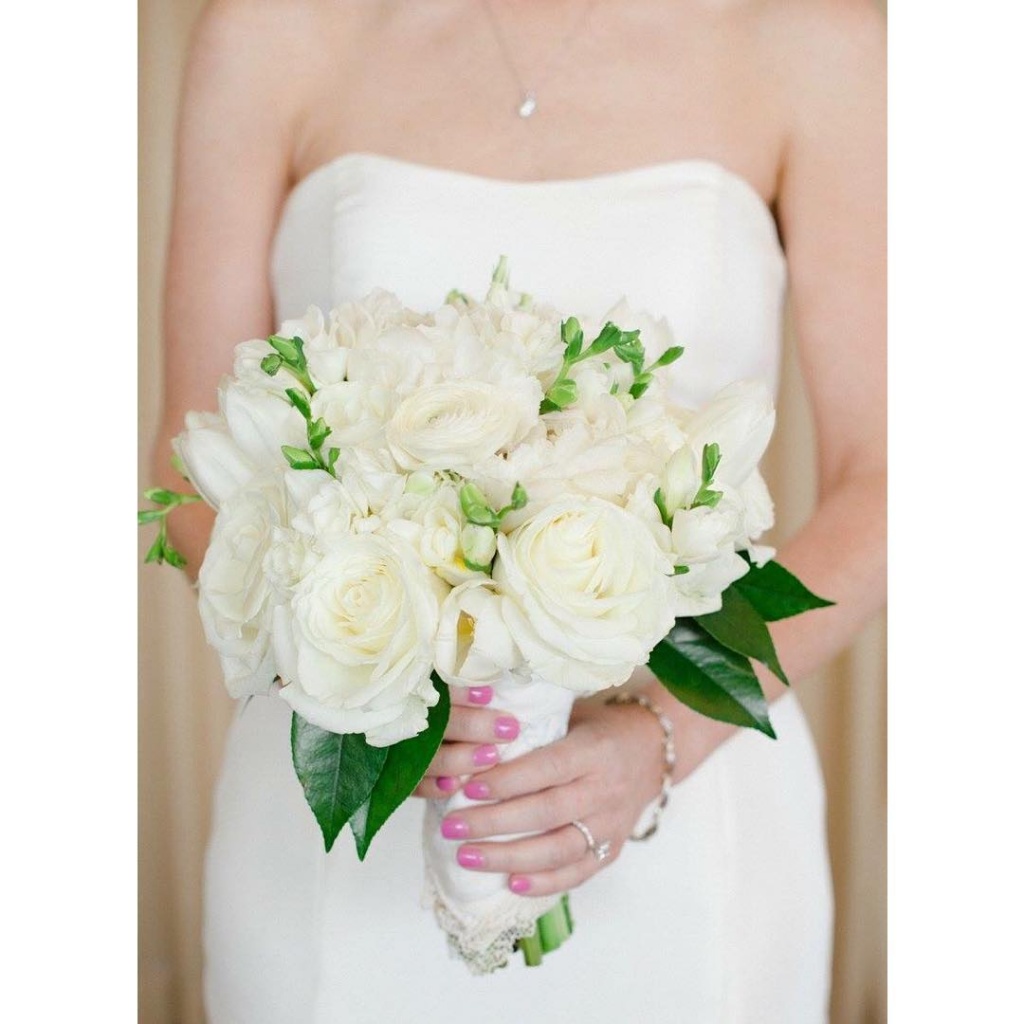 Lavender in Wedding Bouquets
Lavender is a small flower with a beautiful and delicate scent that symbolizes purity and serenity. Having relaxing and anti-stress properties, it can appear in various places of your wedding to carry peace and calm for you and your guests.
Lavender looks great alone, but it can also be combined with other flowers. An exceptionally successful duo is lavender and roses, as well as lavender and gypsophila. However, do not limit yourself to this and see how wonderful the combination of lavender and daisies is.
The decorative possibilities of the flower are almost endless. At the wedding, it can appear in very simple but very delicate bouquets for the bride and bridesmaids, the decorations of the church, outdoor ceremonies, hairstyles, or even on the cake. Furthermore, lavender suits well for weddings in rustic, vintage, or Provencal styles.
If you are a lover of purple color and you like aromatic flowers, lavender is an elegant choice for your wedding day.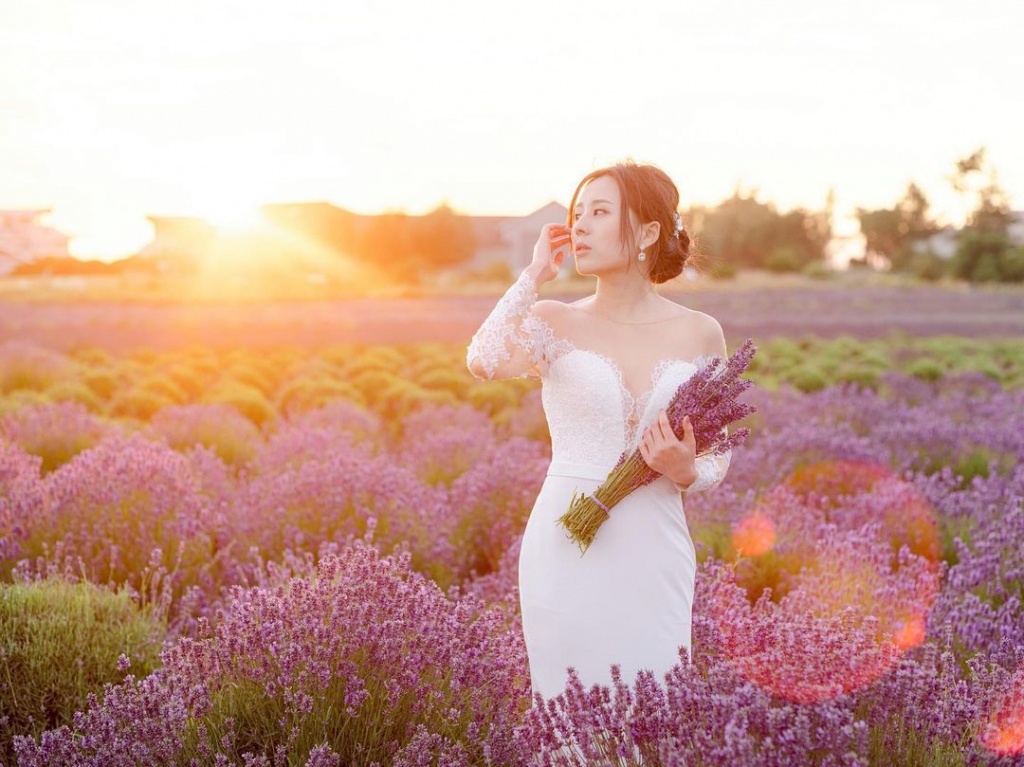 Tweedia
Tweedia is a delicate flower with fascinating sky-blue blooms. Its flowers have charming colors that change over time. The succession and contrast of the shades of colors that the flowers take on during their development will amaze you. Firstly, their flower buds are pink, they turn sky-blue as soon as their petals open, and finally, they become purple when they reach maturity and begin to wither. In addition, tweedia has beautiful velvety leaves of lanceolate or heart-shaped form, which remain on the plant even during the winter since it is an evergreen species. It all makes this flower especially attractive for newlyweds.
You will see that the beauty of tweedia is breathtaking in the summer season, even for those who don't like flowers at all. So this flower is an original choice that gives a touch of lightness to your wedding day.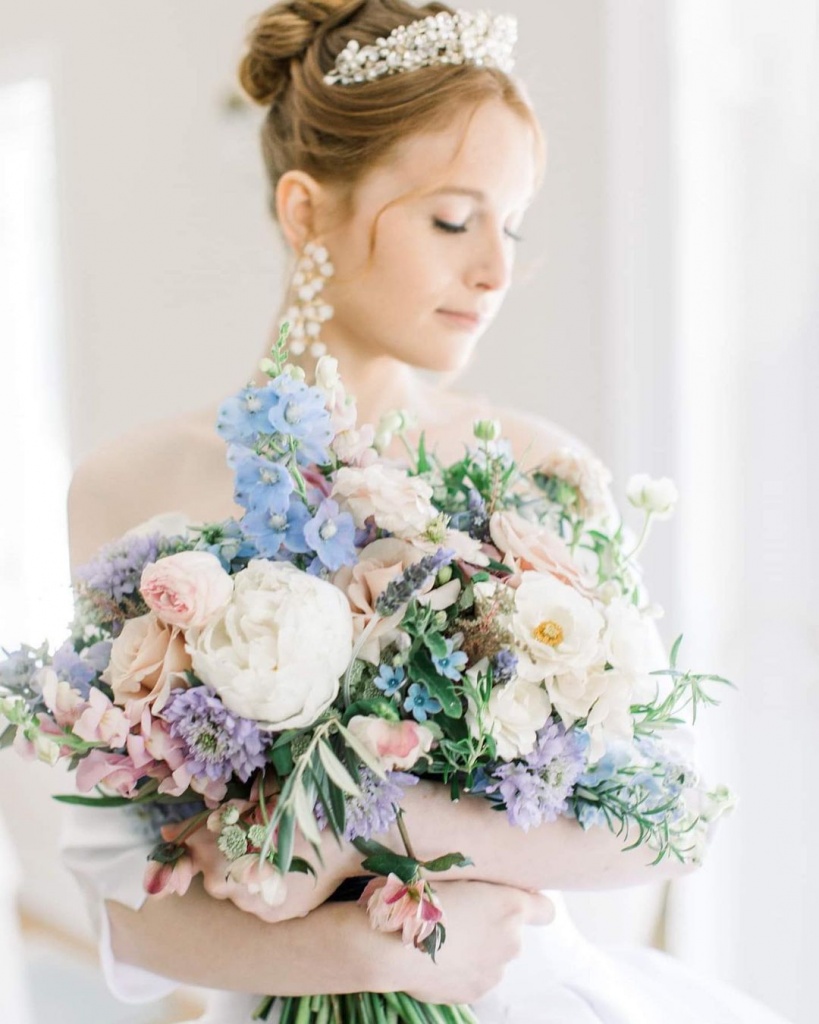 Delphinium
Tall and stemmy delphiniums are eye-catching summer flowers that usually look well alone in floral arrangements. But particularly, these flowers give a wedding bouquet a very beautiful and graceful shape.
Delphiniums are famous for having a long and sturdy stem, lush clusters of flowers, and many buds that open one by one. They come in various shades of blue and bluish-purple, but you can also find them in white, yellow, and pink. The flowers are ideal for large bridal bouquets and exuberant flower arrangements.
Not everyone knows the name 'Delphinium' comes from the ancient Greek word "delphis", as the flower buds are somewhat similar to a dolphin.
Delphinium is certainly worthy of its name. These gorgeous and stylish flowers of amazing colors are the perfect option for a summer rustic style wedding. Your guests will be delighted with their very sensitive scent and stunning look.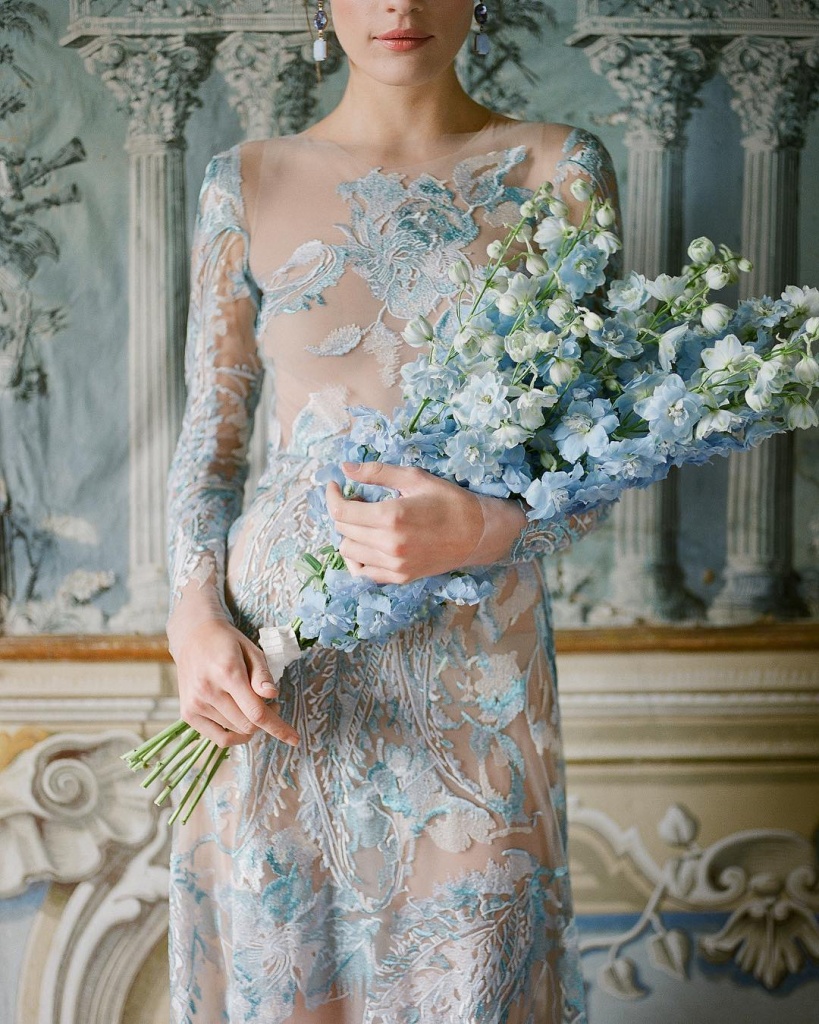 Sunflowers for Summer Wedding
Happiness, energy, and warmth are some of the most frequently mentioned meanings that sunflowers have. These flowers are usually associated with the sun and summertime because of their unique, intense yellow color. However, sunflowers can also occur in more unusual shades of orange or red. Thus, they are perfect for centerpieces and bridal bouquets as the flowers provide a positive and joyful wedding atmosphere in the decoration.
If you are planning a summer wedding, the sunflowers will add bright colors and bring a radiant mood to your wedding celebration. What is more, the flowers are very sustainable so that they can be used quietly indoors and outdoors, under the sun or in the shade. No doubt, the unusual simple charm of the sunflowers will convey the spirit of happiness and admiration on your wedding day.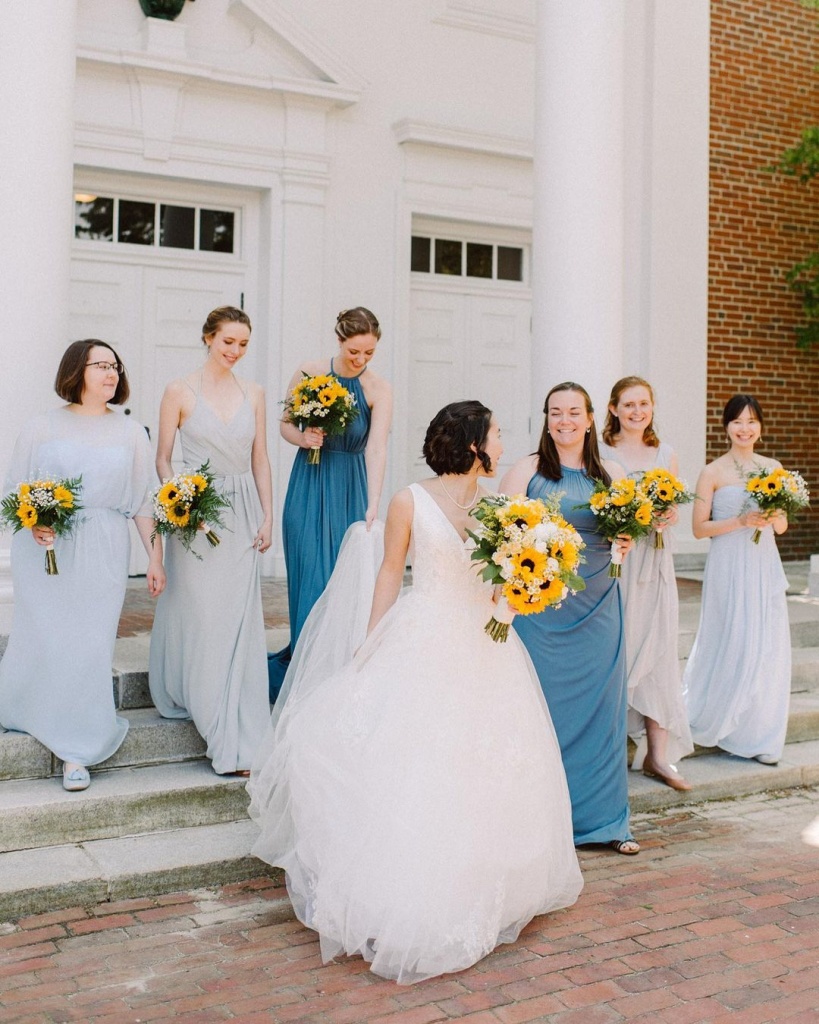 Hydrangea
When summer comes, hydrangea begins to be the protagonist of many summer weddings since it is one of the longest blooming flowers. It is composed of many small flowers that together form a natural bouquet. Hydrangea is perfect for wedding decoration thanks to its diverse color palette, including white, greenish, pink, blue, and a whole range of mauve, violet, lilac, or purple. All that makes the flower fit into many wedding styles, such as rustic, modern, vintage, and baroque.
We love to see hydrangeas in bridal bouquets, combined with other popular flower types or alone, depending on the final result we want to achieve. Also, this beautiful flower is great for groomsmen's boutonnieres, bridesmaids' bouquets, and even as small details in a bridal crown.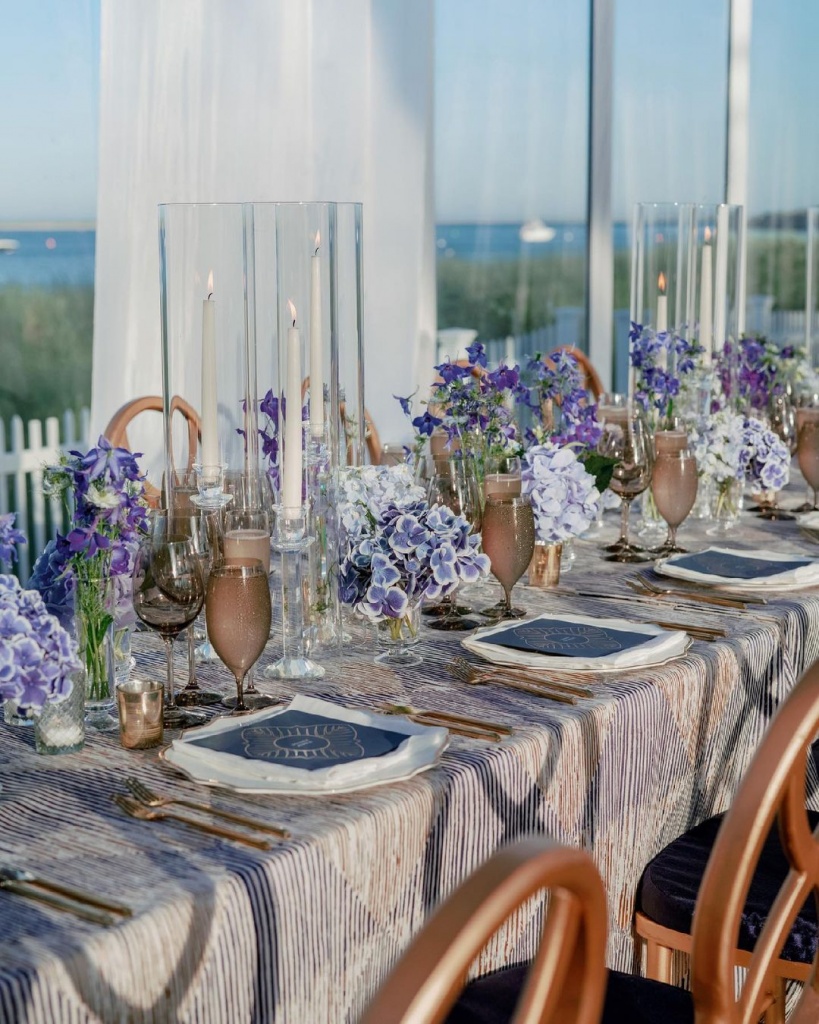 Gladiolus
Gladiolus are brightly colored flowers with tall and sturdy stems. The trumpet shape of flowers is underlined by leaves of a beautiful intense green color, which are similar to a sword. Gladiolus symbolizes strength and victory: "You are my true love."
Bouquets of gladiolus of medium height with orchids and decorative greenery will look harmoniously in the hands of slender brides. But they are most solemn in the wedding decor. Their cascading shape and large size make gladiolus a perfect option for vertical mono flower arrangements on the tables and central bouquets for decorating halls, arches, and churches.
Gladiolus come in different colors, from simple white, yellow, and soft pinks to bright oranges, reds, dark burgundies, and deep violet. Often the flowers have multiple color pastel shades with sharp contrasts in the center.
Thanks to their elegance and incredible sustainability of blooms even after cutting, gladiolus are one of the most appreciated and loved wedding flowers by couples.