8 Best Celebrity Wedding Dresses
For every bride, the wedding is primarily associated with the dress. We are confident that you will choose the best option for yourself, and to encourage you Wezoree has prepared an inspiring article about celebrity bridal gowns. We have collected exactly those options that remain timeless and can be transformed into a trendy wedding look in one way or another even nowadays. Enjoy, be inspired, and plan your special day down to the last detail.
By the way, celebrities often choose not one dress, but several. Perhaps you should think about two or even more options? Why stop at just one?
Nicola Peltz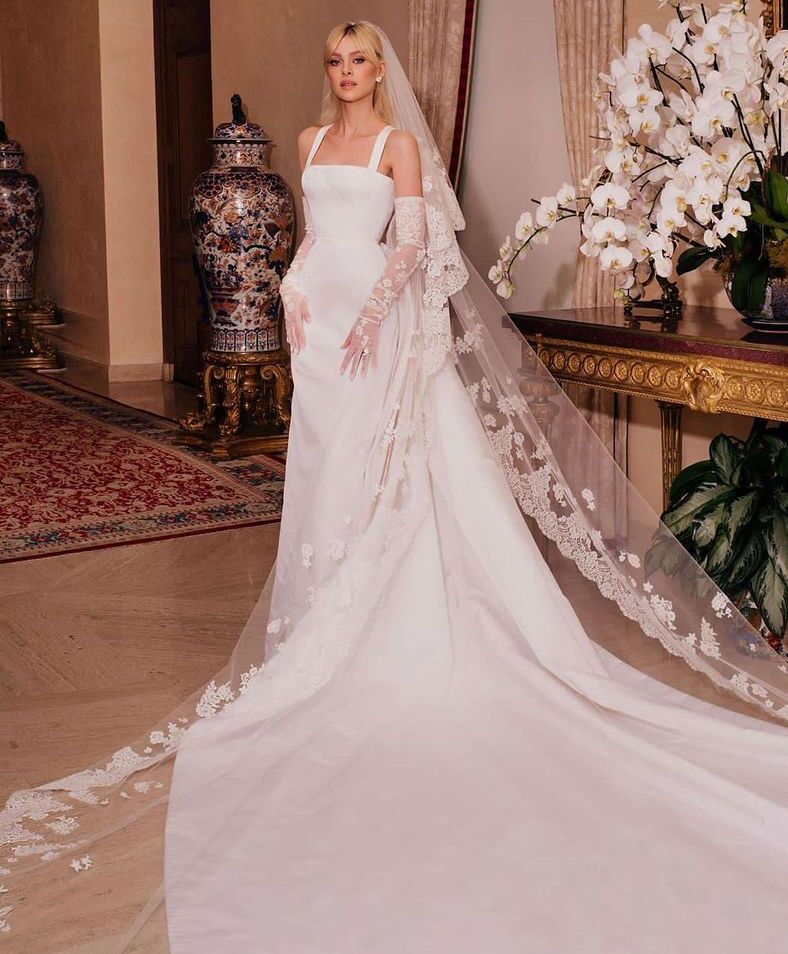 Photo by German Larkin for @britishvogue
Wedding Date: April 9, 2022
Who designed the wedding dress: Valentino
Style - minimalism.
The cost is 120 thousand dollars.
The dress is inspired by the supermodels of the 1990s. Together with her stylist, the star decided to choose this particular fashion brand. We are sure that she did not regret it. The creation of the dress took a year, during which Nicola visited Rome in order to try on her
main outfit. An unusual solution was to sew a talisman from the evil eye into the hem of the dress. This bridal gown will look stunning even after 50 years like many other examples of minimalist wedding dresses.
Victoria Beckham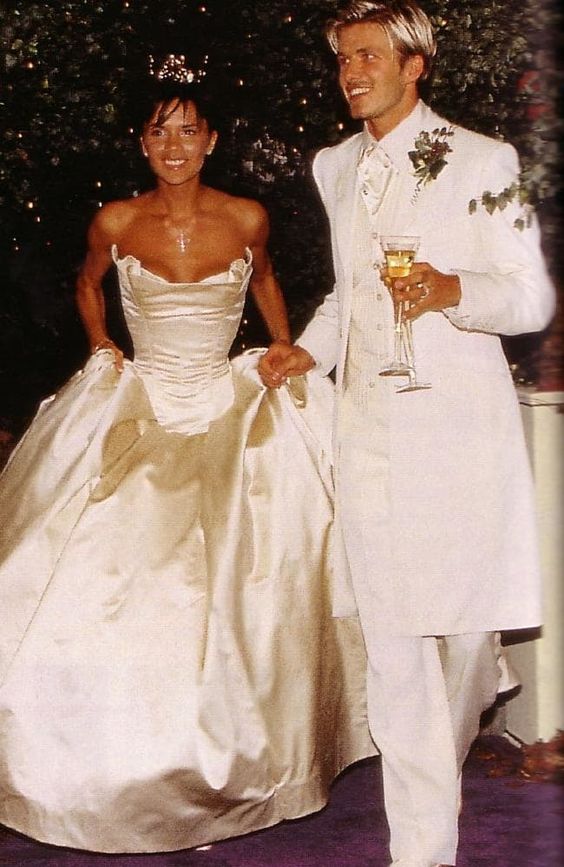 Photo Victoria and David Beckham at their 1999 wedding.
Wedding Date: July 4, 1999
Who designed the wedding dress: Vera Wang
Talented Victoria created a sketch of her dream dress, and a well-known designer turned this idea into reality. As an adherent of laconic outfits, Victoria had a desire to create such kind of a dress. The main purpose was to make it both simple and elegant. Undoubtedly, she succeeded 100%. After all, even today lots of people talk about it and get inspired by its design after so many years. Many people are convinced that her bridal gown is the best celebrity wedding dress of all time.
Elizabeth Taylor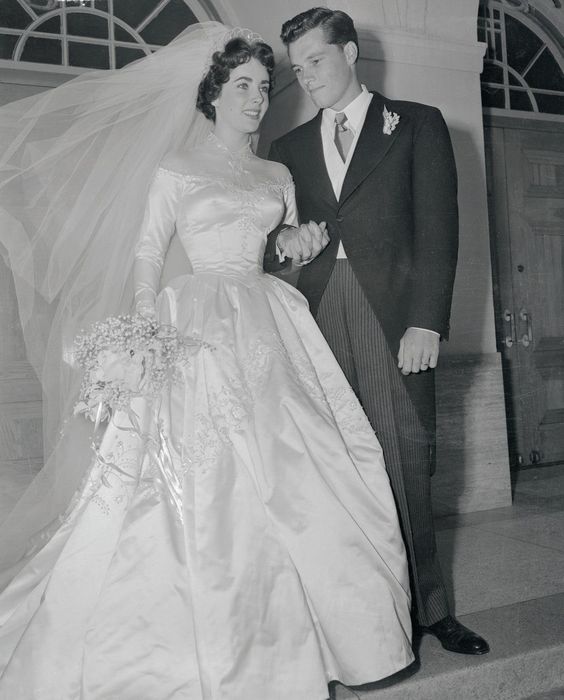 Photo by Bettmann
Wedding Date: May 6, 1950, in Beverly Hills
Who designed the wedding dress: Helen Rose
If you think that she had one, then you are mistaken. The actress managed to change 7 husbands and 8 wedding looks. But only this was her classic and remembered wedding gown. 700 guests were able to enjoy the beauty of Elizabeth on her wedding day. Despite the long years, ivory satin dresses remain at the peak of popularity every year. Her dress is definitely one of the most iconic wedding gowns in history.
Angelina Jolie
Photo by Photos by David James via People Magazine
Wedding Date: August 23, 2014
Who designed the wedding dress: Atelier Versace and her kids
Style - vintage
Angelina opted for a satin dress, which really turned out to be unique since each of her 6 children created their own pattern. And the designer skillfully transferred them to the dress.
Paris Hilton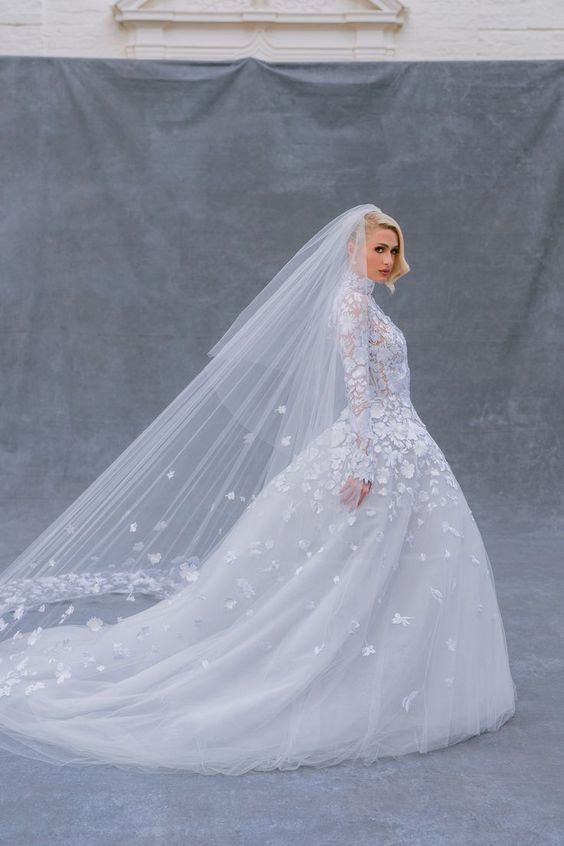 Photo by Jose Villa
Wedding Date: November 11, 2021
Who designed the wedding dress: Oscar de la Renta
Who else can so skillfully change 6 looks on the wedding day like her? But we are talking about the most fatal outfit, which literally was discussed by everyone. Can you just imagine that the dress was delivered to her only 11 hours before the ceremony?! This option will definitely remain out of time. Her bridal gown was one of the prettiest celebrity wedding dresses in 2021.
Hilary Duff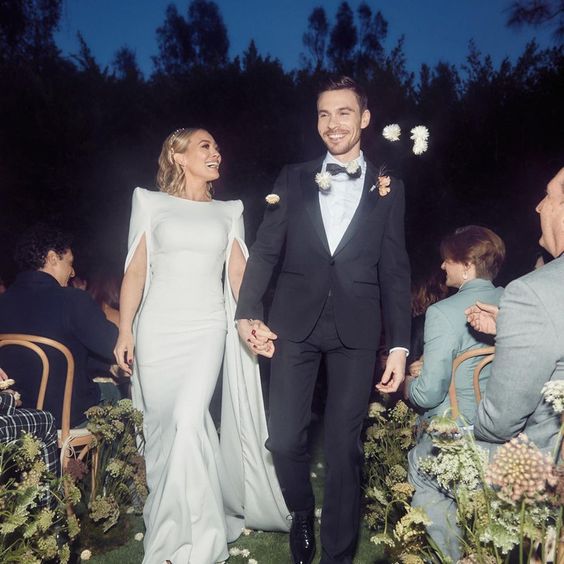 Photo by © hilaryduff/Instagram
Wedding Date: December 21, 2019
Who designed the wedding dress: Jenny Packham
Although the dress at the first wedding of the actress cannot be ignored, you simply cannot take your eyes off this one. Although they chose a backyard wedding in LA, such a dress would be suitable for a royal wedding. By the way, if you are planning to implement backyard wedding ideas, then we have prepared this article for you.
Miranda Kerr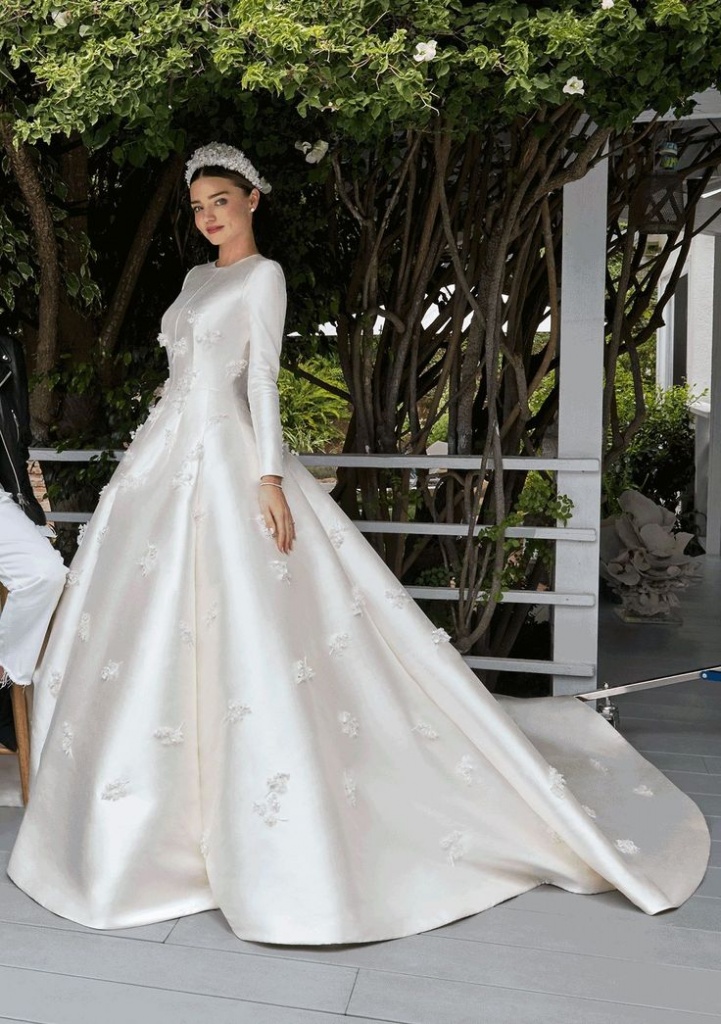 Photo Instagram @mirandakerr
Wedding Date: May 27, 2017
Who designed the wedding dress: Christian Dior Haute Couture
Inspired by Grace Kelly, this wedding dress is both luxurious and simple, which the top model completed with a bouquet of lilies of the valley. Miranda's main goal was to create a dress that would remain timeless. Among various unique celebrity wedding dresses thins one worth attention. Well, great choice!
Audrey Hepburn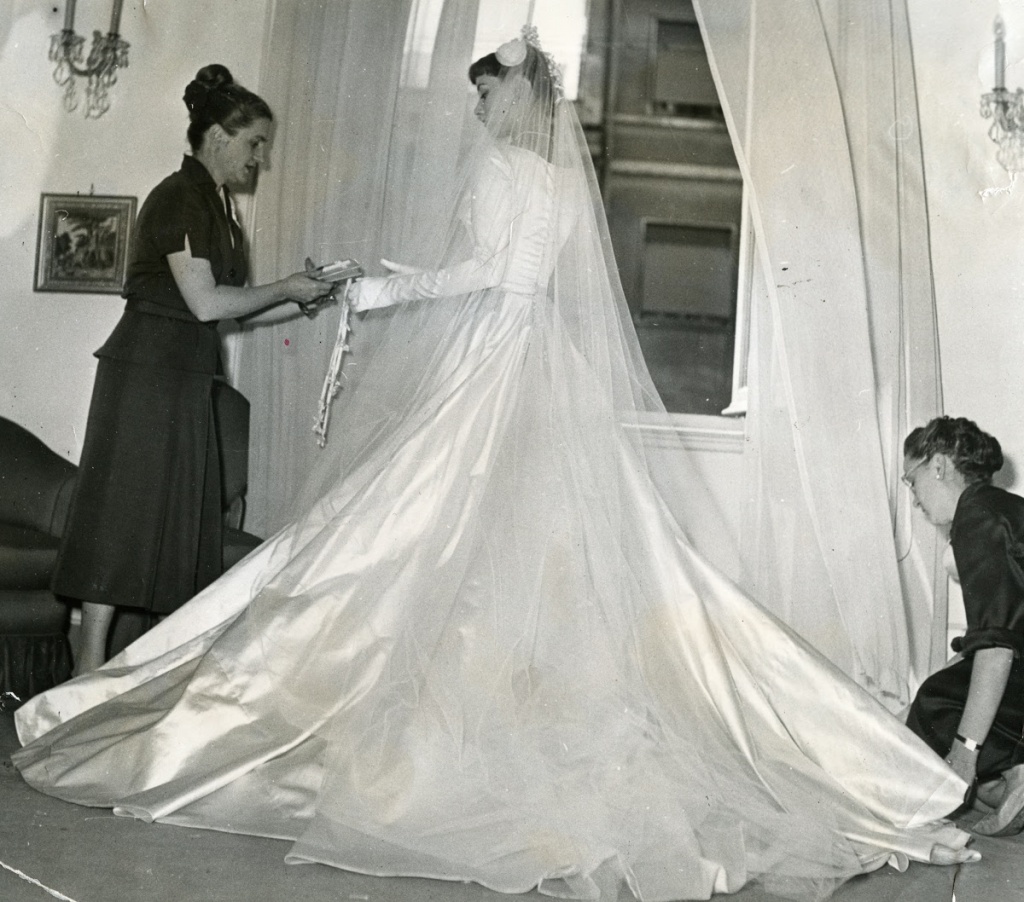 Photo Audrey Hepburn at the Sorelle Fontana boutique
Wedding Date: was scheduled for 1952
Who designed the wedding dress: Sorelle Fontana
Such a stylish and concise dress made of snow-white satin did not come in handy for Audrey, because the wedding never took place. It is worth noting that the model of the dress is so versatile that many designers were inspired by it when creating their outfits nowadays.
Wedding Date: September 25, 1954
Who designed the wedding dress: Pierre Balmain
Style - Victorian
This is a wedding dress in which the famous style icon got married. Such an iconic dress is reflected in modern collections of fashion designers. Just remember the 2020 bridal gowns collections.