Alternatives to the Traditional Wedding Veil
A veil was once a required bridal accessory. There are so many trendy choices now that you don't have to sacrifice your comfort for the sake of tradition! If you are concerned that your bridal look will be incomplete without a veil, we have collected 19 non-traditional wedding alternatives to encourage you to experiment!
Floral Alternatives To Wedding Veils
Flowers in the bride's hairstyle are a timeless aesthetic that never goes out of style. So let's take a look at which options the brides have now!
Just A Flower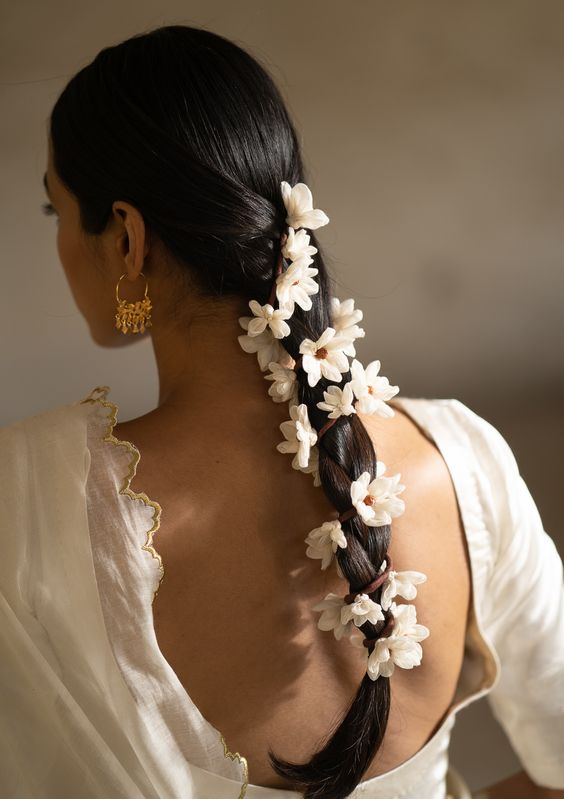 To add naturality and delicate lightness to your outfit, use one large flower or a combination of several small ones. However, keep in mind that not all flowers are appropriate for such an accessory. Consult with a florist and your stylist so that you can look absolutely stunning.
Flower Crown Or Wreath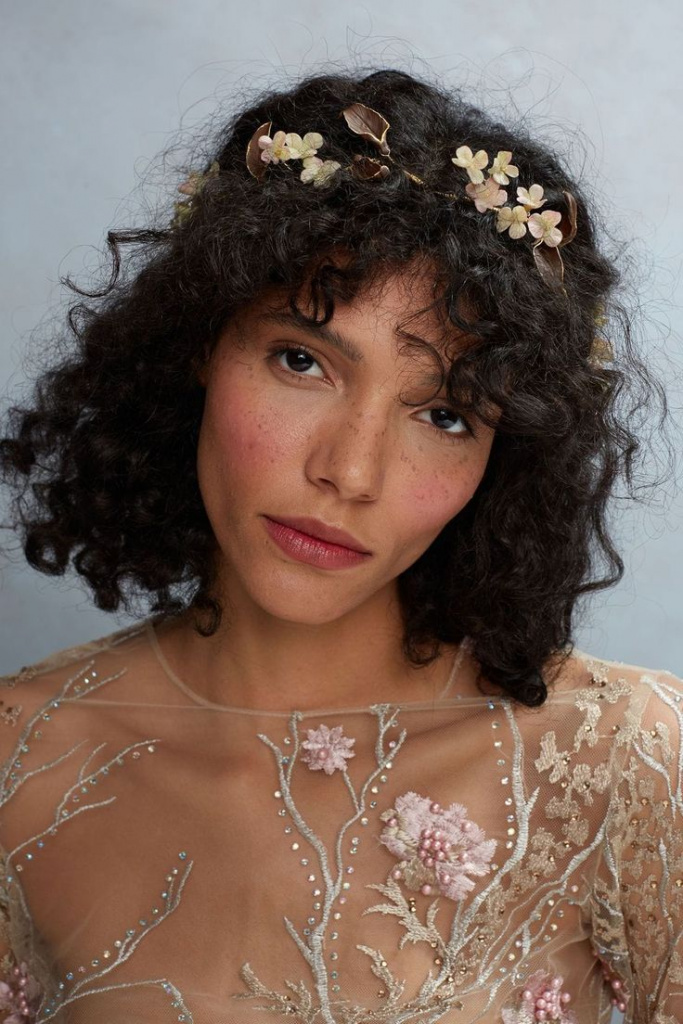 Is it possible to have too many flowers? Incorporate a flower wreath or crown into your bride's hairstyle! The versatility of this concept is that you can achieve completely different results by using different flowers and plants. A wreath of wildflowers, for example, will perfectly match the look of a Boho bride, whereas enormous orchids will make your hairstyle look royally magnificent. It's also preferable if the bride's bouquet and wreath are crafted in the same style, so the overall look is harmonious.
Massive Flower Wreath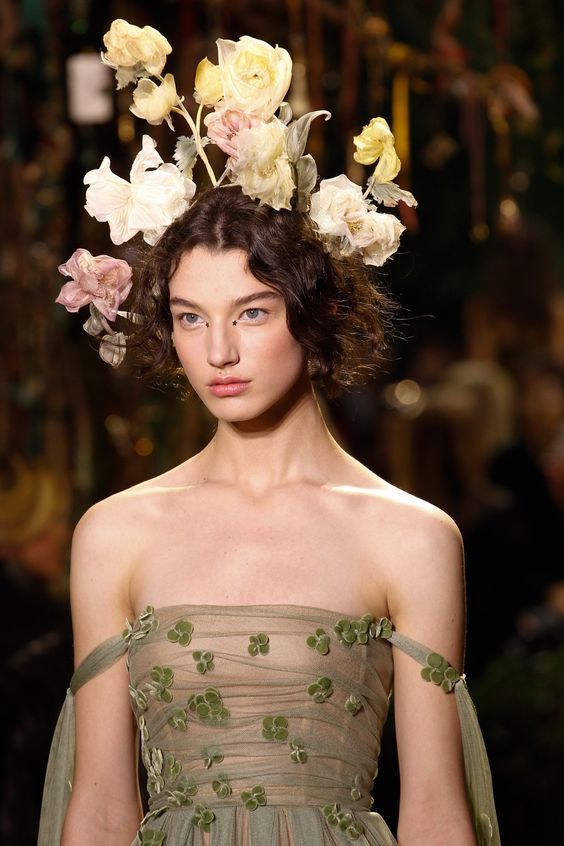 Still not enough flowers? No problem! Large floral arrangements in your hairstyle will undoubtedly draw attention to you and add opulence to the bridal look. The most important thing is to focus on sturdiness so that the hairdo can withstand a busy wedding program.
Classy Alternatives To A Veil
Let's take a look at the classy yet simple accents that will look extremely stylish even with the most basic bridal hairstyle.
Pearls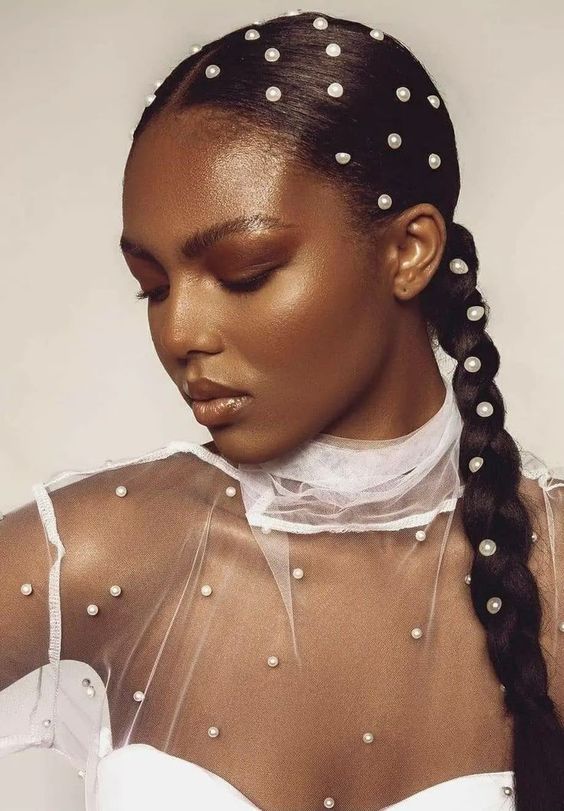 Since the pearls are secured to hairpins, you don't have to worry about the hairstyle staying in place. This accessory will look great with the bride's formal wedding look or as a themed highlight at a seaside wedding.
Diadem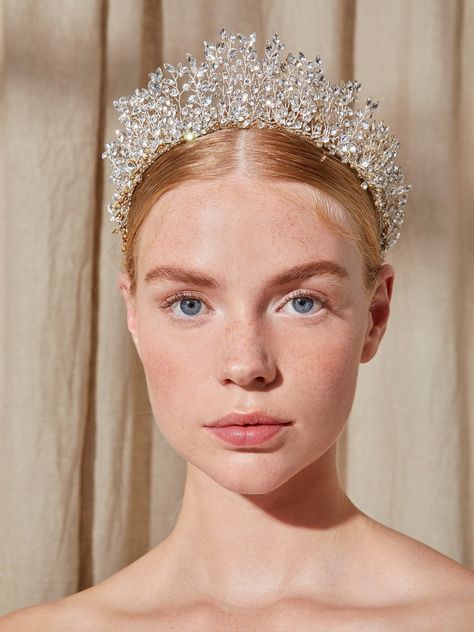 We see no reason why you should deprive yourself of a royal wedding look if you've wanted one since you were a child. A diadem is a very popular wedding item, so you will have a variety of alternatives, ranging from basic options in the style of a Disney princess to designer options that can be custom crafted just for you.
Tiara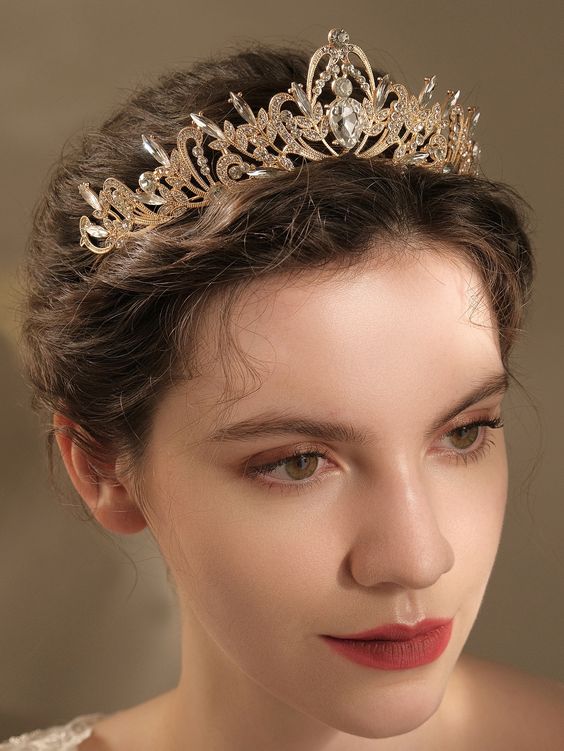 We just discussed a diadem, and now we have a tiara - what's the difference? Let's see: the diadem is shaped like a circle or a wreath since it closes into a ring, whereas the tiara is comparable to a hoop in this regard. This makes the tiara easy to style, making it an excellent balance of elegance and comfort.
Headband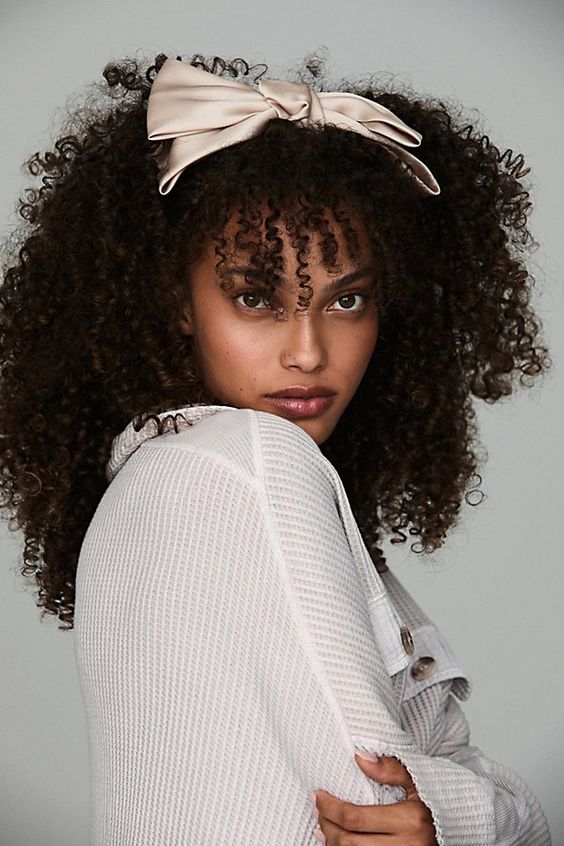 A headband as part of a bridal hairdo has been a current trend in wedding fashion for a few seasons already! Brides used to prefer sophisticated veil alternatives, but now huge, massive headbands are in style.
If you keep up with the latest trends, are tired of complicated hairstyles, and want maximum comfort with a touch of elegance for your bridal look, the hoop headband is the best choice for you. It will complement any wedding style.
Tikka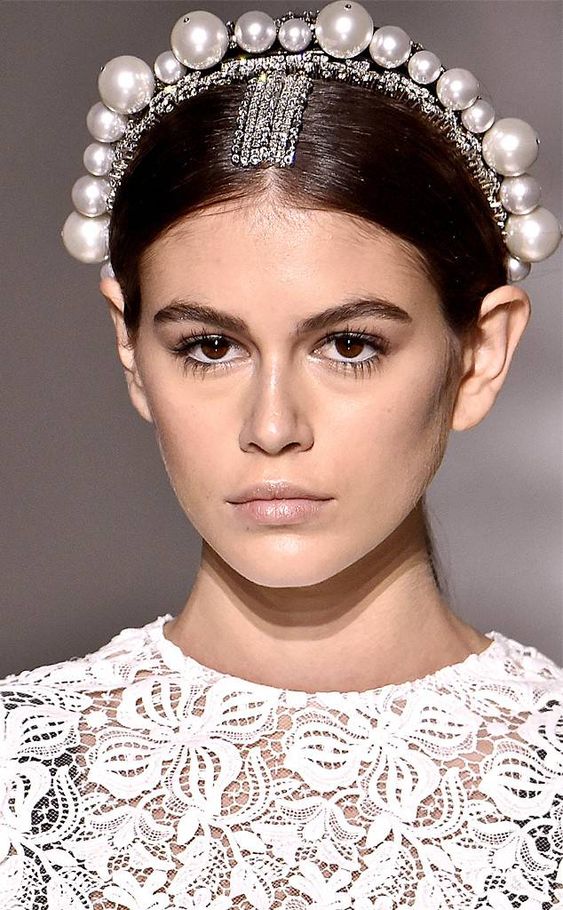 Tikka is a distinctive hair accessory. Basically, it's a chain intertwining with an accent gem or a huge rhinestone on the forehead area. Ideal for a Boho wedding or brides who wish to emphasize their individuality and inner freedom even with their hairstyle! The tikka looks best with loose hair, braids, or a bun.
Birdcage Headpiece
If elegance and mystery are lacking in your bridal attire, the birdcage headpiece is an excellent solution. The possibilities are endless: the headpiece can be attached to a headband or a little hat. If you don't want to make the look too hefty, you can attach them absolutely discreetly.
The same is true for decor. Birdcages are typically embellished with beads, rhinestones, and embroidery, but you may choose a more modest version that will go with practically any outfit. All in all, it's an excellent alternative to a long and not always comfy veil.
Timeless Alternatives To Bridal Veil
With such a charming accessory, the bridal hairstyle should be simple so that it doesn't draw attention from the jewelry. Choose a simple braid or cute curls. The bridal gown must also be appropriate: either a minimalist or a Boho-styled attire!
Fringe Halo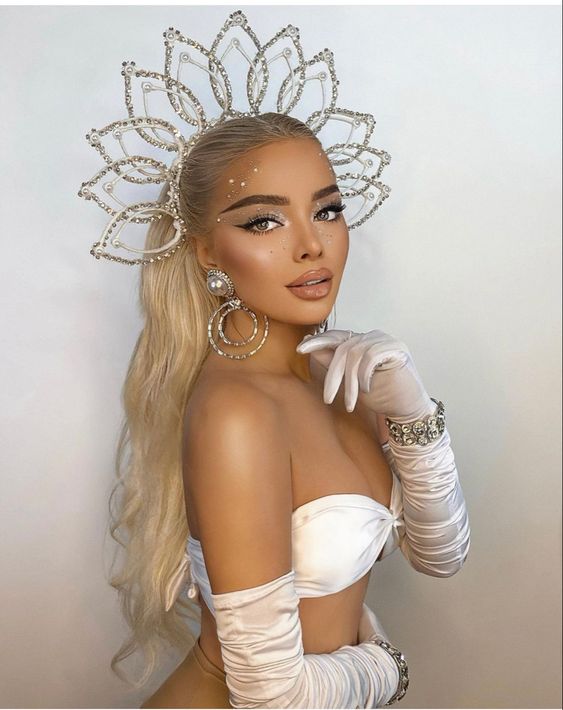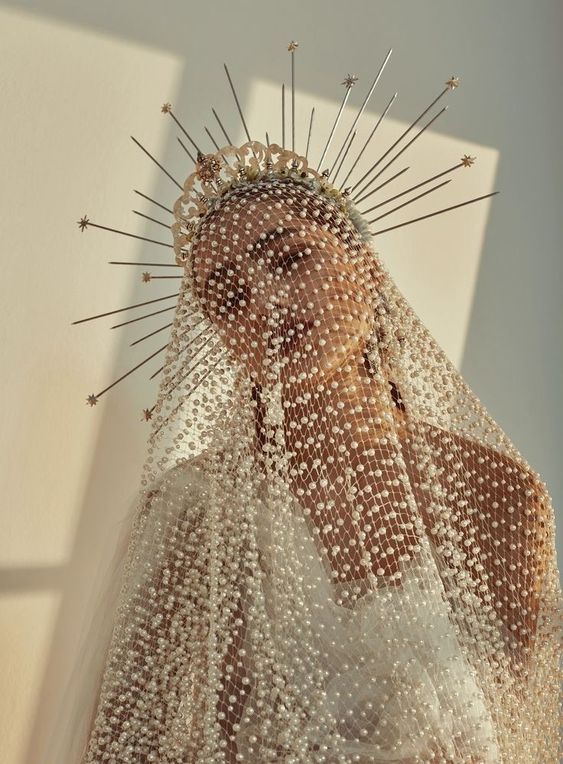 With such a charming accessory, the bridal hairstyle should be simple so that it doesn't draw attention from the jewelry. Choose a simple braid or cute curls. The bridal gown must also be appropriate: either a minimalist or a Boho-styled attire!
The Great Gatsby Headband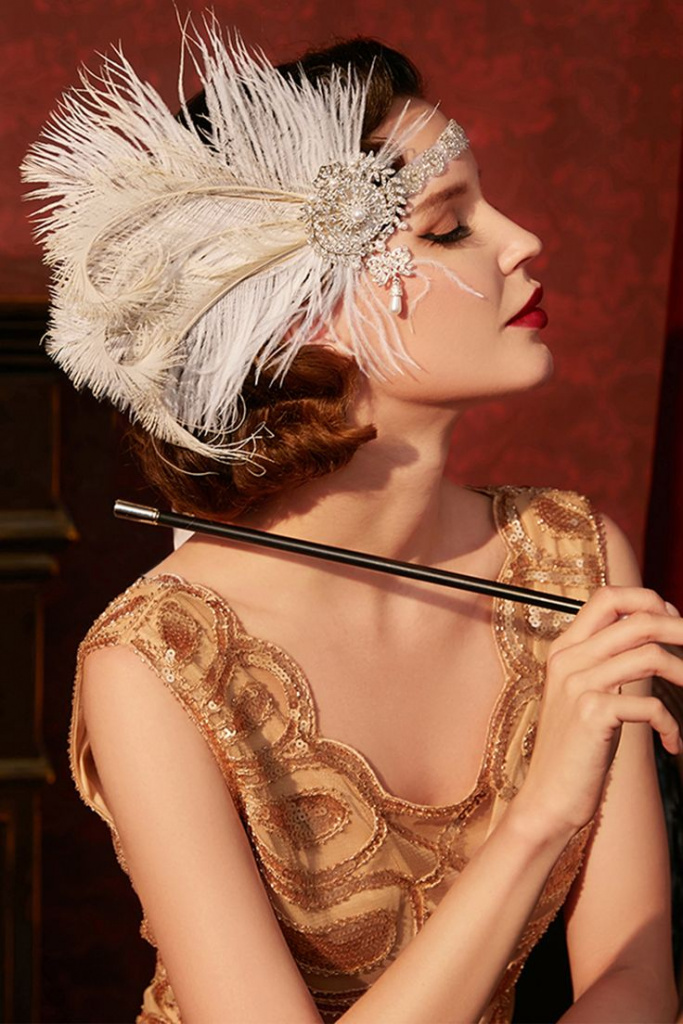 Chic parties, jazz, and dancing till the wee hours of the morning - the era of the "roaring" 20s still captivates with its peculiar charm. Use headbands with feathers and rhinestones to lend a vintage touch to your wedding appearance or to immerse yourself in the atmosphere of The Great Gatsby.
Ribbon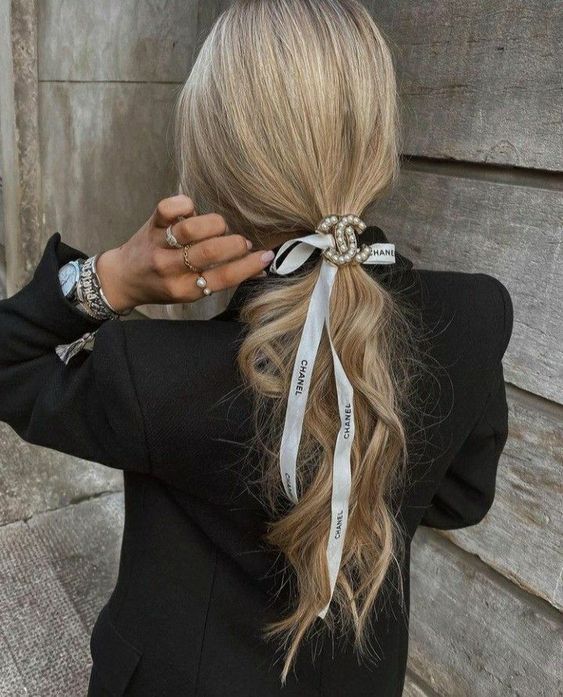 Ribbons braided into the hair will bring romance, airiness, and a touch of naiveté to the bridal look. This is the greatest option if you want to emphasize your youth and inner freedom on your wedding day while avoiding formalities.
Bow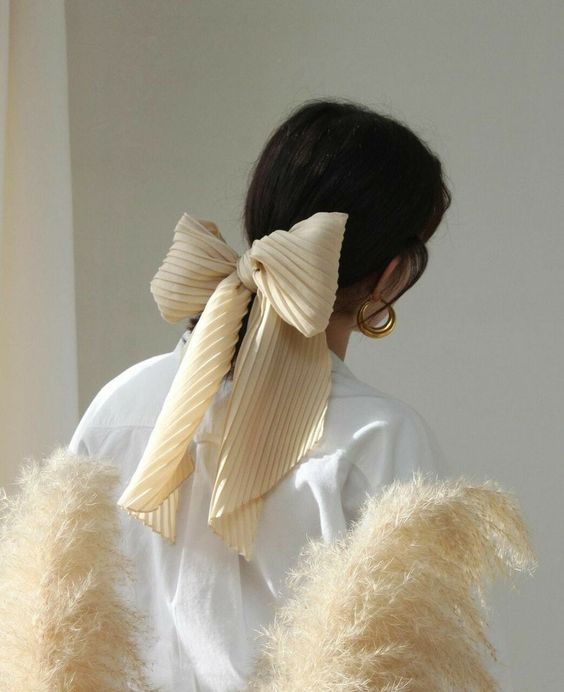 Bows have enthralled and made a stir in the world of wedding fashion! A huge white bow will add a sweet and touching twist to your attire. Furthermore, it will undoubtedly become an exceptional accent in your hairstyle.
Hat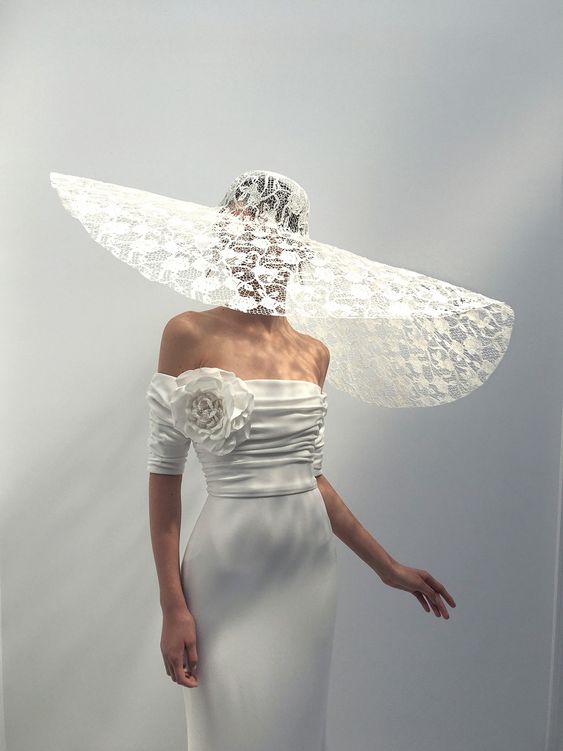 At an exquisite urban wedding, a minimalistic white hat will look just great. You can drape it with a veil and embellish it with flowers and ribbons (but to maintain minimalism, keep a monochromatic scale). The bride's hat will look natural at Boho and Rustic weddings, as well.
A tiny hat is ideal for a modest ceremony, especially when paired with a short wedding gown or even a suit. Choosing this accessory is also quite practical! The wind won't twist your hair and the sun won't blind you.
A few more options of what can a bride wear instead of a veil:
Cape
Pouf
Hair Scarf
Feather Headpiece
Hairpins