Wedding Dress Fabric and Material Guide to Find the Perfect Style
Publication date:

01/26/2023

Updated:

04/11/2023
The fabric quality determines the quality of the wedding dress. Every detail counts, particularly during summer weddings. Some fabrics, for example, will make you sweat, while others will feel completely airy.
So, the first rule of buying your dream dress is to find out what fabric it is made of. Rule number two: read the Wezoree article to learn about the pros and cons of the material in question.
Let's find a perfect wedding dress material option for you!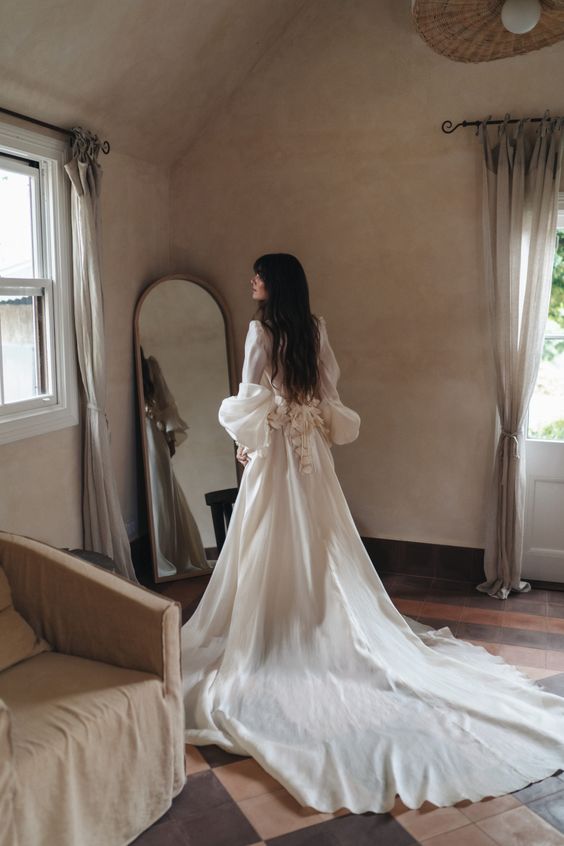 Why Is The Wedding Dress Material So Important?
The fabric determines the quality and appearance of your gown. Before we dive into all of the fabrics, let's go over why it's so crucial to know what your dress is made of:
The fabric gives the outfit its proper shape. The magnificent dresses you see in the wonderful images of wedding designers would never seem like that in reality if the specially selected material was not used. A low-cost textile would never flow as gracefully as a high-quality organic fabric.
The fabric also influences how the gown fits your body. If instead of fine silk, nylon or polyester is chosen for a tight bodice, the neckline may protrude in the opposite way. Thin silk, on the other hand, will wrap the body pretty delicately.
The material must be breathable. You don't want to be sweating the entire wedding, do you? That is why high-quality wedding gowns must be composed of natural fabrics.
Here's how to perform a fabric test:
Crumple up the dress fabric as if you were forming cookie dough. If it rustles, the synthetic fiber content is too high, and you'll sweat on your wedding day. If strong folds are visible, you may be certain that this is the perfect material for a bridal gown.
Cheap wedding dresses are immediately shown to be made of low-cost synthetic fabrics. However, occasionally a garment made of cheap material is sold to you at a high price. This is exactly what we want to keep you safe from.
Wedding Dress Material Types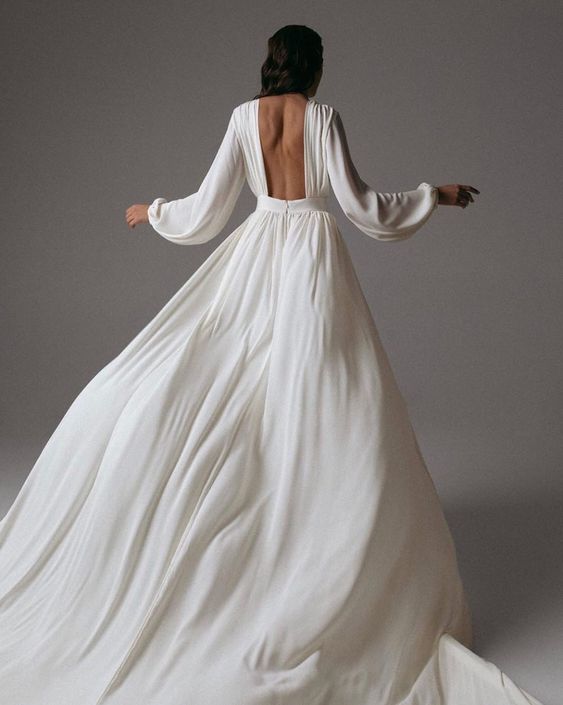 Let's take a look at the pros and cons of different wedding dress materials. 
Cotton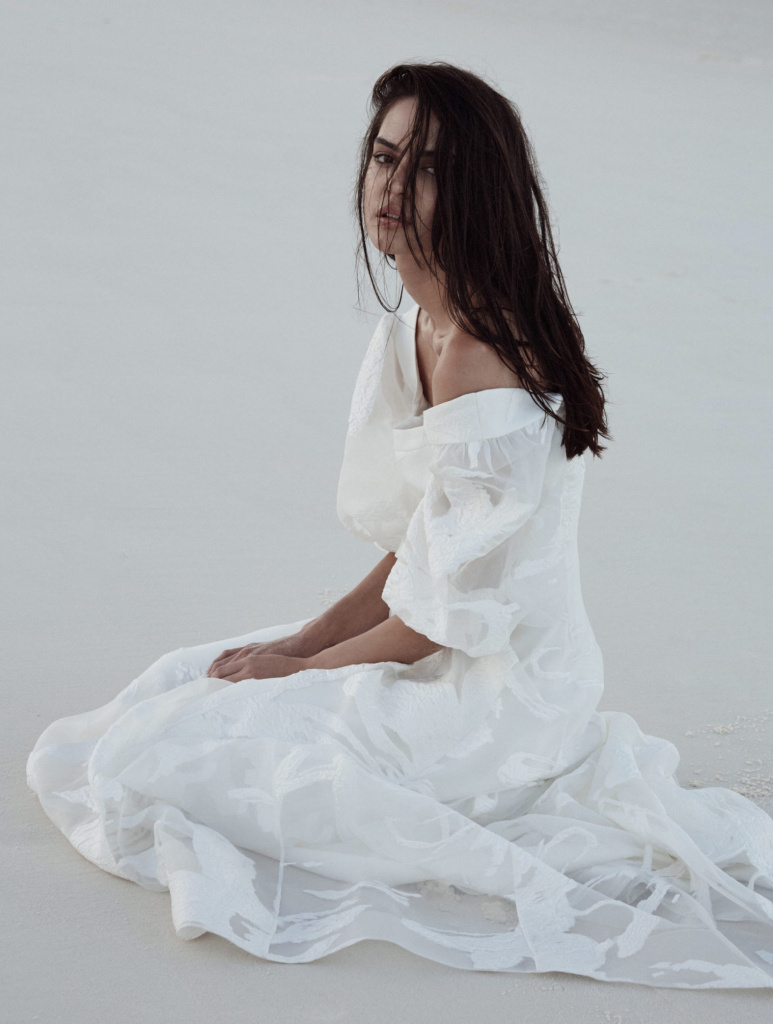 Cotton fabric breathes well, making it very comfortable to wear in the summer. It's also used to make fabrics like brocade and batiste.
Pure cotton has many advantages, but it also has certain drawbacks. As a result, materials are frequently combined with others to make up for shortcomings.
Advantages:
Breathable
Does not require special handling
Anti-allergic
No chemicals
Disadvantages: 
Low elasticity
Wrinkles easily
Brocade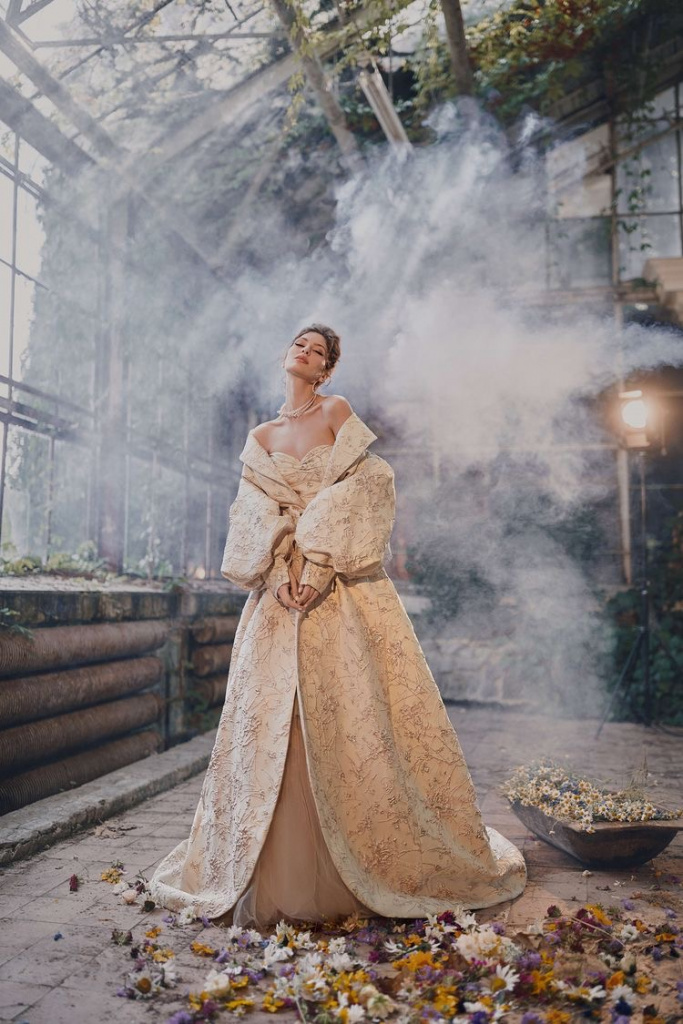 Also known as the fabric of kings and queens. Silver and gold threads are woven into the brocade to give it a distinctive shine. Such bridal gowns are typically embellished with jewels that imitate needlework, giving the material a stunning appearance. Brocade is especially ideal for fall and winter weddings due to its dense texture.
Advantages:
Warm
Does not require special handling
Hard to tear
Disadvantages:
Low elasticity
Heavy
Costly
Georgette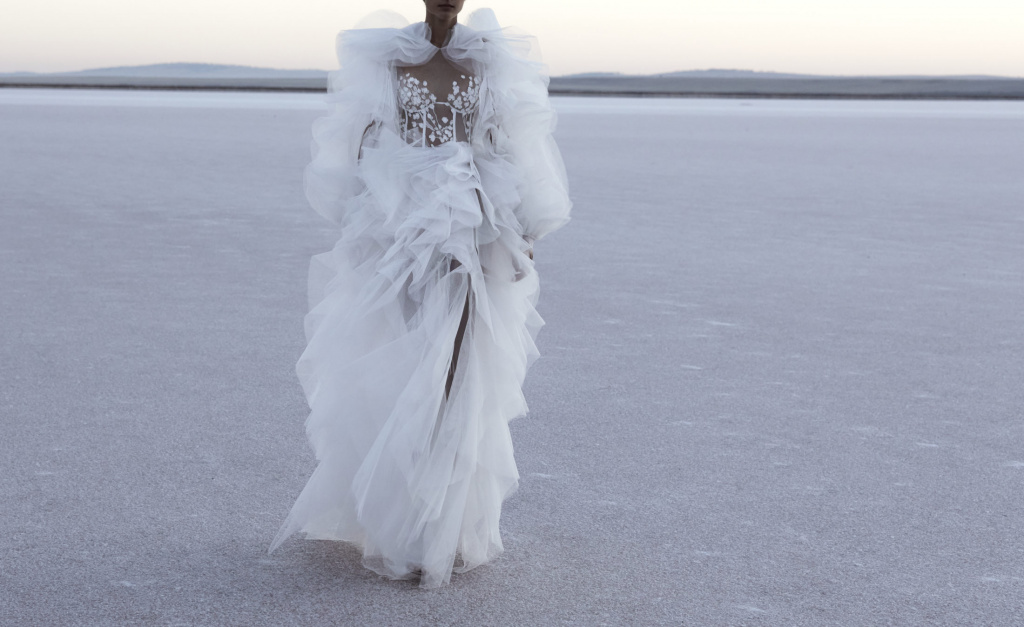 Georgette is a semi-transparent matte fabric that resembles a veil, usually made of silk or viscose. However, it's less transparent and slightly heavier than chiffon. This fabric is also surprisingly light and airy, showing off the feminine silhouette.
Advantages:
Flowy
Delicate
Hard to tear
High elasticity
Disadvantages:
Costly
Chiffon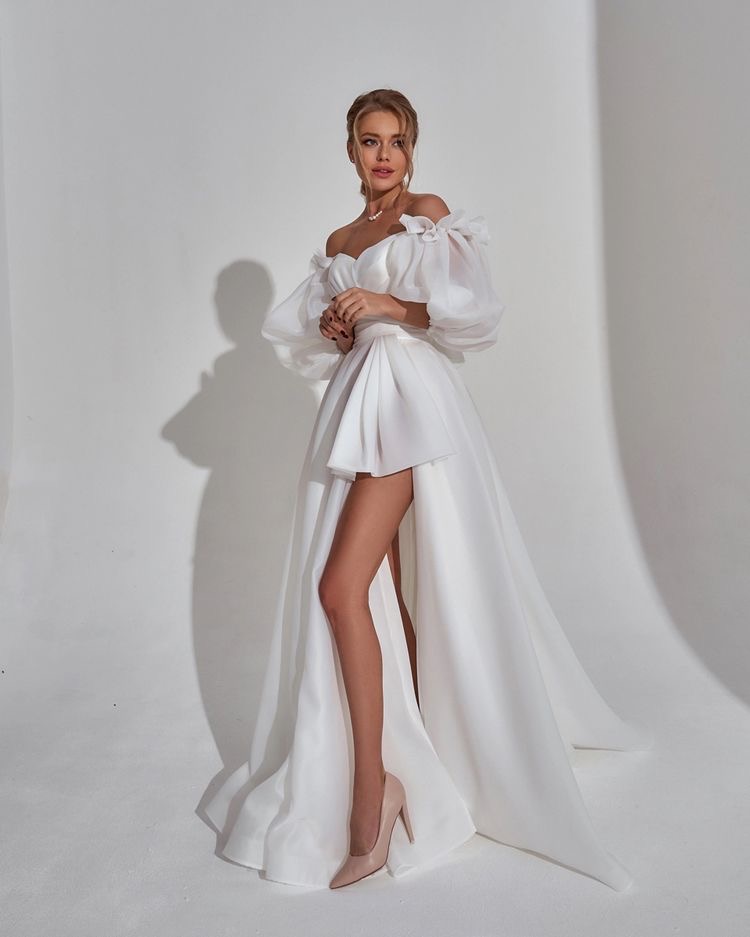 This unexpectedly light, soft, and transparent fabric is made primarily of natural silk, cotton, viscose, or synthetic fibers. The breezy lightness of a chiffon wedding gown is ideal for summer wedding dresses. Several layers of fabric are frequently put on top of each other due to transparency.
Furthermore, chiffon feels surprisingly soft on the body, yet it wrinkles easily if made of silk. Synthetic fiber chiffon, on the other hand, is less delicate and easier to care for.
Advantages:
Flowy
Lightweight
Disadvantages:
Wrinkles easily
Easily absorbs the smells
Very sensitive
Crepe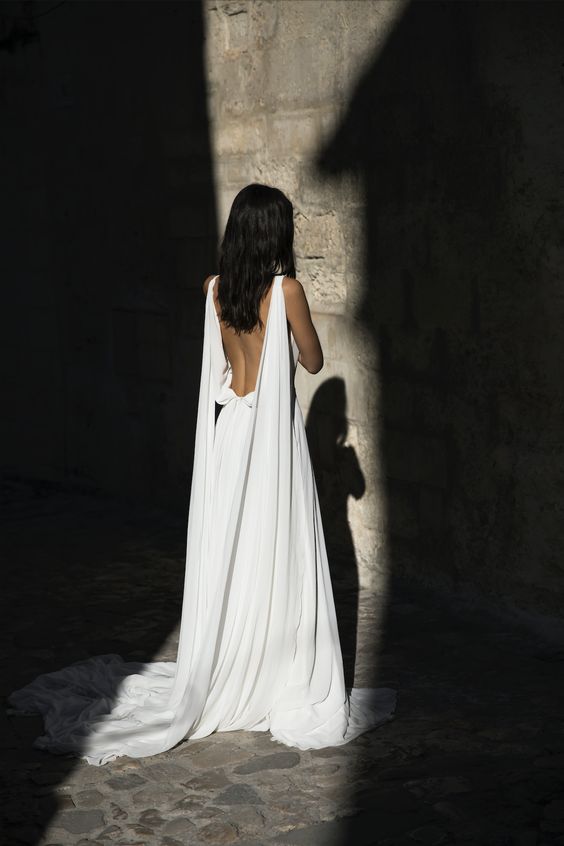 Another pleasantly light, delicate, and silky fabric. Its characteristics are quite similar to those of chiffon. Your silhouette will be gorgeous in a dress made of this material.
Advantages:
Flowy
Guaranteed perfect fit
Doesn't wrinkle
Disadvantages:
Can't be ironed
Costly
Very sensitive
Lace
Lace fabrics are commonly used to embellish the neckline, top, and skirt of various styles of bridal gowns. These applications appear to be quite light and romantic. A dress totally embroidered with lace is a noble classic.
Advantages:
Flowy
Various decor options
Disadvantages:
Delicate 
Tattoo Lace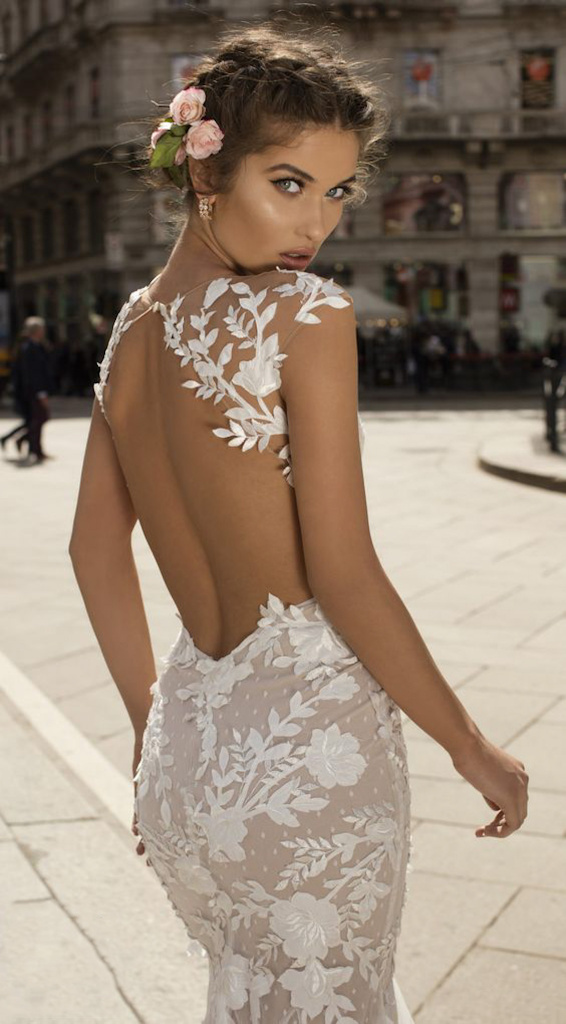 Tattoo lace is an extremely thin lace appliqué that appears to be inscribed on the bride's skin. This transparency is provided by soft tulle, to which lace is frequently sewn. Tattoo lace lends a lovely, sometimes regal aspect to any wedding gown. As a result, it has grown in popularity among wedding dress designers throughout the years.
Thin lace highlights the neckline, back, arms, and even the complete wedding gown. Tattoo lace with a 3D effect is also available to turn each wedding gown into a distinctive treasure, making wedding dresses appear especially royal.
Advantages:
Comfortable
Disadvantages:
Delicate
Beaded Fabric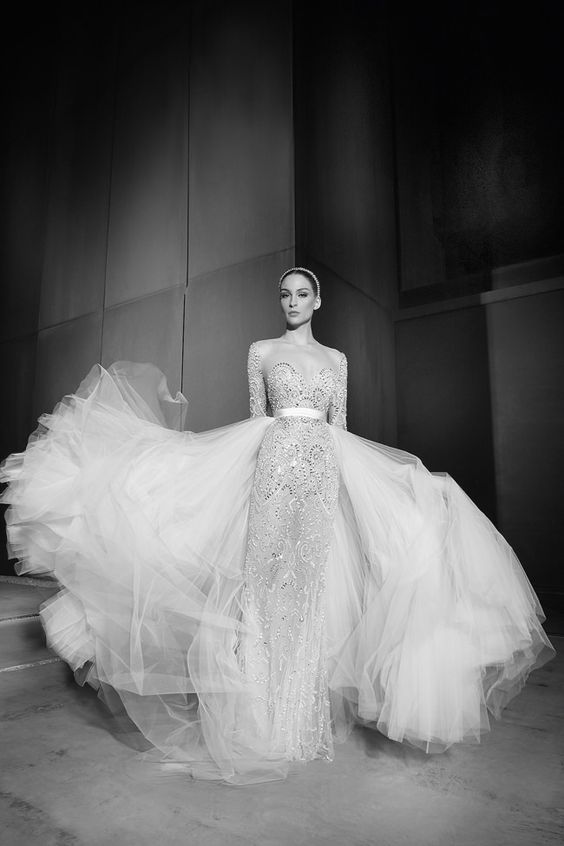 Some wedding gowns become absolutely distinctive due to exquisite bead embroidery. Beads of various sizes and colors add a unique design with a matte or glossy luster to each wedding gown. Anything from floral to geometric motifs can be custom-made exclusively for you.
Advantages:
Unique designs
Disadvantages:
Costly
High bead loss possibility
Organza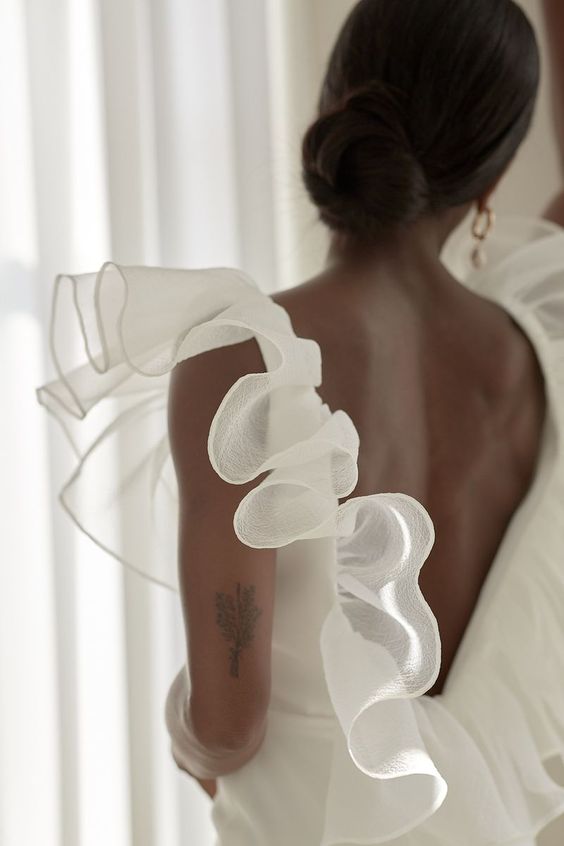 This translucent fabric resembles tulle or chiffon but is thicker and stiffer. At the same time, the surface is covered in a shimmering luster. Organza is constructed of silk and viscose, as well as synthetic fibers like nylon and polyester. The fabric is perfect for bridal gowns as it visually adds volume while still appearing airy and light. Organza is also used to make whimsical lantern sleeves and delicate floral appliqués, for example.
Advantages:
Lightweight
Does not require special handling
Various colors to choose from
Disadvantages:
Wrinkles easily
Very sensitive
Atlas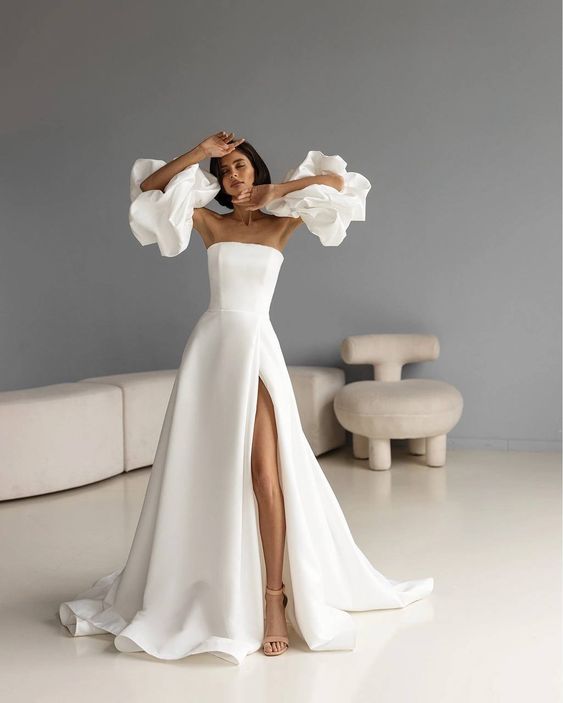 One of the most traditional fabrics for wedding gowns. The material's gleaming texture gives the dress an especially sophisticated and exquisite appearance. The tight structure of the weaving produces a dense and somewhat weighty fabric that flows flawlessly.
There are a few types of the atlas, for example, the one made primarily of silk. It absorbs moisture efficiently, dries rapidly, and doesn't leave sweat stains.
Advantages:
Very comfortable
Doesn't leave sweat stains
Various colors to choose from
Disadvantages:
Costly
Very sensitive
Guipure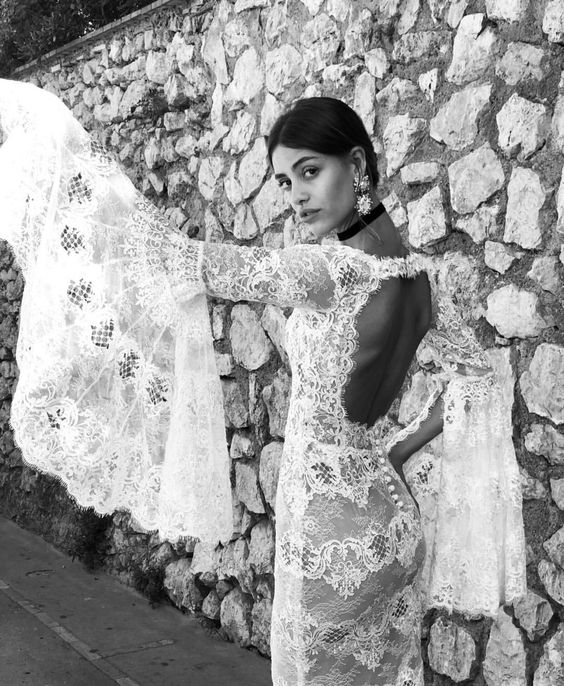 Guipure, often known as guipure lace, is a type of embroidery that has been chemically treated to give it the appearance of lace. In fact, guipure wasn't popular until the end of the nineteenth century, when lace became too expensive. As a result of industrial production, guipure lace became more widely available.
At the end of the 1940s, guipure became an integral part of the prominent French and Italian fashion houses' collections.
Advantages:
Very comfortable
High quality
Lightweight
Disadvantages:
Costly
Chemically processed
Tulle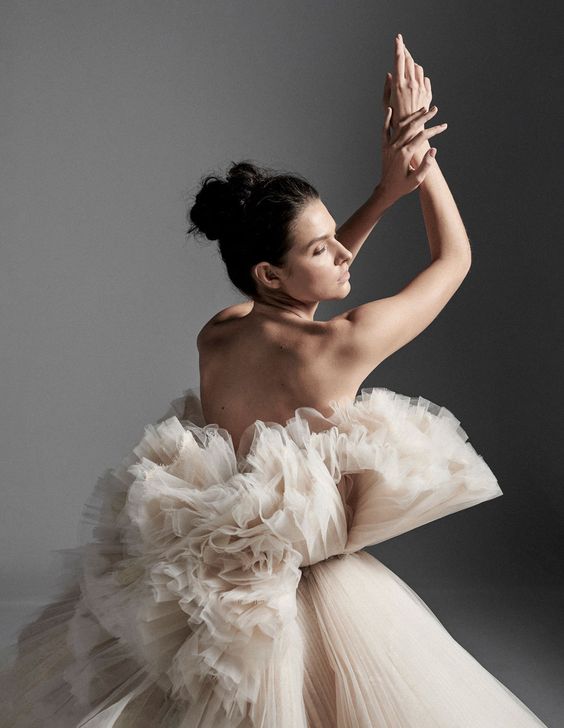 Tulle woven from synthetic fibers is significantly stronger and so better suited for creating bridal gowns. This fabric is both lightweight and durable. This makes it perfect for expansive silhouettes and as a foundation for exquisite embroidery.
A tulle skirt with numerous layers creates obvious volume and lightness in the princess style. Furthermore, fine-cell tulle options are frequently used for the bride's veil.
Advantages:
Breathable
Voluminous
Lightweight
Disadvantages:
Very sensitive
Difficult to look after
Silk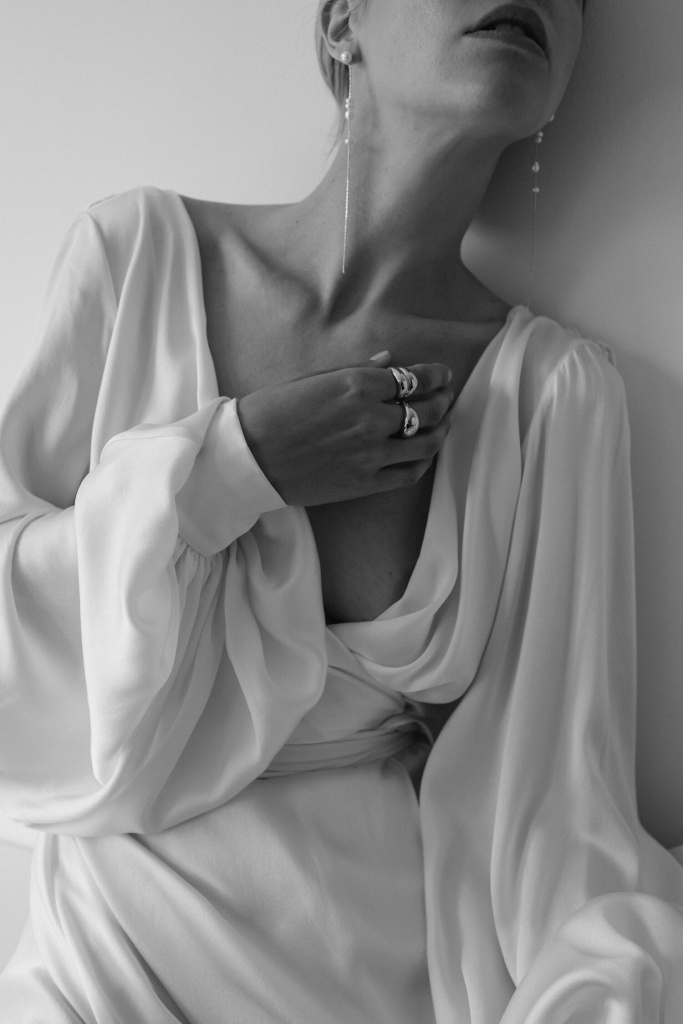 Silk manufacturing has been around for almost 5000 years. The concept originated in China, which remains the primary provider of precious fabric. The delicate fibers of pure silk have always been harvested from the cocoons of the mulberry silkworm. Silk exudes a distinct aura due to its exquisite appearance, subtle shine, and unique feel when touched.
Unlike other bridal gown fabrics, silk is comfortable to wear at practically any temperature and all year: it warms in cold weather and cools in hot weather. Silk fabric is unique in its softness, but it is very sensitive to light. As a result, silk wedding gowns should be preserved in a garment bag, in order for them not to become yellow.
Furthermore, the texture of silk might vary. There are soft and delicate sorts, but also rather heavy and slightly stiffer ones, which are much more prone to wrinkles as a result.
Advantages:
Soft
Very comfortable
High quality
Disadvantages:
Wrinkles easily
Sensitive to light
Costly
Mikado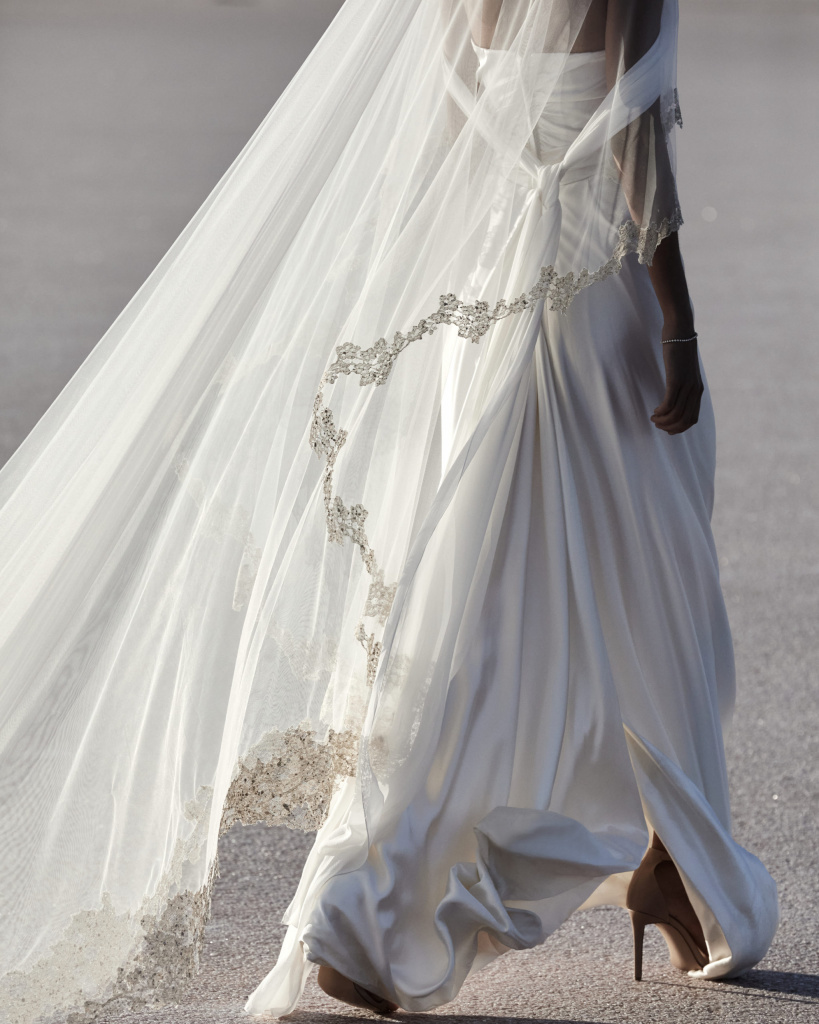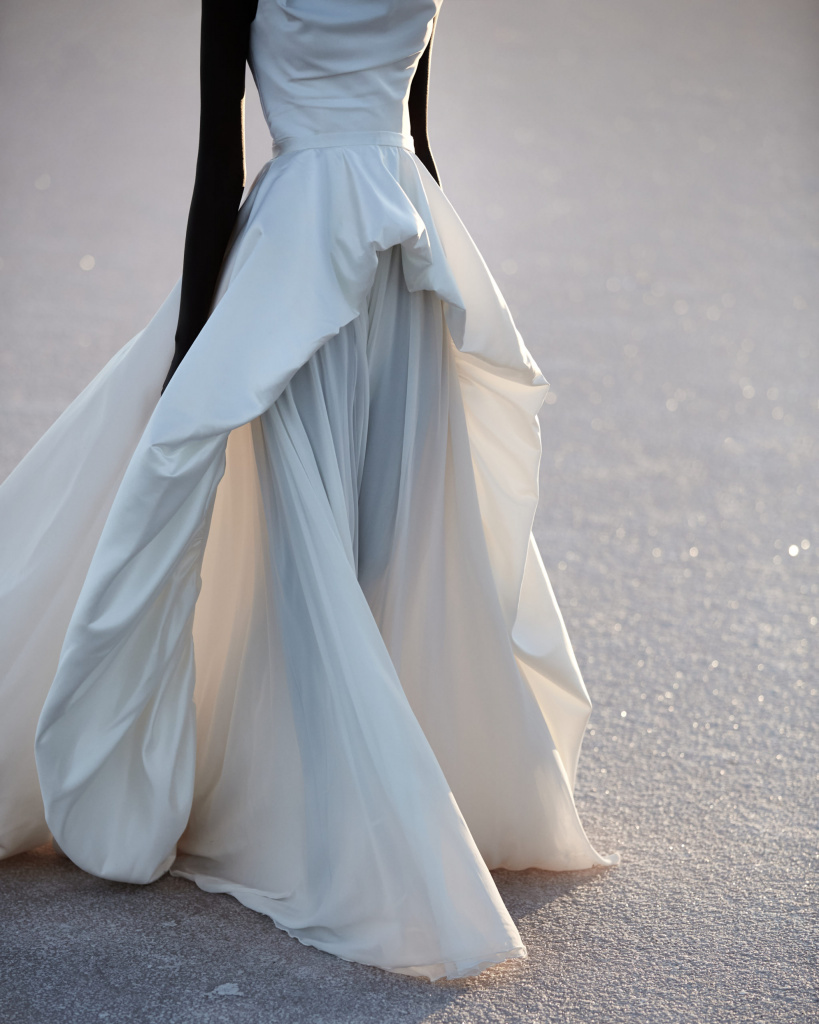 Mikado is a premium silk blend. It is, however, heavier than pure silk. It's a particularly strong material, making it excellent for wedding gowns that need to preserve their shape. The mikado's matte luster will also lend a touch of incredible beauty to your bridal gown. Mikado silk is ideal for the cooler seasons thanks to its tight weave.
Advantages:
Perfect fit
Very comfortable
High quality
Disadvantages:
Stiff
Costly
Shantung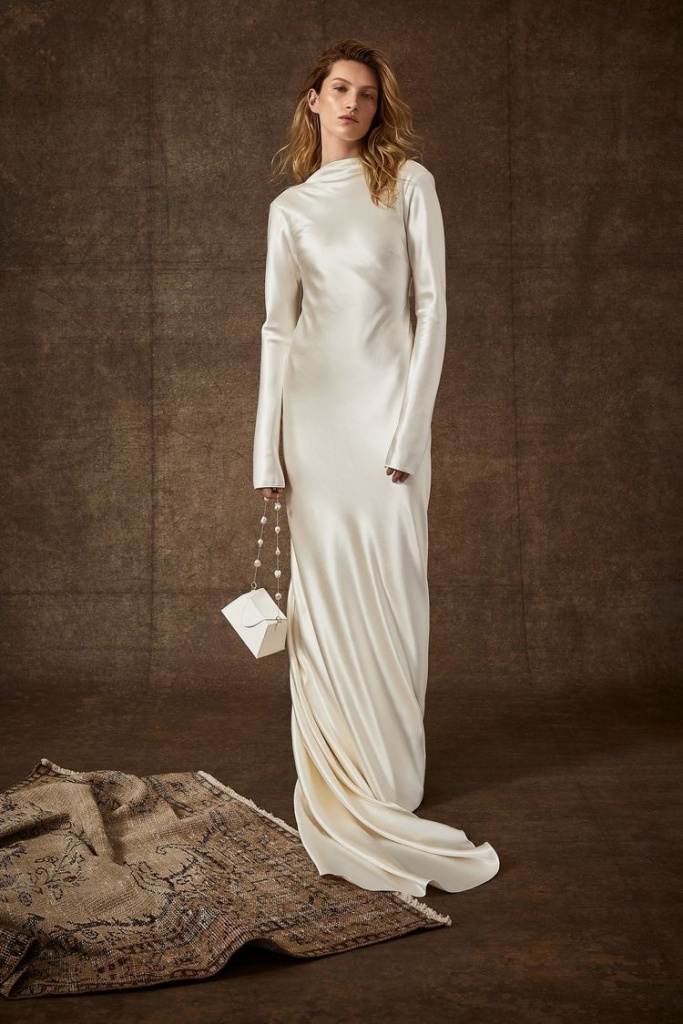 A particularly unusual form of silk that takes its name from the Chinese province where it is produced. Because wild silk is utilized as a raw material, it has a somewhat rough, uneven surface structure with tiny thickenings. This sort of silk is extremely popular due to its low wrinkle tendency and favorable price/quality ratio.
Advantages:
Doesn't wrinkle
Affordable
High quality
Disadvantages:
None
Viscose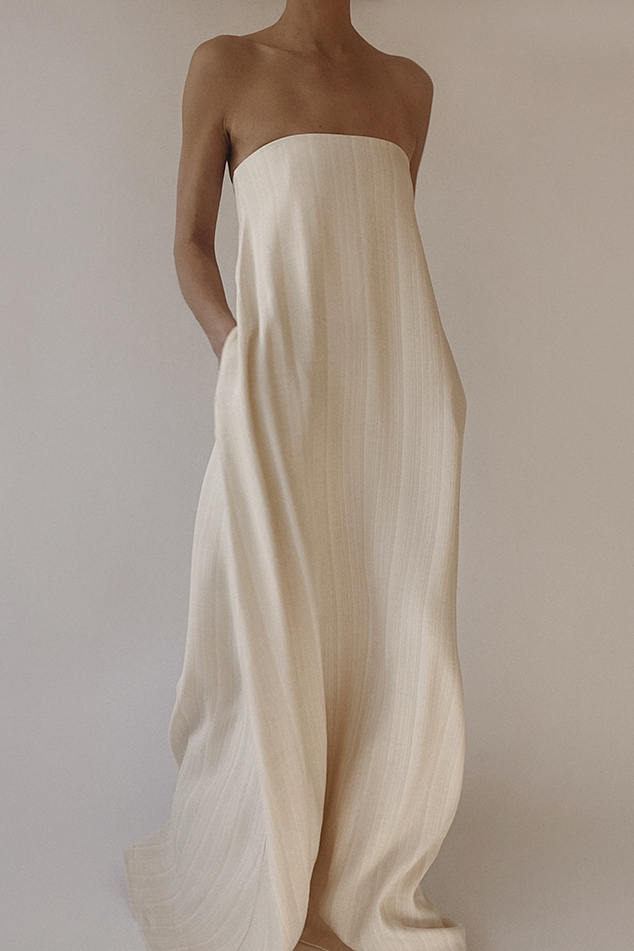 Viscose fibers are artificial fibers created from the cellulose of diverse tree species, as opposed to synthetic fibers. Chemicals are used to form a dense mass from which true viscose fibers emerge. Following additional processing, a lovely soft-flowing fabric is developed.
This material's surface might be sparkly or matte. Viscose, unlike synthetic fibers, can absorb moisture and is hence comparable to classic natural fabrics such as cotton or linen.
At the same time, the material is quite delicate. As a result, viscose as the principal material is used less frequently in bridal gowns than in combination with other fabrics.
Advantages:
Soft
Breathable
Disadvantages:
Chemically processed
Delicate
Wrinkles easily
Batiste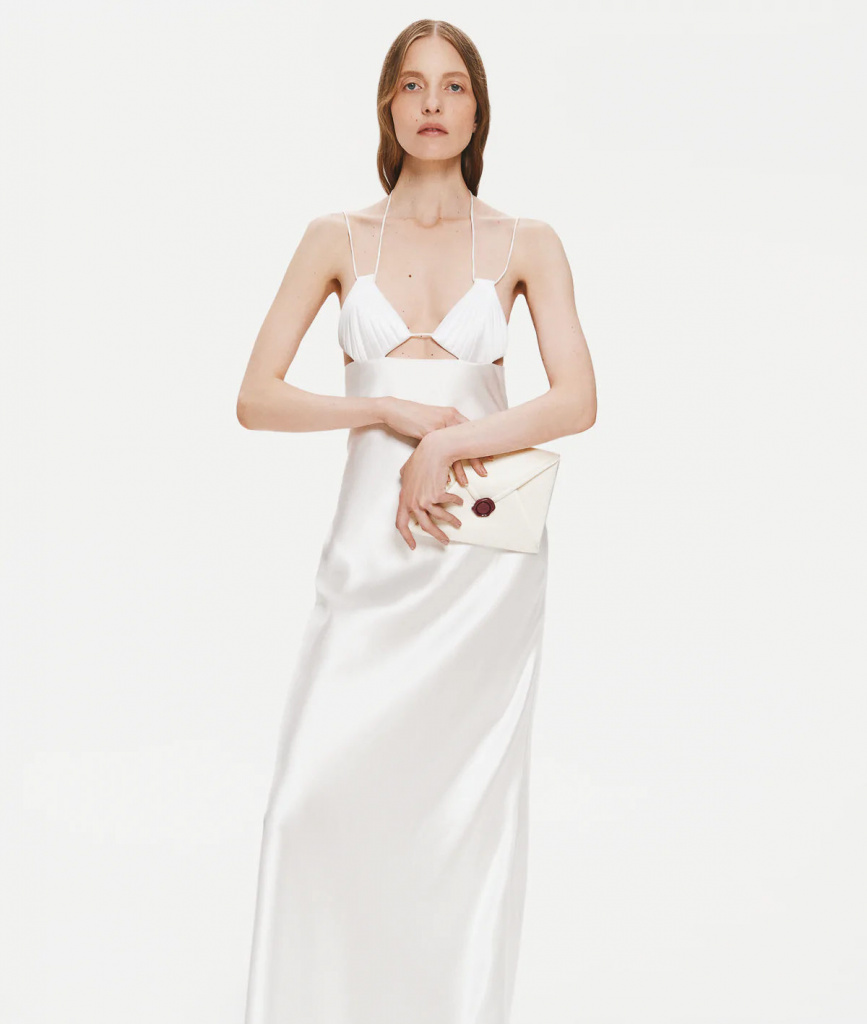 Very light and dense fabric with extremely thin fibers. Cotton is the primary material, but silk, linen, and various synthetic fibers are also used. This fabric looks quite light and feminine due to its airy feel and is very comfortable to wear in warmer temperatures. Its ability to flow gracefully compliments a woman's figure.
Advantages:
Perfect fit
Lightweight
Breathable
Disadvantages:
Wrinkles easily
Nylon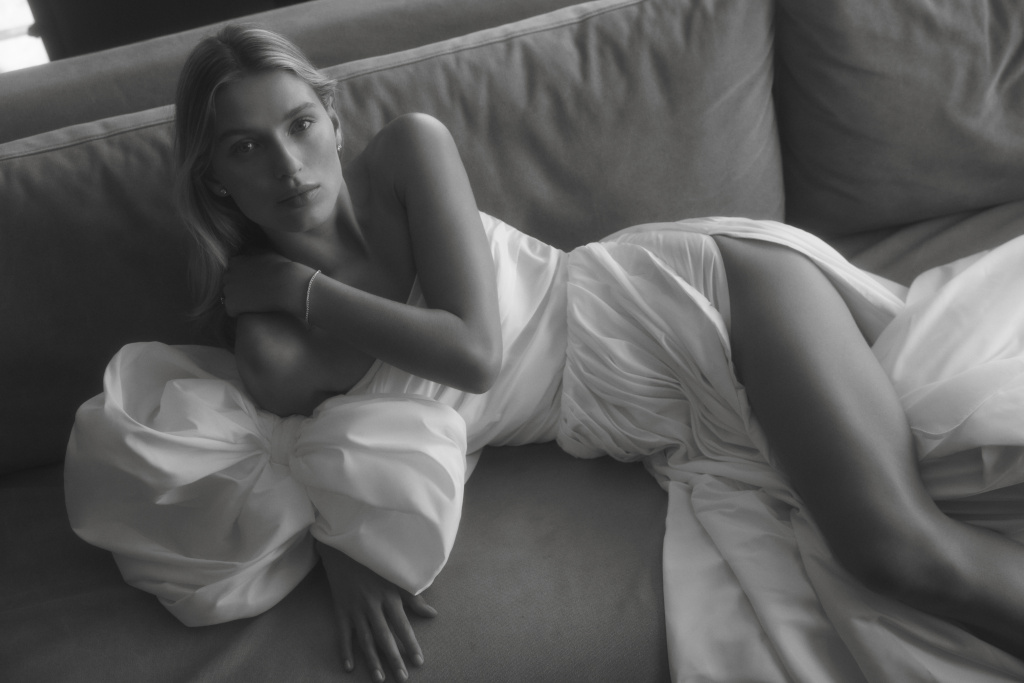 A polyamide-based synthetic fabric with the best tear resistance of any chemically made material. It is also incredibly qualitative, which is why it is one of the most commonly used materials. Furthermore, when in touch with liquid, nylon dries quickly. Another amazing characteristic of this bridal gown fabric is its silky shining surface and light texture.
Advantages:
Doesn't wrinkle
Does not require special handling
Stiff
High elasticity
Disadvantages:
Sensitive to light
Not breathable
Polyester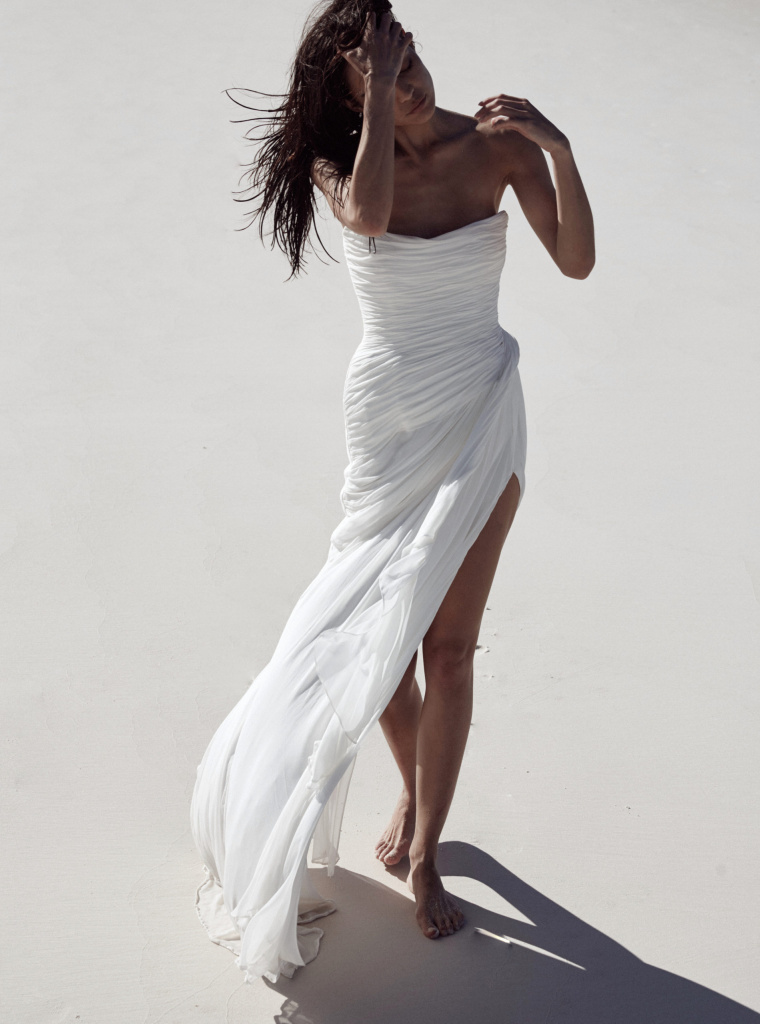 Wedding gowns are frequently made from synthetic fibers. They are difficult to wrinkle. Furthermore, the advantage of this fabric is its low sensitivity to light.
Polyester, as a synthetic material, absorbs very little water compared to cotton, linen, and other natural fibers, so sweat stains are not evident.
Advantages:
Doesn't wrinkle
Not sensitive to light
Hard to tear
Disadvantages:
Not breathable
Inflammable
Velvet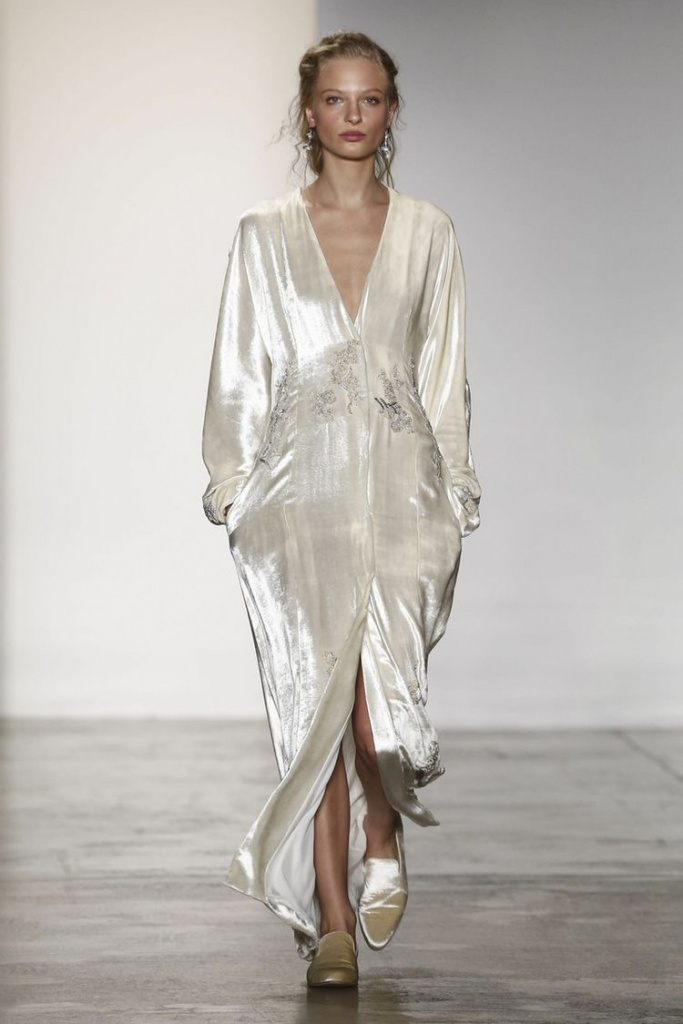 Nothing is nicer than fine, soft velvet. A varied surface structure is always formed due to the wide range of base materials such as cotton, silk, viscose, and various synthetic fibers or their blends.
The soft and stretchy material feels incredibly warm on the skin. This makes it ideal for a winter wedding while also radiating a regal vibe.
Advantages:
Soft
Fits perfectly
Warm
High elasticity
Disadvantages:
Heavy
Difficult to look after
Linen
Producing this material from natural fibers requires more labor than, say, cotton. As a result, it is manufactured in lower quantities, which influences the price.
Natural linen fabric has a yellow-brown to gray-brown tint that fades completely with intense bleaching. Furthermore, this wedding dress material has various advantages. It is extremely long-lasting and simple to maintain.
Advantages:
Stiff
Does not require special handling
No sweat stains
Disadvantages:
Costly
Wrinkles easily