Rules for the Perfect Wedding Color Scheme
Whenever you choose to tie the knot, one of the first questions to arise is how to choose a wedding color. Well, first things first, if you aim on planning a unique wedding, don't be predictable. These days we can turn to Pantone for help when choosing the color for whatsoever. You've heard of Very Peri, right? (if you haven't: it's the color of the year according to Pantone). But not all weddings are meant to be of purple shade, so what else do we have? Let's see!
Outdoor Wedding Color Schemes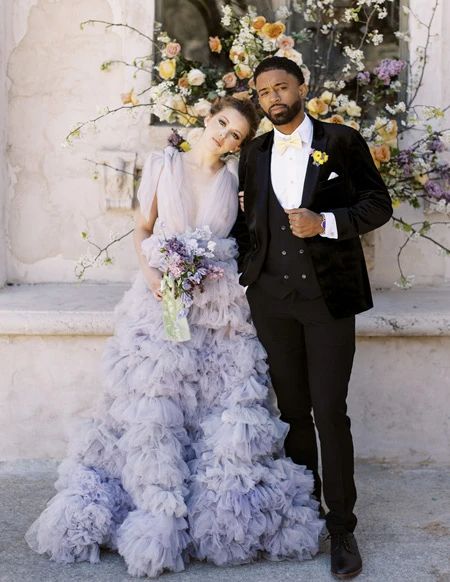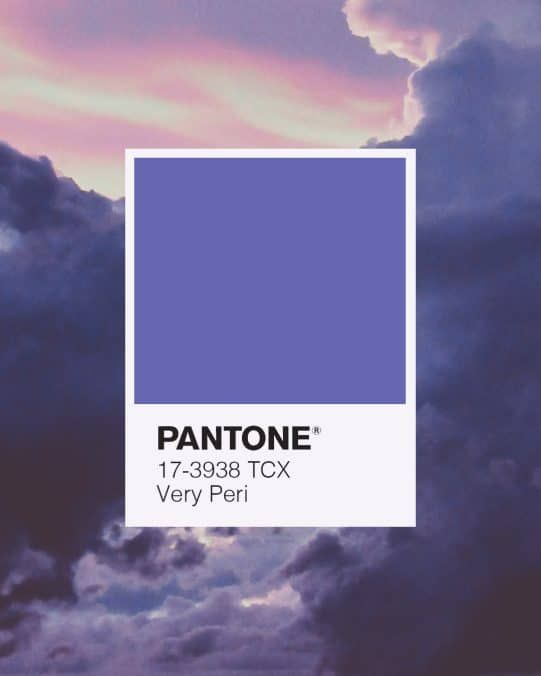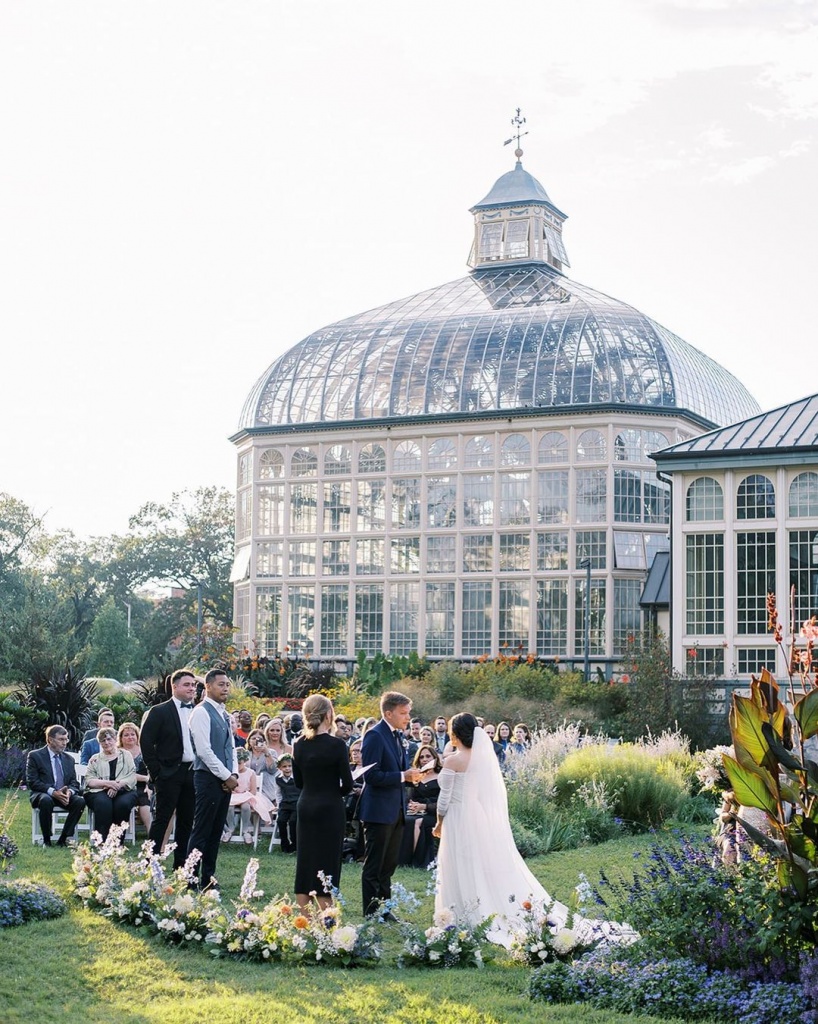 The wedding location matters when it comes to choosing the color scheme for a wedding. We've selected the top colors for your outdoor celebration.
Innuendo is a bright and expressive pink that can bring a fairy vibe to your wedding.

Innuendo color, Photo by RYAN RAY PHOTOGRAPHY

Skydiver is a deep, beautiful blue.
Daffodil is a bright, sunny yellow shade.
Glacier Lake is a noble, cold shade of an icy lake.
Coca Mocha is a delicious coffee shade that warms you at first glance.
We can't forget about basic, classic shades that can be used in the decor not only as additional but also as the main wedding tones:
Snow white - white is truly a perfect color for a wedding.

Photo by @jessicajamesmedia

Perfectly Pale - light beige, like the clean sand of a deserted coast.
Basil – tender, young, fresh green basil shade, perfect for spring weddings.
Northern Droplet is a calm and stable light gray.
Poppy Seed is an unusual and deep dark gray.
Each of the colors mentioned above will suit your outdoor wedding perfectly.
Unique Wedding Color Schemes
If the dynamic and soft shades above are not enough for you and you want to explore all possible options, we are happy to introduce you to unique wedding colors!
Cascade - life-affirming turquoise.
Coral Rose - unusual coral, a mixture of pink and orange.
Super Sonic is a clean, rich, confident blue.
Potpourri - spring and romantic, the color of youth and love.
Bubblegum is a cheeky summer pink that resembles bubblegum.

Bubblegum color, Photo by @rebeccayale

Sudan Brown - juicy and sunny brown shade.
Fragile Sprout is a summer green, fresh and provocative shade.
Orchid Bloom - a flawless lilac-pink, blooming orchid shade.

Orchid Bloom color, Photo by Arina B Photography

Coffee Quartz is a simple yet elegant brown.
The basic palettes aren't always boring and cliche. Try these colors if you want to stand out, yet stick to the elegant, classic shades:
White Alyssum is another pure white.

White Alyssum color, Photo by @darinimages

Humus is a predictable but stable and beloved beige.
Fair Green - fresh green shade.
These colors are great for any time of year and especially for summer weddings. Check out our article on Summer Wedding Ideas You'll Want to Steal.
Romantic Wedding Color Schemes
A wedding in romantic tones is a true dream of a refined bride. Some colors always symbolize femininity, tenderness, and dreaminess. Read on to find out more about them!
Spun Sugar - soft blue tones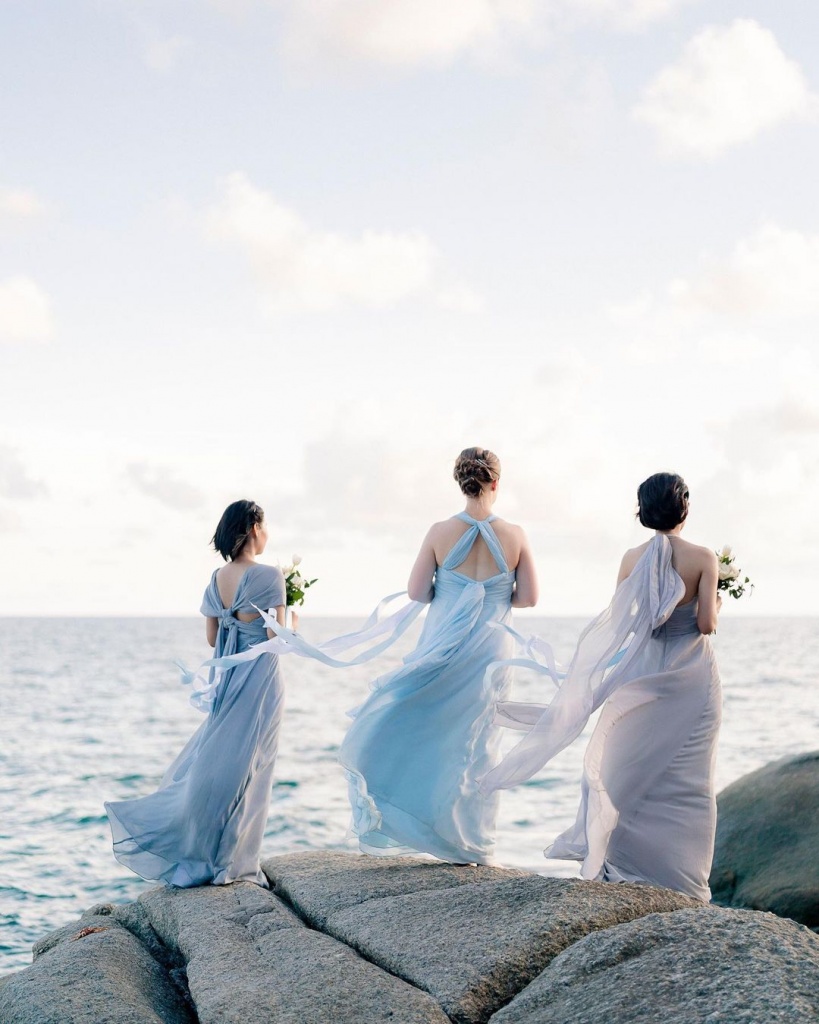 Imagine cotton candy with blue food coloring. This is a light, delicate, airy, and pleasantly sweet tone of Spun Sugar. It's ideal for a romantic spring or summer wedding. A blue wedding will be perfectly complemented by calm green, white or pink.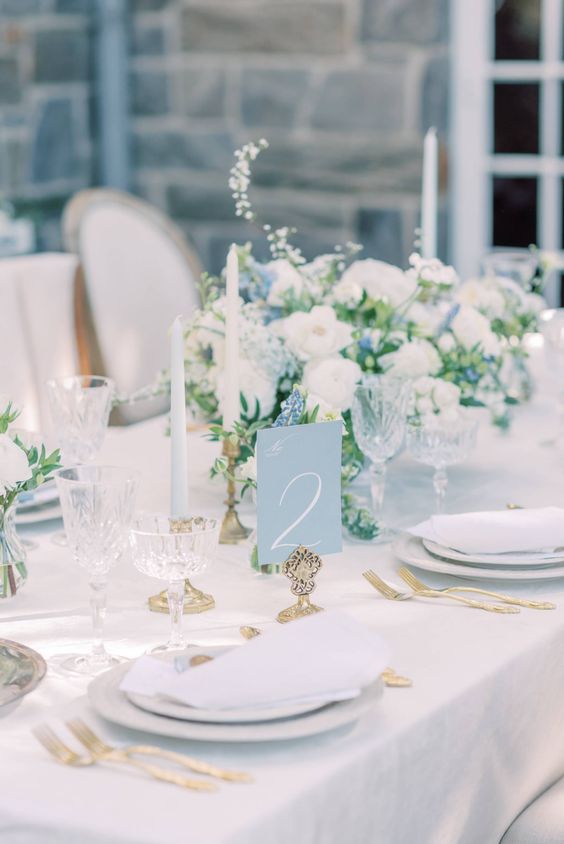 You can also use this color as an additional one at your wedding. A blue wedding dress, shoes, bridesmaid's dresses, or table settings. As for the groom, gentle blue is perfect for a suit in the warm season!
Gossamer Pink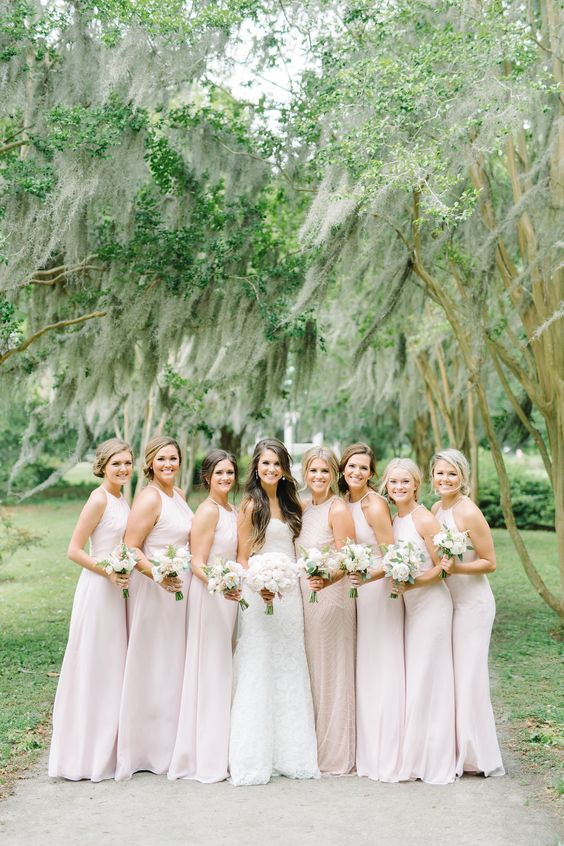 When it comes to choosing the romantic color scheme for your wedding, experts will always offer you pink shades. Of course, a wedding in pink is something very common. Still, what if you don't chase the standard shade, but choose a weightless and pleasant pink tone?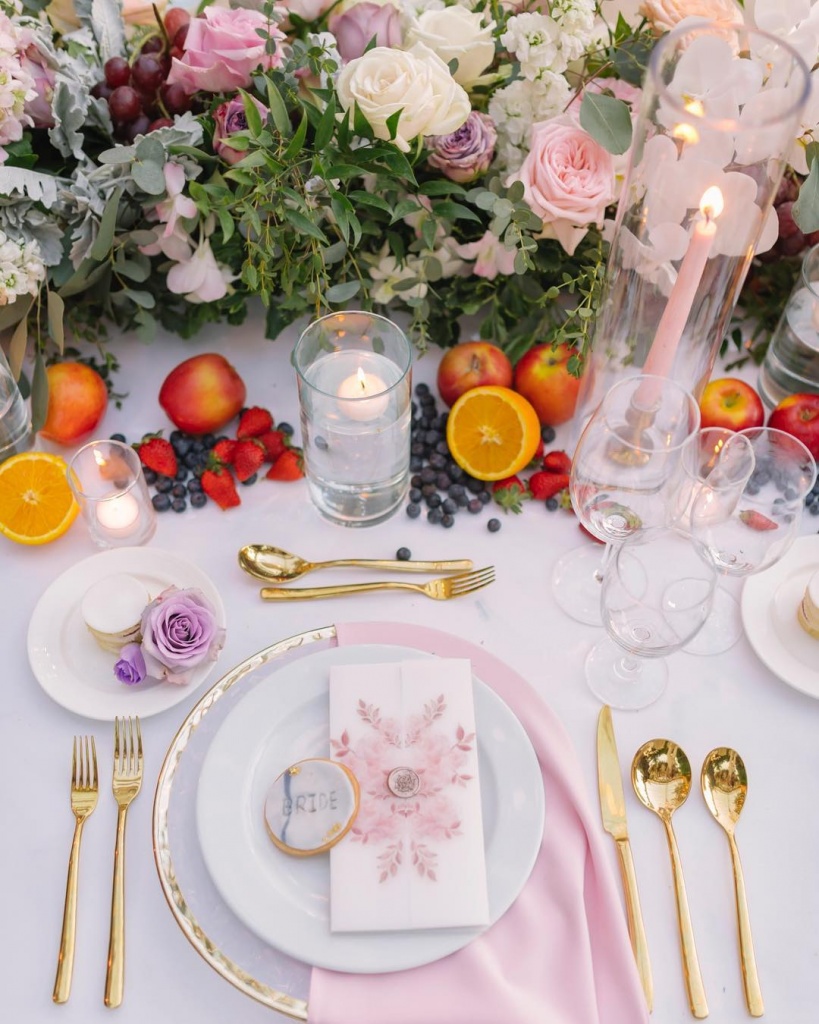 Gossamer Pink wedding color is an amazing choice for young and sensual couples. It can complement any white shade or become the main one. The bride's wedding attire, a bouquet, floral decorations, invitations, and, eventually, the reception. This delicate and fabulous pink is appropriate everywhere.
Summer Wedding In Yellow Tones: Popcorn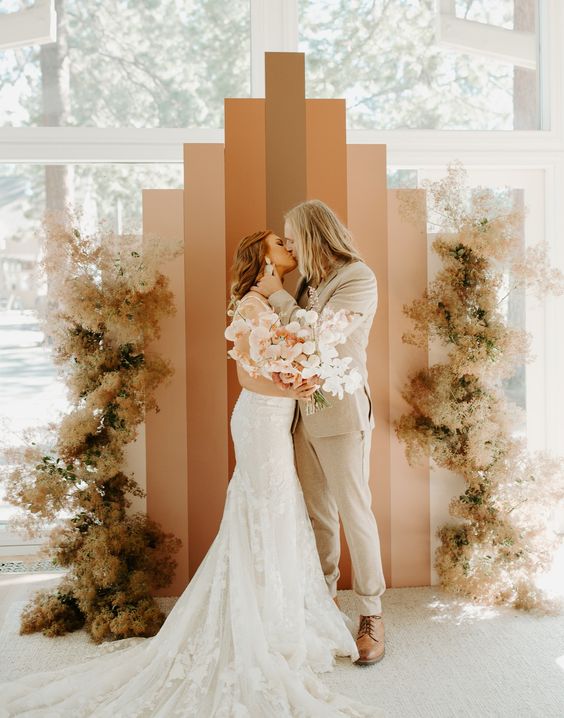 Romantic colors for weddings in summer and spring should be warm and have a great mood vibe. For gentle and cheerful couples, we suggest a calm yellow Popcorn shade.
Try to approach the disclosure of this fashionable tone creatively. How about a yellow bride's dress and/or groom's suit? Bright and balanced Popcorn will look amazing in your wedding pictures!
Vineyard Wedding Color Schemes
These kinda venues are gaining popularity in recent years. Although, not all couples know how to style them harmoniously. So here are the top 3 colors to use at your vineyard wedding!
Harbor Blue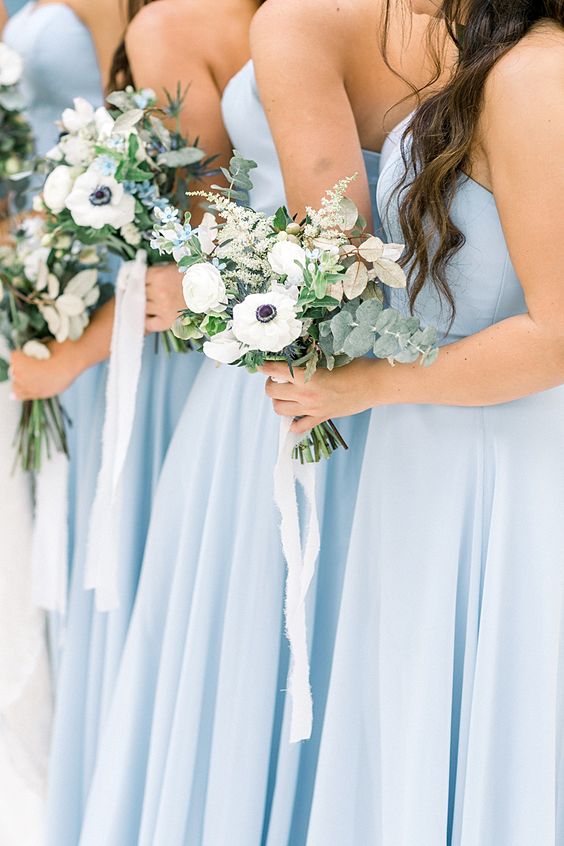 A blue-green shade of Harbor Blue is a perfect choice for your elegant vineyard wedding. Saturated and mysterious, it'll fit the concept of your big day perfectly.
Harbor Blue is a great idea for an unusual groom's suit and luxurious table settings. Pay attention to the fabrics: velvet, satin, and velour will convey the beauty of the unusual Harbor Blue best.
Poinciana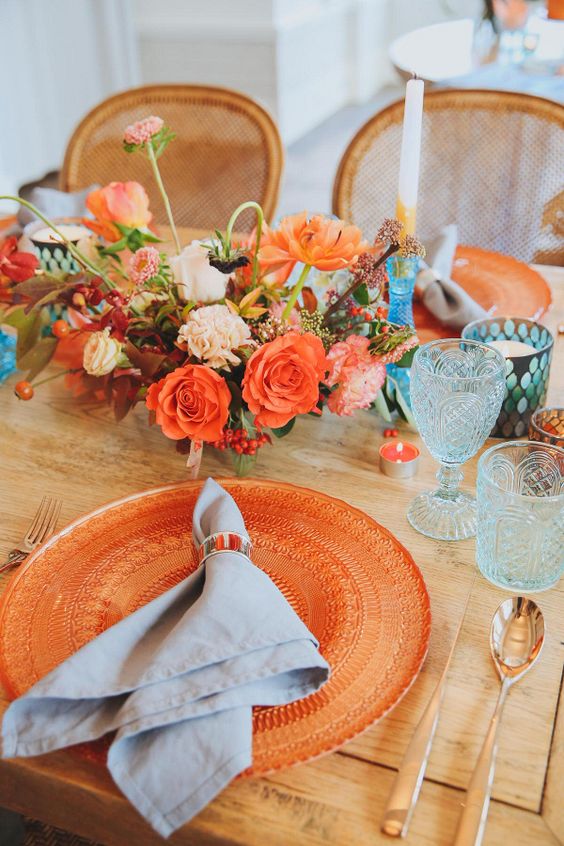 The feathers of fairy birds and the summer bloom of exotic flowers in the jungle inspired the creation of this shade! If you've been dreaming of red elements in your vineyard wedding, but the classic tone seems too cliche for you, consider the fiery red Poinciana!
Floral elements, groom's accessories and bride's shoes, table setting, photo booth… You can apply this bright tone almost everywhere. Combine it with harmonious green and pure white.
Dahlia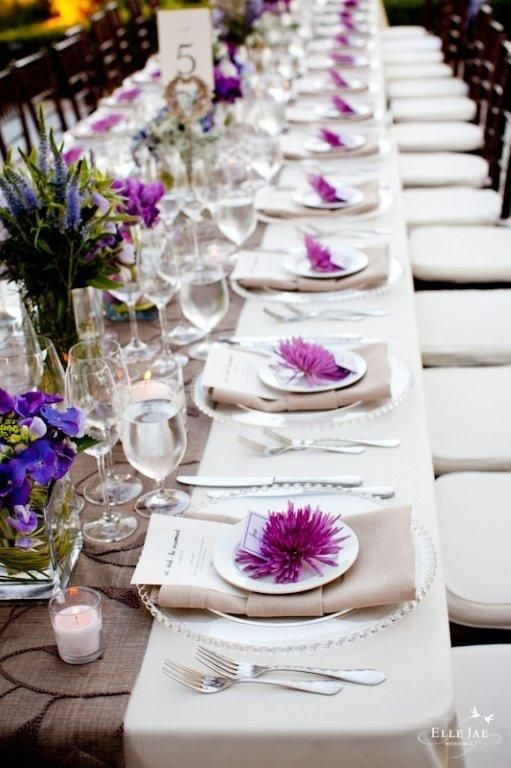 It's time for you to get acquainted with this luxurious purple! Dahlia, in combination with white, will become the heart-breaking basis of your vineyard celebration.
Dahlia is a super option for the bridesmaid's dresses and bright table settings. This tone will create a special mood both in a dark and a light wedding palette.
Now you know everything about wedding color schemes! And if you wanna know the lucky date for your 2023 wedding, tap here to find out!