Wedding Day Timeline Rules Every Couple Should Follow
Wedding planning usually starts at least a year in advance. If everything is carefully thought out, this day will be associated with only the best emotions and memories. All guests, as well as newlyweds, will be satisfied with the holiday. This way, you won't go from the joyful euphoria of the ceremony to confusion from unforeseen situations at the reception.
Experts recommend making a wedding day timeline sample with the purpose of not forgetting anything. In order for everything to go smoothly, you need to follow some rules. Here they are!
Ask Your Wedding Planner For Help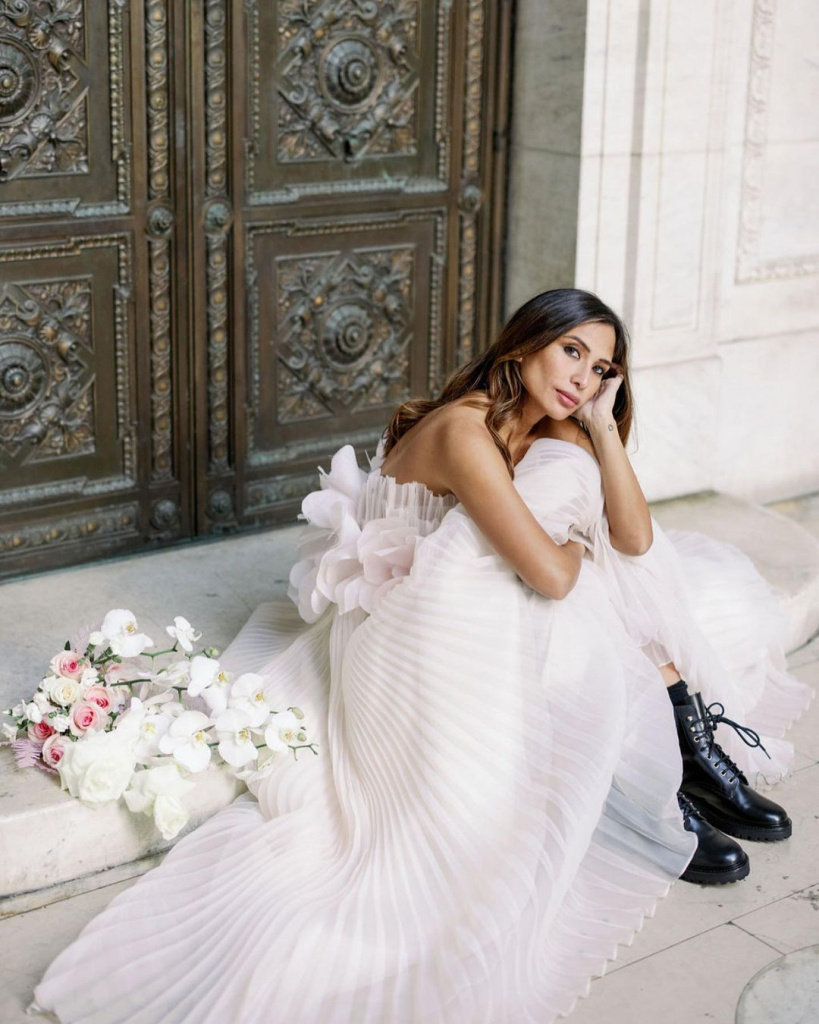 We mean the wedding timeline help. The professional is responsible for everything that happens during the day and all the way before it starts. They are skilled to solve all problems that may arise. Having a rich background in this sphere, the wedding planner is able to think through all the nuances in advance and create a few different wedding day timeline ideas just for you. Depending on the time of the ceremony, the time of the year, and other factors, the planner will adjust any wedding timeline template to your unique situation.
In case you're planning the wedding on your own, here's a detailed wedding day timeline example:
8:45 am Make-up and hair
10:15 am Shooting the details
12:15 pm Bridal portraits
12:45 pm Bride and groom depart for the venue
1:00 pm First look
2:30 pm Photoshoot with a wedding party
3:15 pm Family photos
3:45 pm Photographer and videographer capture the details of the venue
4:15 pm Guests take their places
4:30 pm Ceremony begins
5:00 pm Cocktail hour begins
6:10 pm Buffet ready
6:15 pm Move guests into dinner
6:20 pm Sunset Photos
6:40 pm Grand Entrance
7:15 pm Toasts
7:55 pm First dance
8:05 pm Open dance
9:00 pm Photographer and videographer depart
10:30 pm Last call
12 am - Out of the venue
This is the wedding day timeline considering that the ceremony and reception are in the same place. The main rule when adjusting this template to your own wedding is to start planning from the time of the ceremony.
Go To Bed Earlier The Day Before The Wedding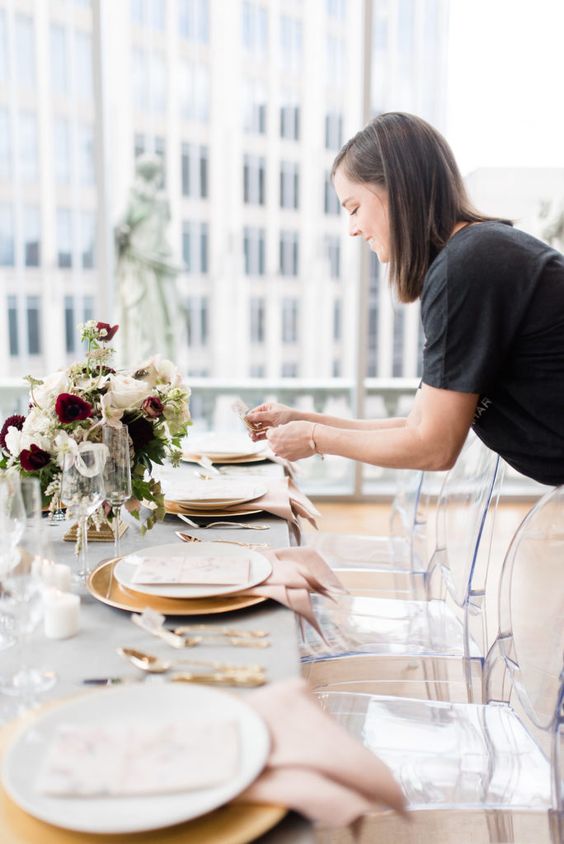 You have to wake up earlier on the big day, approximately at 8 am. Don't forget to go to bed early the night before the wedding, you have to look great at your celebration.
Remember To Eat Your Breakfast!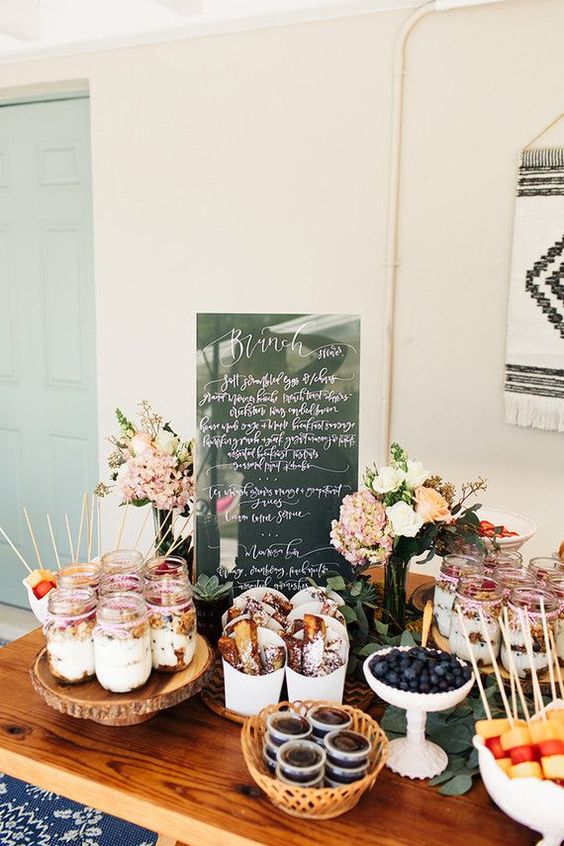 Most brides are nervously rushing on the wedding morning and some of them skip breakfast. That can cause trouble later. Imagine you are standing at the altar and suddenly your eyes are cloudy, your head is spinning, and you feel that you're about to pass out. In moments of excessive excitement, this is quite common. To prevent this, be sure to have breakfast and don't drink champagne or other alcoholic beverages while hungry. Dehydration can also be one of the reasons for feeling unwell.
Leave Some Extra Time For The Morning Preps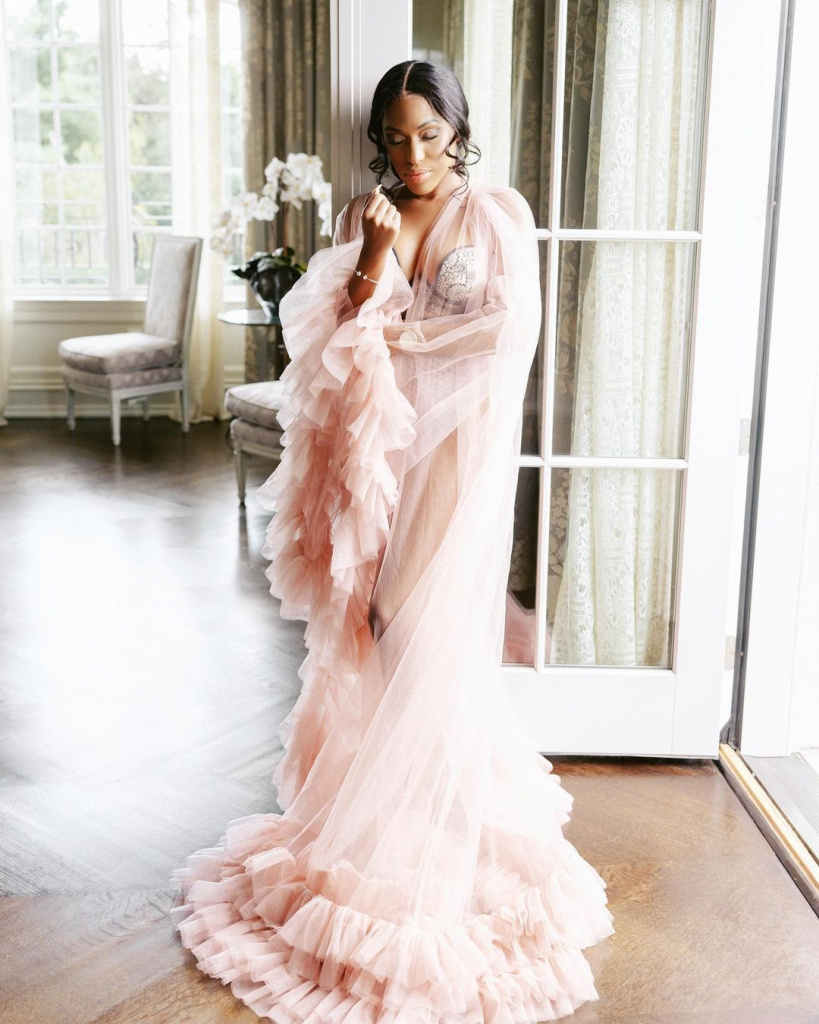 Here's a classic wedding timeline example of the bride's morning:
On average, make-up and hair artists need 2-2.5 hours to create a bride's look.
The photographer and videographer take 20-30 minutes to shoot the details.
The photoshoot of the bride in a dress takes at least 30-40 minutes.
The first look shoot may take up to 30 minutes, depending on the idea.
Double Check If Everything's Going According To The Wedding Timeline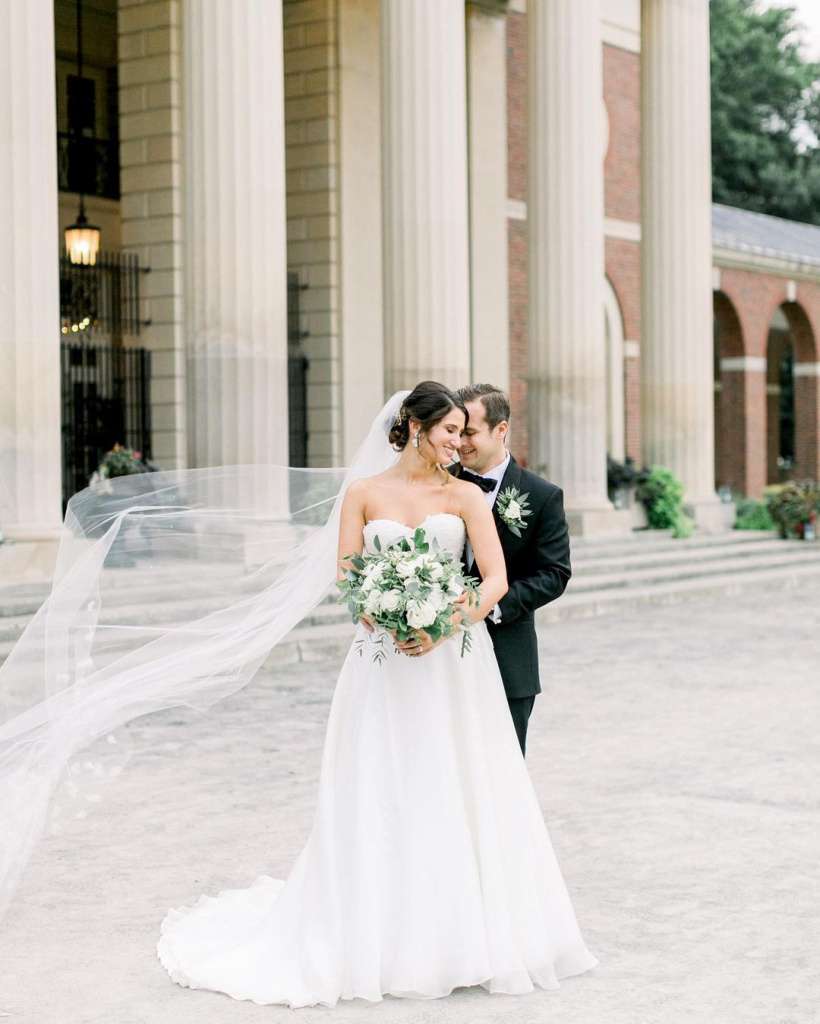 Contact all vendors and people who have any duties and make sure everyone copes with them and that no one is late. Remember that the bride and groom shouldn't be responsible for monitoring the implementation of all tasks during the day. Let the professional keep track of time, while you're having fun.
Be Ready That Something Will Go Wrong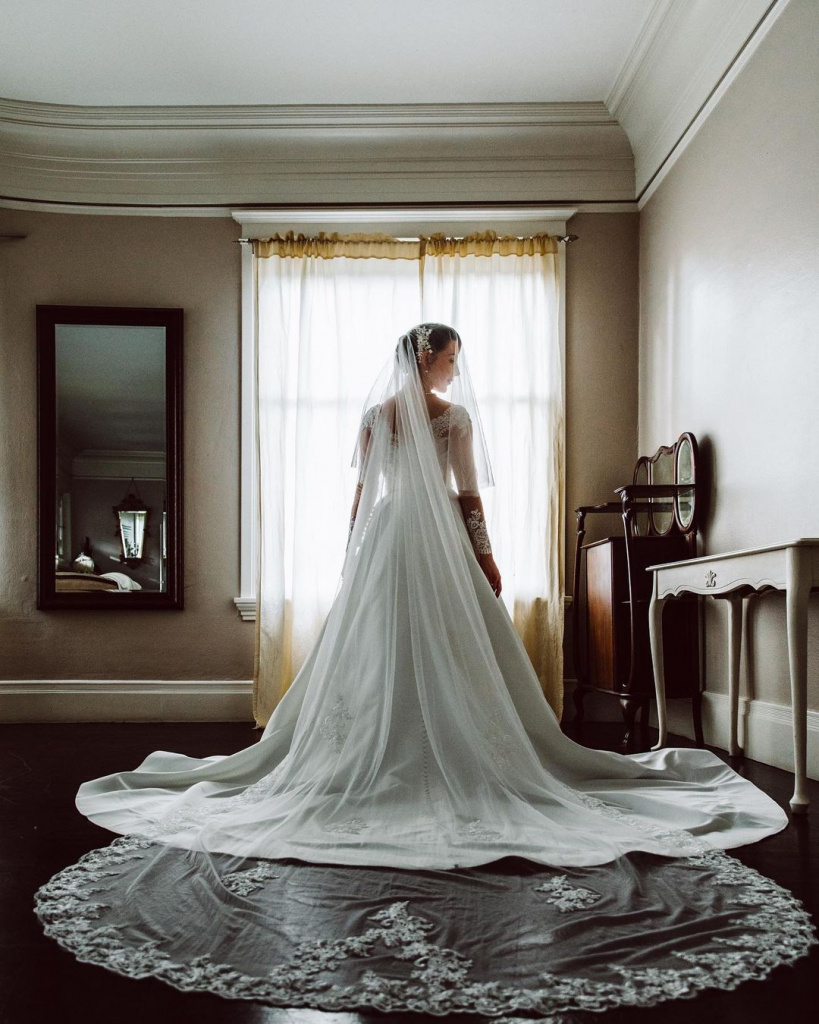 Small troubles happen. No one is secured from an unfortunate coincidence of circumstances. Advice to remember: never let the tiny things spoil your perfect day. Experts recommend having this bridal emergency kit:
Matting napkins
A pair of comfortable shoes
Adhesive plaster
Makeup (especially lipstick)
Paper handkerchiefs
A sewing kit
Jewelry cleaner
Extra earrings
Safety pins
Deodorant
Painkillers
Tampons or pads
Baby powder
Hand lotion
Bug spray
Phone charger
Stain remover
We hope there is no need to remind you to take passports and rings. Make sure you also have a second plan for your photosession in case of bad weather or other unpredictable circumstances.
Sometimes the light might suddenly go out. That's why, it's better to choose a venue that has its own generator, but, of course, this is not always possible. Stock up on several dozen candles in advance. The flickering light will add some magic atmosphere and may save your celebration from failure.
Add More Time For The Road
Due to the lack of time, the newlyweds often don't have time to prepare for the shoot. All this negatively affects the result. Plan a photoshoot taking into account the time for driving around the city.
Make Sure Your Vendors Are One Team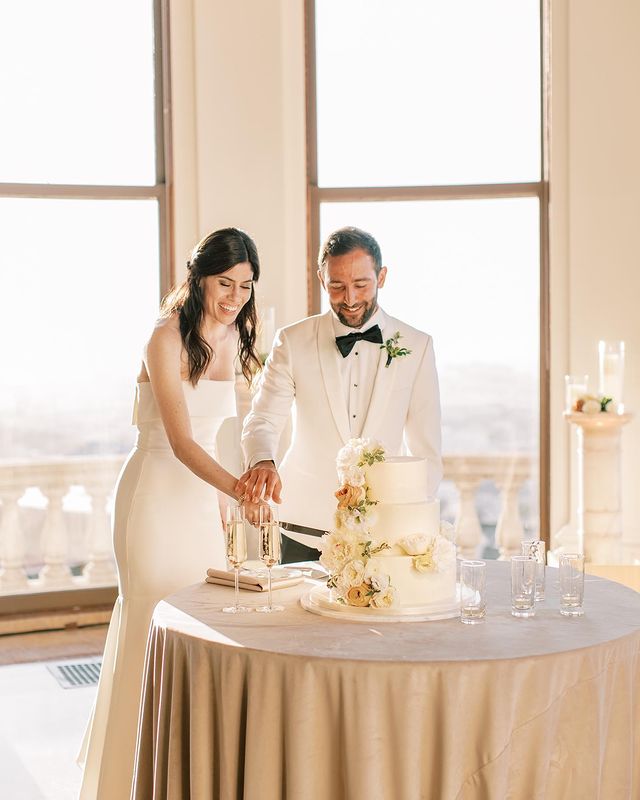 It's unlikely that anyone will be satisfied if the DJ plays dance music while the cake is being served. Or if the photographer doesn't capture your first dance because he wasn't updated with the change of the timeline. All your vendors must work as one team.
Add The Highlights To Your Wedding Timeline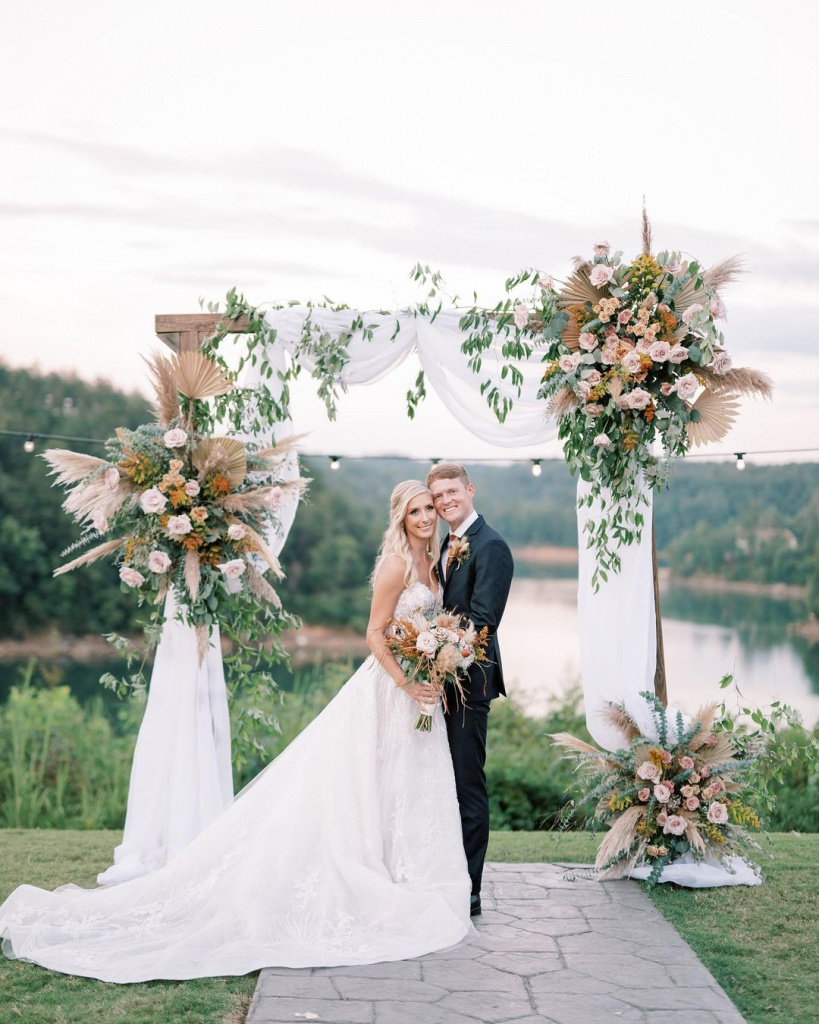 Such extremely important things as the bouquet toss, toasts, cake cutting, and many others are often taken for granted and not put into the wedding day timeline checklist. Pretty bad. If there's no particular time for these moments, they may never happen at all.
Don't Make Your Guests Hungry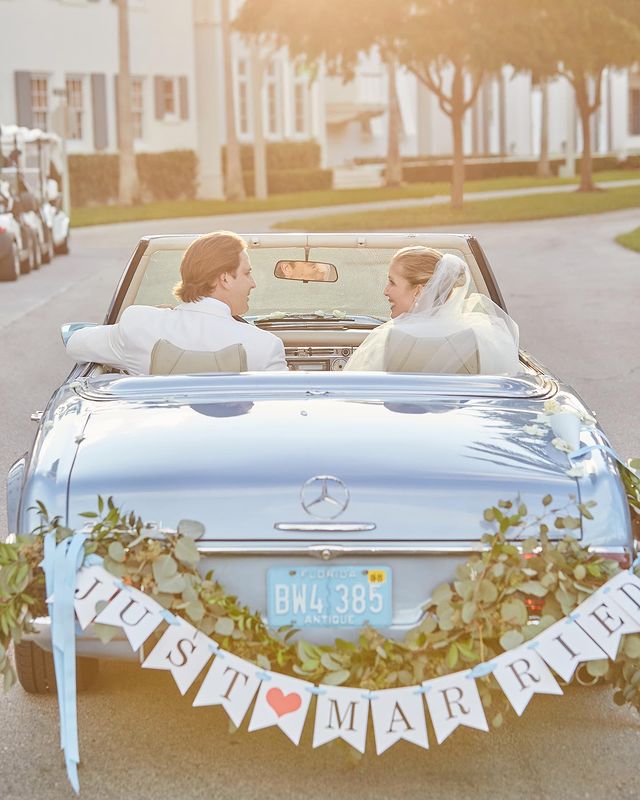 If the ceremony and the reception take place in different venues, every effort should be made to shorten the time gap between them. If this can't be avoided, fill the pause with a buffet table.
Wedding Day Timeline Ideas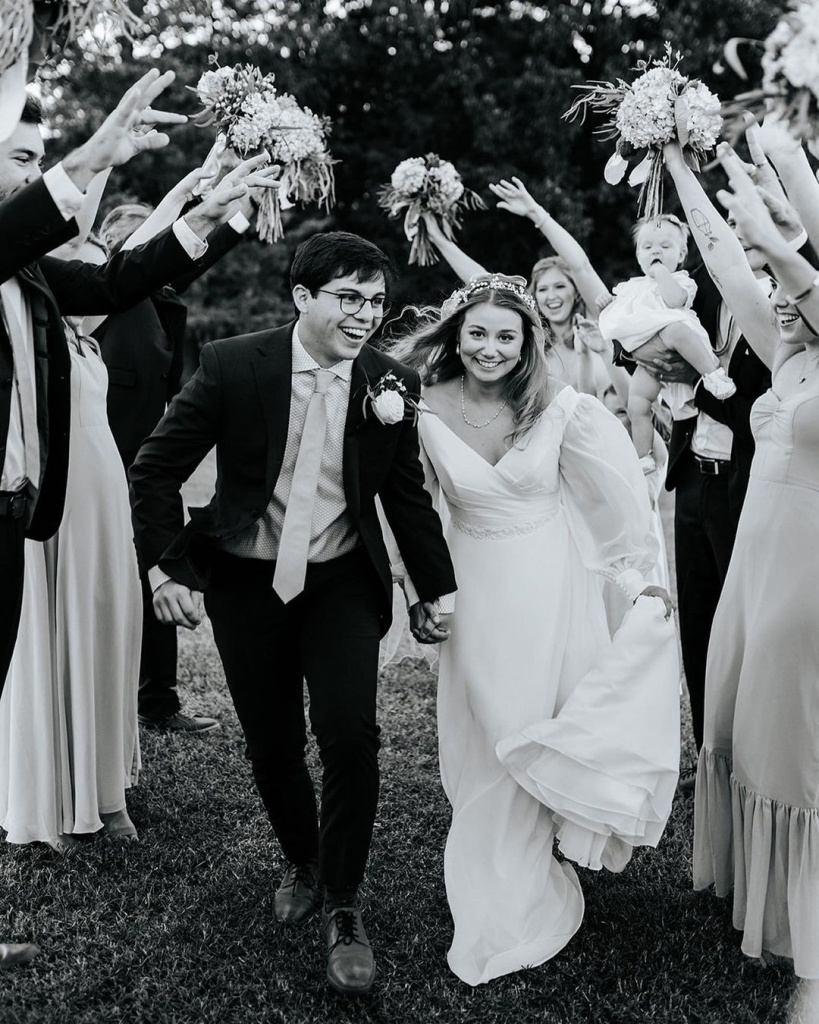 Here are some more templates on how to plan your big day!
Daytime Wedding Template
6:00 am Wake up
8:00 am Make-up and hair
10:00 am Put on the dress shoot
11:00 am Ceremony
12:00 am Reception begins
12:45 am Mealtime
14:00 am Dancing
15:45 am Grand exit
Brunch Wedding Reception Timeline
11:30 am Cocktail Hour / Wedding Party Photoshoot
11:40 am Grand Entrance
12:00 pm Brunch starts
12:45 pm Toasts
1:00 pm First Dance
2:00 pm Dessert / Cake cutting / Photos
2:30 pm Thank you speech
3:15 pm Couple departs
Sunset Ceremony Template
6:00 pm Family photos
6:30 pm Guests arrive
6:45 pm Ceremony starts
7:15 pm Cocktail hour
8:15 pm Dinner
10:15 pm Toasts
11:00 pm First Dance
12:00 am Cut the cake
Dance till dawn!
Wedding Weekend Timeline
Friday:
6:30 pm Ceremony rehearsal
9:00 pm Bedtime
Saturday:
6:00 am Rise and shine
6:30 am Hair and make-up
8:00 am First look
11:30 am Welcome drinks at the venue
12:00 pm Ceremony starts
12:45 pm Cocktail hour
13:45 pm Reception starts
6:00 pm Pictures
7:30 pm After party at the hotel
Sunday:
9:00 am Brunch at the hotel
Kiss your guests goodbye and head for a honeymoon!