35 First Look Photo Ideas
Publication date:

06/23/2022

Updated:

03/28/2023
35 First Look photo ideas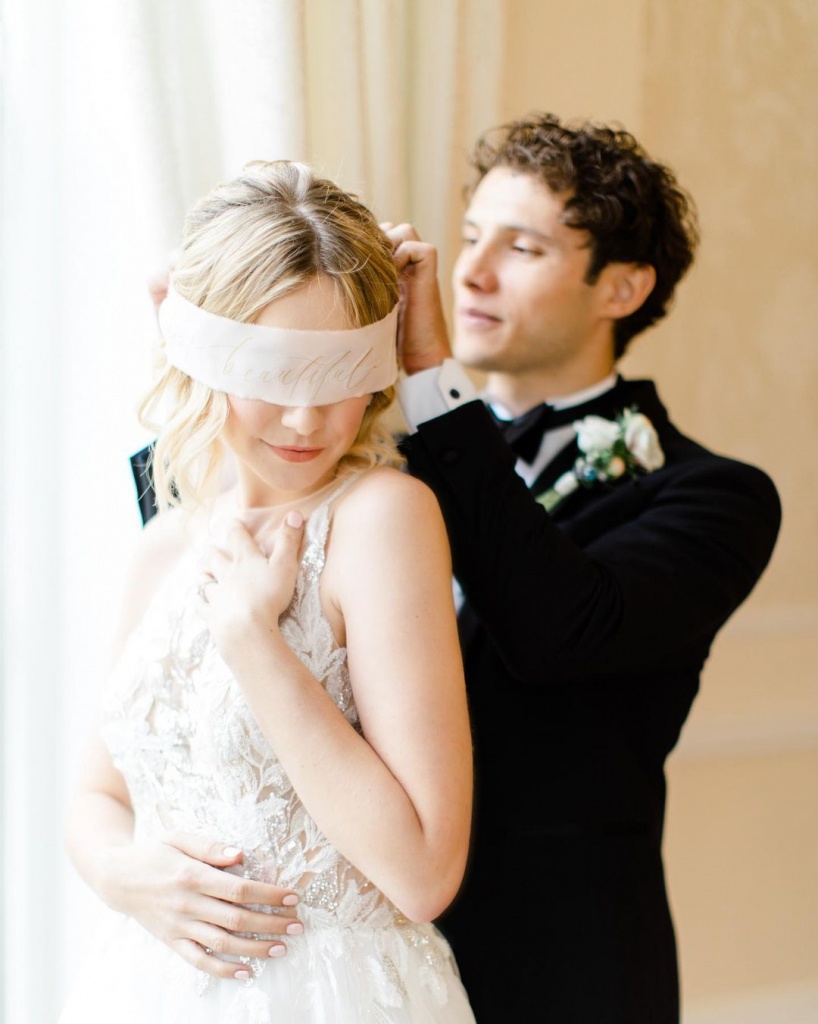 Photo by @aureliaallenphotography
First look is one of the most intimate moments of the wedding. Despite the fact that there are still some close relatives and friends around you, this is the moment when you finally manage to exhale and smile. Your other half is here, and that's why this day will be perfect.
Couples always want to capture such a special moment, to live it several times. That is why the bride and groom allocate time in the wedding timeline to take some photos and videos.
Read also Key Benefits of first look wedding videos.
How do you plan a first look?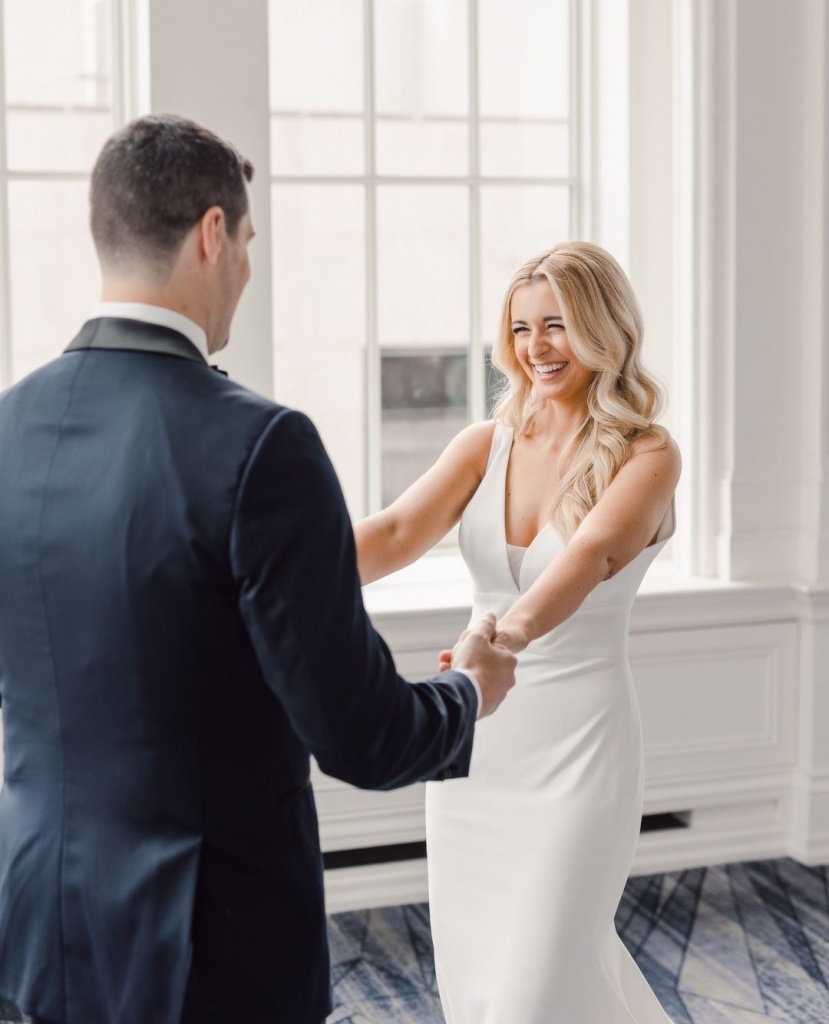 Photo by @purpletreephotography
You need to plan in detail this moment with photographers and videographers. Specify the place, whether it will take place indoors or outdoors, and how to adjust the light. In any case, this meeting takes place at the beginning of the wedding day, so it is usually between 11 am and 2 pm. Plan a location so that there is no bright sun and a beautiful background without a crowd of strangers or street repairs. The bride and groom must know their exact reveal way so that the team of photographers can shoot them from the best side and at the best angle.
All you need for the first look is a beautiful location, the bride and groom, and your love. Voila, the moment that you've been waiting for so long has passed, but there is still a whole wedding ahead.
We decided to write 50 short ideas for your inspiration. Take them as a basis, select the ones you like and reject the ones you like the least. This moment should be very special and happy for you.
10 First Look Location Ideas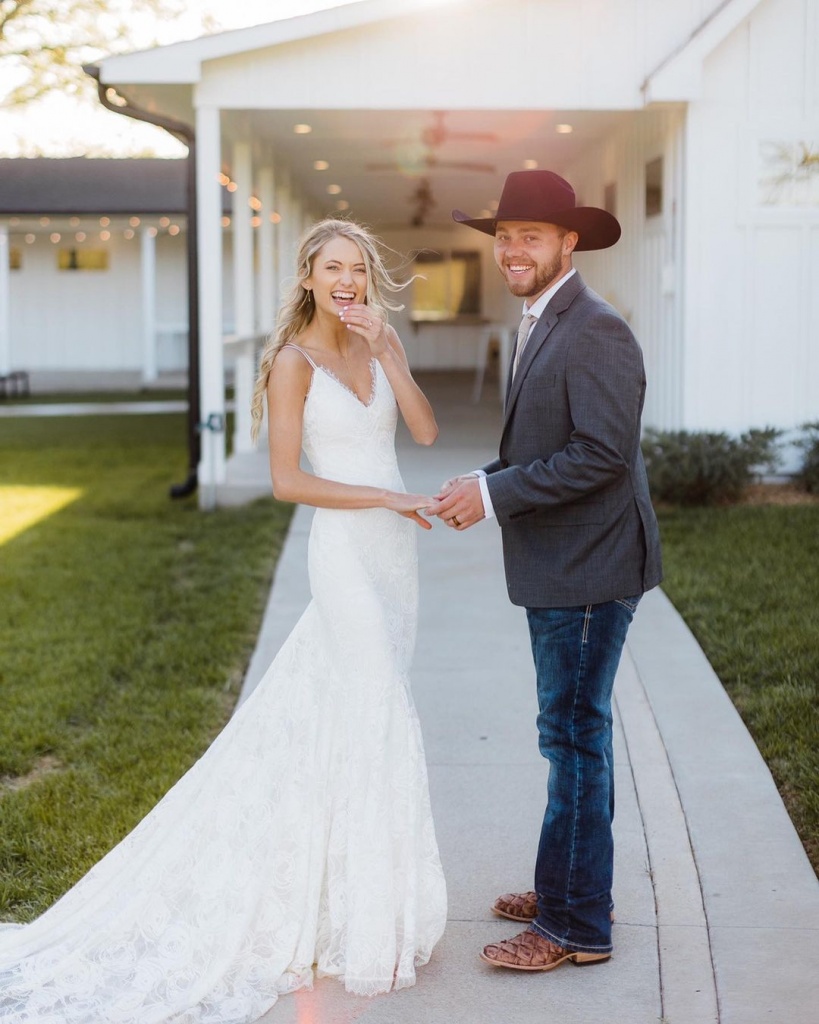 Photo by @opalonyxphotography
Your house.
Hotel with beautiful rooms or entrance hall.
A place near the stairs or near the elevator.
The area near the pool or other body of water.
Beach.
Greenery: Forest or park path.
A place near the wedding cars.
Botanical garden, greenhouse, or national park.
Art gallery or theater.
Restaurant where the celebration will take place.
In general, you can choose any place you want. The main thing is that it should be aesthetic and cute.
10 Unusual First Look ideas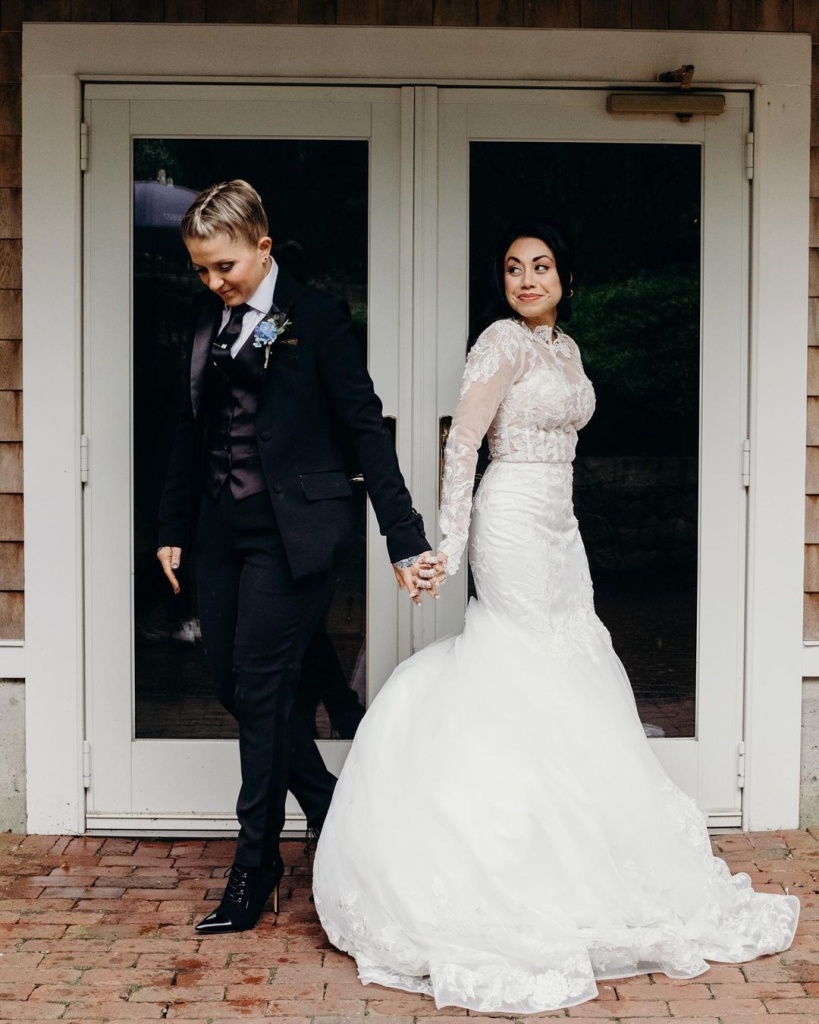 Photo by @tarabethphotography
Sometimes brides come up with very interesting ideas. Start with what place is of special importance to you and will be interesting in terms of bridal reveal. Take a look at the following ideas:
You will not see each other until you guess the groom's hand. The bride approaches with her eyes closed and chooses her loved one from other men by touch.
Mini-quest for the groom with tips on where to look for the bride. It takes a little longer, but it's even more creative.
Being blindfolded you find each other, help open up, and finally be together.
Bare feet. You meet on a green lawn and just run to each other. Don`t expect very luxurious images, but it looks very warm on the photo.
Labyrinths of vineyards or other gardens, where you see only a fraction of each other between the trees. Walk as if fleeing until you meet at a certain point.
The bride is in a boat on the lake or on a yacht on the sea, the groom is waiting on the beach.
If it's a theater or a gallery, the bride is behind the curtains. Open them with light.
On the streets of your hometown or neighborhood. It is advisable to take care of the aesthetic appearance and cleanliness beforehand.
The wrong bride. Friends of the bride in a white dress offer themselves to the groom like brides. To get a real bride the groom needs to answer various questions.
Bride and groom find each other in complete darkness.
These ideas can be played in different ways. Turn on the imagination, add decor and a lot of pleasant emotions are guaranteed.
10 Unique First Look ideas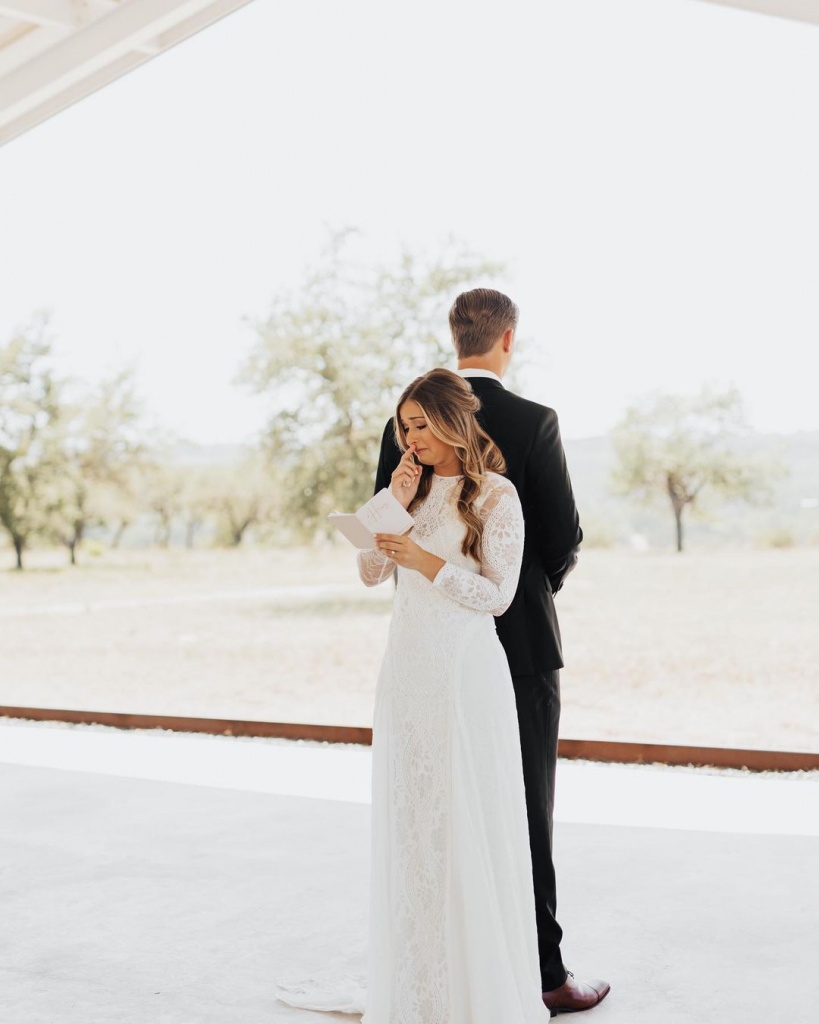 Photo by @taylorsalernophoto
To make this moment truly special and unique, you need to choose ideas and locations so that they reflect your couple. These can be:
The place of the first date.
The place of the first kiss.
The place of proposal.
The place of your memorable trip, where you were just two.
The place you both love: your favorite restaurant or resort.
Natural beauty that suits you, such as mountains or sea, forest or your favorite park.
If you have common habits or traditions, use them. It can be a place where you run every morning, or a place where you drink coffee every Sunday.
If you often talk on video online, you can even make such a digitalized first look. It will not present the whole image, but if you have not enough time, such a little meeting will highlight your emotions.
Quest through the rooms with your photos, chronologically. The first room will be with photos from your first meeting and the next one will be filled with others until a wedding day.
Adrenaline-rush activities. Think about the first look on a hot air balloon, motorcycles, car racing and Agent 007 style. Do something that will make your skin tingle.
We recommend considering these places even if they don`t evoke shared memories, but are very close to one of you.
5 Fun First Look Ideas
Funny meeting is both creative and unusual. Whatever it is, 90% of couples just make their first look at a hotel or restaurant. You can always skip classics and trends and think about the following ideas:
Have some fun. Wear a red dress instead of your bridal gown. Play a partner, and wonder if he will be enthusiastic about you.
The groom pretends to be unprepared. Drunk, in untidy clothes.
The groom arrives in a suit of a policeman or a firefighter. Buy a costume like a movie star so you can rip it off in a split second and look completely normal.
Let the bride stand at the door. While friends share their funny stories or memories, the bride and groom are filled with positive emotions.
Ask the groom to guess where is the photo of his bride at the age of the baby on a screen. Refuse to show it to him if he doesn't guess. You can even bargain for a bottle of expensive alcohol.
Funny meetings can be shocking or even offensive. That's why think carefully so that the bride or groom are not sad.
First Look vs First Touch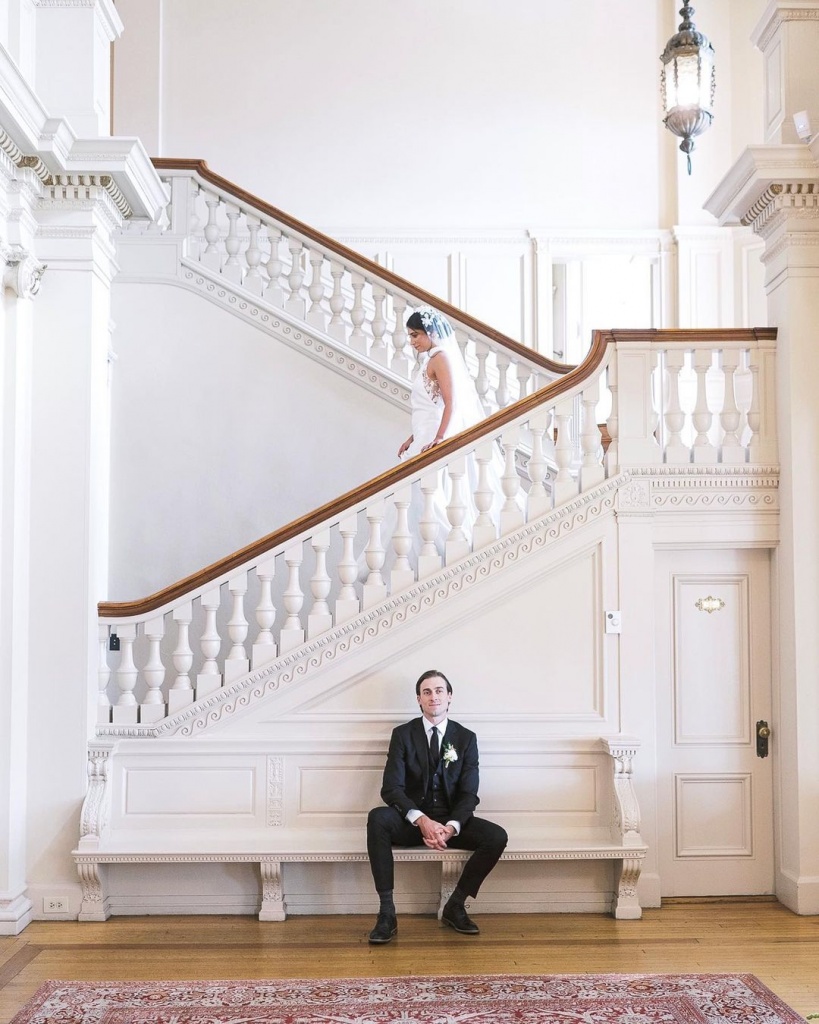 Photo by @barrieannephotography
In addition to the first look, the way of the first meeting by touch is also very interesting. You don't see each other before the ceremony at the church or at the swearing-in location when the father walks his daughter down the aisle. The first touch can make you more confident on this day. Such photos have a very special mystery.