Summer Wedding Ideas You'll Want To Steal
Choosing to tie the knot in summer means that this celebration is gonna need some proper preparation. It's all about finding unique summer wedding ideas that'll also answer the question of how to escape the heat! To make your celebration a pleasant time, and not a grueling ordeal for you and your guests, we created this article to share all the best tips and ideas for your summer wedding!
P.S. Check out our Ultimate Guide to Summer Weddings to be aware of all 2022-2023 trends!
Summer Wedding Location Ideas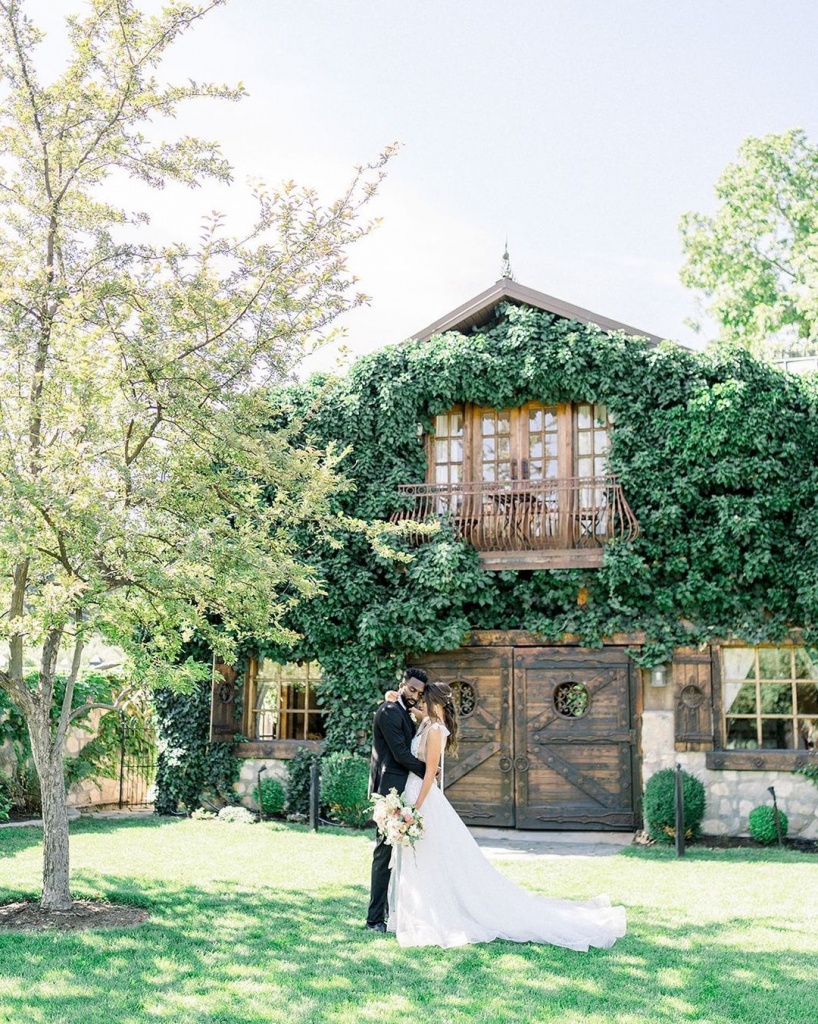 Photo by @tiffanylongeway
The first thing that you have to consider when planning a summer wedding is the venue. There are few things you have to know before booking the place for your celebration.
The venue must be equipped with good ventilation and air conditioning. However, temperature changes when moving from the hall to the outside shouldn't be critical.
Shady locations on a forest glade, river bank, or seashore are also great options for a summer wedding! The closeness of nature requires careful preparation, though. Don't forget about the first aid kits, mosquito repellents, plenty of water, etc.
A backyard wedding under the awning is probably one of the hottest trends for a summer wedding. On the other hand, it'll be harder to escape the sun.
Whatever location you choose, create a comfortable and cooling seating area for your guests. The lounge area must be located in the shade. Add some light curtains to protect the place from insects and trust us, the guests will thank you later.
Summer Wedding Reception Menu Ideas
The summer menu differs from other seasons. High temperatures require staying hydrated and hot dishes are replaced by snacks. So what should your summer wedding menu look like?
Cool soft drinks and cocktails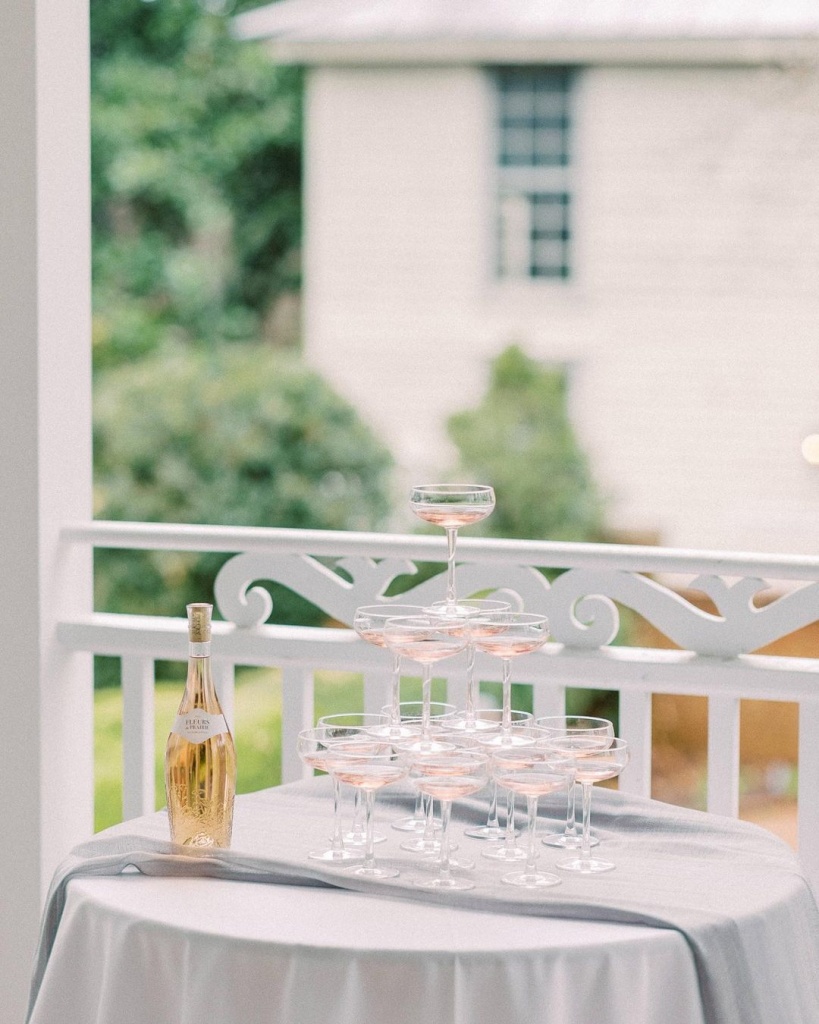 Photo by @brigittereneephoto
How to survive the heat? We all know the main rule: drink more water! Surely, you want something special to be served at the wedding, so don't limit yourself to mineral water. How about a soft drink bar at the reception? Serve berry water (with lime, grapefruit, mint, cucumber, raspberry, watermelon, etc.), fresh juices, fruit drinks, etc.
Apéritifs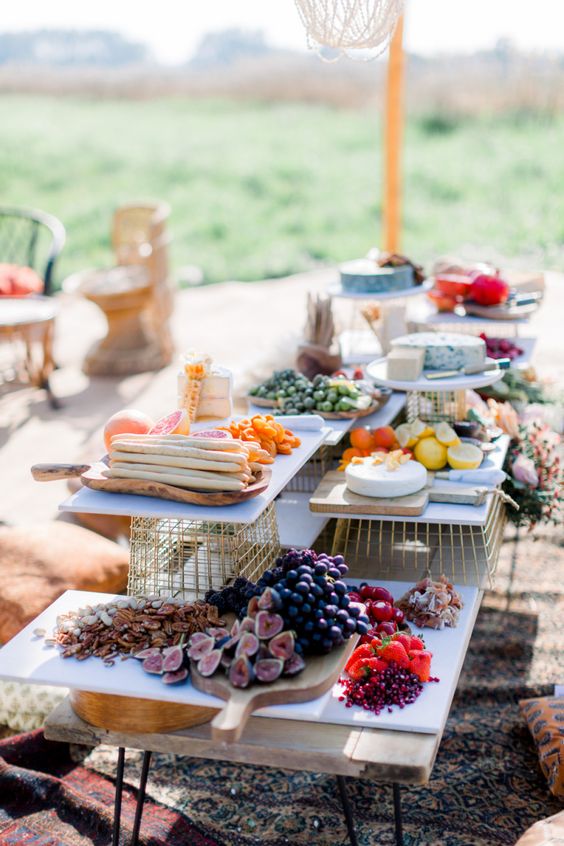 Photo by Jo Bradbury
Alcohol consumption isn't the best idea to escape the heat. But if you still decide to serve it at your wedding, mind that it's better to choose white or sparkling wine rather than the red one.
The food choice
Advice: reduce the meat dishes to a minimum and order seafood instead. A great way to escape the heat of a summer wedding is to eat the right food. Order more salads with greens and vegetables. Tomatoes, cucumbers, celery, kale, and spinach contain 80-90% of water.
Sweets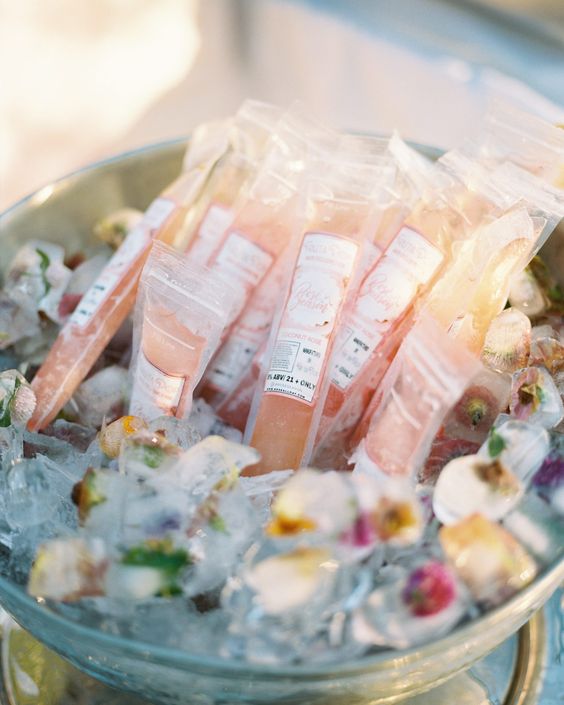 Photo by @abbyjiu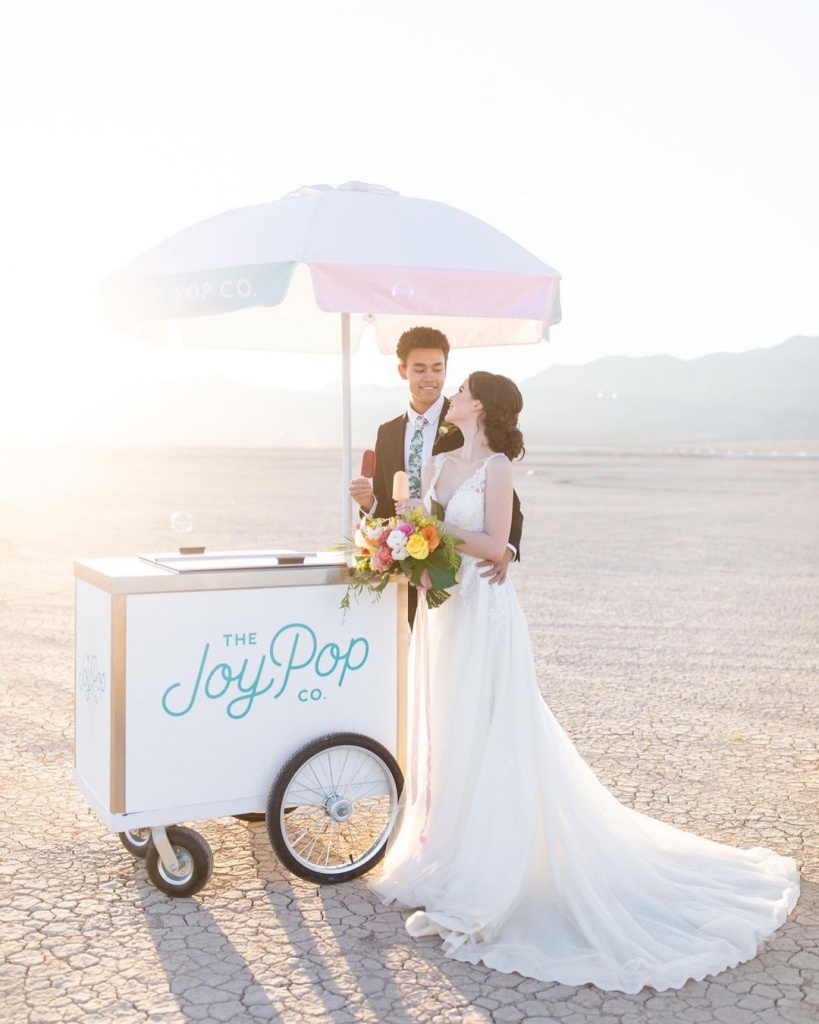 Photo by
Kayla Bowen Photographer
Here we advise you to give up complex desserts, creams, and heavy pastries, and provide your guests with real joy - ice cream and smoothies! Let it be high-quality ice cream, made from natural products. Focus on the quality and originality of flavors! Frozen juice is also a good option. As for the smoothies, they are a great alternative to high-calorie ice cream.
On the other hand, there are so many wedding dessert ideas for our sweet-tooth readers, that it's hard to resist! Check them out!
Summer Wedding Favors Ideas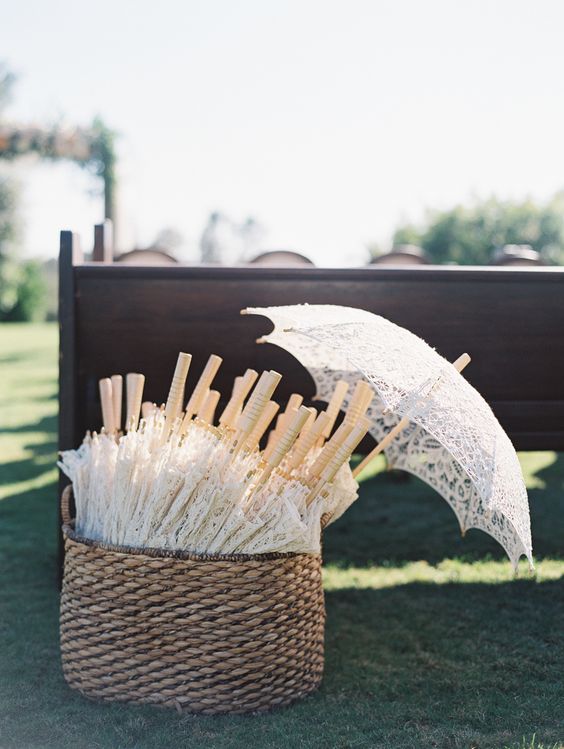 Photo by Carmen Santorelli Photography
We advise you to replace impractical souvenirs with the necessary accessories, which guests will start using right on the wedding day. These can be various hats to save their heads from the sun, natural sunscreen, eyeglasses, and reusable glasses for drinks. Some other creative ideas to think of:
Customized beer bottle openers
Customized can coolers
Succulent with a couple's names and wedding date on the tag
Customized flip-flops (for the beach wedding for example!)
Sandalwood fans
Stainless straws (eco-friendly!)
Parasols
Summer Wedding Dress Ideas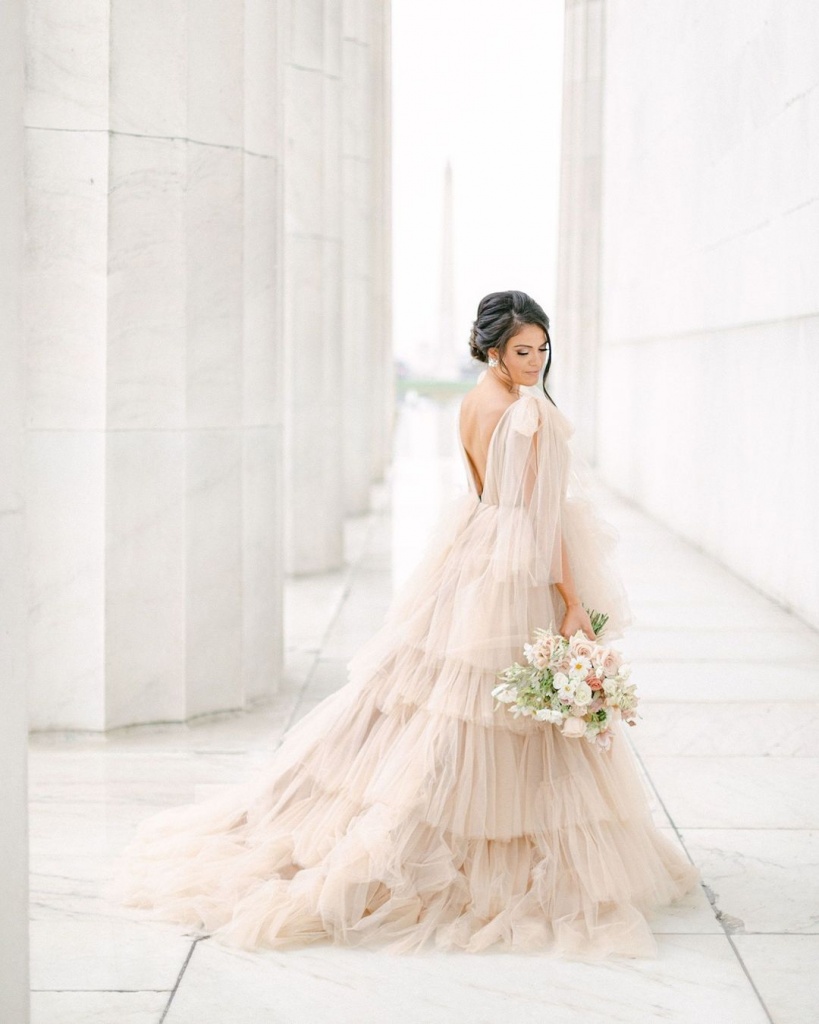 Photo by @costola_photogra
Choosing a wedding dress you're seeking for something unique and stylish. Lack of ideas is a common problem, though. First of all, don't be afraid to get inspired or even imitate the celebrity brides! They set the trends and always look stunning.
However, if you don't want to resemble anyone, here are the top 11 hot wedding dresses for summer!
Strapless silhouette dress
Racy neckline dress
Front slit dress
Chiffon sheath dress with a slit
Off-the-shoulder dress with detachable skirt
Boho style dress
Short sparkly dress
Shiny heist midi dress
Floral lace dress
Off-the-shoulder A-line dress
Open back dress
Choose wisely!
Summer Wedding Bouquet Ideas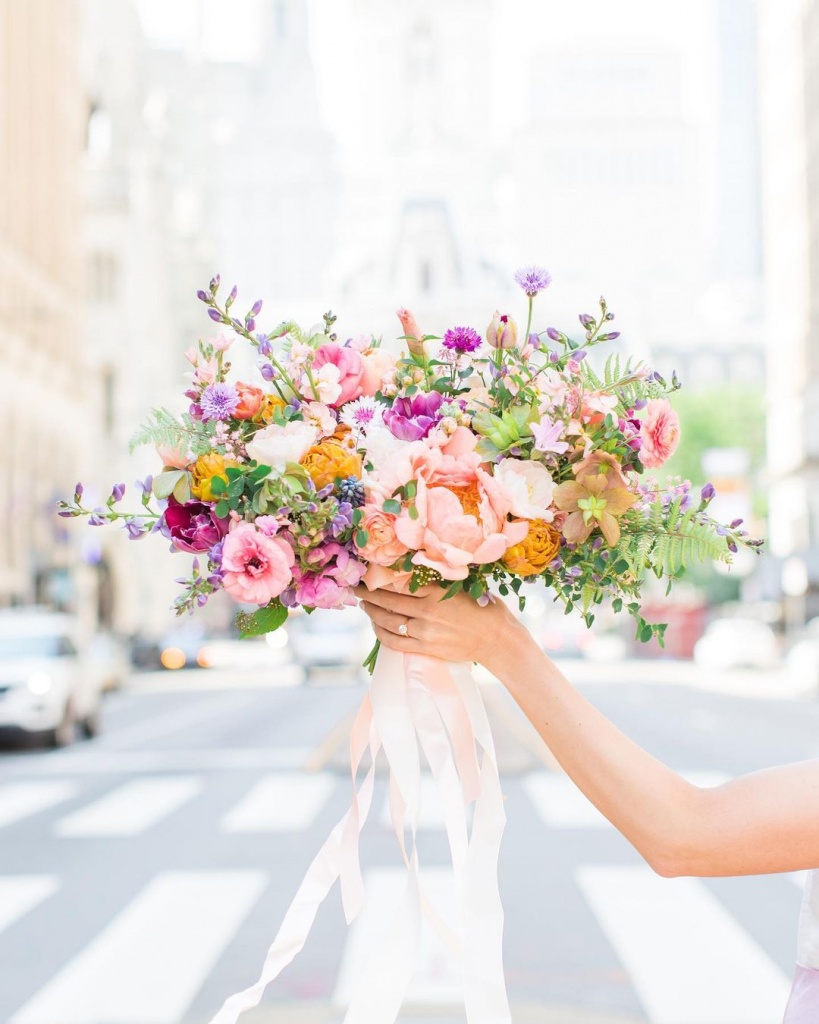 Photo by
Kaile & Tim Photographer
The main trend is unusual color combinations. White classics and delicate traditional colors aren't typical for the 2022-2023 summer wedding season. It's time for bright colors!
Nevertheless, naturalness is still especially valuable for wedding bouquets this year. So, even if you aren't ready to experiment with colors, use asymmetry in the compositions. Combine greenery and flowers just as mother nature always does.
The Pantone Color Institute is also a powerful influencer when it comes to choosing the wedding bouquet. As you may already know, the main color of 2022 is Very Peri. Think of using purple tones in the wedding bouquet to be trendy.
Depending on the style of your wedding, you can combine yellow, pink, orange, purple, green, and red plants. Here are some color choices for each color:
Yellow - roses, calla lilies, orchids, tulips, watercress, gerberas, sunflowers, ranunculus.
Orange - calla lilies, roses, chrysanthemums, lilies.
Red - poppies, gerberas.
Pink - tulips, ranunculus, peonies.
Purple - hyacinths, irises, lilacs, gladioli, asters, violets.
Last advice: know the trends, but choose what reflects you the best.