Destination Wedding Videography
Video shooting at destination weddings is even more important than at traditional locations. You spend money on a unique banquet venue, setting for an outing ceremony, transfers, flights and relocations to make your wedding interesting and memorable. It takes much more time and effort to capture all these beautiful details and incredible nature.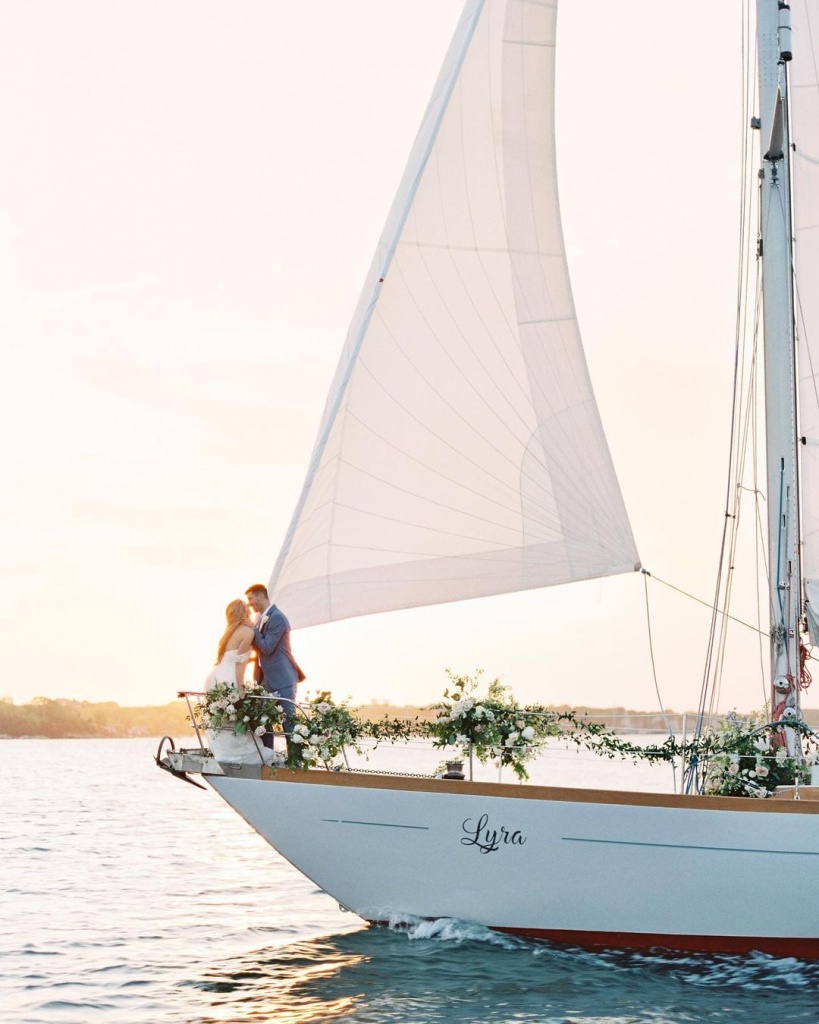 Photo by @laurenfair
You will never regret the money invested in destination wedding clips. This is the price for detailing memories, movements, words and even the weather that made your most special day so perfect.
How to choose a destination wedding videographer
When choosing a wedding vendor, you need to be on the same wavelength. Be sure to study previous works of videographers. It'll show whether you like this style of shooting and editing. Typically, all well-known videographers and editors have their recognizable style. In 90% of cases,before it comes to considering the price, you should have a special feeling in your heart that tells whether you like it or not. This is the main thing, so be guided by it and consider the following 3 important things in finding videographers.
High professionalism.
Try to find a person who has been in this business for years. It will be great if your videographer is already familiar with the location of the wedding and knows how to select shots, or had a similar experience. If the wedding is far from your hometown and you pick local professionals, choose a person with high knowledge of English. If your communication is unsuccessful, there's a high chance you won't like the video.
Price and time.
This step may be obvious, but consider in advance the price of destination wedding videography. See the portfolio, and choose the best. Consider whether you have to bring a videographer from your hometown or select professionals who specialize in creative wedding videography in the location you chose for a wedding. If you like the price, book a videographer for at least 6 months, preferably a year. Remember that the best pros are always priceless.
Technical component and level of supply.
If videographers have quadcopters and offer you better sound, and 4K quality, there is a high probability that your video will be perfect. No one wants to listen to a failed soundtrack or watch the video with bad light. Carefully weigh and compare offers: different videographers ask for different prices and can provide additional services. If SDE costs $500 in one videographer on the wedding day, and the other asks for $350, you need to think again about the level of their work. Communication, smiles, openness, and understanding of your desires and wedding concept are extremely important. But the main rule remains the same: choose your perfect vendor.
Destination wedding tips
Before you start looking for the best destination wedding ideas, take a look at How to plan a destination wedding in 2022 - 2023.  This will help you not to spend the extra money and understand what other details you haven't thought about before.
When it comes to destination weddings, everything is never clear. It takes longer and more detailed preparations, and the selection of vendors. To make your life a little easier, we also suggest you pay attention to some completely new ideas in planning a wedding below.
10 destination wedding video tips
When choosing a location for a banquet and ceremony, keep in mind how spectacular the video would be there.
For creative weddings choose creative places for the first look. Get rid of hotel rooms and elevators, if they don't have a sea view!
Think about the style of your shooting with the videographer taking into account the venue. From lighter to darker, from green to flowers, emphasize that this is the location that seems perfect to you.
A destination wedding is a very expensive thing. Before you search for professionals, plan in detail how much you can spend on video.
If you don't have time to search for all vendors and think about the wedding details, find a good destination wedding planner. Only a half the hassle remains.
Pay attention to the opinion of professionals. It's harder to figure out which shot will work well in unique locations so let your videographer take care of this. Don't be afraid to say your wishes, but listen to the pro too.
The day will pass so quickly. Ask videographers to make a detailed video, and pay extra for the duration of the film if necessary. This is the only way you will see the smiles of all the guests during the wedding dance.
Plan in detail where, when and at what part of the timeline you are shooting. Destination locations are usually very large, so a detailed plan, up to a meter and a minute, will be very helpful on your wedding day.
Don't forget to take a videoclip in a beautiful place after the wedding. On the wedding day, you won't have enough time to take romantic shots together, so try to plan one extra day for a mini-trip with videographers.
Smile! Cry! Live each of your emotions in the video.
How much does a destination wedding videographer cost?
We have a short answer: a wedding videographer costs as much as you are willing to spend. This is the part of the wedding that is not worth saving, as it will stay with you for life. Is Wedding Videography worth the cost of your wedding? – read the answer here and find out about the prices and packages of wedding videos. The only difference in destination weddings is that you need more people and equipment to make creative shots. Prices vary wildly from city and country but keep in mind that this service will cost you at least $ 1,500 and more.
Contact your perfect wedding videographer directly on the Wezoree to know answers to all your questions.