Labor Day Wedding
Publication date:

09/04/2022

Updated:

05/01/2023
Wedding on Labor Day weekend can greatly combine your most special celebration with a festivity of the social and economic accomplishments of American employees.
Labor Day is one of the numerous paid vacations in the USA. 96,5% of employers provide Labor Day off for their workers. Nevertheless, more than 50% of corporations remain working. It's the main reason why celebrating a wedding these days is a good idea. All guests can attend your celebration regardless of their workload. They won't have to rush or be delinquent, and restaurants or other venues will be available for reservation in most cases.
The weather archive for the last 20 years also shows that the temperature will be above 70 °F at the beginning of September in NYC. The probability is 95%.
Labor Day Wedding Pros And Cons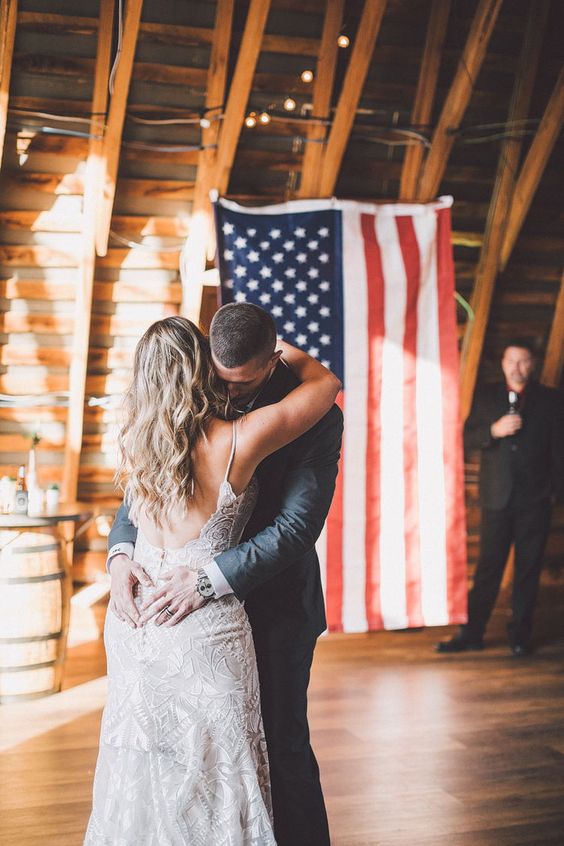 We've already described several advantages above, but there are many more additional ones. The advantages of celebrating on these days are the following:
several weekends;
you've got an extra period to split the celebration over several days;
you've got an additional day for rest;
quests from other cities will have extra travel time;
less fuss about wedding decor if patriotic colors are your style;
light autumn coolness in the evening;
the opportunity to make a cozy tea corner;
pleasant weather during the day;
plenty of seasonal fruits and vegetables, such as grapes, pears, plums, and watermelon, as well as plenty of sweet corn and pumpkins;
bright seasonal flowers for decorations, in particular hydrangeas, asters, and dahlias;
slightly cheaper prices for wedding services.
Despite many advantages, there are also disadvantages to do a wedding on this day:
difficult situation with traffic, because many people go on vacation;
beginning of the school year;
you can never predict the weather;
it could be hard to book some locations as not all of them are open.
If you want to celebrate a Labor Day wedding, notify guests in advance. Be sure to send save-the-date cards 6-8 months before the wedding. Also, book the venue so that you don't have to postpone everything during the last months.
5 Ideas For Labor Day Wedding Colors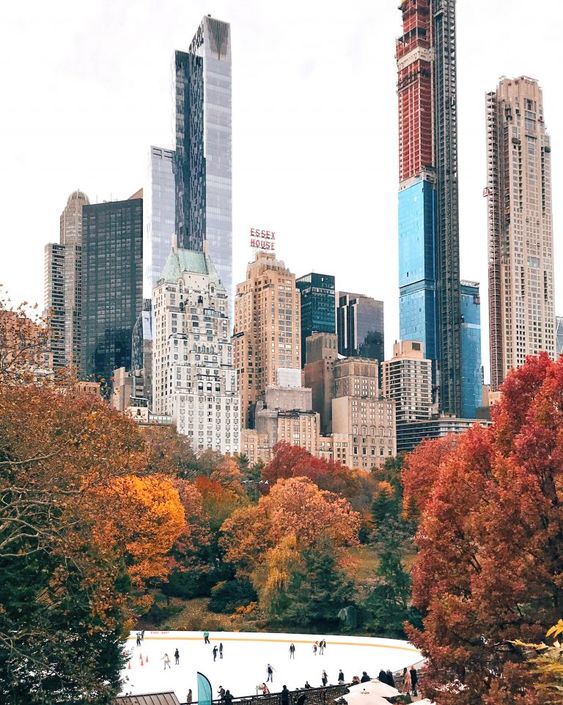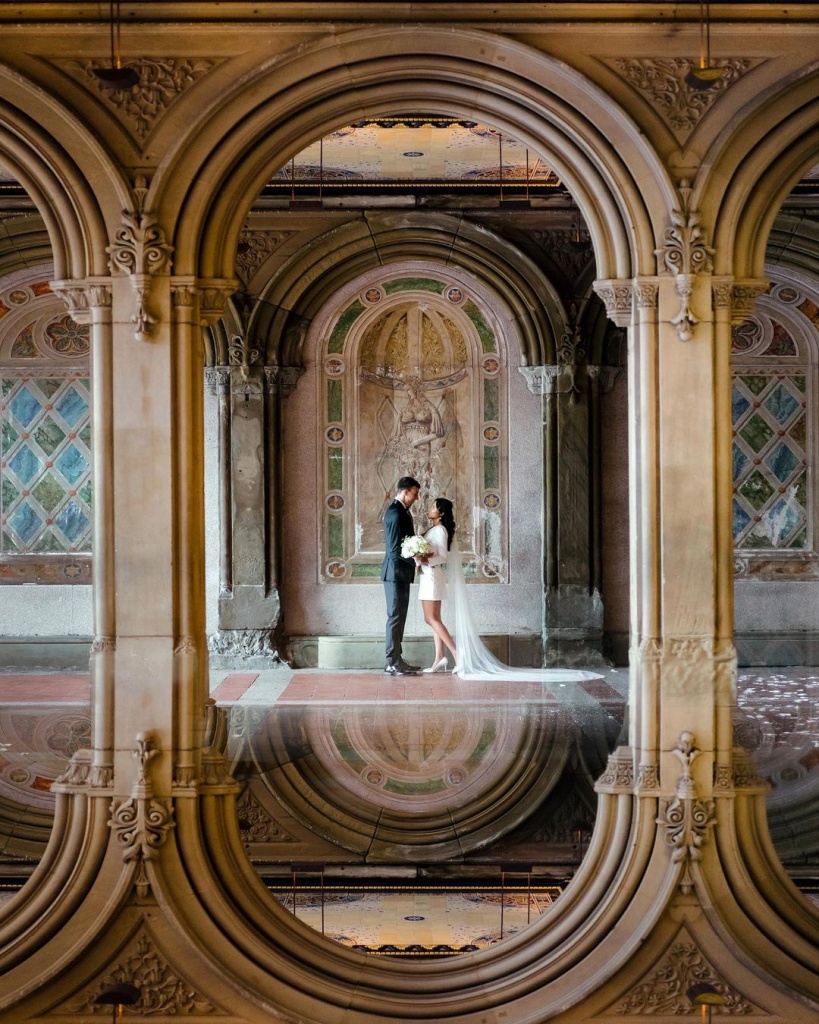 A national holiday will have an impact on your celebration in any case. If you don't want to focus much attention on traditions, don't choose red and blue as the colors of your wedding. Everyone will associate it with the USA flag. However, if you like such associations, then you've got a perfect opportunity to combine two holidays into one decor.
On the other hand, green and beige shades of summer weddings will be very appropriate as a farewell tribute. Burgundy, yellow, and orange shades of autumn are also becoming relevant.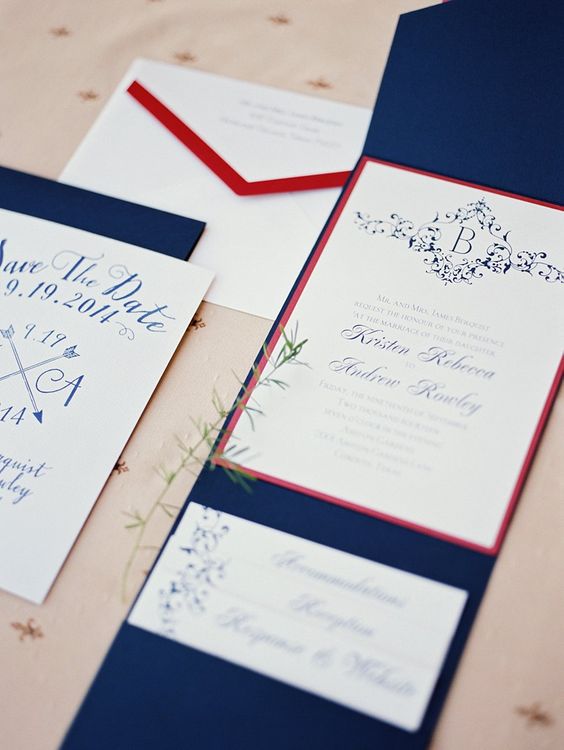 We suggest you consider the following 5 wedding coloring scheme ideas:
Olive, beige, and white.
Yellow, pink, and crimson.
Dark blue, brown, and white.
Lemon green, dark green, and other shades of green.
Red, blue, and white.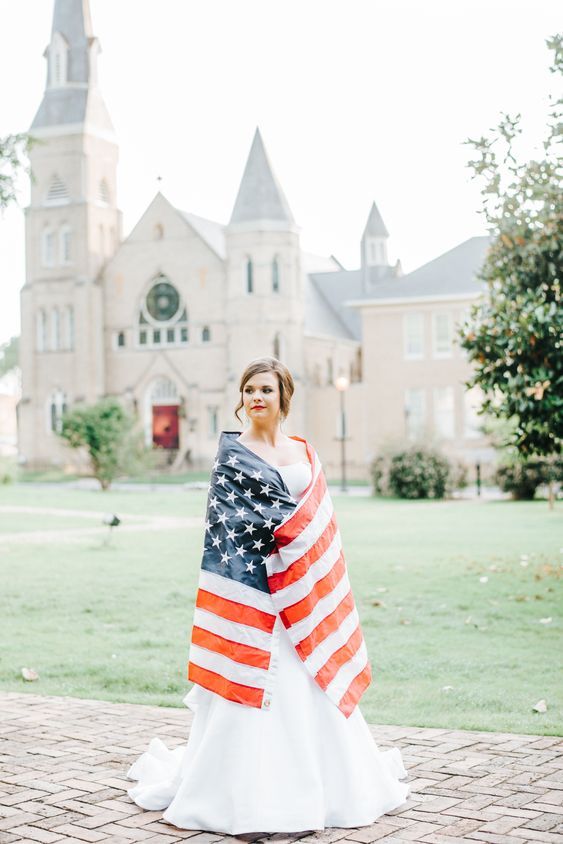 You can choose any colors you like, but the start of autumn requires at least small but bright accents.
Labor Day Wedding Attire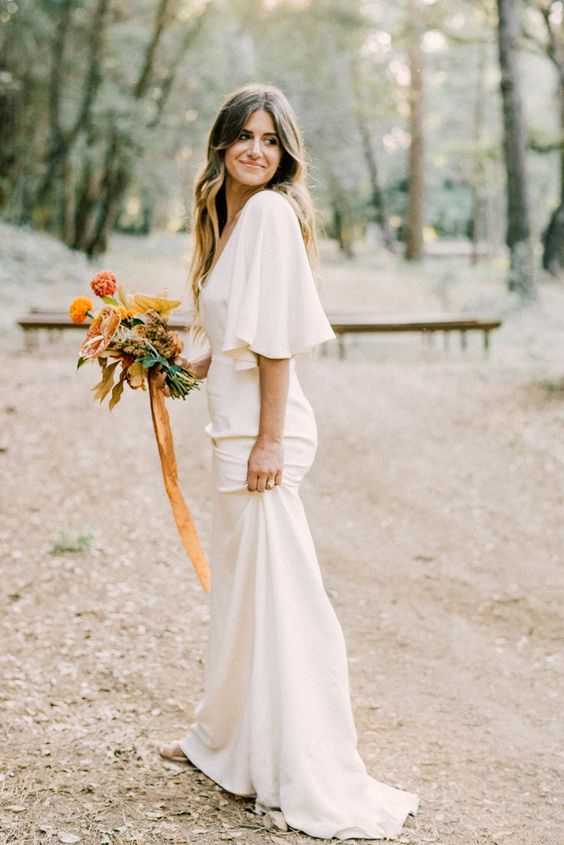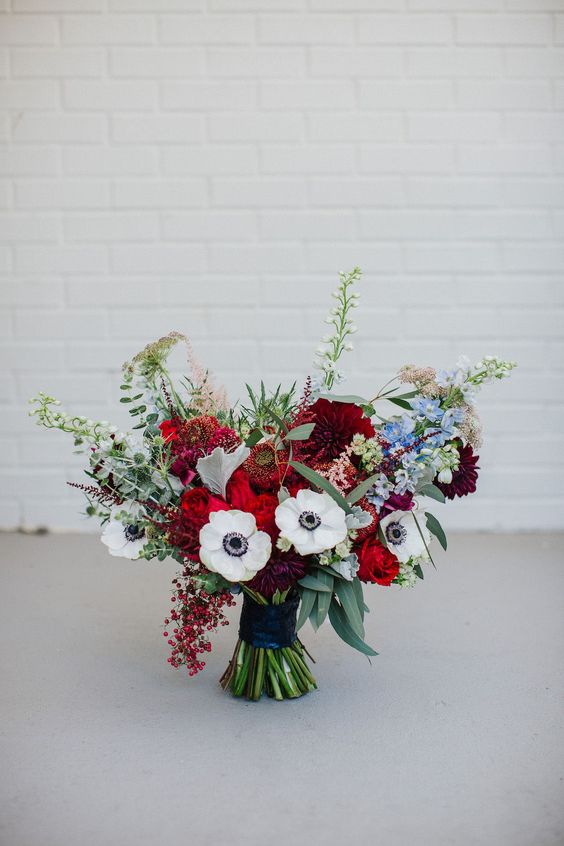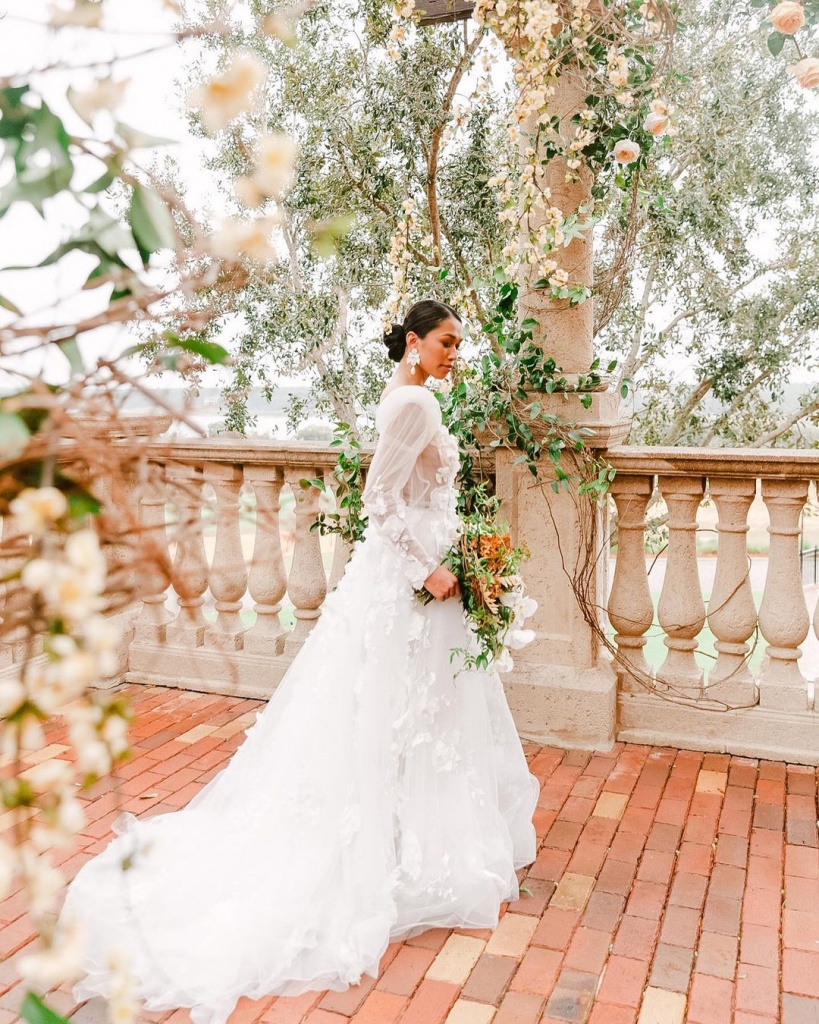 It's quite warm and comfortable in September, so you don't have to choose clothes with long sleeves or closed-toe shoes. Be sure to buy a cape for your shoulders in case there is a sudden cold.
You can choose a suit with a white jacket for the groom and in case of cold weather take luxurious photos in a white dress and a big jacket.
A white dress, a navy labor day wedding suit for the groom, and a rich burgundy bow tie will also look amazing. Bright colors will create a slightly autumn style and a faint resonance of tones with the national fest.
If you select lace or mesh fabric, add boleros with long sleeves over the dress. You can always take it off if necessary. It will look both cozy and luxurious. When choosing a dress, pay special attention to those with transparent sleeves. Fall calls for a little more coverage, so there are plenty of pull-on sleeves to suit every taste.
The main accent in the image is flowers. A wedding bouquet will be especially beautiful if it contains the colors of your wedding. Just imagine having in your hands several bright burgundy flowers, white classics, and many eucalyptus leaves. Anyway, you'll look great if you choose an outfit that takes your breath away.
10 Creative Labor Day Wedding Ideas
Warm days at the beginning of September still allow you to combine hot summer and bright autumn ideas into one.
We've prepared 10 stunning ideas for celebrating a Labor Day wedding:
Make an American's corner, a photo zone with flags, or black and white photos of past years in different places in the USA.

Photo by Annie Mcelwain

Plan locations under a roof in case of rain, with umbrellas and blankets.
If the weather is clear and hot, put blue and red umbrellas from the heat, or add such miniatures to cocktails.
Create a separate long table of seasonal fruit, serve smoothies, or even make smoothies as an unusual unity ceremony.
Add autumn pumpkins to the decor.
Place a lot of light on the territory: candles, garlands, flashlights, because it gets dark much earlier than in the summer.

Photo by Krista A. Jones Photography

Select the menu according to the national cuisine, and add a lot of cookies and mini-pies to the snack table.
Buy patriotic-style smoke bombs and take a photo shoot with white, red, and blue smoke.
Prepare a candy bar using colors of the US flag: white cream, blueberries, and raspberries.

Photo by Stacia Morgan Photography

Add stars of different sizes to the decor.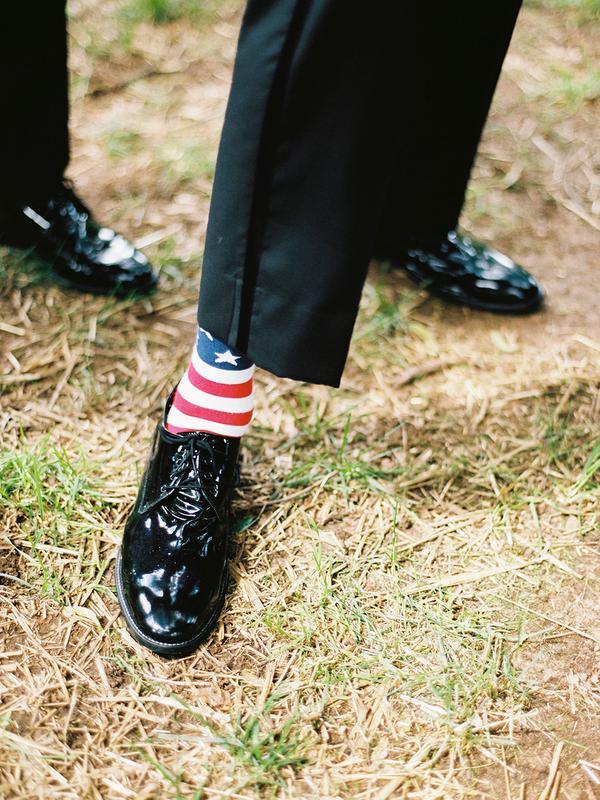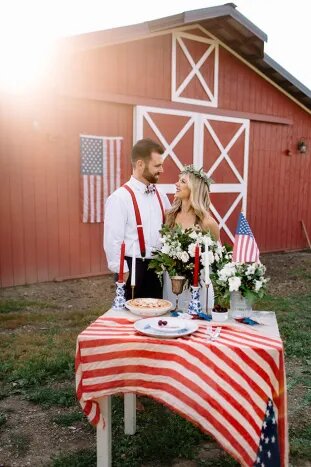 To sum up, getting married on Labor Day is a good idea. Get inspired by patriotic shades and concepts, so you'll be able to successfully combine your unique labor day weekend wedding celebration with national identity.