Couple Outfit Ideas For The Pre-Wedding Photoshoot
What To Wear For A Pre-Wedding Shoot
There are tons of ideas though choosing an outfit is not an easy feat for many couples. On one hand, brides and grooms usually know and imagine their wedding attire, nevertheless, they doubt their style while opting for the outfit for a pre-wedding shoot. You'll find the best outfit ideas, tips and answers to your questions in this article! Are you still on the fence about whether you need such a photoshoot? Get here to read about 15 reasons to get it and you'd never ignore this idea!
Couple Outfit Ideas for Pre-Wedding Shoot
Fairy Tale for Prince & Princess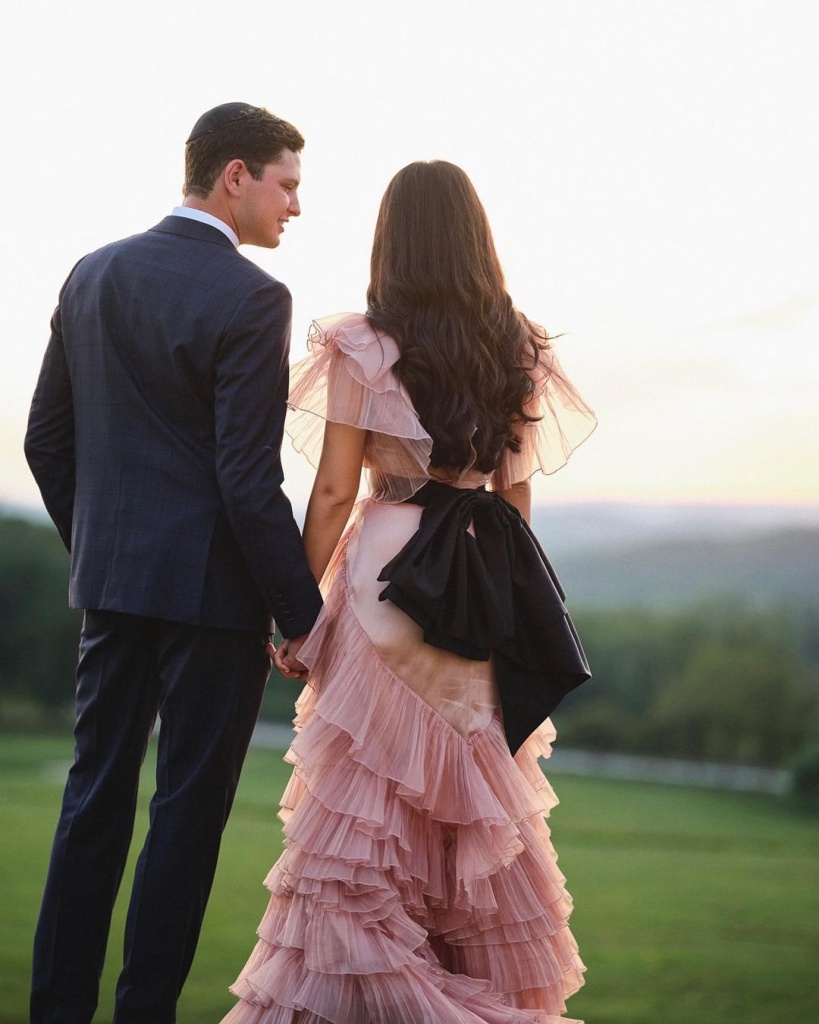 Create your own fairy tale with the help of gorgeous and elegant outfits. Go for a royal and sophisticated dress and a classy suit. It shouldn't be too formal (as for a wedding) but not too casual at the same time.
Flawless Pastel Palette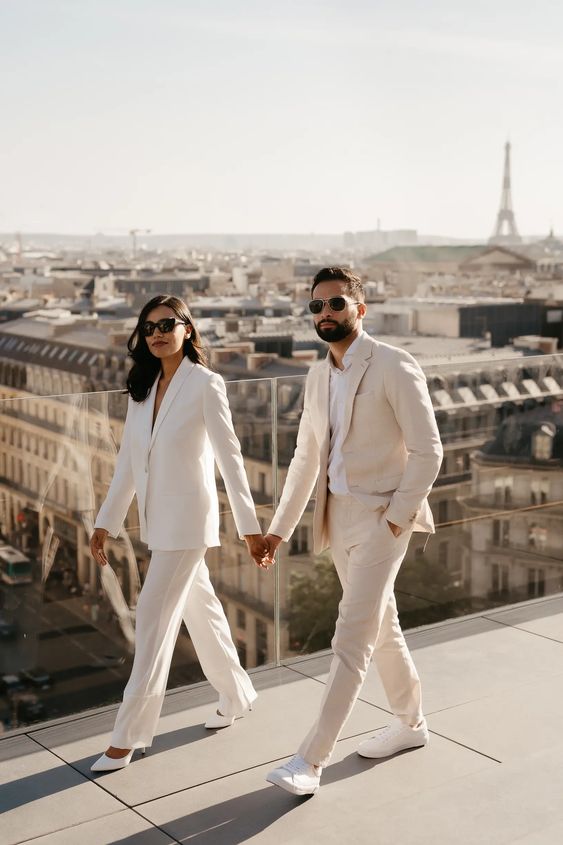 Pastel-hued outfits might perform a miracle as they're both charming and breathtaking. A magical combination of peach, lavender, mint green, and other pastel shades is the simplest though one of the most beautiful outfit ideas for a pre-wedding shoot. 
Ethnic Outfit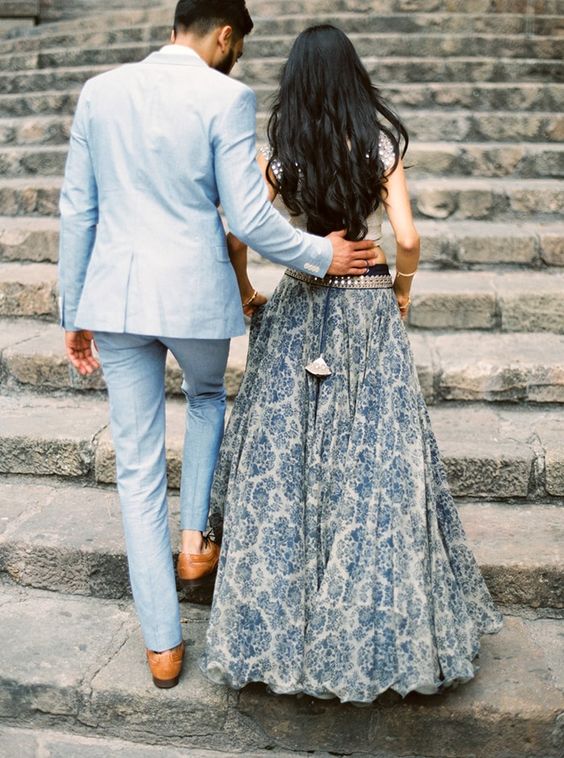 You can kill two birds with one stone as ethnic outfits are always stylish and timeless at the same time. They contain vintage and royal vibe since they tell a lot about your origin, roots, and traditions.
Glamorous and Glittery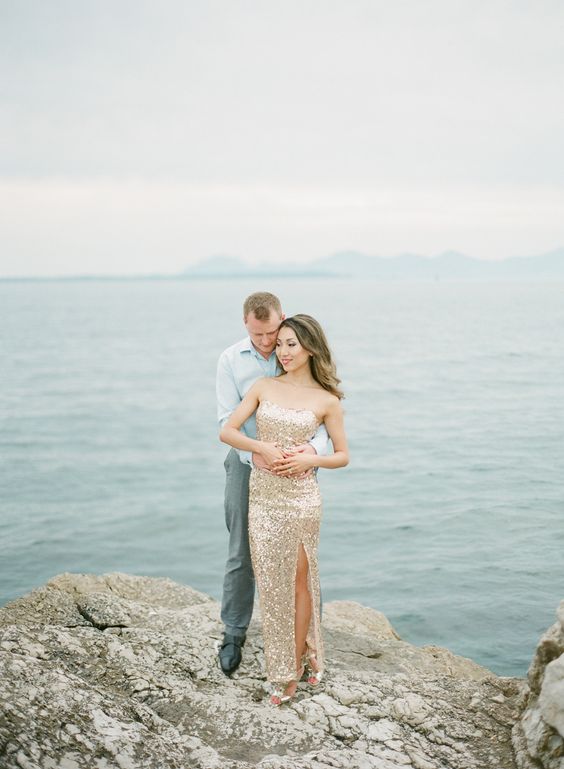 Feel like partying? Let's do it! Colorful, playful, and glamorous - is that an exceptional glittery dress you'll fall in love with? Then pick it! An eye-catching shimmering short dress and high heels will guarantee a 'wow' effect and create an amazing celebration atmosphere.
Formal and Smart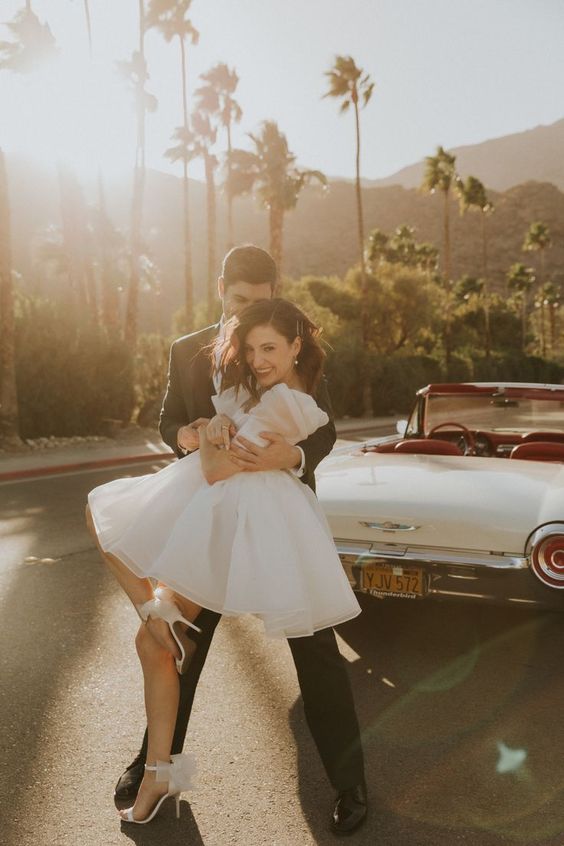 Go for a ballgown and a black tuxedo providing you wish for a classy and smart style. You'll get fashionable insta-worthy snaps you'll be enjoying over the years.
Elegant Red, Black, and White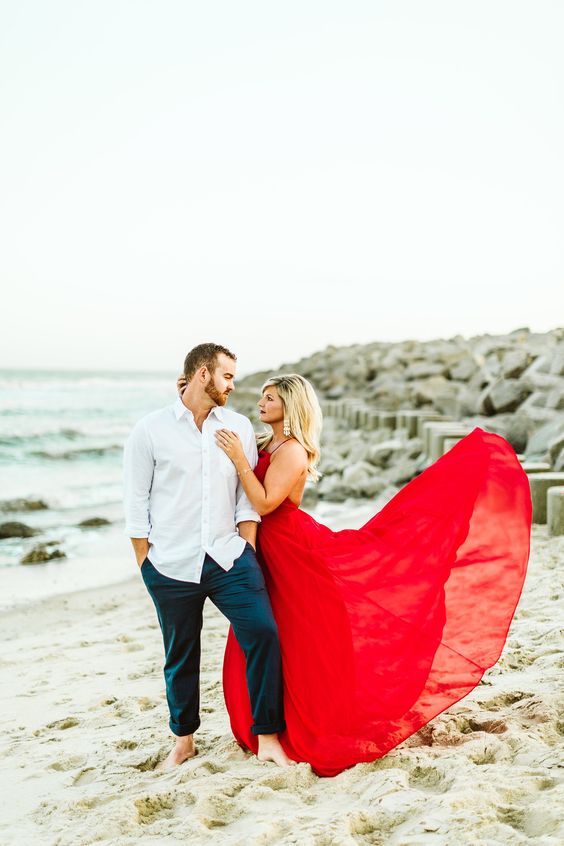 These three are never out of time. Their simplicity is always elegant, stylish, and timeless. 
Retro Style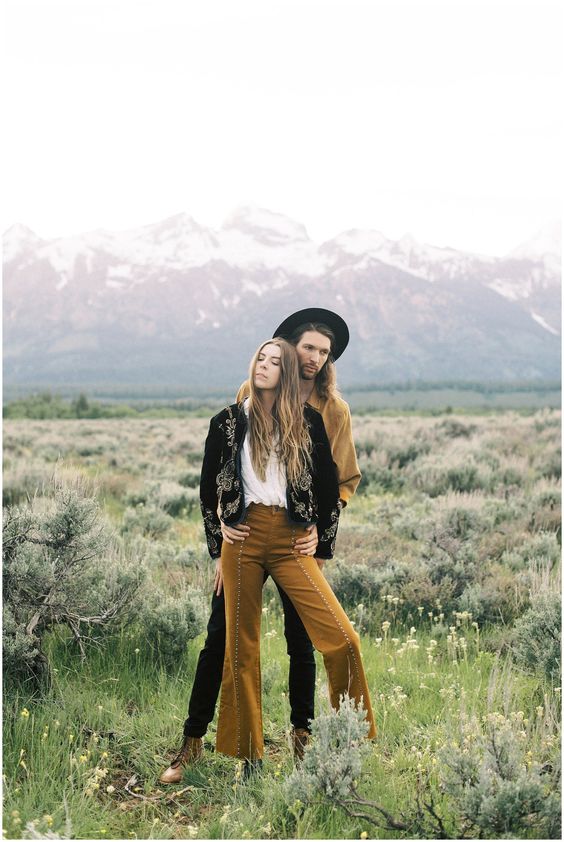 Feel like trying something new? Do you both love experiments and mixing up some styles? Then choose a retro combination as it's quirky and unique.
Wear Whites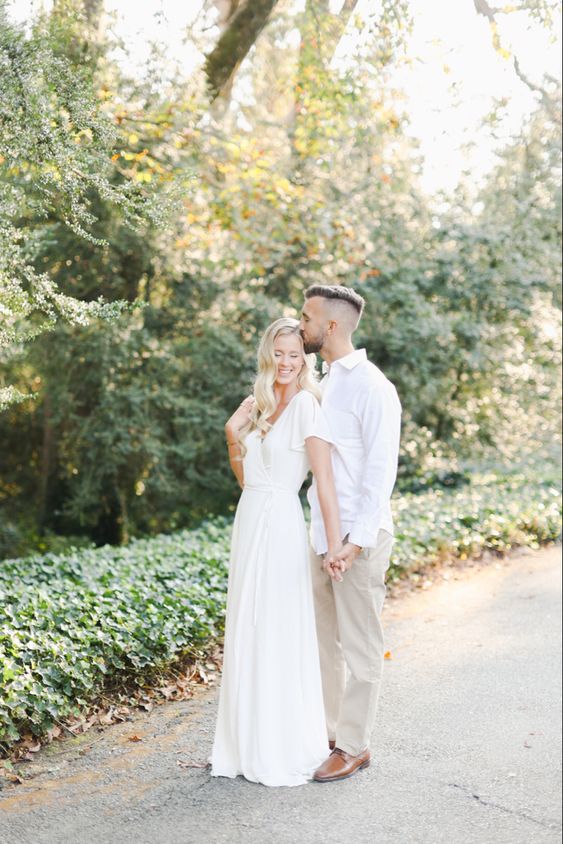 White is always an awesome idea! Its purity will attract all the attention to your facial expressions, emotions and feelings. However white nice shirts, a dress, or even a T-shirt might seem simple, you'll be surprised at the depth of the shots you'll get.
Best Outfits for Outdoor Pictures
Long-tail Gown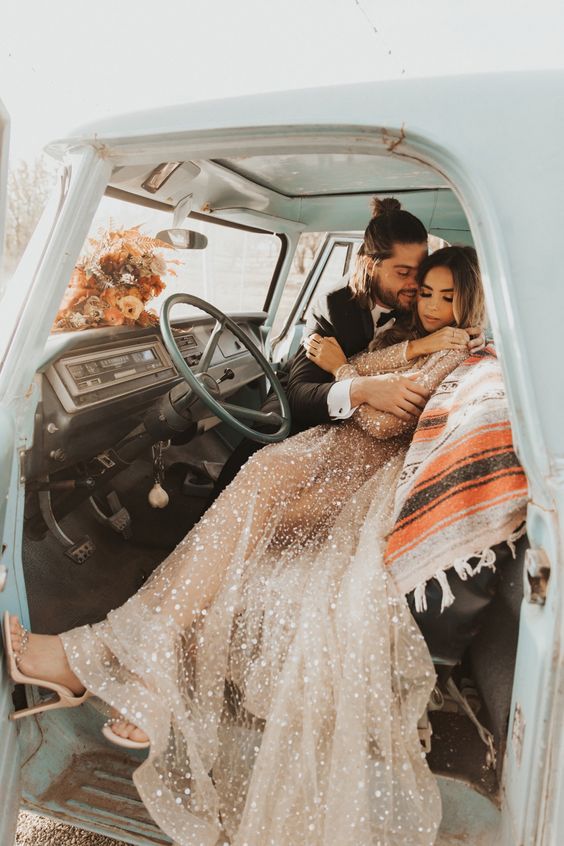 A long-tail gown is adorable and favored by many future brides as they're romantic and outstanding when we talk about pre-wedding couple photoshoots. They look classy and dreamy in most colors, the shapes are also various. 
Flowy Dress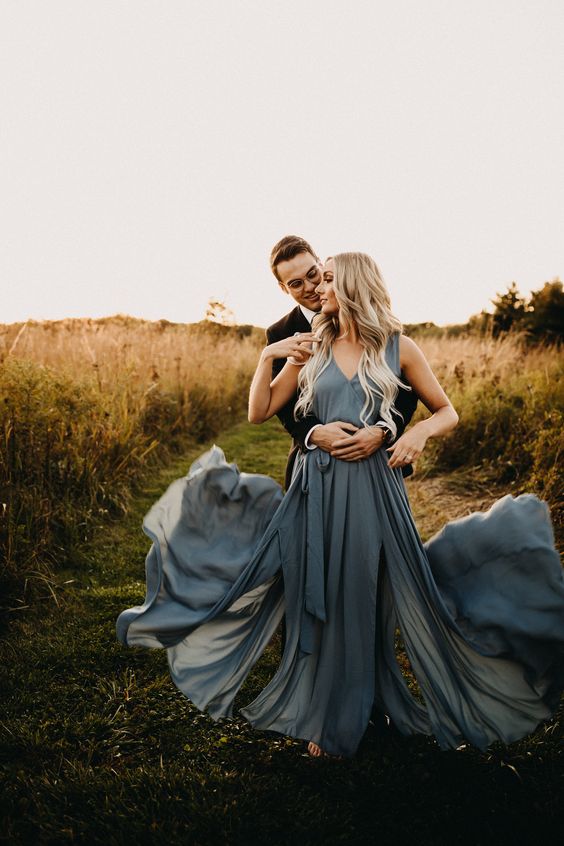 A flowy maxi dress is just majestic. It will give the shots a mysterious note along with the ease of nature. 
Checkered or Floral Summer Dress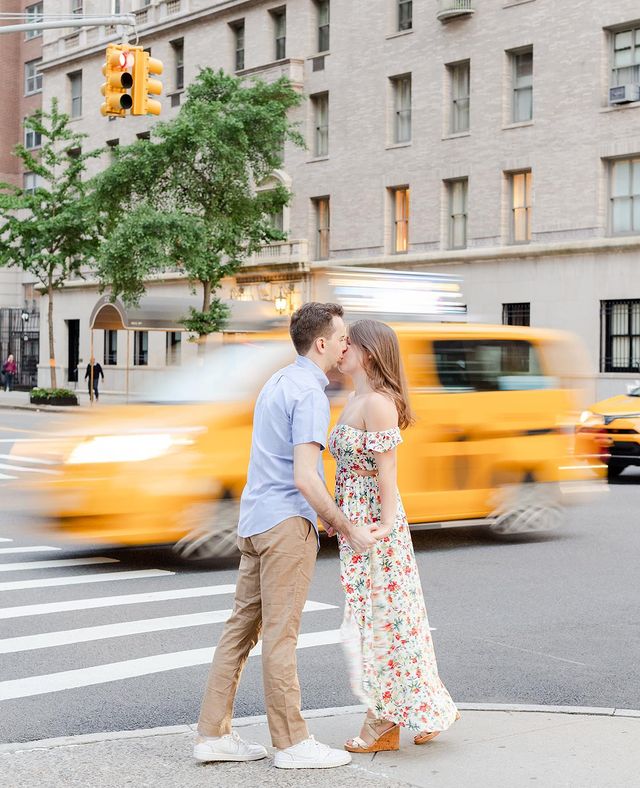 It's one of the best couple photoshoot ideas for summer. Cool prints work well with both bright and pastel hues. Go for a checkered or floral summer dress and a cute straw boater to create a lovely couple look.
Go Sporty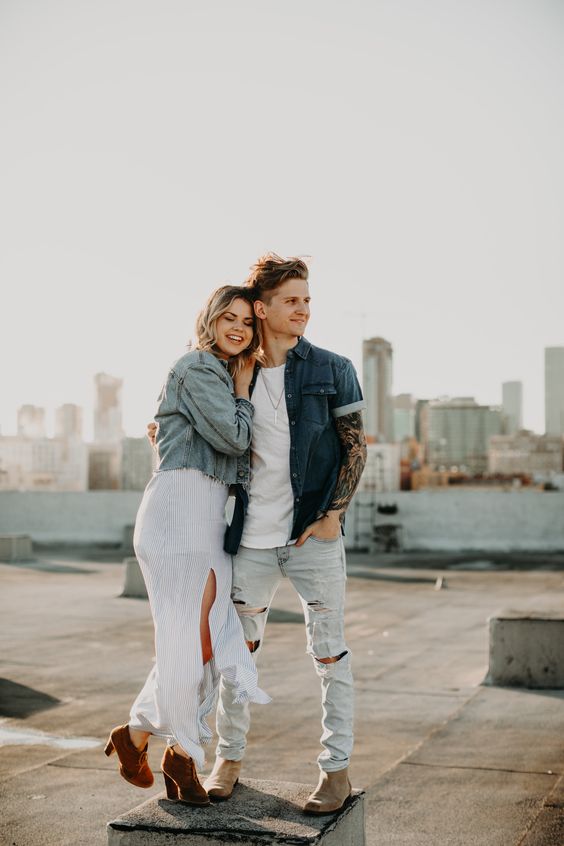 If you both are fit and adventurous, opt for such a pre-wedding shoot theme. Match the colors and enjoy yourself!
Denim Never Fails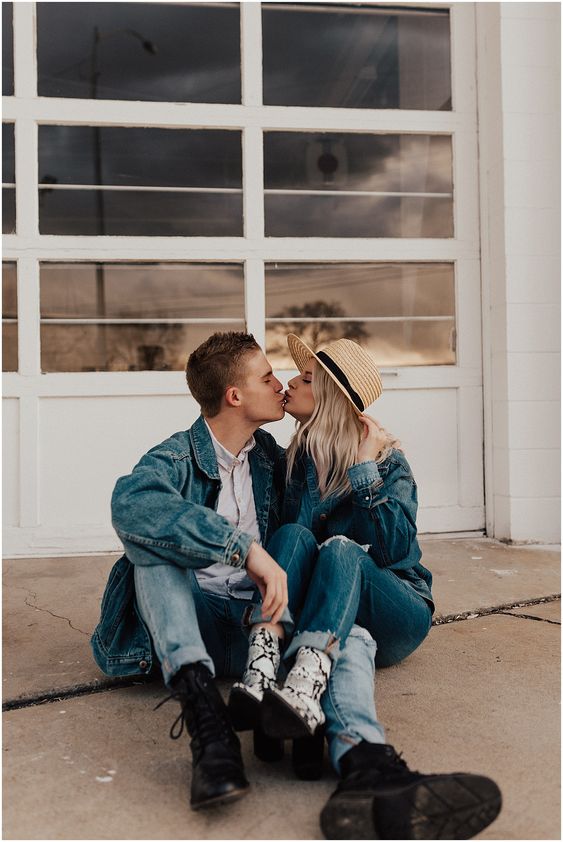 Jeans, white T-shirts, and trainers - what a perfect combination to capture some tender and lighthearted shots for your lovely photoshoot!
Advice and Tips for Your Pre-Wedding Photoshoot
Mind Your Location
Consider the colors, the light, and the style you've chosen. Some bright outfit colors work perfectly for urban photoshoots while dreamy locations need pastel hues. Haven't made a decision about the style and location yet? Get here to read about engagement photo tips!
Coordinate Your Clothes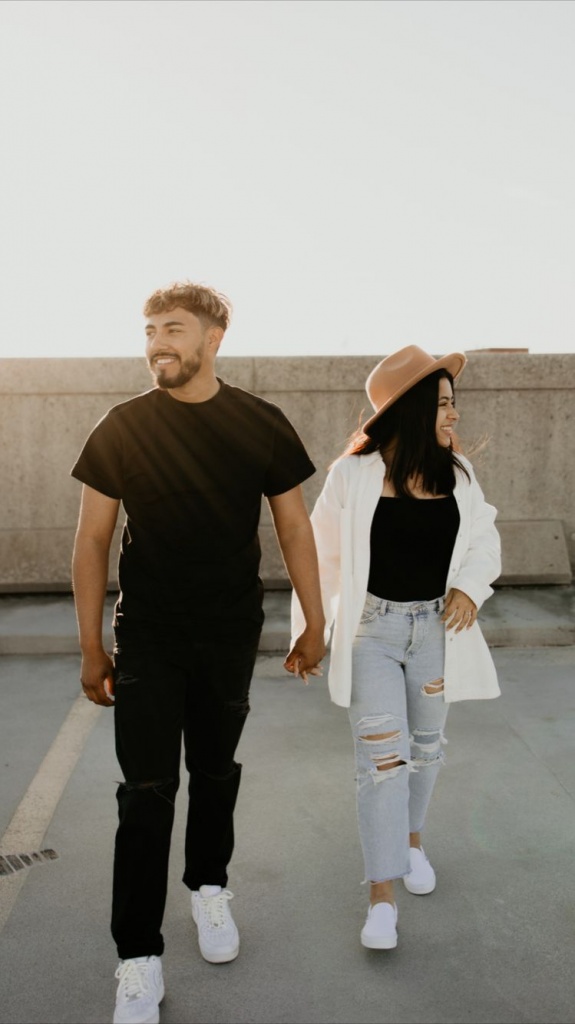 It's vital to coordinate with your partner's clothes as it's not your individual photoshoot. To get gorgeous pictures you should agree about each other's main outfit colors and look harmonic.
Stay Comfortable
Opt for the clothes you feel comfortable to move in and enjoy the process. Do you remember any of your cute and romantic dates? What were you wearing? That's how you can express your own love story and cherish it with some stunning snaps.
Play With Colors
Backdrop matters. Blue waves of the ocean? A green dense forest? A busy city?  Mind the colors and things that are going to be behind you. It's better when the colors of your couple's dress for a pre-wedding shoot don't merge and overlap with the background. For instance, dark red looks amazing with lush green in the background.
Relax and Show Your Style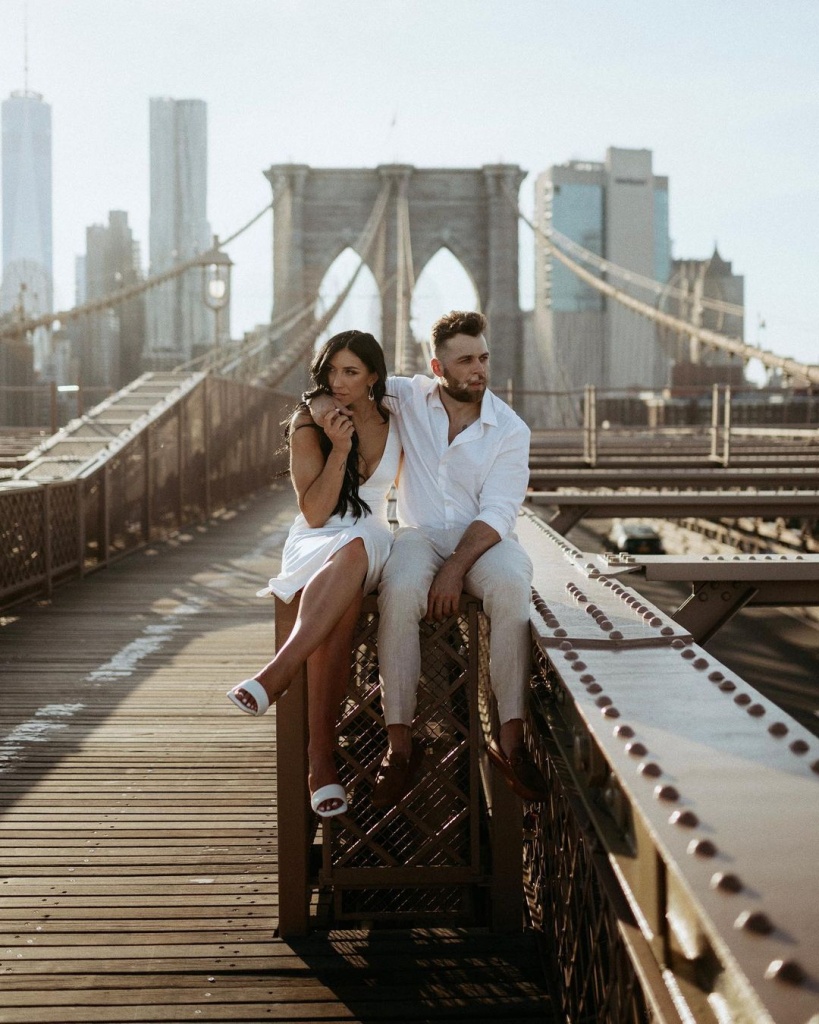 Never play any roles since you'd like to share and save your personal story. Show off your style. You may choose the outfit you wore for your first date or would wear for a casual one. If you go for some more sophisticated options, you still need to feel comfortable in such clothes (e.g. a gown and a suit) and show your candid emotions to get natural photos.