Pre-Wedding Photo Tips & Theme Ideas
Publication date:

06/04/2022

Updated:

03/28/2023
7 Reasons why pre-wedding shoot is necessary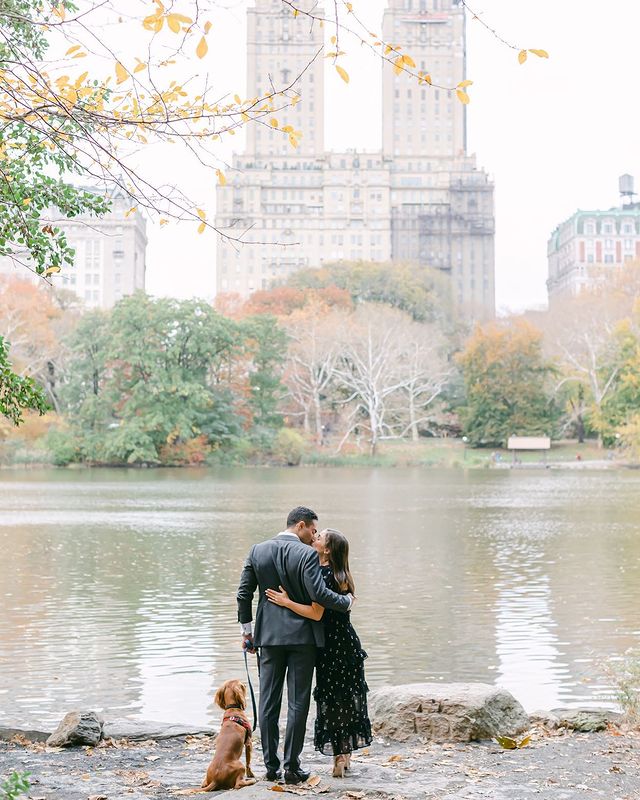 Photo by
Ayenia Nour Photographer
You Feel More Confident
After little practice, you'll feel way more comfortable when you are photographed. On the wedding day you won't have a single spare minute and this skill will come in handy.
You Cooperate as a Couple
Even if you've already had experience in posing alone, being photographed as a couple is another kind of thing. Learning how to cooperate and pose together is vital for getting some stunning shots on the wedding day.
You Build a Connection
Developing a close connection with your wedding photographer means a lot. You're going to spend all wedding day with them so communication here is the key if you want to have gorgeous wedding shots.
You May Use the Shots for the Wedding Purposes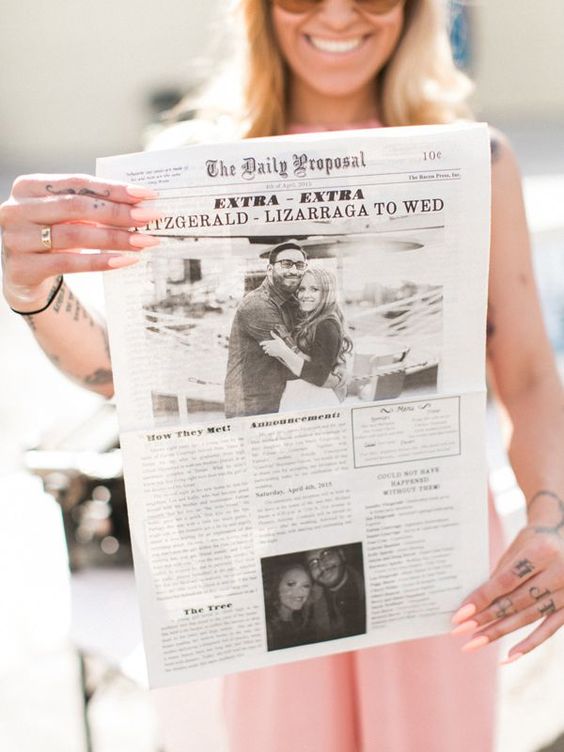 Photo by Rachel Solomon Photography
Wedding cards, invitations, a wedding website…These are only a few aspects where your pre-wedding photos might be used.
You Can Try Other Outfits
Photo by
Brittany Sturrett Photographer
Not only a white dress and a tuxedo have the right to be photographed as your attire. During a pre-wedding photoshoot, you get an opportunity to choose other clothes and a more casual style.
You Get a Special Part of Your Story Captured
Whereas all the attention is paid to your 'big day', the unique engagement period flies in the blink of an eye. A pre-wedding photoshoot is significant in capturing these precious moments and might become an important part of your family gallery.
You Get Unforgettable Experience and Memories
You just spend time together, relax a bit and stop thinking about wedding preparation details!
15 Tips for a Successful Pre-Wedding Shoot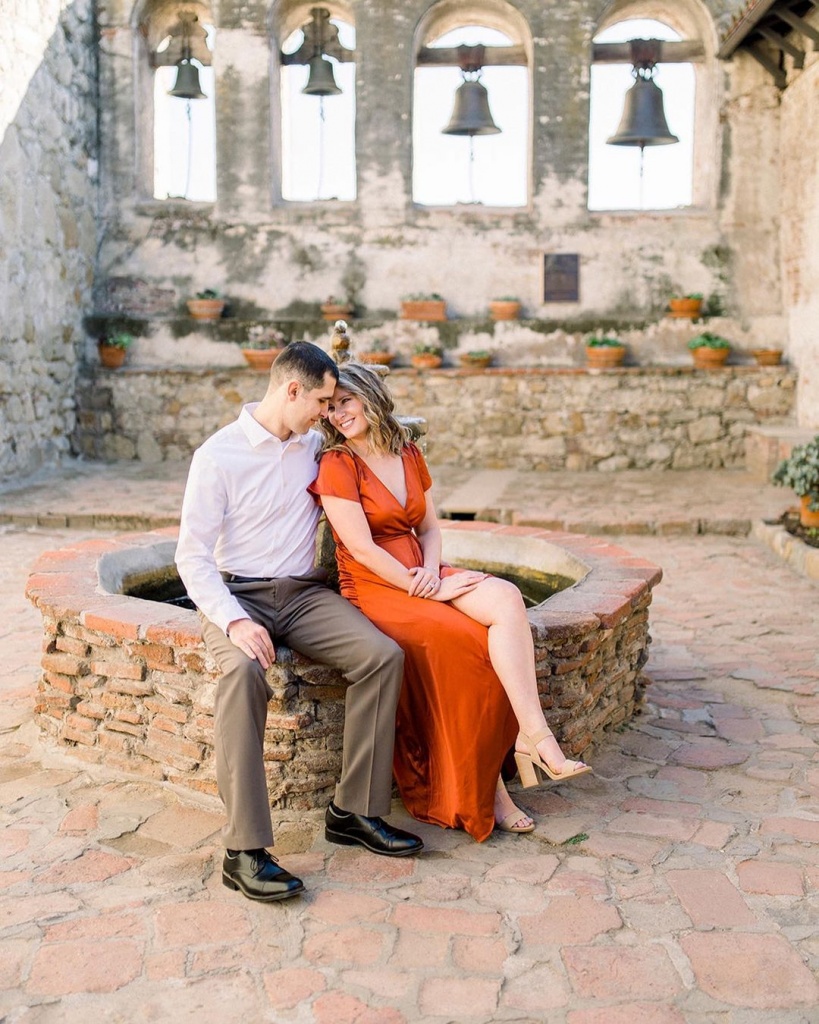 Photo by
Tiffany Longeway
Meet Your Vendor
Meet your photographer personally or at least, via video conference to build communication and get to know them better. Get here to know about some secret tips on how to choose your perfect photographer for a wedding!
Search for the Inspiration
Look through pre-wedding theme ideas on the Internet and opt for the best ones for you. You don't have to copy the total style and the entire idea you've seen. Just look for inspiration.
Opt for the Right Location
Think over the style and shots you'd like to take. There are various themes for photo shoots and consequently various locations that are suitable for them.
Mind Your Real Love Story
Your real love story might be a source of inspiration for creating your theme for a pre-wedding shoot.
Make a List of 'must-have' Shots
Think about poses and shots you'd like to take. Discuss the list together with your photographer.
Choose the Right Clothes
First, choose the style and location and only then opt for the attire. Remember about your comfort during the photoshoot and choose the clothes accordingly.
Try to Relax and Pose
Relaxed posing is highly important. You might feel a bit awkward but only at the beginning. Then try to relax and pose naturally.
Look at Each Other
It might happen that you don't know where to look. Directing your eyes at each other is simple but never fails.
Try a Spontaneous Kiss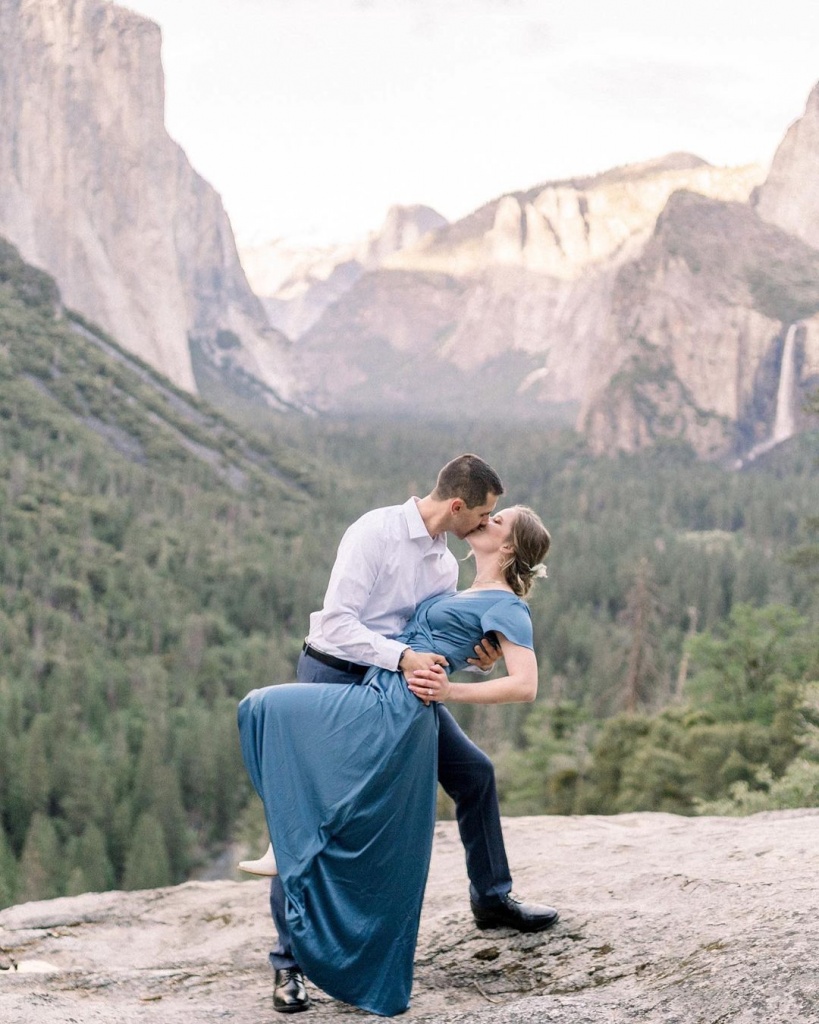 Photo by
Tiffany Longeway
There's nothing better than an unexpected gentle kiss or hug. A professional photographer will catch these precious moments and touches. So, the main thing: don't be afraid to show your feelings in front of the camera. 
Activities vs Posing
Choosing an activity as a basis for the photoshoot might be an option. For example, cooking, roller skating, or walking the dog already includes certain actions and can be photographed. 
Choose the Right Time
Remember about the 'golden hour' rule. The best time for a pre-wedding photoshoot is the sunrise and sunset period when the light is soft and pleasant. 
Be Creative
Forget about cliches. Check and try different ideas. If you think outside the box, you will not only surprise others but also get an unforgettable experience of trying something new.
Try Posing Beforehand
You may try posing to look natural and cooperate. Look through the examples of some good universal poses and imitate them.
Listen to Your Photographer
Trust your vendor, listen and hear. They can be your guide and help you make the best shots.
Enjoy the Process
Perceive the photoshoot as a unique opportunity to spend time together and enjoy the moment.
Which is the best place for a pre-wedding shoot?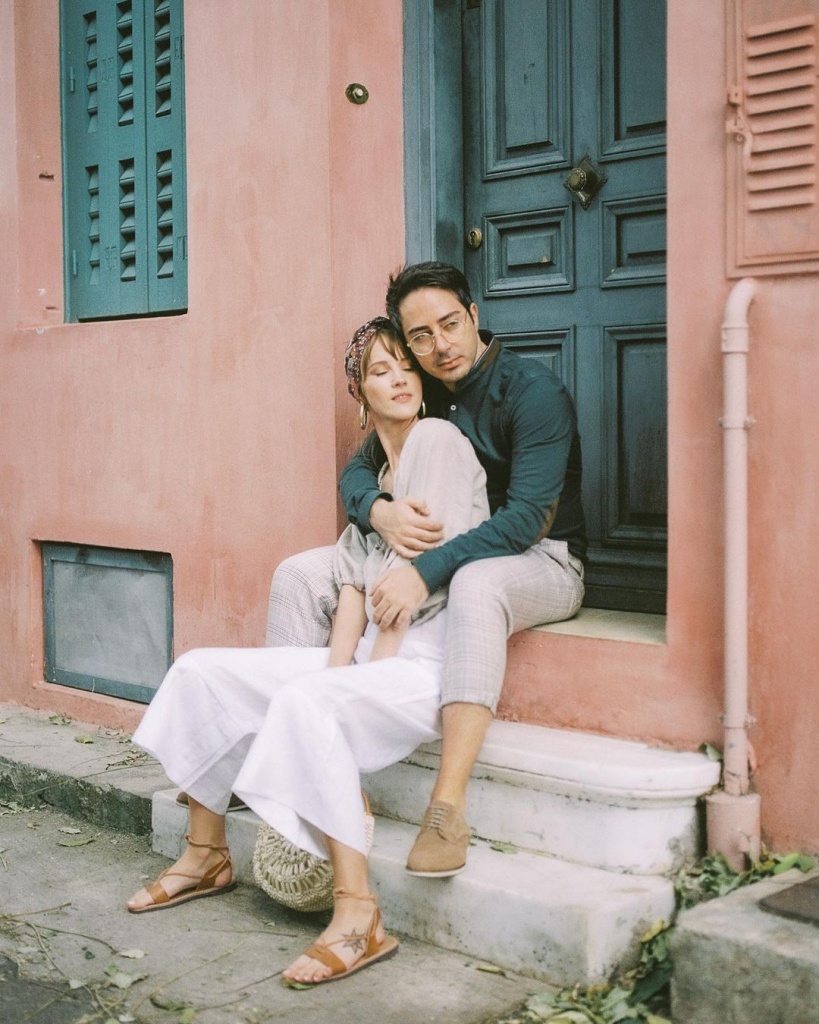 Photo by
Lauren Marks
Emotional Connection
One of the options is to choose a location that is special for you in the emotional aspect. It can be the place of your first meeting, date, or kiss.
Mind the Style and Theme
Location plays a key role in the overall picture you get. So, before going for the final one, mind how corresponding it is to the theme.
Best themes for a pre-wedding shoot
A Fairytale
Photo by Eric Cheng Photography
Feel like creating an image of a princess meeting her soulmate and living happily in a castle? Choose such a topic and you won't regret it! You'll need a castle as a backdrop and some romantic and lovely outfits, as for Disney characters. Create your own fairytale and capture it to save forever!
Architecture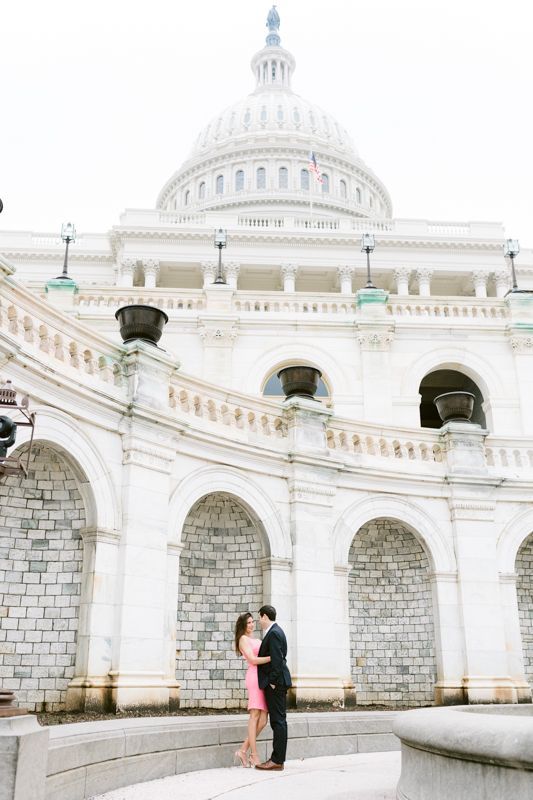 Photo by Marie Windsor Photography
Stunning architecture, gorgeous museums, and huge buildings are not only a piece of art, worth admiring. Such places are extremely popular for taking pre-wedding thematic shots. Check the locations nearby. There must be something suitable for you if you love such an idea for a pre-wedding photoshoot.
Nature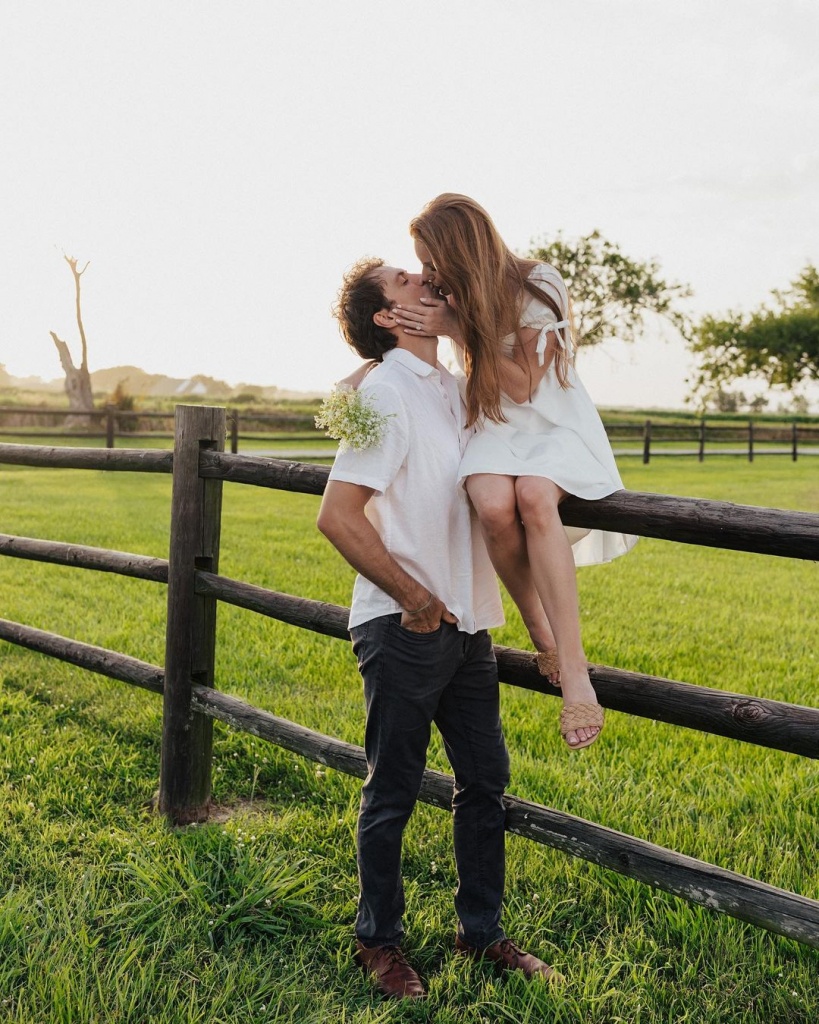 Photo by
Anaice Photographer
Opting for a good-looking natural landscape is always a great idea! Simple and laconic greenery or blooming fields are both romantic and look exclusive, outlining your unique story.
Beach Theme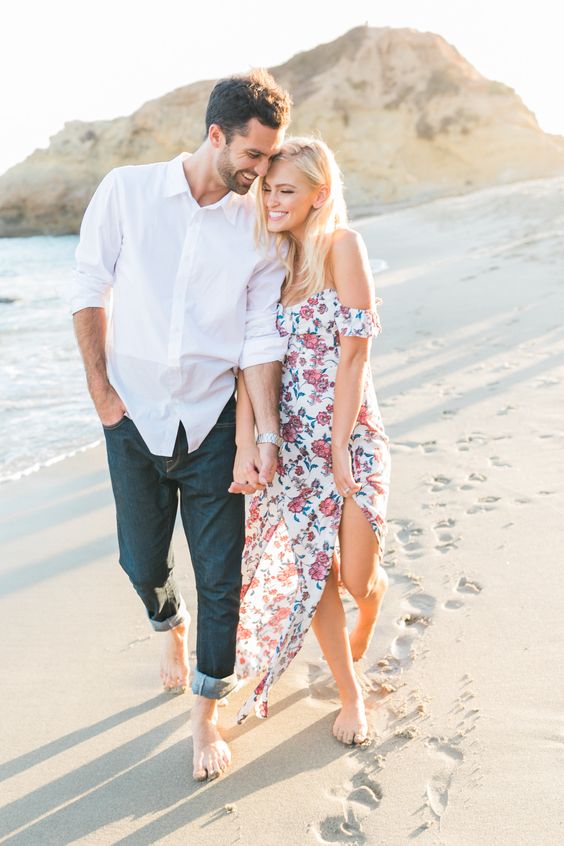 Photo by Hannah Wesby | @Elatephoto
Water drops, the ocean, the blue sky, and sand do create a story! Some playful shots are always good-looking and water is known to be great relaxation.
Take Your Pet!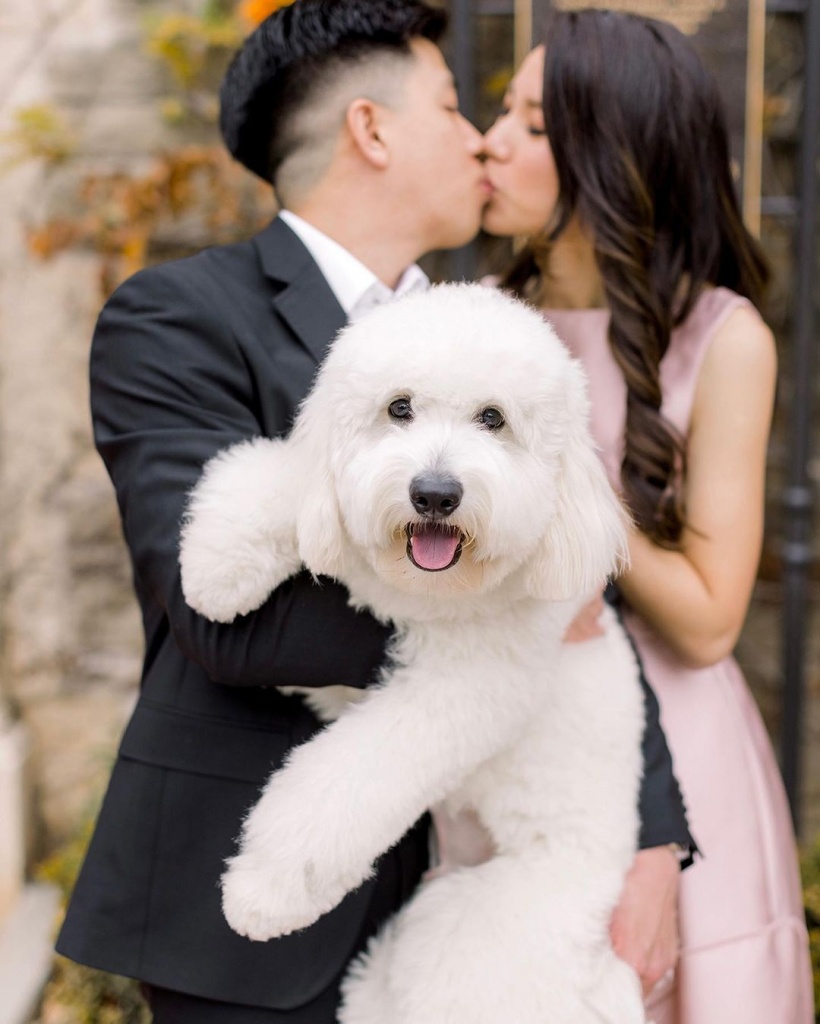 Photo by @loveandyoustudios
Always a fresh, attractive, and super lovely idea that works for many couples. Involving a pet as a theme for your pre-wedding shoot means creating dozens of additional and stylish photographs composed in a natural way because you will be interacting with your pet and automatically create breathtaking pictures.
Home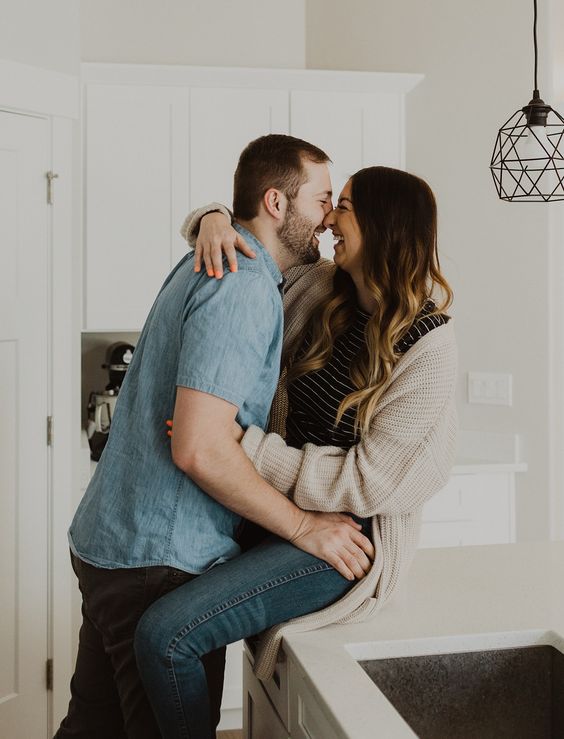 Photo by CHELSEA ANDERSON
Are you a type of couple, feeling comfortable and cozy at home, having hot tea, kissing, and cuddling? A lovely pre-wedding photoshoot either in a small flat or in a big house is the right decision for you! Prepare cute pajamas and mugs, and have some fun!
A Night Photoshoot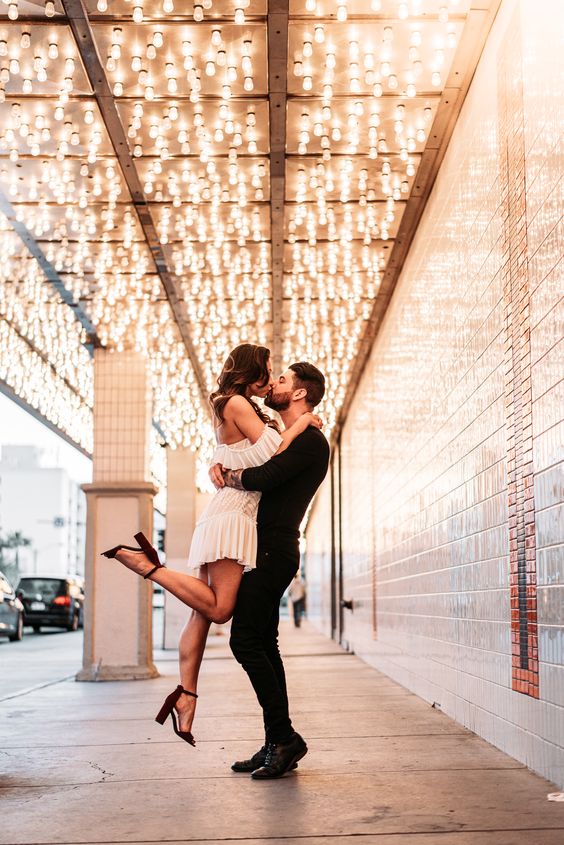 Photo by @robieeziegler
It's not that easy to catch such shots but still possible. Your photographer must be equipped accordingly, plus choose the right location. Use all the best features of the night to express its romantic mood.
Underwater Pictures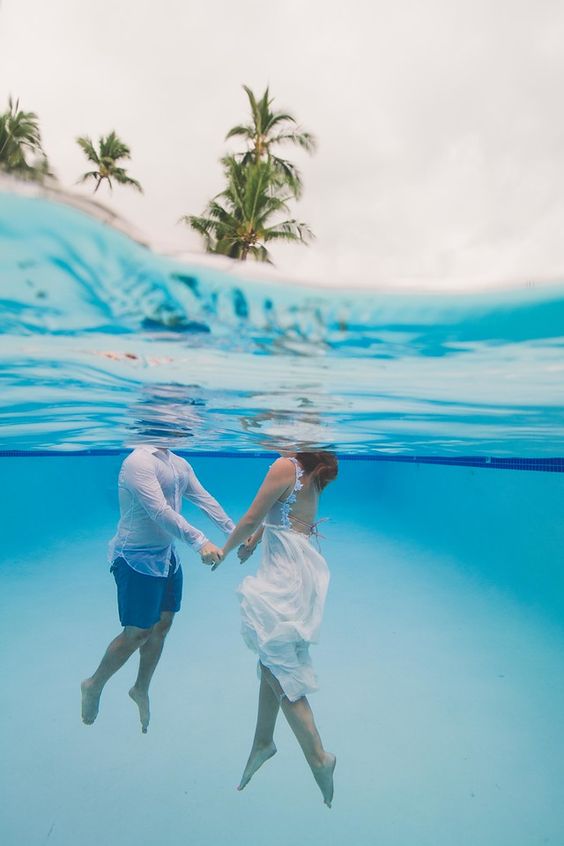 Photo by Kristy Taylor of Maui Maka Photography
Underwater photographs look outstanding, though it takes quite a lot of effort to realize such an idea for a pre-wedding shoot. It might even take hours to get a few pretty good shots.
Amusement Park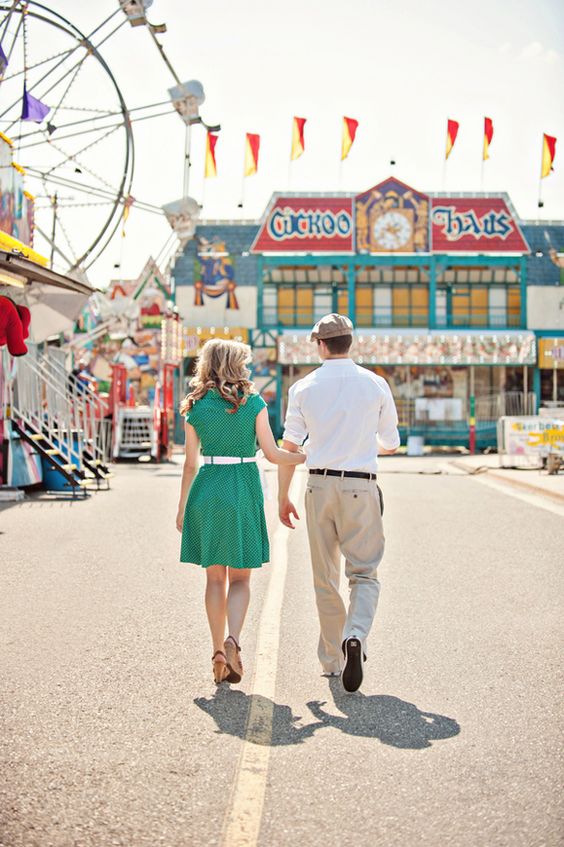 Photo by Leah Moss Photography
Bringing back the childhood memories a pre-wedding photoshoot in an amusement park will give you quite romantic and innocent images with pure tenderness and will show just your most gentle feelings.
Food Lovers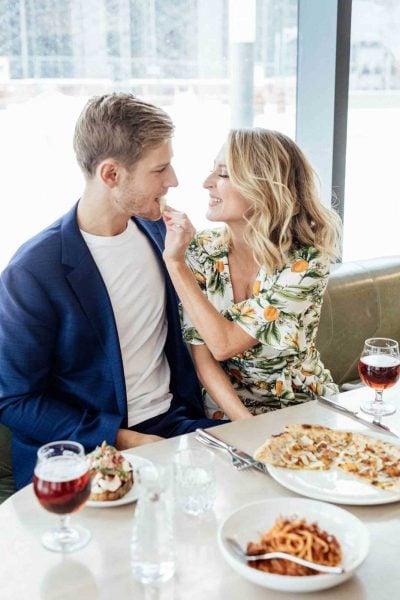 Photo by Bettina Bogar
Are you picky eaters and do you cook a lot together? Why don't you capture such a process? Look for the appropriate references and think over your outfits and cooking equipment to make everything attractive enough to be photographed!
Picnic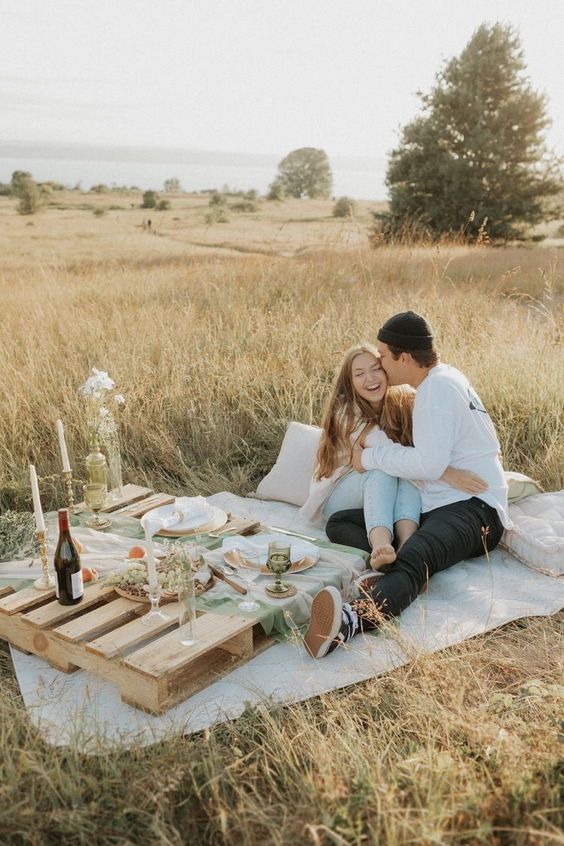 Photo by Brooke Nalani Photography
Simple and still very cute! Here the world is your oyster - you have plenty of ideas about what to wear and bring! Choose a tranquil location and just enjoy your picnic!