50 Fall Wedding Photography Ideas Every Couple Needs To See
Publication date:

09/10/2022

Updated:

01/05/2023
We have listed helpful tips you can take into account. Let's see them below!
Create a photography schedule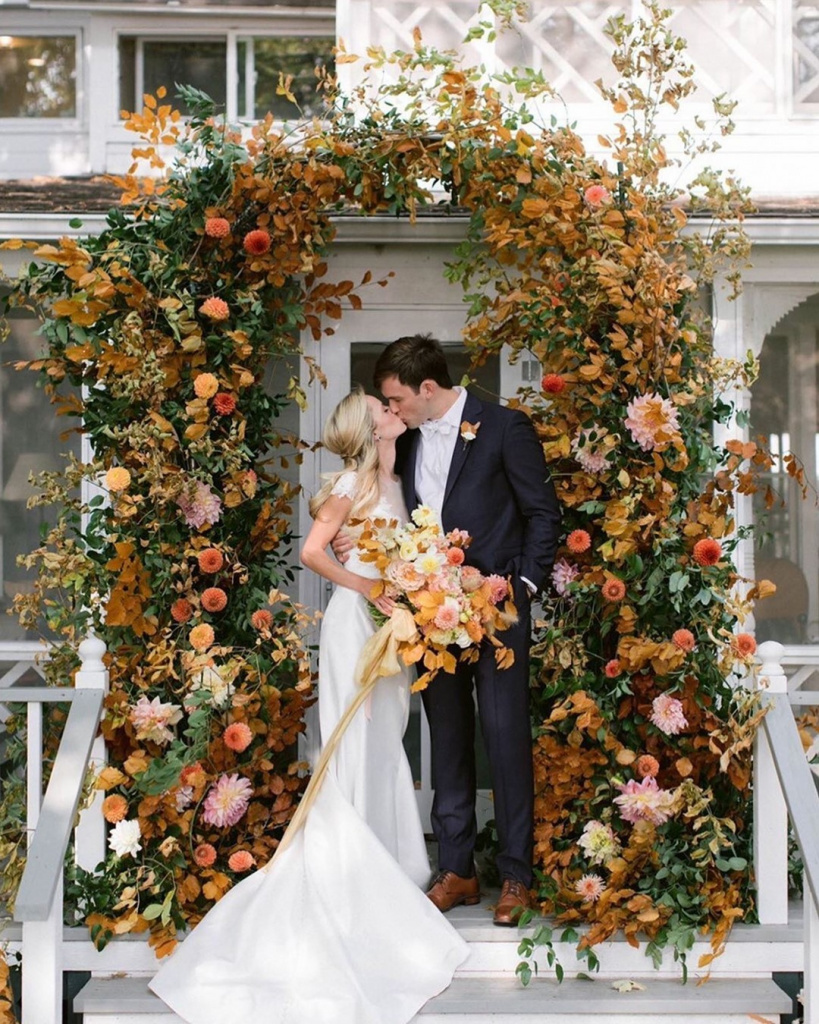 A photography schedule will guarantee you take a great fall wedding photoshoot. At this time of the year, the days become short, so you have to plan well when you can organize your wedding photoshoot. Find the perfect hours to get daylight shots. Don't forget to discuss a fall wedding photography schedule with your photographer!
Have a plan B
Fall is a beautiful and magical season but also very unpredictable. It can be beautiful sunny weather, but it can also be cloudy and raining hard. Thus, you should be flexible and prepare a plan B in advance. If you cannot take the fall wedding pictures outside because of the bad weather, consider doing it on another day.
Capture the golden hour
The golden hour is the best part of a fall day for your fall wedding photoshoot. It is a time of the day when beautiful, warm, golden light creates a picturesque atmosphere. At sunset, the light takes on a golden-orange color, while at sunrise, its color is pinker. Use this feature of the sun, and your photos will look divine.
Benefits from fall nature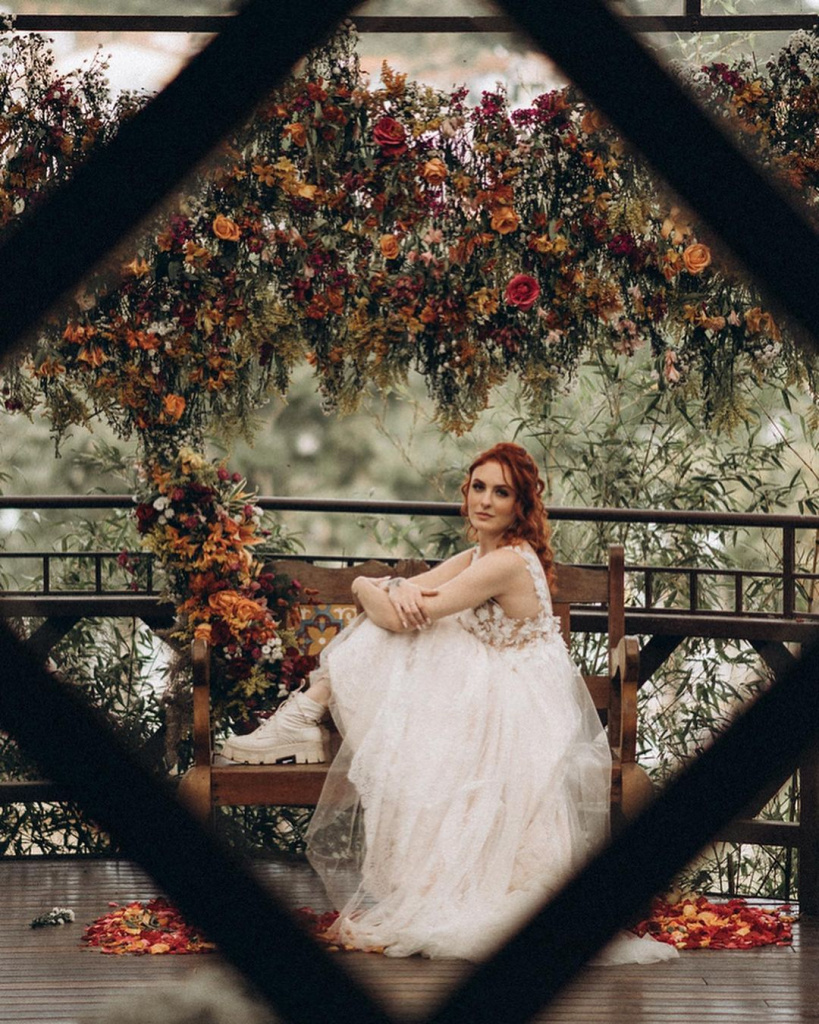 The scenic fall nature is the perfect background for wedding photography. Choose some locations with a natural landscape, showing the chemistry of fall colors. Parks, forests, and even mountains are great places to take photos, as there are usually different locations for posing. Be sure these places add a beautiful atmosphere to your wedding photos.
Use fall decoration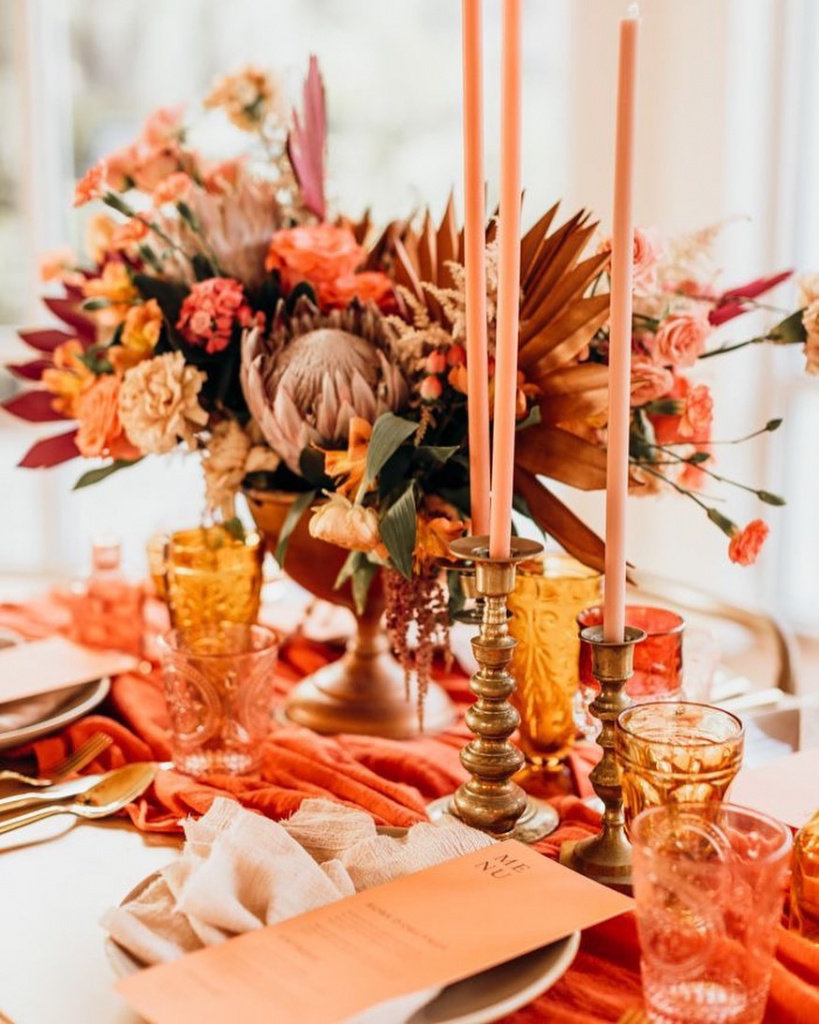 Complete your wedding with seasonal decorations. Think of adding the fall elements, such as fall foliage, flowers, seasonal fruit, and vegetables, to your wedding venue. Their green, brown and reddish tones create a magical combination, which will look gorgeous in your wedding photos.
Incorporate fall colors into your wedding looks
Try to incorporate fall colors into your wedding looks to give a touch of the season to your photos. The bride can choose a French-sleeve dress in pastel tones and complete the image with a bridal fall bouquet in deep tones. Meanwhile, a groom can wear a brown suit with a dark red tie.
Wear a jacket or shawl
Wearing a jacket or shawl is a must-have for a fall wedding photoshoot. As the temperature is variable in the fall season, you should avoid freezing and keep warm. Wear them and feel comfortable all the time.
The other fall wedding photography tips:
Pose confidently for wedding photos.
Make sure you look perfect.
Be natural, relax and have fun.
Stunning Autumn Wedding Photo Ideas
Fall is a wonderful time of the year when nature is full of warm colors and nostalgia. Fall wedding photography can boast a vivid palette of red, orange, gold, bronze, or purple. And unusual locations, accessories, and attributes will only give you unforgettable photos for a long time.
Get inspired by our unique fall wedding photo ideas!
Wedding photoshoot in a castle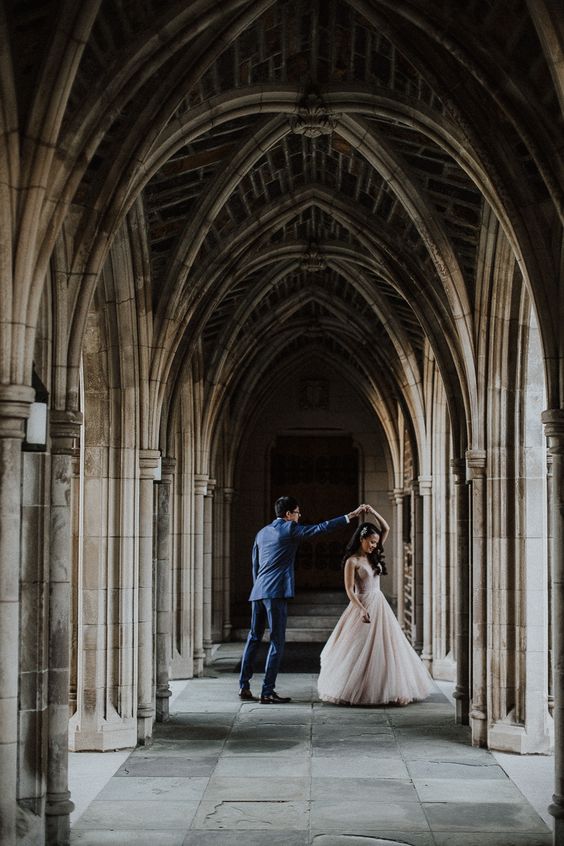 A wedding photoshoot in the castle gives a fantastic impression of a historical atmosphere and fascinating architecture. Majestic walls, charming courtyards, wrought iron benches, pergolas with climbing flowers, and historic interiors allure couples to prefer wedding photography with a touch of romanticism.
Wedding photoshoot in an old mansion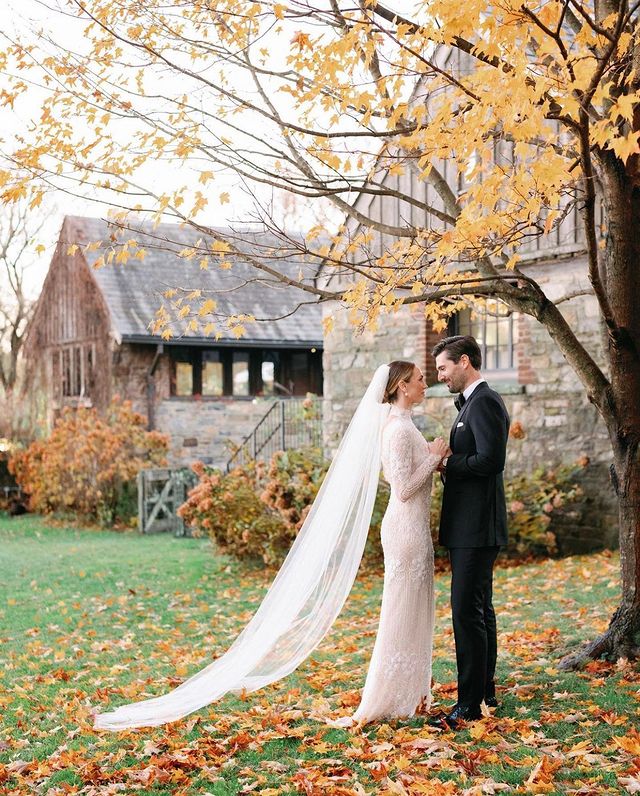 An alternative for those who like historic interiors and dream of an elegant outdoor setting is an old mansion. It is usually abandoned and forgotten, but still charming and intriguing with its hidden beauty. This place can become a secret and magical background for your fall wedding photos.
Wedding photoshoot in the park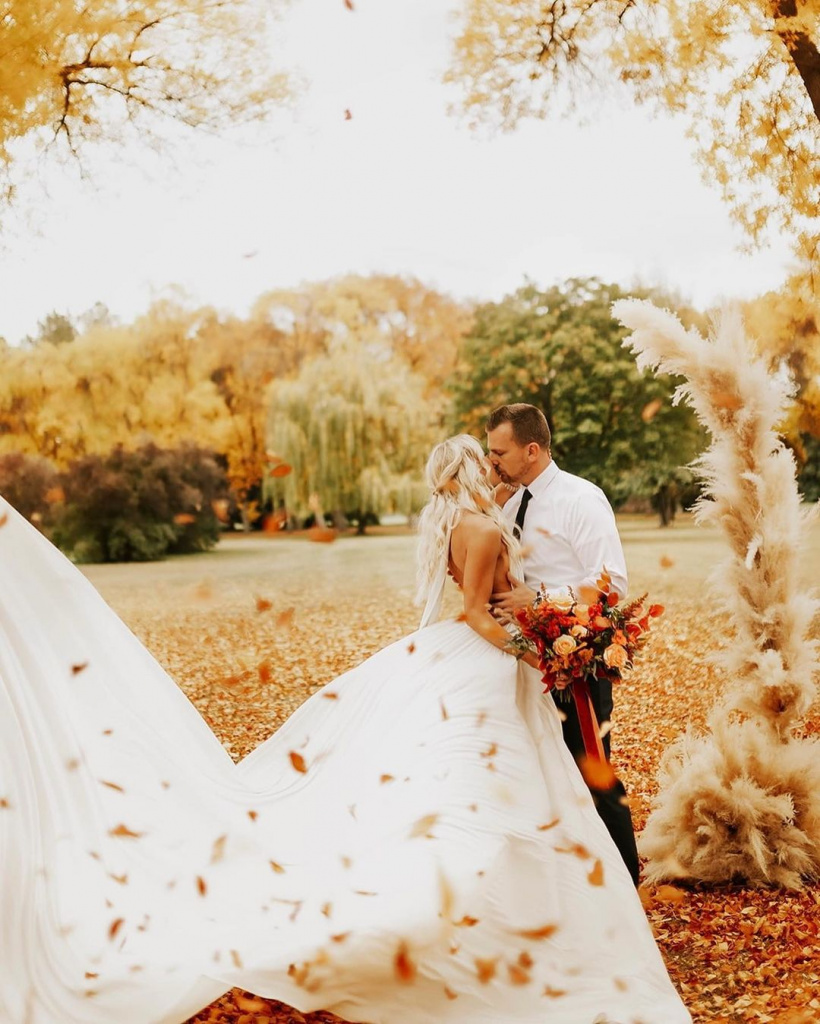 Parks boast magical colors in the fall season. Trees of gold colors, paths full of fall foliage, and small ponds with ducks are perfect outdoor backgrounds for fall wedding photos. Try to find a park in the place where you live or in the surrounding area. You can walk there, toss leaves up, and the photographer will capture the best moments of your fall wedding.
Wedding photoshoot in the forest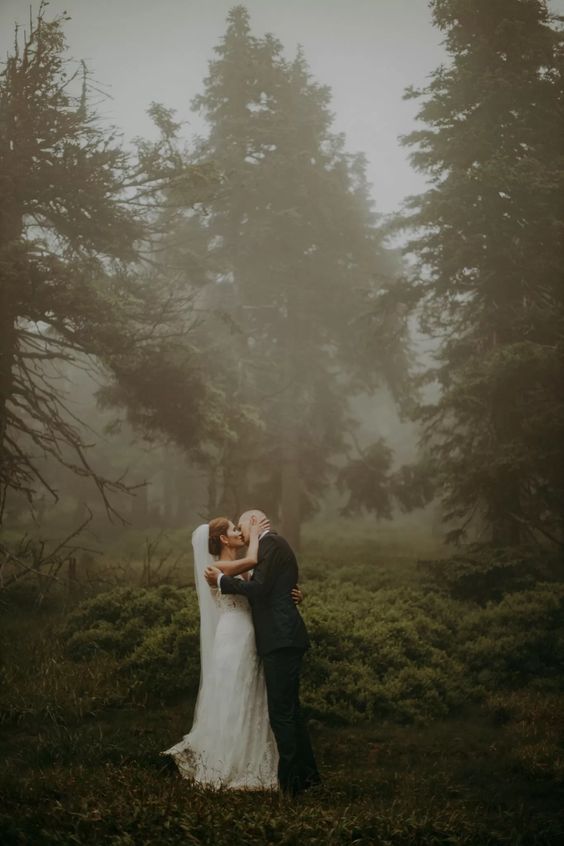 Another place for fall wedding photography is the forest. Fallen trees, shapeless branches, soaring trunks trying to touch the clouds, small meadows illuminated by the sun, or a road with fallen leaves crossing the vastness of the forest are what will create the effect of magical wedding photos. The ideal accessory for the photoshoot in the forest will be an oil lamp and a candle. Just take them with you for a forest walk and do a wedding photoshoot in the fall aura.
Wedding photoshoot in the heather
The heather blooms attract with their unobtrusive delicate tone of purple and memories of herbal tea with dark heather honey. It is a beautiful idea to step into the blooming forest meadow to mingle with the purple colors and capture them in your wedding photos. Heathers, touching your feet, heathers in bouquets and the bride's hair, and heathers in wedding decorations inspire newlyweds to have a fabulous purple wedding photoshoot.
Wedding photoshoot in the meadow
A meadow is a perfect scenery for sentimental photos. In the fall, they change beyond recognition. You can see that brown, yellow, gold, red and purple colors reign instead of green and create the fall atmosphere. Use accessories such as warm sweaters or vivid blankets and take with you two cups of tea to get a more stunning effect.
Wedding photoshoot in the mountains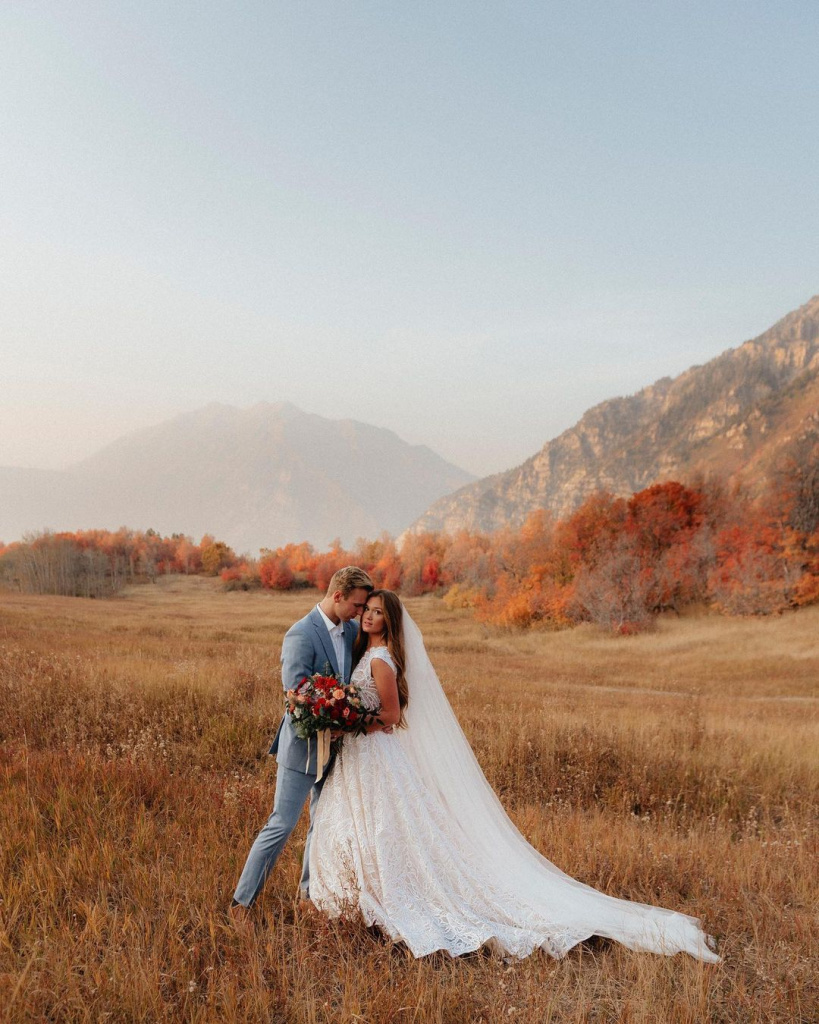 Do you like climbing? Then an outdoor wedding photoshoot in the mountains is something for you. In fall, majestic peaks, wide space, beautiful views, and rising or setting sun, softly placed over the mountain ridges, attract wedding couples who want to immortalize their love. Here, you can take perfect fall wedding pics with a touch of nostalgia.
Wedding photoshoot by the sea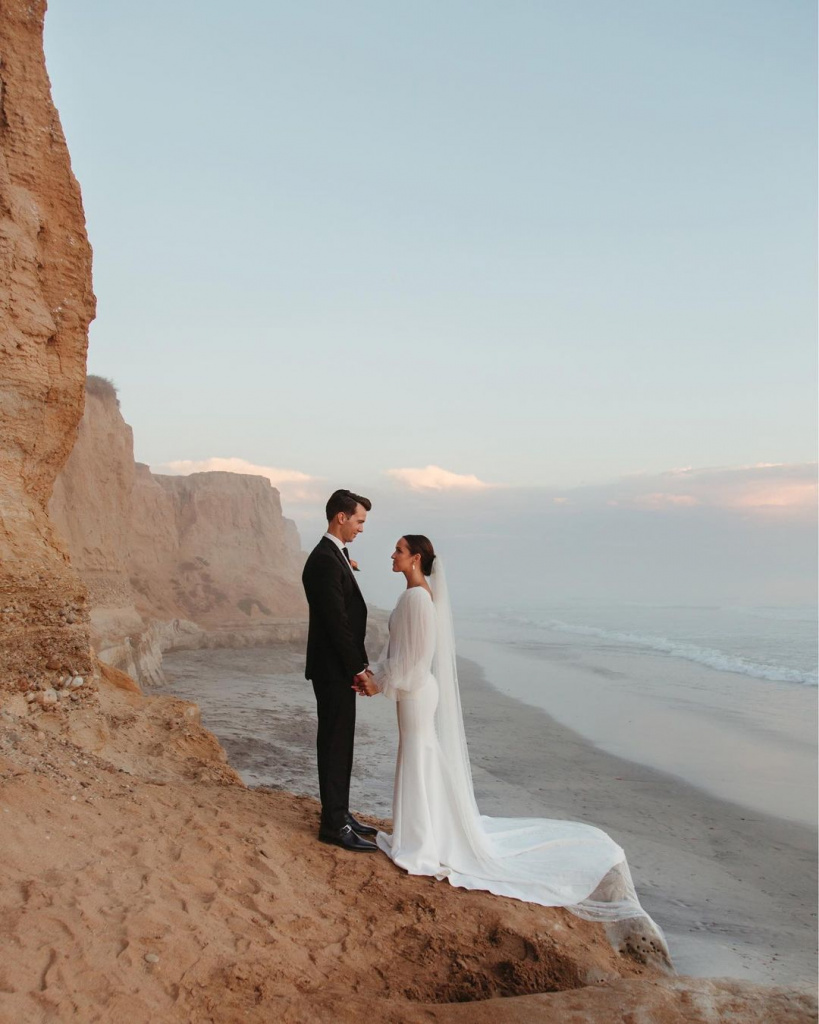 Walking along the fall beach, which becomes empty and quiet, is one of the great wedding photo ideas for couples. A sandy coast, sea waves, the sound of water, the wind in your hair, and the wonderful color of the sky just before the sunset are all that create magical scenery for a romantic wedding photoshoot. Prefer this place that can stop time in the frame of your wedding photos.
Photographing with animals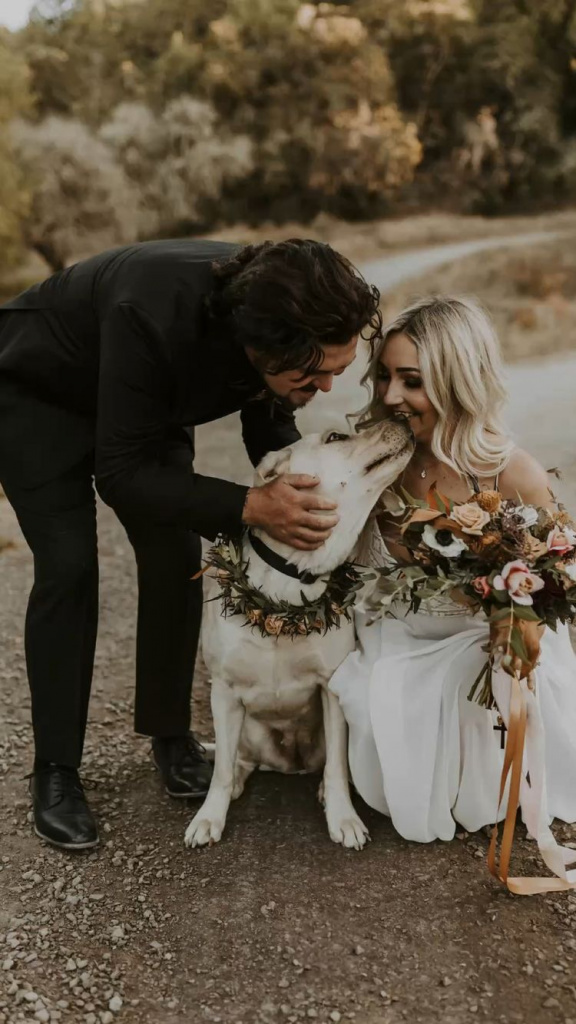 It is worth adding photos with animals to the wedding album. Of course, the first thought is foxes and squirrels because these redhead animals are associated with the fall season. The last ones can be easily found in a park. A red kitten will also perfectly match the mood of fall wedding photography. Don't forget to take photos with the wedding symbols such as swans and pigeons that personify pure love.
Wedding couple on horses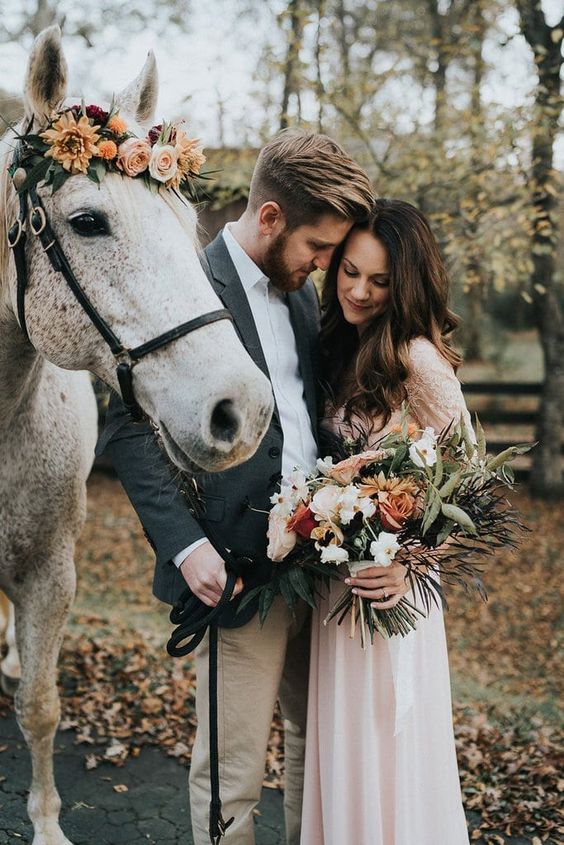 Horse riding will provide you with marvelous photos for your wedding album. The charming bride and groom on horses will look like fairytale characters. Use your imagination to create a fall wedding photo report about the meeting of a beautiful girl with a prince, who pulls her up on his horse and takes her away to his castle.
Pumpkin farm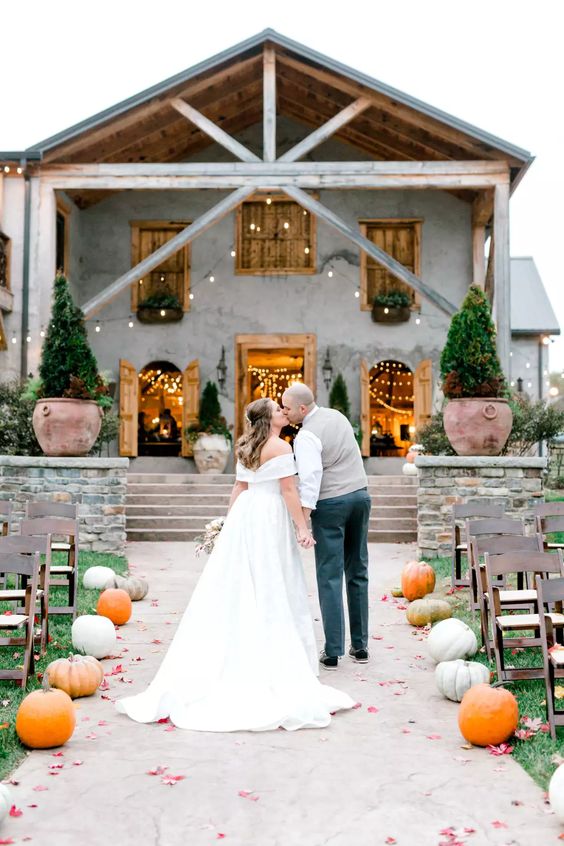 Pumpkins are always associated with the fall. It is a place where the beautiful golden hour blends wonderfully with the orange pumpkins to create a typical fall atmosphere. The wedding couple will look amazing in the background of a lovely pumpkin field at sunset. So, let's find the pumpkin farm nearby and go there.
Golden sunlight in wedding photos
A great advantage of a fall wedding photoshoot is light. It becomes milder than in the summer, and the golden hours, which are so loved by photographers, start much earlier. As a result, the subtle light combined with the beautiful fall nature gives a perfect effect to your wedding photos.
Wedding photoshoot in cloudy weather
The newlyweds can take photos not only on the golden fall wedding day, which exudes red, yellow, and brown colors but also on cloudy ones. Do not be afraid of rain, wind, and cloudy weather. The wedding photos in this dark atmosphere are enigmatic and stand out among others.
Photographing in the fog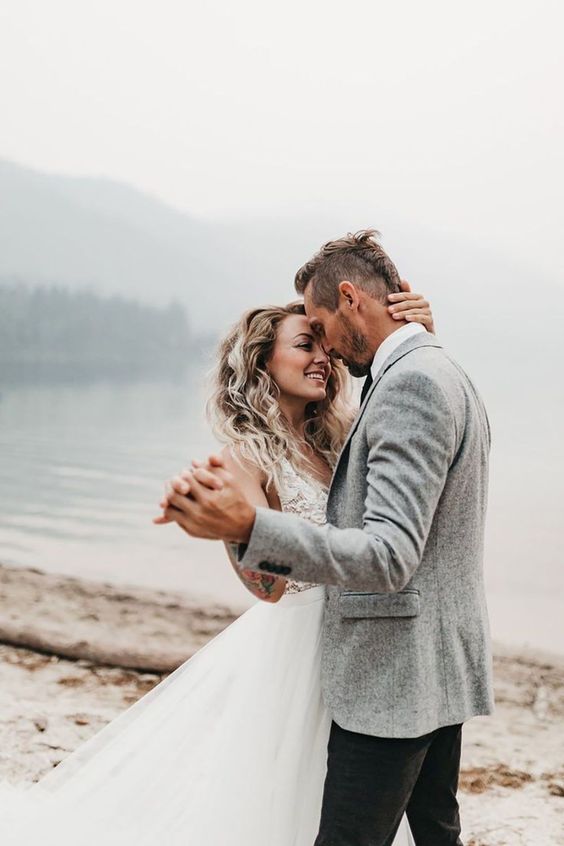 Fall fog is an ideal scenery for couples who value romanticism and the transience of the moment. It creates a climate of mystery and silence. In the fog, you can see the golden sun rays and the blurred silhouettes of the wedding couple. Even in twilight and inclement weather, fog provides an ethereal background.
Wedding photoshoot in the rain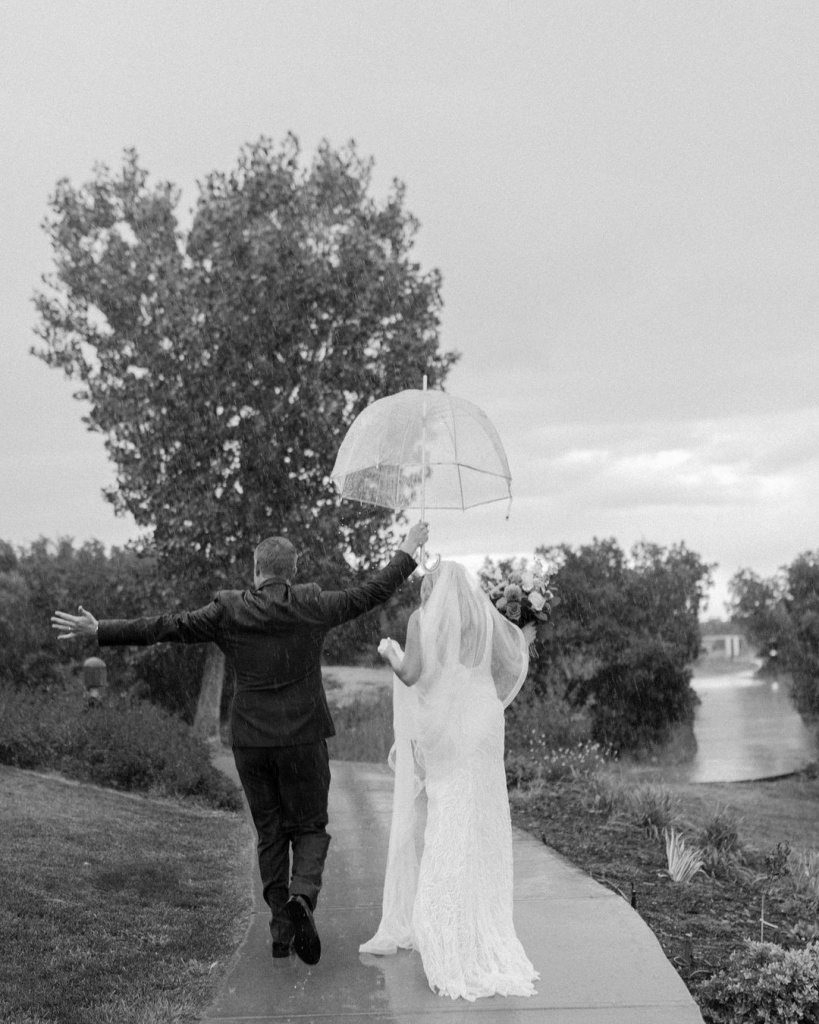 Is it raining on the day of the wedding photoshoot? Don't be afraid that unfavorable weather will spoil your photos. All you need is an umbrella and wellies, which help create the atmosphere you want. It can be funny, dark, or even elegant wedding shots. The effects will be amazing, and you will find these photos in hardly any wedding album.
Fall Wedding Images Every Bride Must Take
Every bride wants to look beautiful in her wedding photos. But many of them often do not know how to achieve it. Let's take a look at our must-haves for fall wedding images that every bride wants!
Bridal portrait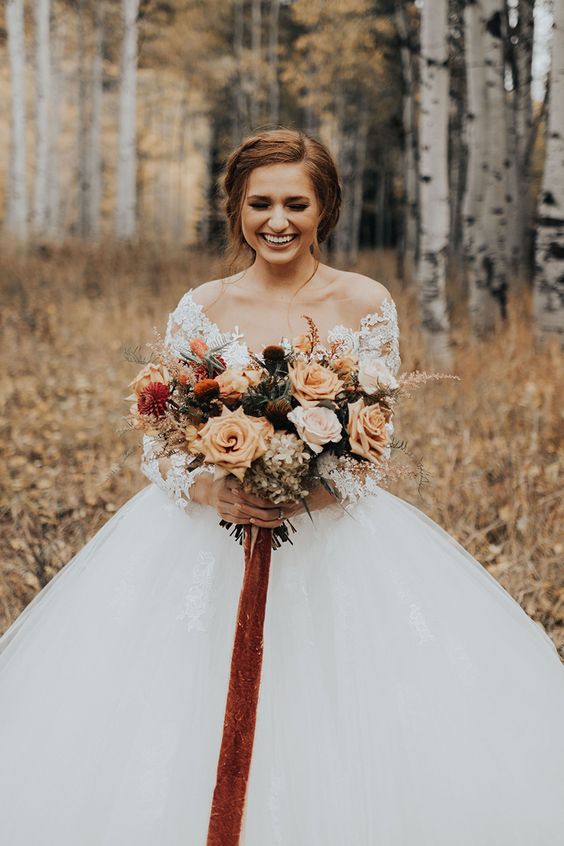 It is worth starting with a simple pose. You will get nice shots, choosing gold fall trees as a background. The image of the bride shows her silhouette and gives her tenderness. Remember the natural smile, gestures, and casual play will help make a creative portrait of the bride.
Wedding dress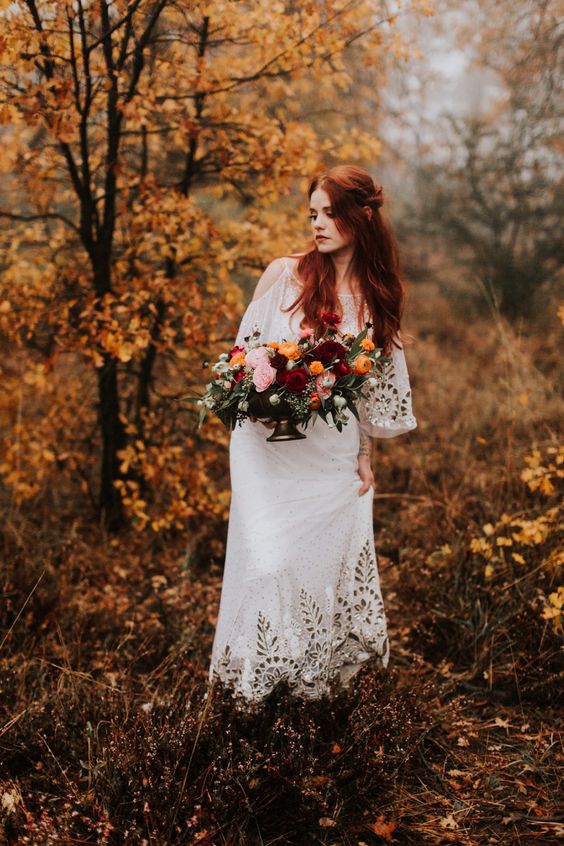 Show all the beauty of your wedding dress, trying different poses such as the bride standing against the background of fall nature, walking along an alley, sitting on a tree branch, or lying on grass full of yellow leaves. Also, a great tip is to take photos in the afternoon to capture the moment of sunset, illuminating the bride.
Nature is all you need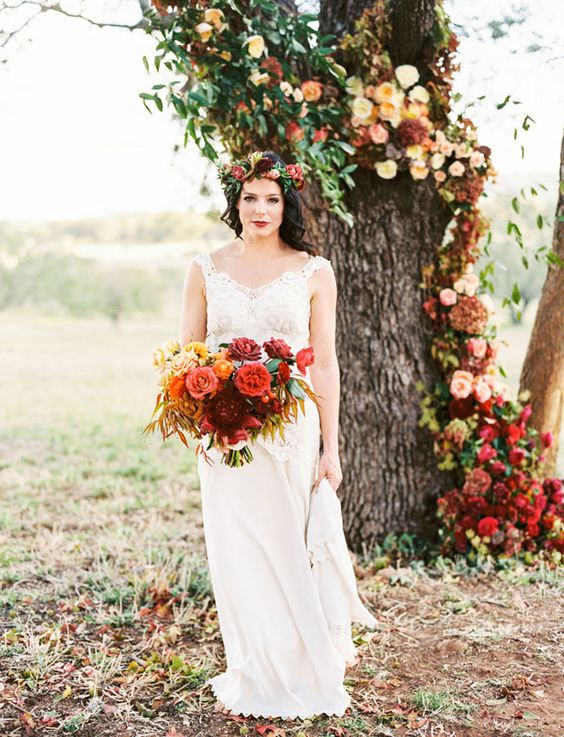 A beautiful bride standing in the bosom of nature and holding in her hands a fall flower bouquet is the best photo that will be a memory of your special day. Nature in its purest form creates a beautiful background for romantic photos and adds the spirit of tranquility and calmness. This scenery will certainly keep pace with the bride in terms of charm.
Running bride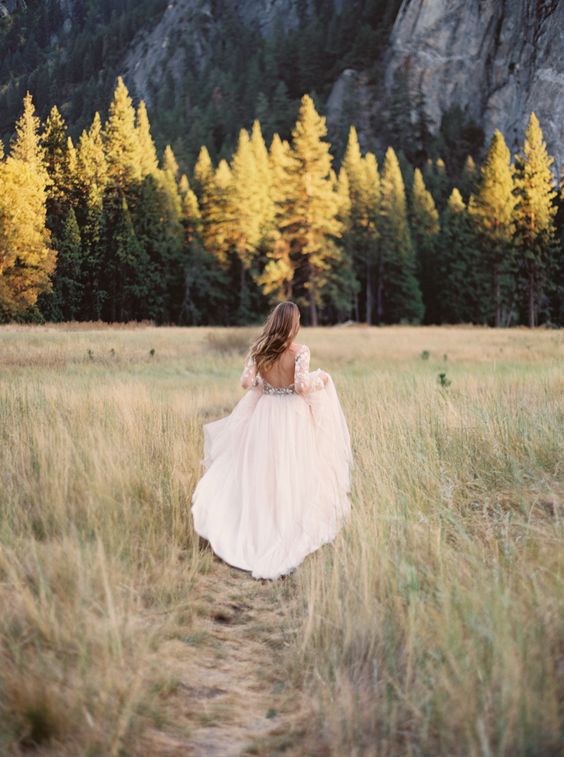 It is a spectacular idea to photograph a happy bride running down a fall alley in the park. You can also use other natural locations such as a forest, a beach, or mountains. Try to convey all the dynamics of movements in your shots and emphasize the beauty of a bridal dress.
Gorgeous fall leaves
What can represent autumn better than autumn leaves? A photo in which the bride plays with autumn leaves or lies on fallen leaves, creating a contrast between a white wedding dress and warm seasonal colors, will give you pleasant emotions and memories of the fall wedding.