36 Thanksgiving Wedding Ideas
People always celebrate Thanksgiving on the fourth Thursday of November. It's almost winter, but November is considered a lucky month to get married, and it's a perfect opportunity to have a little celebration with the nearest and dearest.
Is Thanksgiving Wedding A Good Idea?
All the advantages and disadvantages of celebrating on this day depend only on the number of people you are planning to invite.
It's perfect for elopement. In particular, those who are at work 24/7, 7 days a week, devote a lot of time to it and only have long holidays for a good celebration. You'll have 4-5 days for a party or a short trip together. However, be mindful and order plane tickets in advance, because lots of people fly around the country on these dates to visit their relatives.
It's great for a destination wedding. You can take only your immediate family, i.e. parents and siblings, and a few close friends to celebrate someplace on the beach. You don't need to ask them all to take days off from work, because this weekend is still an off weekend for almost everyone.
It's the most ideal option for a backyard wedding. A Thanksgiving wedding shows that you value family, home, and relatives. You can decorate your backyard, set up a heated tent, or even have an indoor celebration. If the main thing for you is that your family is near you, and you want to have a lot of time to celebrate and socialize during the event, then this idea is perfect for you.
One rule plays a key role here: the fewer guests you plan to invite, the better the dates during the November holidays will suit you.
Why is a Thanksgiving wedding a bad idea?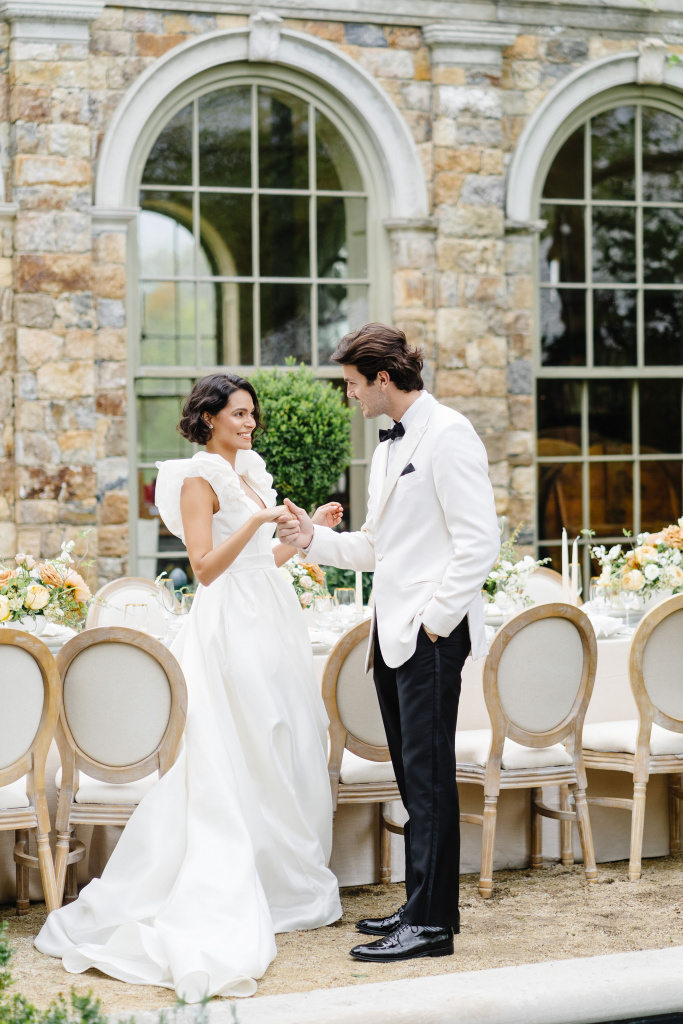 Celebrating events on these holidays isn't suitable for those who don't like the cold, a festive hustle and bustle, decorations, and snow, which can already fall. Also, those who want to hold an event for 100+ guests shouldn't think about this weekend. You can be very disappointed when most of the guests refuse to come, cause this is one of the two long weekends a year they spend with their parents or children.
In general, a wedding on the 24-28th of November isn't a bad idea, but you should understand that numerous vendors will be busy with household chores. Also, there will be chaos and traffic on the streets, and you won't avoid difficulties with transport and accommodation for your guests. If you are ready for this, invite all guests at least six months in advance so that they have time to plan everything for themselves.
Also, don't forget to call all guests two weeks before the wedding and check whether they are coming or if their plans have changed.
11 Thanksgiving Outfit Ideas
The most important thing to remember when choosing a Thanksgiving wedding dress is the weather. Probably it'll be quite cold. To be prepared, choose white outerwear as well. Adding color accents to your image is optional, but you can add red and gold flowers or ribbons to the bouquet, choose one or two bright accessories, a wreath of flowers, and dried berries.
As for the Thanksgiving wedding guest dresses, you might include a color scheme in the invitations. If not, choose something appropriate for the season, especially it should be warm. Pay attention to the following colors:
Deep blue with gold accessories.
Burgundy with white accessories.
White with gold ornaments.
Dusty orange.
Deep green.
Look for these colors in cotton, tweed, corduroy, or pleated silk outfits.
You can also combine long silk skirts with knitted sweaters and boots.
You can wear faux fur coats or leather jackets.
Add checked scarves and knitted warm items to the look.
Dresses with a small print of twigs, leaves, birds, or flowers will look perfect.
Leather accessories and shoes are also relevant.
Select warm clothes that look festive, but don't let beauty overshadow comfort. The event will be worthless if you freeze.
12 Thanksgiving Wedding Decorations Ideas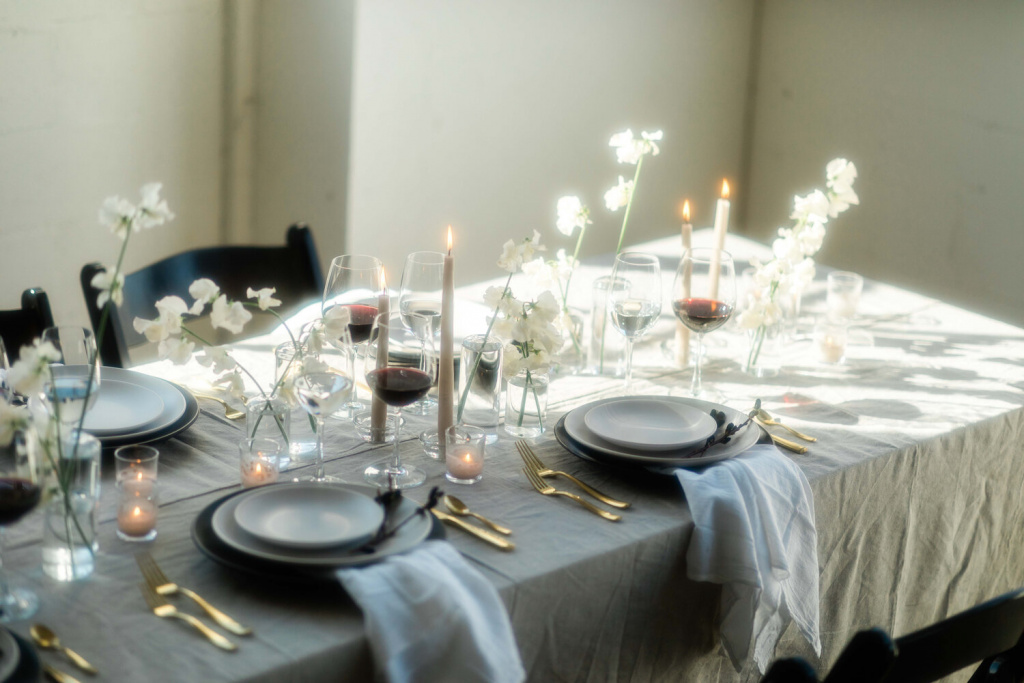 Although pumpkins in November still don't lose their originality, you can safely add cones and garlands to the decor. However, the first thing you need to do is choose the colors.
Add a little pop to your design with dusty orange, gold, and deep blue.
Hang leaves, twigs, and lanterns to the ceiling.
Arrange snacks on wooden log bars.
Decorate vases with bright flowers and eucalyptus.
Put the mini pumpkins in the center of the table.
Place tall candles and candelabras around the dishes.
Cover the tables with fabric that hangs down to the floor, and lay bright runners on white tablecloths.
Decorate napkins with gold ribbons and dried citrus.
Set candles in glass flasks.
Make vases from pumpkins, and put flowers and leaves on top.
Hang apples in caramel in some areas.
Get creative with leaving one bright color and repaint the other decorations in gold.
Feel free to add the most relevant decor you give thanks for on Thanksgiving Day, including vegetables, fruit baskets, wheat and rye, which you can even repaint in a different color if you wish.
13 Thanksgiving Wedding Menu Ideas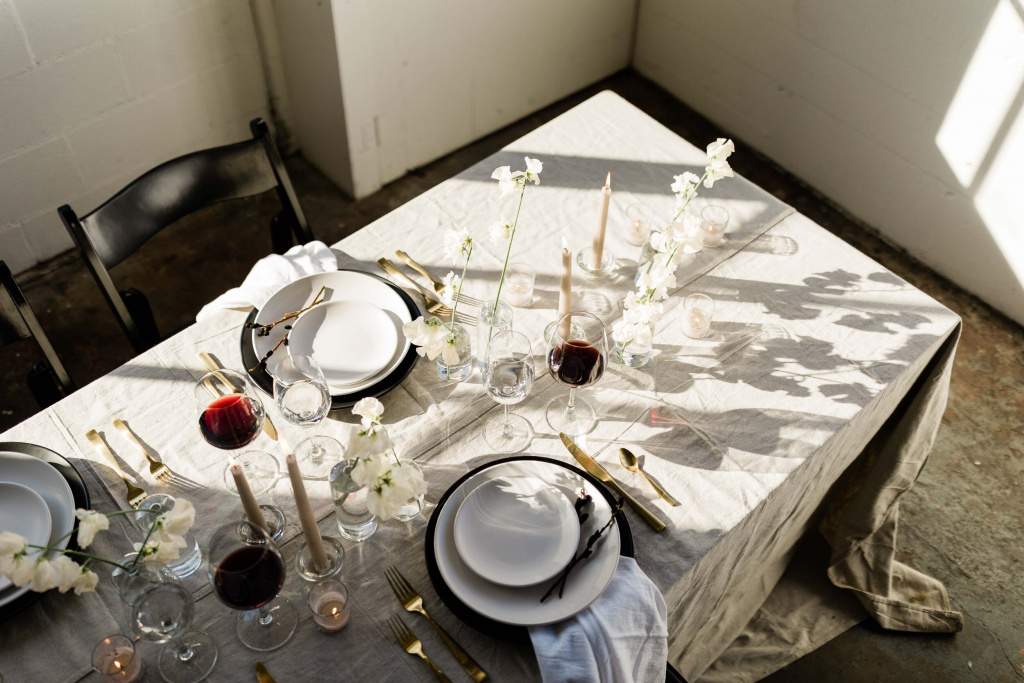 A turkey should not be your only decoration. You can use many autumn ideas as well as winter concepts because the end of November is a blurred line between autumn and winter.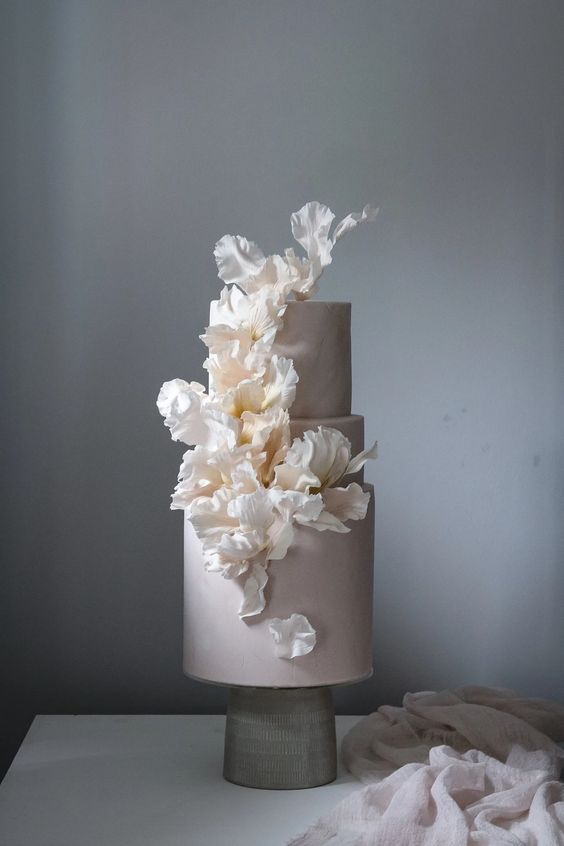 Add a bar with homemade pies and quiches with sweet and savory fillings.
Put a mulled wine bar of red and white wine with spices and citrus.
Provide 101 dishes from pumpkin and autumn vegetables.
Make fruit baskets with tangerines and oranges.
Serve meat steaks with rosemary and basil.
Bake some gingerbread cookies, candies, cookies with chocolate drops, and whoopie pies.
Place punches and teas with raspberries, cranberries, and sea buckthorn.
Set different fruit chips, caramel, and carrot muffins with nuts.
Arrange pumpkin hummus and babaganush, guacamole with pumpkin chips.
Make baked vegetables with orange mustard: peppers, carrots, pumpkin, zucchini, and mushrooms.
Bake brie cheese with cranberry sauce.
Cook honey nut bars with chocolate and dried fruits.
Bake crispy turkeys, stuffed with butter, lemon, herbs, and fruits, or cook turkey steaks, turkey cutlets, or even a turkey dinner table as a main dish.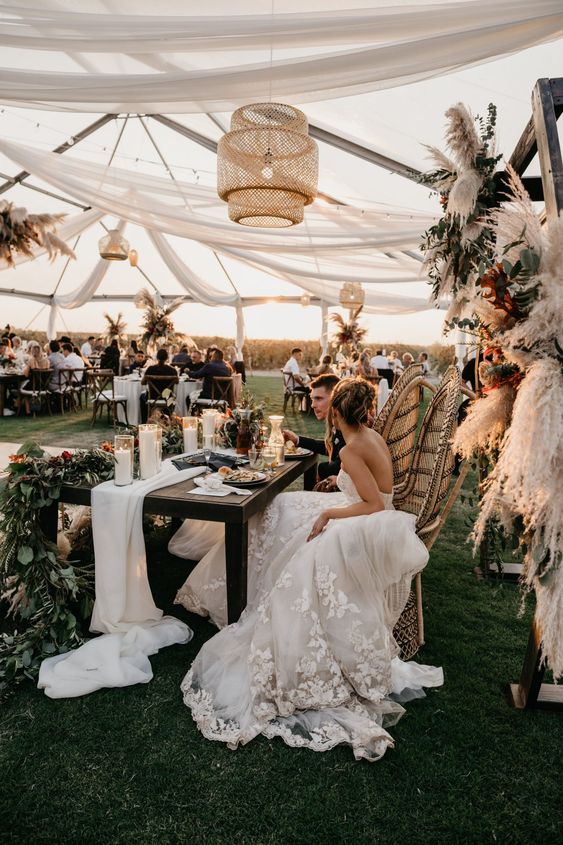 Add all those dishes you associate with autumn and winter holidays to make a themed menu. Make such a warm holiday so that even not too close guests feel like your family. That's the point of a Thanksgiving wedding.