34 Best Places for Wedding Photoshoot in Chicago
Publication date:

09/08/2022

Updated:

04/07/2023
Are you tying the knot in Chicago? Looking for marvelous locations to take some attractive wedding photographs? Read the article to get to know about 34 iconic places to take wedding photos in Chicago.
Urban Chicago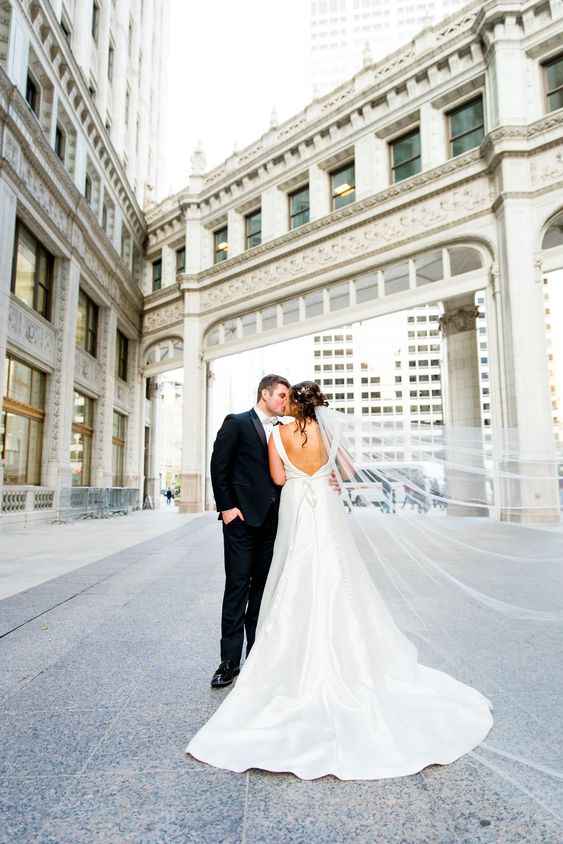 You can't miss the industrial vibe in your wedding photography if you've decided to get married in the Windy City. Look for simple but impressive walls, gorgeous stairs, and narrow alleys. Whatever the backdrop is, streets are a great range of just the best places to take amazing wedding photos in Chicago to get glamorous and editorial shots.
The Murals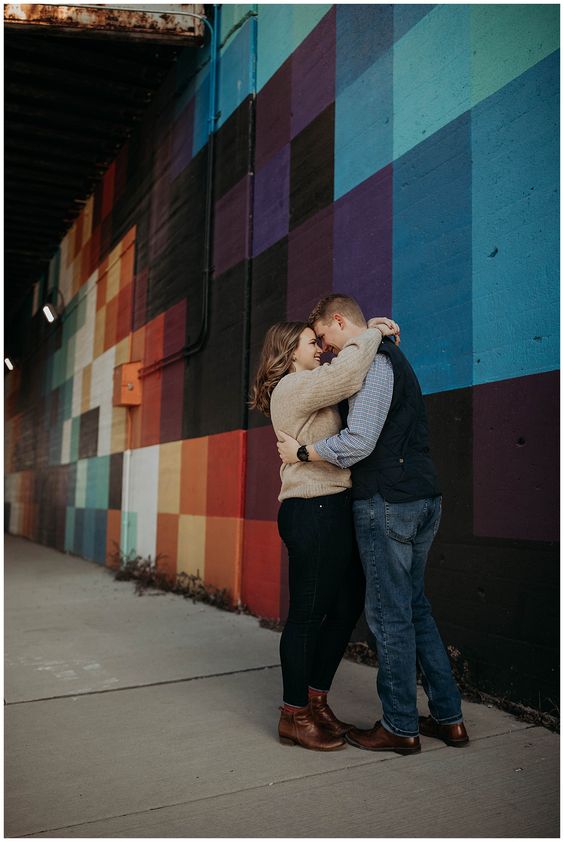 There are numerous murals in the streets of Chicago. These places for a photoshoot in Chicago might become remarkable backdrops. Such pictures may add some colors and bright accents to your wedding photographs. It's even way more romantic when your personal love story looks so intimate in front of massive colorful walls and paintings.
Waterfront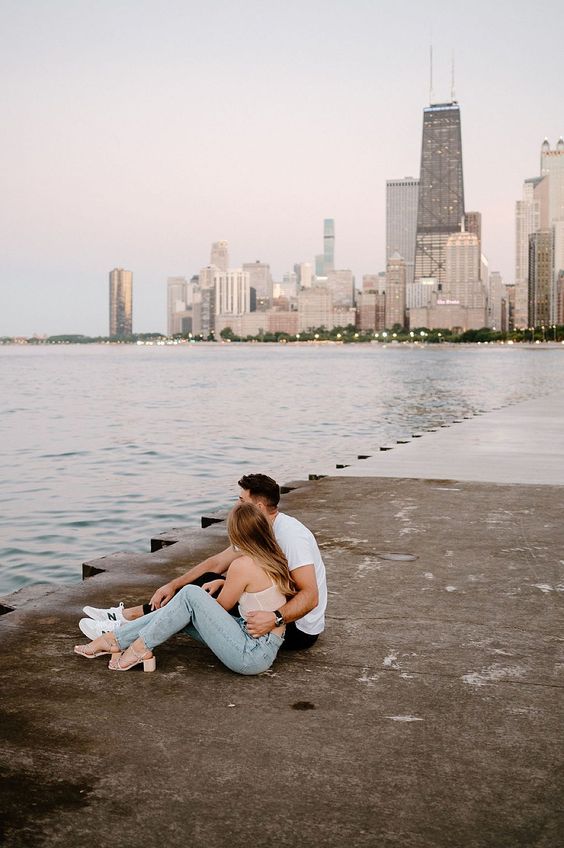 If you wish for a breathtaking combination of urban simplicity and unspoiled nature, choose the lakefront as a place to take photos in Chicago. Harmonious views of a perfect skyline along with the simplicity of nature are just the thing you need for your perfect wedding shots. You can opt for either some staged romantic photos, lively and emotional snaps, or moreover, even combine both approaches and different wedding photo styles. Be sure, the photographs will be magnificent!
Michigan Avenue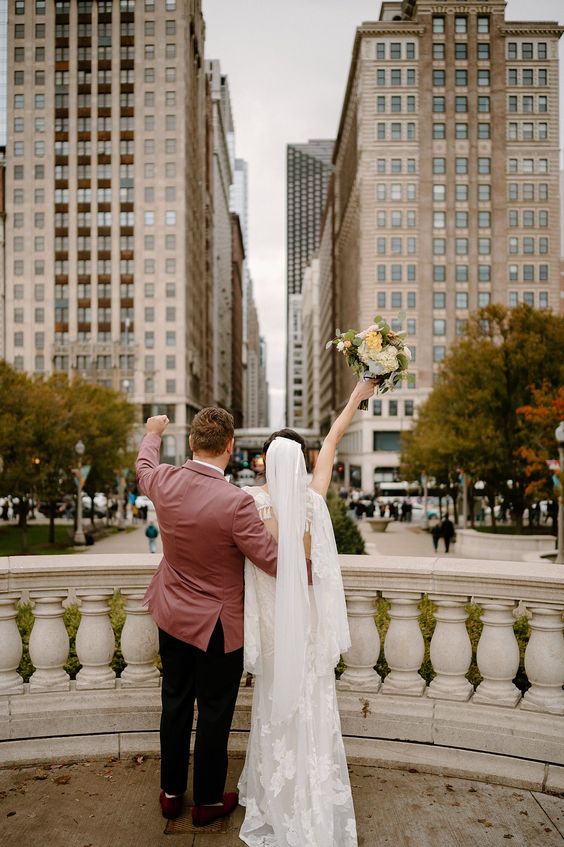 Michigan Avenue, which is also known as The Magnificent Mile, is one of the most famous and greatest avenues in the world. Being always touristy, vibrant, and lively, it shows the attractive architecture and magical touches of history. Just have a look at these inspiring pictures and you will absolutely love them because it's one of the best to take wedding pictures in Chicago.
The Board of Trade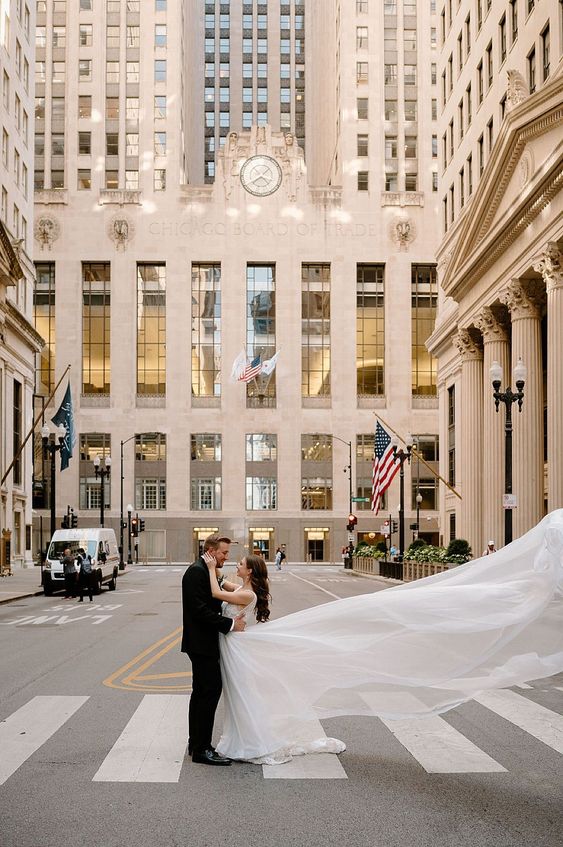 The building is a famous skyscraper with a rich and amazing history. Where can you see a more stunning urban backdrop, showing how vibrant the city is anytime? It is worth visiting to get some outstanding photographs, for example, some fashionable movement shots such as crossing the road gracefully. Amazingly, how stunning it is in any weather since the atmosphere is always so fascinating.
The Bridges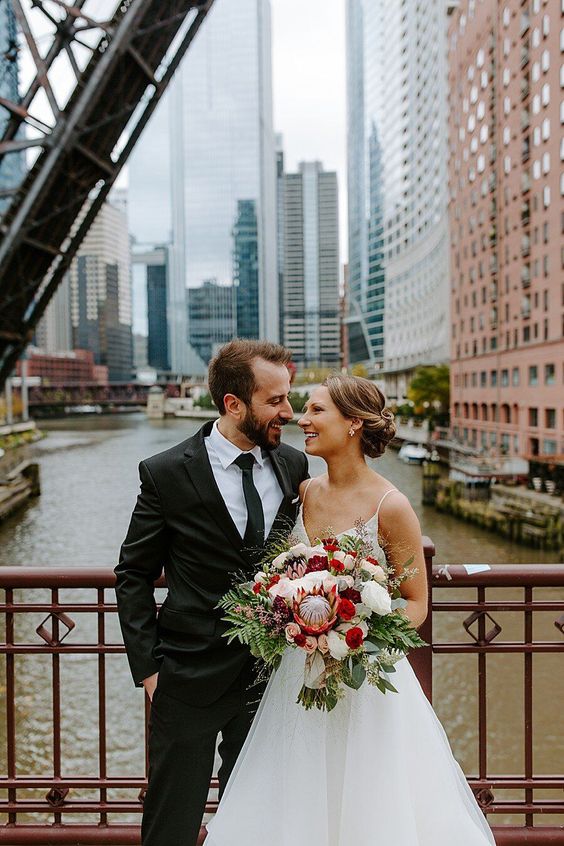 There are 37 bridges in Chicago, with a few that are the most recognizable and remarkable. What is the basis for these fairytale-like photographs taken there? Why are they so incredible? That's because of an ideal combination of various large and massive buildings, various constructions and the slightest touch of nature, the waterfront. Whether you just walk holding your hands or stand still near, in front, or over the bridges, the photographs will be stunning.
Lincoln Park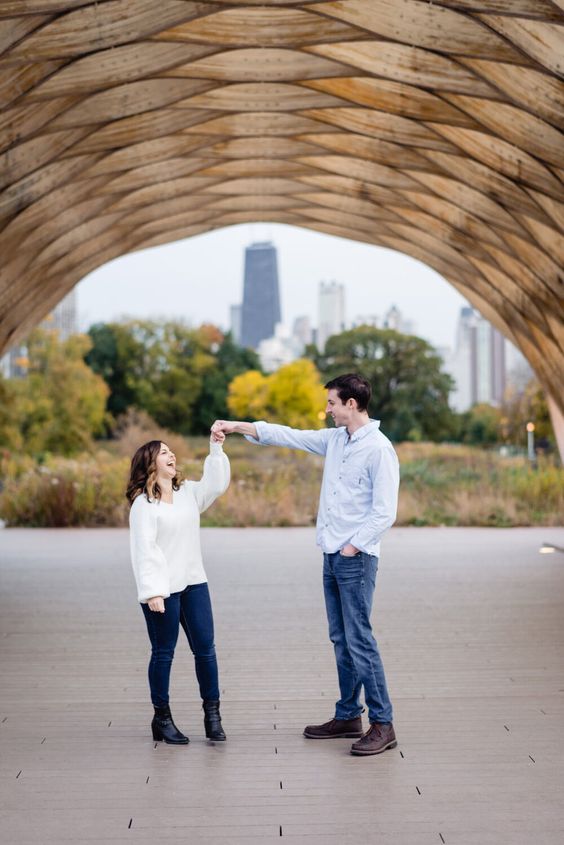 If you are a nature lover and wish for some peaceful shots with a tranquil natural backdrop, take wedding photographs in Lincoln Park. It is said to be one of the best places in Chicago for wedding pictures with its ponds, waterfalls, and picturesque backgrounds.
Adler Planetarium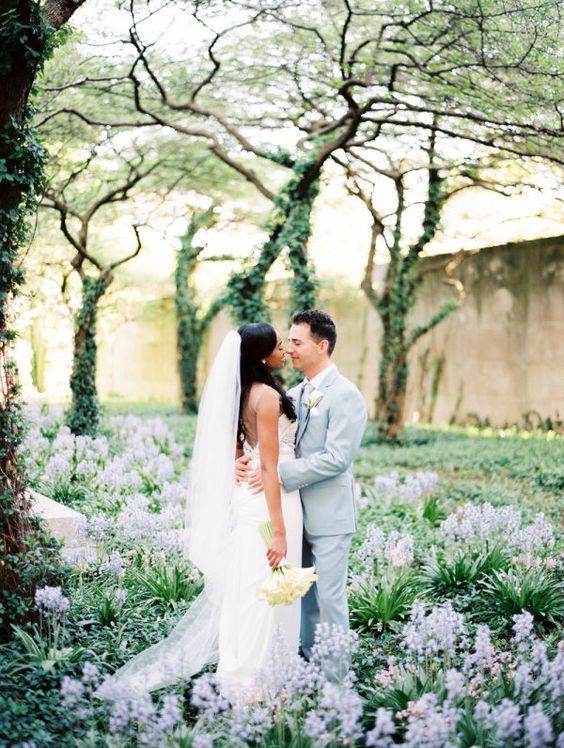 This is an ideal place for Instagram pictures in Chicago with an eye-catching skyline. You may not even imagine what an amazing view opens behind you when you're standing there. Your photographer might capture some charming and romantic shadow shots but choose the right time!
A TIP: Avoid midday time since there's the harsh sun. It's better to go there before the sunset, at the 'golden hour'.
Willis Tower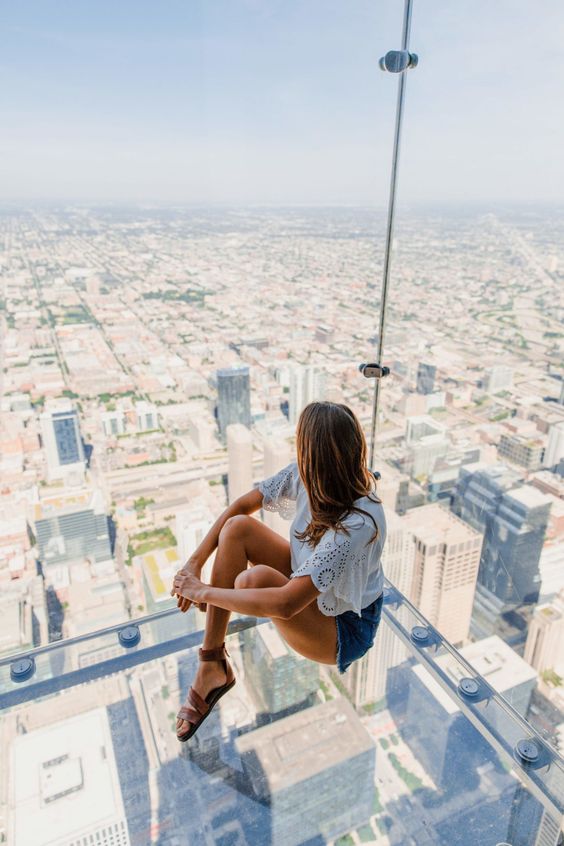 Perhaps, the most majestic place for photography in Chicago you can ever find. On one hand, you'll get an unforgettable experience, spectating a fairytale-like view at the height of 1353 feet above street level. Is there anything more romantic? On the other hand, you'll succeed in getting scenic photographs, showing the vibrancy of the city just from the place under one roof.
A TIP: It's especially amazing if you go there closer to the evening, after the sunset to capture magical city lights.
Navy Pier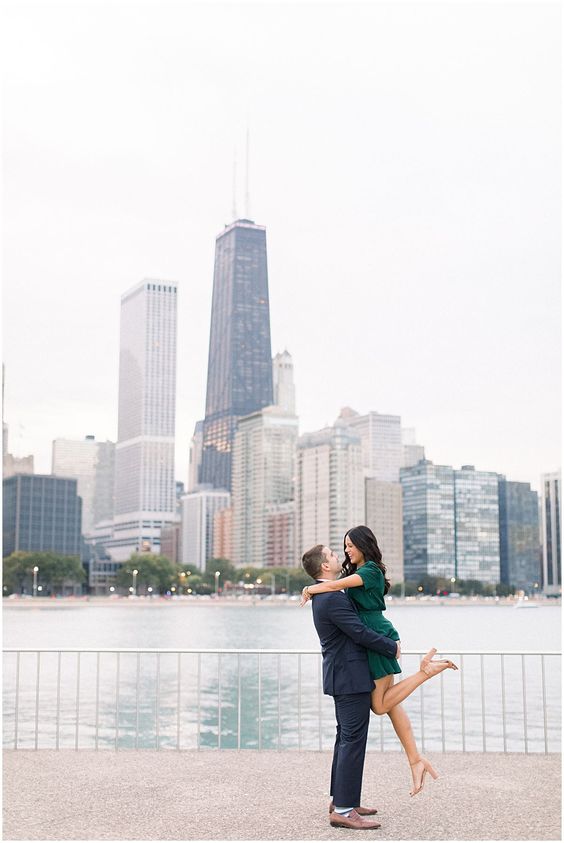 It's a 3,300-foot-long pier, a lakefront treasure of Michigan. The place gives lots of amazing opportunities for stunning photos. Again, you should remember that light matters. Ancient street lamps and the Ferris wheel in the background will spice the shots up with exceptional romanticism and the feeling of a fairy-tale.
Chicago Botanic Garden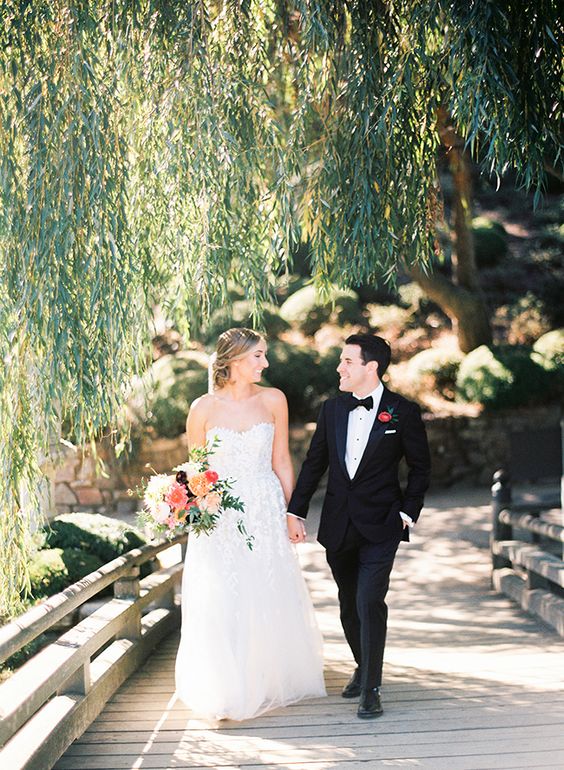 Looking for more picturesque natural views? Don't miss the foliage of the Oriental Garden and some beautiful spots in the English Garden. Romantic colorful gates in the gardens along with some enchanting walls and luscious greenery will amaze you with their diversity. There are numerous sorts of flowers and plants and certain rows of trees that might become a perfect backdrop for your photoshoot.
Union Station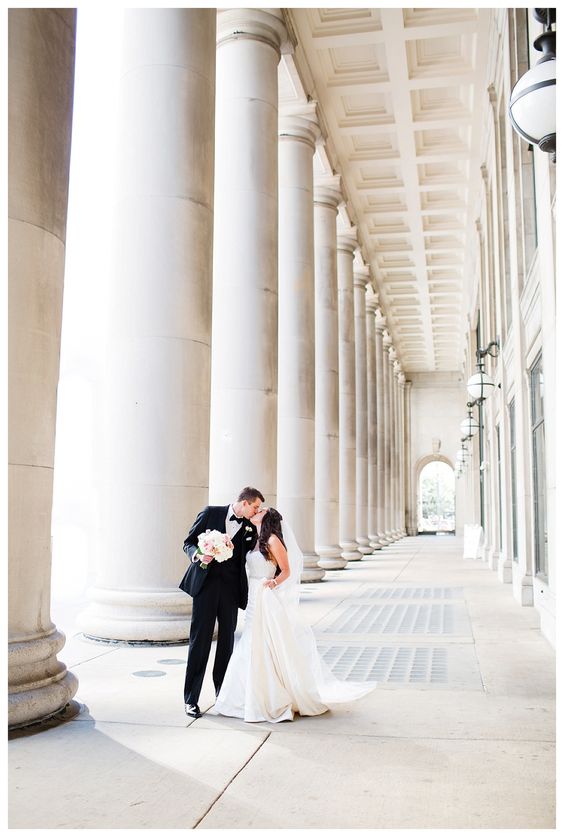 That's an iconic building where you can get the most elegant and timeless photographs ever. There are different amazing halls and spacious rooms with various designs and eye-catching architectural details. Go there if you'd like to get fashionable and even glamorous shots. The location is especially useful if you wish for stunning group photos with your friends and bridesmaids.
Milton Lee Olive Park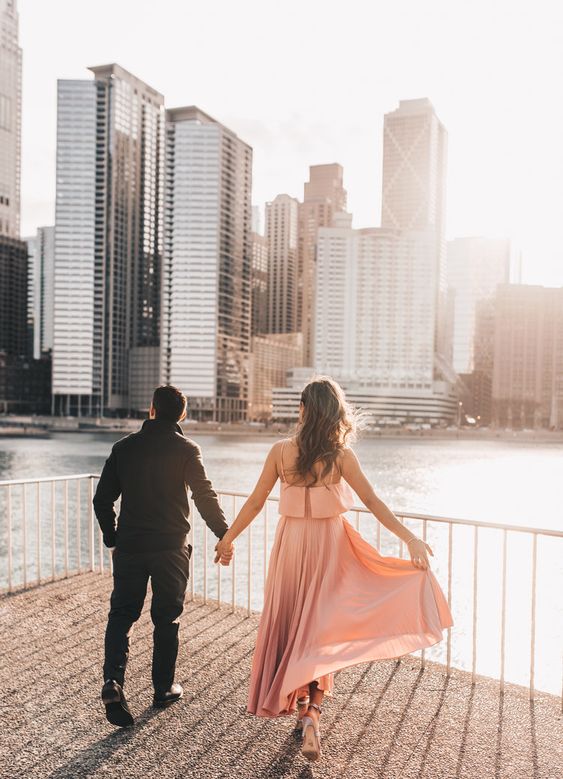 You'll find here a desirable combination of city views and natural backdrops due to the trees and an impressive skyline. A location is a nice option for taking some portraits and shadow photos at the sunset. A part with the trees gives the feeling of being in the forest just in the middle of the bustling city. Amazing contrast is created because of a marvelous cosmopolitan background and waterfront along with tree-lined sidewalks!
Baha'i Temple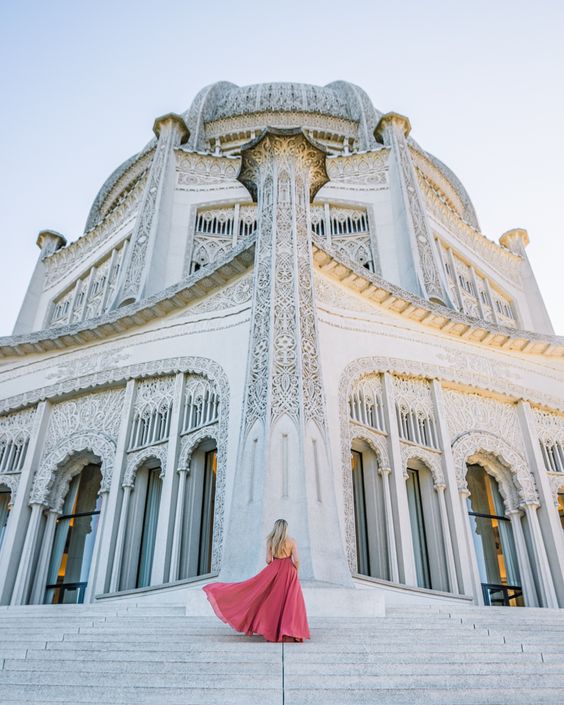 Even though you can take photos only outside, near the temple, it remains one of the best places to take wedding pictures in the Chicago suburbs. That's a marvelous building, just a piece of art along with a natural backdrop. Bahai Temple is an architectural masterpiece with thoughtful symbolic details that look gorgeous in the wedding pictures. There are seven ponds on the territory. The spot is especially breathtaking when everything is blooming.
Garfield Park Conservatory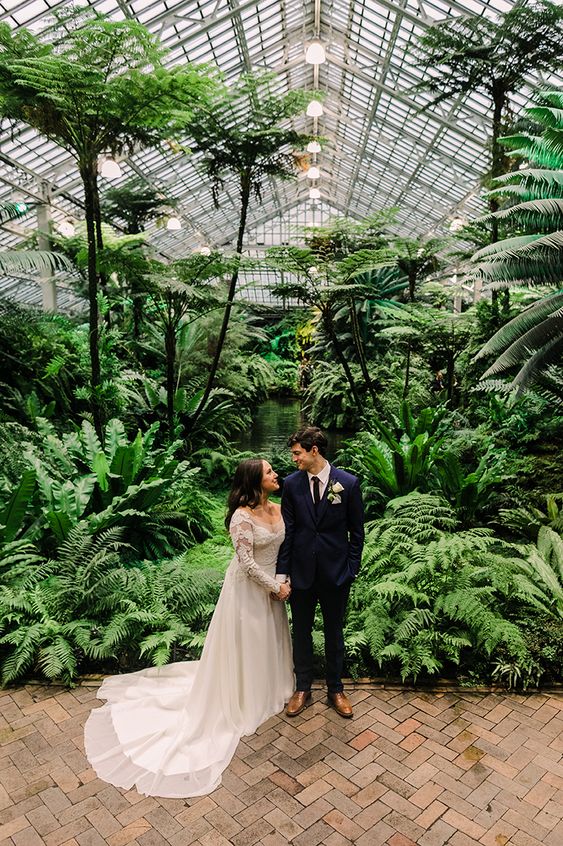 Want to get a beautiful tropical look in your wedding pictures? Well, check out this magnificent location with luscious greenery, charming ponds, and romantic paths to explore.
The Chicago Theater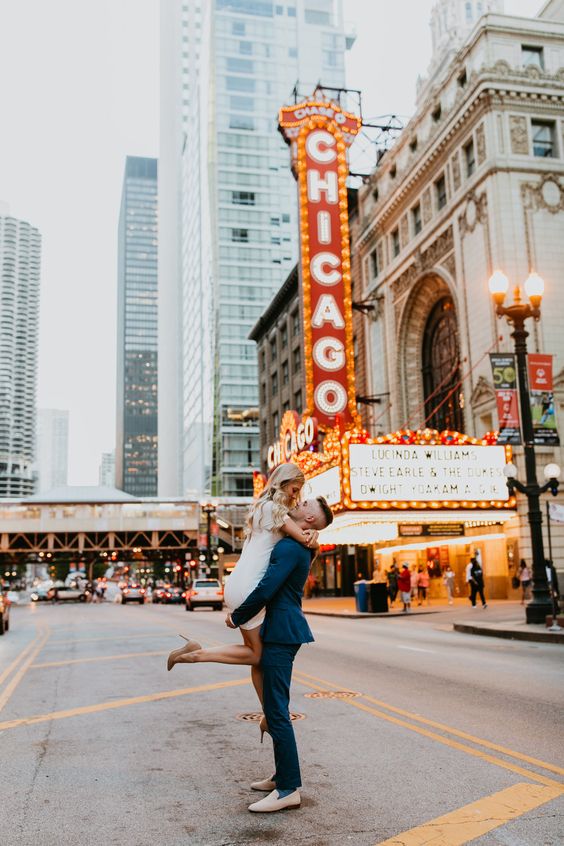 One of the most recognizable places, just in the heart of Chicago. It is a must to take some memorable photographs there to feel the atmosphere of the streets of Chi-town. The main thing is to capture the well-known sign in the background. The location itself isn't big, so you don't need too much time there.
Millenium Park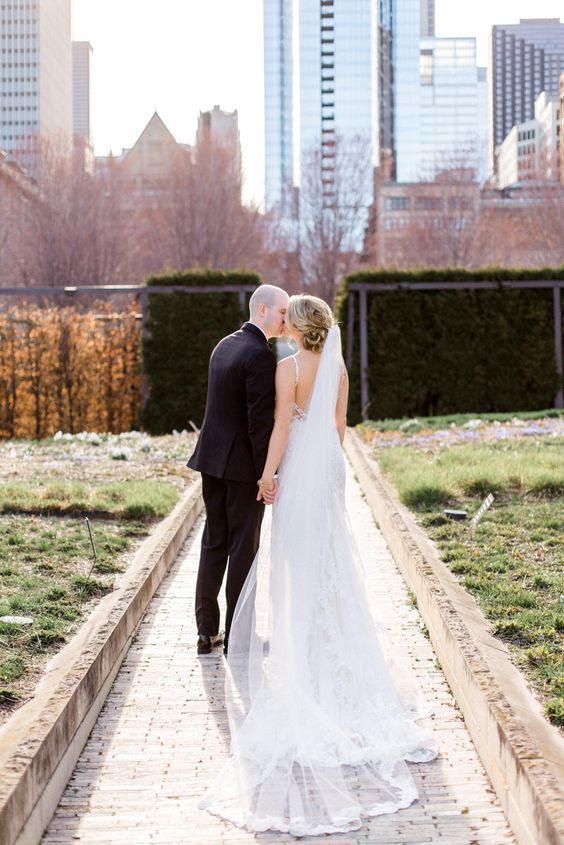 The park is quite large though it's still homey, cozy, and calm. It will be highly rated by all the nature lovers since you get there you're among plenty of stunning trees and plants. You might even forget for a couple of minutes that you're in the big city because the park looks very natural. Only skyscrapers in the background will remind you where you are, though they will also outline the beauty of nature you're surrounded by.
North Avenue Beach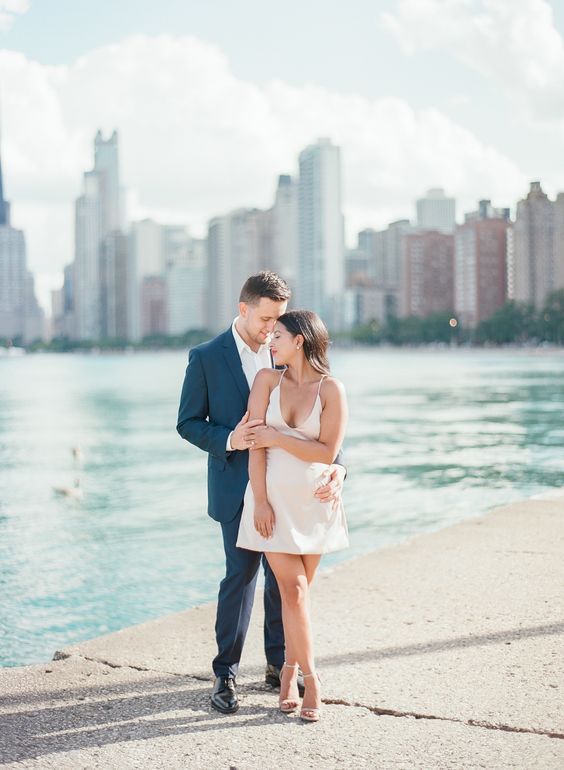 There you will see some picturesque views, not only from the pier. The beach is quite large but you should mind that it's touristy and noisy almost all the time. The lighthouse at the end accomplishes the view perfection and makes it worth a walk for a photoshoot.
The Bean-Cloud Gate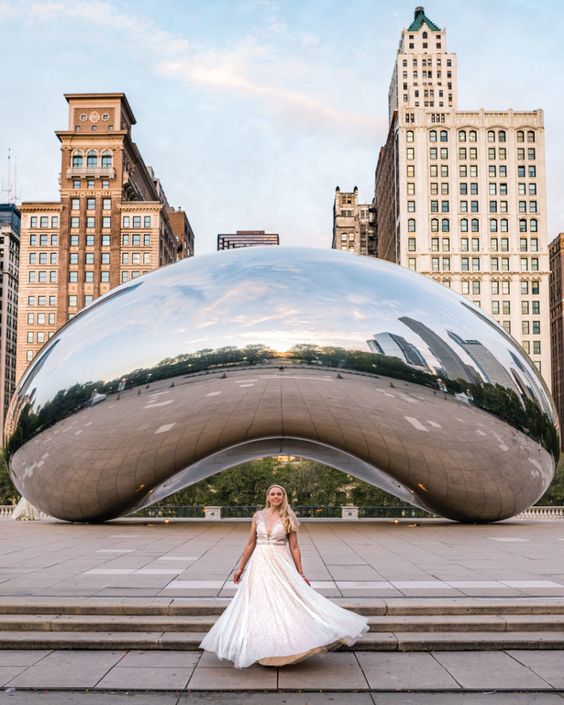 This attraction is relatively new and quite outstanding. The modern shape and style of the sculpture are like a breath of fresh air. Some unique reflections of the city and its central part might be captured in your wedding photographs. However, mind that you can't avoid people there since it's lively and bustling all the time since the Bean-Cloud Gate is located just downtown, in the heart of the city.
Buckingham Fountain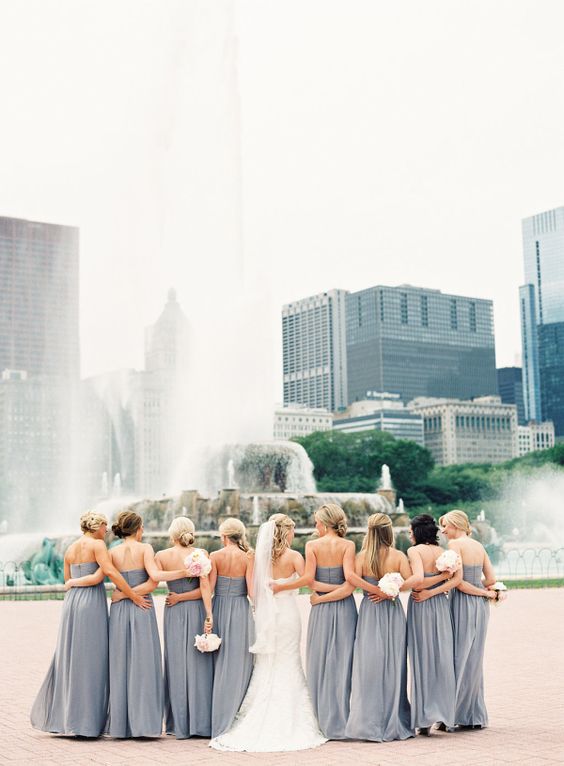 With its spacious garden areas and urban stylish buildings, Buckingham Fountain is believed to be one of the best places for photos in Chicago. The Fountain is one of the largest in the world and looks quite harmonious with the gardens around and modern buildings behind it.
Other Great Places for Photos in Chicago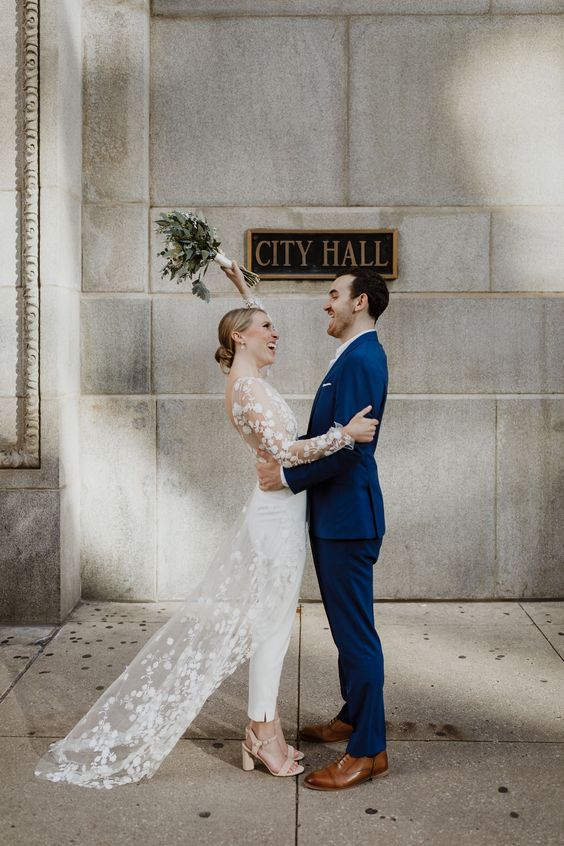 There are some other great locations and spots you might love! Check out these beautiful locations:
Wrigley Building;
Chicago Riverwalk;
Museum Campus;
Honeycomb Pavillion;
Grant Park;
Palmisano Park;
Maggie Daley Park;
Fourth Presbyterian Church;
Montgomery Ward Park.
Choose the ones that are rightt for your style and mood but mind that most of them are quite touristy and crowded. 
Best Photo Places in Chicago on a Rainy Day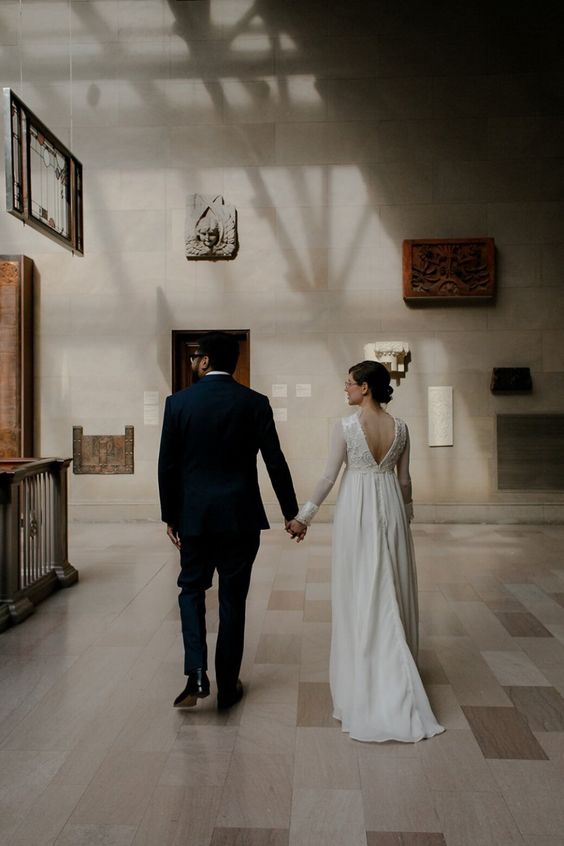 You might be worried about the weather at the wedding so here are some awesome places to take pictures in Chicago for you to know:
Rookery Building (outstanding design with eye-catching stairs inside);
Chicago Cultural Center (perfect stairs, great interior);
Chicago Athletic Association Hotel (the lobby with a luxurious staircase);
Lyric Opera House (beautiful massive columns and the roof to hide under it);
Art Institute Garden (provides some covered spots).
In addition, you might take a fashionable umbrella to take some romantic rainy photographs on your way and just in the street! Remember, there's no bad weather for loving hearts!