30 Best Places For Wedding Photoshoot in Miami
Publication date:

10/20/2022

Updated:

05/04/2023
Are you going to tie the knot in Miami and looking for the best photo places in Miami and ideas for your wedding photography? Then you're in the right place because in this article you'll find out about the most fabulous spots!
Beautiful Photography Places In Miami
Vizcaya Museum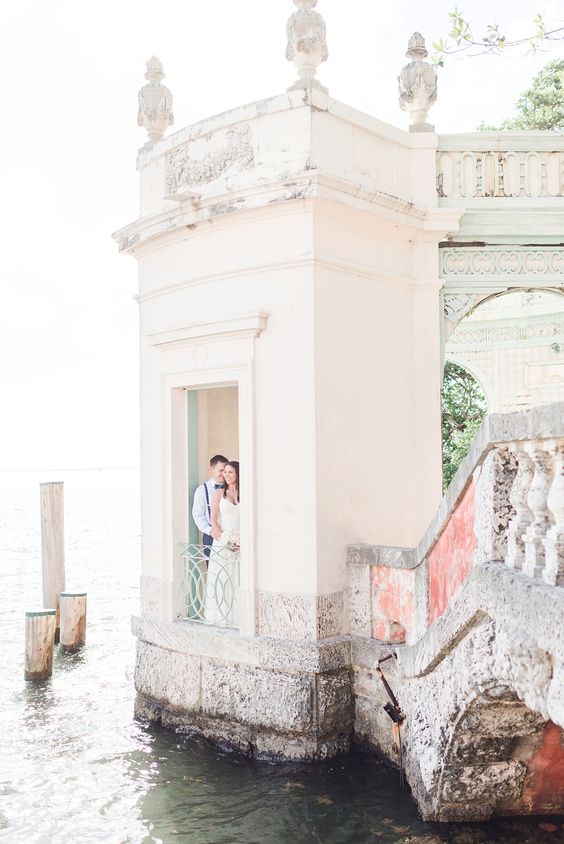 A gorgeous and splendid place where you'll feel a fairytale-like atmosphere and take amazing snaps. Vizcaya is an outstanding spot with a rich history and charming nature. Its tropical setting along with classical design creates a unique mix of exceptional backdrops for your wedding photography in Miami. The building is an architectural masterpiece, a tourist attraction whereas the park becomes a peaceful area for harmonic wedding shots.
Ancient Monastery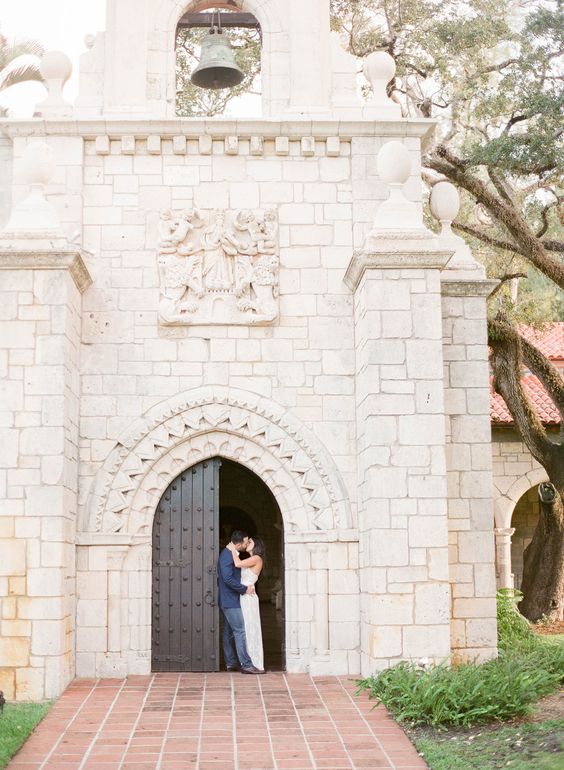 The Monastery is a hidden treasure of North Miami Beach. If you'd like to immerse yourself in a magical medieval atmosphere, this location is the best place to take photographs in Miami on your wedding day. Arches, columns, stone tables, and beautiful ceilings will bring you back into this unique epoch. This magical place is perfect for wedding photo shoots in Miami. The building is located among beautiful ancient trees and gardens.
Tree Tops Park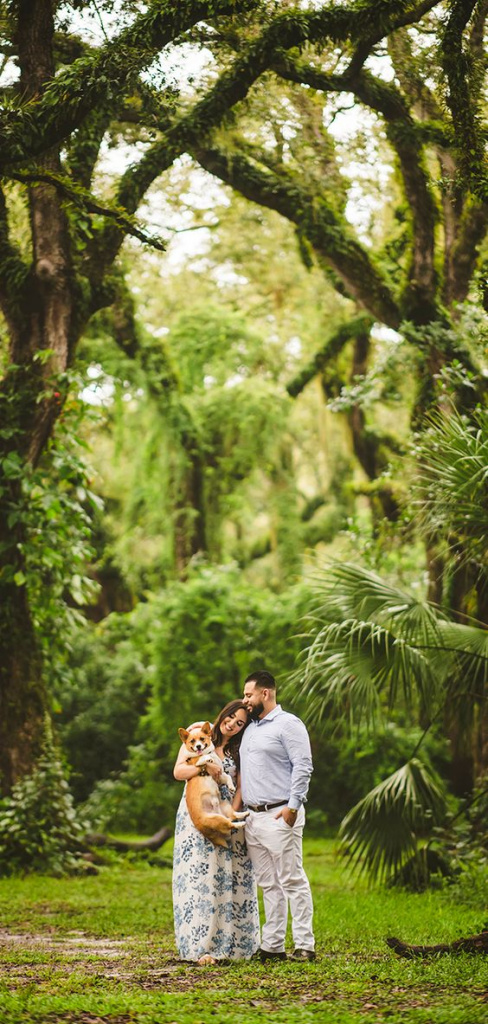 Connection with nature is always a great idea if we talk about pre-wedding or wedding photoshoots. Tree Tops Park with its huge territory and plenty of locations are worth your attention. You might be surprised and amazed by this gorgeous place with its magnificent paths, forested areas, ponds, and ancient oak trees.
South Pointe Park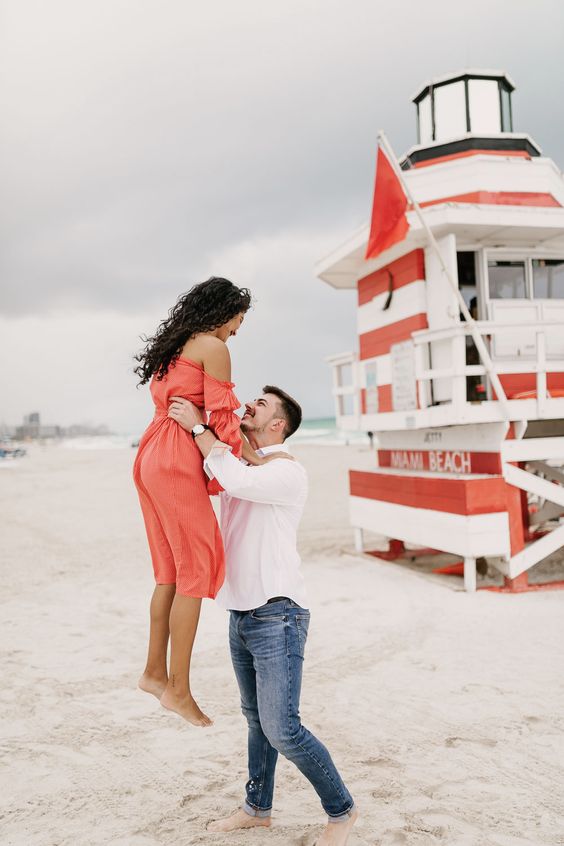 The distinctive feature of South Pointe Park is a combination of its sandy and grassy areas. Awesome backgrounds for your wedding pictures are worth capturing. Additionally, the park has a pet-friendly dog park and a few restaurants. Therefore, if you would like to bring your furry friend, you may pick this location. Enjoy these perfect panoramic views and take unique snaps!
Mondrian Hotel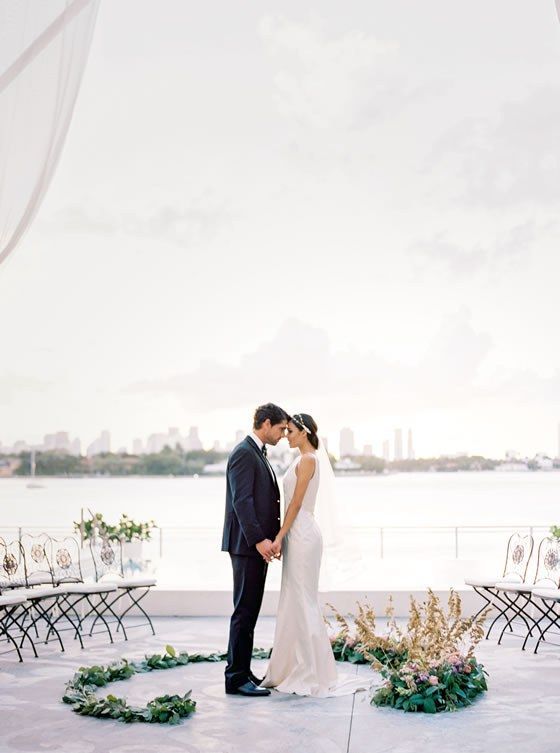 This fabulous hotel in Miami is indeed one of the greatest locations for photographs. You'll fall in love with its stylish interior and elegant backdrops for your lovely pictures. It's pure, classic, and laconic though modern and eye-catching. The hotel's lobby, dining areas, and fashionable stairs are only some of the places you may opt for! Along with its simplicity, the contrast of colors such as a combination of black, red, and gold will spice your pics up and make them more dramatic.
Miami Marine Stadium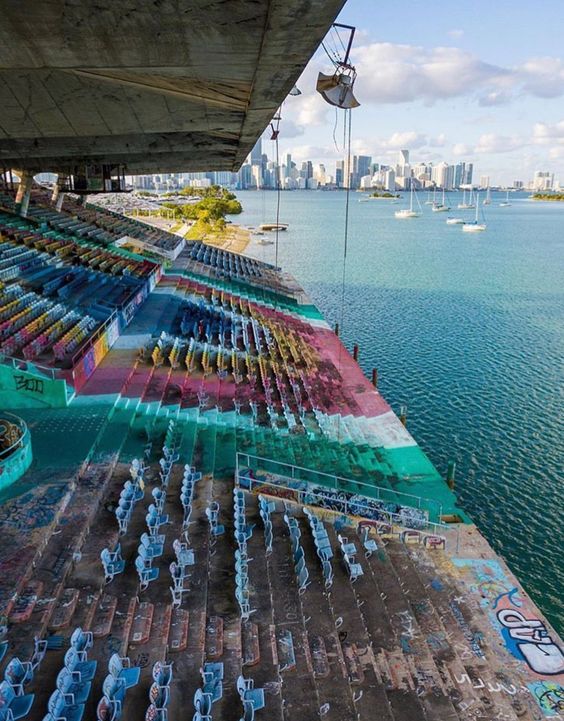 You'd love this spot if you do want to stand out of the crowd and experiment with some of the photographs. The location is popular among graffiti artists and this fact makes it super colorful, vibrant, and edgy. At the same time, you'll capture a breathtaking ocean view there along with a unique vibe of a bustling and vibrant city.
Matheson Hammock Park
A perfect place for peaceful and relaxing photographs to take on your wedding day. If you wish for some elegant and exclusive shots, visit this location to see the oasis by the ocean. This huge urban park will provide you with forest areas and beautiful beach lining. It's also famous for the pool that is naturally flushed by the waves. You'll enjoy a variety of nature trails there and a stunning city skyline.
Markham Park & Target Range
Want to feel like in the jungles full of luscious greenery? Then you should visit Markham Park and Target Range in Miami to take the best wedding photos! This place will give you all you need: a forest vibe and a romantic atmosphere. On its large territory, there are plenty of amenities, for example, a model airplane field, charming nature trails, the Fox Observatory, and a beautiful lake. It doesn't matter what your wedding style or concept is like, as this location will provide you with a fitting backdrop anyway. What can be better than gorgeous trees in the backdrop along with shiny water and the blue sky?
Greynolds Park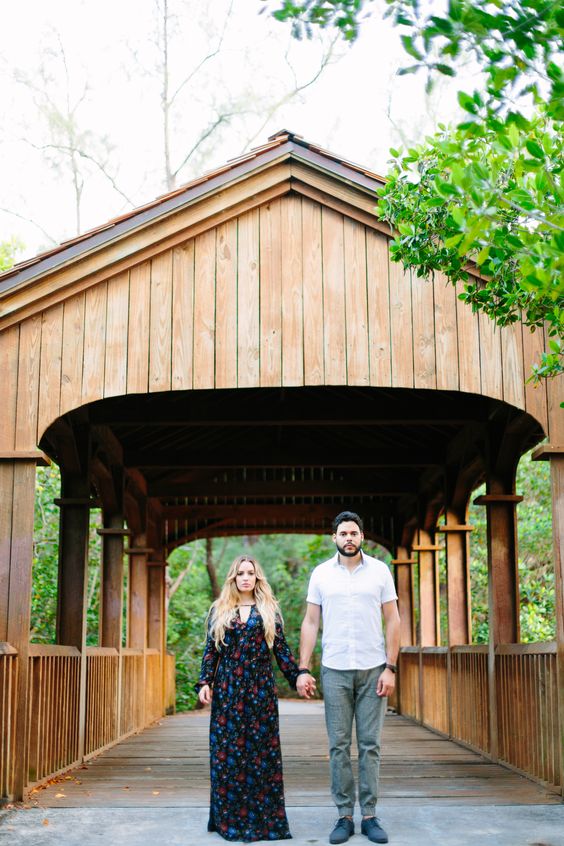 If you're looking for a fairytale-like spot with wooden picnic areas just in the city, pick Greynolds Park for your wedding photoshoot in Miami. The photographs from this place are gorgeous and unique. Impressive stones, nature trails, and ancient oaks along with royal palms, lakes, and the pier make the photos marvelous and scenic. Moreover, the backdrops are even more mystical and lovely at the same time if you take them in the 'golden hour'.
Four Seasons Hotel Miami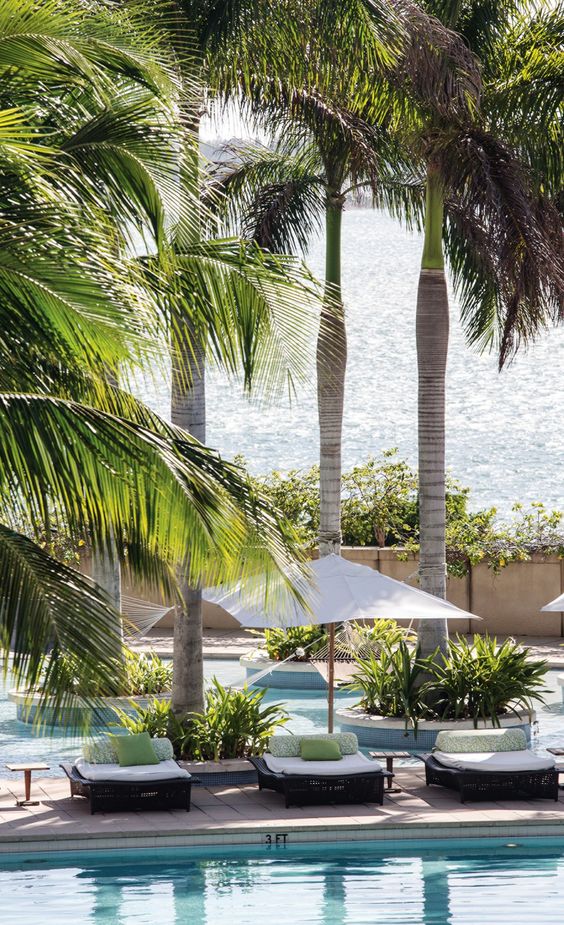 Located in the tallest building in Florida, Four Seasons Hotel Miami impresses with its whimsical decor and thoughtful exterior. A pool terrace with palms is a kind of luxurious element whereas candles in the trees and art deco architecture add a sophisticated vibe to the design. The location itself is a successful fusion of different styles and eye-catching backdrops that might be used for your gorgeous wedding photo shoot in Miami.
Fairchild Tropical Botanic Garden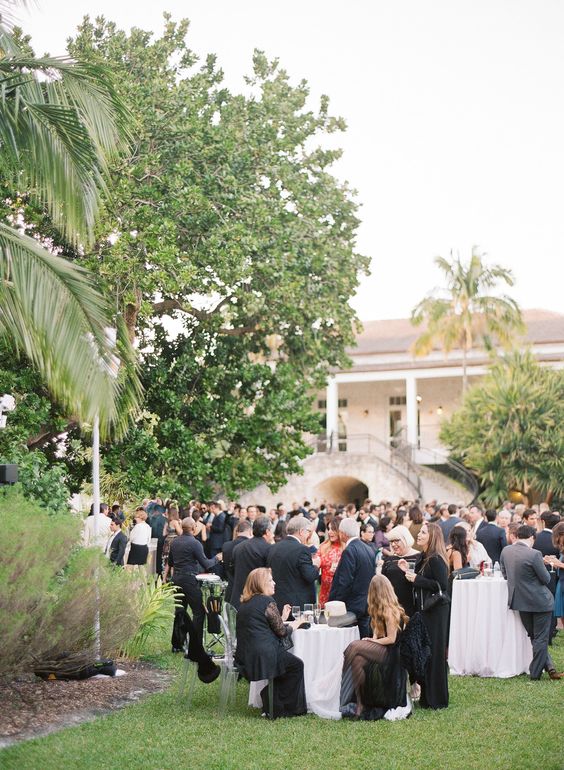 The Garden astonishes with its fabulous and unique spots. There are thousands of types of plants in the Fairchild Tropical Botanic Garden. You'll get a huge choice of various kinds of flowers and trees from all over the world! If you want just everything in one location, go there and you'll see a beautiful lily pond, historic amphitheater, and palms on the beach that will immediately bring you to the tropical island. Tranquility and simplicity or liveliness and enthusiasm in your wedding pictures? That's your choice and taste as this location will be suitable for all styles, moods, and genres.
Charles Deering Estate
This place has an exceptional and unique spirit and a great historic value. There are a few quite famous buildings of the location but the green natural areas are also worth your attention! Palm tropical alleys provide you with an inspirational backdrop for the best memorable wedding photographs of your love story to take in Miami.
Biltmore Hotel Miami Coral Gables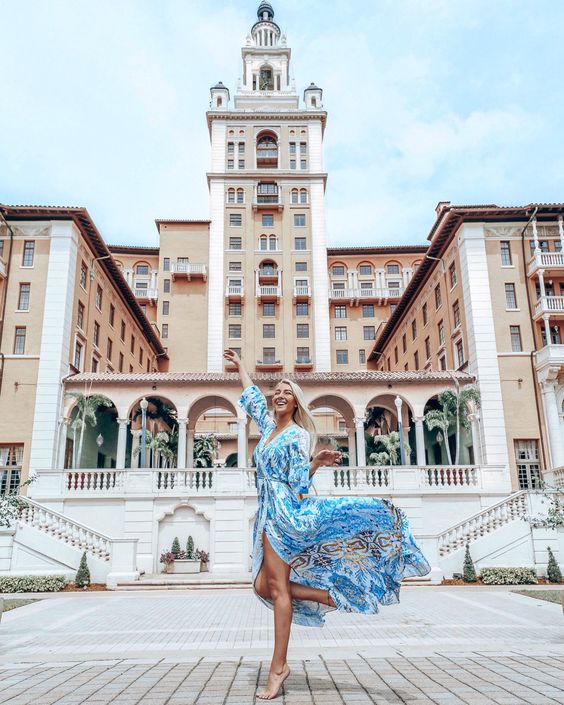 The Biltmore is a historically valuable spot and an awesome wedding venue. At the same time, you may take incredible photographs there both inside and outdoors. It features fascinating architecture and bewitching landscapes. It's equipped with pools and courtyards with plenty of backgrounds. Tall palm trees and other luscious greenery will make your wedding pictures enchanting and mesmerizing.
Key Biscayne
Key Biscayne is a small town located between two big parks that are inhabited by amazing creatures such as turtles, butterflies, and beautiful birds. Moreover, there are various beaches and tropical zones you may use to organize the most relaxing wedding photoshoot ever!
Bill Baggs Cape Florida State Park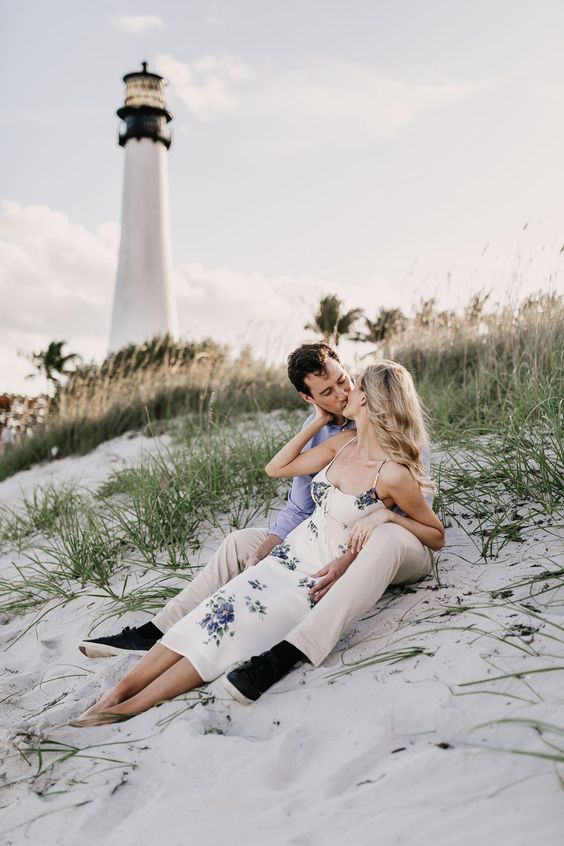 Would you like to take a romantic walk with your soulmate and capture the most stunning pictures ever? Adorable tropical alleys with the 19-century Lighthouse in the backdrop will touch your heart! Moreover, you'll be excited and inspired by the process as well. The pictures taken there are full of tranquility and peace. The views are breathtaking, too!
Crandon Park Carousel
This is a cute and sweet place to take your wedding or engagement photographs in Miami. If you're a big fan of unique, historic places and ancient things, you might find this location quite interesting. Although the Carousel is old-fashioned, this is the feature that makes it so special. Such photographs bring you back in time to the best moments of your childhood. Additionally, it won't take much time to capture nice pictures.
Maurice A. Ferré Park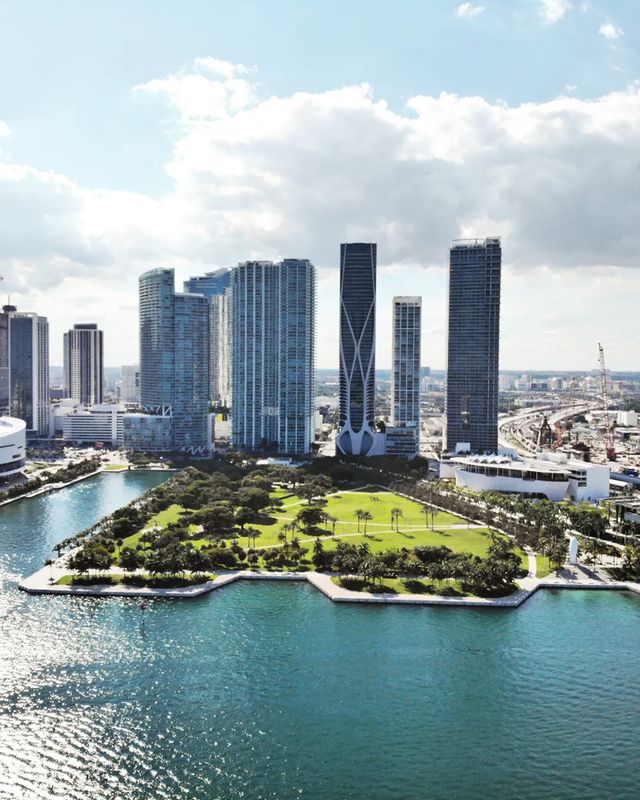 Maurice A. Ferré Park is a stunning park in downtown Miami. It's famous for its longest waterfront in Miami where you may spend some time away from the bustling city and capture stunning wedding photos. This is a charming and attractive spot for your wedding photos in Miami and a relaxing destination at the same time.
Historic Virginia Key Beach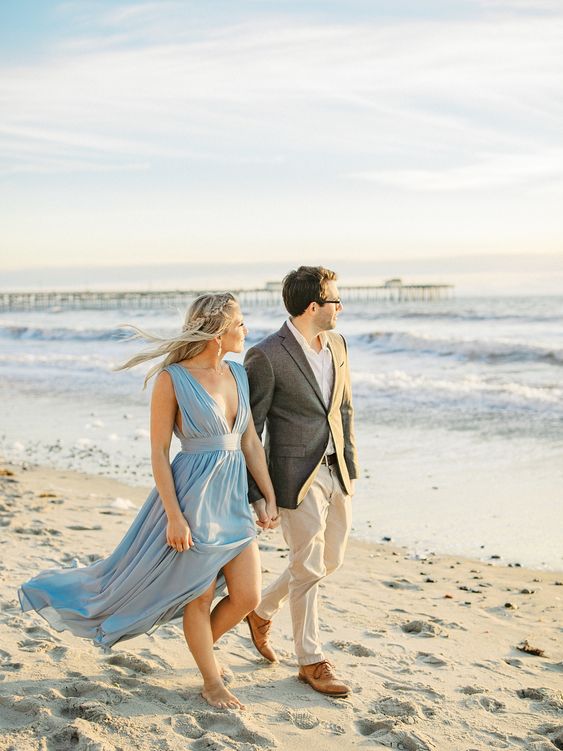 It has a great history and offers some unique spots for your wedding day photoshoot. The location is also famous for its marine park.
Enchanted Forest Park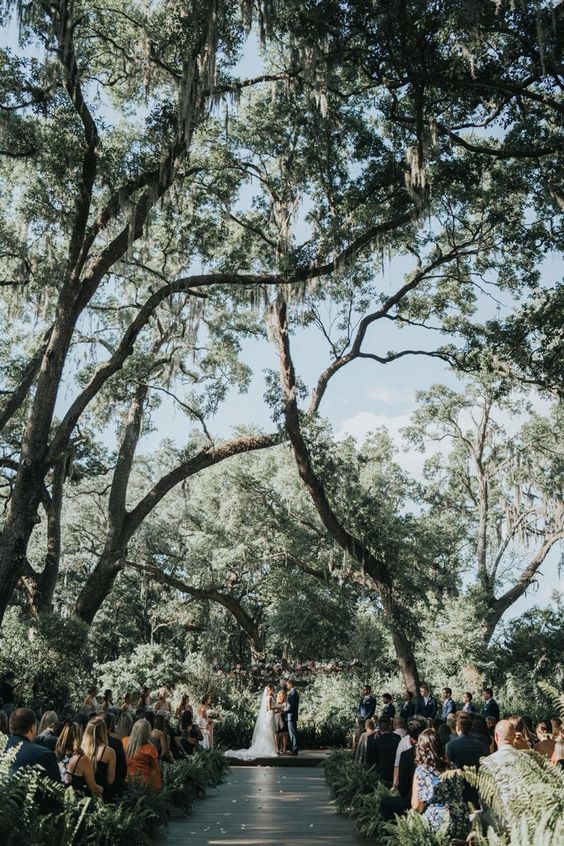 The park is a charming nature preserve and an oasis with amazing tropical greenery, trees, and creatures. You'll find there a butterfly garden, a gorgeous forest, a farm, and a lot of picnic zones. You might also want to take a pony ride there and that might become a unique feature of your wedding photoshoot.
Iconic Places for Wedding Photos in Miami
Wynwood Walls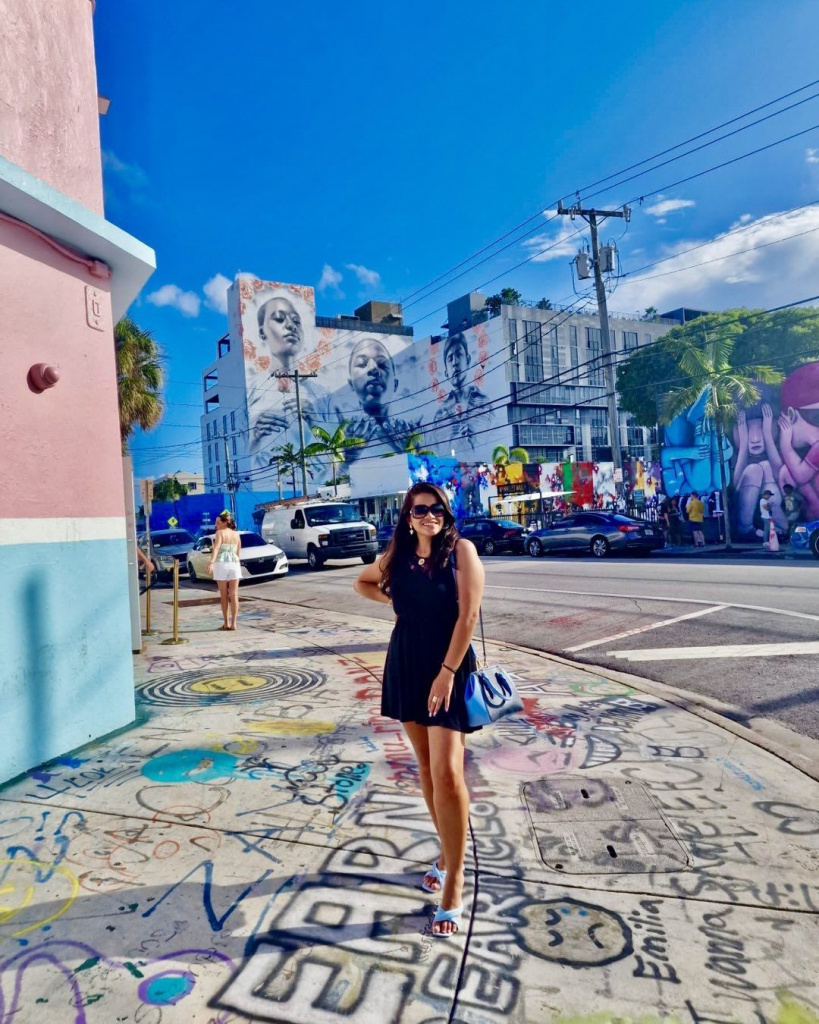 If you want to depict and reflect the liveliness and vibrant mood of a big city in your wedding pictures, consider choosing this option as a location for a photoshoot in Miami. It's full of lively, artsy, and super creative backdrops. This spot will satisfy your desire to make your wedding pictures trendy, colorful, and zippy.
Morikami Museum and Japanese Gardens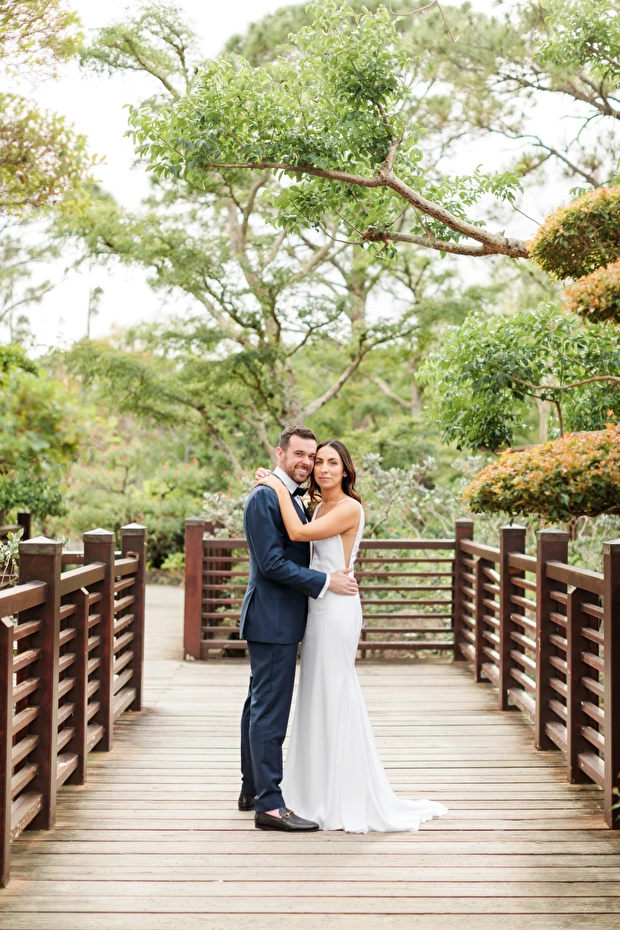 The place is fantastic to visit and truly the perfect place for a wedding photoshoot in Miami. Morikami Museum and Japanese Gardens is a center of Japanese culture in South Florida. There are marvelous ponds and lovely gardens. You may take an enjoyable walk and at the same time get gorgeous photographs.
Worth Ave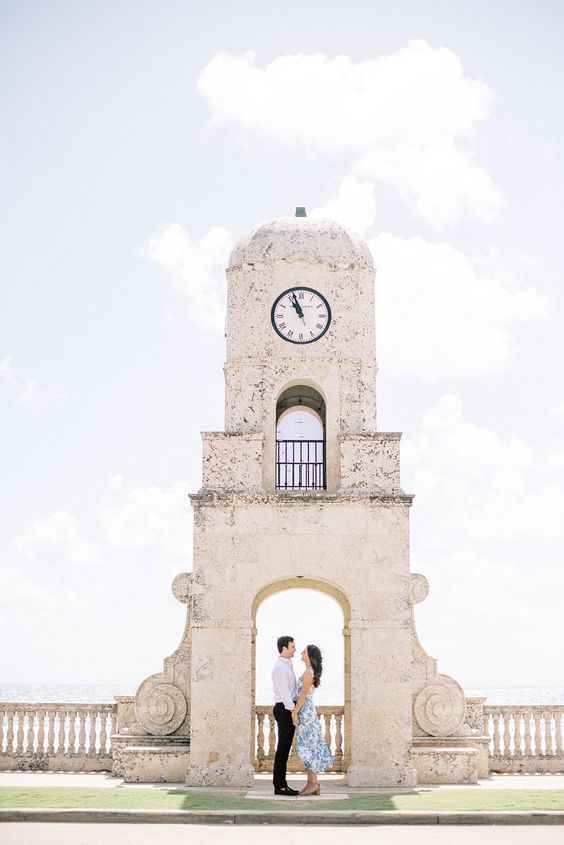 If you wish for luxurious wedding photos, pick this one without a doubt! Steps from the ocean, it features a range of boutiques, great dining (restaurants with amazing vintage decor), and a beautiful walking area among tall palm trees.
Ocean Drive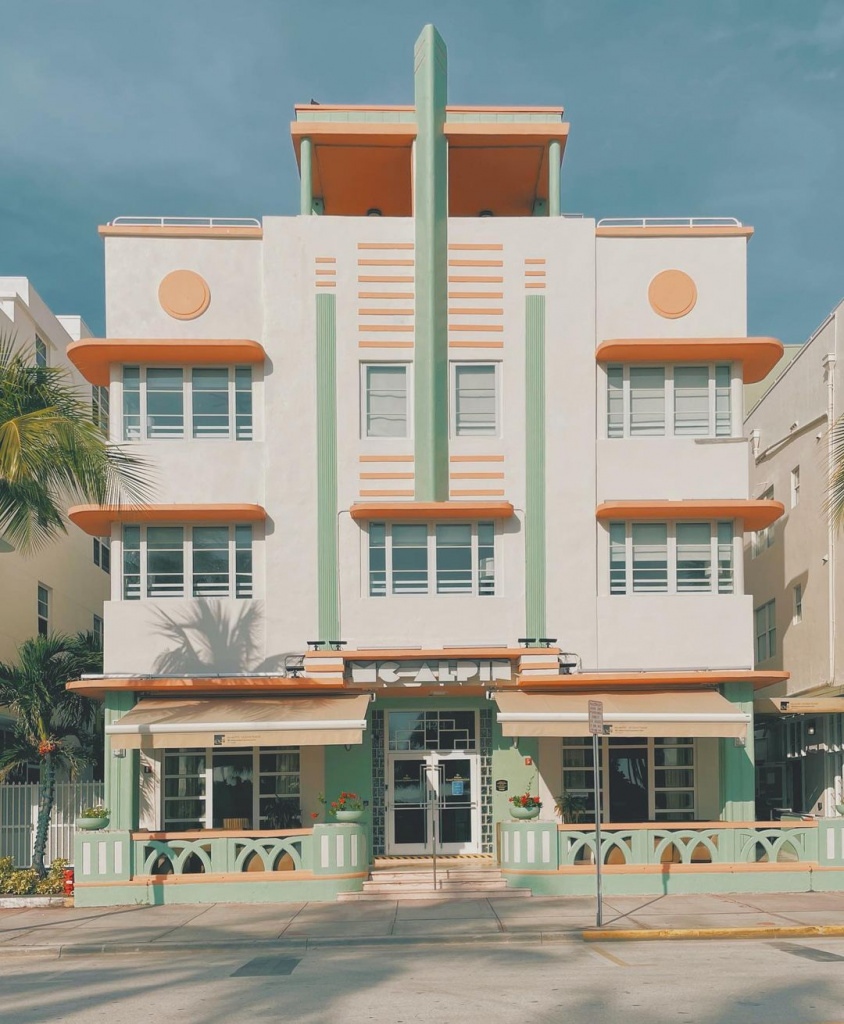 As one of the most attractive spots in Miami, Ocean Drive is an iconic promenade with stylish cafes and Art Deco architecture backdrops. The location is breathtaking scenery especially at sunset and at night.
Miami Skyline & MacArthur CauseWay
The views from the bridge are just striking and it's a great place to capture a sunset. If you'd like to capture the sunset and get both romantic and modern photographs, choose this one and you'll never regret it!
Bal Harbor Beach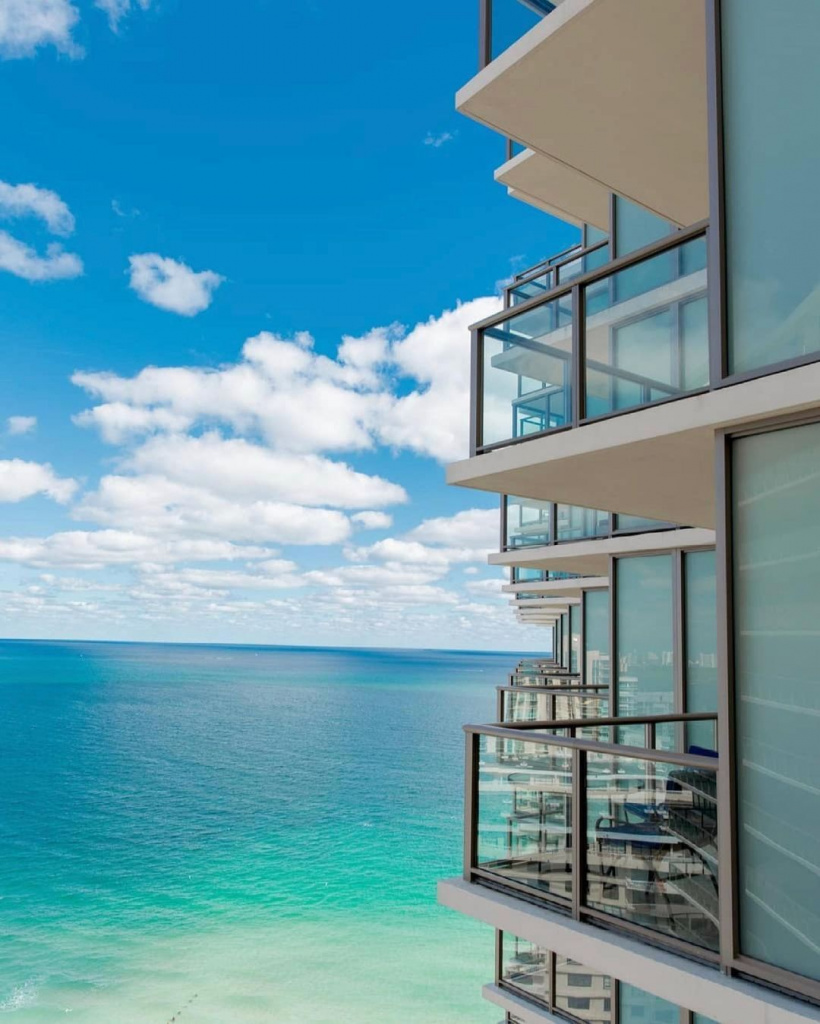 Bal Harbor Beach is a calm and luxurious place at the northern tip of Miami Beach. It is best for a photoshoot at sunrise. You'll get gorgeous views of the Atlantic for your wedding photos at this iconic destination with shiny waters and powdery sand.
Unusual Places to Take Photos in Miami
Faena Hotel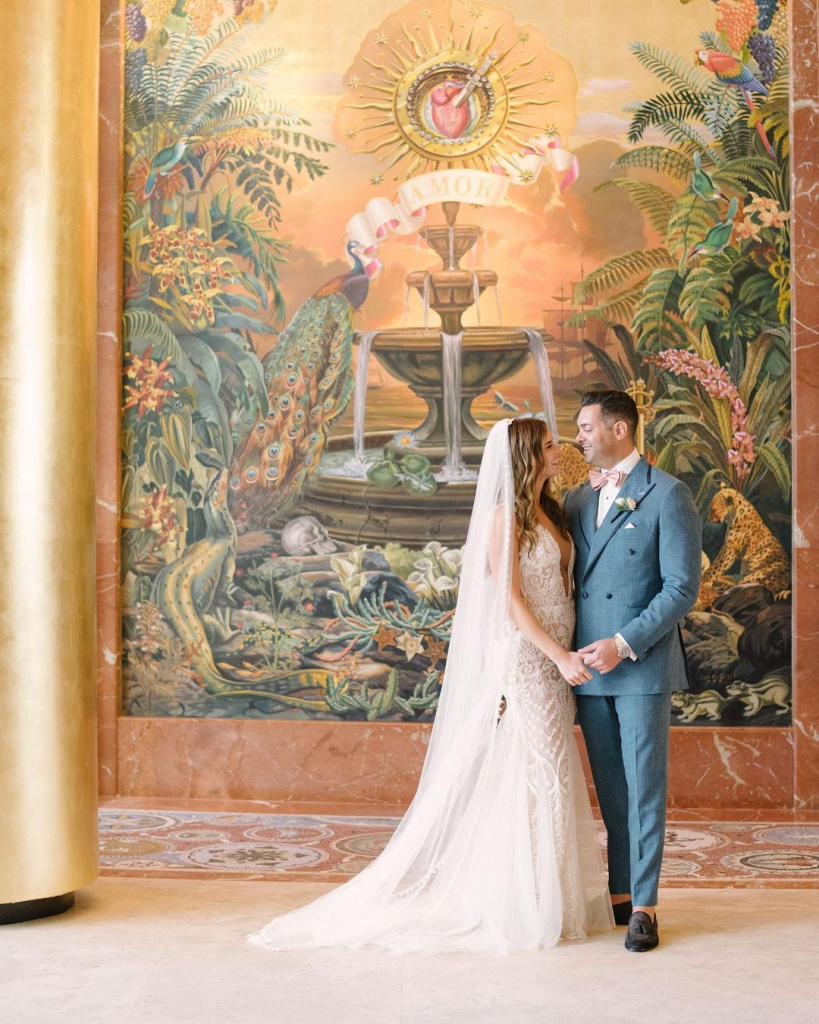 If you want something extremely exotic and exceptional for your wedding photoshoot in Miami, you may like the Faena Hotel. It boasts a decadent design and a fashionable interior. It is right on the beach. The hotel seems to be a unique place in Miami where you can see a golden Mammoth and take a picture of it as well!
Brickell City Center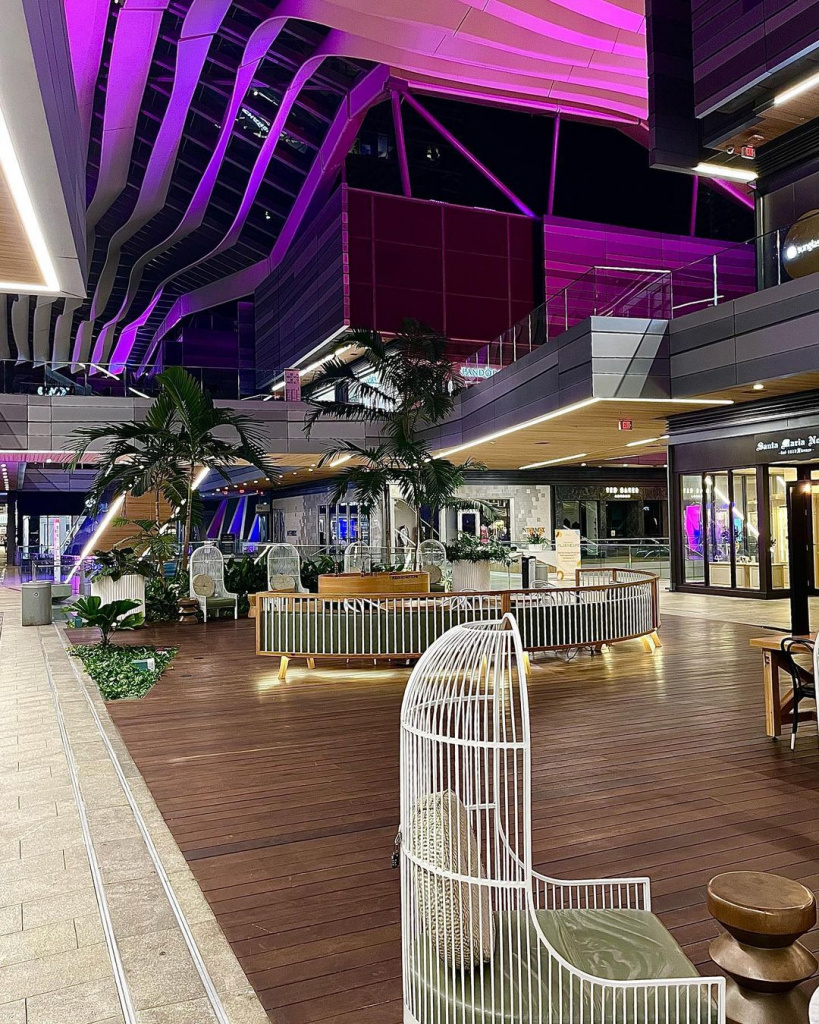 If you find modern architecture beautiful and attractive, check out this place as an amazing place for your wedding photoshoot in Miami. It's an iconic spot, one of the most stylish shopping malls, just in the city center.
Little Havana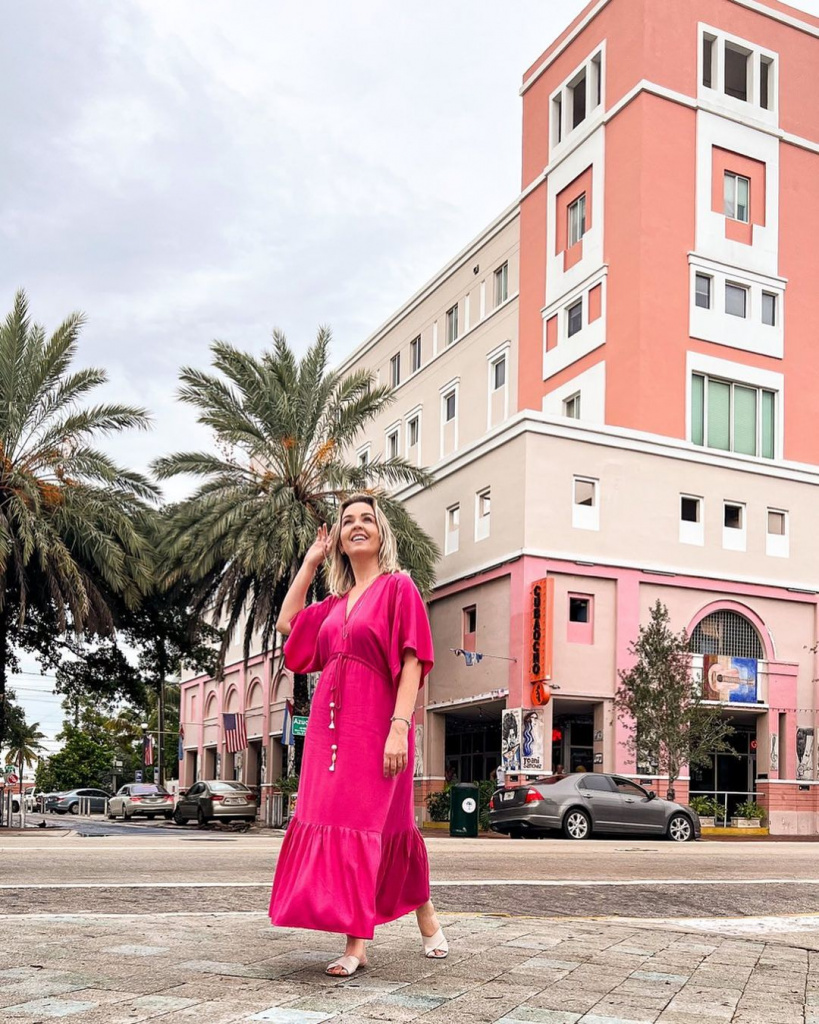 This is a neighborhood with Latin-inspired restaurants, bakeries, and shops. It's an awesome place if you're a big fan of street photography and want to spice up your wedding photo collection. The location guarantees bright and colorful snaps but you still may make them romantic!
Venetian Causeway Park
Just an awesome place if you'd like to capture a view of the Miami skyline! A 'golden hour' (before sunset) is the best time to catch some warm rays though you can try another period of the day. You'll love a gorgeous backdrop of modern city architecture, amazing highrises, and the bridge along with calm waters behind you.
Pine Tree Park
This small park provides you with various shade trees and walking paths with breathtaking views. Besides walking trails and large grassy areas, you'll find a dog park, so you can take your little friends!