40 Best Places For Wedding Photoshoot in San Francisco
San Francisco is an amazing city with a rich history and plenty of delightful locations to go on your wedding day to take beautiful snaps! In this article you'll find out only about the most magnificent spots you'll fall in love with!
Best Places for Photoshoot
Golden Gate Bridge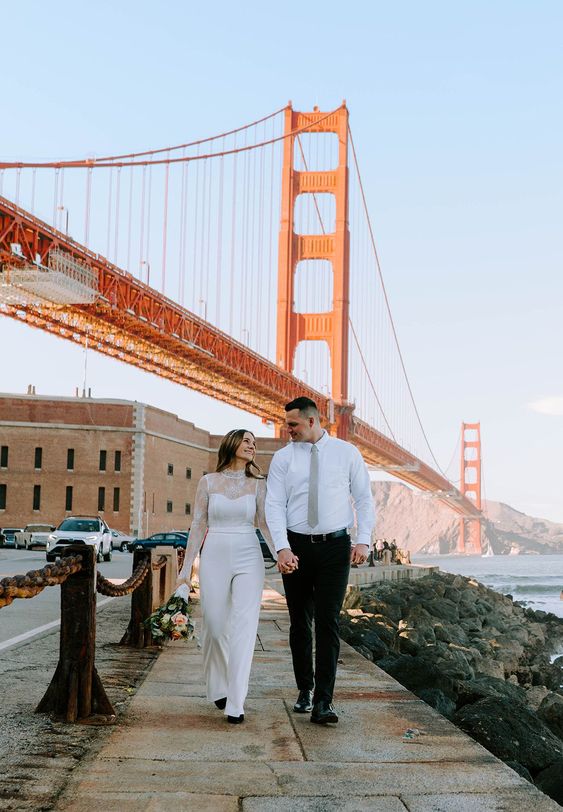 You immediately recognize this iconic and well-known place as a unique feature of San Francisco. It probably deserves the title of the most romantic architectural backdrop. The massive construction with its captivating colors looks magnificent, especially at sunrise or sunset. The Golden Gate Bridge is a place for a must-have wedding snap you should take! You may try different poses and angles but it looks breathtaking anyway!
Battery Spencer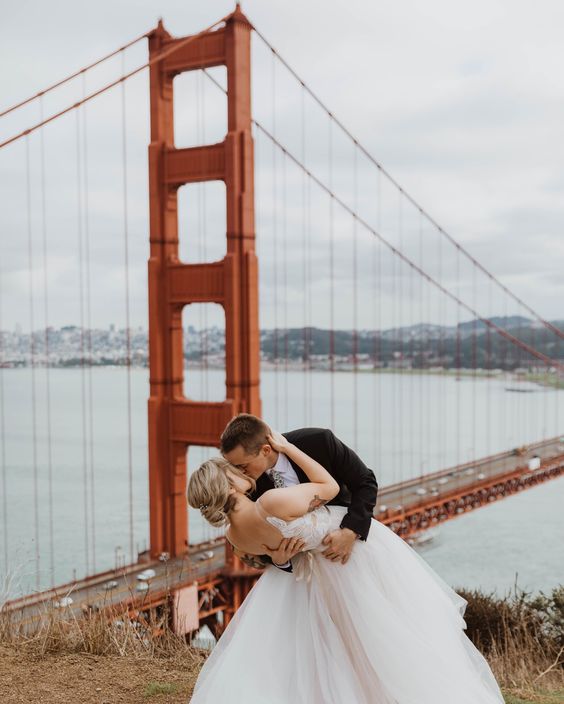 No doubt, it's the best position to take some fashionable snaps and show the Golden Gate Bridge! Battery Spencer is the exact spot where all those fascinating pictures are usually taken. The main reason is that the location provides you with amazing landscapes, showing all the vital elements and the bridge in its full beauty.
Bay Bridge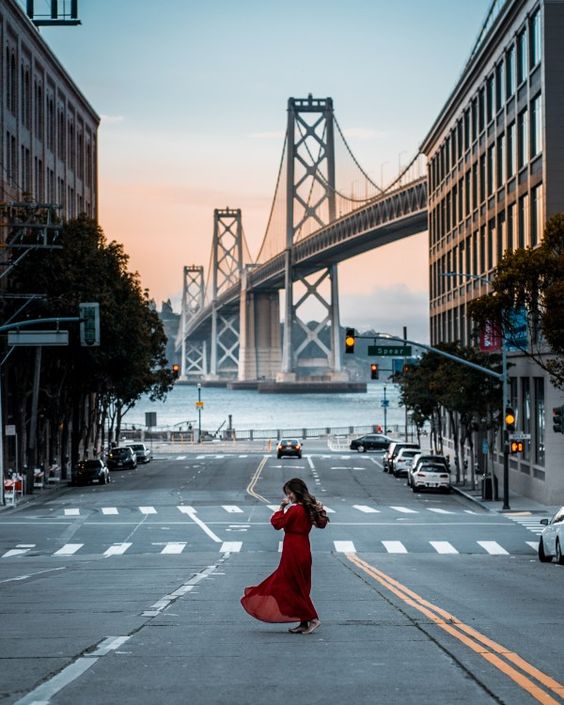 Although this stunning place might be eclipsed by the Golden Gate Bridge, it's so charming and bewitching! Don't think that if it's a little bit less popular, it's less stunning. No way! It is worth visiting especially to take some gorgeous wedding photos there. Try choosing the time around 'the golden hour' to catch the gorgeous soft hues of the sky with a romantic silhouette of the bridge.
Cable Cars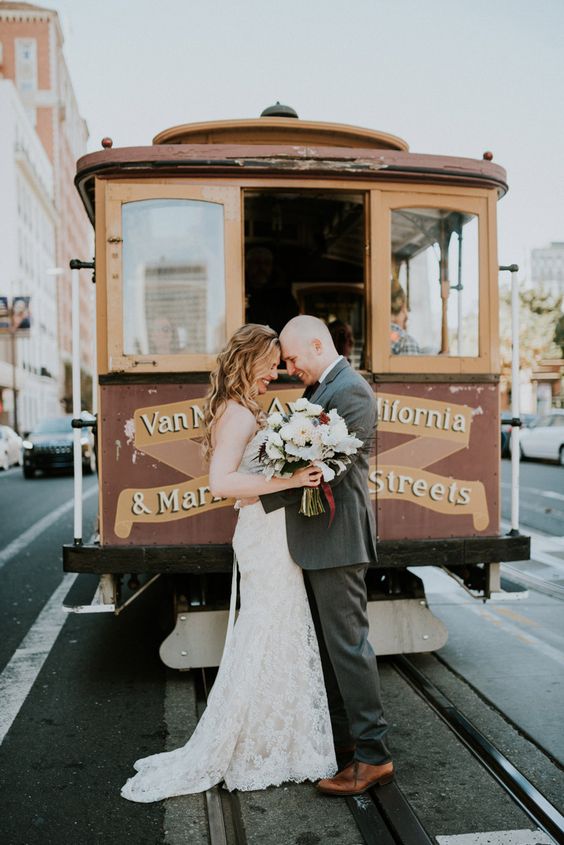 They'll amaze you with an extraordinary and original retro style and cool artsy backdrops. If you wish for funny and lighthearted wedding photos, opt for this spot. Such pictures will help you to immerse yourself in the atmosphere of the city by showing its history. The simplicity of these photos isn't boring but elegant and timeless.
Alamo Square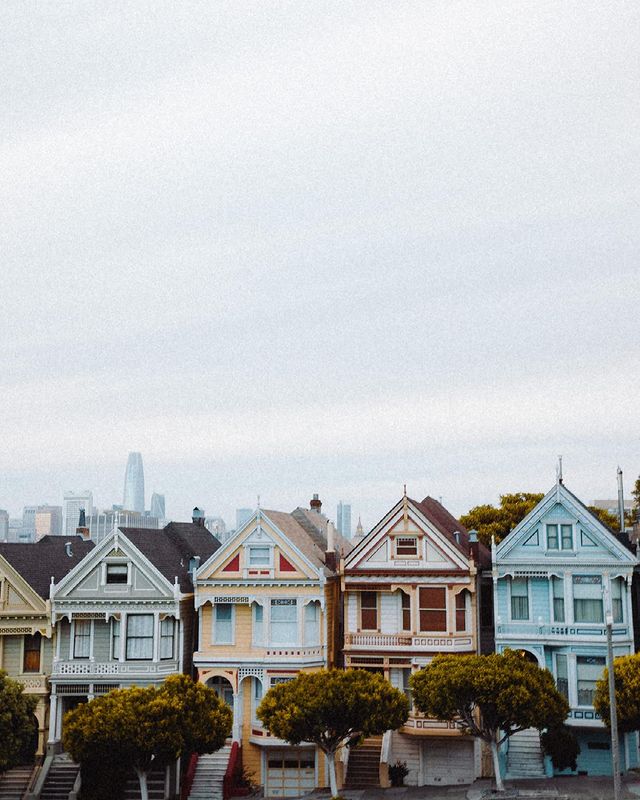 Don't miss this picture-perfect place! It's fairytale-like both in the photographs and alive. A row of neat and attractive Victorian houses creates an eye-catching picture. You can choose from several options where to take nice shots from.
Chinatown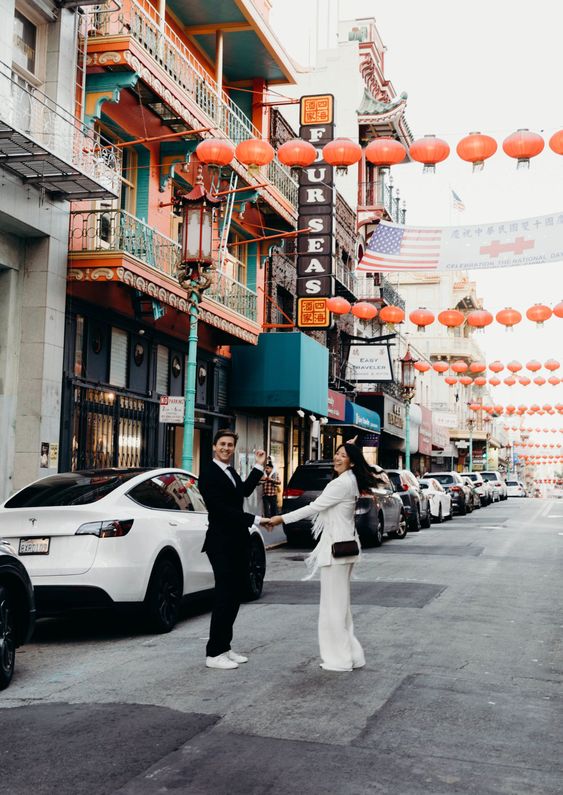 This bright neighborhood is rich in colors. It's lively and bustling, decorated by plenty of amazing lamps, lanterns, and Asian architecture. You're instantly transported to some Asian areas with their amazing food and styles. How fantastic! If you'd like to make your wedding photos truly striking and flamboyant, pick this spot to capture some gorgeous shots there. It's quite bustling during the daytime, so it's a great idea to visit it closer to the evening when there's still enough light but not so many people.
Coit Tower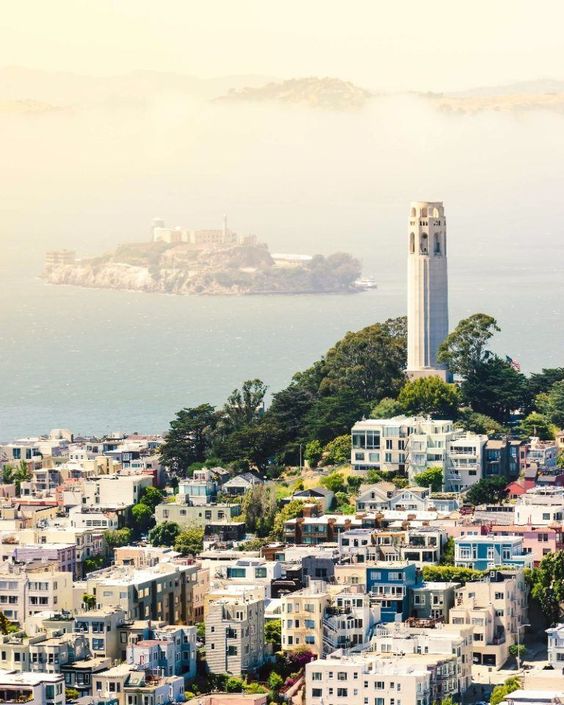 This place of interest might be captured and seen from many different locations (one of the best is a hilly Lombard Street or Vallejo Street). Beautiful eye-catching buildings of different sizes, shapes, and colors, which you can see from the top of the building, depict the idea of the great diversity and are brilliant to take incredible wedding photos in San Francisco.
Palace of Fine Arts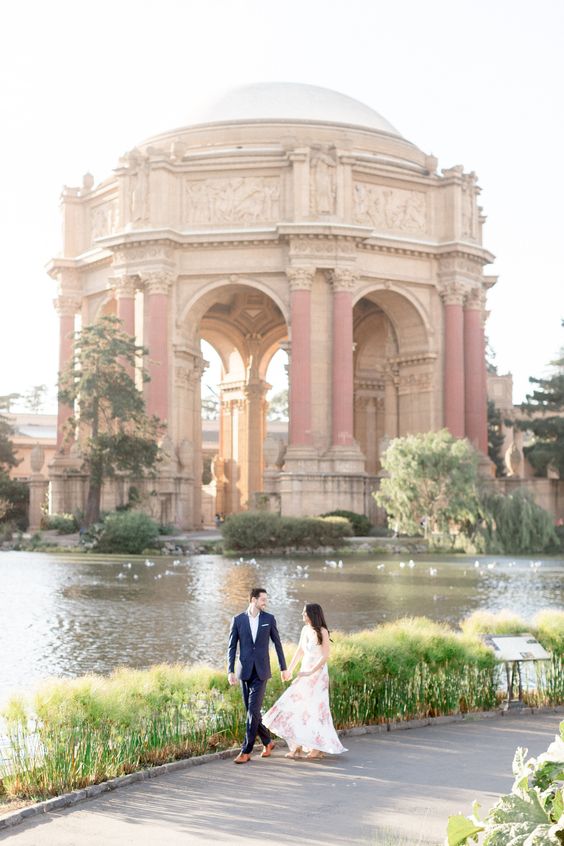 Just a marvelous architectural masterpiece, a unique and gorgeous place in San Francisco you should visit anyway, especially to take wedding pictures! A dreamy palace among luscious greenery brings you to the elegant epoch of European elegance and romance. The impressive columns and mesmerizing dome are truly hypnotic and adorable. Its splendor makes you feel like a prince and a princess on your special day. Additionally, you'll get super esthetic pictures and memorable impressions of the visit.
Lombard Street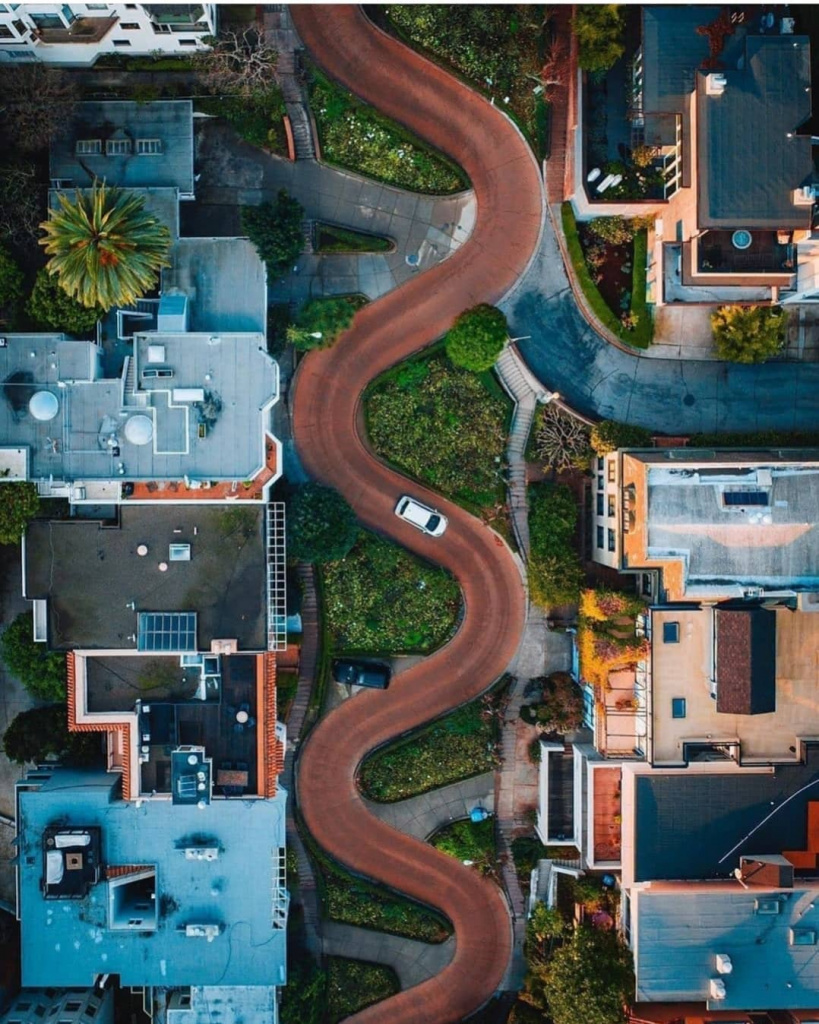 The road seems to be one of the cutest twisted streets with plenty of modern houses, colorful bushes, plants, and trees along it. A graceful walk on your 'big day' there must be cherished and captured by a professional photographer. No doubt, you'll get some awesome stylish snaps to add to your wedding album.
Parks and Beaches
Marshall's Beach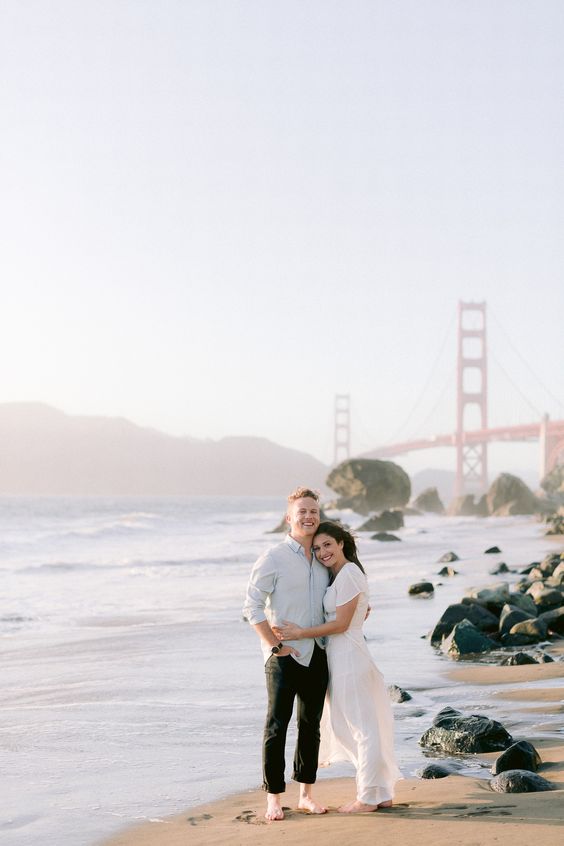 It's one of the most marvelous locations in San Francisco to take amazing wedding photos and enjoy beautiful landscapes. It's adorable at sunset when soft rays give their last touches to the rocks and waves. What an awesome panoramic picture you get! If you'd like everything at once - majestic architectural construction (the Golden Bridge) and pure natural views to capture at the same time, this place is the ideal one for you!
Sutro Baths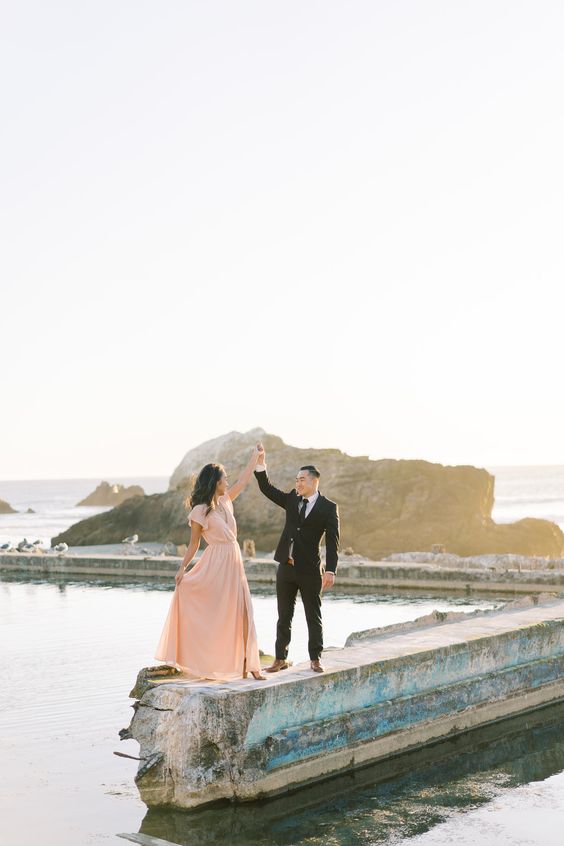 Now we can only see the mysterious ruins of a pool complex that was there earlier. It's currently a place of interest for tourists and a great attraction for photographers. You may take some unique wedding photographs and fully feel the history of the place. Water as a part of the composition suggests tranquility and calmness, whereas the ruins give a special and magnificent vibe. It's just gorgeous at sunset when the best light might be caught along with romantic reflections.
Stow Lake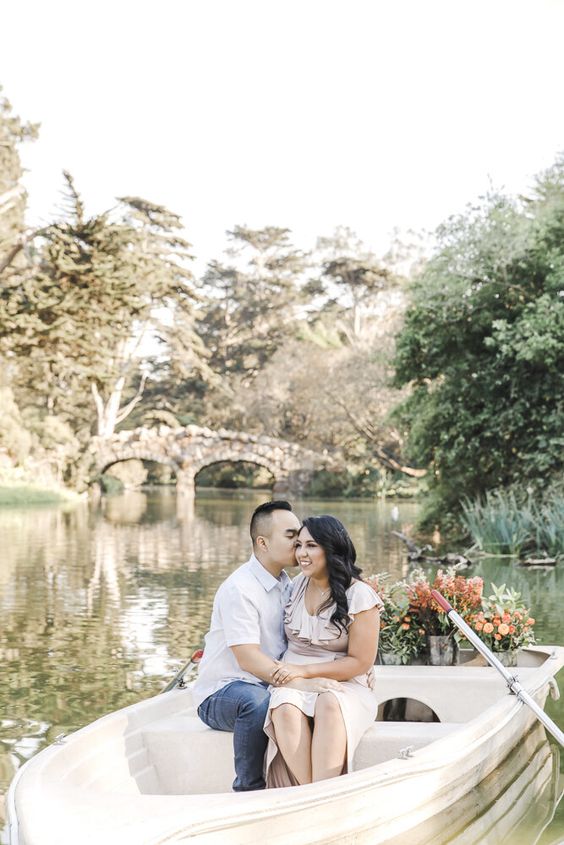 If you wish for a perfect romantic wedding photoshoot in San Francisco, check out this place! Stow Lake seems to be a lovely pond in Golden Gate Park. It's surrounded by green and juicy trees and bushes but if you'd like to rent a boat to achieve the most gorgeous wedding shots ever, be careful. Mind your wedding attire and the fact that rowing isn't as easy as it seems to be in the photos you may see. However, if you're decisive enough and that's your dream, give it a go!
The Dutch Windmill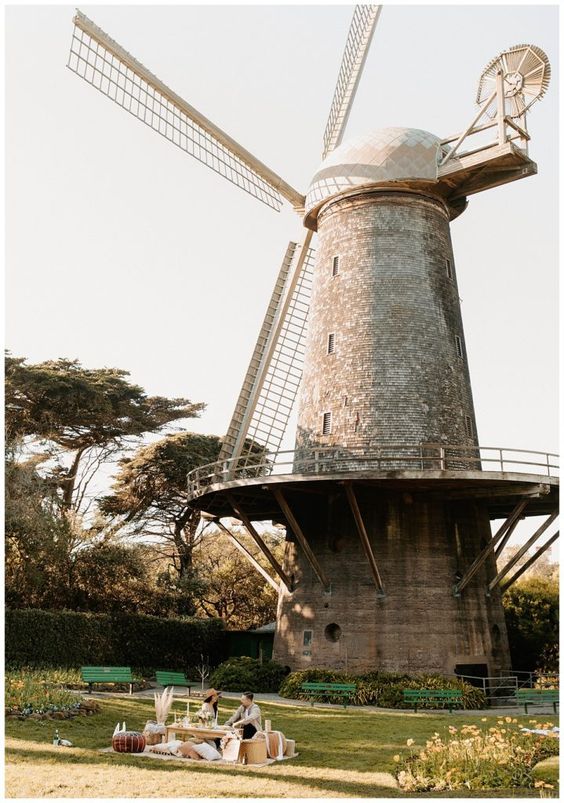 The windmill is quite an outstanding building with a beautiful garden around it. It's especially attractive in spring when tulips bloom and everything around is playfully colored.
Sutro Forest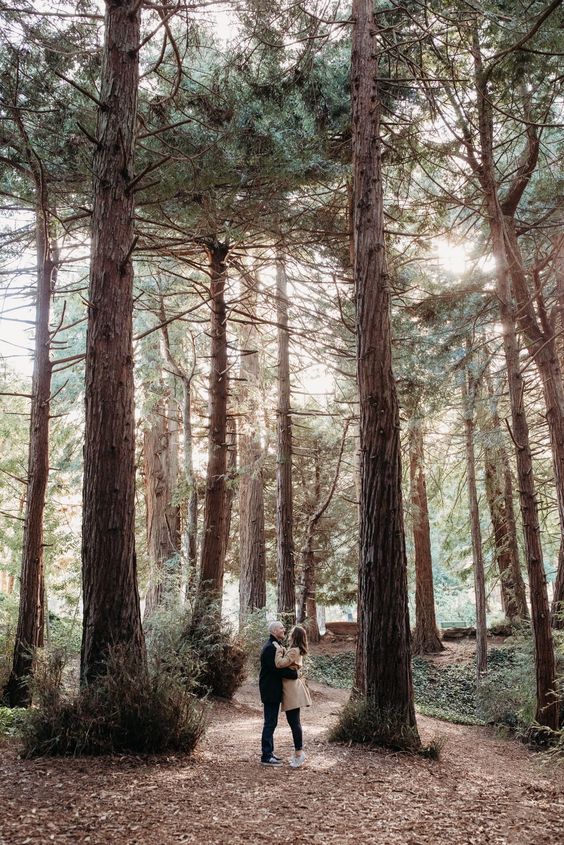 A forest is a marvelous and atmospheric location where you will feel the magnificence of nature and take amazing wedding photos in San Francisco. If it's foggy outside, this location is the coolest option to choose as it looks especially mysterious and peaceful then. Explore the nature trails, paths, and alleys with majestic tall trees to catch and cherish the moment of happiness on your wedding day.
Bernal Heights Park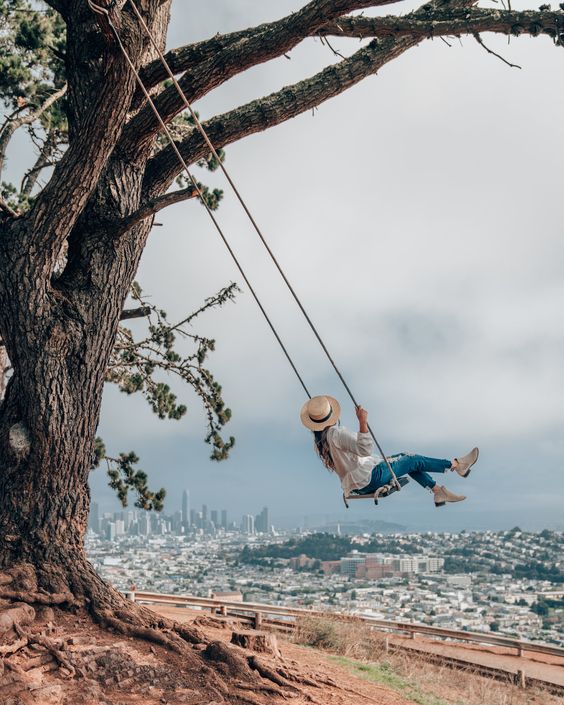 One of the cutest city views opens from this magnetic place. You'll never regret taking awesome wedding pictures of a breathtaking city view along with a partial forest vibe on the top. An exclusive and original combination of capturing an urban background and some pieces of nature is definitely worth your attention. Don't miss the swing on the top!
Pier7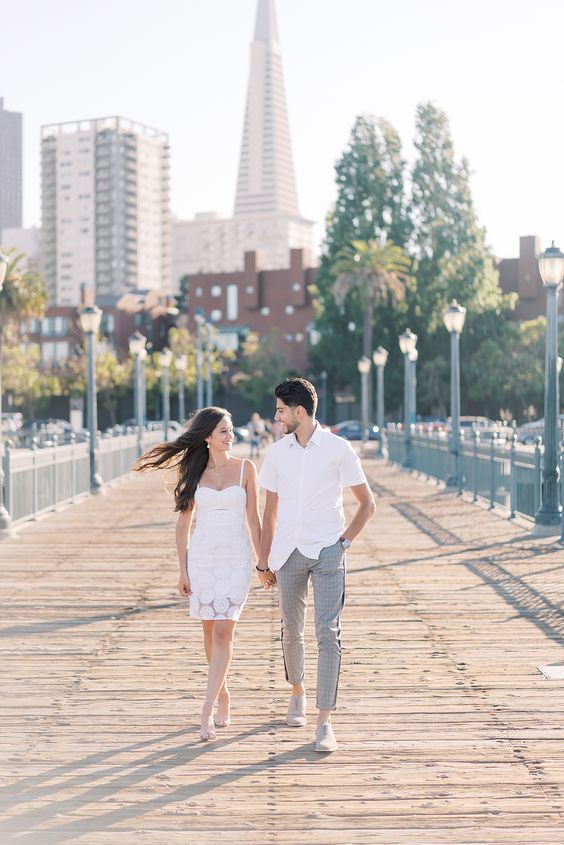 Don't miss this well-known pier in San Francisco. Walking along such a gorgeous waterfront and taking wedding pictures there may eventually turn out to become the best idea ever! You'll fall in love with an attractive backdrop picture as it offers an amazing view of various bewitching places of interest.
Clarion Alley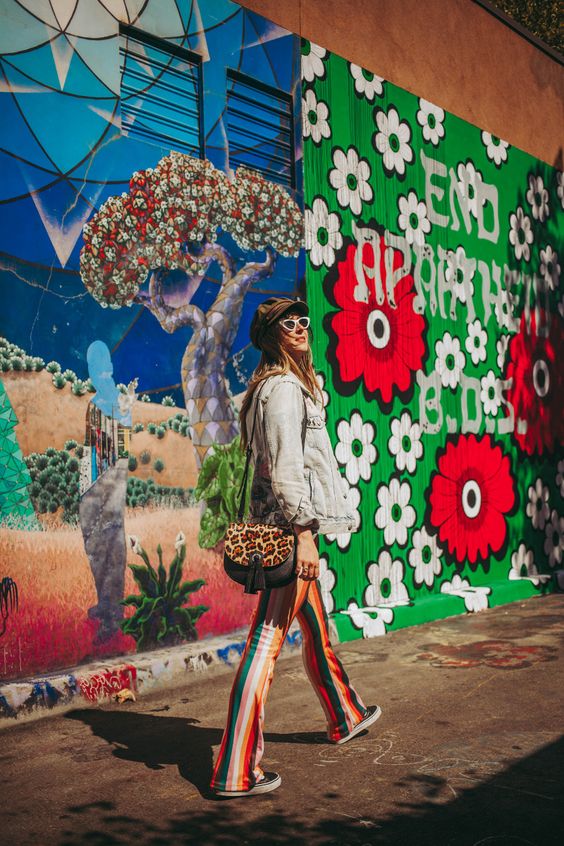 If you're looking for a unique place with incredible pieces of art, this is exactly what you need. Murals painted by hundreds of talented artists will offer numerous options for wedding photo ideas. Some of them are curious to look at due to their sophistication or deep sense and social importance. Whatever you appreciate the most, you'll definitely find an appropriate option there.
California Love Mural
A stunning masterpiece that is an unusual spot for a wedding photoshoot in San Francisco. If you think out of the box and make your wedding pics truly unique, check out this spot and make sure you love the displayed colors. It's really bright and striking but you might love the idea of taking some funny photographs in front of the Mural.
Lincoln Park Steps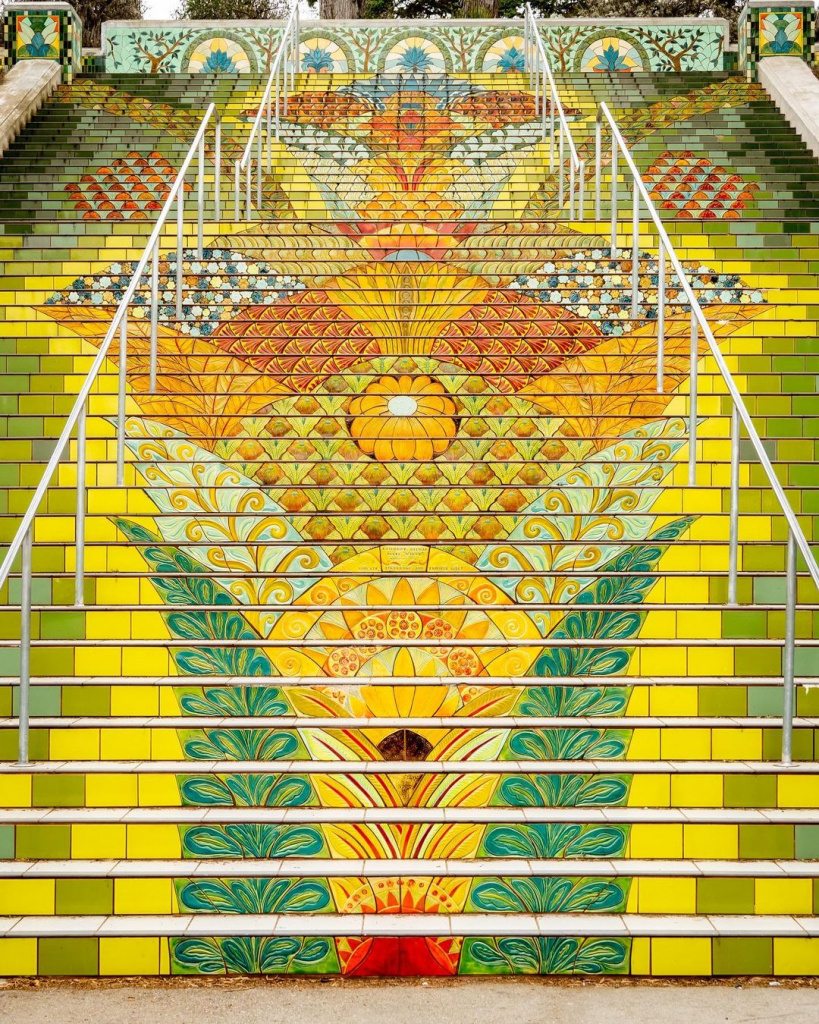 The color scheme of the stairs is absolutely captivating. This charming mosaic staircase attracts by its simplicity and elaboration at the same time. Going up and giving a mysterious lookback may be an awesome idea for your wedding photographs.
Best Spots for Wedding Photoshoot in San Francisco | Museums
SF MOMA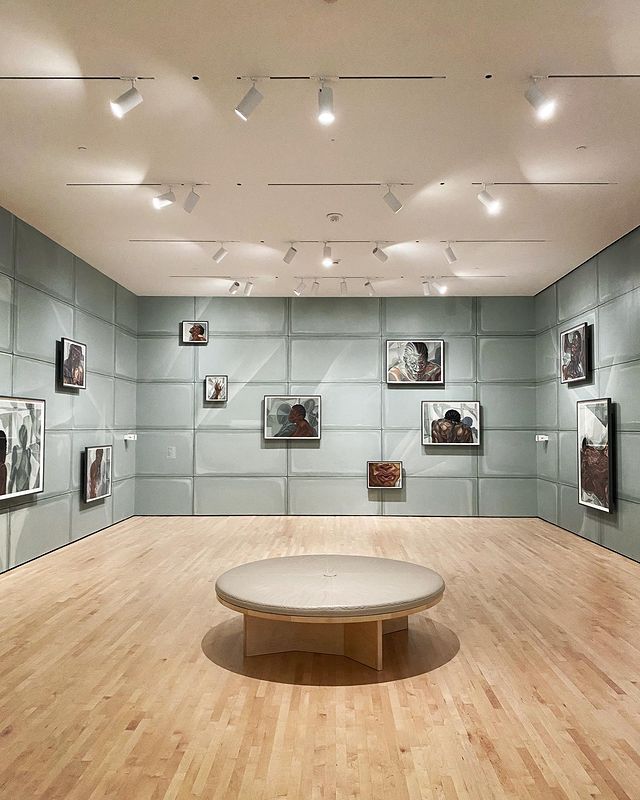 Why should you pick a museum as a location for a wedding photoshoot? How about taking pictures of an awesome modern background, using contemporary art installations and walls? The gallery is huge and offers the most colorful and stylish pieces of art, an amazing living wall, and unique sculptures.
The de Young Museum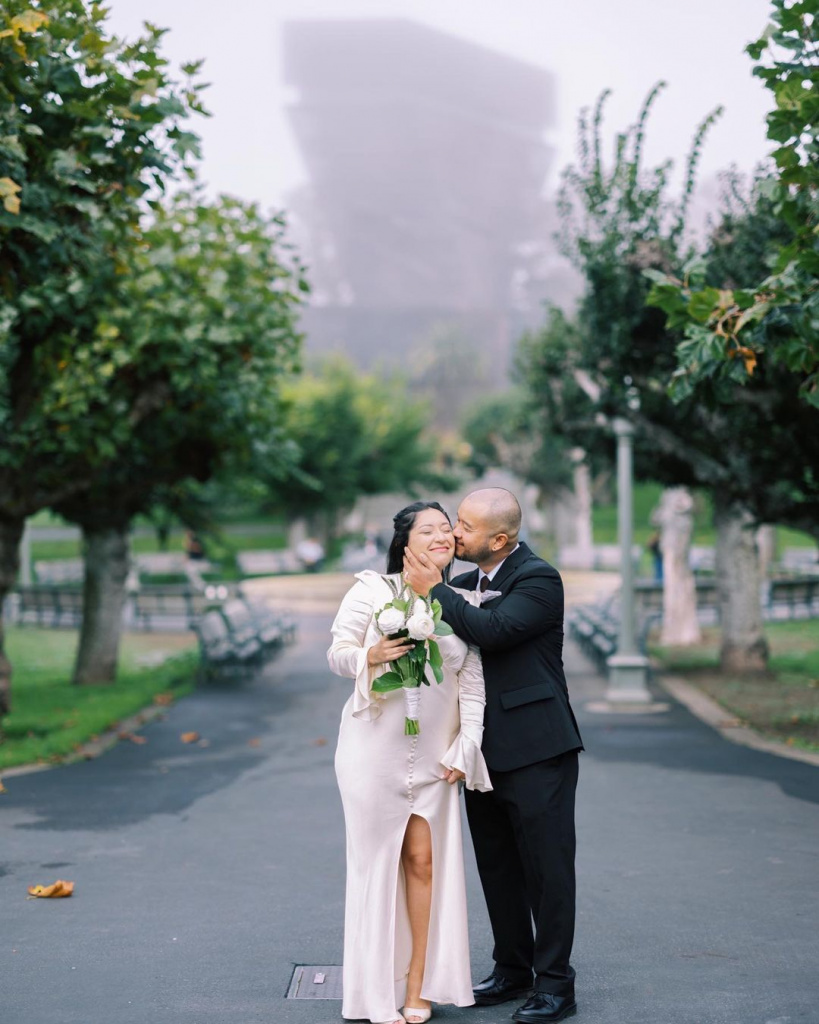 This museum is situated in the most fantastic places in San Francisco for your wedding photoshoot, in Golden Gate Park. You'll find there an incredible modern wall with an unusual texture that provides you with an amazing backdrop! The color is quite neutral but eye-catching. This simple but at the same time, sophisticated spot might become a perfect location for your wedding photoshoot in San Francisco.
Legion of Honor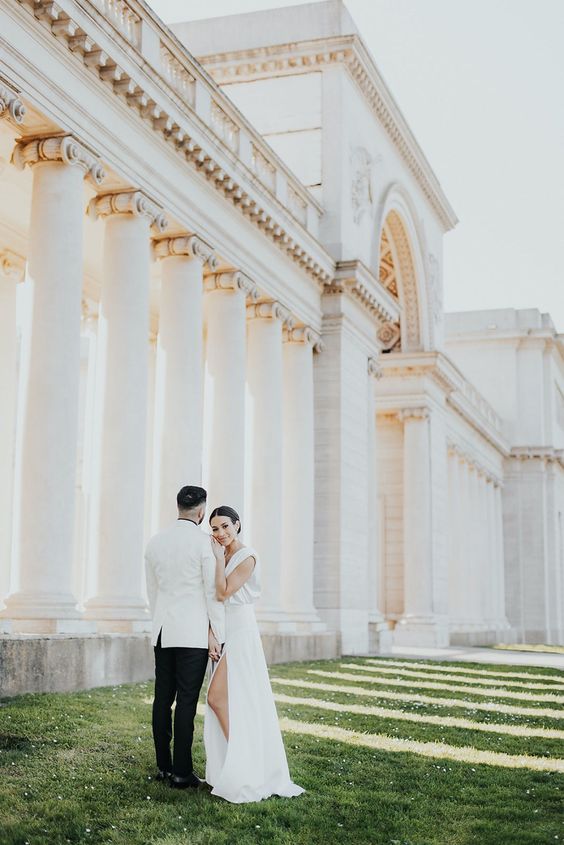 The type of museum building you'll immediately fall in love with! The greatest ivory columns impress with their majesty and splendor. If you want to get outstanding wedding photographs, pick this one because the backdrop you see will touch your heart.
Conservatory of Flowers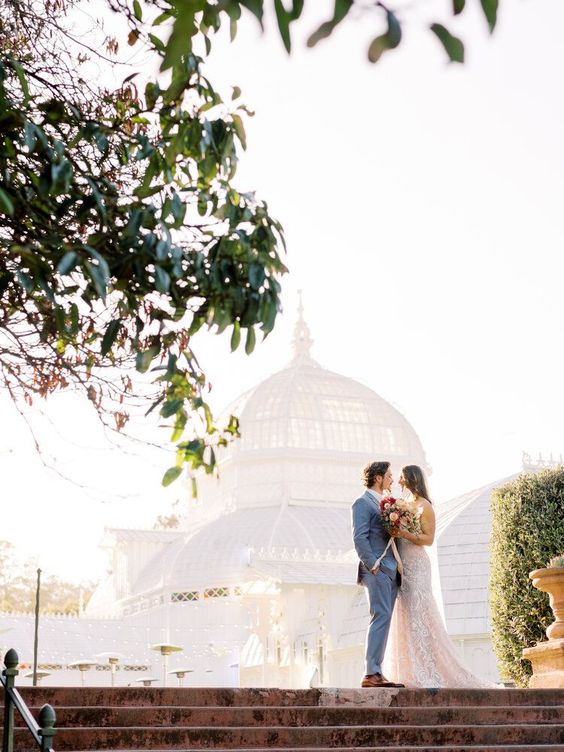 What a picturesque place it is! A magical combination of a stunning old building in Victorian style and thousands of tropical greenery and flowers will make your heart skip. Amazing greenery will make you and your beloved one feel this paradise.
Streets
The Sentinel Building (Columbus Street)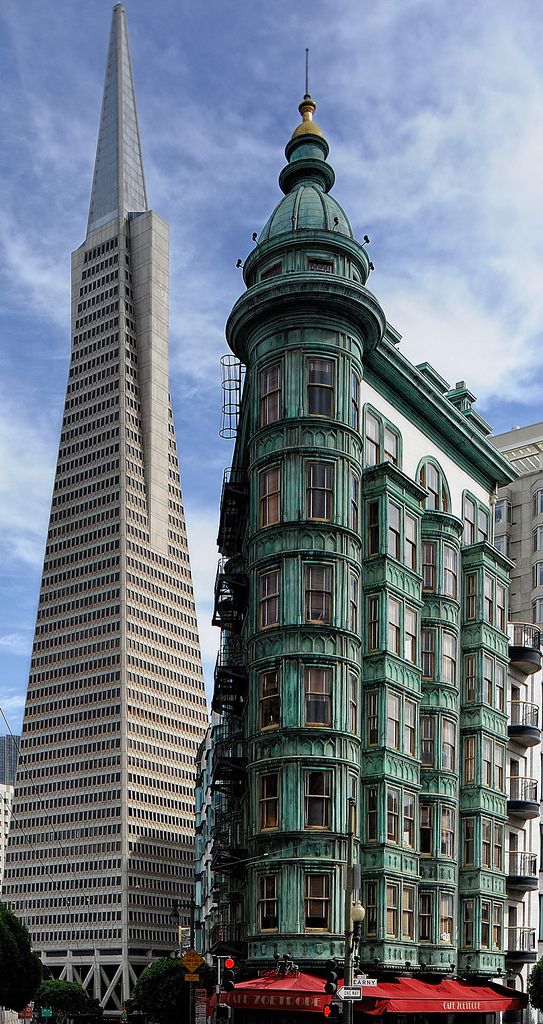 The picture you get is just breathtaking. An unbelievable and dramatic combination of styles and tastes, so this location will suit everyone. The main idea and goal is to capture the city's rich history and get a few stunning snaps!
California Street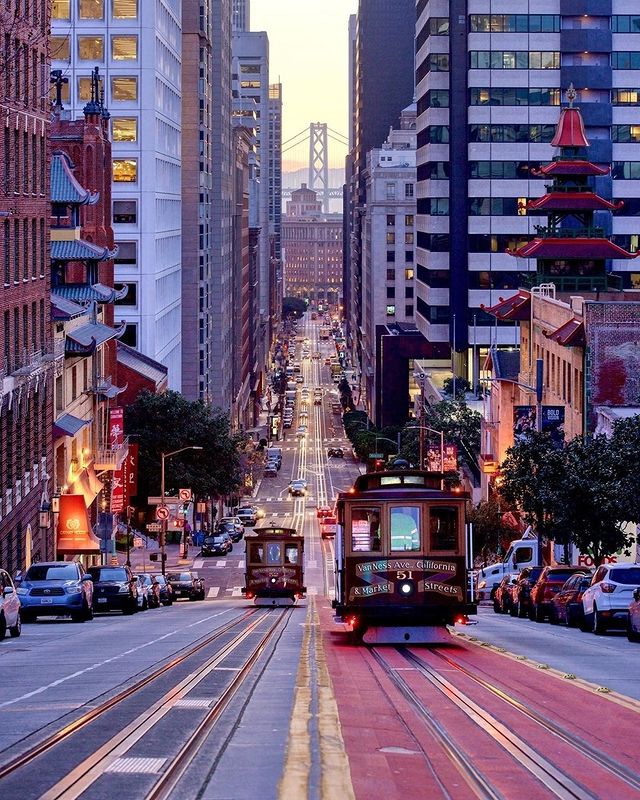 It's one of the most fascinating roads in San Francisco as it's a hilly street, showing a beautiful row of skyscrapers with multiple windows and modern facades. You can even notice the Asian curved roofs of Chinatown and the Bay Bridge! What fantastic diversity!
Jasper Place
Compared to the spacious streets of Francisco, this alley seems to be tiny and narrow though it creates its special charm and uniqueness. Its pale and soft colors create a tender backdrop, giving a romantic feeling of a miraculous love story.
Maiden Lane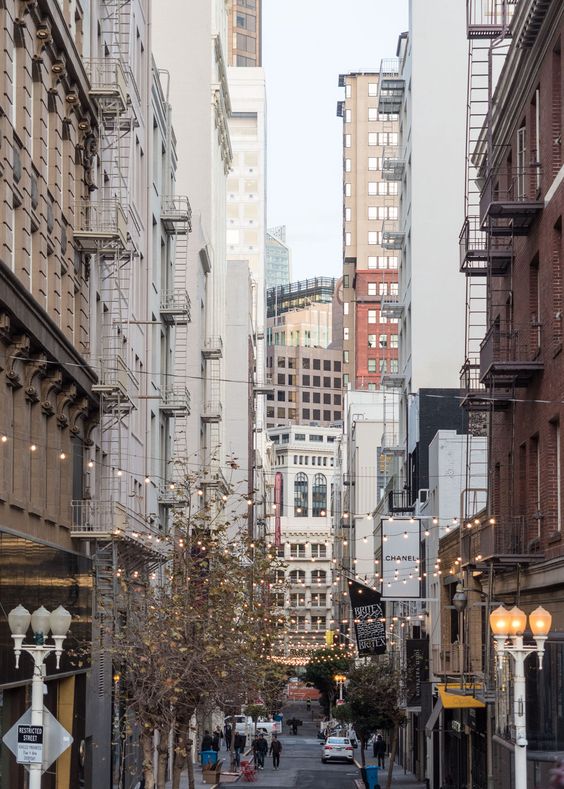 If you've never heard of this place, you must visit it, and doing it on your wedding day is a cool option! Although it isn't that famous, it's extremely charming and captivating. It's located near Union Square and has its fantastic peculiarity. While taking photographs there you'll notice some lovely strings with lights that provide each snap with coziness and warmth.
Best Spots for Wedding Photoshoot in San Francisco | Unique Houses
Bougainvillea House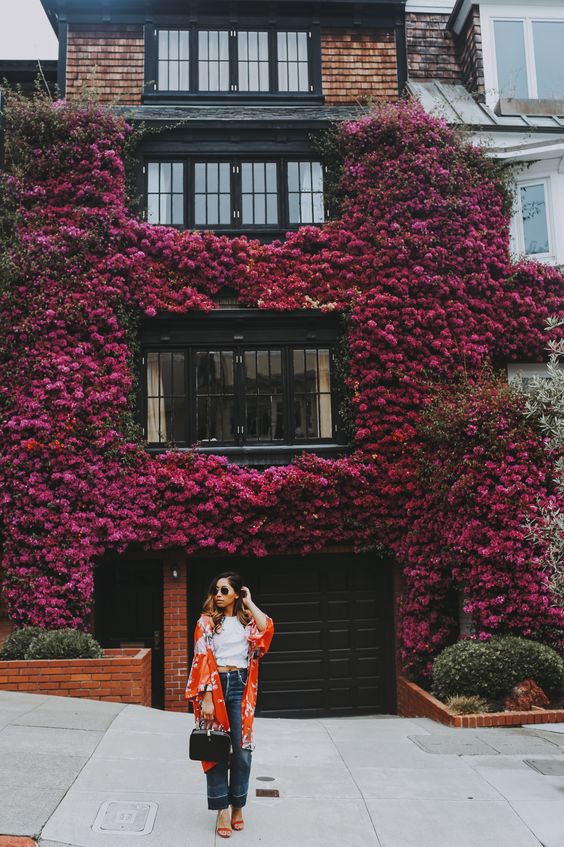 This is a type of plant the blooming of which is indeed unique and is just as pretty as a picture. With its esthetic and rich magenta color bougainvillea becomes an amazingly photogenic and romantic backdrop for your wedding photoshoot in San Francisco. The best time to see all its beauty is in its seasonal time, in summer.
Candy House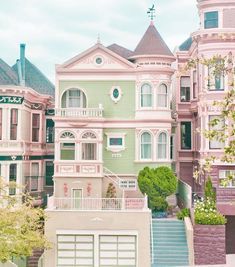 It's one of the cutest and prettiest colorful buildings in the city! You may think that you don't really have a sweet tooth but this place won't leave you indifferent anyway! It may rightly be called the home of some fairy-tale characters and will bring back your best childhood memories. A white elaborated and figured fence, cute colorful columns, and green accents of the building altogether remind Barbie Doll House and is doubtlessly dreamy.
Haight-Ashbury Victorians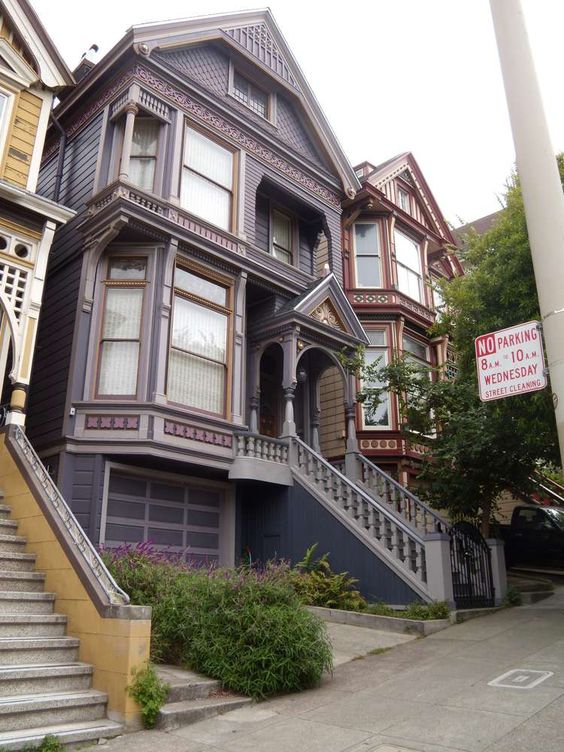 It's a valuable place, reminding us of the rich history and giving us the feeling of previous epochs. The perfect lines, unique patterns, and selected color combinations are just breathtaking. Visit this location if you wish for some delicate and gentle wedding photographs of these precious pieces of architecture.
Rainbow House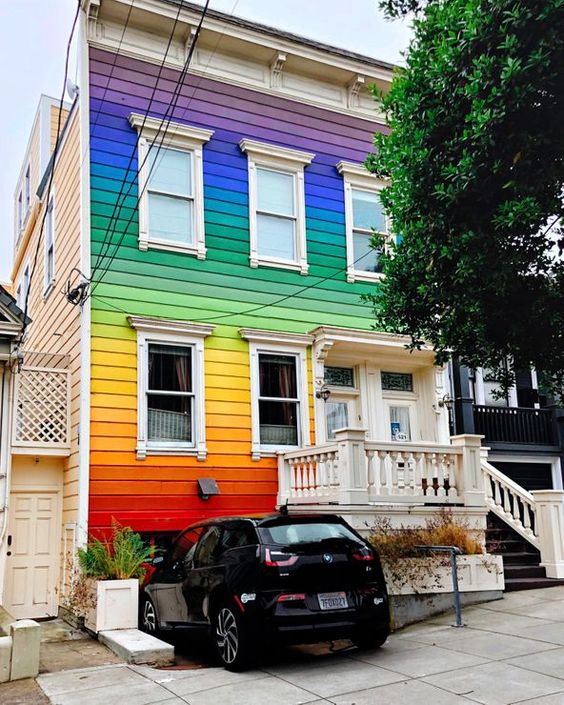 Want more colors, more energy, and more drive? Then check out this flamboyant and colorful building painted in different rainbow shades. The bright colors are balanced by a classic white balcony and stairs.
Best Spots for Wedding Photoshoot in San Francisco | Cafes
There are so many gorgeous places in the city but we've prepared only the best spots for any taste. Check out these fashionable places so as not only to drink some delicious coffee but also to capture brilliant photographs:
Wrecking Ball Coffee Roasters (cute pineapple wallpaper backdrop)
Chambers Eat + Drink (stylish sign in the bar zone)
Media Noche (cool murals and pretty patterned floor)
Mr. Holmes Bakehouse (adorable neon sign)
Home Cafe (a colorful latte for your romantic wedding coffee time)
Pinhole Coffee (colorful rainbow walls and pillows)
Perhaps, none of these places will become your main photoshoot location but it's a great idea to keep in mind the best options of such places to pop into on a wedding day. Imagine that you might briefly visit a cafe and combine 15-minute coffee time and relax with a few amazing snaps!
Best Spots for Photoshoot in San Francisco | Shops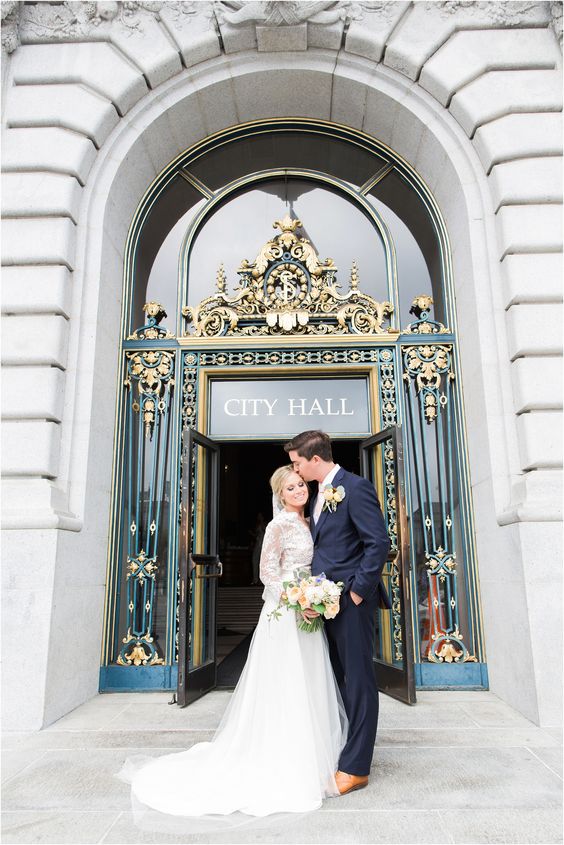 Let's go shopping at the wedding! Sounds crazy? But why don't you stop at some trendy and good-looking shops? They bring their specific atmosphere in the wedding pics, so give it a go!
Miette (an amazing candy store with a lovely interior)
Flora Grubb Gardens (stunning plant installations and gallery, plus fine collections of succulents)
Succulence (a plant shop with amusing decor and installations).
You'd better know all these spots and if you're somewhere not far from them, you may just follow the route and visit them for a few minutes to take some unique wedding photos!