People say that the most important purchase for a bride is the wedding dress. However, without comfortable and most beautiful wedding shoes, the total look will be incomplete, and you could spend the event searching for another pair you'll feel comfortable in. Each of the collected shoe models in the list is tested by experience and quality. You must pick the one with your heart's desires. To make your choice easier, we've gathered photos, prices, and key features of the most iconic shoes of all time and those that are becoming more popular.
The Hangisi Shoe By Manolo Blahnik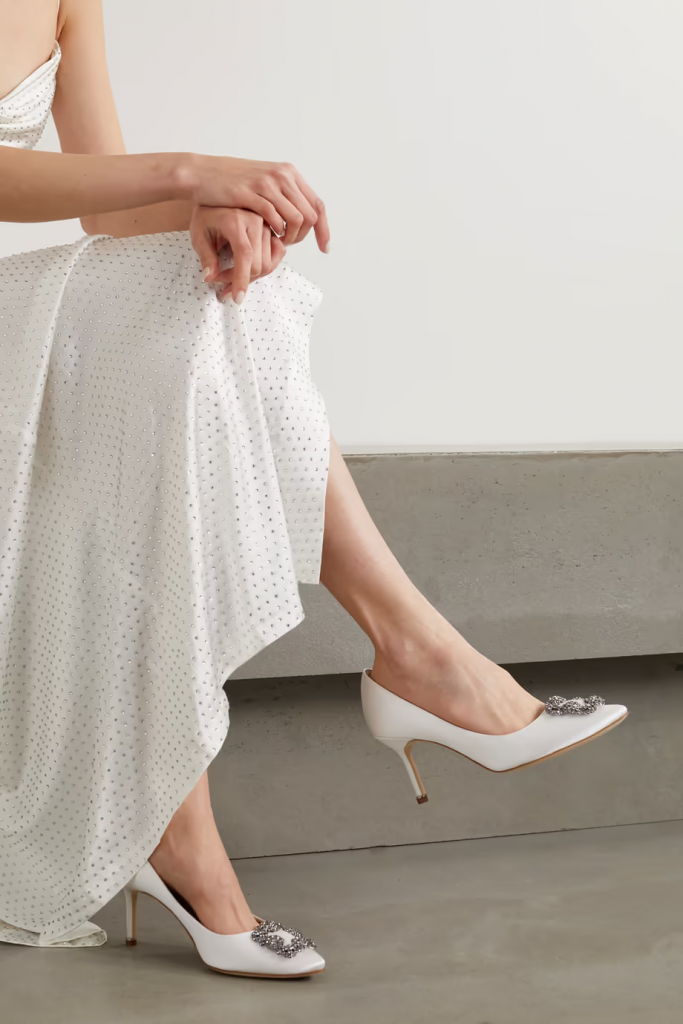 Average price: $1,875
Unique features: elegant classic; accent brooch
You could see these shoes on Carrie in "Sex and the City." They have been leading the top of wedding and evening shoes for several seasons. An elegant brooch doesn't catch on the dress. It is hard to walk out all day without experience with these high and thin heels, so don't forget to break them in before the celebration.
The Sacaria Pearl-Embellished Heels By Jimmy Choo
Average price: $1,700
Unique features: stable heel; pearls
The stable high heel and quality goat and calf leather make these pearl wedding shoes quite comfortable. The open toe of the shoe is perfect for summer, and the strap will allow you to perform any dance moves without fear of being shoeless. The signature insole and signature engraving on the largest pearl add an expensive touch to this model.
The Follies Strass Sparkle Heels By Christian Louboutin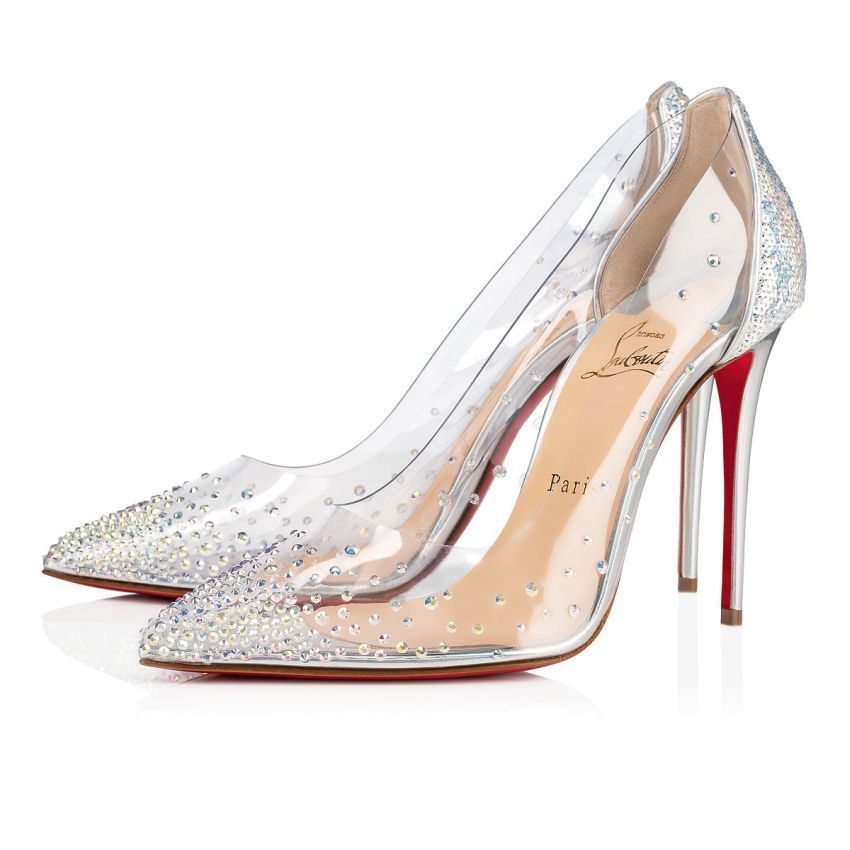 Average price: $1,245
Unique features: red sole, transparent mesh with crystals
The brand's signature red sole combined with a white heel and beige mesh front create a visual illusion. At first glance, the bare leg is studded with sequins, and only the white and red sole supports the shape. Glass crystals look like dew and are perfect for delicate looks. Louboutin wedding shoes are usually in the top 10 most popular wedding shoes of the season.
The Ari Crystal Covered Pointy Toe Pumps By Jimmy Choo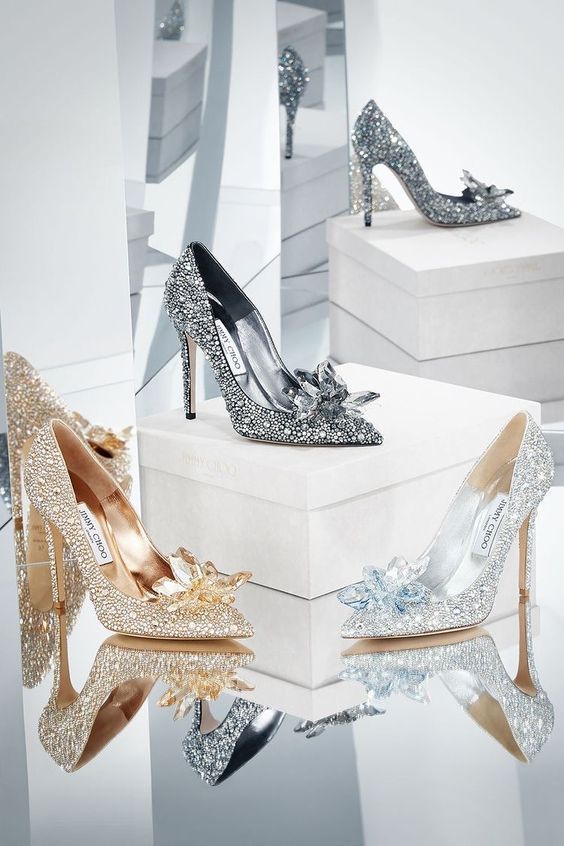 Average price: $4,150
Unique features: Swarovski stones, Cinderella-style
The high price of these shoes is relevant to the number of Swarovski stones. These shoes shimmer flawlessly in the sun and under night light. Your legs will shine like in a fairy tale, and you will remain a princess even after midnight. These heels are perfect for pantsuits and short wedding dresses.
The Aveline 100 Oversized Bow Shoes By Jimmy Choo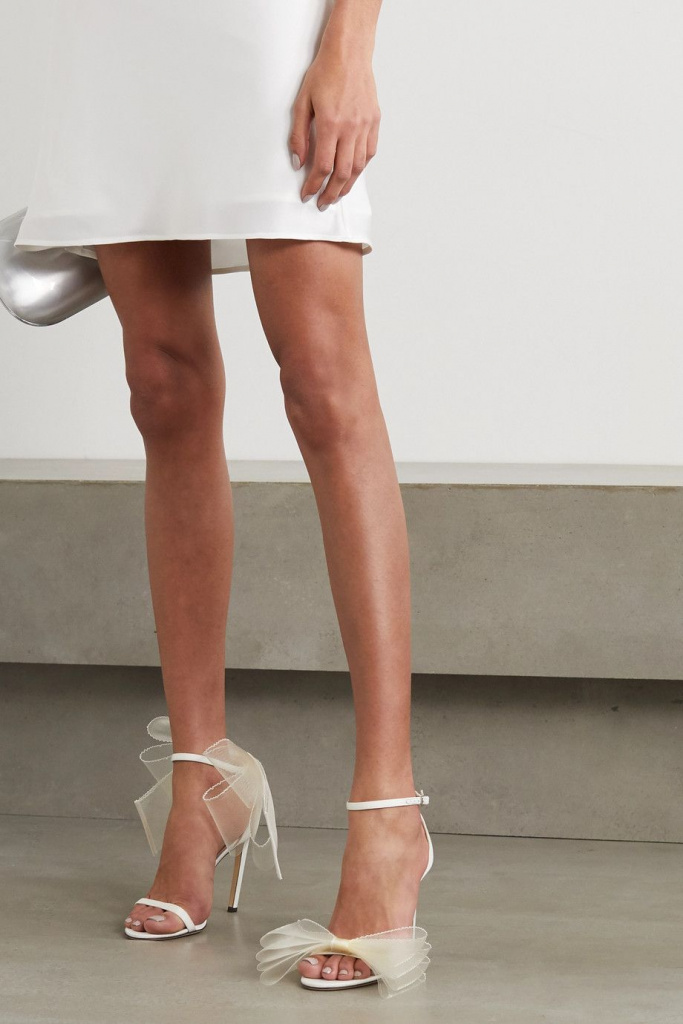 Average price: $900
Unique features: size grid up to size 13; bow
This model was created specifically for women who want to make smaller their shoe size. The voluminous white bow visually takes away part of the foot and makes the leg tiny and elegant. This bow can be tied from the upper and the lower strap or even made asymmetric. This shoe model is both quietly elegant and extravagant.
The Galia Ankle Strap Shoe By Badgley Mischka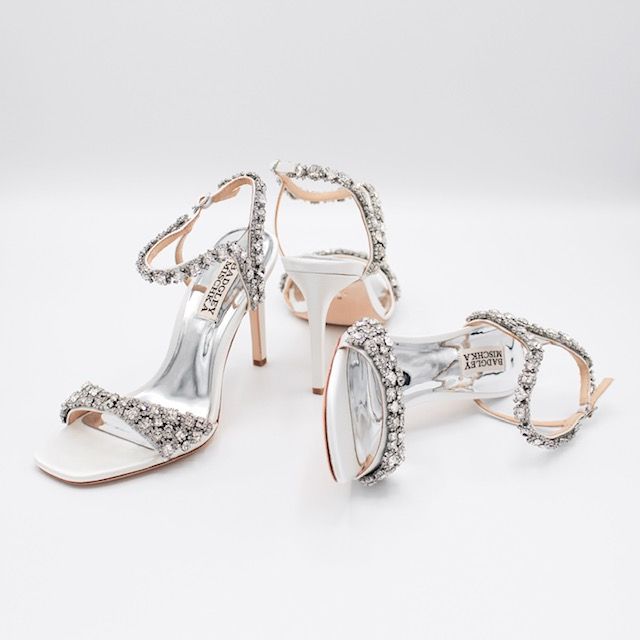 Average price: $255
Unique features: open toe, heavy crystals
Firstly, the very budget-friendly price of the shoes is impressive. They are made in white and champagne colors, so it's possible to select the perfect color for different dresses, add an accent beige-gold natural tone, or pure classic. The wide strap is encrusted with heavy crystals in the flower shape. These shoes are elegant, and the height of the heels is comfortable.
The Rockstud 100 Pumps By Valentino Garavani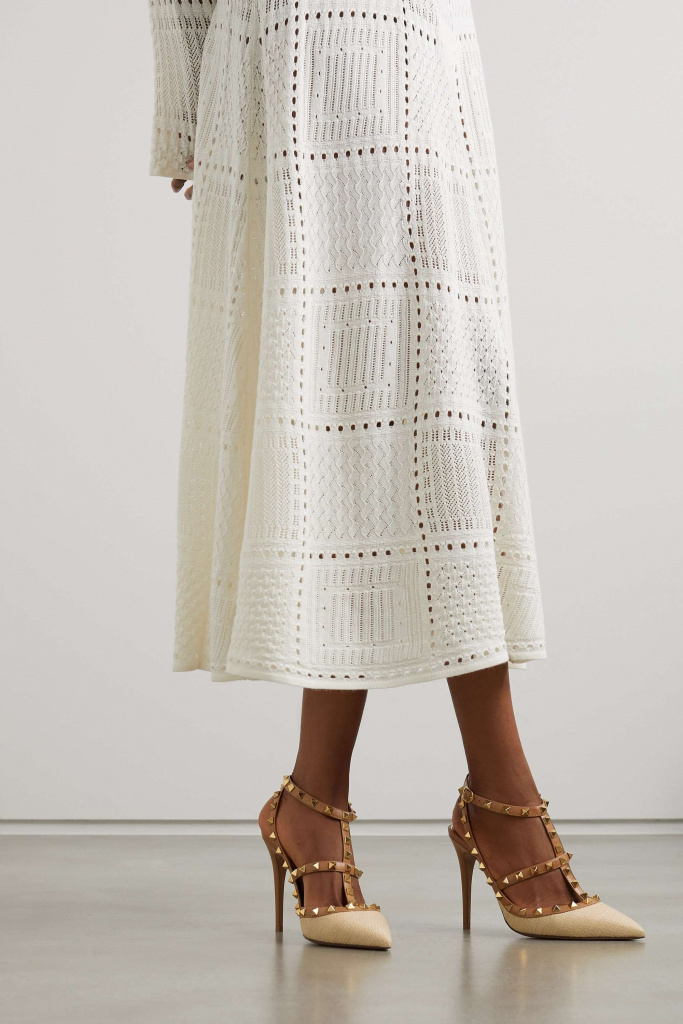 Average price: $900
Unique features: triangular spikes, cage-shaped straps
These shoes are perfect for women who like rocker style, leather, metal fasteners, and studs. They don't lose their exquisite elegance, but at the same time, they add an accent to the total look. The 100% leather material doesn't steam the leg, and the pointed toe remains comfortable.
The Begum Glass Slipper-Style Heels By Amina Muaddi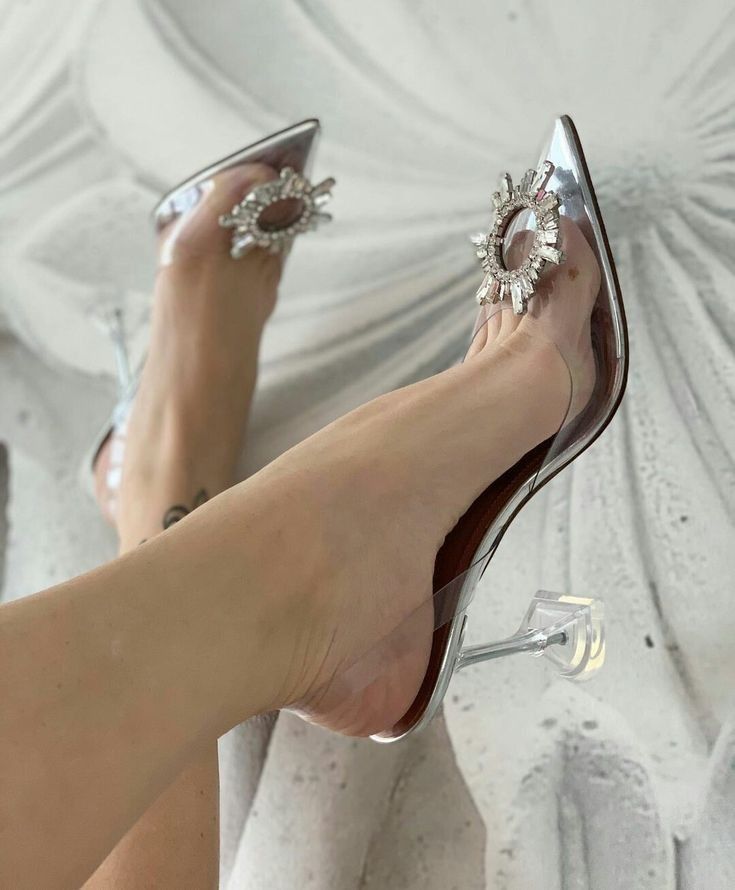 Average price: $1,200
Unique features: sculpted triangular heel, clear plastic
This shoe model is made of 100% plastic. It has a stable heel, which expands into a triangle at the bottom, so it is comfortable to walk on these heels. An asymmetrical large clip made of metal and crystals attracts attention. These shoes are the kind that doesn't complete the look but create it.
The Mach & Mach Double Bow Heels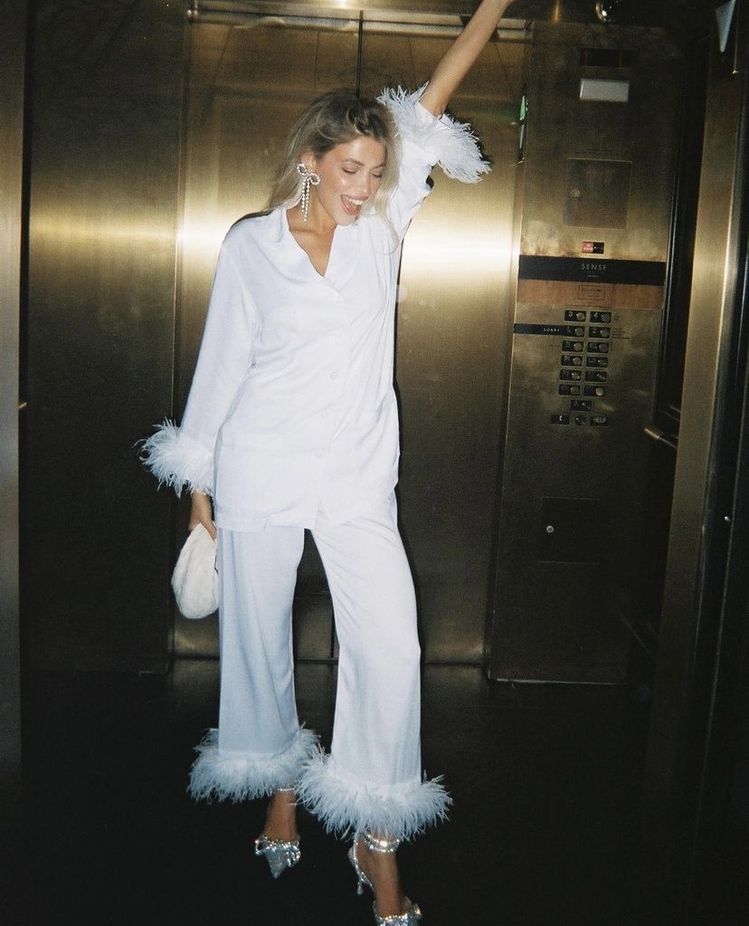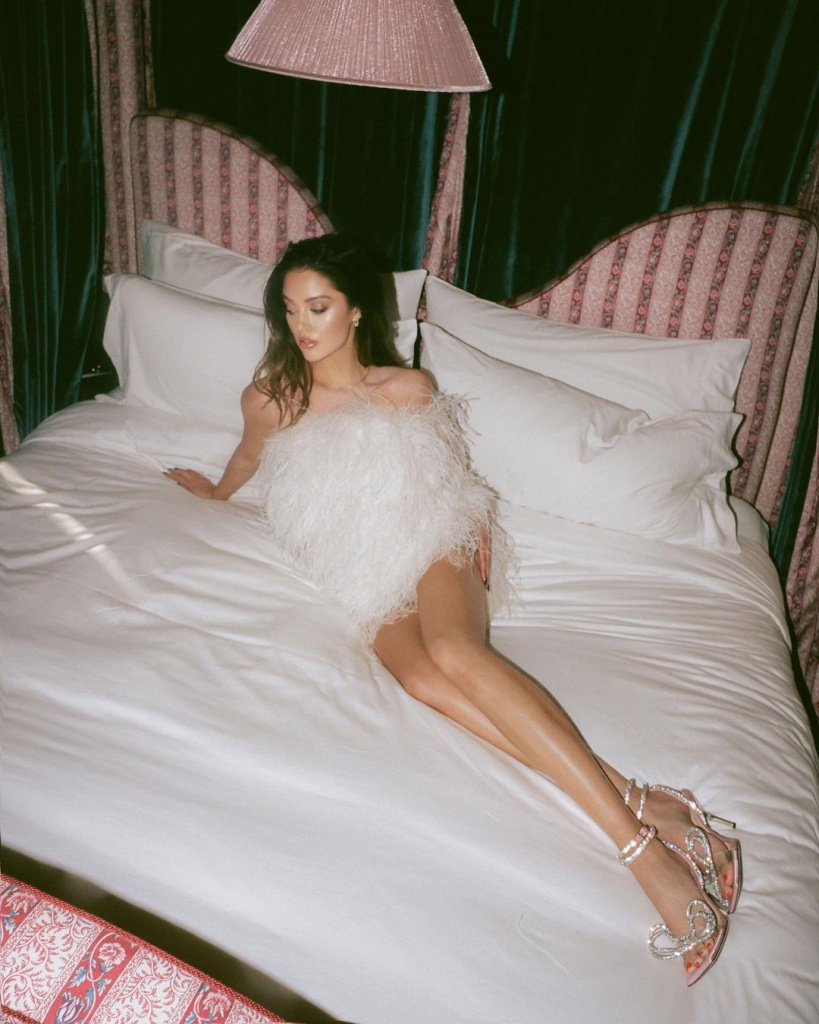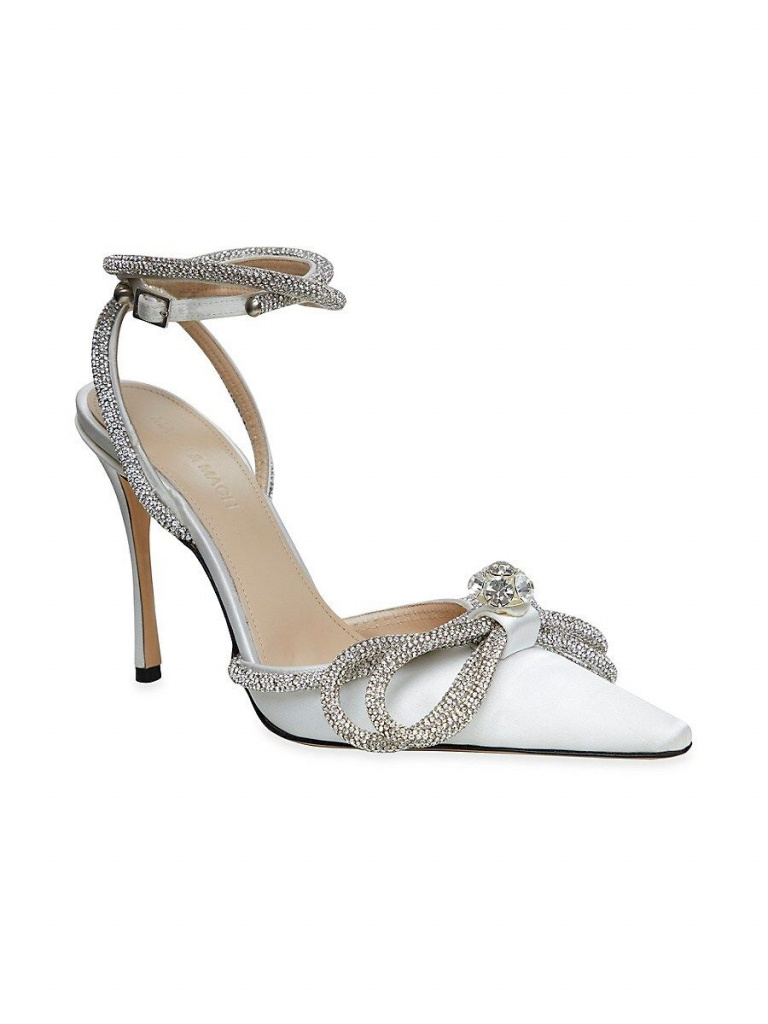 Average price: $1,000
Unique features: crystal rope bow, transparent background
This shoe model is one of the most popular bridal shoes in the last season. The shoe model with a sharp transparent toe attracts attention, and elegant bow loops complete the look. These shoes are ideal for those who have chosen a classic satin or silk dress and want to emphasize their bow with exquisite accessories. Mach & Mach heels are among the top wedding trends in 2022.
The Begum Embellished Leather Pumps By Amina Muaddi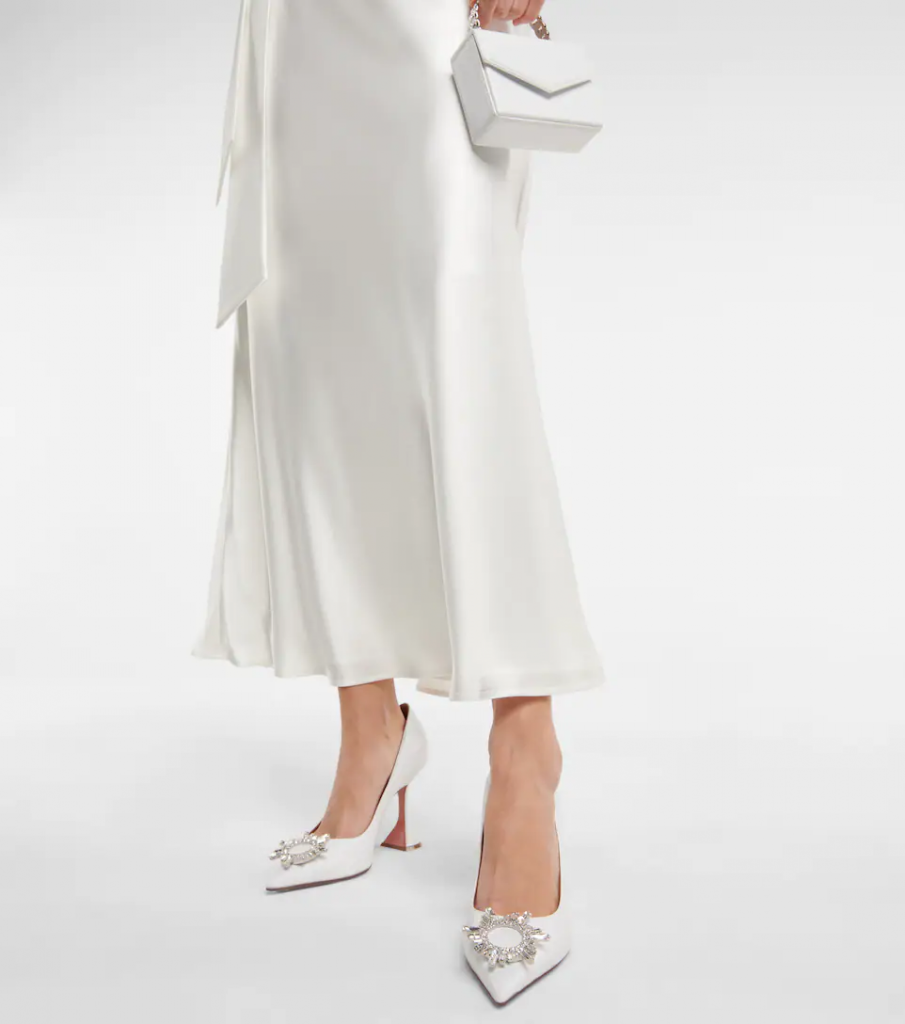 Average price: $900
Unique features: sculpted triangular heel, leather
This model is similar to the previous one of the same brand, but it's made of 100% leather. Leather is great for those who care about comfort. The heel is also stable, and the material fits comfortably. At the same time, this model has retained its elegance, added a little formality to the style, and looks no less elegant with the brand's asymmetrical crystal brooch than the same transparent shoes.
The Degrastrass Embellished PVC Pumps By Christian Louboutin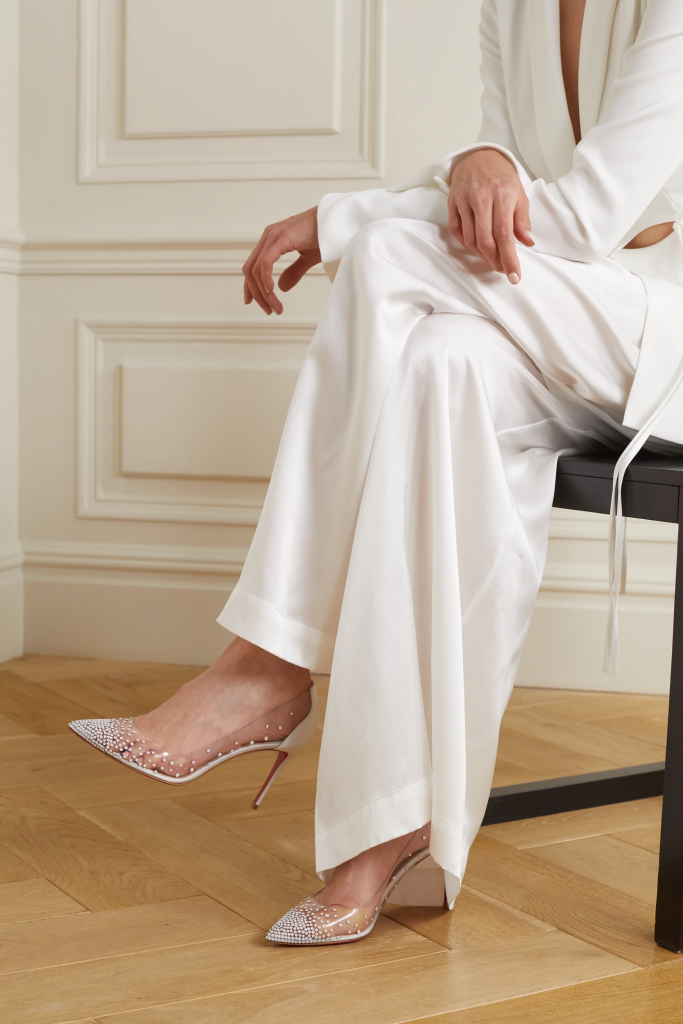 Average price: $1,150
Unique features: plastic, dew crystals, red sole
The sole and back parts are made of soft sheepskin, and the front of the shoe is made of high-quality plastic. It means that the foot and the heel will only touch the skin part, so you will feel comfortable. Crystals visually fall from above the ankle to the toe, where they are much more of them. The red branded sole and "crystal waterfall" style make this model magically delicate.
The Chiara Butterfly Shoes By Sophia Webster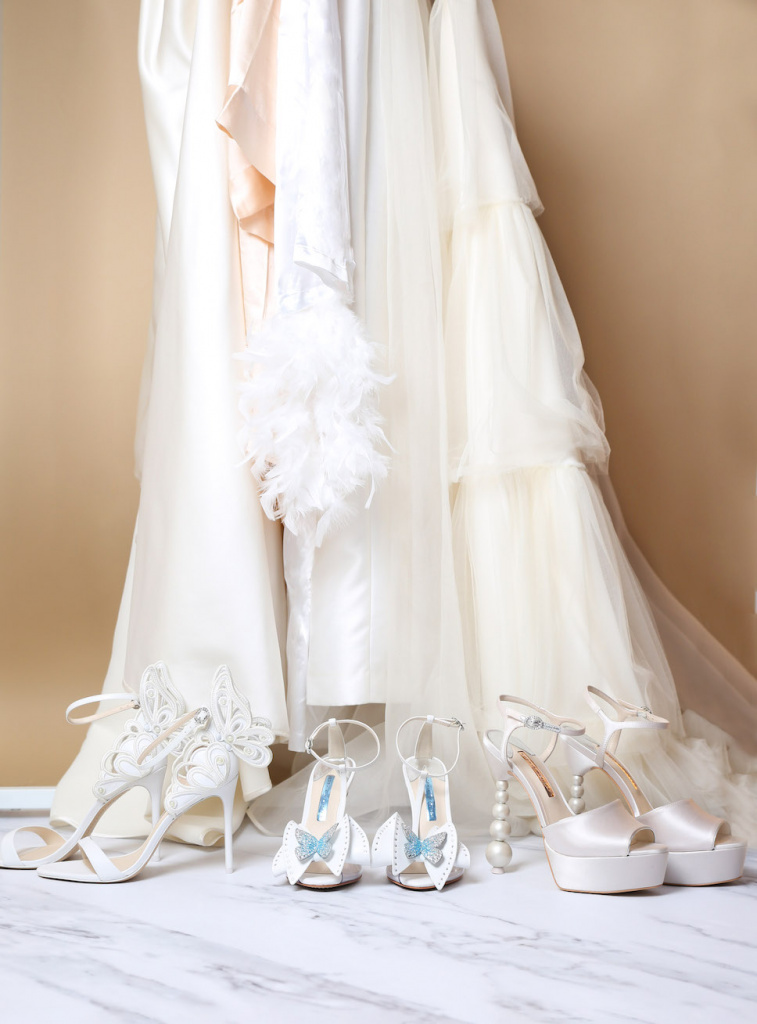 Average price: $1,000
Unique features: butterfly style, a wide range of colors
These trendy shoes with an open toe are a real discovery for brides. At the back, two butterfly wings are attached to the heel, which makes the model very fragile. You can also select your design from white, beige, and soft-colored fabric, or go for stylish options with silver upholstery, crystals, pearls, and even white fluff on the toes. This model opens up the possibility of creativity. You can do some extravagant wedding make-up on these heels.
The Franca Tulle And Leather Pumps By Andrea Wazen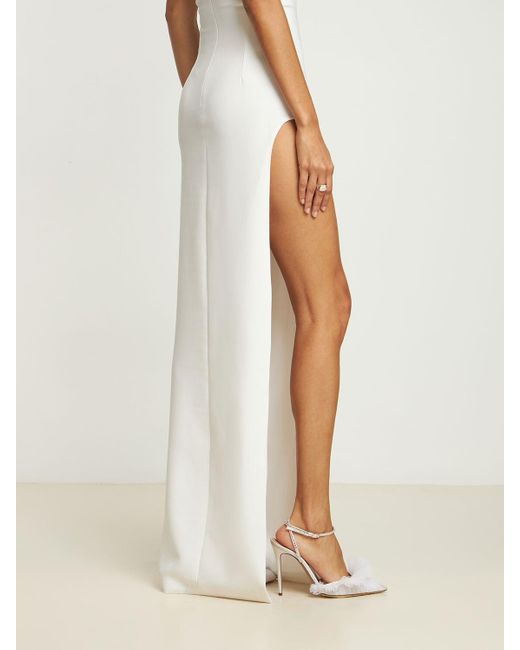 Average price: $300
Unique features: gathered shiny tulle, silver leather
These extremely high heels are perfect for those who opt for vintage dress designs with ruffles and ties. Leather shoes are comfortable because their design doesn't interfere with walking. The tulle on the shoes is gathered from the toe to the top, so it visually reduces the leg size.
The Plumetis Slingback Pumps By J'adior DIOR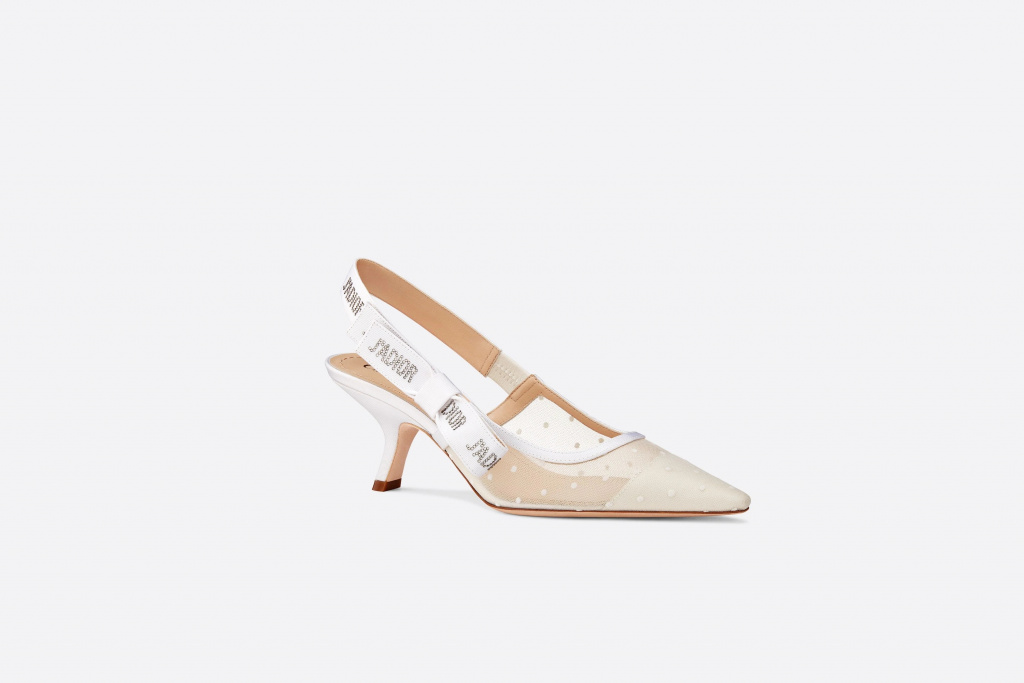 Average price: $1,050
Unique features: low heel, wide branded belt
These shoes are ideal for those looking for a comfortable option for long walks. This model is calm and stylish enough for an elopement or even a destination wedding in nature. The main advantage of these shoes is that despite the comfortable heel, it remains insanely stylish due to their visual curves and branding. These are some of the most comfortable wedding heels on our list.
The Amelia Floral Lace Kitten Heels By Bella Belle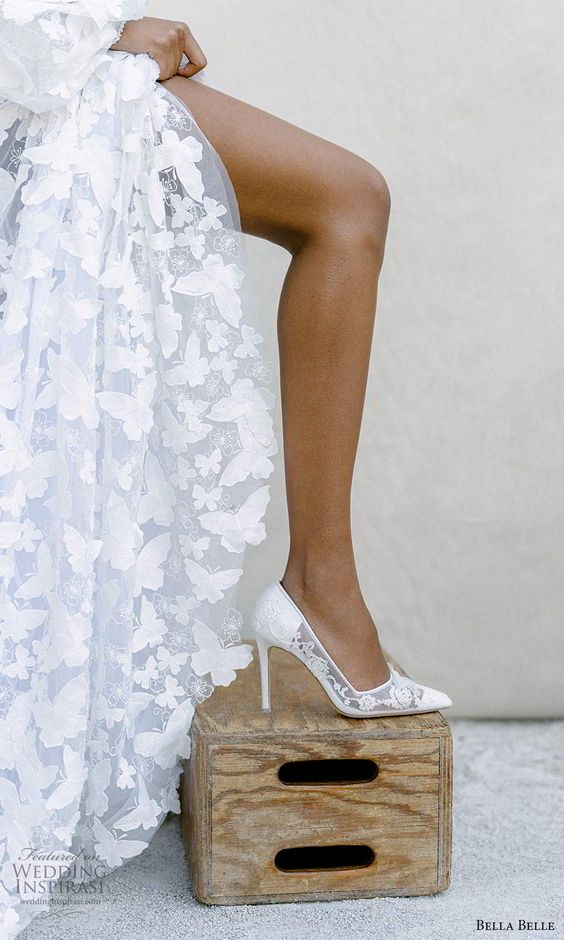 Average price: $325
Unique features: low heel, embroidery
This model is worth attention because it is budgeted and refined. A low heel doesn't level, but on the contrary, completes the Provencal style of the total look. Delicate white embroidery on the fabric, and a double strap with satin laces, recall the period of magnificent dresses and balls. If you like tenderness and elegance, these wedding shoes on the low heel is perfect.
The Gold Leather Pumps By Aquazzura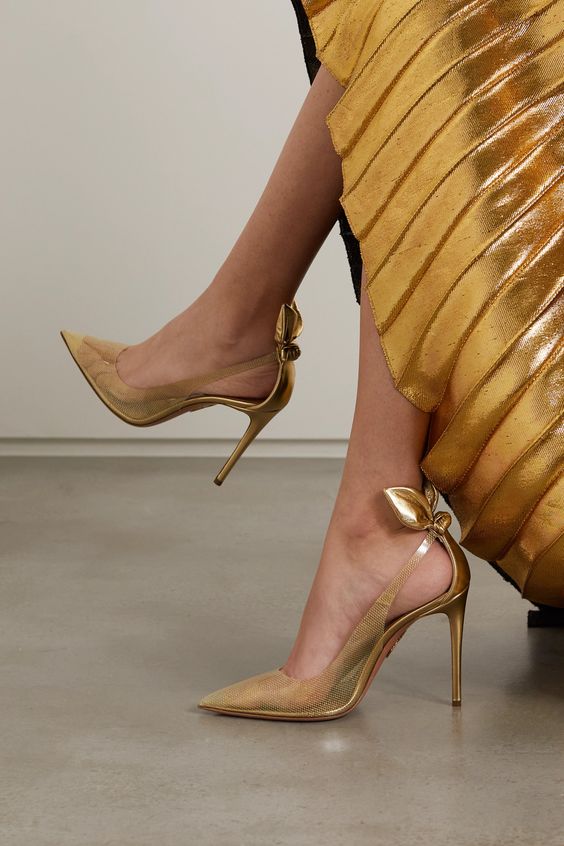 Average price: $500
Unique features: Harry Potter style, gold
This shoe model was inspired by the golden snitch from Harry Potter. A gold ball with bow wings is attached to the heel, and a transparent gold mesh runs from the toe to the ankle. This way, it envelops the leg and looks exquisite, precious, and magical. These heels will look amazing in bridal boudoir photos.
The Romy Pointed-Toe Ballet Flats By Jimmy Choo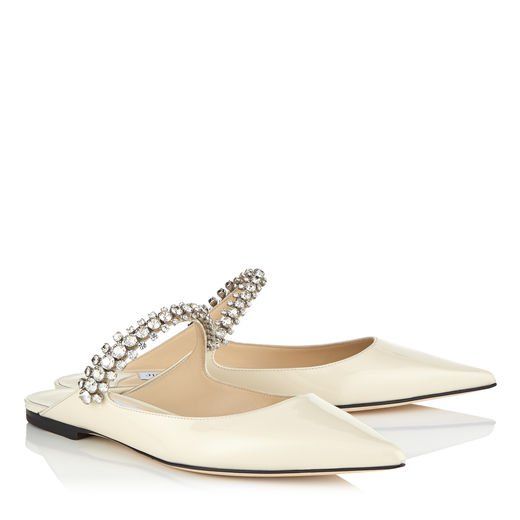 Average price: $580
Unique features: ballet flats, shining
Rounding off our list are ballet shoes from the most popular wedding shoe brand, which are ideal for those who want expensive, elegant, and comfortable shoes for a wedding. You will be able to move freely. These shiny shoes will go with any short, long, classic, or brightly decorated dress. It is also an ideal option for those who want a long train and are scared to wear high heels.
Transparent plastic shoes, asymmetric accessories, heels, crystals, and bows were popular in recent seasons. Undoubtedly, all of them will be no less relevant in the wedding season of 2023. Remember that shoes should be bought immediately with the dress. You need to choose an appropriate and comfortable length and height of the dress, and be sure to wear your best wedding shoes ever for a few days before the event. We wish you good luck with this important choice!
Check out our photographers portfolios for some additional inspiration for your wedding!