Bridal Boudoir Photography Ideas
Publication date:

05/29/2022

Updated:

03/28/2023
What is a wedding boudoir shoot? First of all, it means the first photos of the wedding day, still without friends, without relatives, even without a wedding dress. These photos set the bride up for the day and become the beginning of something special.
5 signs whether you want a bridal boudoir shoot or not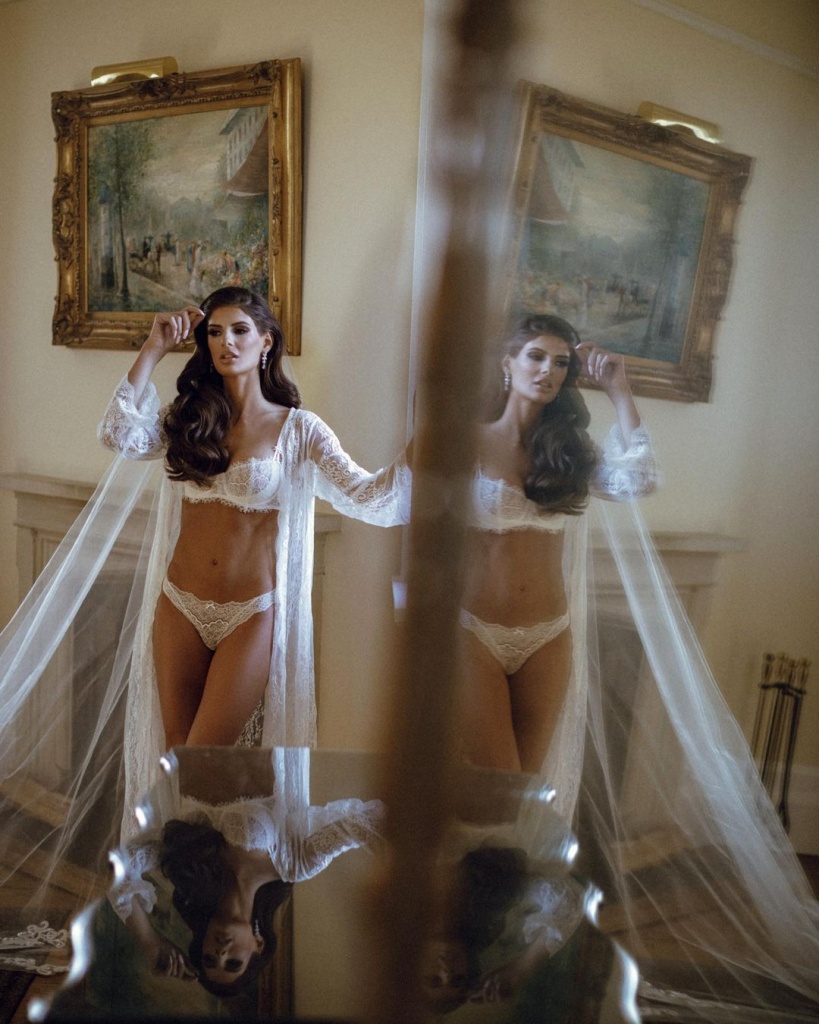 Photo by
Volodymyr Ivash
Before reading about the ideas of such shooting, make sure in these 5 points that you want such photos and you will be comfortable shooting in front of the camera.
Do you like half-naked photos at all?
Do you feel comfortable in front of the camera in such an image?
Will your partner like such a sexy wedding photoshoot?
Do you need time for personal shooting to get used to the camera?
Have you ever looked at photos of brides in the boudoir with pleasure and the thought "Oh, I'll also pick up a lingerie outfit"?
Even if you are not sure, be sure to read the article to the end. In the end, there will be a list of ideas on how to make boudoir photography more comfortable and less erotic.
7 Reasons to have a Bridal Boudoir Photo Shoot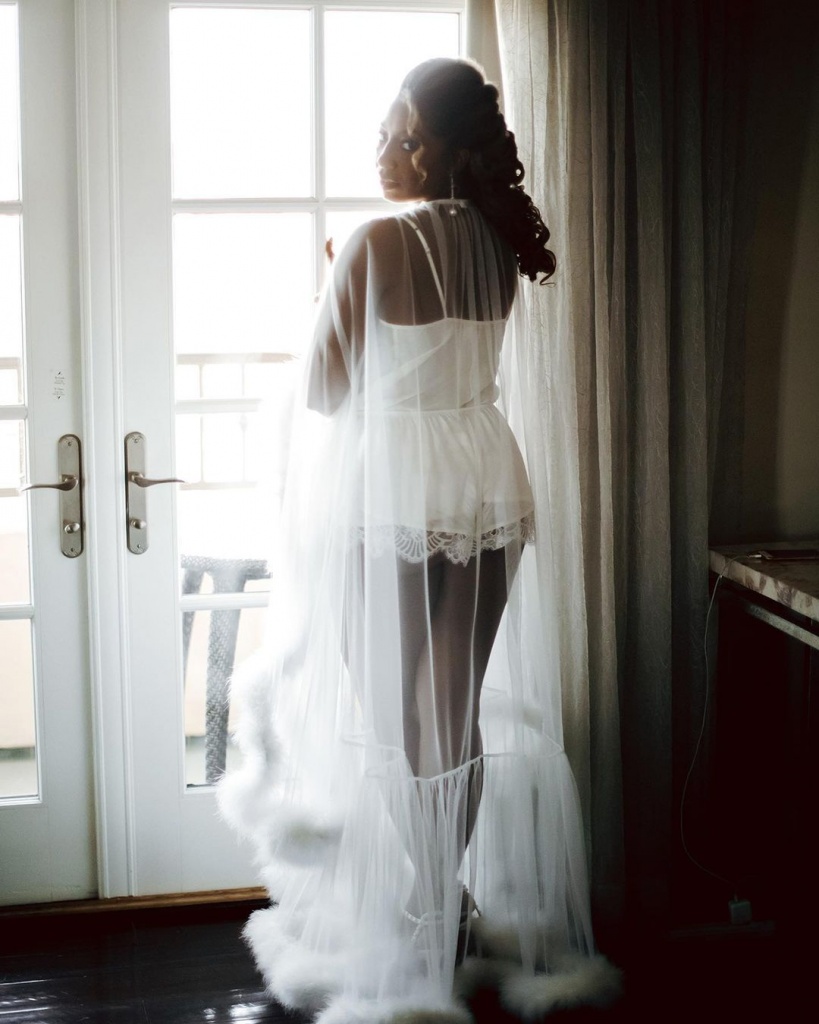 Photo by
Volodymyr Ivash
Get used to the camera

The first photos are always the most difficult. It's hard to get ready to shoot because there is still a whole wedding day ahead and so much to do. You will still have a bunch of thoughts in your head: "What if things don't turn out the way I dreamed?" That's why we take pictures. We adjust to the day, rest, and get high.

Feel the right angles

There is a whole day of shooting ahead, so it will be very appropriate to feel your photogenic side, smile, and facial expression.

A gift to the groom

Few couples can usually tune in to such semi-erotic gifts for each other. Wedding day is a great opportunity to take some sexy and romantic photos and show "I will be yours forever".

A special tradition

There used to be a lot of sexual wedding traditions in the world earlier. Like when women accompanied the groom to the bride on the first wedding night and hung out the linen from the first wedding night. It is good that this is behind us and now we have new modern traditions. Boudoir photography is one of the sexiest ones.

Uplifting

The night before the wedding is always restless, so such open shots perfectly distract from the experience and set the bride to how incredibly beautiful she will be today.

Beautiful shots

Of course, a half-naked woman indeed creates much deeper and more interesting shots than a dressed woman. This is a good opportunity to get many amazing portraits with first timid and then very passionate eyes of the bride.

Full-day photo

Shooting in a boudoir is just the beginning. And you will want to see your special day from morning till night. In order not to miss anything, you should take pictures of the morning preparations and some beautiful photos without a dress on the bride.
Therefore, your desire, your preparation, and your perception are the main components of why it is worth doing such a photoshoot.
When to schedule a boudoir wedding photoshoot?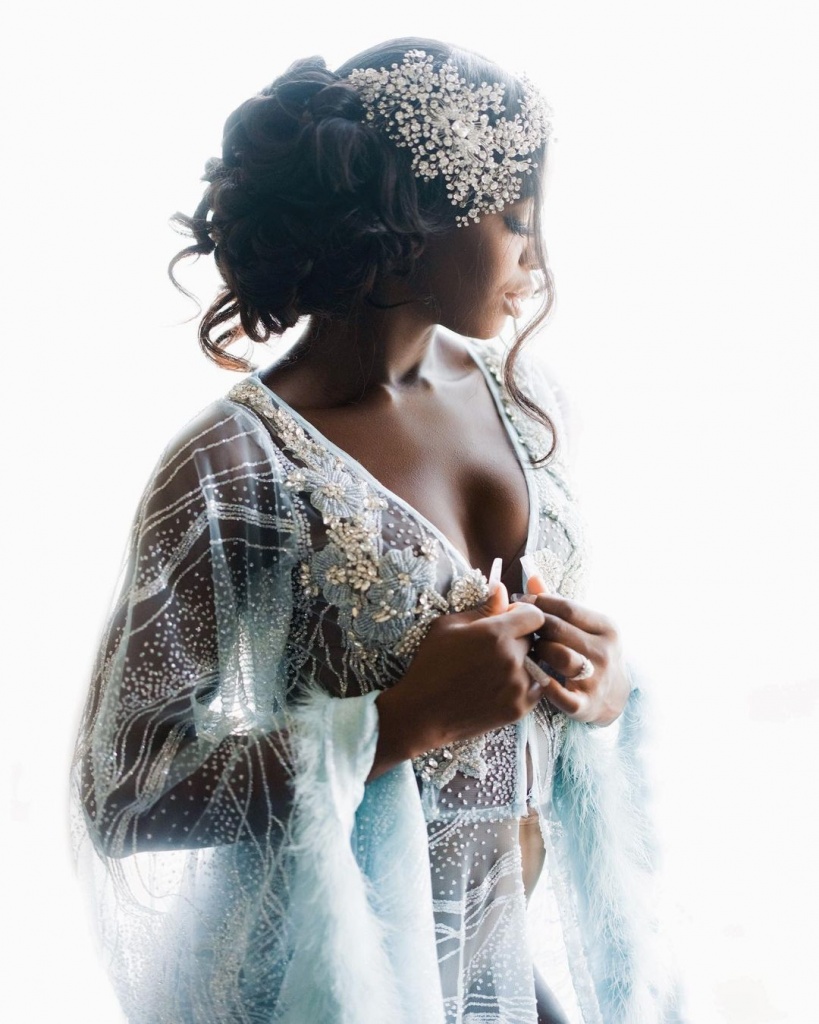 Photo by
Volodymyr Ivash
It's very simple. This photoshoot should take place without a dress, so make it the first. Then join the bridesmaids in bathrobes, then the photographer sets photos in full dress.
To best determine the time of the shooting, you need to make the timing of the wedding day. Look here to create a perfect Wedding Timeline
But in general, such photos require good morning light, so make sure that this photoshoot takes place before noon.
5 Bridal Boudoir Photo Ideas
Use as many props as possible.

Water, flowers, pastries, drinks, handkerchiefs, bedspreads, thin sheets, and many others.

Take several photos in different parts of the bedroom.

For example, near the bed, table, window, balcony, or terrace.

Be sure to take mirror pictures.
You can choose a color and idea for a photoshoot, for example, everything in blue or in the style of the 80s.
Emphasize the image with jewelry, gloves, or even shoes.
5 Bridal Boudoir Photosession Tips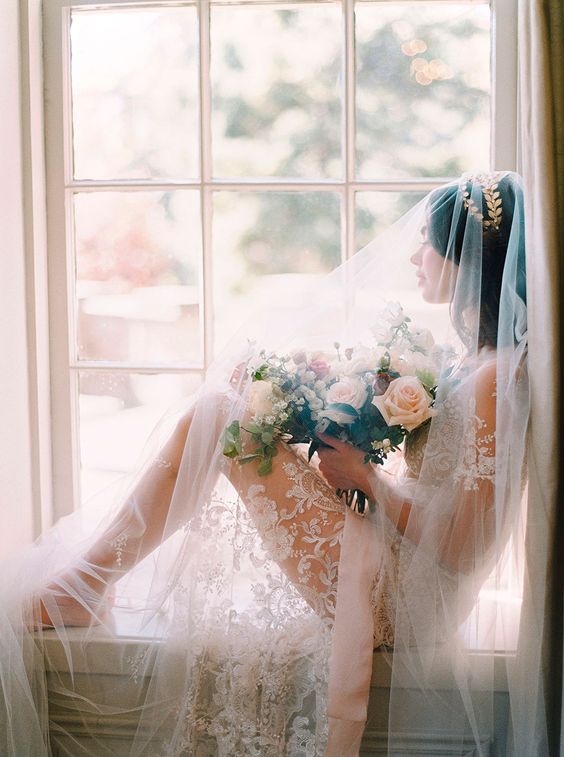 Photo by Katie Nicolle Photography
Place
You can have a bridal boudoir session at home, in the hotel, outdoors, and other private areas.
History
Make not just shots without a dress, but make a whole report on the bride's breakfast time. Romantic photos still in lingerie and with coffee will be very tender.
Props
So that the bride doesn't just fold her arms and legs, give her a make-up bag as if she is getting ready. Make sweets or croissants.
Bathrobe
Don't take a simple sexy bride photoshoot. Be sure to find or buy a white robe, even a translucent one. The bride must have a secret.
Colors
Provide natural and bright colors around. Linen on the bed in the bedroom, flowers in a vase on the bedside table – all need to be in the colors of the wedding.
Boudoir Photoshoot Outfit Ideas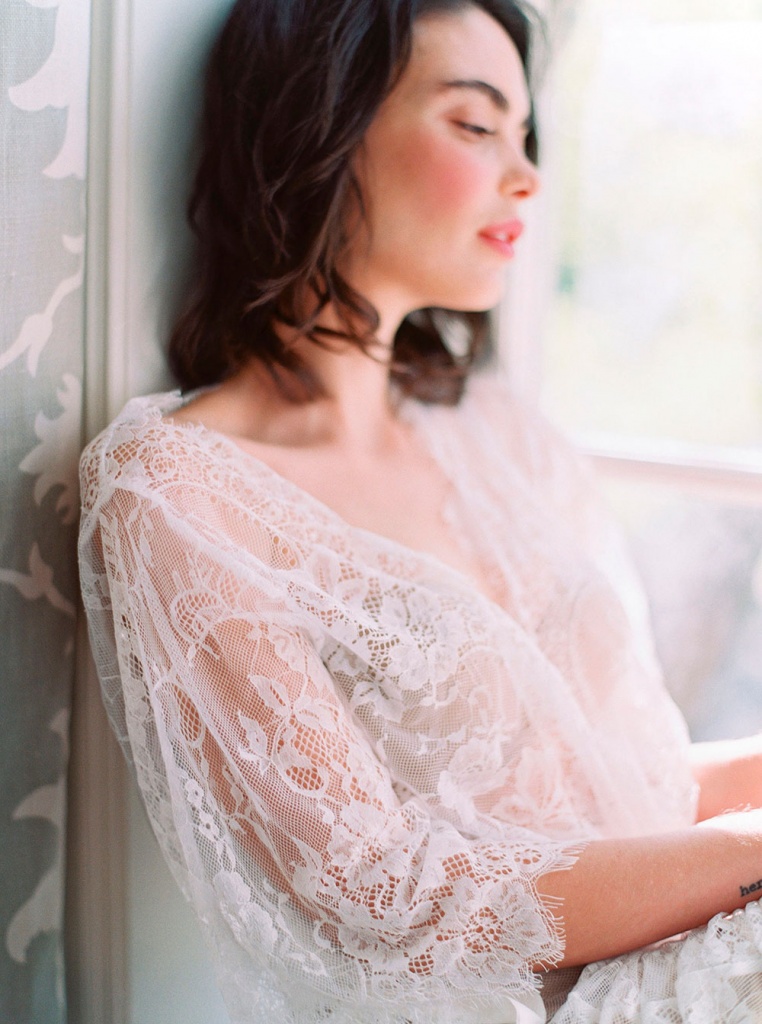 Photo by Katie Nicolle Photography
When choosing an outfit for bridal boudoir photography, choose a beautiful one. But with the understanding that this will need to be photographed.
In addition to the obvious white beautiful lingerie, don't forget about the garter, stockings, and belt. Be sure to wear a veil and shoes. Put on a robe.
If you do not want to take too many open pictures, you can wear a white swimsuit and take such pictures by the pool or wear not a bra and panties, but a solid white bodysuit boudoir.
If this is uncomfortable for you, don't be afraid to change your style! Shrug your shoulders in a blouse, and wear a tunic and tights. You will be sexy in any way!
To make your image look perfect overall, see also 10 top wedding hairstyles and makeup