Top 50 Wedding Venues in New York
Publication date:

10/08/2022

Updated:

05/01/2023
The metropolis never sleeps and is always on the move. It's a city where nearly every language in the world is spoken. Where else, if not in New York, to host a wedding, right? So, here are the 50 best wedding venues in NY you should see.
Top NY Wedding Venues With A View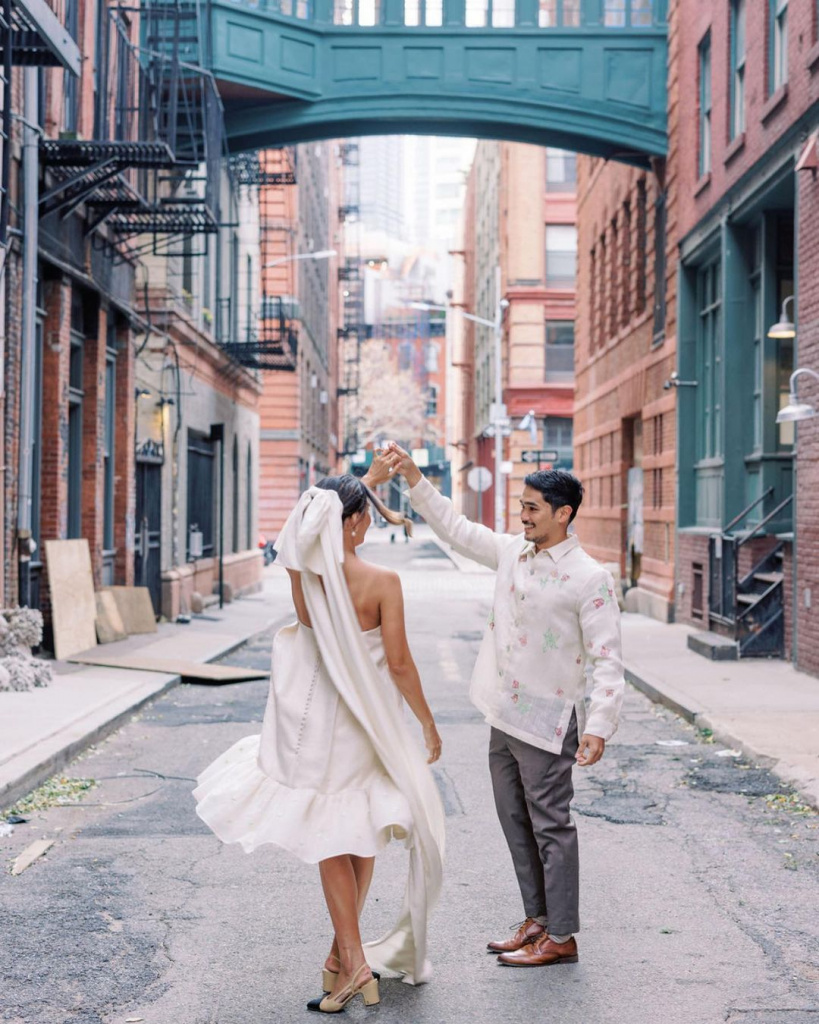 NY is a city of skyscrapers, so there are many venues with a view here. We've collected the most worthy ones so that you can't only look at the Large Apple from a height, but also taste it, and get incredible wedding photos!
620 Loft And Garden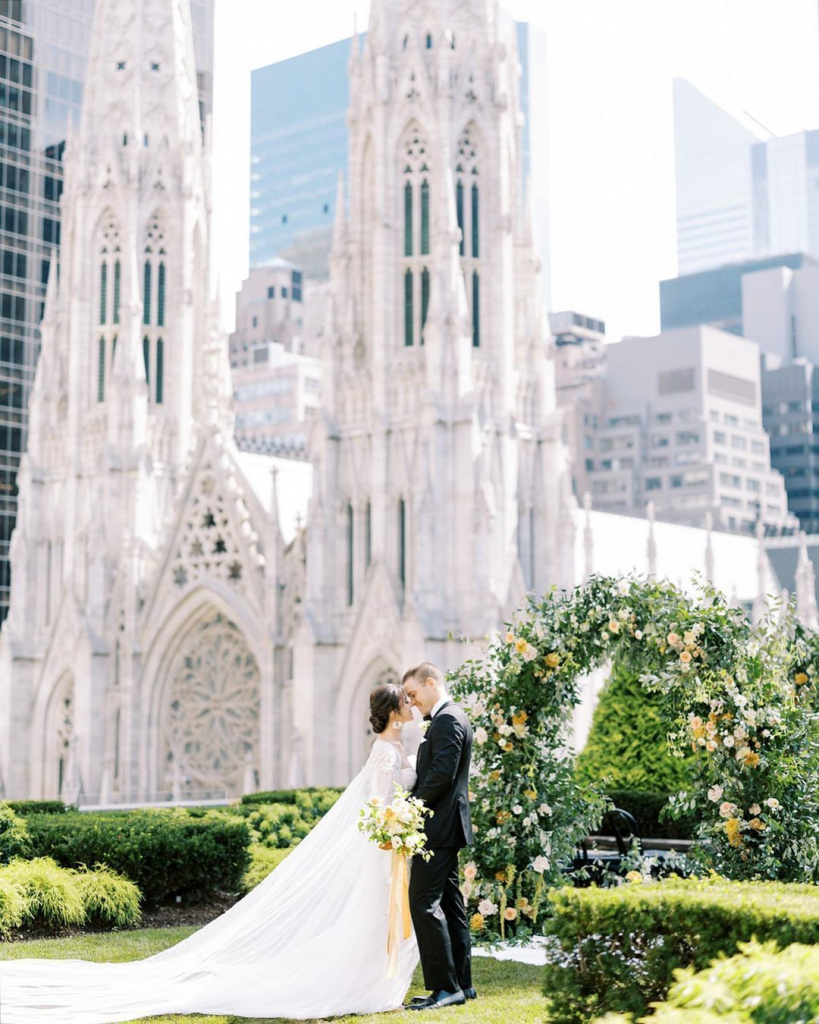 If you haven't heard of this space or haven't seen it in movies (which we seriously doubt), then it's time for your jaw to drop. 620 Loft and Garden is by far the most famous wedding venue in New York. Its heavenly view of St. Patrick's Cathedral will steal your heart. Invite up to three hundred of your best friends and enjoy the day. The venue's staff will take care of everything else.
Midtown Loft & Terrace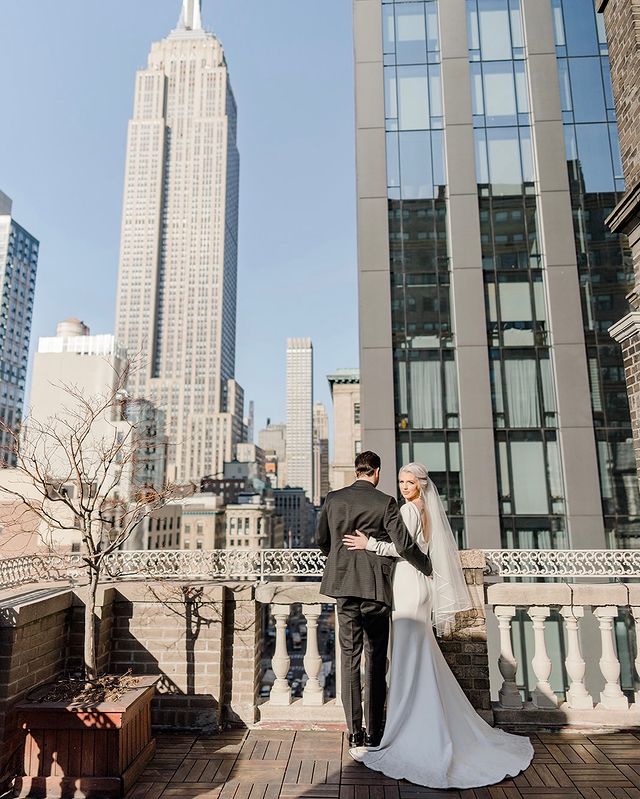 A bit tinier, but not less exquisite than the previous venue, Midtown Loft & Terrace has a 360-degree view. The glass rooftop allows visitors to adore the fancy terrace any time of year. No need to tell how pretty the wedding pics are going to be, right? Moreover, if you're seeking someplace to combine coziness and chic, this venue will also suit you! There's a fireplace indoors to add a warm, homely atmosphere to your special day.
The River Cafe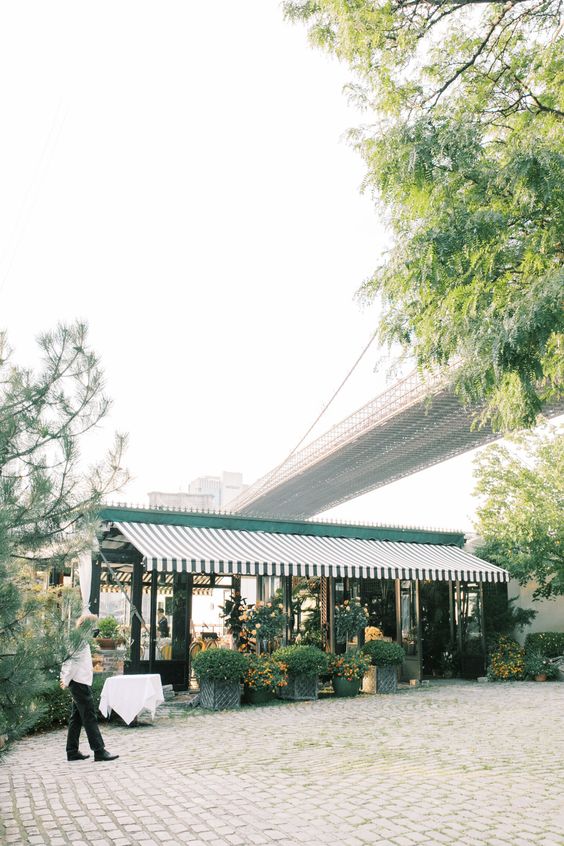 What a lovely space to say your vows! Unobtrusive piano music, the aroma of fresh flowers, and the opening view of lower Manhattan create a charming atmosphere. Evenings here are particularly stunning, as the thousands of lights of the Big Apple are reflected in the water. The River Cafe is very popular for pre-wedding photoshoots as well!
Peak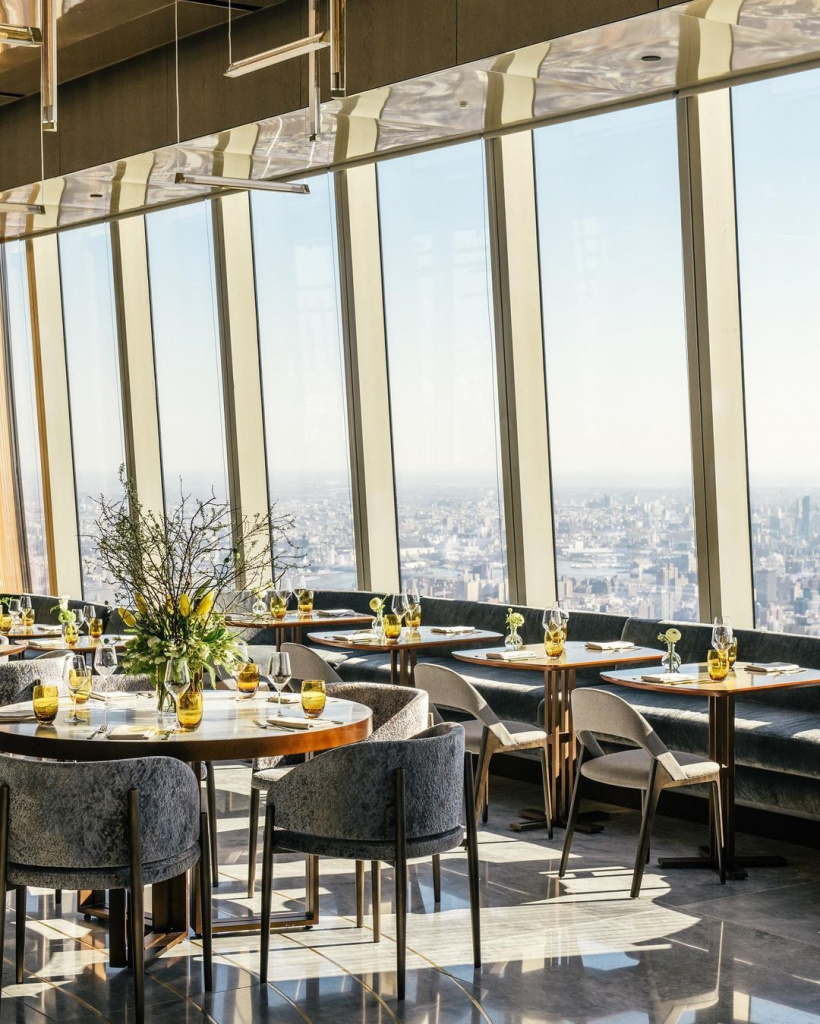 On the 101 floor of the main building in the Hudson Yards skyscraper complex, you can discover Peak, a restaurant, and incredible event space. Its floor-to-ceiling panoramic windows offer an unforgettable outlook of NYC and New Jersey, creating a vibrant, memorable atmosphere. Excellent service and warm NY hospitality are a large plus.
Gaonnuri Restaurant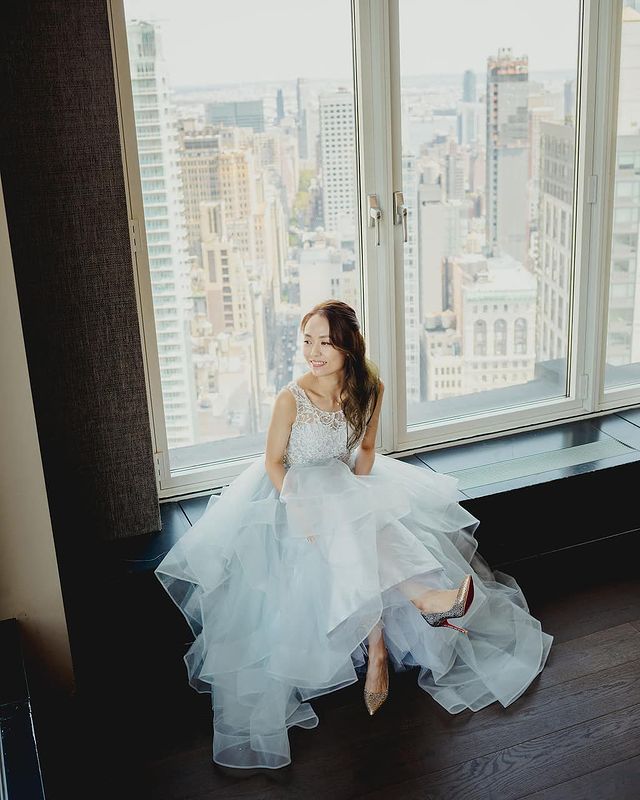 In the very heart of NY, there's a chic Korean venue you should know about. Ordinary furnishings, wooden tables without a cloth, and floor-to-ceiling glass windows let you see New York on the thirty-ninth floor. On one side you'll see the Empire State Building, and on the other side, visitors will enjoy the Hudson. Its distinguishing feature is that a traditional Korean barbecue is being prepared right in your eyes.
The View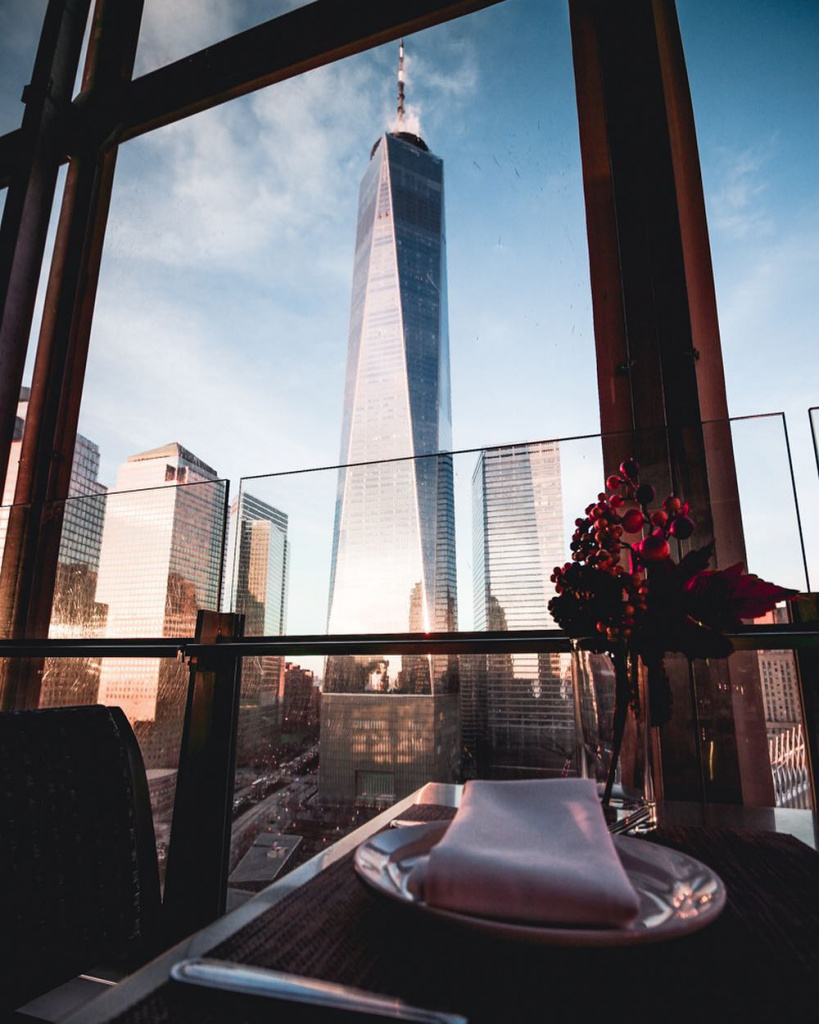 The View Restaurant is located on floors 47-48 of the Marriott Times Sq. The journey here begins with an exciting ride on a high-speed elevator. This is the only revolving restaurant in NYC with panoramic windows. It makes a complete revolution in about an hour, revealing neighboring skyscrapers. Imagine how breathtaking your wedding video would look!
Chart House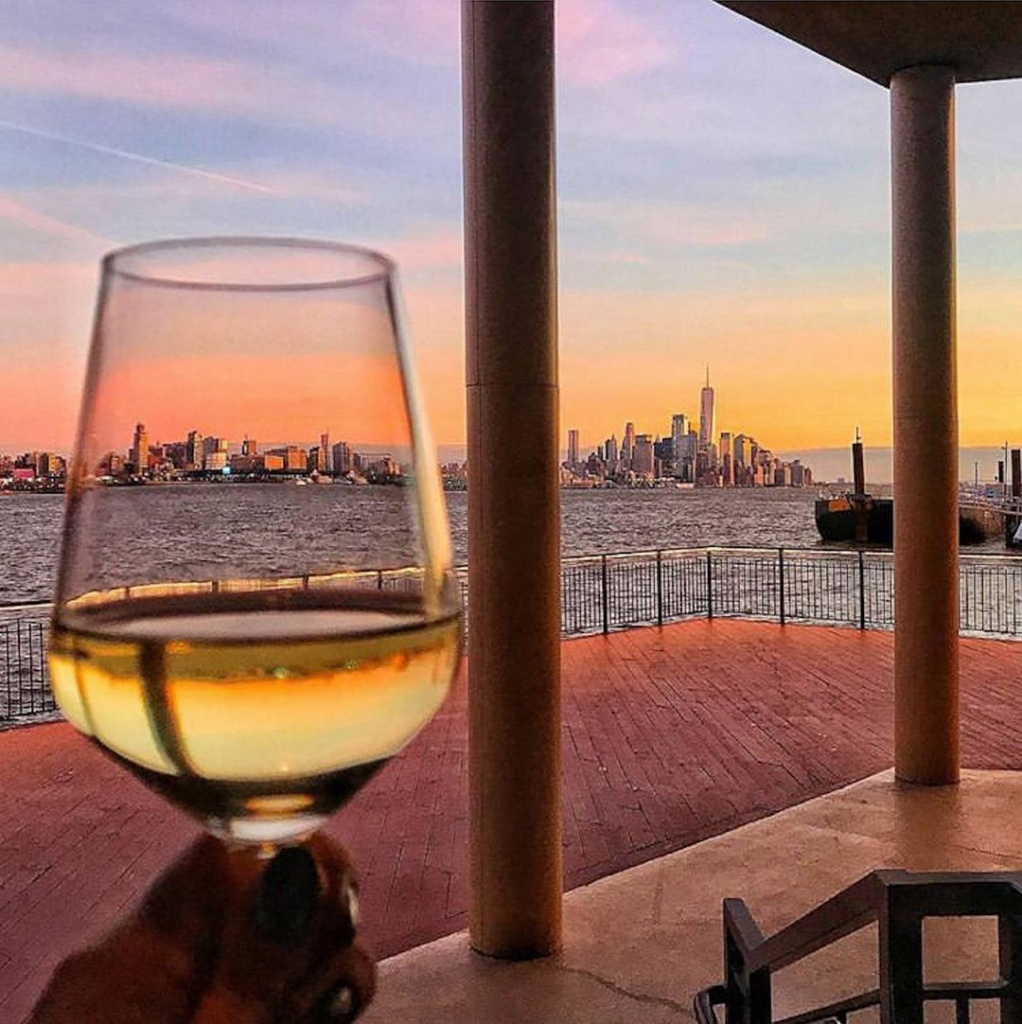 Paradox: The restaurant with the best view of NY isn't in New York. Chart House is located on the banks of the Hudson River, on the NJ side. An incredible panorama of all of Manhattan opens there. The menu in this restaurant is varied: from steaks to seafood. All things considered, planning a wedding in Chart House is an incredible choice.
Bateaux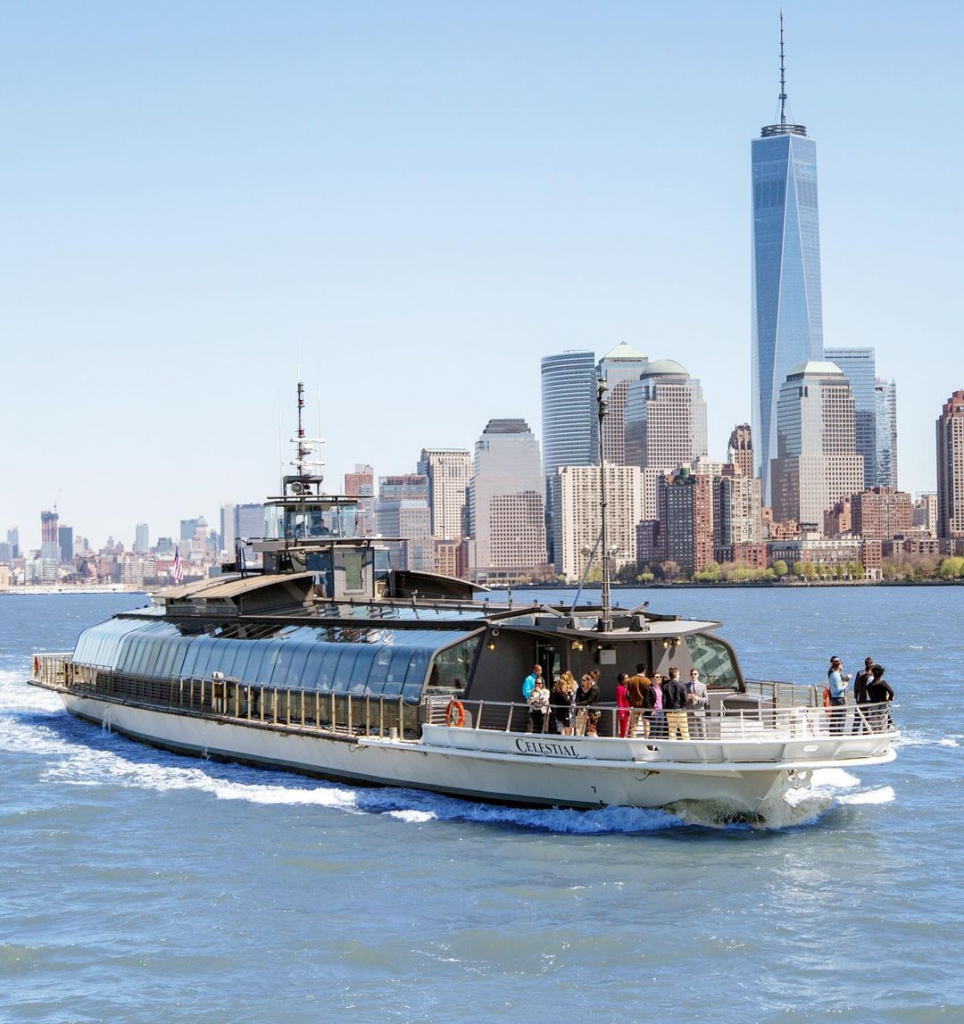 A life hack for those who are used to constant movement is to host a wedding on a boat! You can celebrate the big day on a cruise both in winter and in summer: panoramic windows let visitors adore the views of NYC in any weather. Live music is one more benefit of the ship. Although the visitor list is limited due to the lack of seats.
Estiatorio Milos Hudson Yards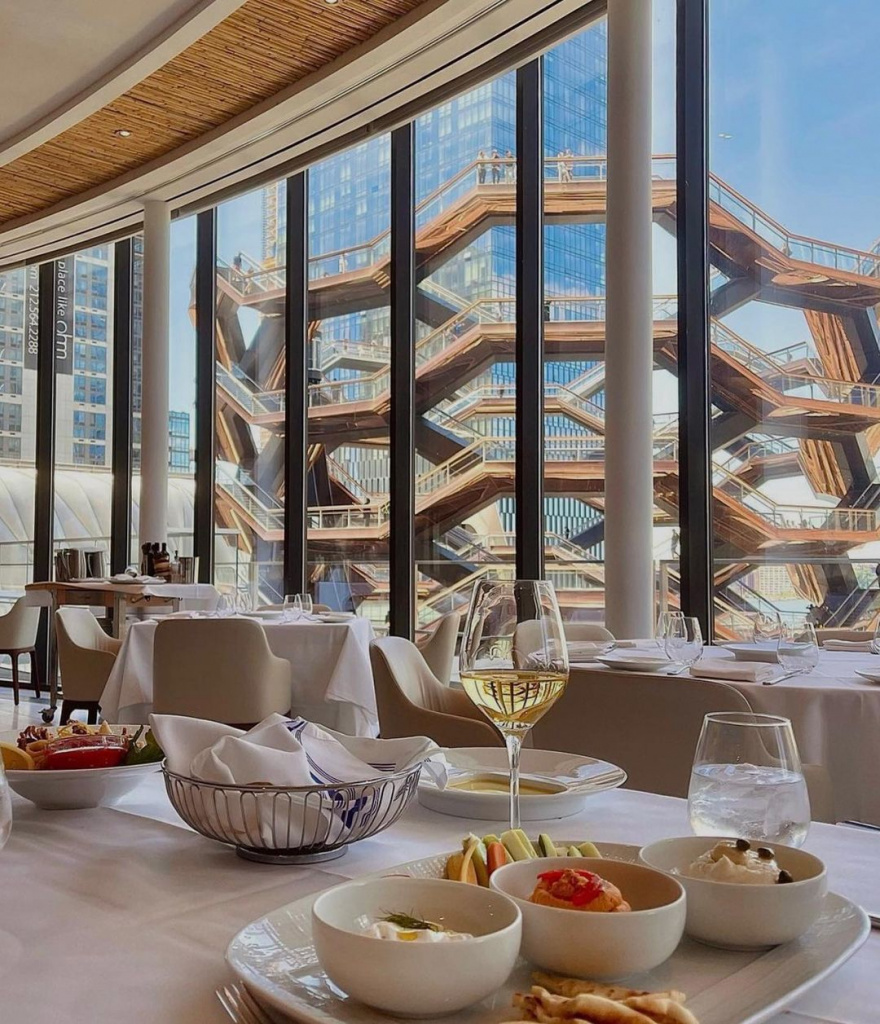 The chic venue is situated in the newly built high-rise area, Hudson Yards. A two-level space with an open kitchen and panoramic windows provides a gorgeous view of the Hudson River and the well-known Vessel design. In the warm season, an outdoor terrace is open, so the whole party can be moved outdoors.
Tribeca Rooftop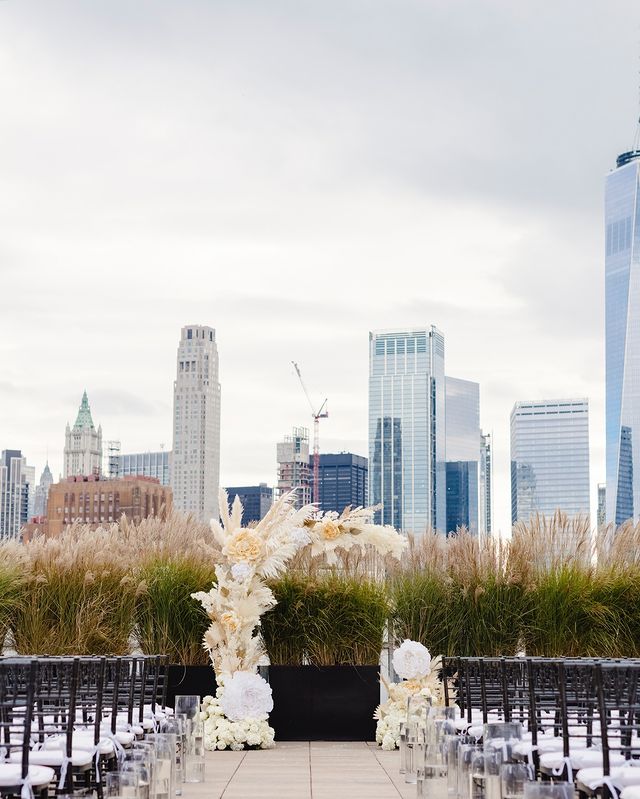 An unforgettable place, by all means. It offers a spectacular view of the city skyline, which is an incredible spot for your ceremony. The terrace is all yours! You can have any kind of wedding you want, from pink romantic to rural or vintage ones. Don't be afraid of weather changes, as the celebration can be continued inside. You'll be pleased to know that your event will be totally private. There'll be a separate entrance and private elevator for your party!
The Most Beautiful Wedding Venues In New York
In case you're afraid of heights and looking for a more down-to-earth but equally gorgeous venue, here we have something for you!
Plaza Hotel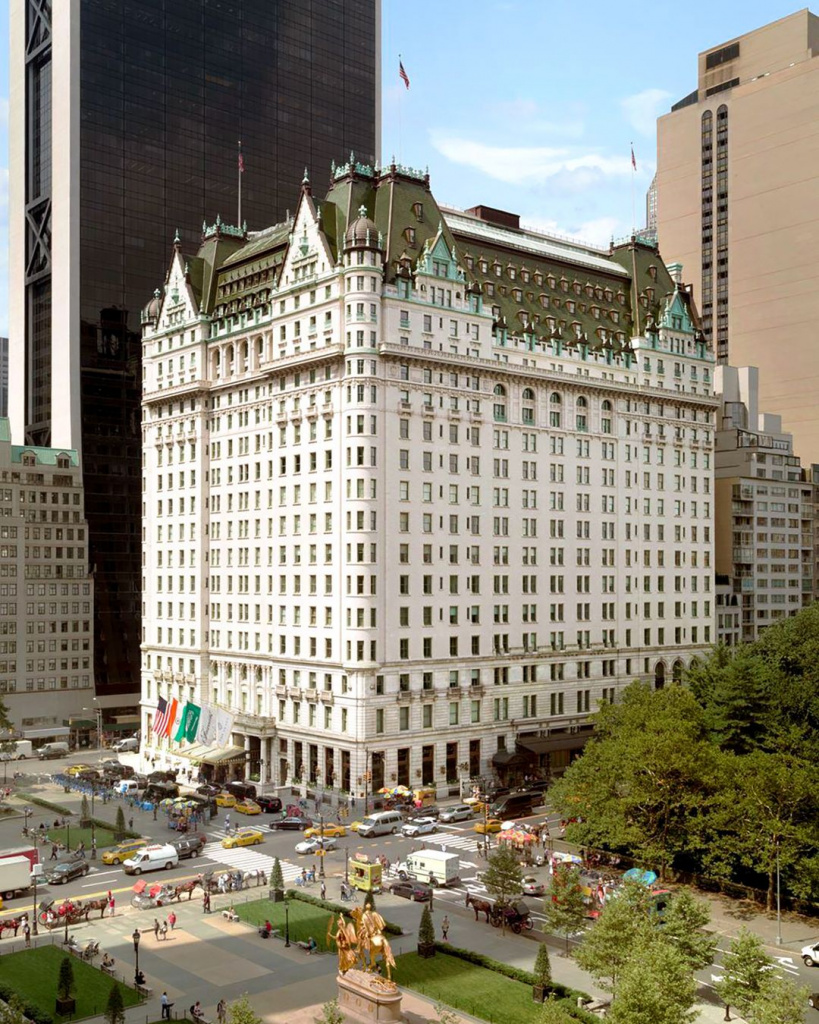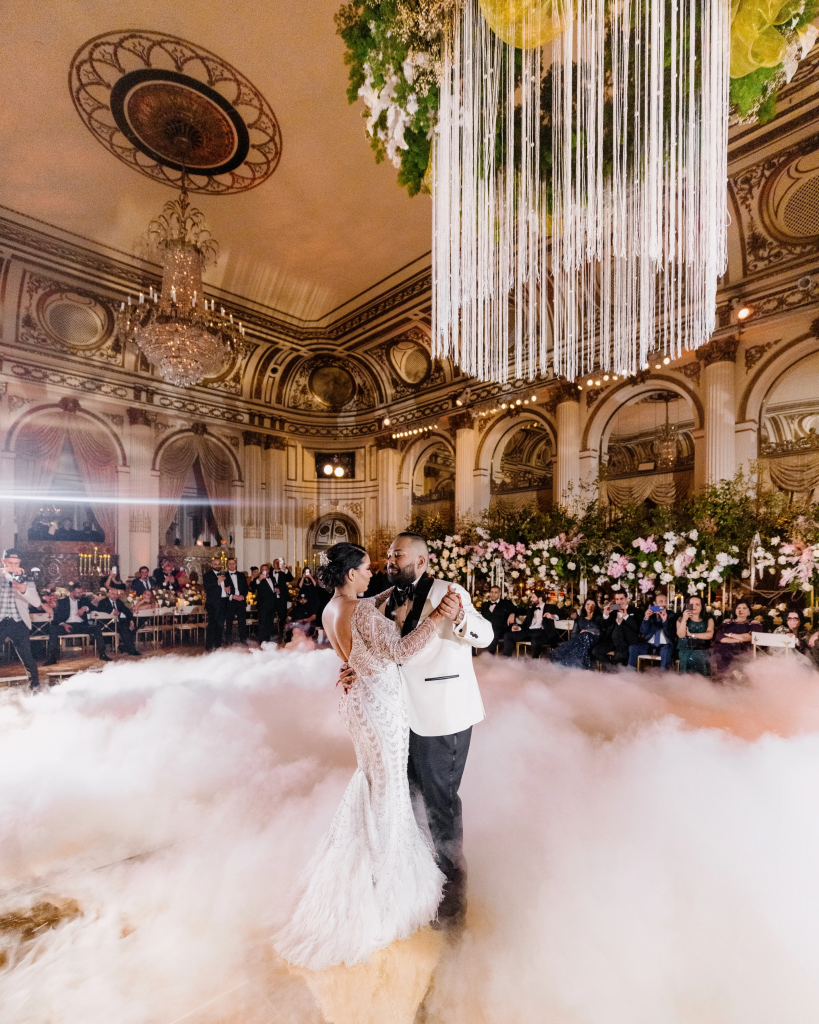 The embodiment of luxury, the Plaza Hotel is considered one of the greatest venues in New York. The hotel is stylish and cozy at the same time. The ceremony held at the Plaza will be modern, yet traditional. The fabulous hotel's interiors, made in the European style, will give your wedding a homely, but classy atmosphere. Photographs of monumental marble staircases, chic Italian tapestries, or antique furniture will be passed down from generation to generation.
Manhattan Penthouse On Fifth Avenue
This venue should be considered first when it comes to planning a sophisticated wedding. The Penthouse has been welcoming newlyweds for over forty years now. More than two hundred guests can fit in this dreamy venue and each of them will have the pleasure to adore the views of downtown NY. The interior features a modern design with elegant details. There's also a ballroom, where guests can literally dance under the stars. By all means the best wedding venue in Manhattan!
Avra Madison Estiatorio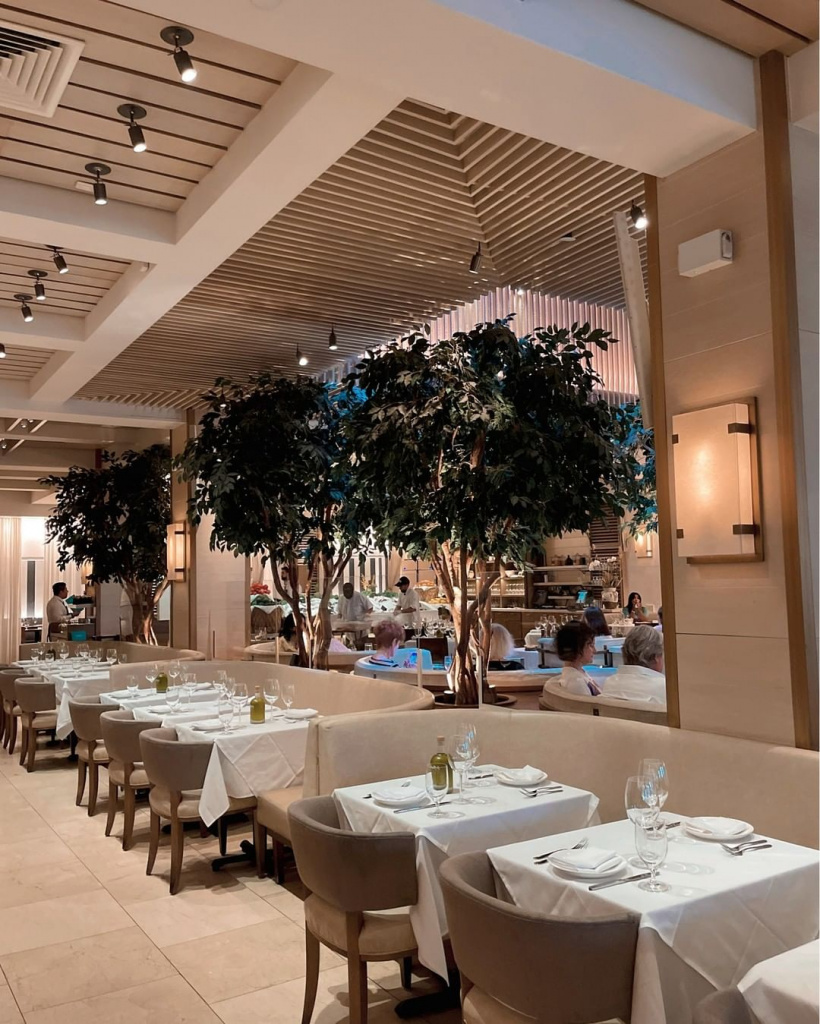 If you're looking for a high-fashion restaurant to celebrate your wedding, you've just found it. This venue has very tasty food and is unreasonably expensive, so it's worth visiting. Avra is a space that never disappoints. It has a very cozy interior, quality service, and a pleasant atmosphere. The reception held here would leave your guests with a wonderful aftertaste.
Falkirk Estate And Country Club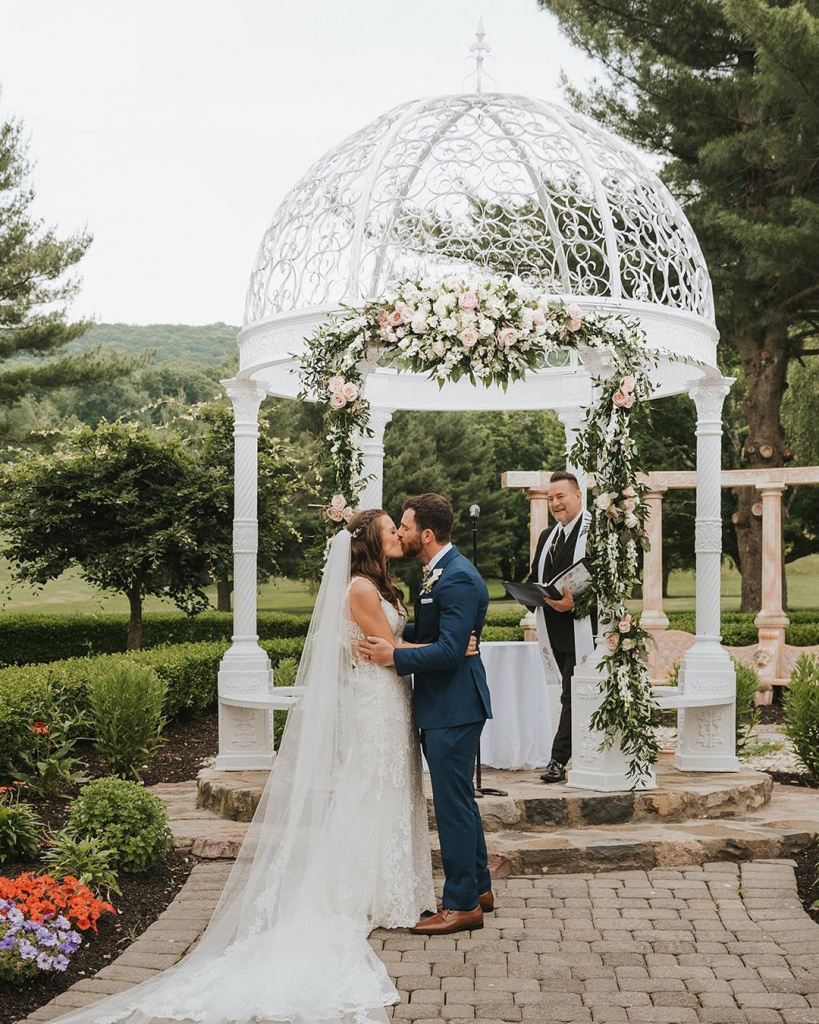 Located an hour from Manhattan, Falkirk Estate is a very special wedding venue! The estate is well-known for holding only one single ceremony a day. Together with your guests, you can expect privacy and the highest level of service. The green, well-groomed parks and waterfalls are all around the venue. The event held in this incredible place will be intimate and sincere.
NY Public Library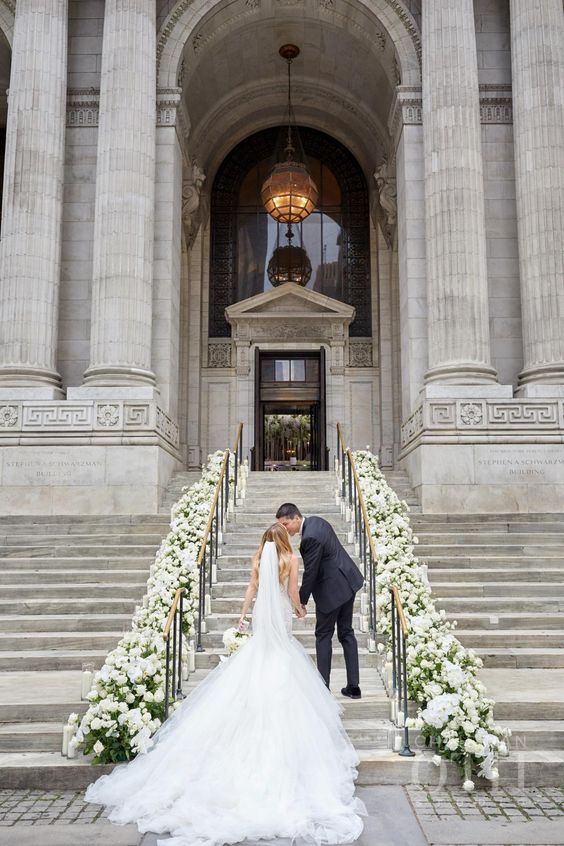 The NY Public Library is an impressive building, very majestic both interior and exterior. Usually, people visit the space to look at some wonderful artifacts there. Believe it or not, this venue is even more popular with newlyweds! All those amazing marble stairs and high ceilings are just fine for splendid wedding photos. It's a truly delightful venue to tie the knot.
Hornblower Cruises & Events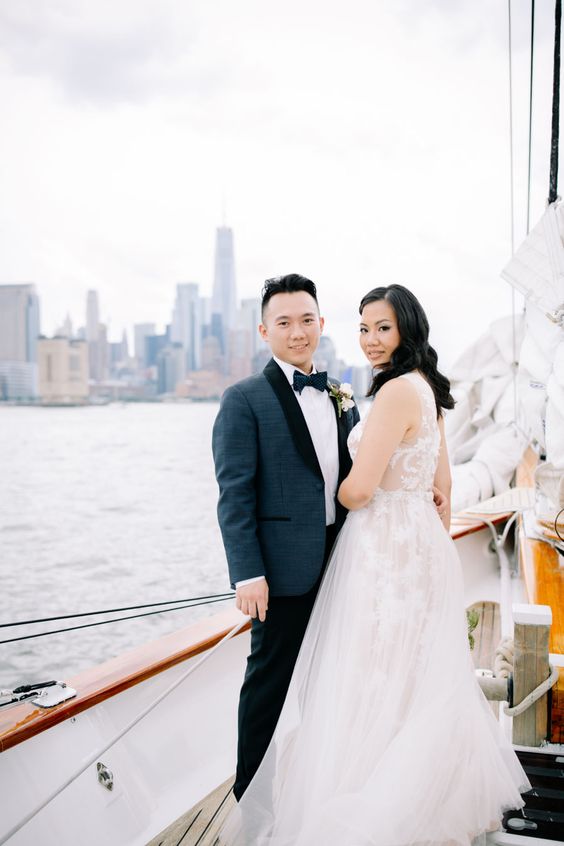 An exotic yet practical option to say your vows in NYC is to charter a yacht. Hornblower Cruises & Events can offer plenty of boat options for any kind of event. You can organize a small, intimate wedding, or you can create a noisy, crowded party. The advantage of this option is that during the celebration you can look at most of the sights of New York.
The Statue of Liberty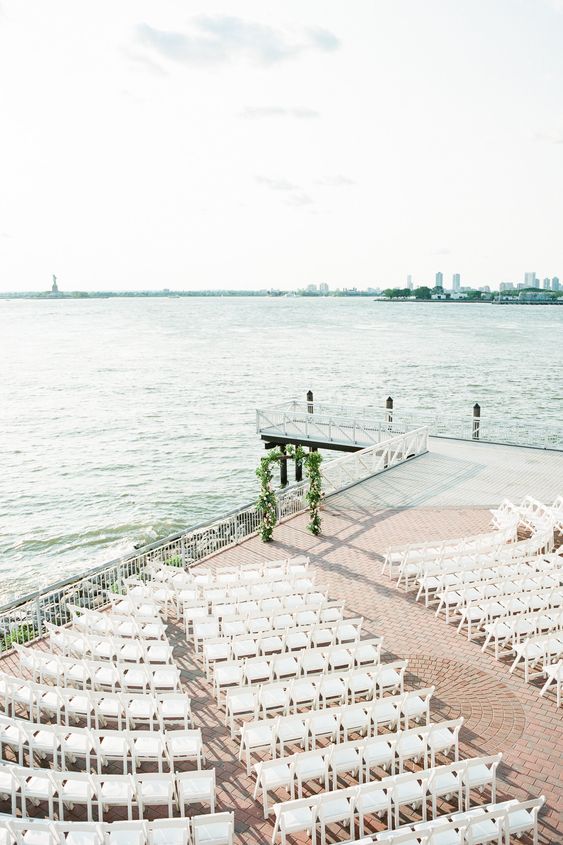 Perhaps the most recognizable symbol of the United States is located on an island a few kilometers from Manhattan. It's not allowed to host a wedding ceremony inside the Statue, since only spiral staircases, a lift, and communications are located there. Although, there are several institutions around the pedestal of the Statue of Liberty that'll certainly consent to do a celebration of the union of the hearts.
MyMoon Restaurant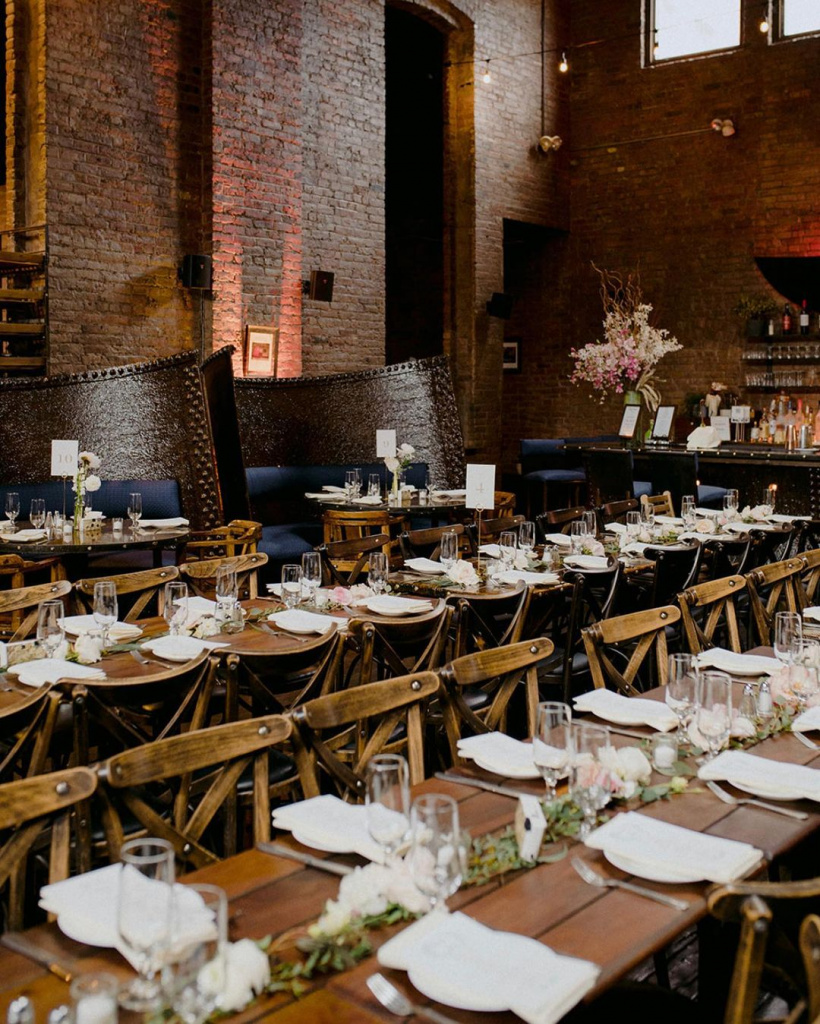 The cutest space for your wedding reception in New York! The staff, the service, the atmosphere, all of it will make your day go lovely and smooth. Whether you're planning a tiny wedding or a larger one, the venue is ready to welcome you with up to 150 guests. The restaurant is incredibly beautiful, both indoors and outdoors. There's also a lush garden, an awesome location to exchange your vows.
Central Park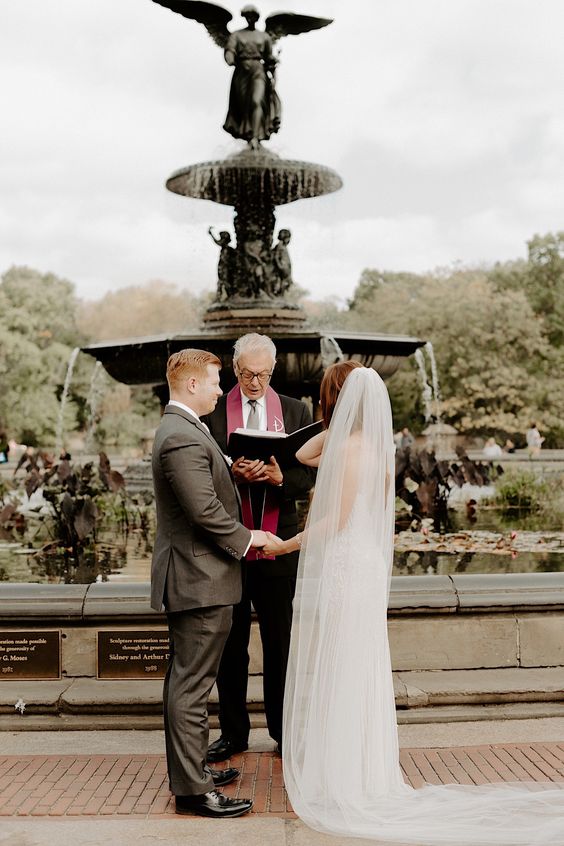 The legendary location and one more brilliant symbol of NY is the green rectangle in the heart of the metropolis, Central Park. There are no catering establishments or eateries in the park itself, so you can bring treats for guests with you. A wedding ceremony in Central Park is an extraordinary celebration, light, youthful, and slightly rebellious. By the way, if a wedding on the lawn isn't okay with you, then you can move to Belvedere Castle, which is located in the park!
Buddakan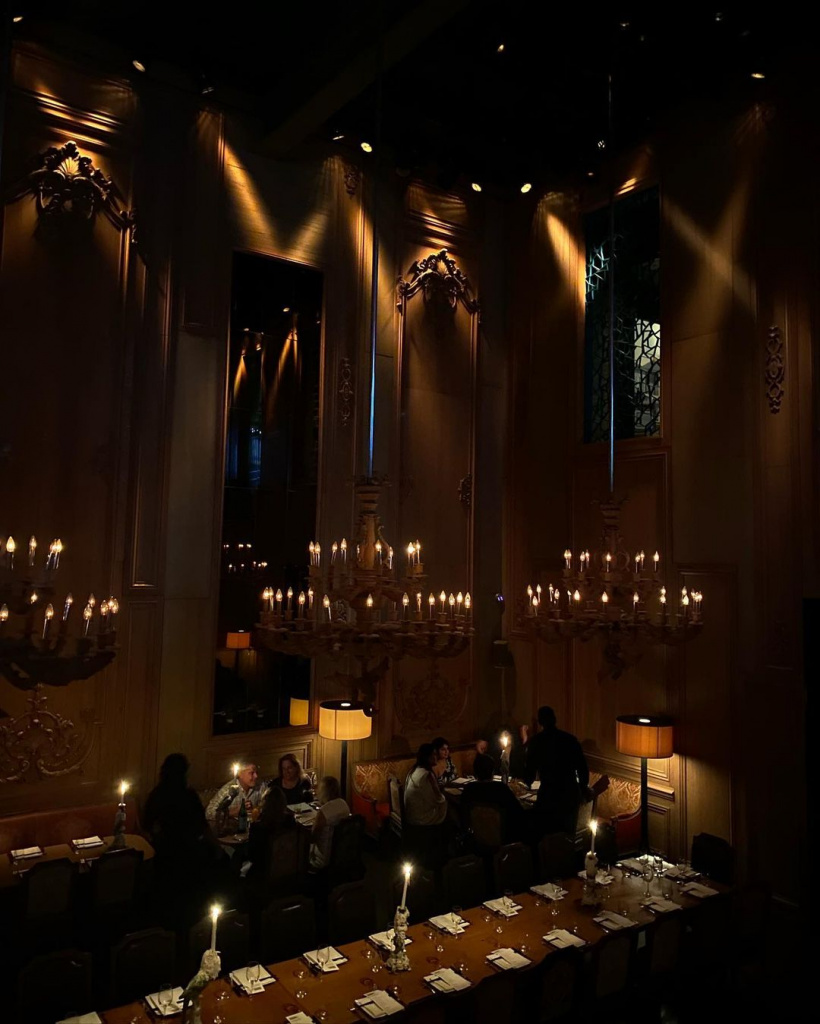 An ideal space to honor the birth of a new family in a large company. Buddakan is an Asian fusion with quirky interpretations of Asian food. Its spaces are immense! It's more than three hundred seats to offer! The interior resembles a stylish, temperamental Chinese mansion. By the way, one of the main scenes of the Sex and the City was filmed here!
Prince George Ballroom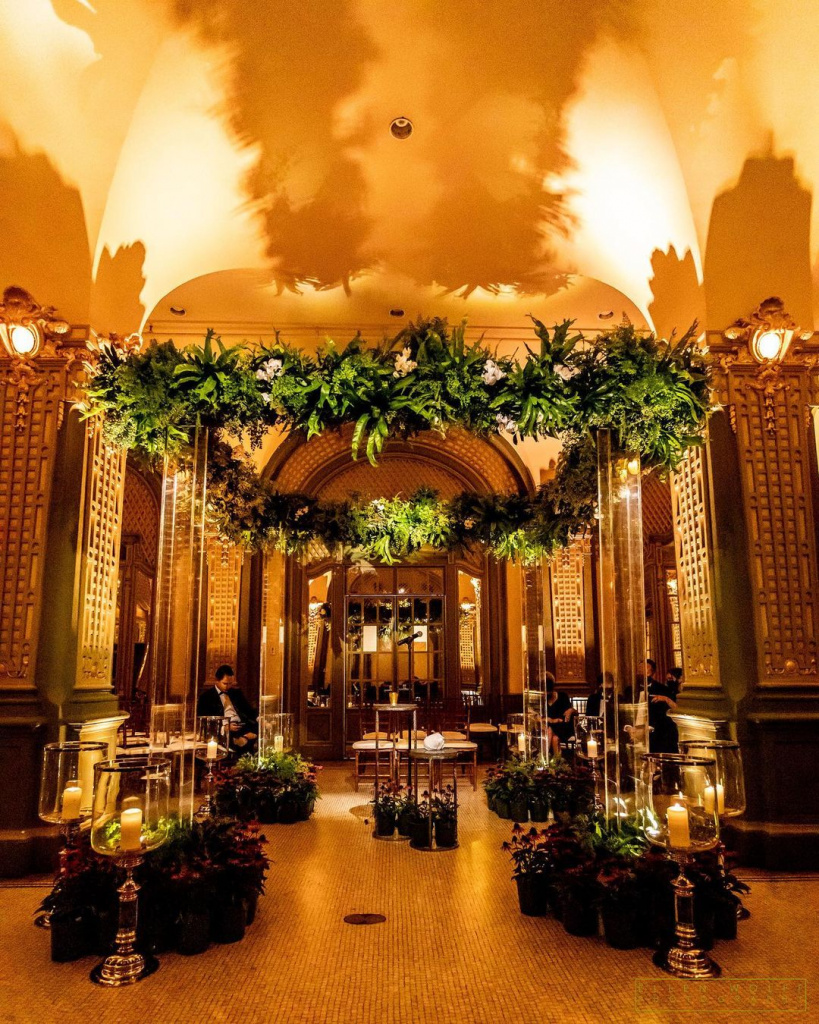 An elegant, historical venue for your classic New York-style wedding. With all its Neo-Renaissance and Beaux-Arts elements it's included into the list of Historical Places of America. Isn't it a perfect venue to tie the knot? Planning your large celebration at the Prince George Ballroom you'll perceive the atmosphere of the twentieth century and receive the chicest wedding pictures you could ever want.
Feast At Round Hill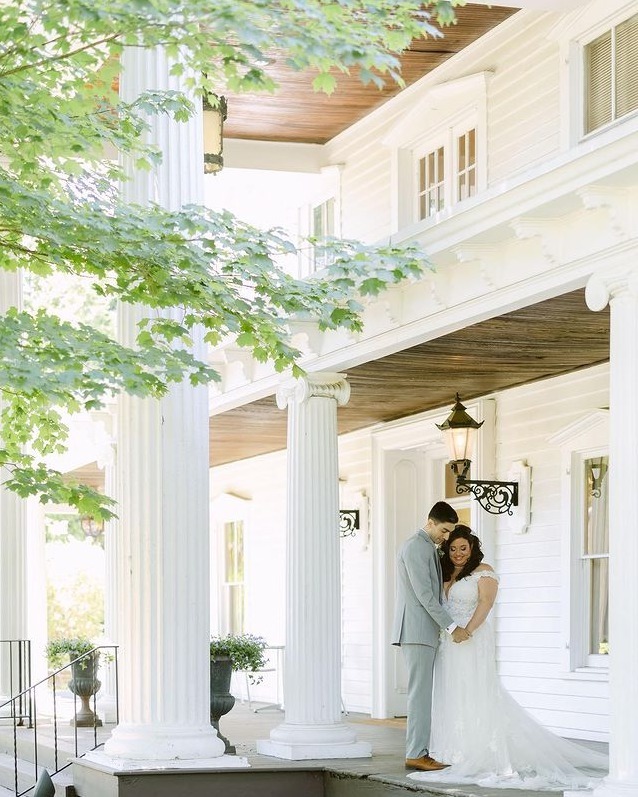 A Greek-style manor located in Washingtonville, NY is a lovely venue for an elegant, sophisticated wedding ceremony in a casual style. The space has over twenty-five years of experience in hosting all kinds of celebrations including weddings and has no bad reviews! Only one wedding a day is hosted, so the pleasure is all yours.
Boathouse Prospect Park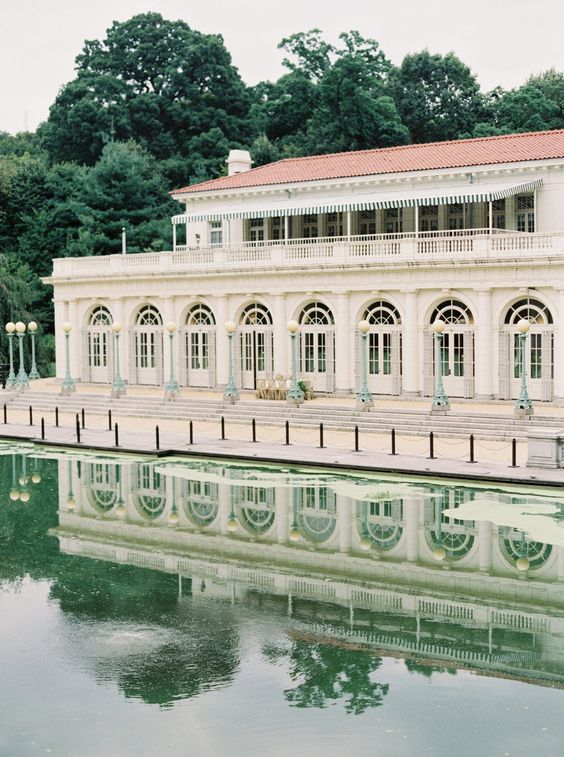 Prospect Park, located in Brooklyn, is an enormous public park, somewhat inferior in size to Central, but no less diverse and beautiful. Central Park was made entirely by human hands, while Prospect Park is mostly a work of nature. The classic design of the Boathouse contains an arcade with a canopy supported by columns. The site is perfect for wedding photography. The maximum capacity of the venue is 150 guests.
Hotel Plaza Athenee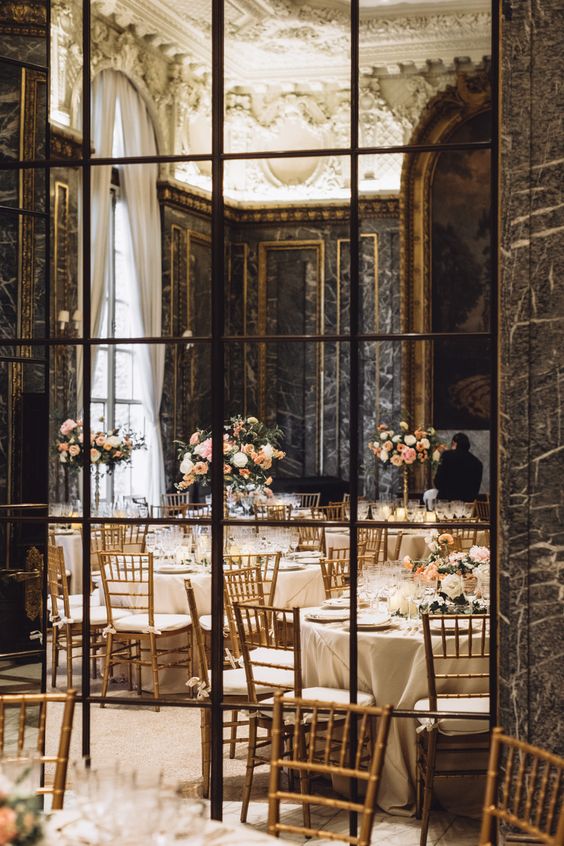 Here you've got a few great event spaces to select from:
Le Trianon
The Arabelle
The Bar Seine
The Boardroom
The Private Dining Room
The Private Rooftop
The spacious, light interior of the halls will make your wedding magnificent and sublime. The choice of the specific event space should be made according to the number of guests, as some rooms are made for an intimate kind of celebration.
The Beekman Hotel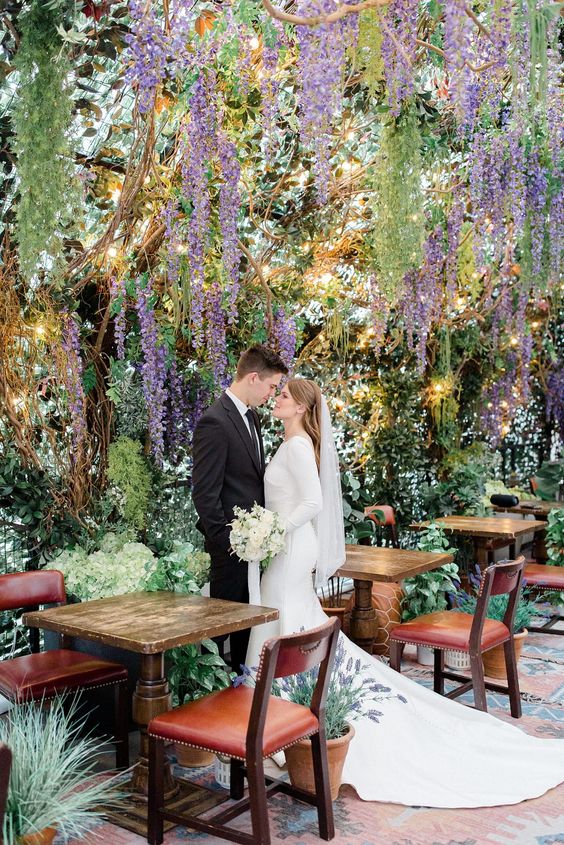 Looking for a space to host a wedding ceremony & reception in New York? You can look no more. The Beekman Hotel is a romantic venue that brings the best of NYC to your doorstep. The spirit of old NY will overflow you! The Hotel also has some wedding packages to ease your life. However, the number of guests is limited, the hotel can accommodate ninety people maximum.
Lighthouse at Chelsea Pier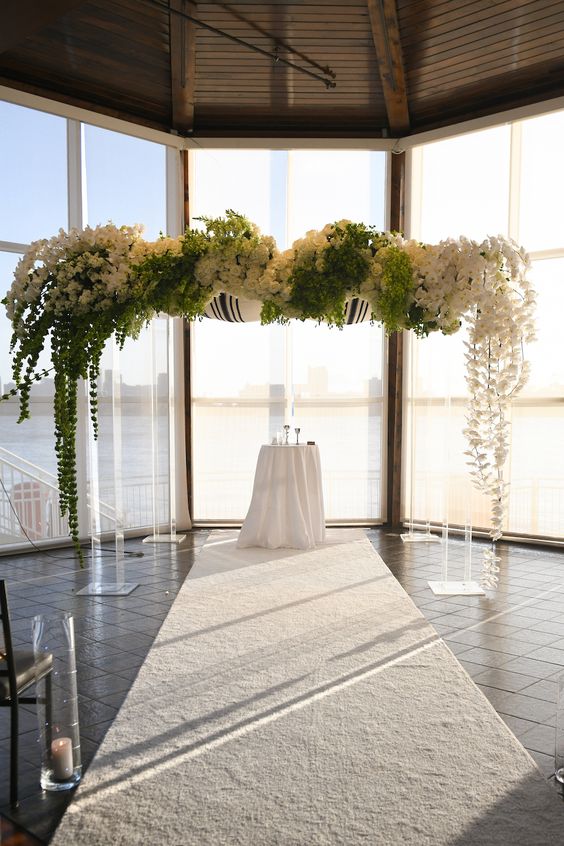 The sixtieth pier on the Hudson River became extremely popular immediately after its opening in 1998. Soon, nearly all celebrations and events in Manhattan began to be held there. Nowadays hundreds of brides dream to book the Lighthouse for their wedding. The view of the Hudson, which opens from the enormous full-length windows, will leave a breathtaking impression.
Atelier Roquette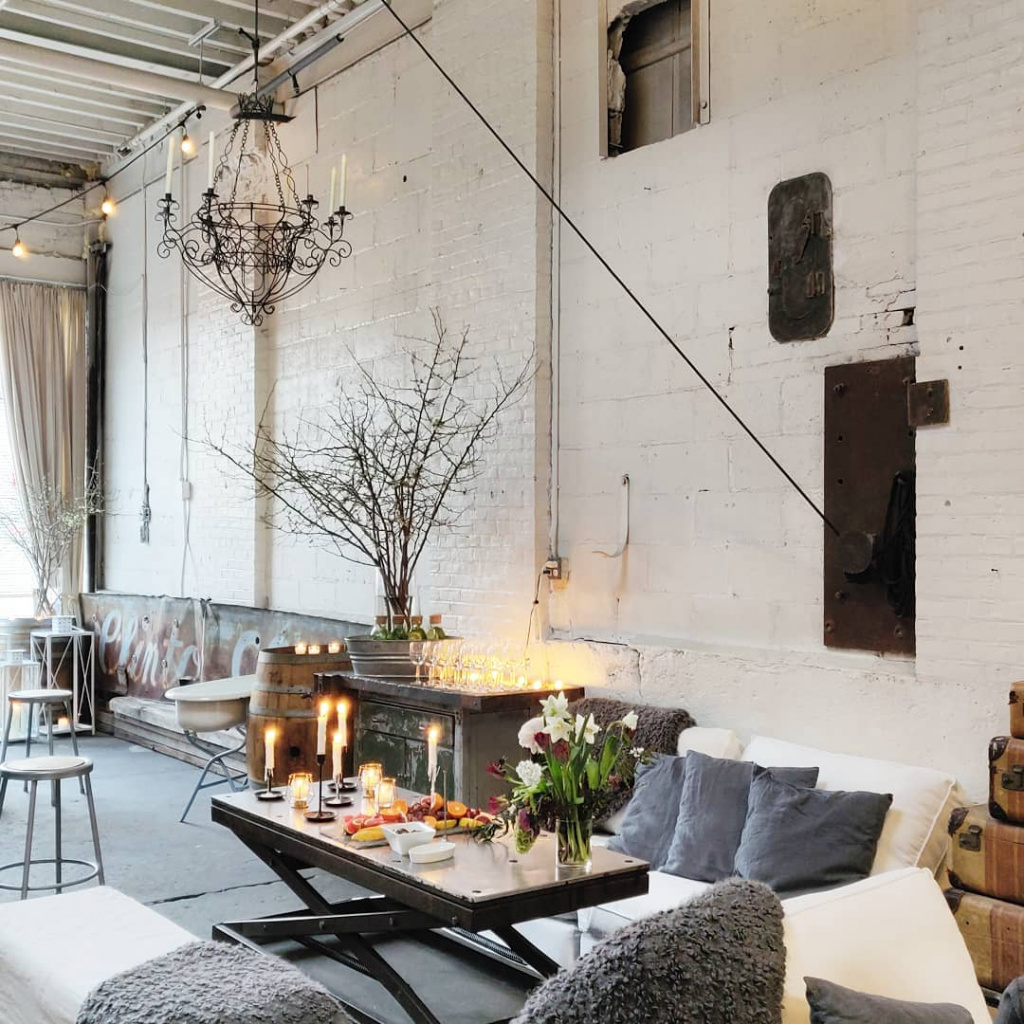 The owners of the venue respect your desire in creating a unique and unforgettable wedding and will assist you all the way with it. The venue's team offers their help in everything starting from the floral design to the full-service catering. Actually, the space can be transformed in the way you like. Let your imagination do the work!
Angel Orensanz Center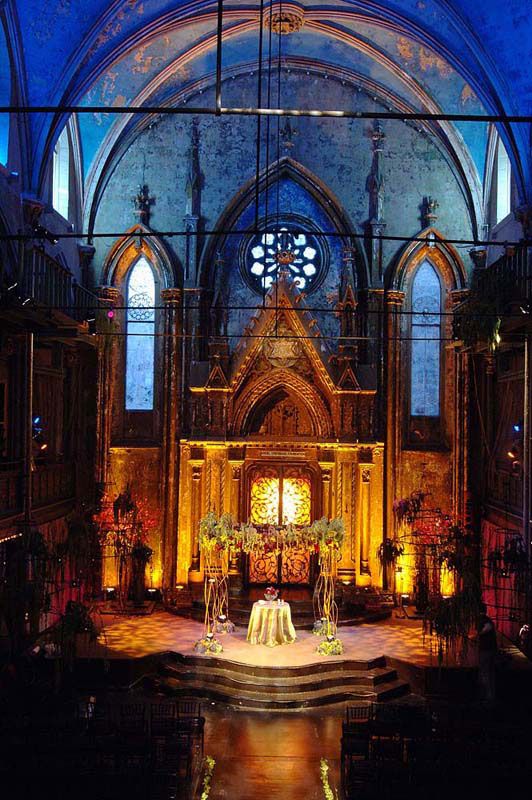 This building was initially a synagogue constructed in 1849 inspired by the Cologne Cathedral. Now, this Gothic venue with an impressive gold-plated altar is considered one of the most marvelous places to tie the knot in NY City! The venue can host around 200-300 guests.
By the way, Sarah Jessica Parker and Matthew Broderick celebrated their wedding here in 1997.
Le Coucou
This restaurant made a splash in the first year of its opening. All the socialites wanted to go to dinner here. It's worth the attention. You know what we're talking about if you've been here before. If not, you're missing out on the super collaboration of the well-known French chef and best fashion designers. The chic atmosphere is all over the place. To host a wedding here would mean to host a celebration of a lifetime!
Brooklyn Grange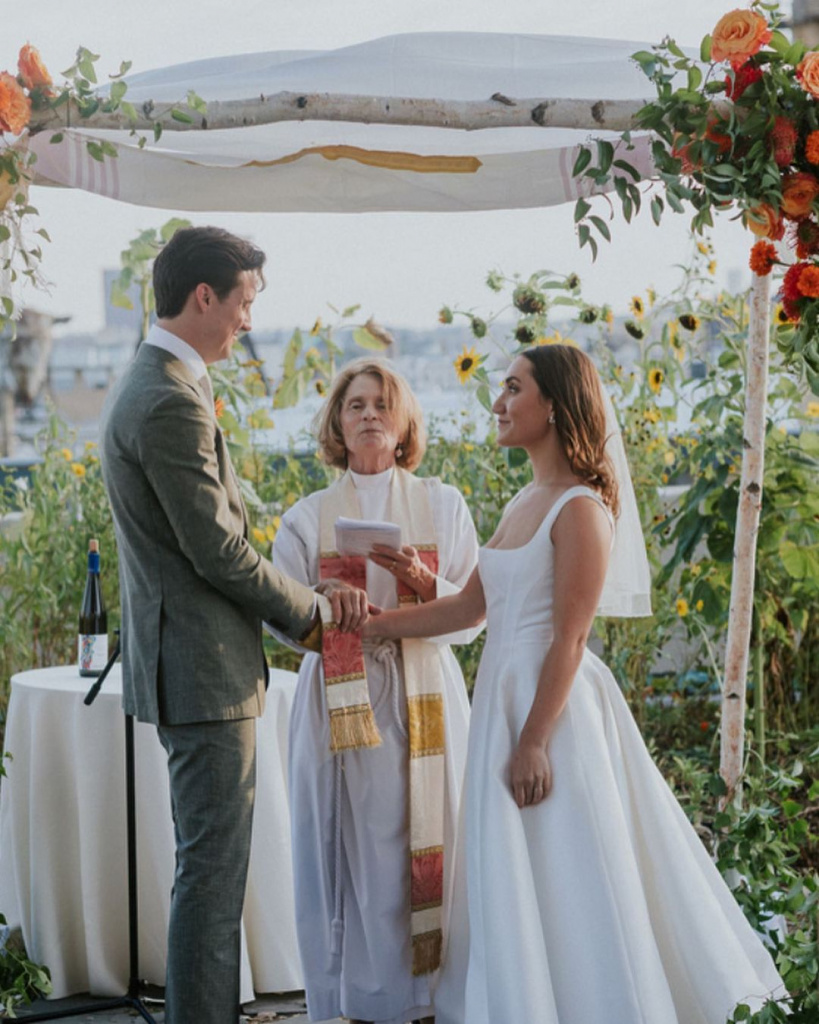 This one is extremely unusual. Brooklyn Grange is the largest rooftop farm in the world! It produces twenty tons of veggies per season, supplies products to local restaurants and shops, and also hosts weddings! What an alluring space to start your happily ever after! Plus, the views of the Manhattan skyline will add some classic NY vibes.
Brooklyn Botanical Garden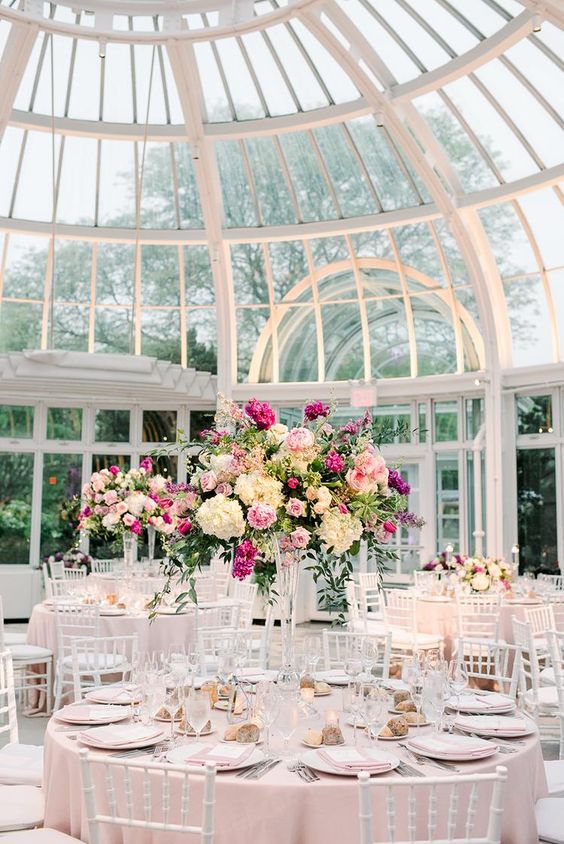 The Brooklyn Botanical Garden is a multi-colored and fragrant island in the stone jungle of New York. Back in 1897, the authorities allocated fifteen hectares of land for it and since then the legendary garden has been the residence of more than eleven thousand plant species all over the world. All in all, there are fourteen gardens in total with significant plant collections now. To spend your huge day in such a space is a dream that can easily become reality.
Chinese Tuxedo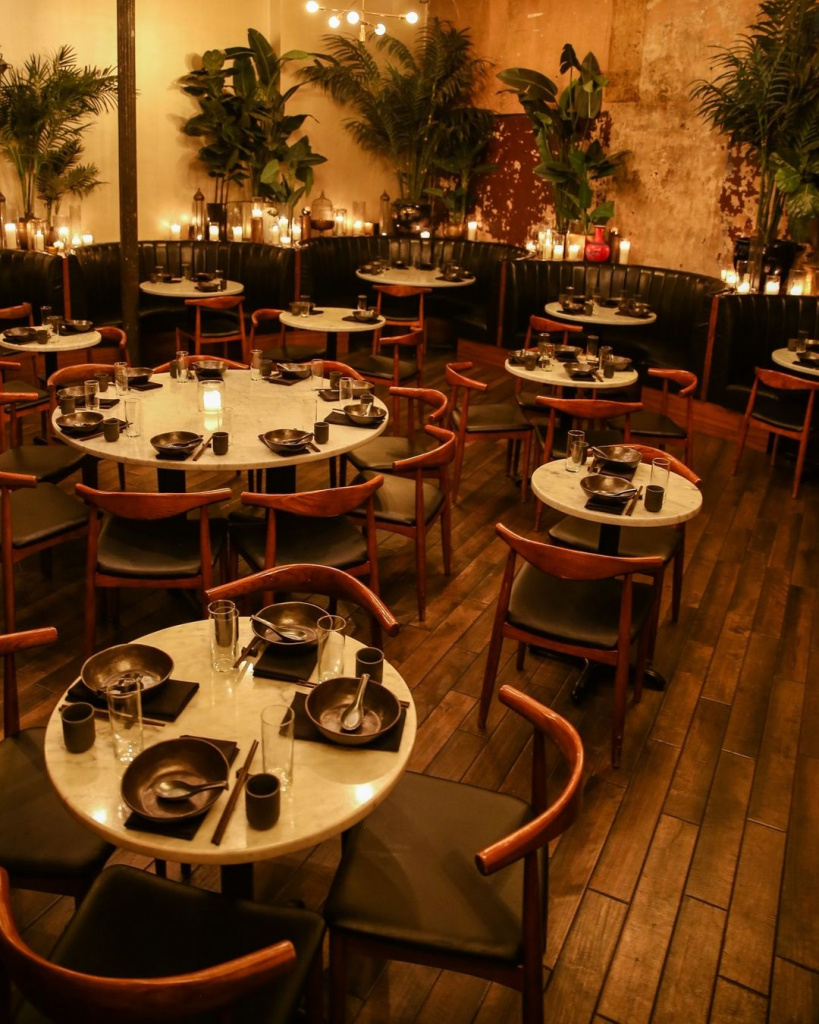 One of the most favorite establishments in New York, Chinese Tuxedo is located in Chinatown on Doyers Street. Here you'll discover high-class Chinese cuisine in a cozy and very stylish environment. An outstanding choice for those who wish to taste Cantonese cuisine and host their wedding day at a trendy local restaurant. Excellent thing is that the venue is prepared to welcome up to 300 guests!
TAO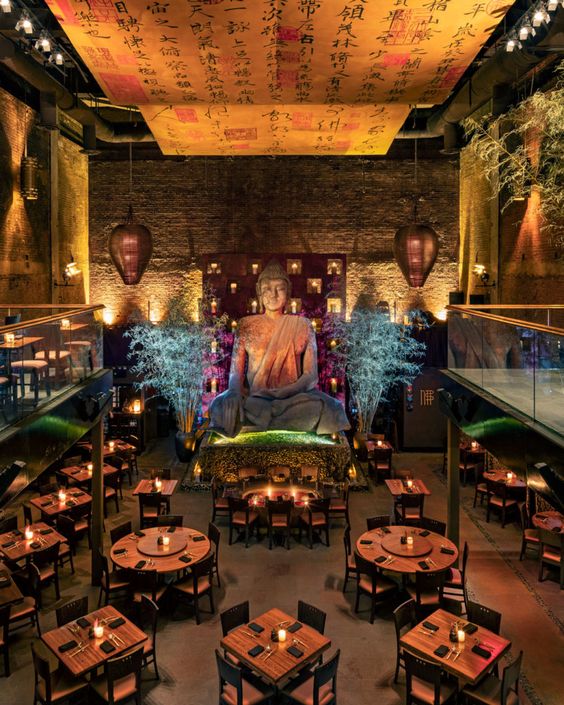 Incredibly beautiful restaurant for connoisseurs of cuisine with an Asian twist. From the threshold you'll find yourself in another world: both the interior and the atmosphere will create a delightful impression on your guests. If you're looking for something exotic for your wedding, then you'll definitely love the local dishes. TAO's used to host world-class events, so if you're planning a giant chic reception, check this space out.
The Most Luxurious Yet Affordable NY Wedding Venues
Here are the most prestigious venues in NYC. Gourmet cuisine and exceptional service await you here. What if we tell you that these places are very affordable, though? Tough to believe, right? Still, they are! Check them out!
Le Bernardin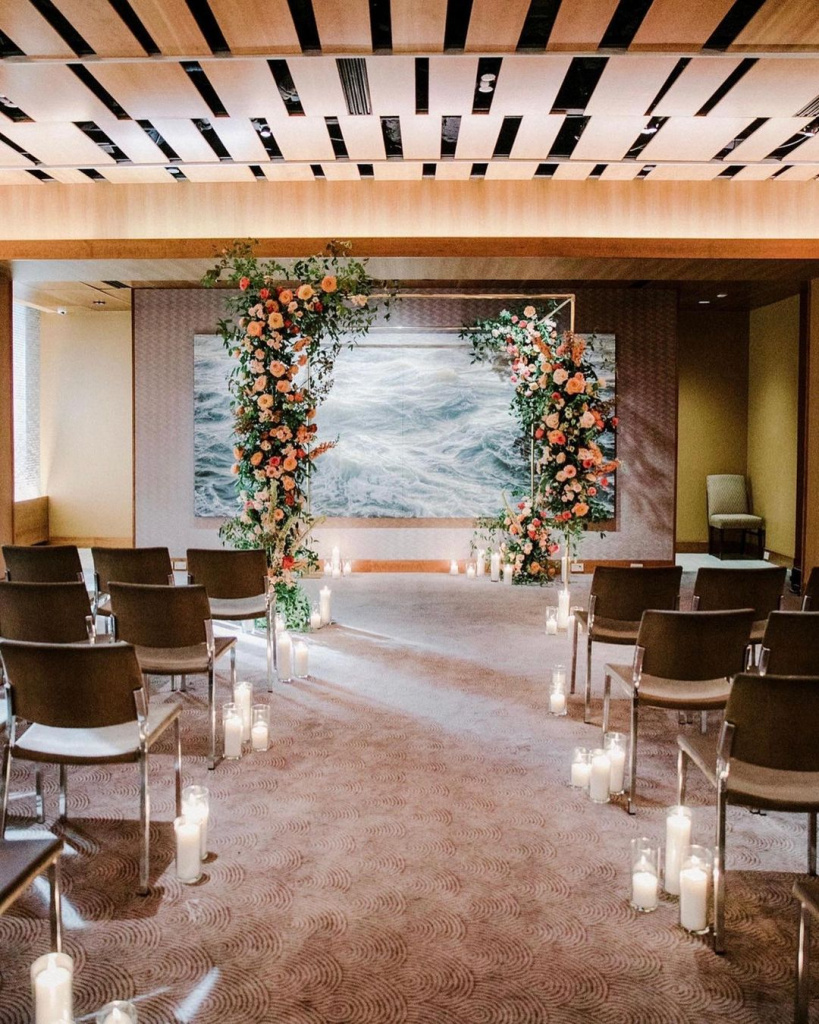 An exquisite French cuisine, a diverse wine list, and an incredible interior will make your celebration stand out from any other. By the way, the staff at this establishment is just wonderful. They'll meet all your requirements with a smile. Although considered a very luxurious place, the prices in Le Bernardin are very affordable.
Daniel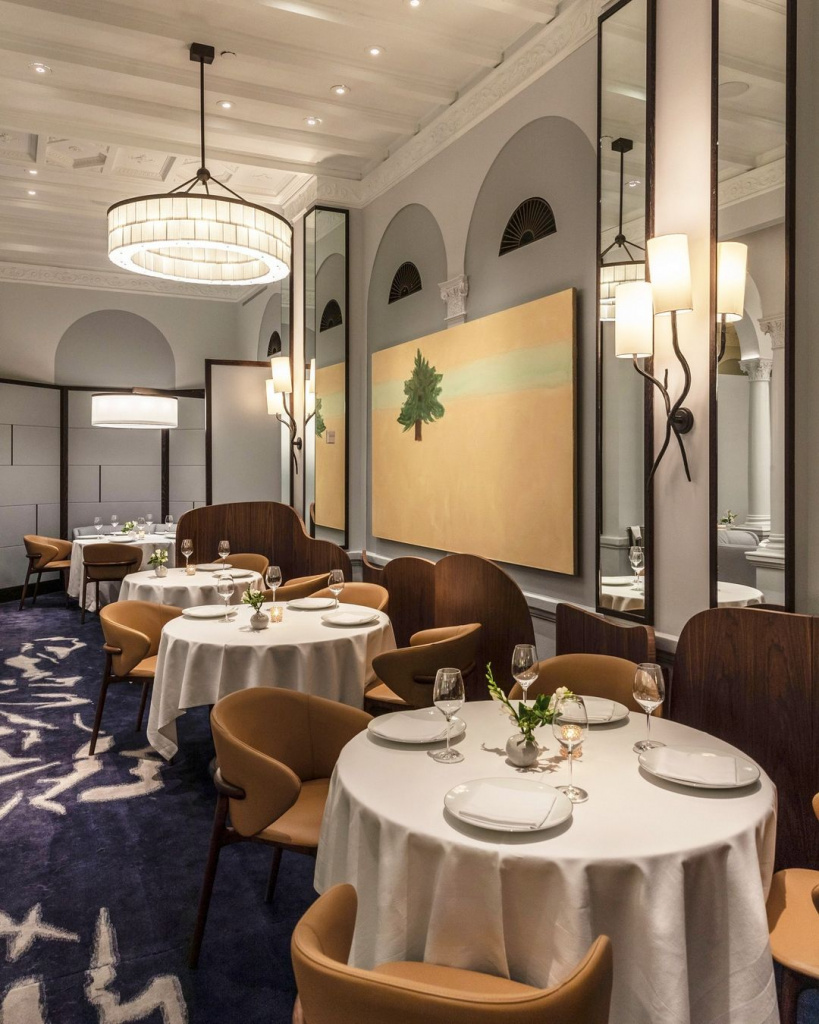 Be sure to check out this venue if planning a budget wedding in NYC. Daniel's menu specializes in French cuisine. The space has been hosting weddings for many years now, so they know precisely how to do it right. The staff here is qualified and friendly. Despite the rich-looking interior, prices here are fairly moderate. You'll definitely like celebrating your special day in such a place.
Per Se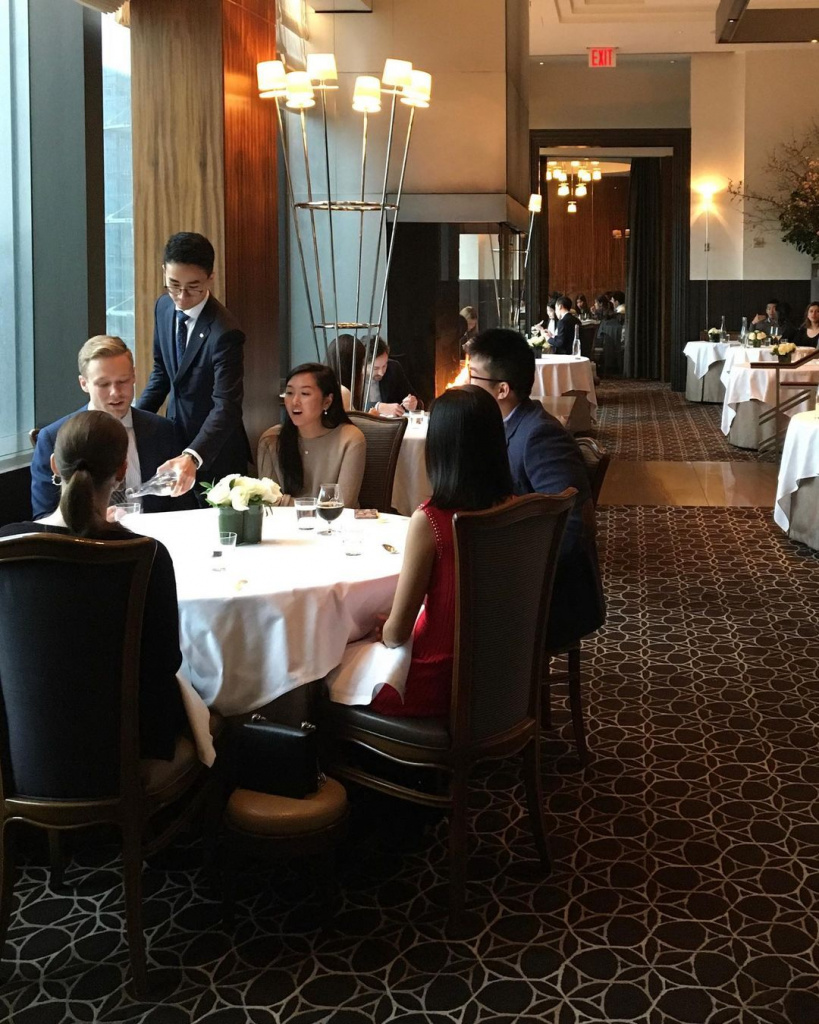 The restaurant is located close to the Time Warner Center. Just like the previous one, it's well-known for serving delicious French cuisine. Some even declare Per Se has the best oysters in the city! The window view is a huge bonus. Most couples note that the service here is extremely professional. By the way, the fireplace inside the venue will add the coziest atmosphere to your wedding.
Balthazar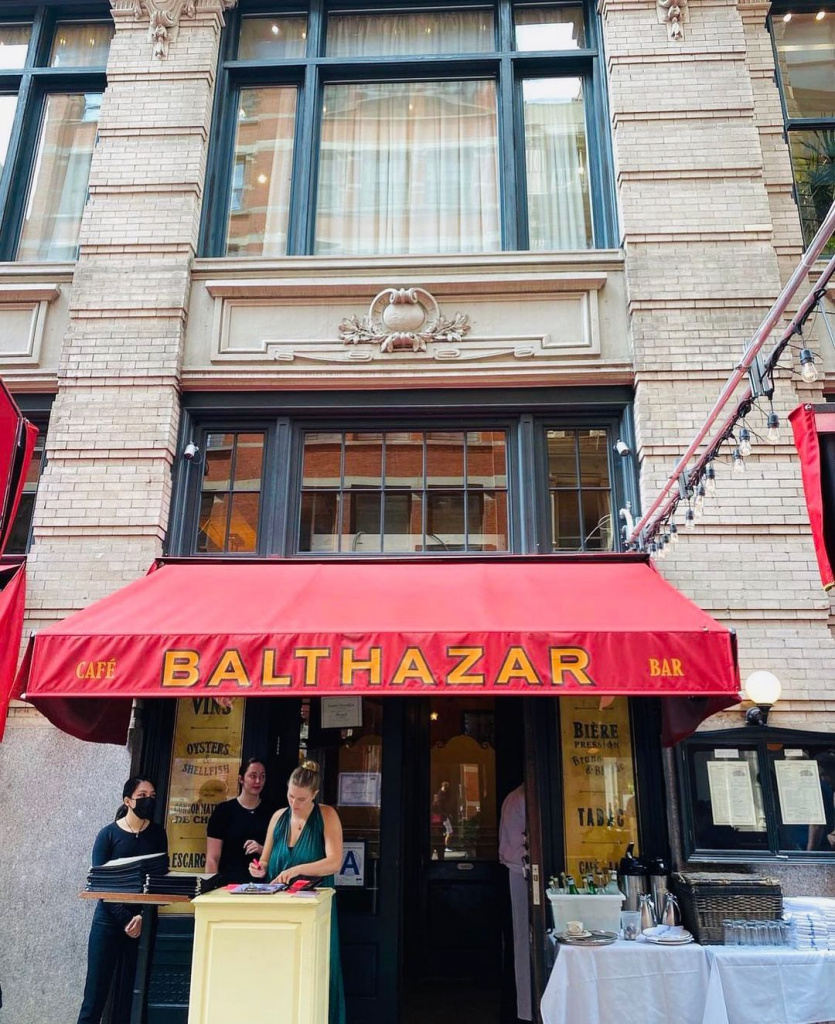 A truly magical space for your event in Soho. Actually, here you can have an excellent time for any occasion, including an anniversary, a wedding or a birthday. Still, weddings are the most common here, as the restaurant is capable of welcoming up to 200 guests at once! Having beautiful low prices, as for its location, the venue should be booked as early as possible. The dance-till-dawn celebrations are also welcomed here!
Loeb Boathouse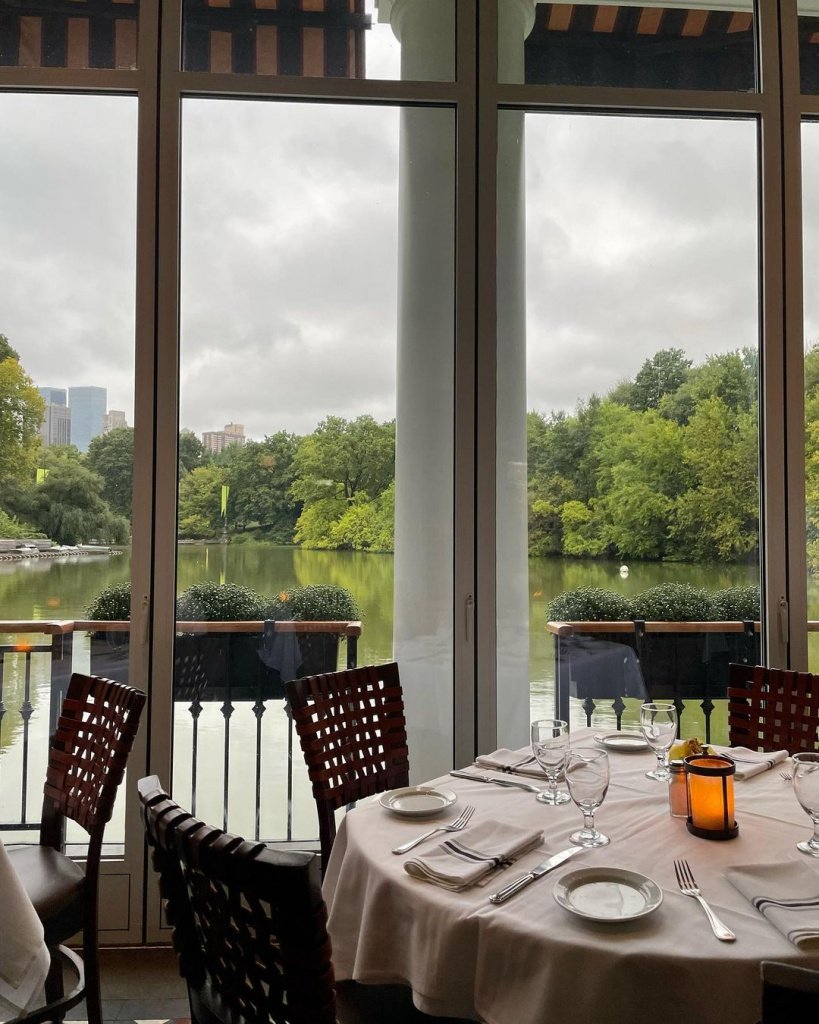 Opened in 1954, the venue continues to welcome newlyweds not only from NY but from all over the US. Below the patina-green copper roof of the hangar, couples can rent boats or hire a Venetian gondola for outstanding wedding photos. The ceremony and reception are held in a restaurant overlooking the lake.
NY City Fire Museum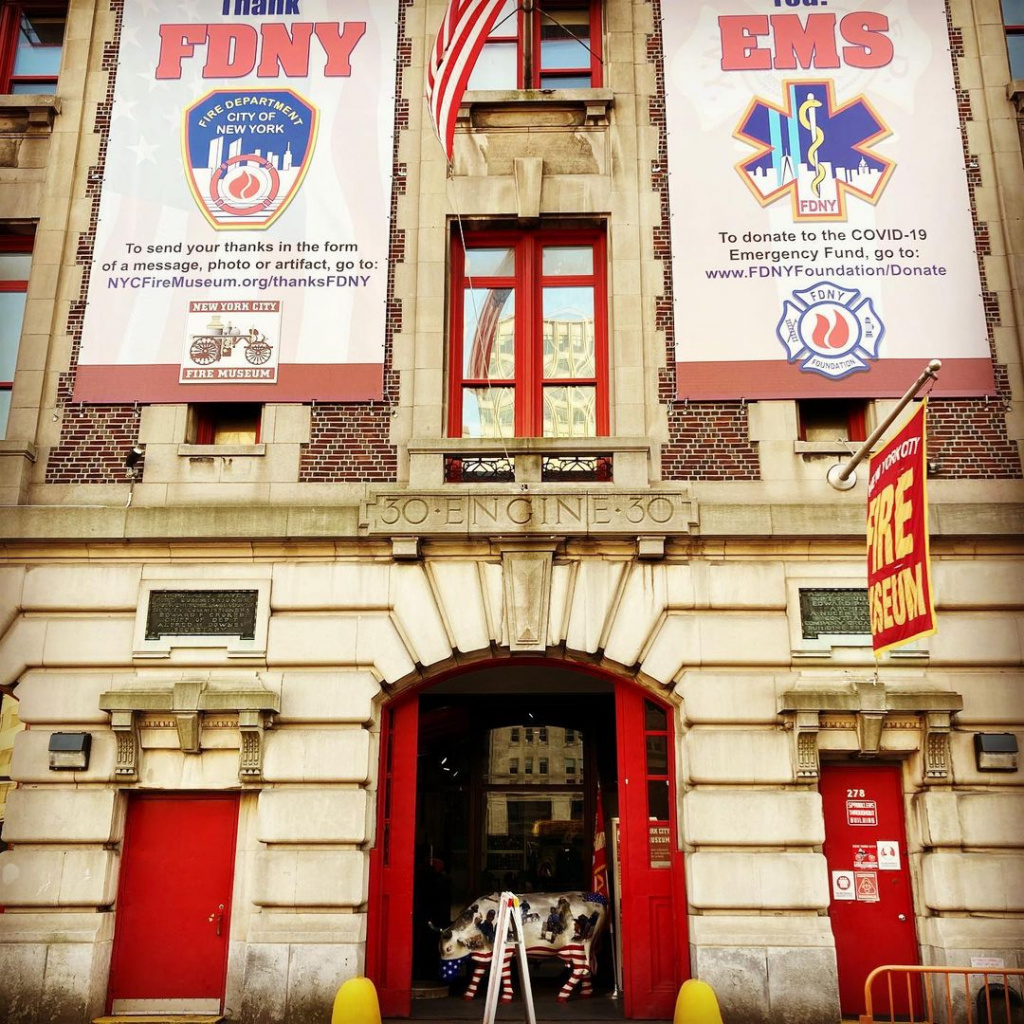 Constructed in 1904, the building still serves to display the evolution of firefighting in the city. What a symbolic space to tie the knot for someone involved in this sphere, right? Well, even if you're not marrying the firefighter, the venue is worth considering. The wonderful third floor is by far one of the cheapest wedding venues in Soho.
By the way, you're free to examine the museum during the celebration!
The Green Building
Originally the place was built to be a brass foundry. Many things have changed since then. After being restored, the Green Building has been hosting all kinds of events. Its unique rural look, featuring something from all past years, will serve as an awesome backdrop for your candid wedding pics. Another advantage is that the venue offers full-service weddings, so you won't have to worry about anything.
The Albra Room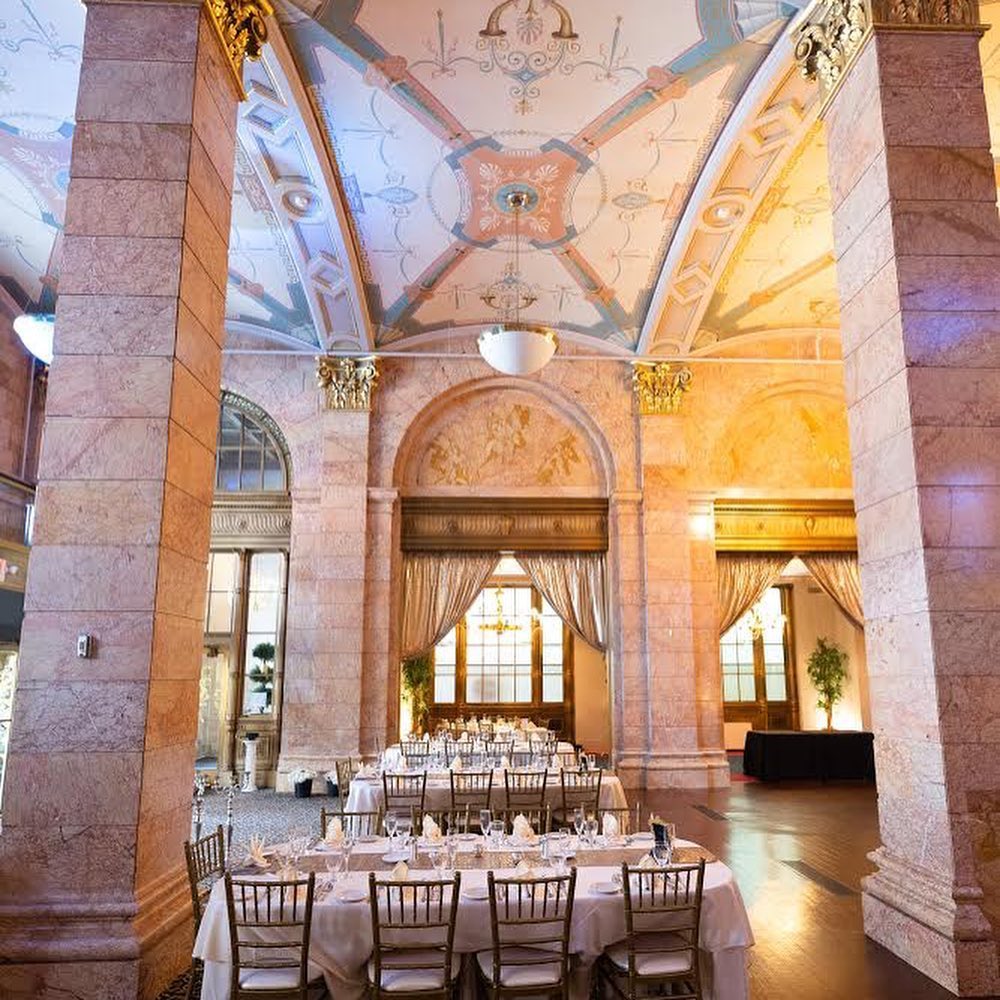 Long Island's treasure, the Albra Room is a breathtakingly charming venue to host your intimate wedding. Its interior will satisfy the needs of even the most demanding brides. The venue can also offer two staff members to assist you at the celebration. By the way, the Room's capacity is seventy visitors. Although, if the list of your guests is slightly bigger, you can rent the lovely neighboring garden.
Best Small Wedding Venues In NY City
It seems impossible to have some privacy in such a crowded city as New York. Although, not all venues are huge and loud here. Check out the best intimate wedding venues in New York City.
Norwood Club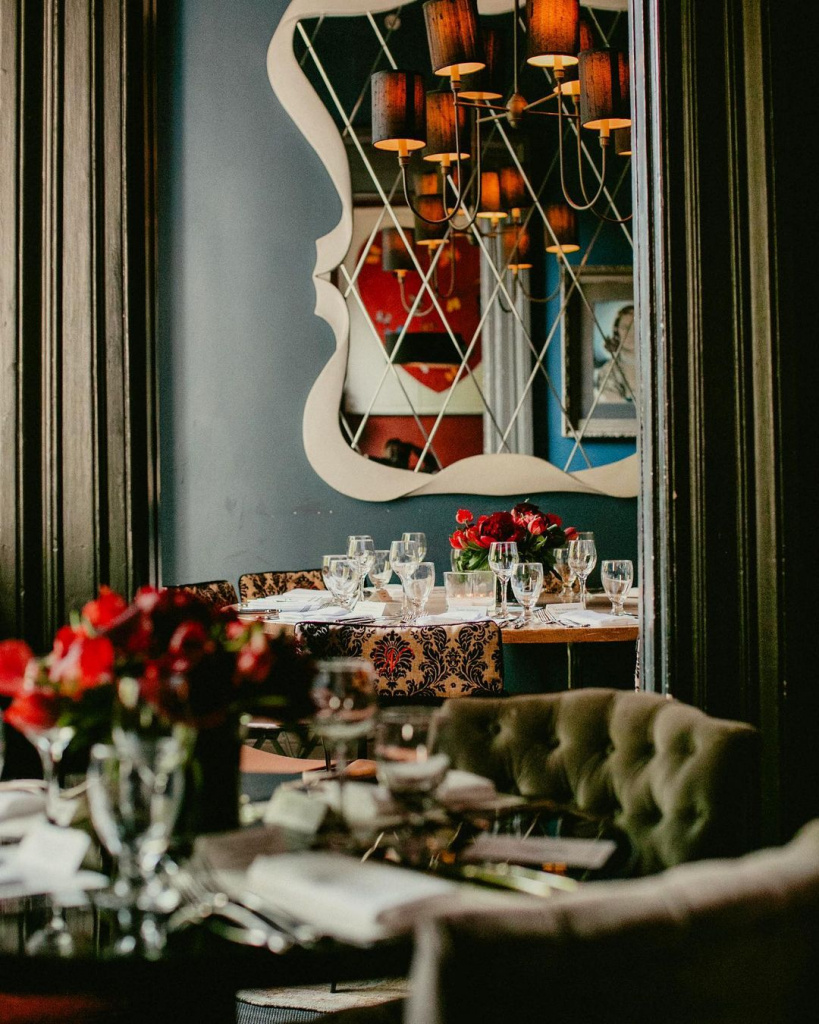 It's an amazing option for a tiny chic reception in NY. The mansion has been perfectly preserved since 1847 and is all ready to give your wedding some classy vintage vibes. You can even do a brief bohemian-styled wedding film there, but mind that each floor is individually priced. The maximum capacity is eighty guests.
Jones Wood Foundry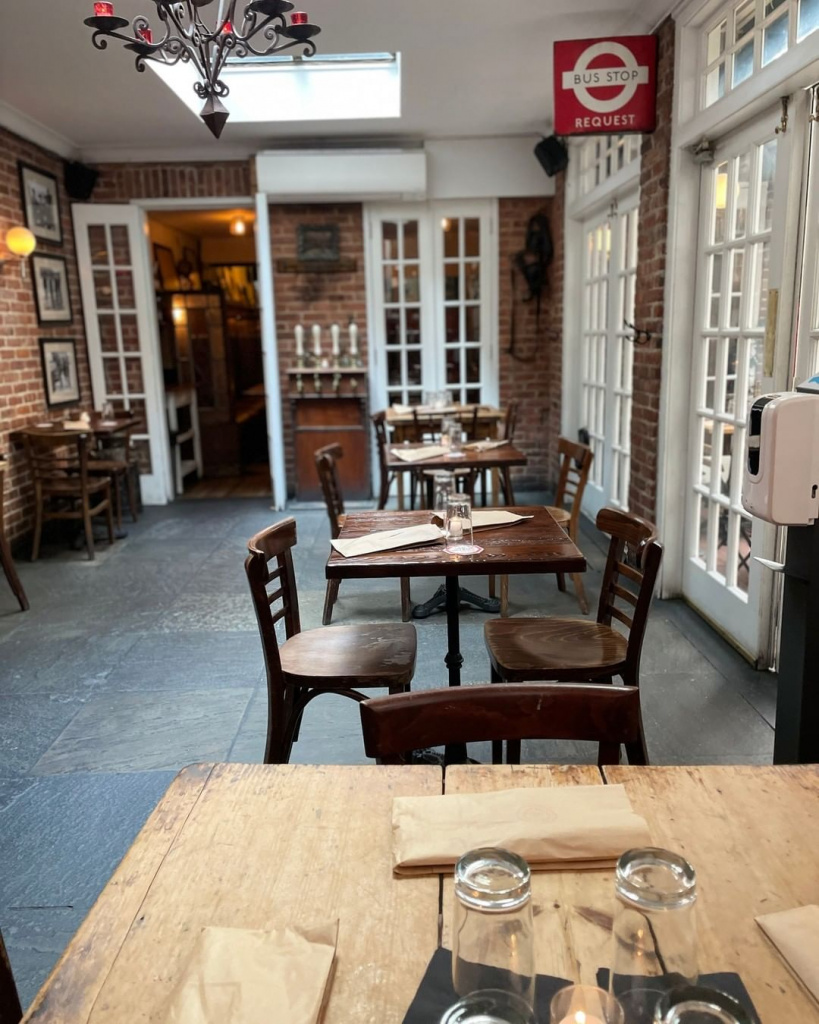 If you want British cuisine at your wedding, book the Jones Wood Foundry. Amazing meat pies, fish and chips, and gravlax are served here. The venue will provide your wedding with a cozy atmosphere. Pleasant service and affordable prices are Jones Wood Foundry's large advantages. The venue also has an incredible interior for your wedding shots.
Gramercy Tavern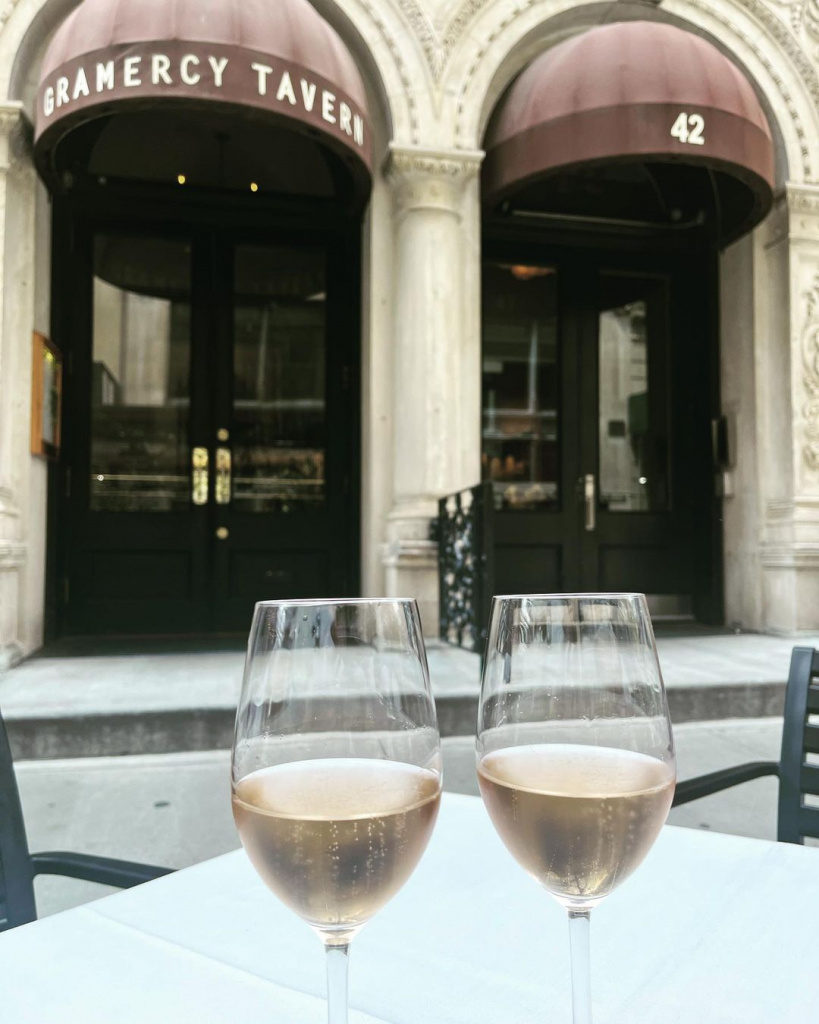 Planning your reception here don't forget to order cheese rolls, oysters, and lobster salad. These dishes are gorgeous! This space is well-known for its tasty prosecco, and other beverages. Here you can host a cheerful reception on the outdoor terrace. This venue also has affordable prices, an impressive interior, and a pleasant atmosphere.
Merchant's House Museum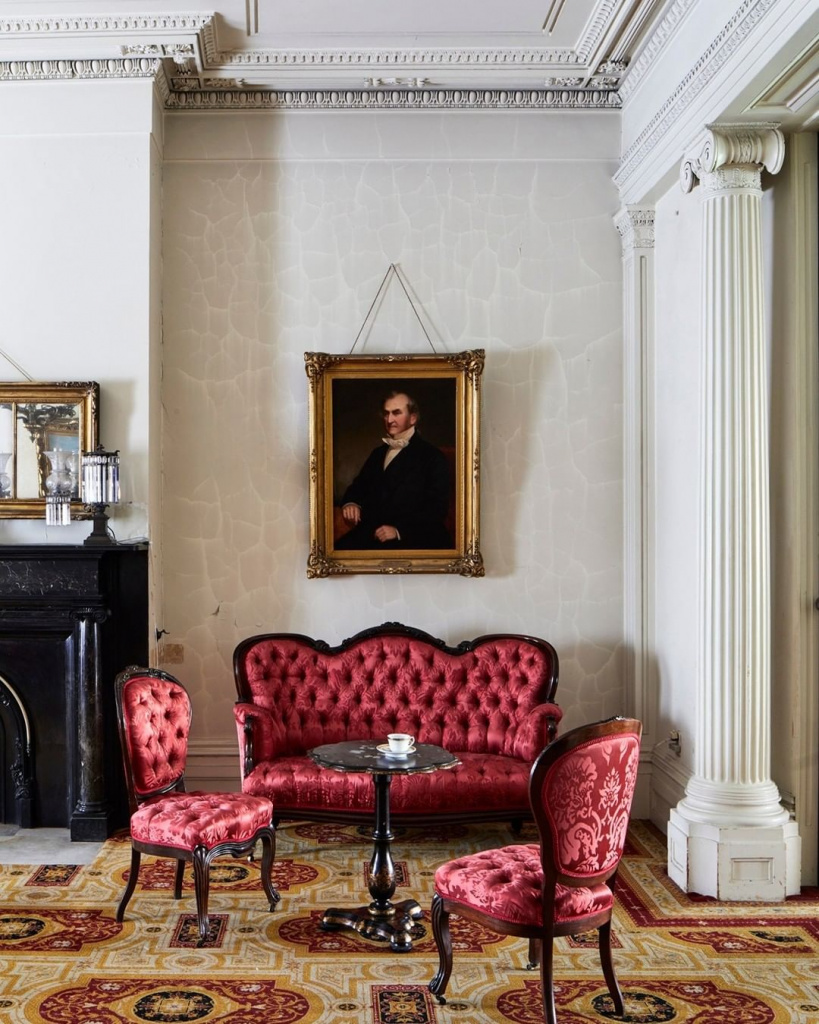 Excellent chamber wedding venue. The space is soaked with the things which can tell you all about the life of wealthy families in the nineteenth century. The house itself is a genuine masterpiece of architecture of that time, and the interior consists entirely of original furniture and vintage accessories. All in all, the Museum is a must-consider place when planning a classy wedding in NY.
Nerai
We highly recommend this one for connoisseurs of fine Greek cuisine. Being one of the best NY wedding venues, Nerai offers a peaceful and cozy atmosphere, despite its location in the very heart of the metropolis. The menu is rich in seafood and fish. The level of service is very high. What's more, due to the elegant interior, the vibe of this venue will totally fit your classic chic wedding.
Eleven Madison Park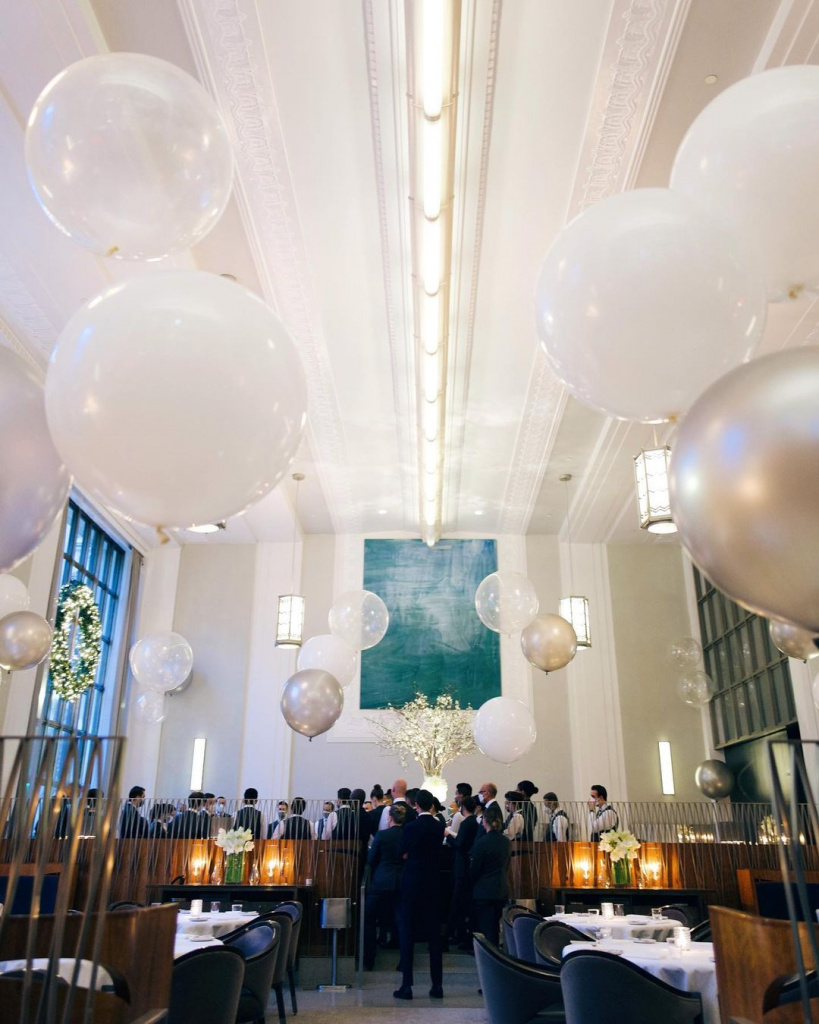 If you like French cuisine, it's a perfect venue for your wedding. Have a cozy winter reception here and don't forget to order an incredible mulled wine for your guests. The prices at Eleven Madison Park are attractive, so it's an excellent option for those who plan a wedding on a budget. You'll like the impressive interior and pleasant atmosphere of this venue.
Marea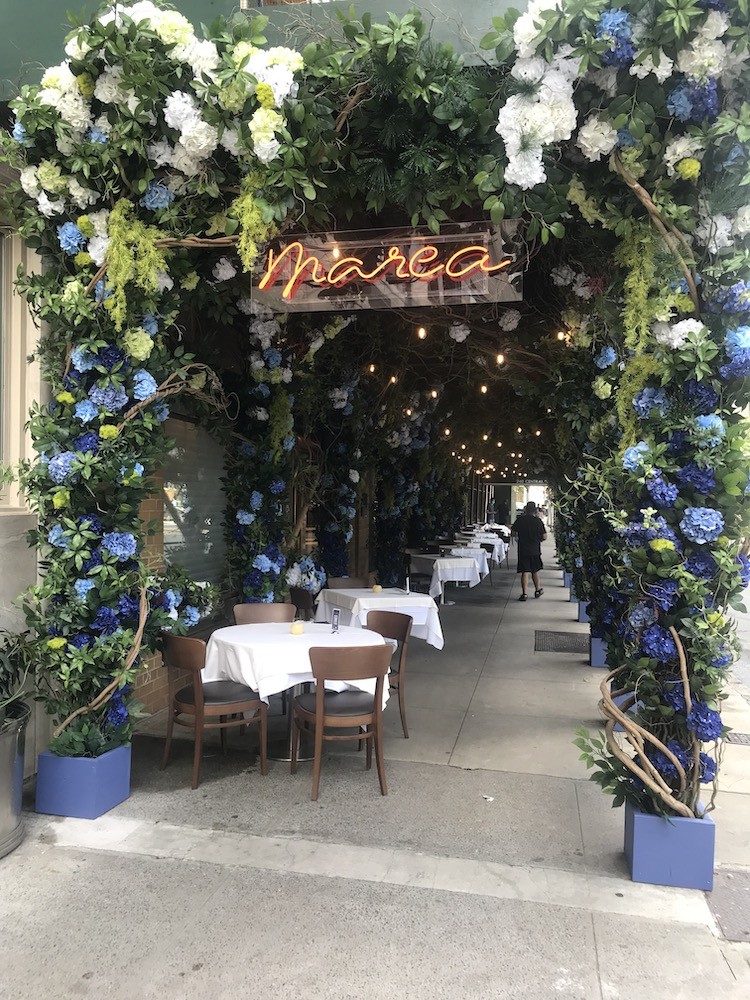 If you're fond of Italian specialties, Marea is your perfect choice. The incredible outdoor terrace is prepared to host your intimate celebration during the warm season. When it's freezing outside, the intimate party can be held inside. Marea's interior is just wonderful and the atmosphere is calm. All in all, a memorable experience is guaranteed.
Ai Fiori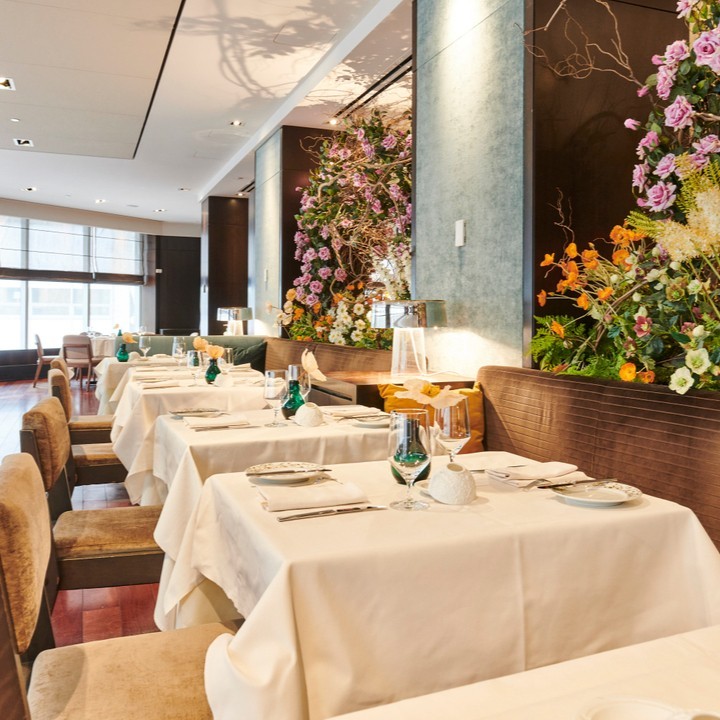 Elegant interior, regional wines, and of course, tasty dishes inspired by France and Italy await you at the Ai Fiori restaurant. By the way, the title of the venue is literally translated as "among the flowers". You also have to know that the venue has received a Michelin star and has the title of the best restaurant in America! What a space to celebrate the wedding, huh?
Aquavit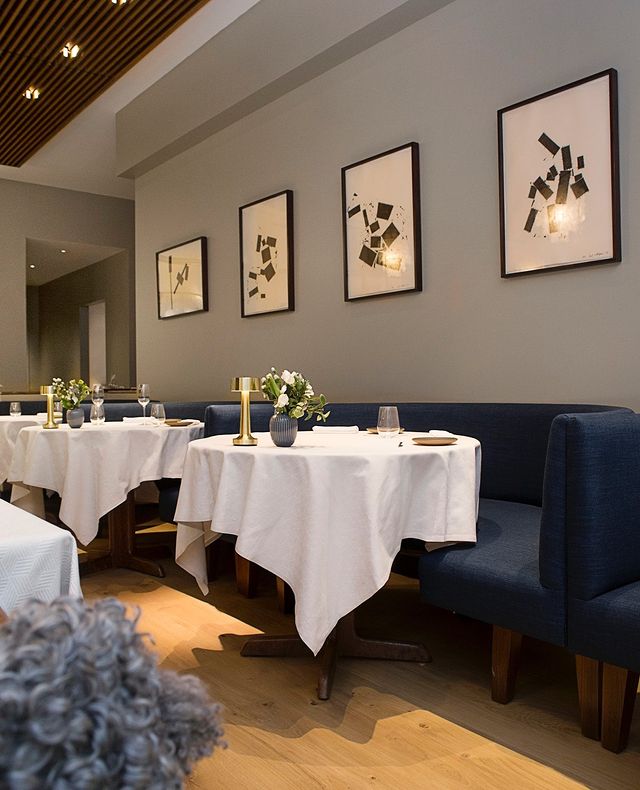 Aquavit is a must-see wedding venue if you love Scandinavian and Swedish cuisine. The wine list is very diverse, as well. Many guests comment that the service here is excellent. This venue also offers awesome food at affordable prices. Its exceptional interior and relaxed atmosphere will make your wedding pics unforgettable.