The Best Diamond Wedding Bands For Women
Publication date:

02/19/2023

Updated:

05/01/2023
A diamond ring is an exquisite piece of expensive jewelry that becomes a priceless treasure transforming into a wedding band. You can't save money on such a gift, because a woman will wear this thing on her finger all her life. Even if you're on a tight budget right now, sometimes it's better to wait and give something special. Of course, the ring isn't the main attribute of your love, but rather your sincerity. Try to find an accessory that will reflect the character of your beloved. Some people prefer bulky rings, and others select delicate jewelry that barely shades the total look. We have collected 13 of the most exquisite diamond wedding band ideas of various styles.
Types Of Diamond Wedding Bands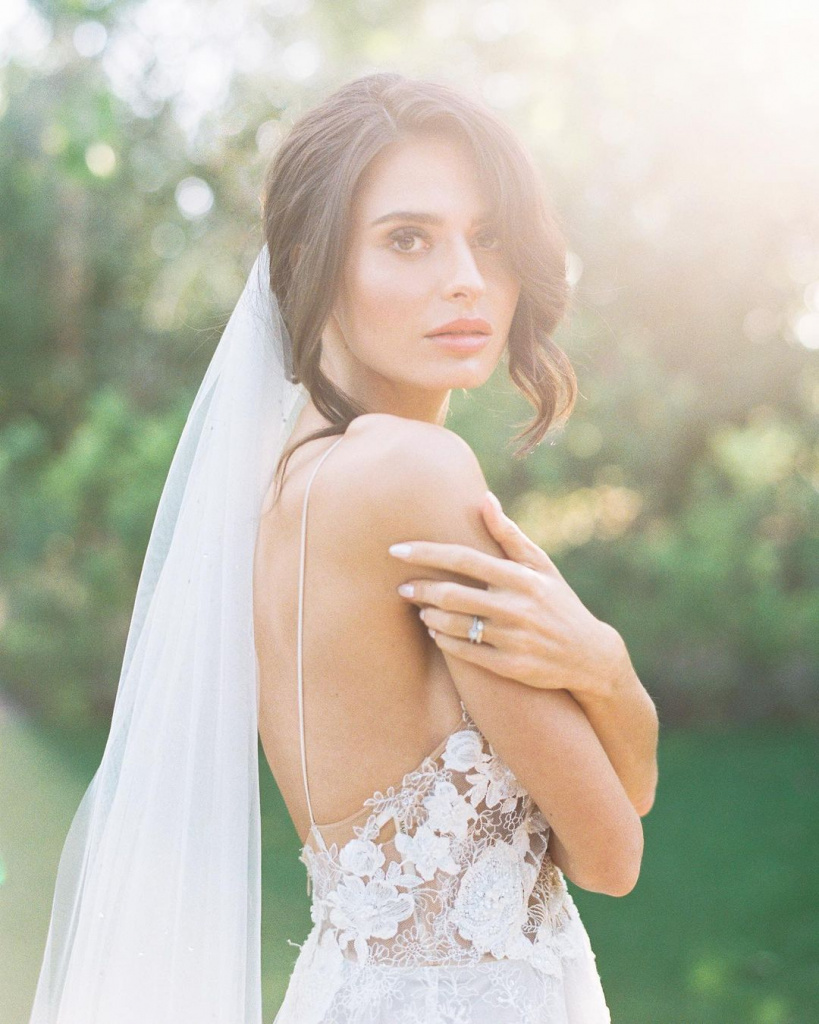 There are many different types of engagement and wedding bands. We've collected the most famous types for you.
Ring Structure
A smooth wedding band consists only of the base. The top of a more complex ornament may have the following elements: a setting for the inset stone, inlays such as stones or glass, a backing that holds the inset underneath, and a decorative piece connecting to the rim. The inner side of the ring is usually smooth, while the upper side can be decorated with stones, blackening, enamel, and diamond facets. In one product, the width and thickness of the band may vary. Towards the caste, the rim is sometimes widened or narrowed.
There are classifications of rings by design, construction, type of cut or method of their fastening, the material of manufacture, and rim width. Modern types of engagement and wedding bands impress with a variety of materials and designs, including enamel coating and inlays with colored stones. There are also some trendy wedding ideas for bands.
Solitaire Ring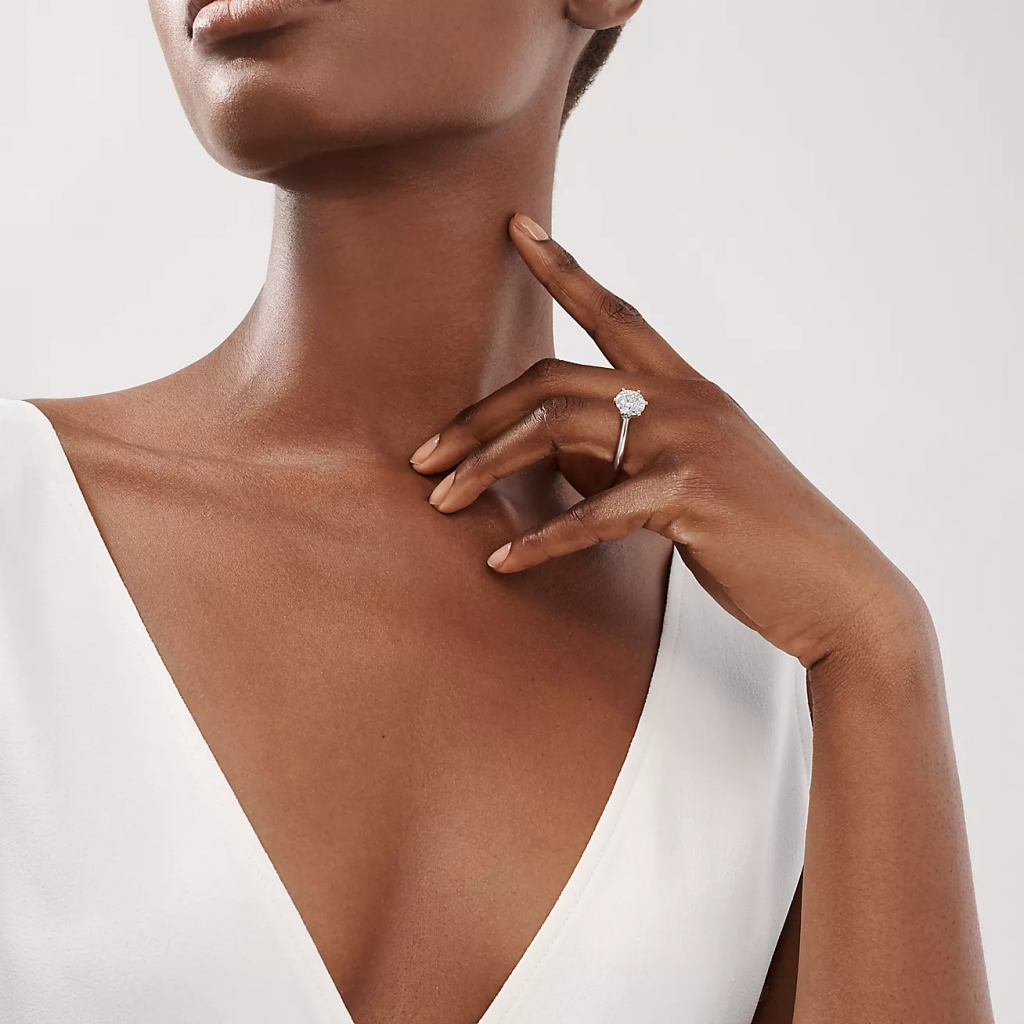 It's a single-stone model. Most often a man gives such a ring to his girlfriend when proposing. Types of bands with diamonds or other inserts are determined by the cut type (round, pear, marquise, emerald, cushion, and others).
Halo Ring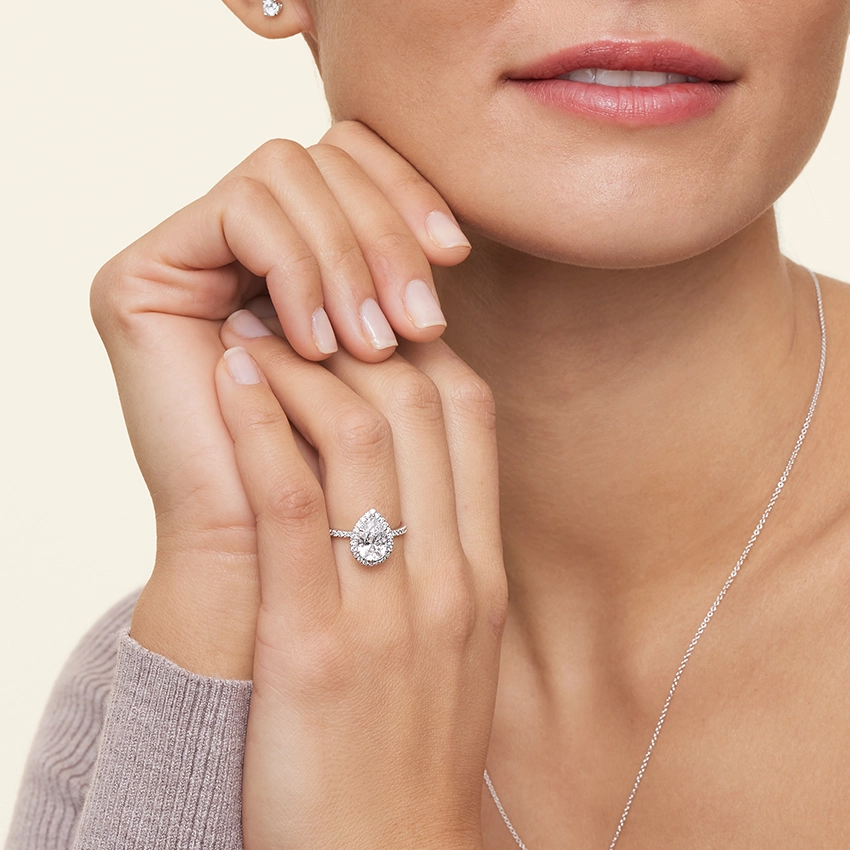 These bands were popularized in the 1930s. They feature a central stone encircled by a band of smaller diamonds. The purpose is to attract concentration to the main element, accentuating it and helping it look more oversized than it is.
Eternity And Infinity Ring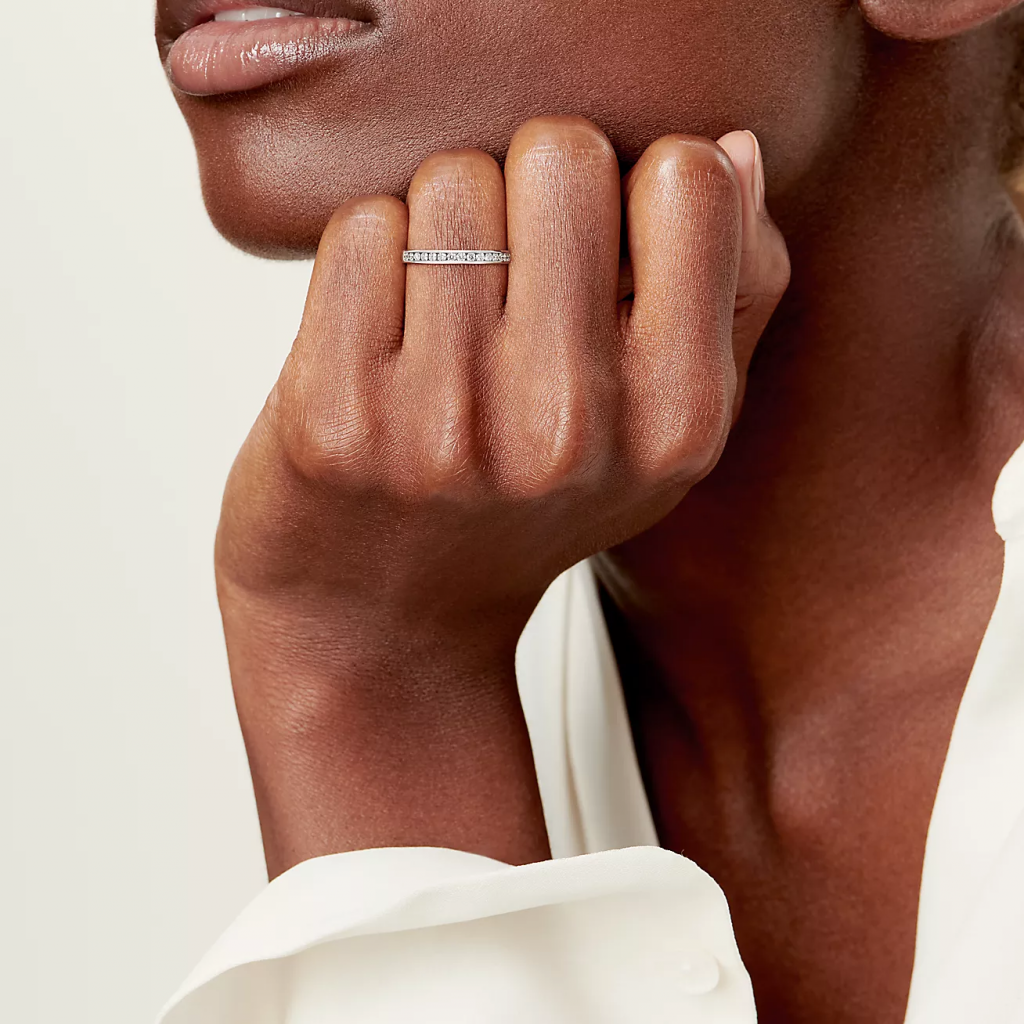 Eternity bands and infinity bands both illustrate endless love. However, the difference lies in their arrangement. An eternity ring has diamonds all over it in an endless circle, while an infinity ring includes the infinity symbol.
Monogram Ring
The openwork standard has the appearance of precious curls and patterns of gold or silver. One of the most popular types is a heart-shaped ring.
Cocktail Ring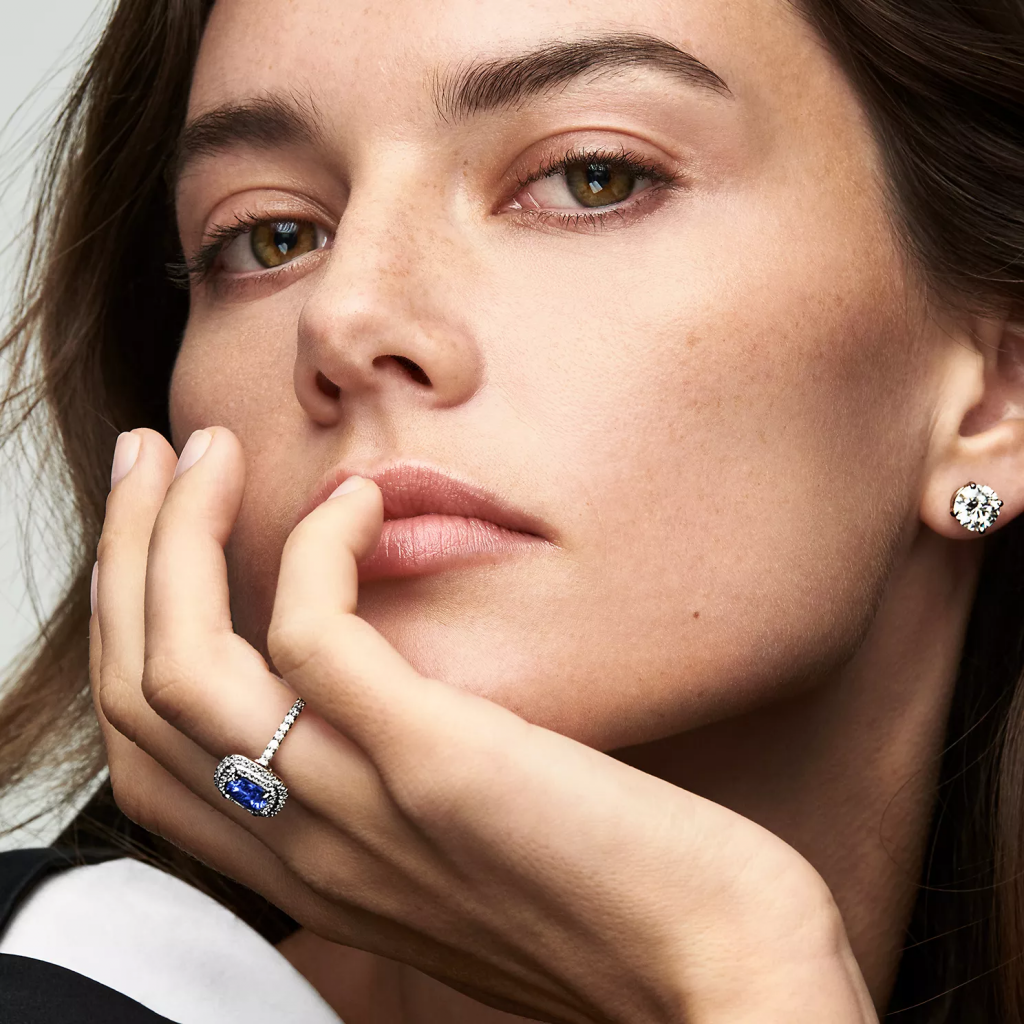 It's a spectacular large-sized party accessory that appeared in the era of underground jazz parties. It's a ring with one massive stone, where the rim is often generously decorated with a scattering of small inserts. Jewelry with oriental motifs in the form of birds and animals is also popular.
Transformer Ring
In such a ring, you could interchange its elements. For example, you could replace the upper part and rotate the segments. Some bands could even transform into pendants or earrings.
Trinity Ring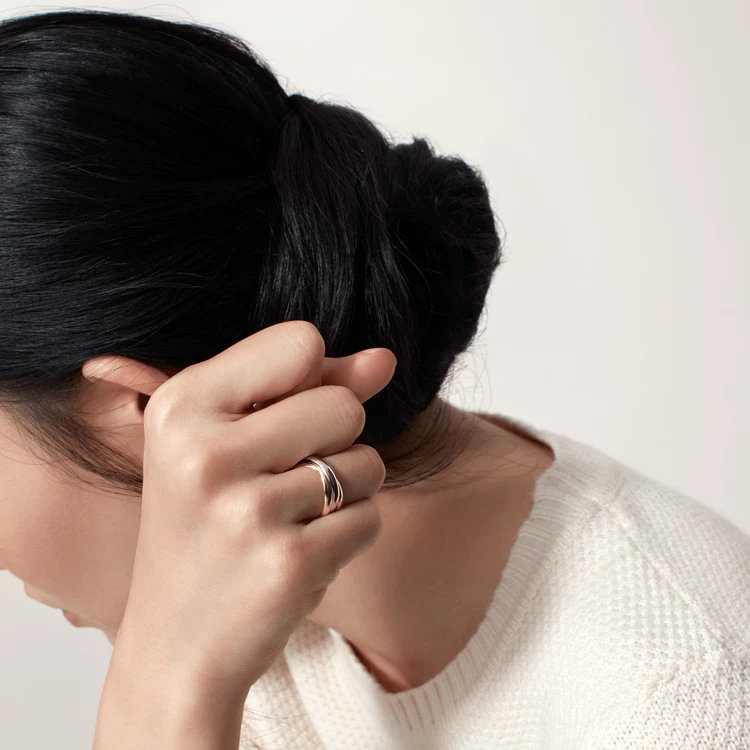 It includes three intertwined rims, symbolizing love, faith, and hope. The design was invented by jeweler Louis Cartier in 1924.
The Claddagh Ring
This Irish traditional ornament is shaped like hands holding a heart. It's a symbol of friendship and love, which are usually passed down as a family heirloom.
Crown Ring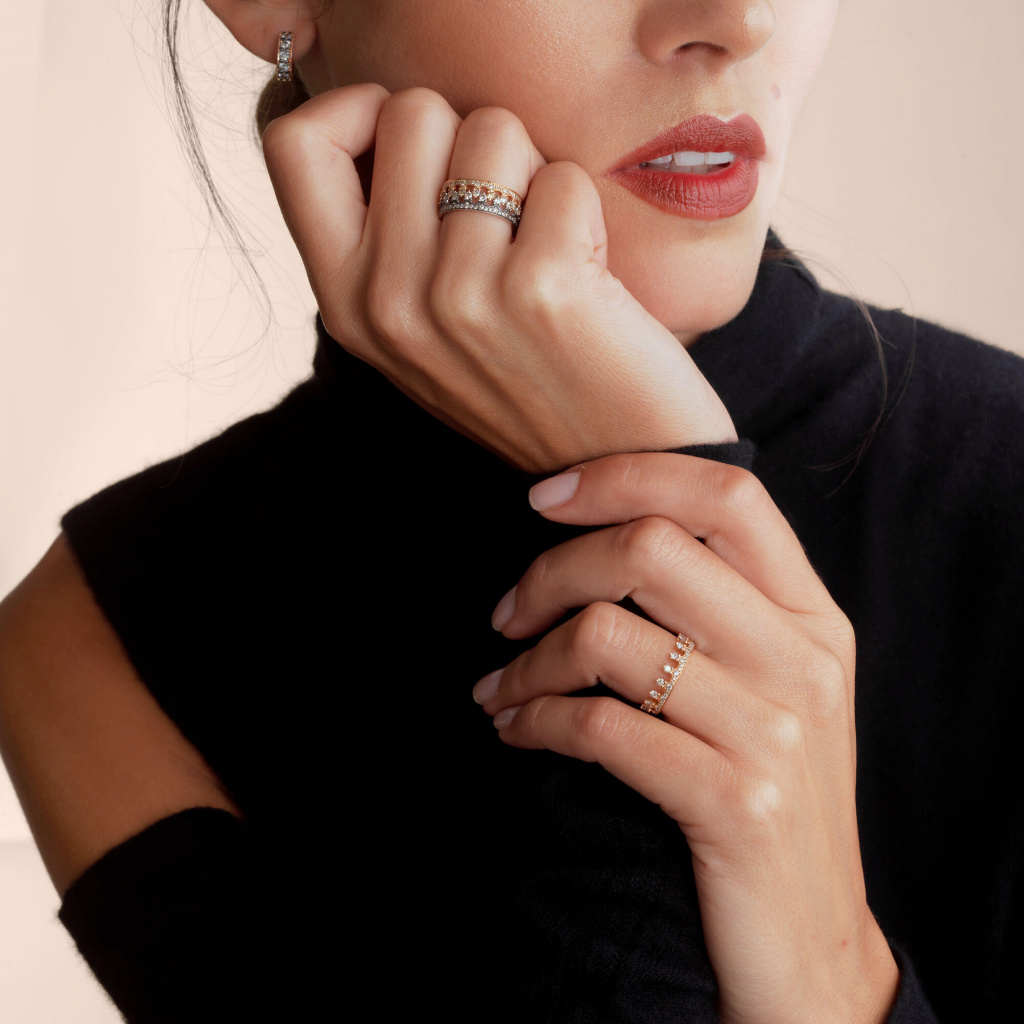 This stylish accessory is often decorated with diamonds. There are also non-standard models: like a watch ring with a dial band with a secret where you can hide a small photo or inscription, and others.
Let's now analyze the most popular bridal jewelry.
Yellow Gold Diamond Wedding Bands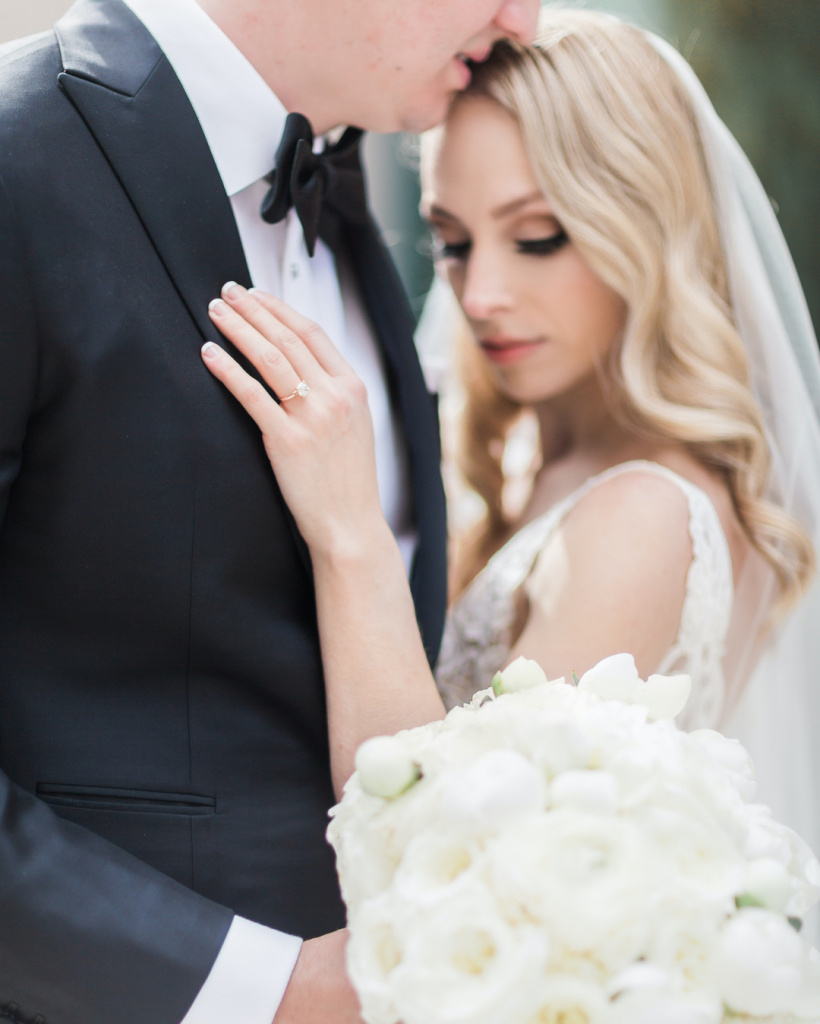 Models made in yellow and lemon gold are classics. So we have prepared some of the most spectacular examples:
Anne Sisteron 14kt Yellow Gold Half Baguette Diamond Eternity Ring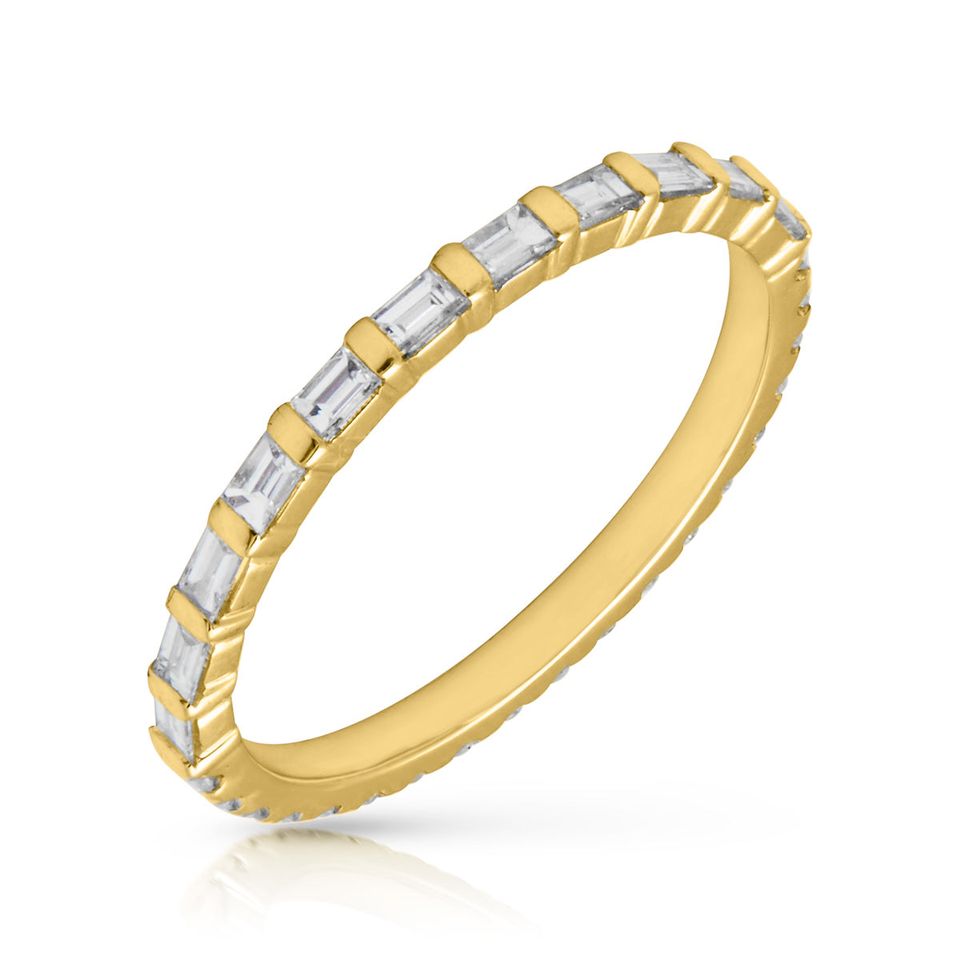 Average price: $1,500
Baguette-cut diamonds and round stones are combined in this exquisite piece, creating an extraordinary reflection in the sun. This accessory belongs to the eternity ring type, which creates a feeling of immortality in a path around the ring rim.
Vrai The Infinity Band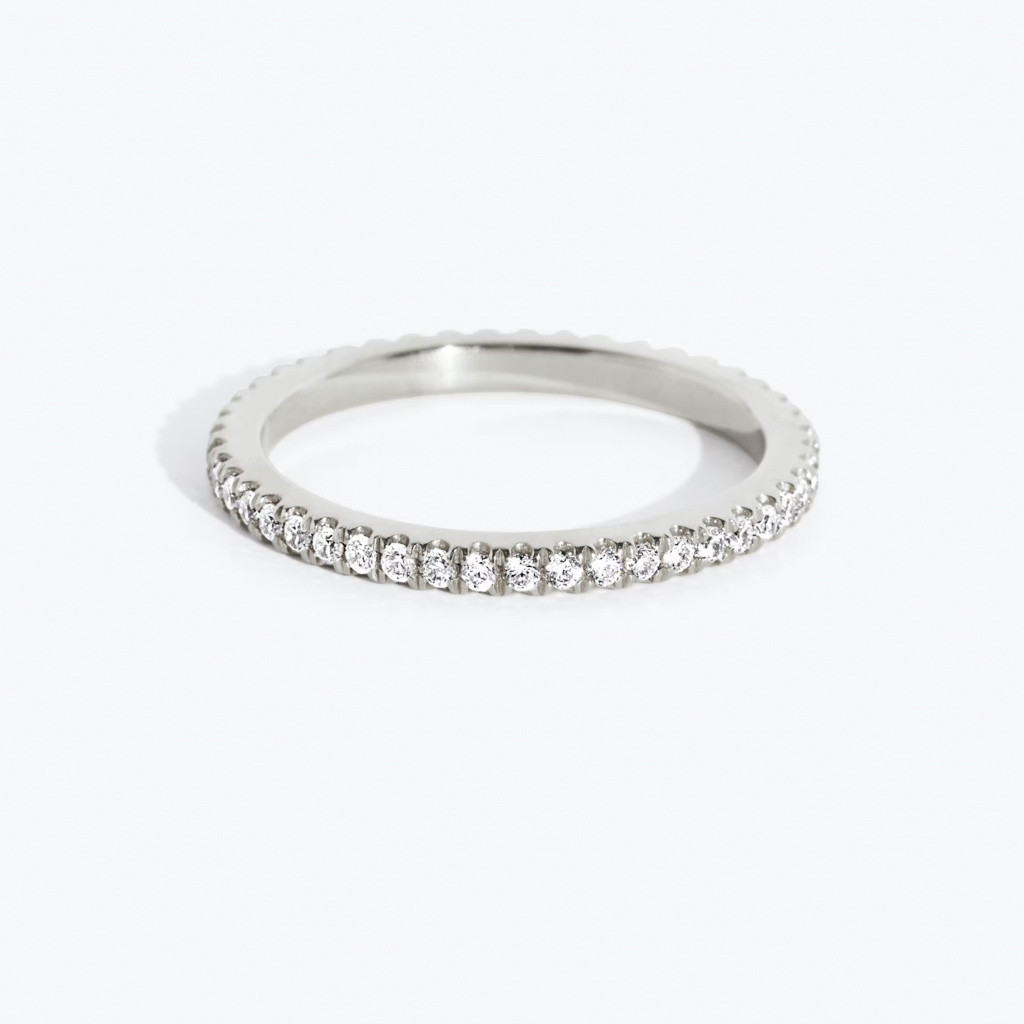 Average price: $1,600
It's another flawless example of a classic ring that features diamonds all over the rim. We've categorized this model in yellow gold, although you can choose the same model in white, rose gold, or even platinum on the site. Depending on the material, the carat value and the price of the product change.
Zoe Chicco 14k Princess Diamond Eternity Band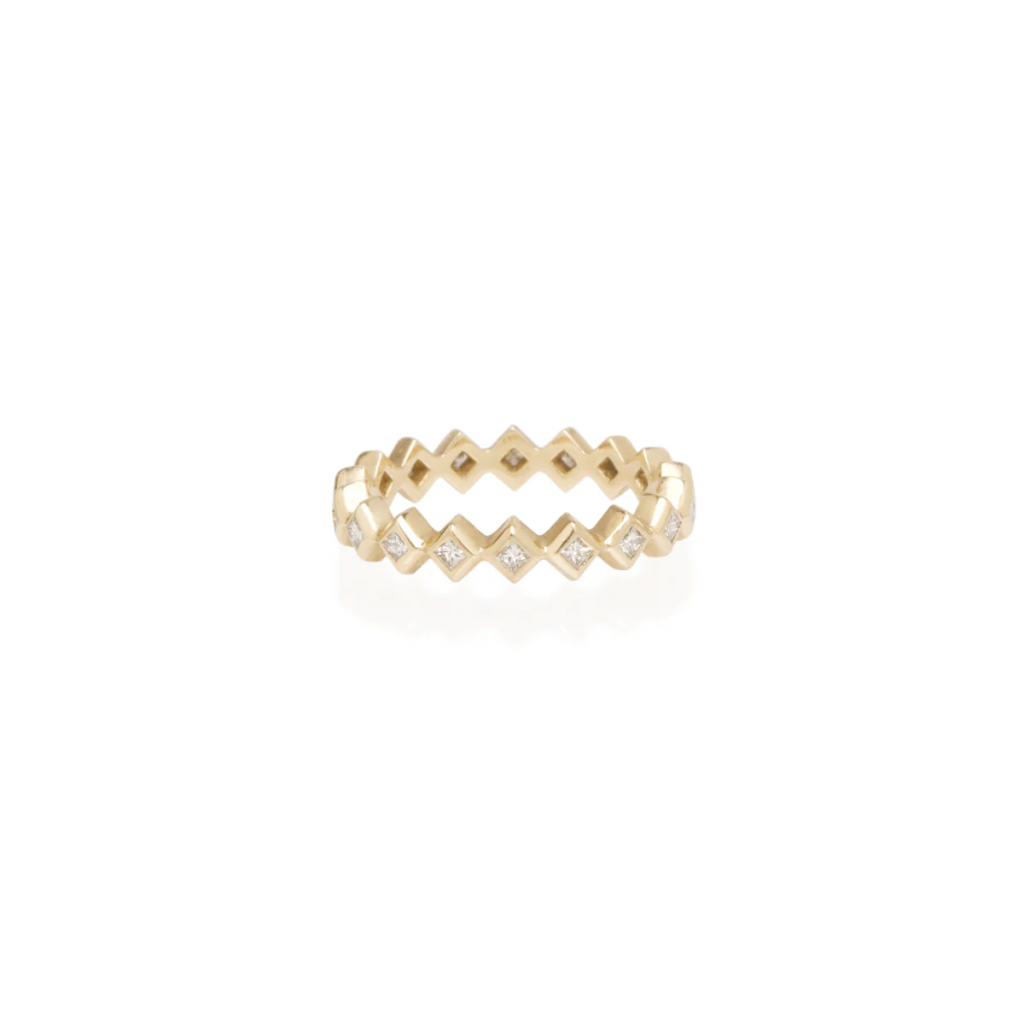 Average price: $1,450
This ring represents two band types: a crown and an eternal circle because in each prong or triangle of gold is a diamond. This model isn't suitable for people who believe in superstitions because sharp corners are considered a symbol of disagreement.
Jewelry shops made in yellow gold most of the wedding bands, so we recommend that you look for unique options in offline stores as well.
White Gold Diamond Wedding Bands For Her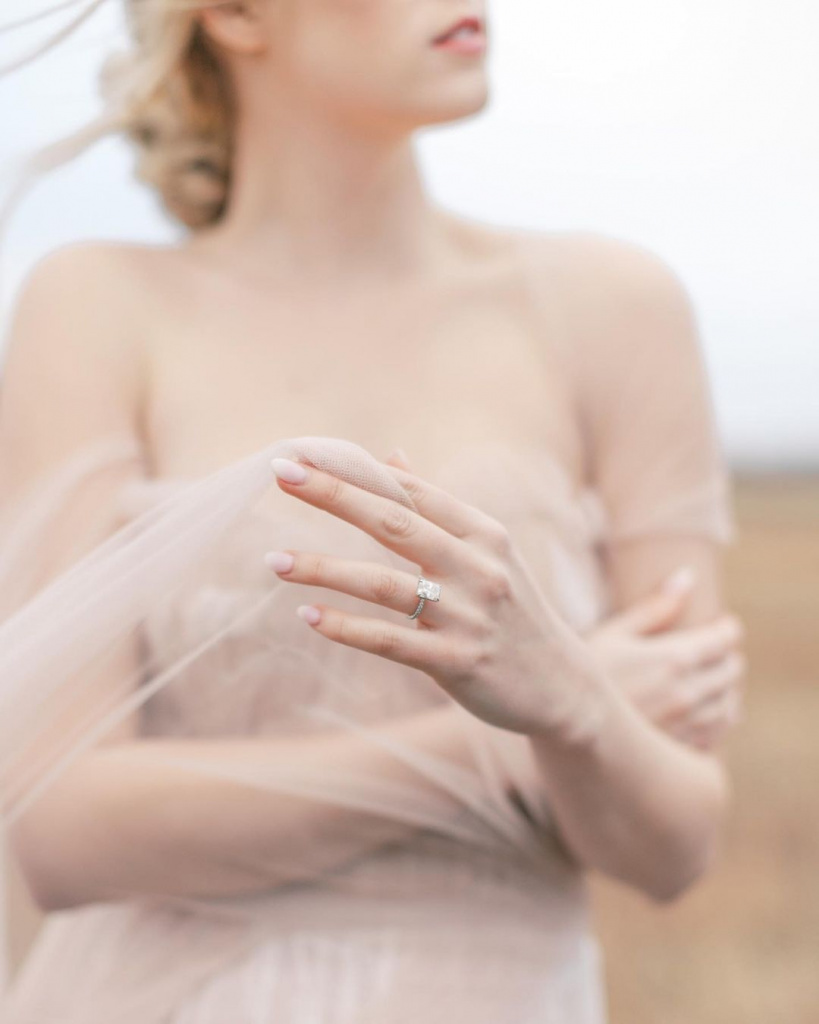 Almost all yellow gold bands you could also order in white gold. Some people think diamonds are better suited to white metal, but this is all a matter of taste.
J. Luu Diamond Chevron Ring White Gold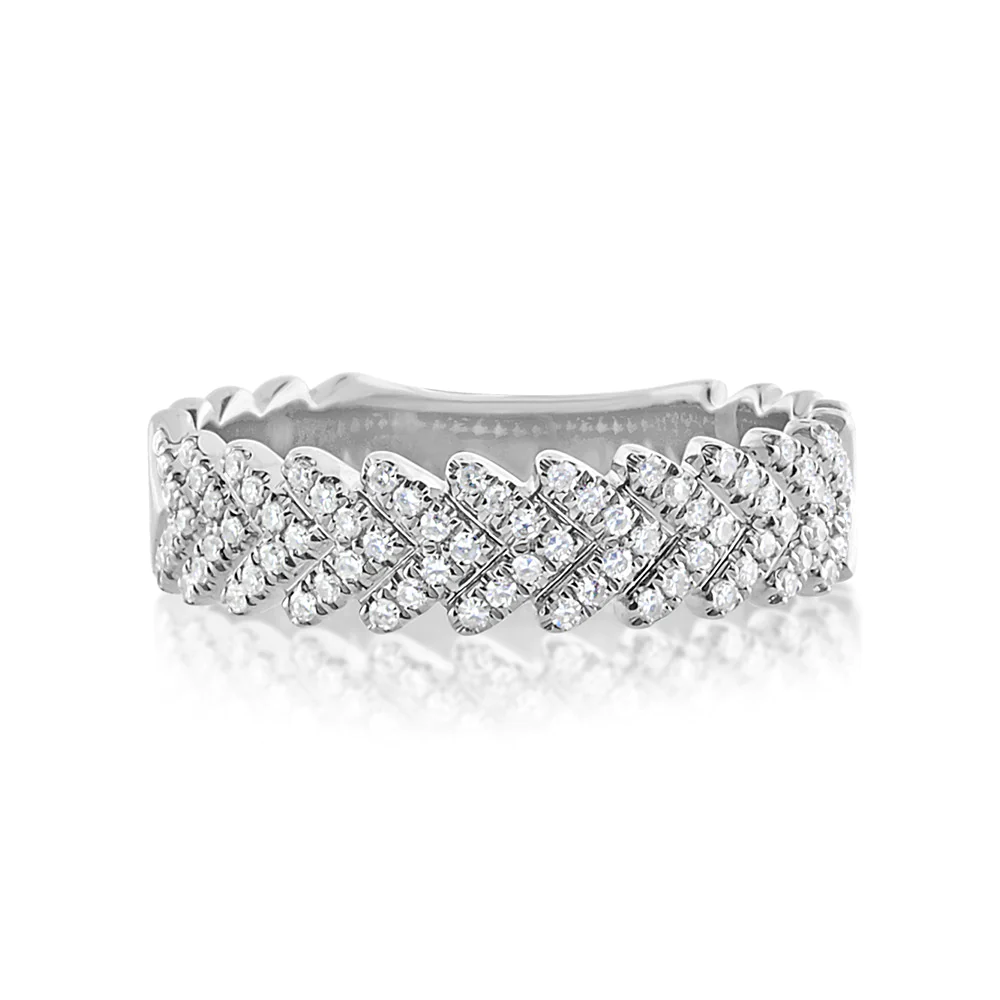 Average price: $1,300
This ring also has diamonds all around the rim. They fold into the shape of an ear of wheat and create a symbol of fertility and family comfort. This non-standard design allows you to preserve classic beauty with a certain uniqueness.
Versailles Diamond Ring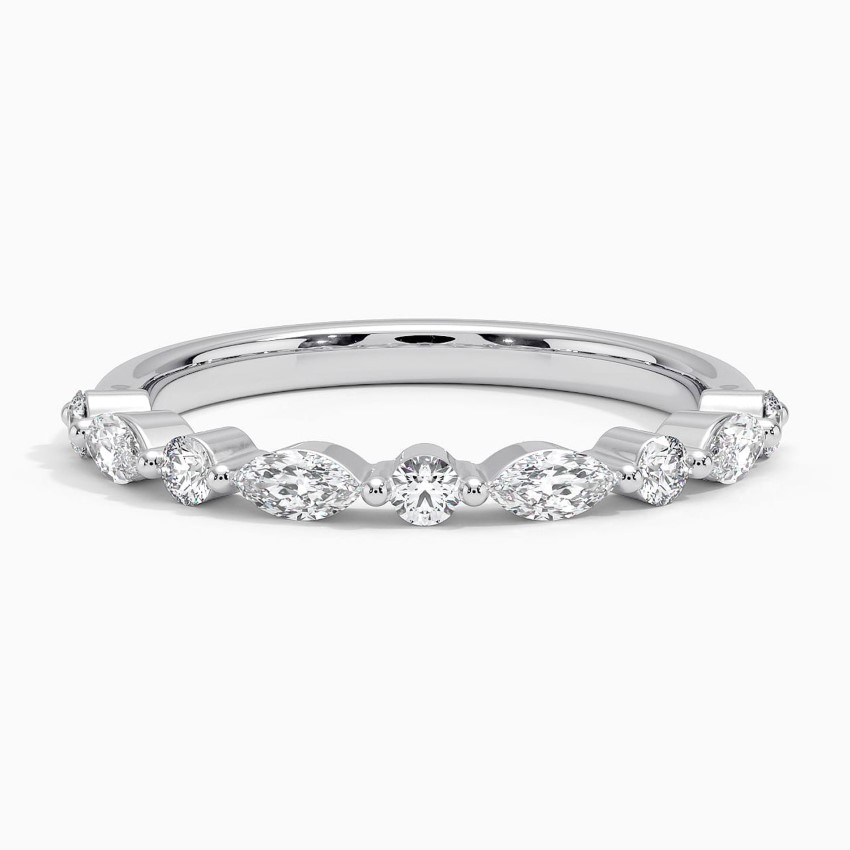 Average price: $1,450
You could select the metal color, the stone shape, and even the number of carats of the diamond on the website where this band sells. It's a very unusual and creative idea to design a wedding band for the bride yourself.
Charlotte Diamond Ring with Luxe Sia Diamond Open Ring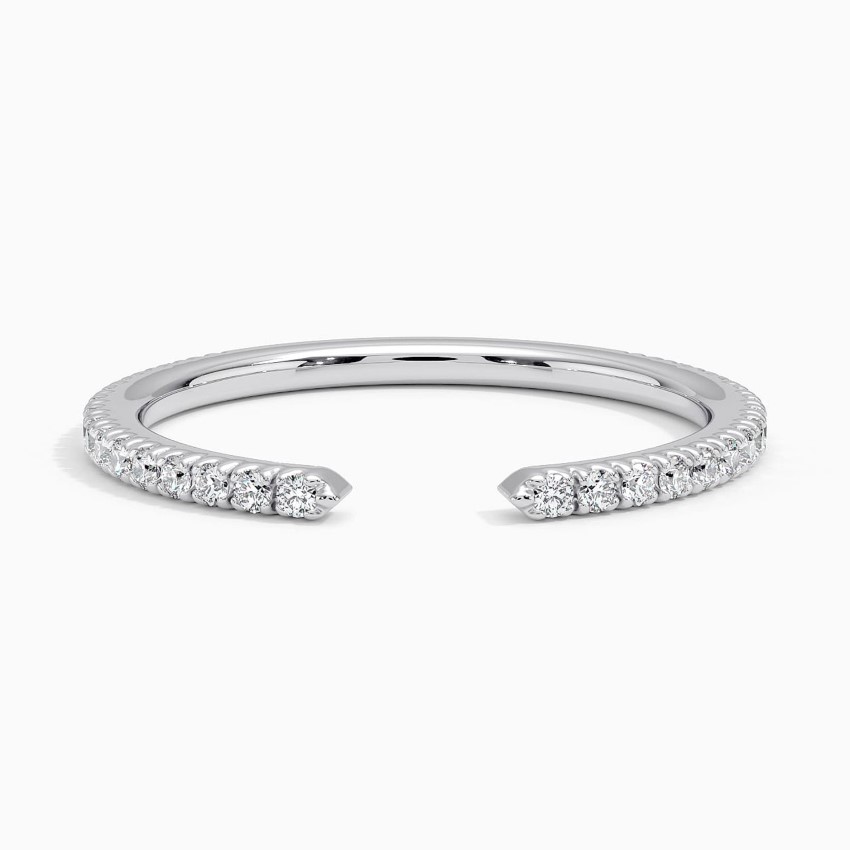 Average price: $2,900
This ring is the perfect example of the combination of an open halo band studded with diamonds and a classic wedding ring with one large diamond. It's a great solution for those who get bored wearing the same accessories because they are two different rings.
White diamond rings are always the perfect option for those who love monotony and elegance, it's also perfectly suited for a white wedding dress.
Vintage Diamond Wedding Bands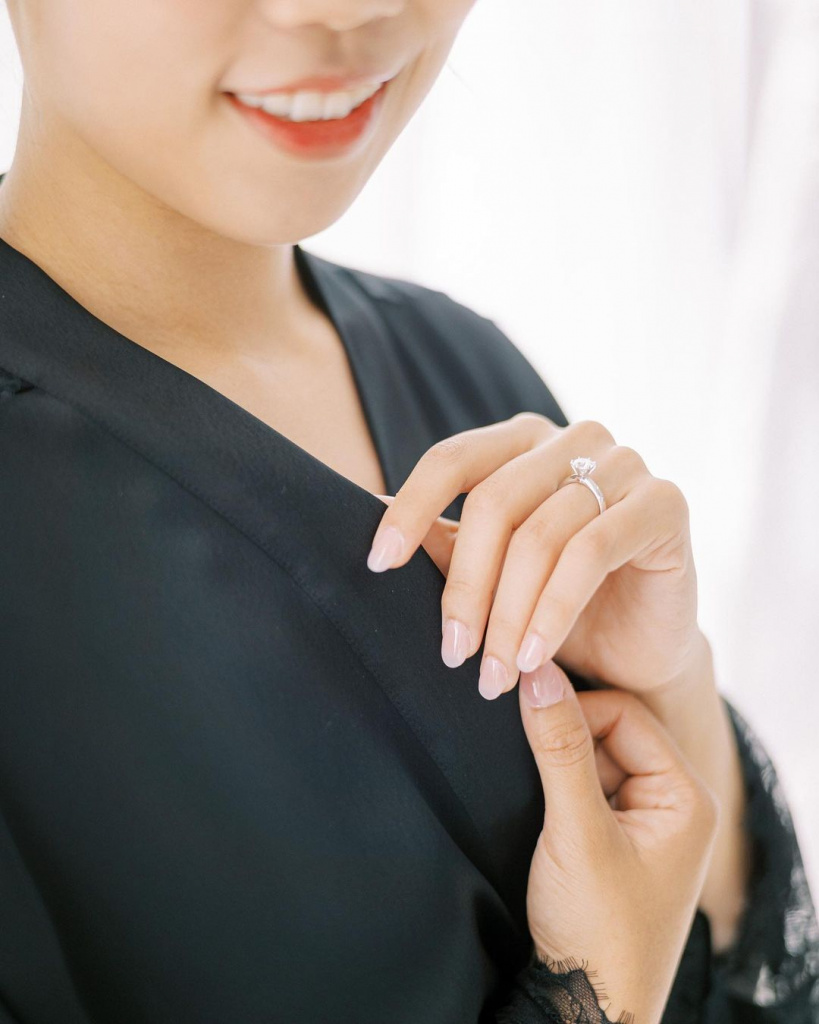 Vintage rings look like an old heirloom. However, women don't always like things that remind you of antique times, so be sure to find out in advance what accessories your beloved likes.
Ken & Dana Design Ava Vintage Inspired Brilliant Diamond Band
Average price: $1,700
Each diamond in this ring resembles a bulging grape or a grain that has caught hold of a thin strand of gold. It's piled up in a bunch or wreath of flowers, so it will look quite massive on the finger.
Afton Ring in 14k with Baguette Diamonds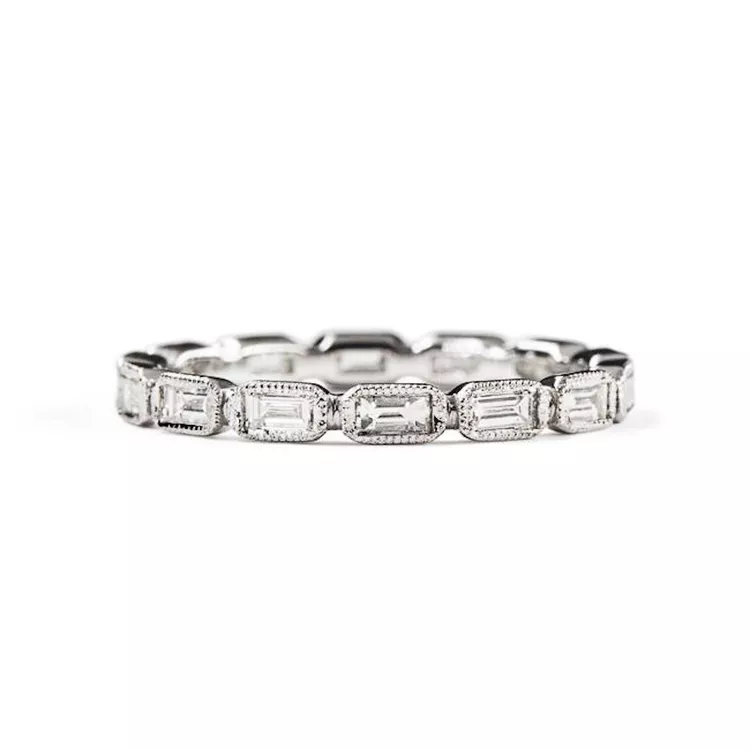 Average price: $2,900
This ring is much more delicate than the previous one on the list. It's made in the style of the first half of the 20th century. The price depends on the size of the diamond and the cut style. We believe this ring is one of the finest vintage rings in the world.
Leigh Jay & Co. Open Work Diamond Band Ring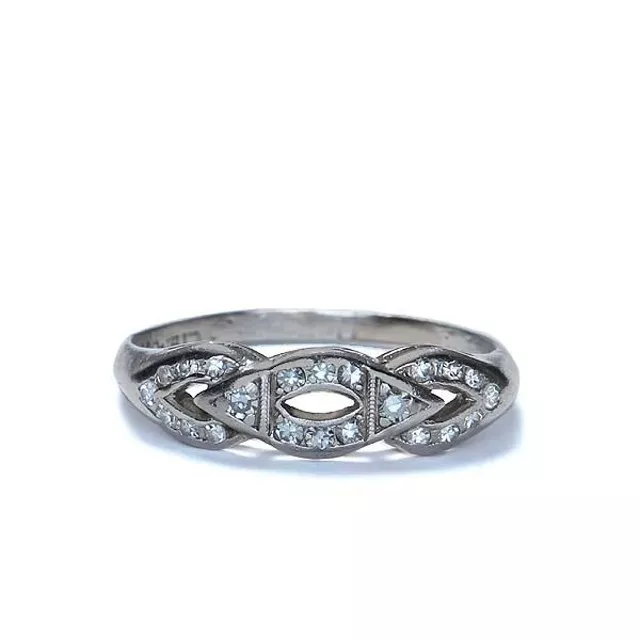 Average price: $1,300
This design was created in the early 50s. It's characterized by a certain darkening and blue reflection of diamonds. The 22 diamonds look like three eyes, symbolizing the bride, the groom, and God.
Thick diamond wedding bands are suitable for those who like massive accessories. Even on very thin fingers, such rings will look expensive and refined.
Eriness 14K Gold Diamond Cigar Band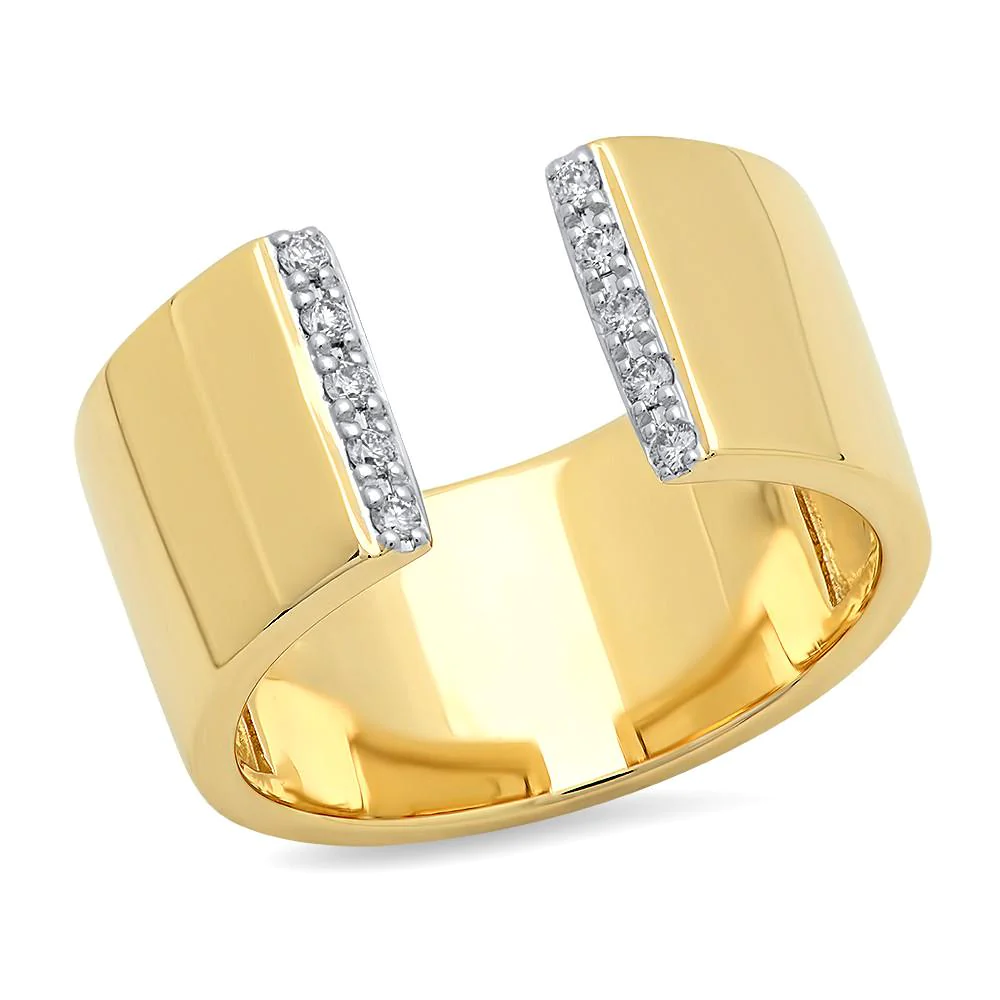 Average price: $1,300
This price is determined by the weight, width, and number of diamonds. It's a real luxury that will become a family heirloom.
Vintage rings are much more expensive than ordinary wedding bands precisely because of the design uniqueness and the size of the diamonds. However, if your bride is into such things, then you will be able to find something exquisite and at a pleasant price.
Tiffany Diamond Wedding Bands
We also selected some of the most exquisite rings from the Tiffany collection:
Tiffany Soleste V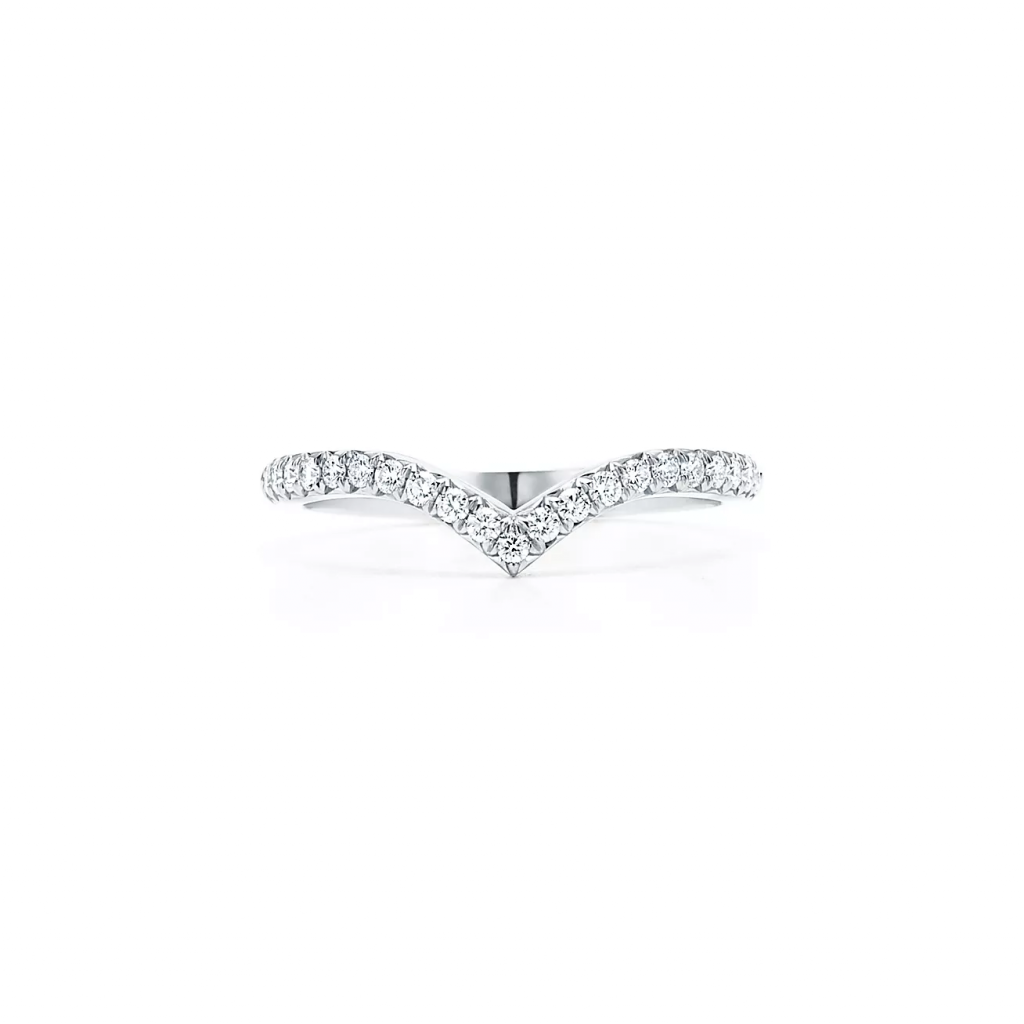 Average price: $2,850
The ring bends in the shape of the letter V at the front, which makes it similar to the curve of the heart. The advantage of this model is that it looks delicate and stylish at the same time.
Tiffany's 1837 Ring in White Gold with Diamonds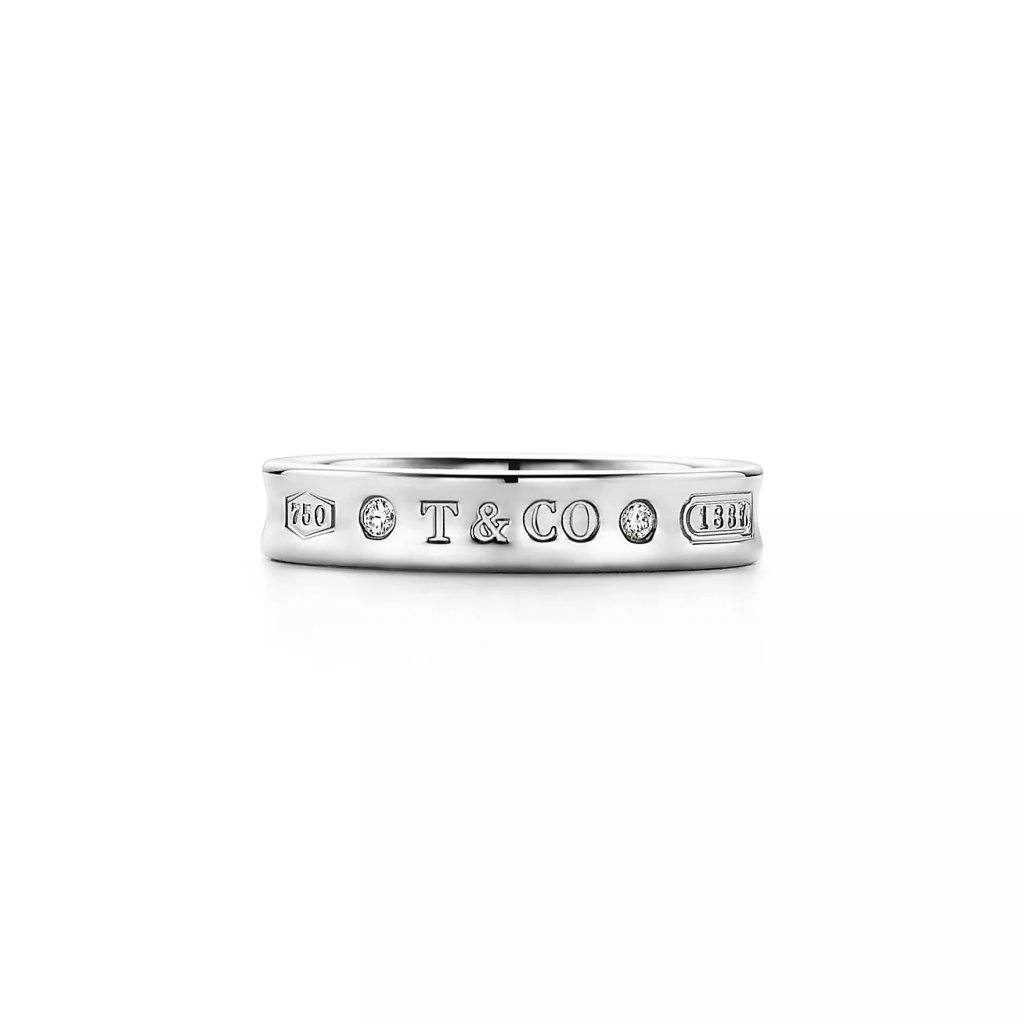 Average price: $2,000
The diamond wedding unisex band is a good option for wedding ring sets for him and her. The main feature of the ring is the branded embossing and round diamonds in the brand name. Engraving is inside and outside.
Elsa Peretti Stacking Band Ring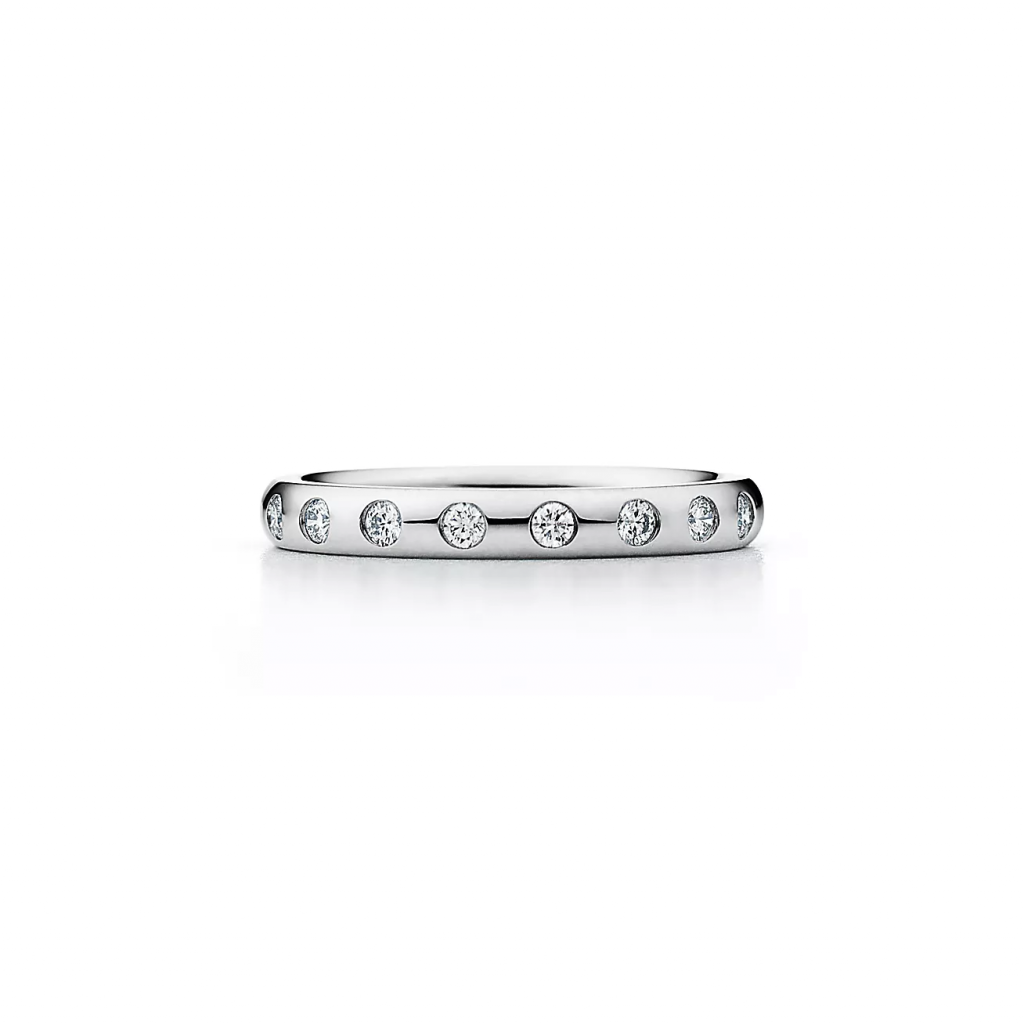 Average price: $2,200
This engagement ring looks like a light and unobtrusive classic with splashes of diamonds. A few small stones resemble the shine of dew and look very delicate on jewelry. Ideal for those who love minimalism.
We have described only 13 exquisite rings of various styles, but the first part of the article about the types and symbolism of rings should inspire you to find that special wedding band.
You can watch our photographers and planners portfolios for some additional inspiration for your wedding!