The 27 Best Venues For A Small Wedding In NY
There are tons of venues in New York where everyone can find something for themselves. If you intend to hold a small wedding in NYC without having to spend hours searching for the right spot, this checklist from Wezoree is a viable solution. Only the best and most popular venues for newlyweds are featured in this selection.
Sant Ambroeus West Village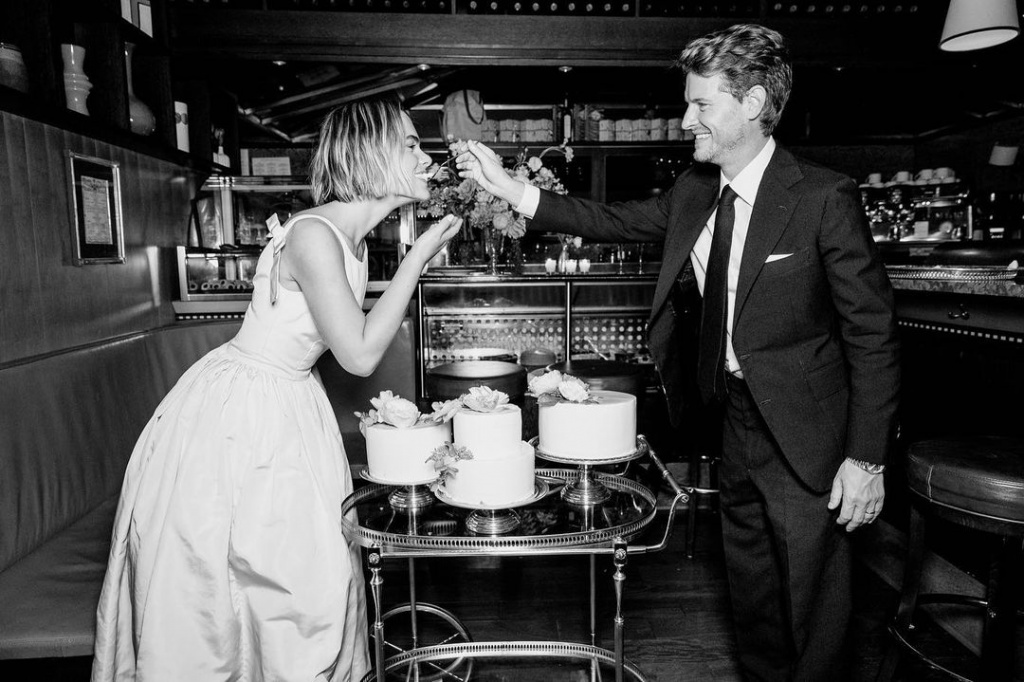 This is the type of small restaurant in which every detail is wonderful. You'll feel as though you're in a television show or a movie. Sarah Jessica Parker, a New York icon, likes to visit for lunch. By the way, similar venues may be found in the Hamptons and on the Upper East Side. True New Yorkers will be drawn in by sophisticated Italian food and comfy tables outside throughout the warm season.
Maximum guest capacity: 45
Le Coucou
This restaurant created quite a stir in its first year of existence; all the celebrities desired to dine here. A famous French chef, fashion designers, and restaurateurs collaborated on the restaurant. Classic French food and the atmosphere makes the place an ideal small NYC wedding venue.
Maximum guest capacity: 84
Dante West Village
Many people claim Dante to be a charming restaurant for a little celebration. Chic interior inside or cute tables outdoors, at any season of the year, it's going to be a delight to spend your time here. The restaurant is well-known for its excellent cocktails and the fact that many of its dishes are cooked in a coal oven. The ideal balance of quality and price.
Maximum guest capacity: 35
Cecconi's Dumbo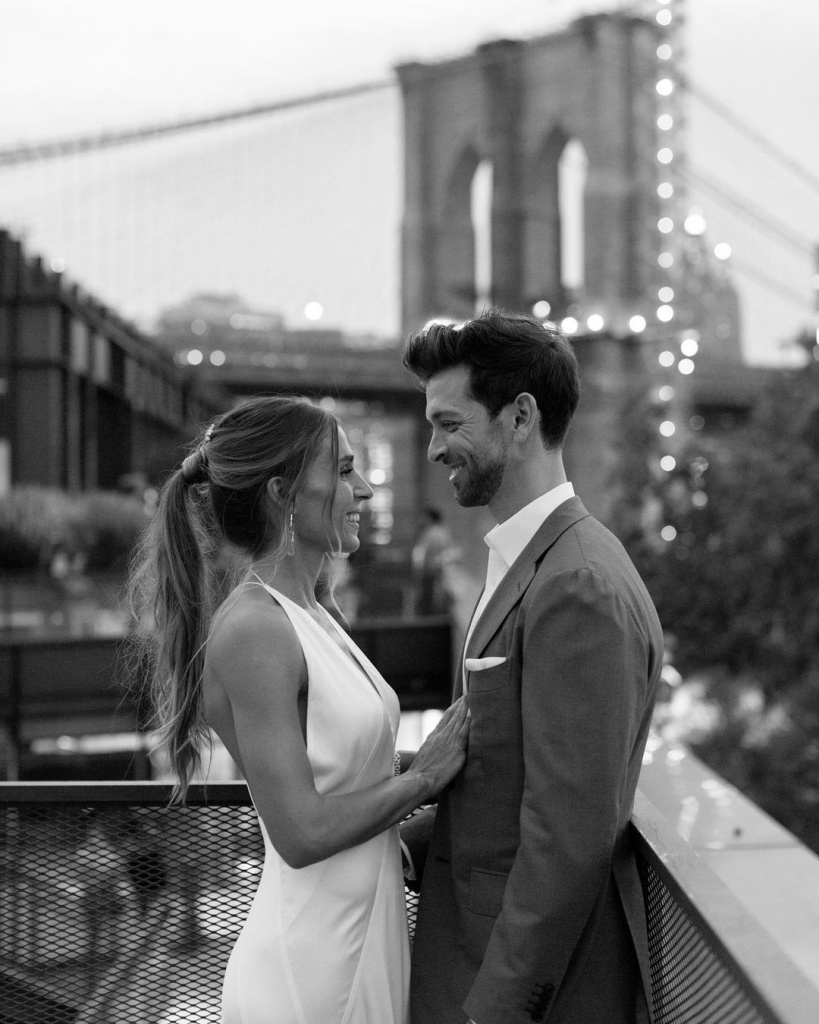 A fantastic Italian restaurant is waiting for you on one of the sides of the Brooklyn Bridge. Even native New Yorkers are taken aback by the riverfront and the magnificent bridges. During the warmer months, you can take wedding photos on the outdoor terrace. Venetian curtains can be used to cover the panoramic windows for more private events.
Maximum guest capacity: 36
Lafayette Grand Café & Bakery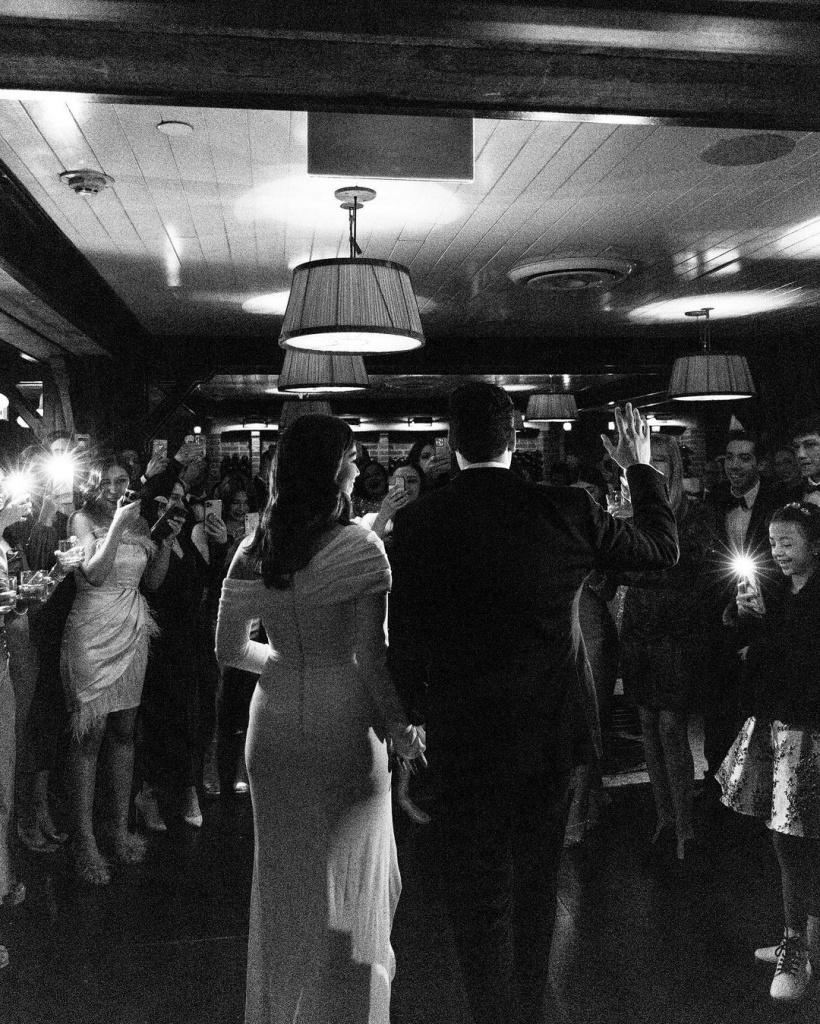 This is a vintage French cafe that is worth visiting on a daily basis. So why not consider this wonderful spot for such a significant occasion? Every year, the restaurant thrills guests with a seasonal menu of delicacies from several areas of France, ranging from Provence to Normandy. A separate private room is available for small receptions inside the restaurant. Furthermore, the venue can accommodate larger gatherings.
Maximum guest capacity in private room: 20
Grand Banks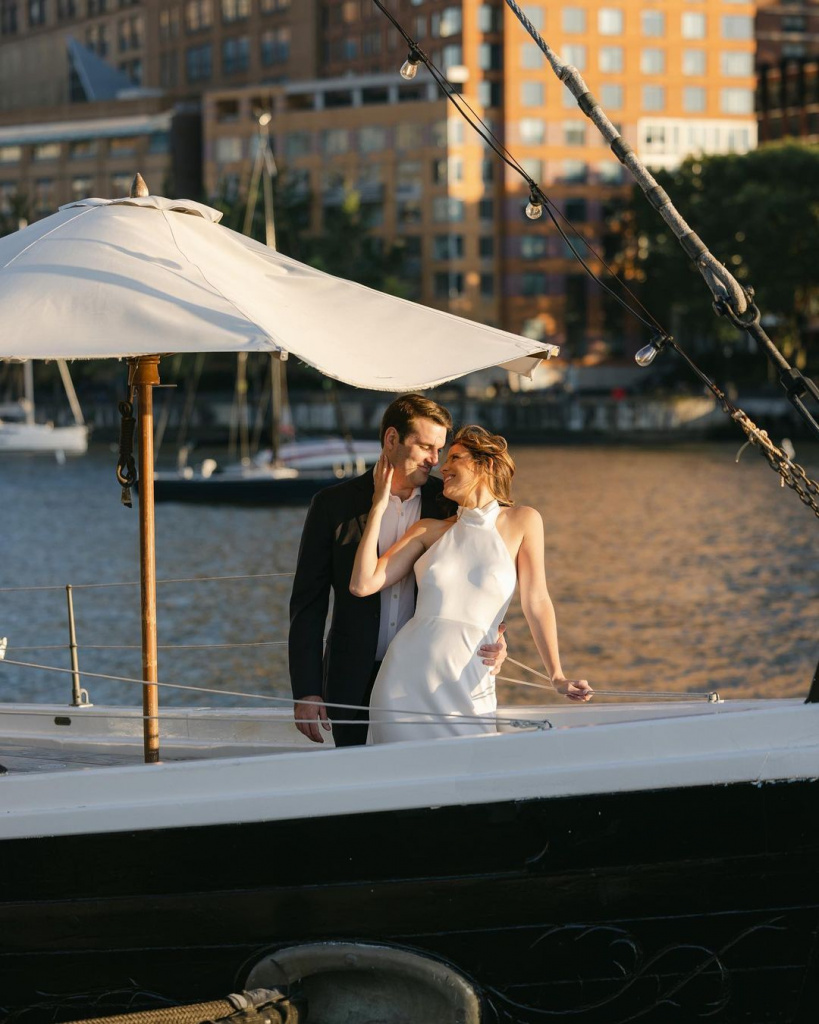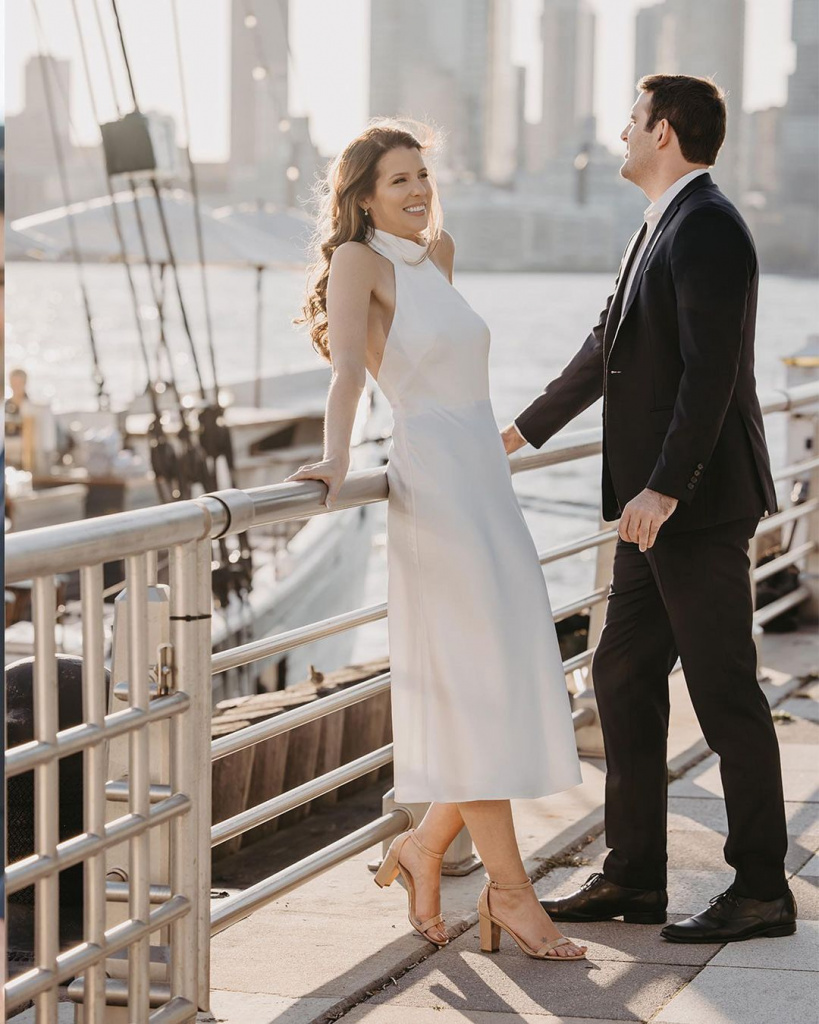 The Grand Banks Oyster Bar, perched on the deck of an iconic sailboat, offers food, sea, and breathtaking scenery of the Hudson River, New York Harbor, and the Liberty Tower. This seaside bar is quite popular with couples. It is strongly advised to make your reservation as soon as possible. On a hot summer day, sip a glass of wine while enjoying the sunset with your close ones.
It is only open from May through October.
Claudette
Lovely venue at the start of 5th Avenue. Both interior and exterior are more akin to a summer villa in Europe, somewhere on the Mediterranean coast rather than a NYC restaurant. The food matches the concept by combining French and Mediterranean cuisine. Outside tables are wonderful for distinctive wedding photos.
Maximum guest capacity in private room: 70
Crave Fishbar
A wonderful choice for oyster connoisseurs. You can sample oysters from New York, Massachusetts, Virginia, Connecticut, and even Canada. This venue has numerous unquestionable benefits. The first is that, in addition to oysters, there are many other seafood and fish meals on the menu. The second reason is that the restaurant is distant from tourists and the hustle and bustle of the city's center. It's ideal for a modest wedding.
Maximum guest capacity: 50
Benoit New York
A contemporary Parisian bistro in the center of NY. The restaurant is ideal for those who enjoy French food and European wines. The place is conveniently positioned in the heart of the city. There are seven private event areas that can be joined for larger gatherings. A beautiful, lively atmosphere is guaranteed. One of the cutest small wedding venues in NY.
Maximum guest capacity: 65
ABC Kitchen
This establishment focuses on organic foods from local suppliers. Jean Georges' creative author's kitchen, is quite famous in New York and has a very trendy décor. The restaurant is well-known for hosting a variety of intimate gatherings. The main hall can only hold 12 guests, but don't worry, the venue has much to offer if you have a little bit more people invited.
Maximum guest capacity: 32
The Mark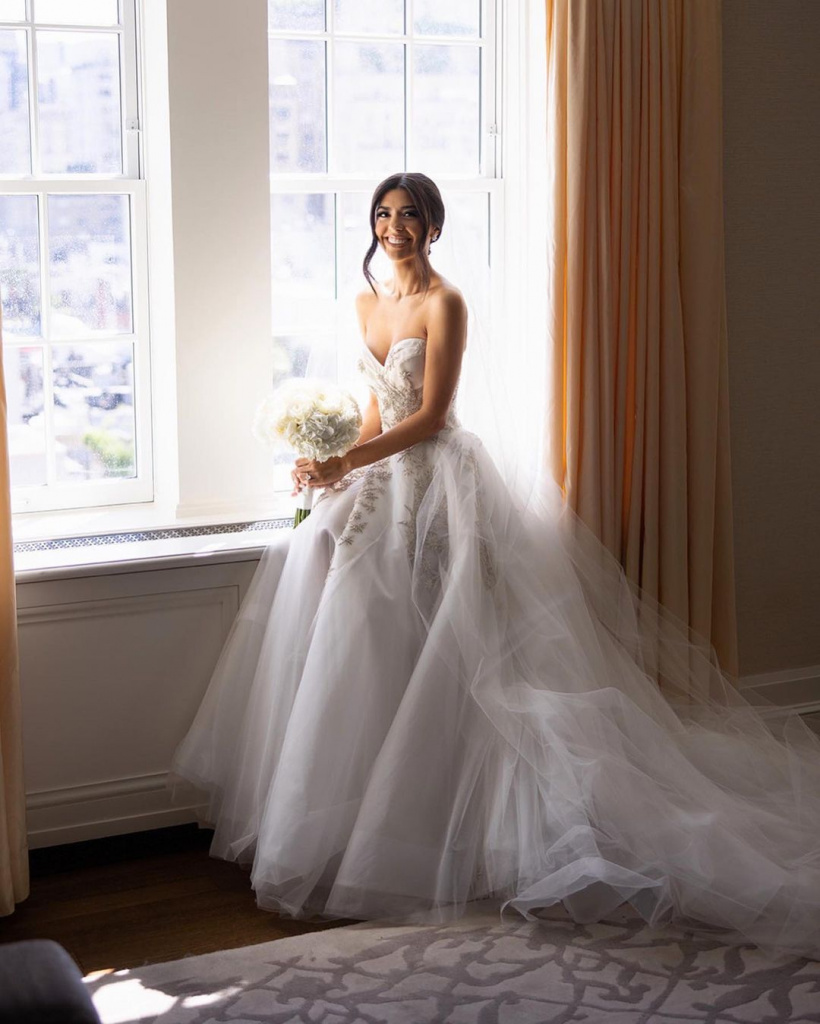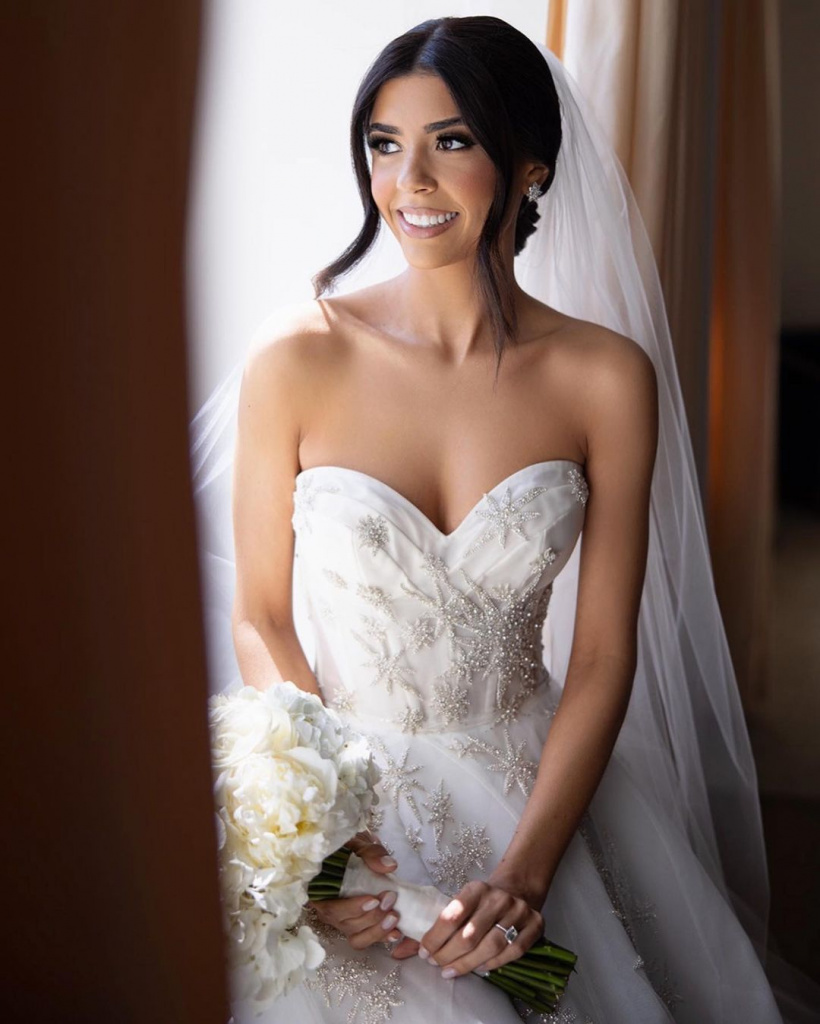 The restaurant is housed in The Mark, one of New York's greatest boutique hotels. Guests from the city's most affluent neighborhood, the Upper East Side, stay here. The menu includes a variety of seafood meals, soups, salads, oysters, and even pizza. The setting is great for a cocktail reception.
Maximum guest capacity per room: 30
Lure Fishbar
Imagine partying on a yacht without really leaving the dock. Isn't it cool? In the center of SOHO, there is a popular seafood restaurant. Sushi, soups, salads, burgers, and even tacos are on the menu. It's a fantastic bar with wonderful cocktails and a welcoming atmosphere. The Wine Vault room is designed primarily for intimate meetings, despite the venue's many alternatives for larger events.
Maximum guest capacity: 28
Locanda Verde
The hotel that houses the Locanda Verde is owned by Robert De Niro. On a daily basis, this Italian restaurant prepares and serves lunch. If you go there before the wedding, you will most likely be blinded by camera flashes at the entryway. As the hotel and restaurant are renowned among celebrities, paparazzi are stationed nearby. Nonetheless, the venue can supply you with privacy when required.
Maximum guest capacity: 60
Antique Garage
The SOHO district is a trendy neighborhood in the city. It's no surprise that a disused garage has been turned into a Mediterranean restaurant with a fantastic ambiance and vintage artifacts. The menu is pretty diverse with foods like hummus, octopus, kebabs, and tuna served here. Although the site is peculiar and unconventional, it remains popular with couples seeking a small wedding in New York.
Maximum guest capacity: 80
Rosemary's
Rosemary's, an Italian restaurant, is ideal for anyone seeking to immerse themselves in the local culture. It is constantly boisterous, and there are a lot of locals. However, if you require complete privacy, the space can provide it. A comprehensive Italian cuisine featuring burrata cheese, Caesar salad, and mouthwatering pasta will have you falling in love with this place for life. Prices are more than reasonable by New York standards, so if you're on a tight budget, this is an excellent choice.
Maximum guest capacity: 70
Eleven Madison Park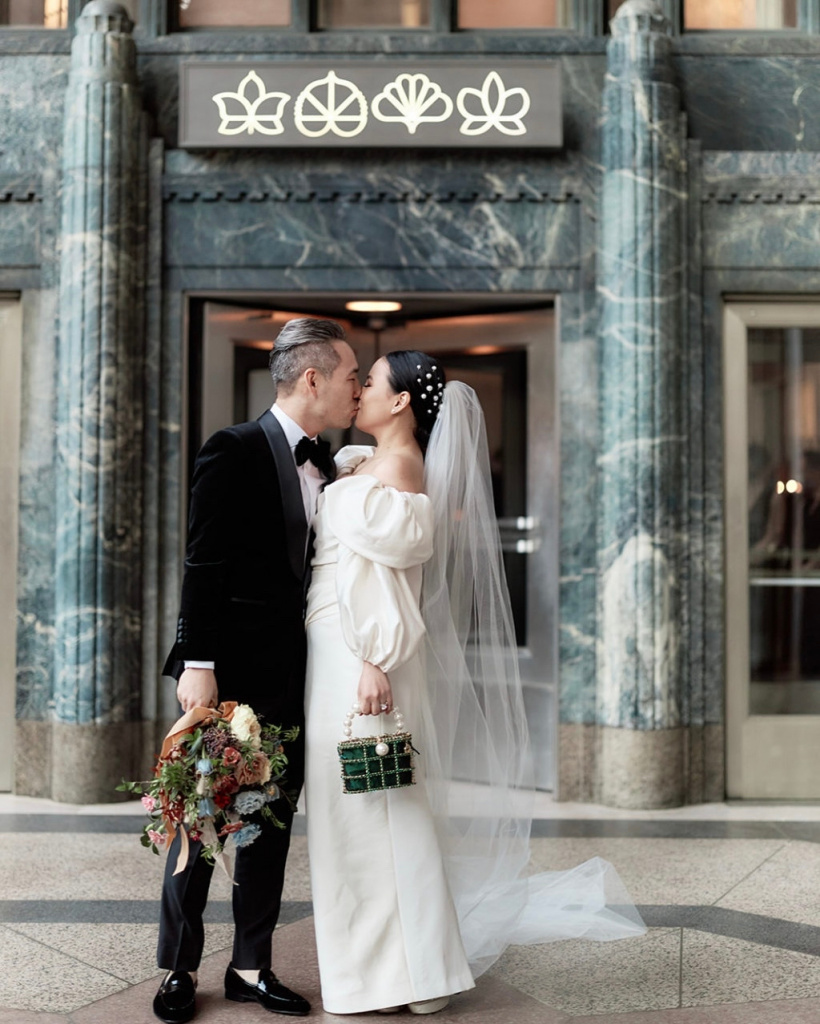 For numerous years in a row, the restaurant has been ranked among the top five restaurants in the world. This is an impressive establishment with an Art Deco interior design. Every dish on the menu is a work of art, and the presentation is spectacular. There are three rooms available for both the ceremony and the reception.
Maximum guest capacity: 50
Cosme
Mexican chefs Enrique Olvera and Daniela Soto-Innes are responsible for the restaurant's phenomenal success. They were the ones that stunned the New York public with their distinct take on Mexican cuisine, which featured meals prepared from seasonal and local ingredients. It is not unexpected that in 2021 the eatery earned 22nd place out of the top 50 restaurants in the globe. In terms of weddings, the venue cannot be described as traditional, but if you are looking for a private post-ceremony supper with your loved ones, this is the spot for you.
Maximum guest capacity: 14
Nerai
A must-consider for lovers of sophisticated Greek cuisine. Despite its central position, this venue offers a tranquil and cozy ambiance. The menu is primarily comprised of seafood and fish. There is good service and a great atmosphere. All in all, it features everything you could possibly want for a small wedding in a NYC restaurant.
Maximum guest capacity: 75
Aquavit
A Swedish eatery in Manhattan's Midtown? Yes, you read that correctly! Aquavit is a two-Michelin-starred restaurant. The tasting menu includes caviar and foie gras, as well as Norwegian crab and duck. This is an excellent option for those wishing to spend their wedding at America's top Scandinavian restaurant.
Maximum guest capacity: 80
Blue Hill At Stone Barns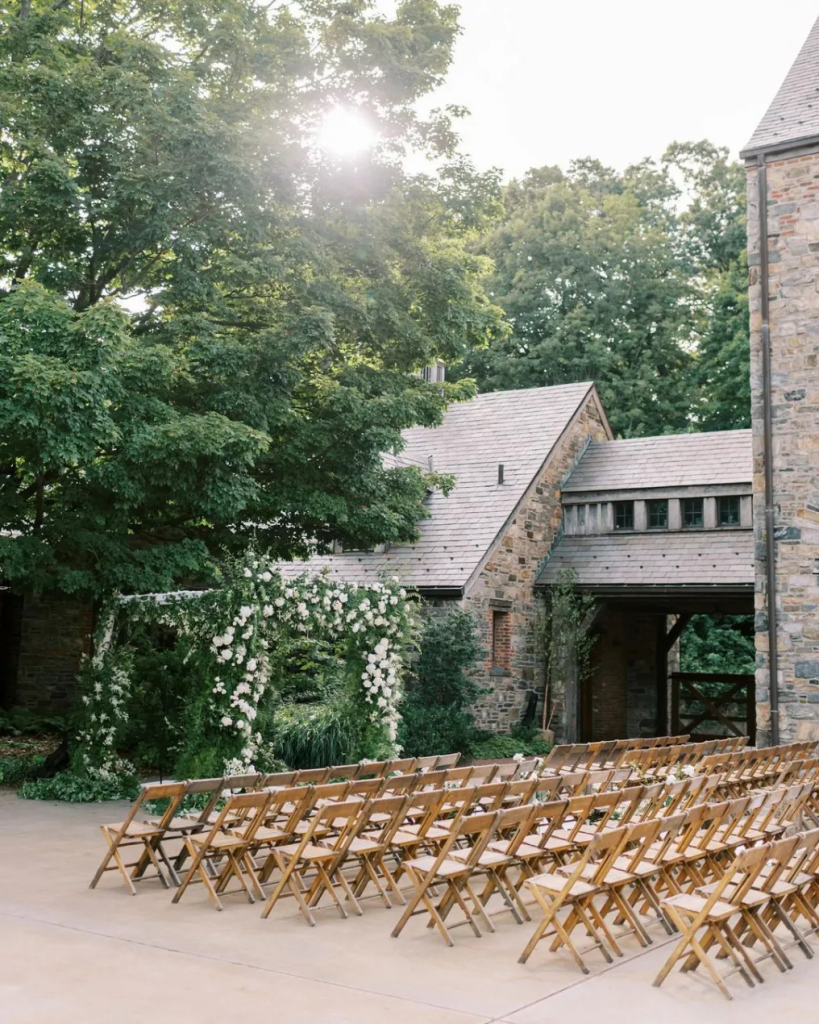 The Stone Barns agricultural innovation and education company is headquartered on a farm 50 kilometers north of Manhattan. The institution's concept is one of unity with nature. The menu is defined by meals made using seasonal ingredients farmed near the Hudson River. The predominant ingredients are fresh veggies and dried meat. The location was previously part of the Rockefeller estate, which is fascinating. This space is generally reserved for major weddings, but private dinners are now possible as well!
Private dining maximum guest capacity: 12
L'Atelier de Joël Robuchon
A restaurant in the historic Meatpacking District by the renowned chef Jol Robuchon, who has the most Michelin stars of any chef in the world! The tables here look straight into the open kitchen, ensuring constant interaction between the cook and the guests. Furthermore, the venue has two private rooms that can each host up to ten guests.
Maximum guest capacity: 20
Pilot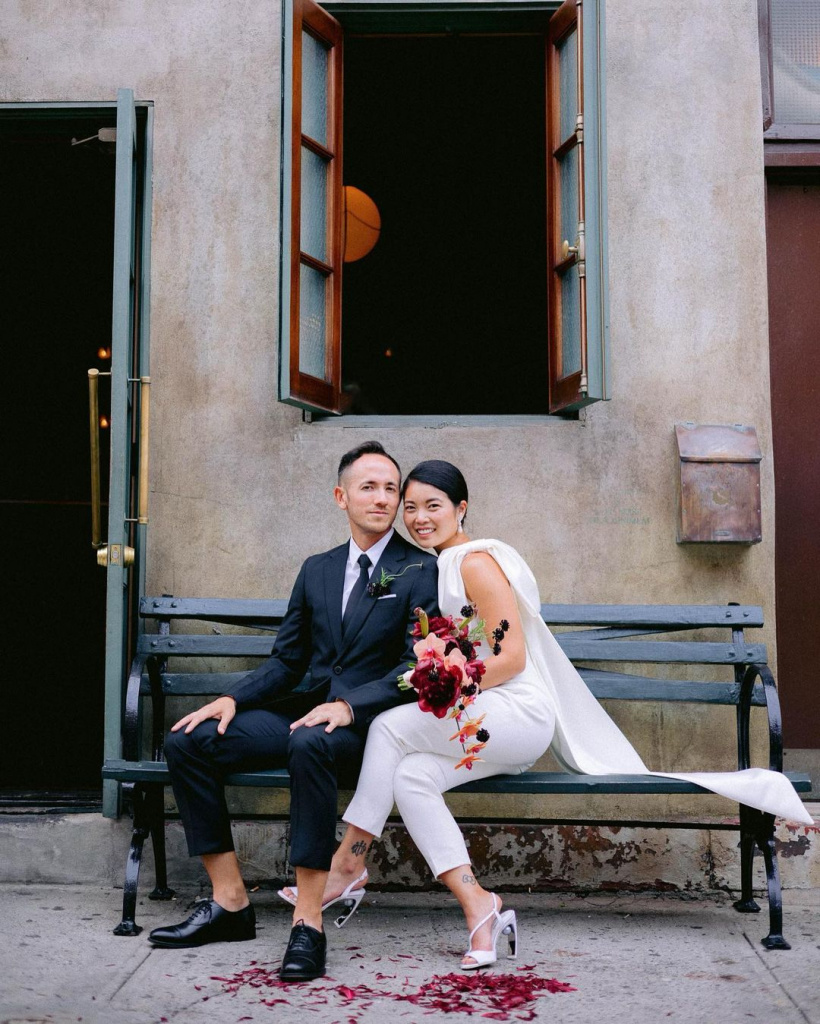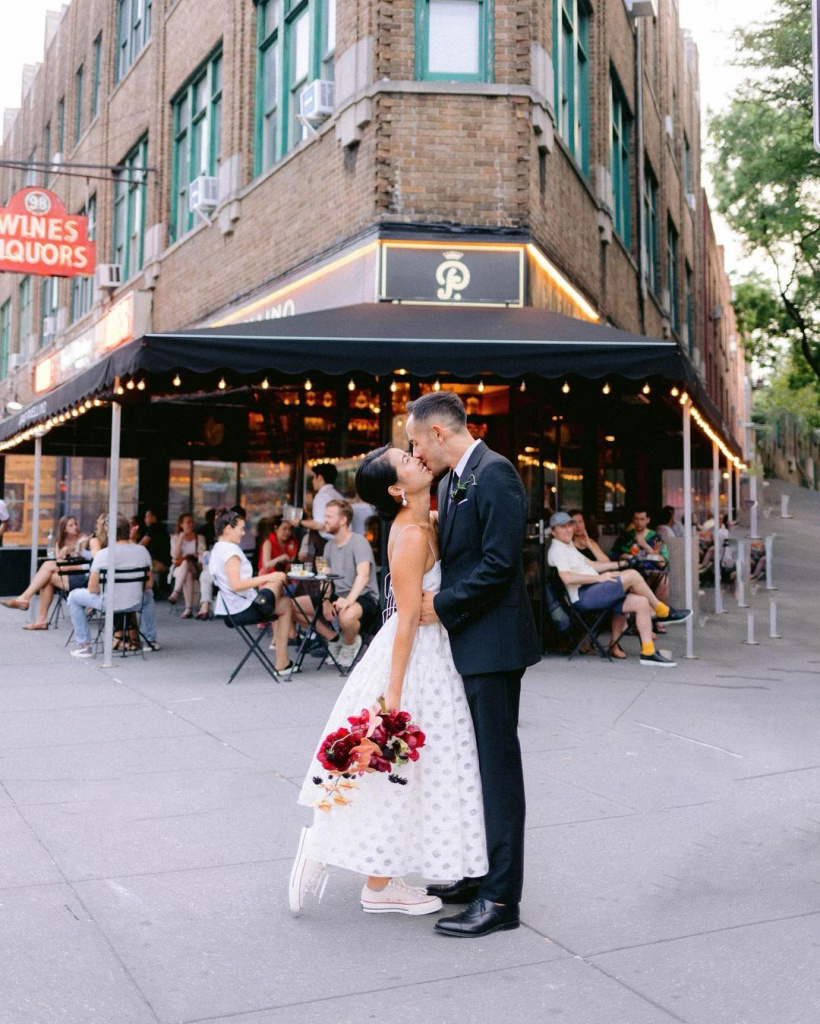 A seasonal seafood restaurant on one of America's most costly wooden sailboats, with spectacular skyline panoramas. Enjoy your wedding reception on the deck of a historic yacht that raced in sails, then in the Second World War, and also managed to cross the globe twice.
From May to October, the bar is exclusively open.
Maison Premiere
Brooklyn is the place to go for fresh local oysters and a one-of-a-kind vibe for your wedding. In the trendy Williamsburg area, there is an institution that has the essence of old Paris, New Orleans, and New York. There are numerous packages available here. The venue has its own garden, which is accessible for booking throughout the summer.
Maximum guest capacity: 70
Maiella
If you've been wanting to visit this venue, a little wedding party is probably the greatest occasion. The cuisine here is extremely delicious. Every single dish is flawless. The best part is that you can select a room based on the number of guests. The smallest room, for example, may accommodate up to 24 guests, while the largest can seat 32. There is also a promenade where you can party with your 19 closest friends.
Maximum guest capacity: 75
Russ & Daughters
This legendary New York location began as a delicatessen more than a century ago. The first cafe appeared in 2014, just before the company's 100th anniversary, and quickly attracted attention. Russ&Daughters was designated one of the city's top ten restaurants. It has a nice, slightly antiquated design. The food is Jewish yet not kosher.
Maximum guest capacity: 65
Cafe Sabarsky
Meet the magnificent small Neue Galerie, which appears like it was transferred to the United States from Vienna, with the lovely Cafe Sabarsky located on the first floor and masterpieces by Klimt, Schiele, and others on the second. The place has a distinct atmosphere, and you will never forget your wedding here. While the museum's guest capacity is big (8,000 square feet, no surprise), the restaurant is not, making it perfect for small weddings.
Maximum guest capacity: 60
CIVILIAN Hotel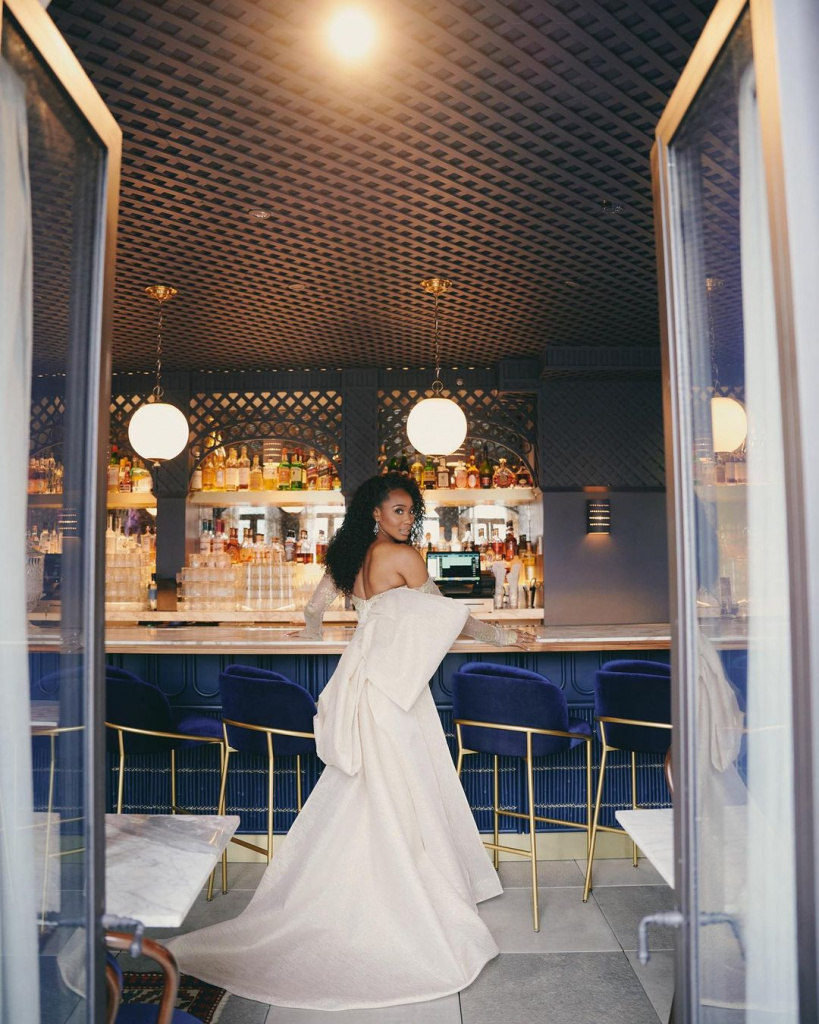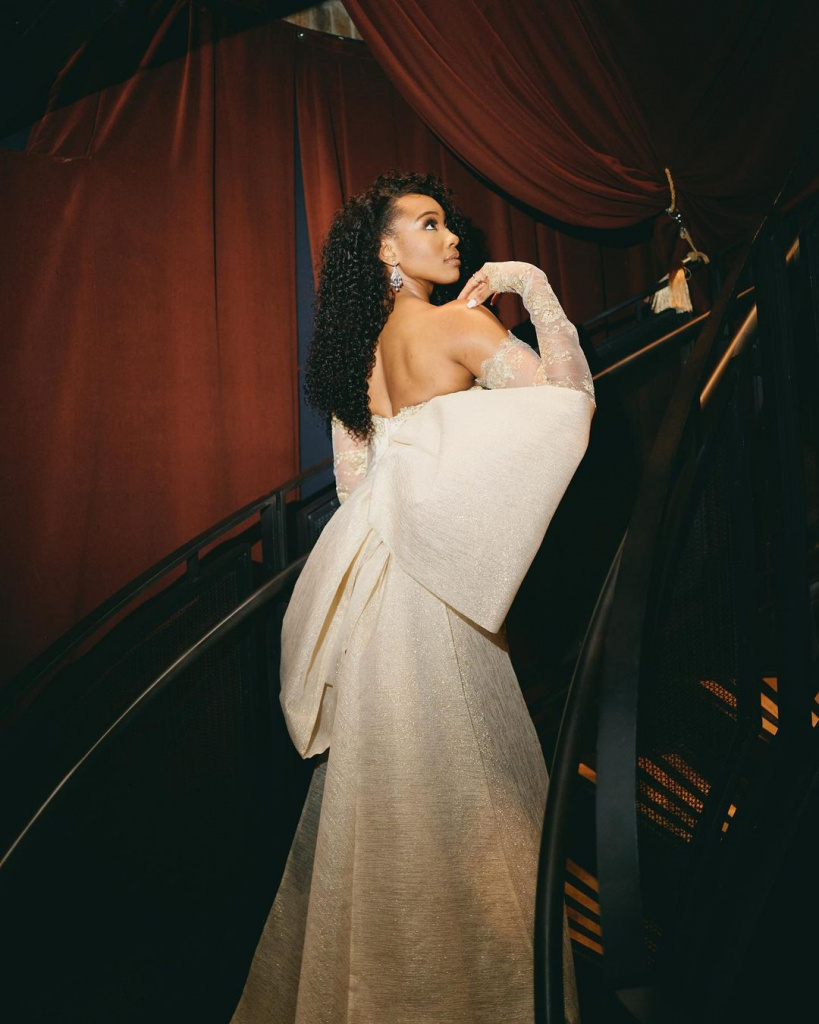 This trendy venue rounds up the list of the best small wedding venues in New York City. A 27-story hotel just minutes away from Times Square does have a lot to give its visitors. Surround yourself with life's brilliant hues and immerse yourself in the energy of the city that never sleeps. There are indoor and outdoor spaces offered.
Maximum guest capacity: 50