Selfie Corner ideas for a Wedding. The Ultimate Guide to Wedding Photo Booths
Publication date:

05/10/2022

Updated:

03/22/2023
You're dreaming of your wedding, planning everything in detail, and want to make every single inch and minute perfect. You'll hardly remember the taste of your wedding cake or which songs played at the beginning of your wedding but the emotions that you get will be the most essential part and are the goal of all those months and years of planning.
The memories and emotions - they're the key parts of all successful parties wherever and whenever you organize them. You invite your nearest and dearest, people who will sincerely enjoy all you prepared and share the best day of your life ever. However, you might think: 'Why do the photo booths match a modern wedding so perfectly?'. Read the article, and you'll be surprised by some simple but still awesome ideas and see why you do need it at your wedding.
WHY HAVE A WEDDING PHOTO BOOTH?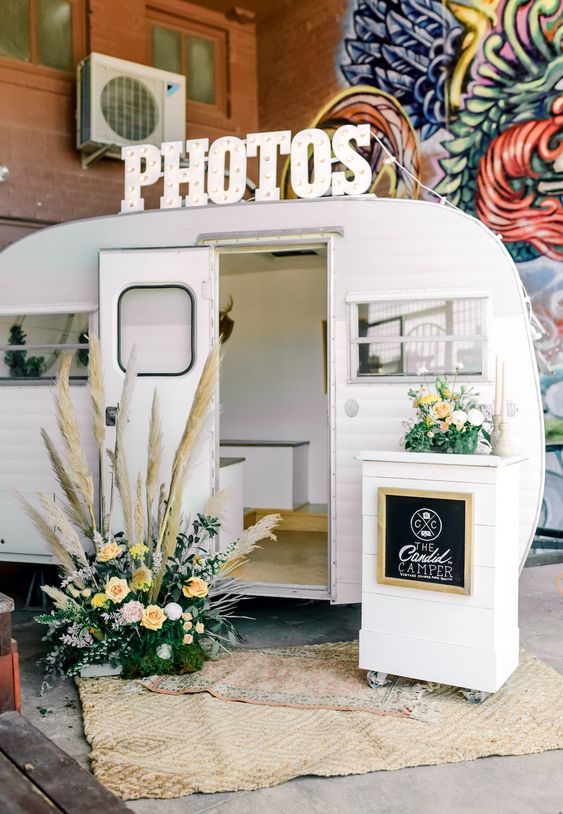 Photo by Neva Michelle Photography
There are countless reasons but let's take just the main ones!
Forget about too formal posing and official smiles. Here's the time when you have fun, relax and enjoy the moment because wedding selfies are not only the photo session, that's also an activities, a part of the program of the wedding!
Outstanding memorable shoots, true emotions captured
Forget about any limitations. You take as many photos as you wish and at the same time you communicate with your guests having new impressions.
It's not too tiring and quite affordable to organize such zones, especially in comparison to the result that might be obtained. Those aren't only the guests who may take pics at the selfie corners. A photograph usually takes photos of guests having fun and making selfies. Such professional shots will add a super cozy and relaxing atmosphere even to your wedding photo gallery.
No need to wait for the photos - digital or printed
In the world of technology where everything is being done so fast, getting the photo simply sent at once to your guests' phone is not just a whim - that's a hit, a marker of each modern wedding when the main idea is capturing the emotions, not printing out a huge album only a few months later.
FUN WEDDING PHOTO BOOTH IDEAS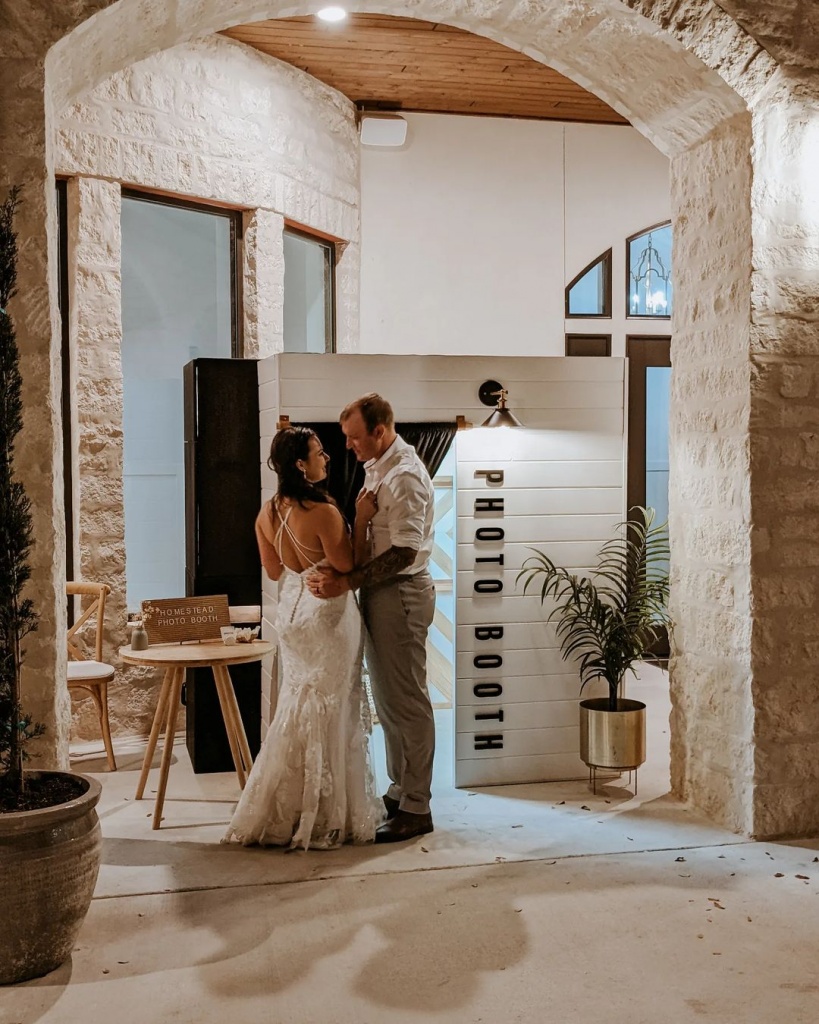 Photo by Homestead Photo Booth Co.
There are plenty of ideas on how to make it look gorgeous. Here you'll find the ones that deserve your attention and will spice up your wedding.
Faux Floral Wall
This option will give an unforgettable visual impact. The combination of greenery, wood, and bloom will become a perfect background for your wedding selfie zone.
DIY Chalkboard Backdrop
Giving you a huge field for creativity, it may look different, depending on the style and font you choose. Pass your guests the chalk to make it even more interactive, so they will leave some notes there. 
Tropical Wedding Photo Booth
Bright, colorful, fresh, green, and lush - what else do you need to add if you have a tropical photo booth and wanna make your pics just perfect?
Vintage Wedding Photo Booth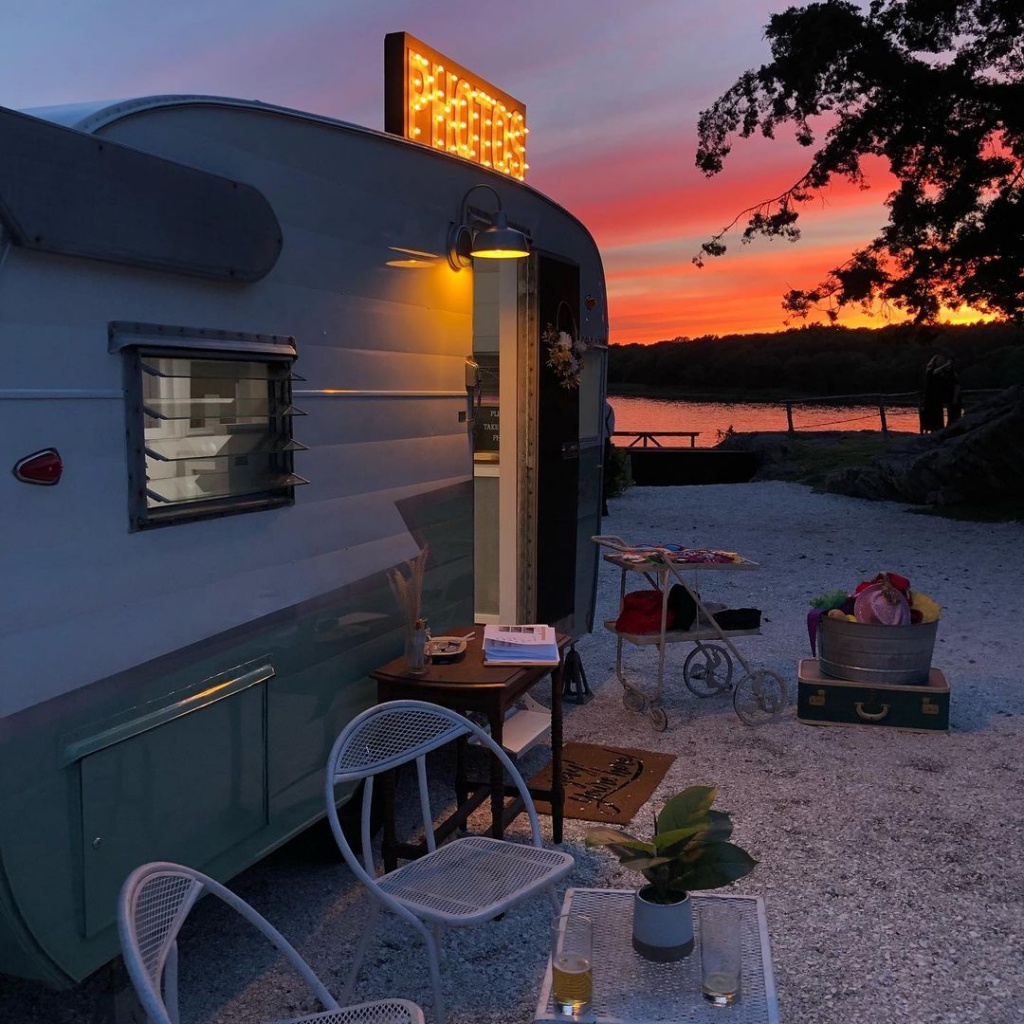 Photo by @happyglamperphotocamper
Look cool, as they are! Retro-themed weddings are never out of fashion and attract many couples. If you organize such a party, this is the best option for you!
Balloon Installation
Old-fashioned? Dull? Boring? Did this come to your mind after the reading about balloons? If yes, you might be surprised - that all depends on the approach you choose and the way you prepare the backdrop. The elegant and gorgeous frame of the balloons is absolutely real.
Swings
Wedding swings immediately give a magical effect, adding something fabulous to the atmosphere. The pictures taken in such a zone will be stunning.
Oversized Book
Weddings in general, ceremonies, oaths, and white dresses already create the feeling of a fairy tale. What can be done more? Put a large book as a backdrop to enhance the effect. You'll surprise your guests.
OUTDOOR WEDDING SELFIE BOOTH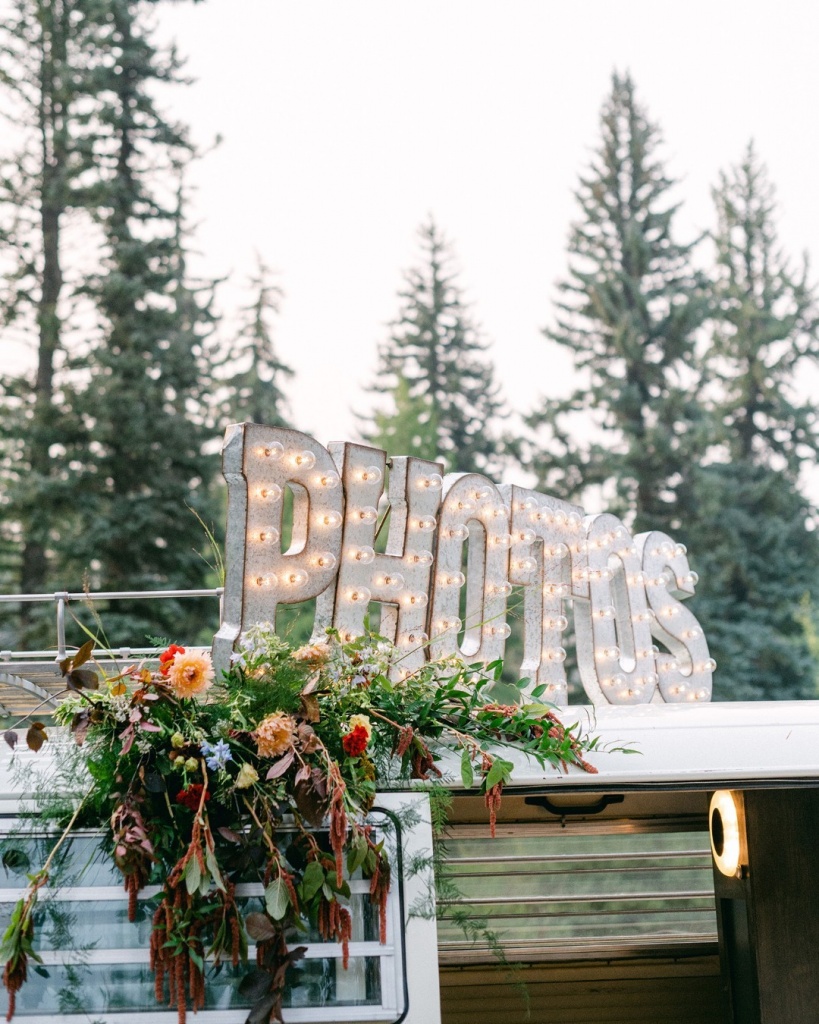 Photo by @jameephotography
If the weather allows, you may organize the photo booth outside. Actually, you can use any of the ideas above that you love. Remember about the importance of the location you choose. If you opt for the perfect one, it'll create an additional background and might become a complement to the zone. Same as with an indoor photo booth, locate it in a high-traffic area, where your guests will see it well and therefore use it a lot. Leave some open space around, it's better to create it in a way that there will be many approaches and ways to reach it.
WEDDING SELFIE STATION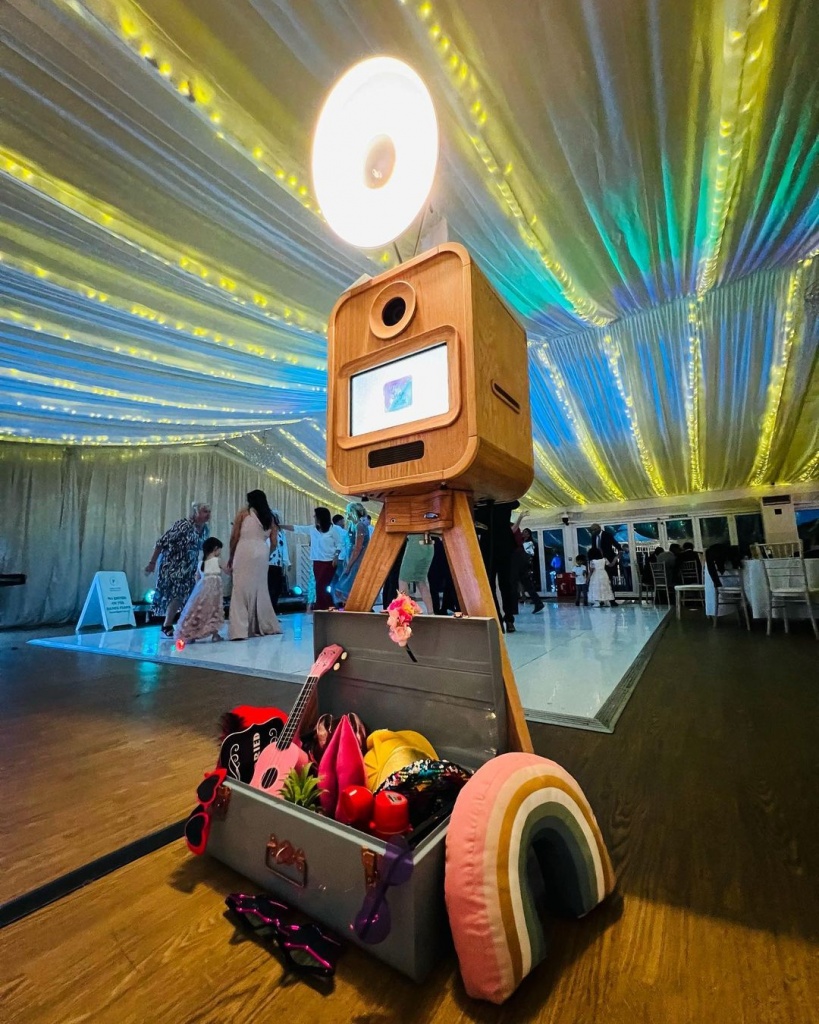 Photo by The Snap Booth
Is there anything more digital than taking a selfie and sharing it on your social media? Your guests will take such photos anyway, so help them make it more thrilling and unique, encourage them in sharing the photos, creating the needed atmosphere.
There are plenty of benefits of a selfie station, as opposed to a photo booth. For the first one, you don't need too much space, walls, props, and so on. You can even set up a DIY selfie corner in so many places around your wedding venue. Read on for just a couple of simple and still eye-catching ideas for your selfie corner.
Imitating the bathroom mirror somewhere near the reception might be great fun. That's how guests check their appearance and make those inevitable shots.
Encourage the Use of Selfie Sticks
Leave selfie sticks together with some wooden signs, showing your wedding hashtag so that will motivate them to take a pic and share it even on the same day.
Why not make a DIY selfie stand with a featured iPad and short witty instructions on the top? A simple look won't scare guests away. On the contrary, the easier it is, the faster your guests will use it without hesitation.