60 Cool Entertainment Ideas for Wedding Guests
Publication date:

03/14/2022

Updated:

02/06/2023
Weddings are all about big decisions, genuine emotions and fun. That's why the guests always expect a lot when it comes to wedding entertainment. Between the first toasts and your grand exit, there will be plenty of opportunities to amuse your close ones with unusual and creative activities. Outdoor games, original food ideas, dance routines… There are just so many to choose from! This list of wedding entertainment ideas will help you pick the best for your celebration.
Fireworks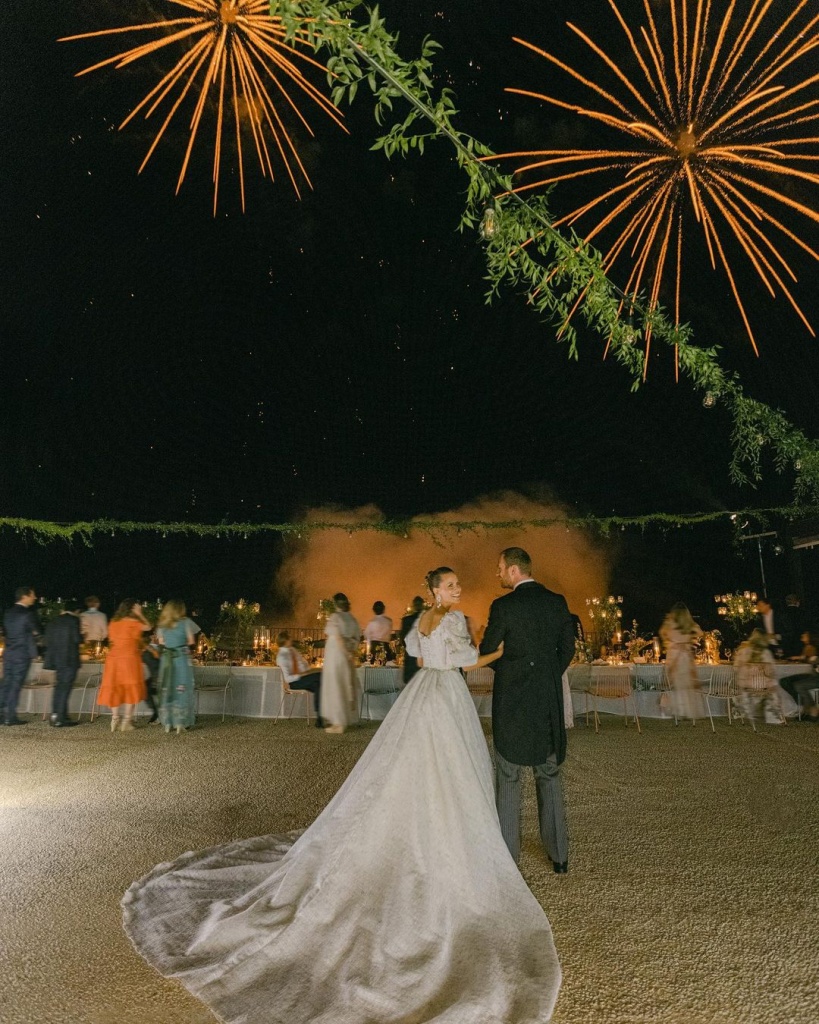 Photo by Holly Clark Photography
There's literally no better way to end your wedding party than with a firework display. And here's a good tip - don't try to light the fireworks yourself, ask a professional to create a magical performance for you.
Whisky bar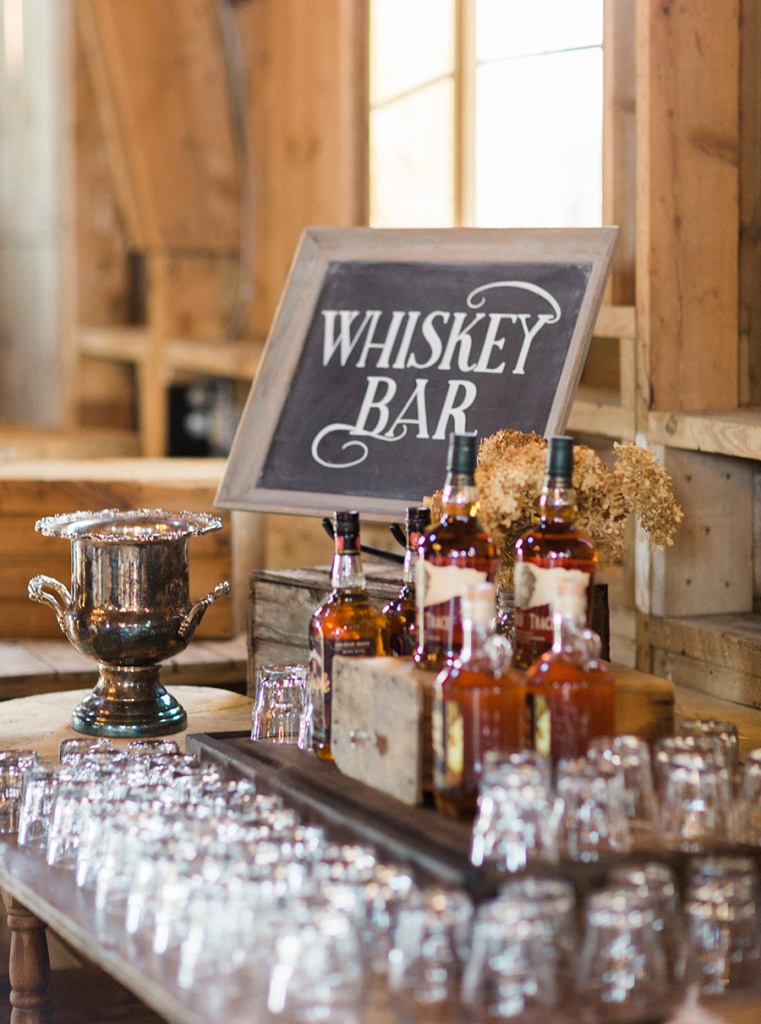 Photo by Laurelyn Savannah
An extensive collection of Scottish or Irish whiskies will add exclusivity to your wedding. And of course you're going to need the ice.
Cigar bar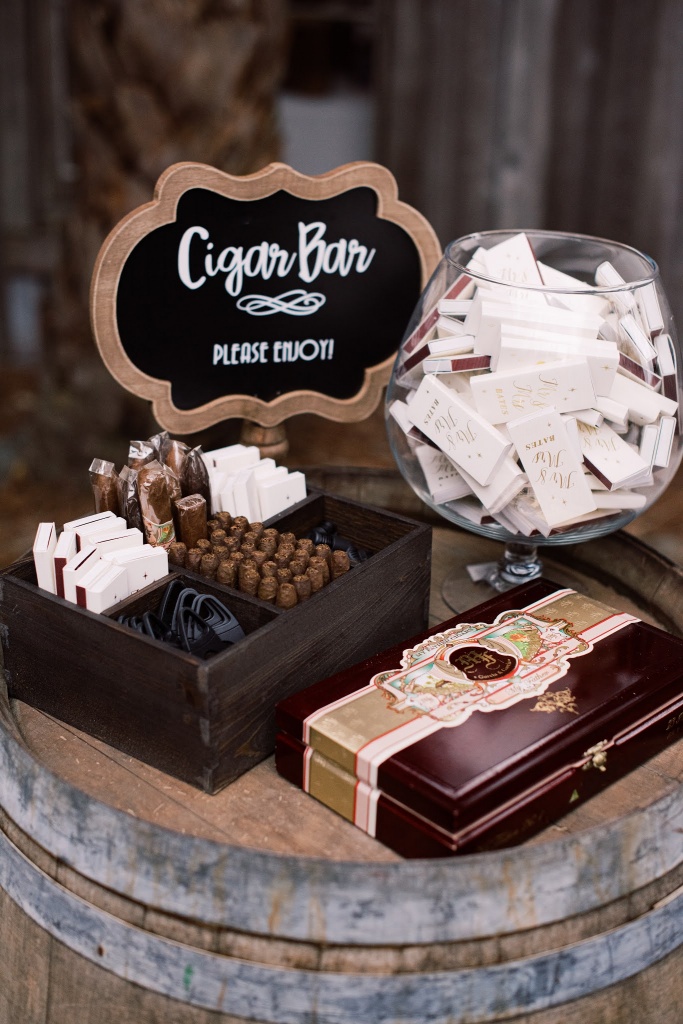 Photo by Virgil Bunao
A whiskey bar can be complemented by a good cigar. Organize a small lounge zone outdoors with heaters or warm throws where your guests would enjoy a cigar and have a drink or two.
Photo Booth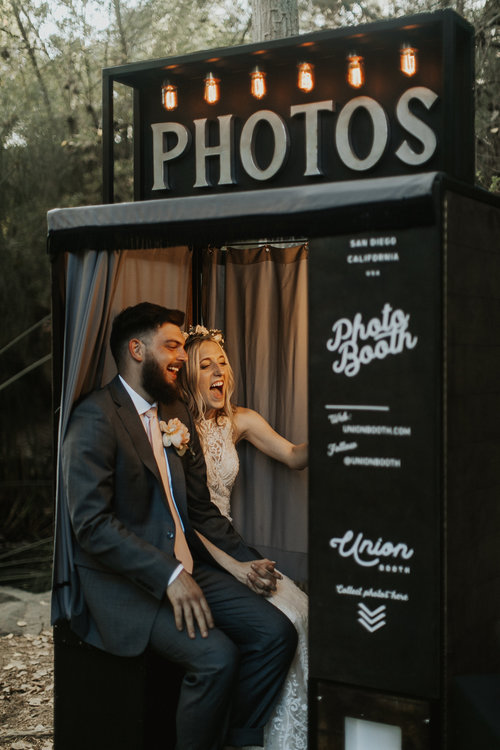 Photo by @audreyoothoutphoto
This is one of the favorite wedding entertainments for guests of all ages. A photo taken from the booth will help them keep the memory of your celebration.
Classic entertainment ideas for weddings: Disco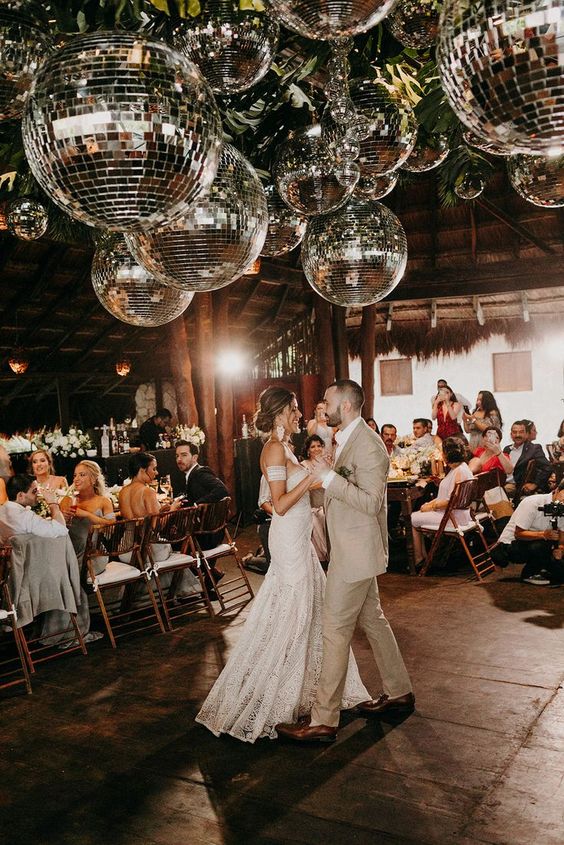 Photo by Katie Ruther
You simply can't have a great party without music and dancing. Create a playlist with the favorite songs of your guests to make sure your dance floor is always crowded.
Live Painter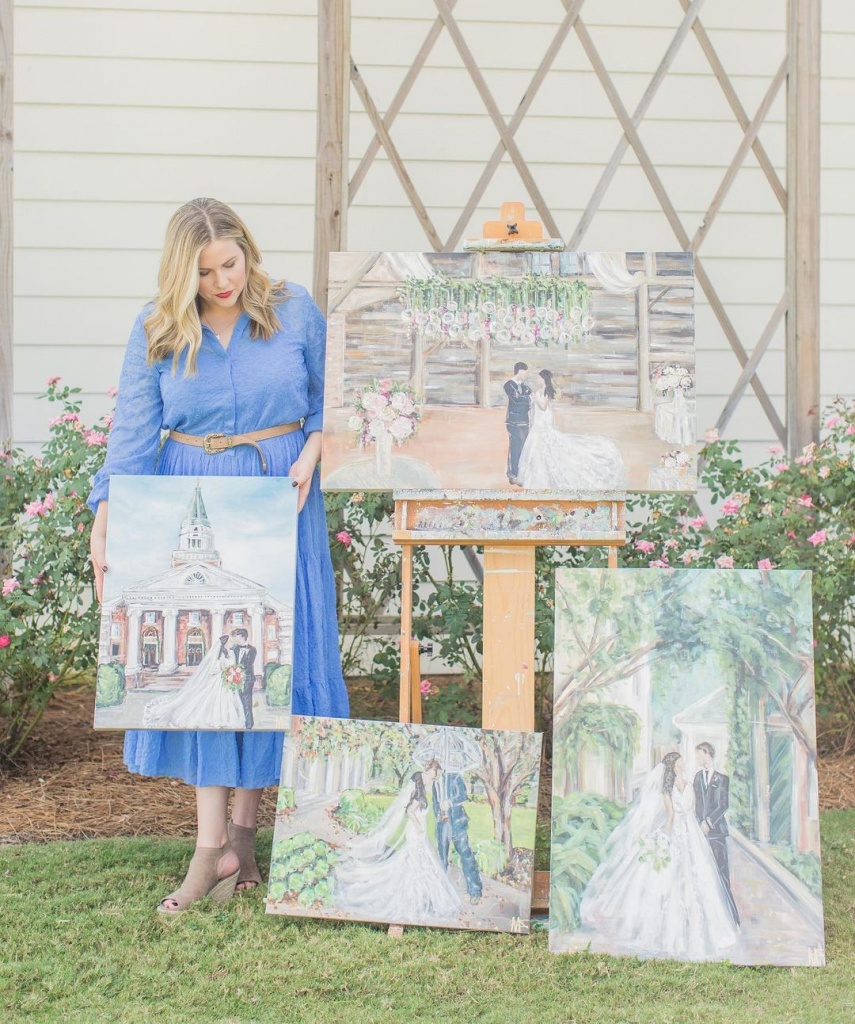 Photo by Miriam Shufelt
Hiring a painter to your wedding is another great way to capture the magical moments of your celebration. When the party ends, you'll have an amazing painting you can hang on the wall and enjoy.
Dove Release
Even though this tradition today is less popular than before, it still offers another great opportunity to gather your guests to celebrate your love.
Butterfly Release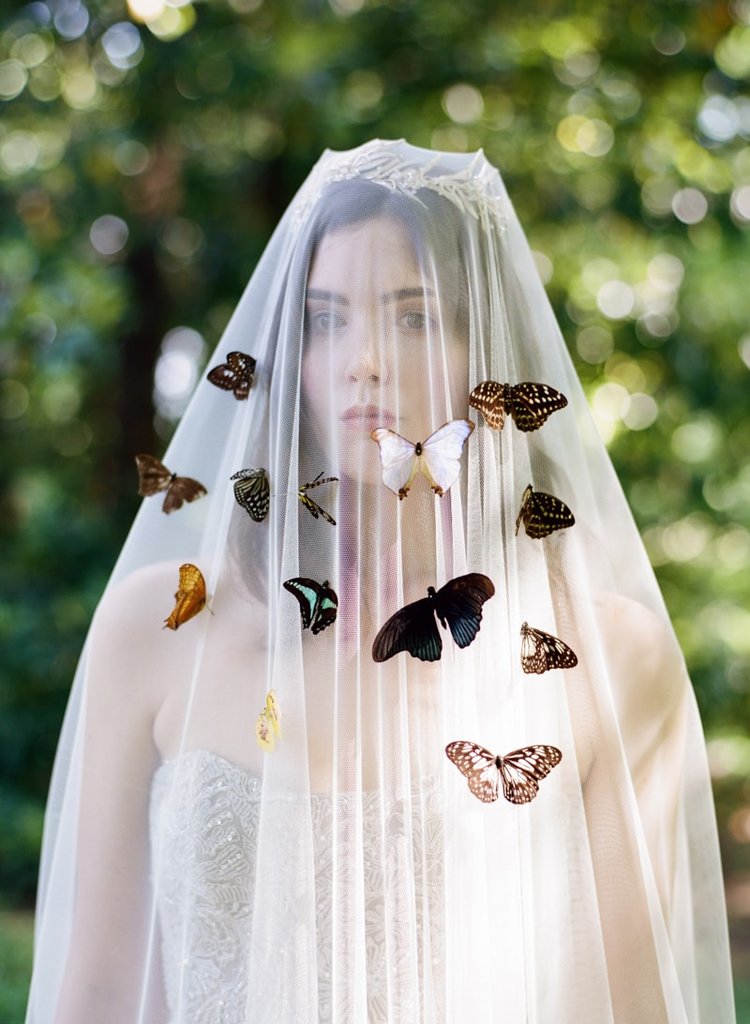 Photo by Maile Lani
Can anything be more fascinating than dozens of butterflies getting out of the box and flying into the sky? Try butterfly release to get some stunning wedding pictures.
Pets at Weddings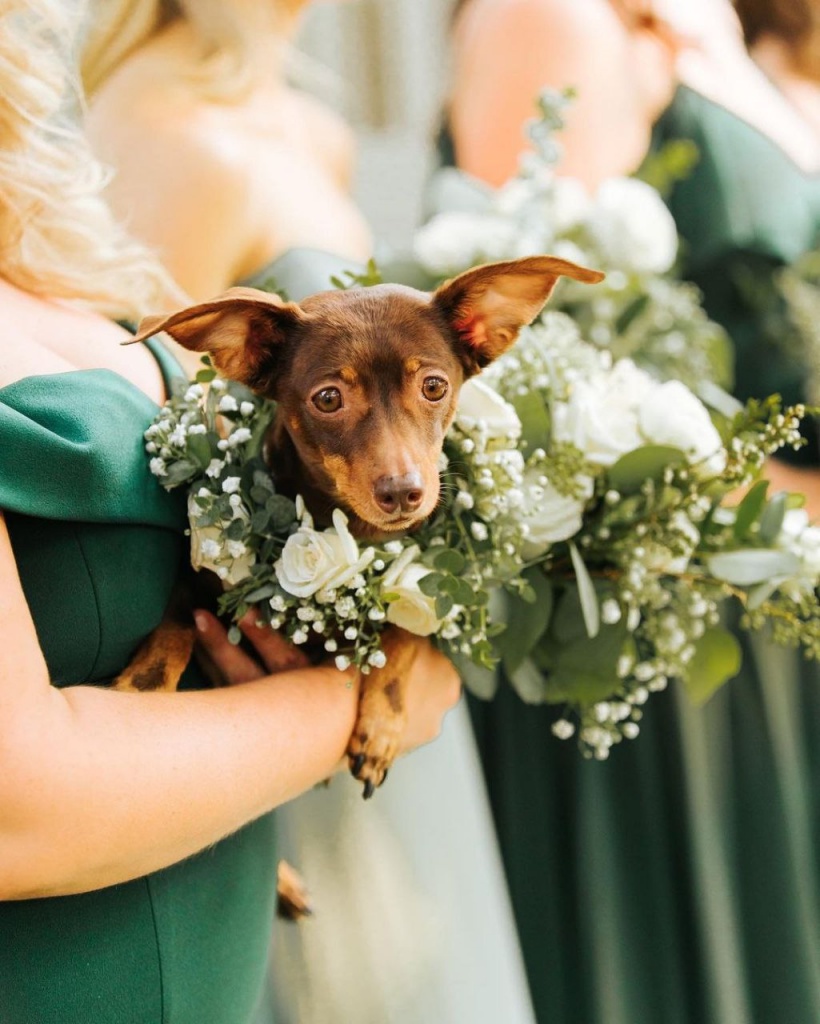 Photo by SNAP CHIC photography
Should your favorite puppy or cat miss your wedding day? Definitely not! Perhaps, your little furry friend can even be a great ring bearer? The guests will simply love to cuddle your pet.
Giant Chess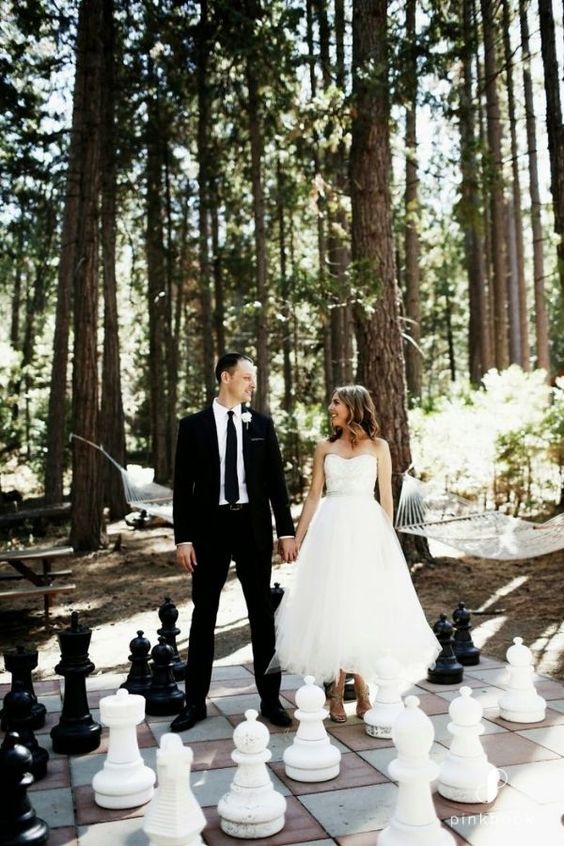 Photo by Ashley Drey
While regular chess sounds serious and strict, giant chess means fun, entertainment and amazing photos.
Picnics
Photo by Brittany Sidwell
Impress your guests with a relaxed vibe of a rustic wedding. Fill the hampers with the fresh bread, fruit, cheese as well as drinks and dine outdoors.
Bake off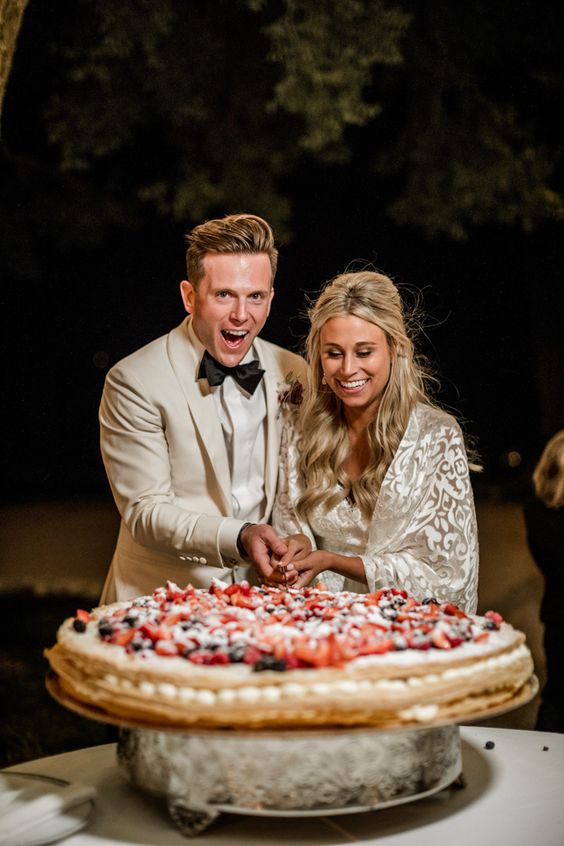 Photo by Lilly Red Creative
Instead of serving dessert like everyone else, invite your guests to cook it! Organize a baking competition and offer the best cooks small but memorable prizes.
Awards Ceremony
People will love to hear your sincere appreciation. Host a ceremony and give out awards to as many guests as you can.
Couple's Cocktails
Photo by Kelly Hornberger
All couples are unique, so your signature drink should also be original. Create an exclusive cocktail that would reflect your and your partner's personalities.
Pimp Your Prosecco bar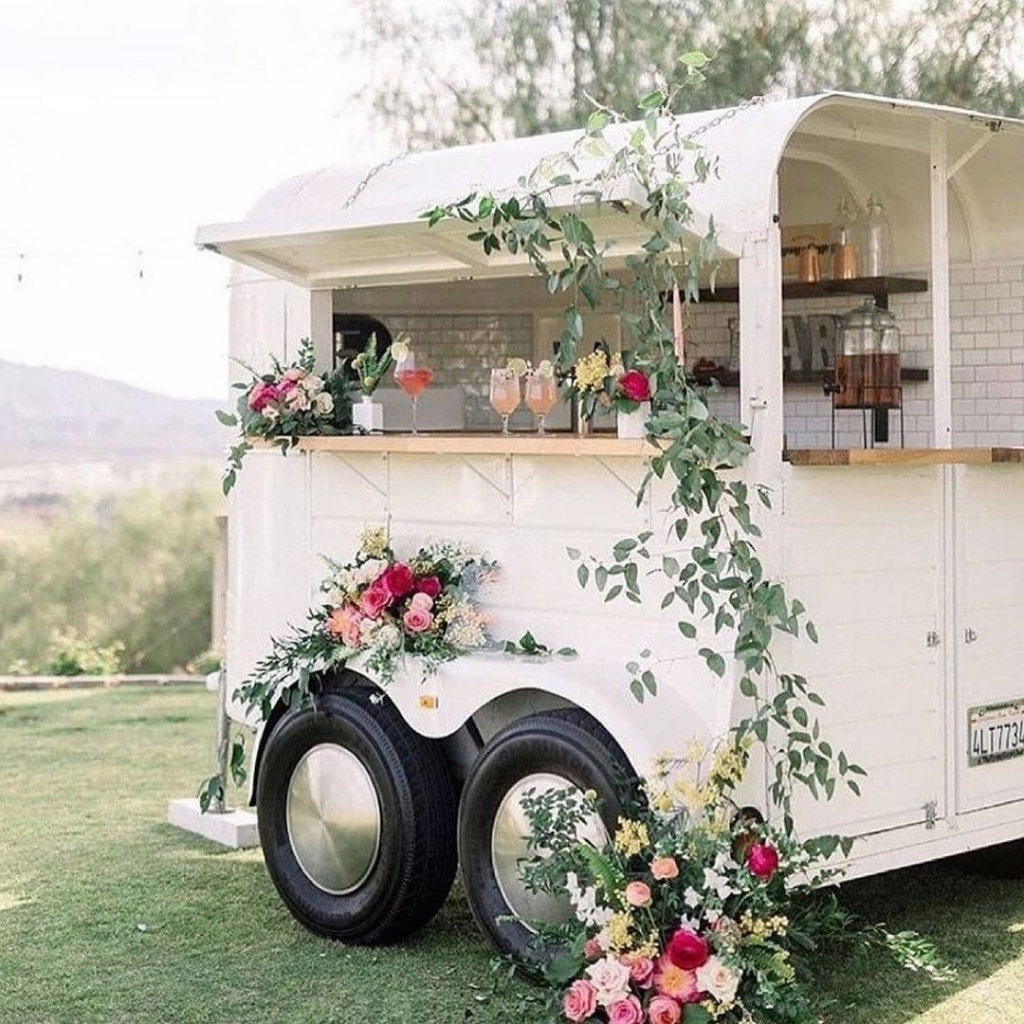 Photo by Hello Blue Photo
Is there anything better than prosecco? How about prosecco with extras? Make the celebration even brighter with drink shimmers and fruity bubbles.
Cake Buffet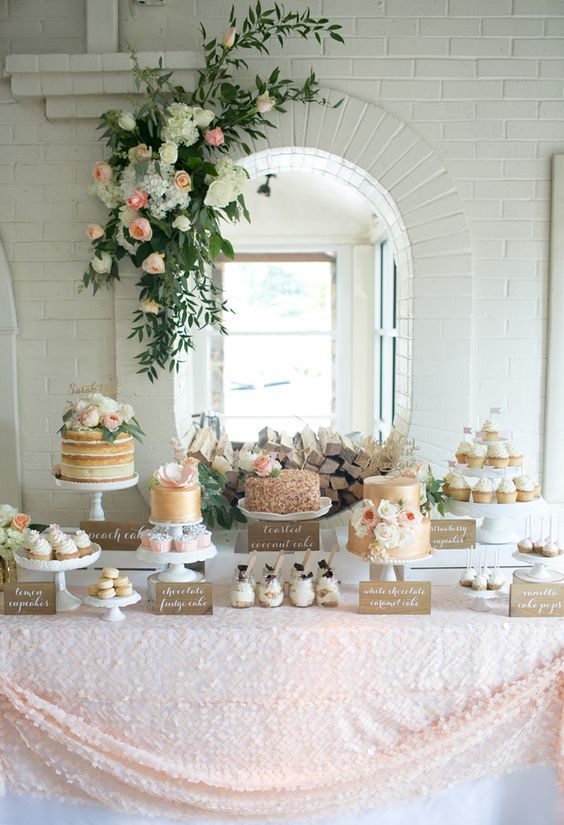 Photo by Megan Wallach
Invite your close ones and friends to participate in the organization of your celebration: ask them to bake cakes for your cake buffet.
Sweet Cart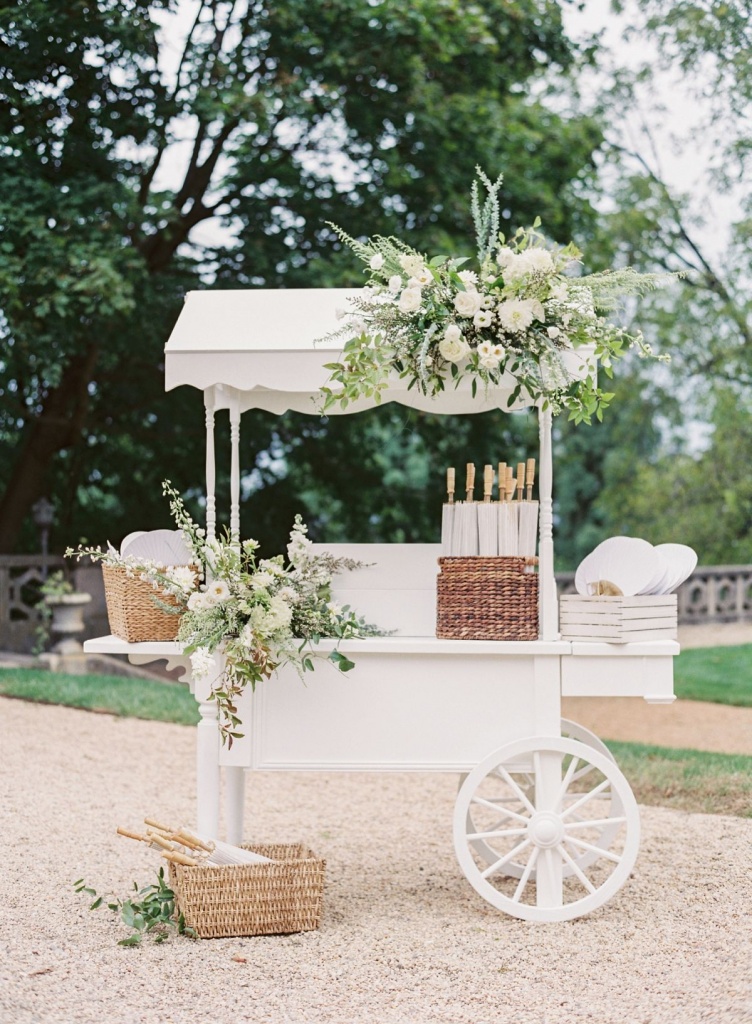 Photo by Mon Soleil
If you think that only kids love sweets then you couldn't be more wrong. Both young and adult guests would love to pick up a candy or two each time they pass by the sweet cart.
String Quartet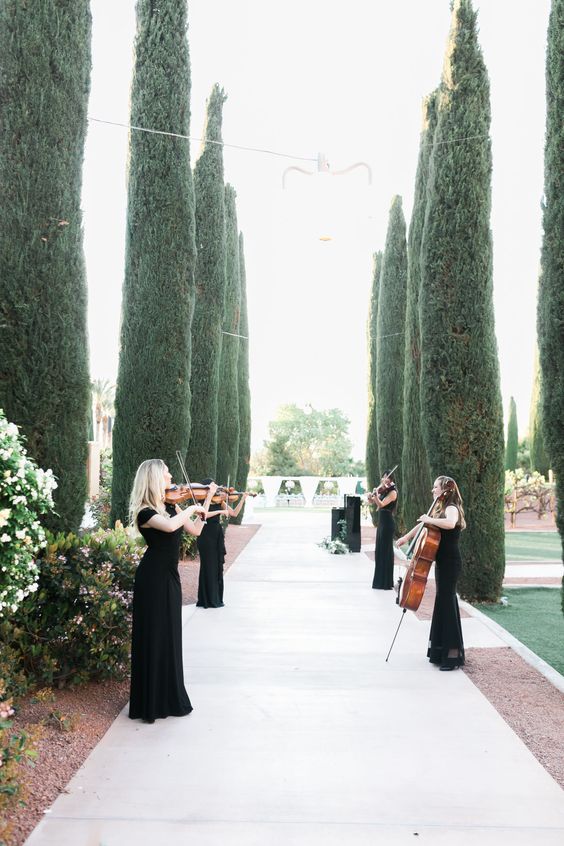 Photo by J.Anne Photography
If you wish to add elegance to your big day, book a string quartet for the wedding. Enchanting live music will set a romantic mood for the guests.
Harpist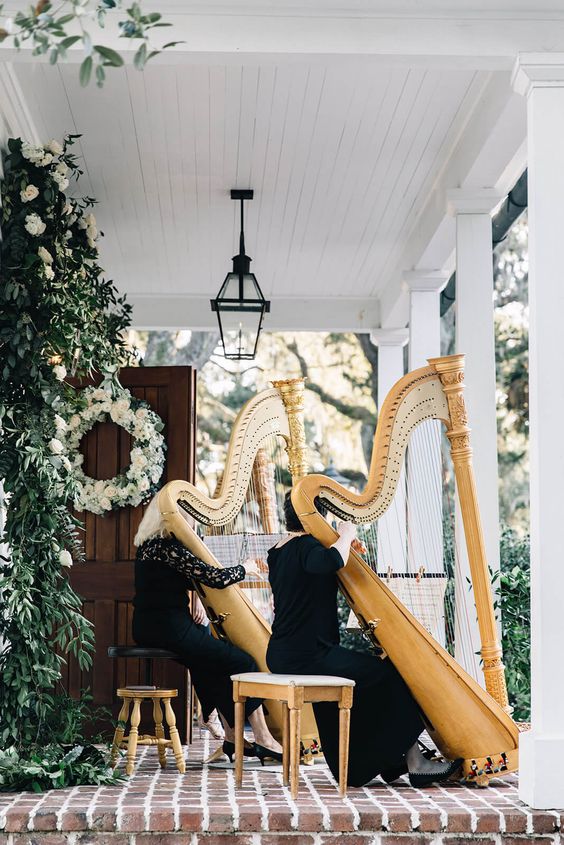 Photo by Kiral Artist
The charming sounds of harp will make your celebration truly exquisite.
Opera Singers
Add a dramatic feature to your ceremony or reception and have opera singers perform live.
Jazz Band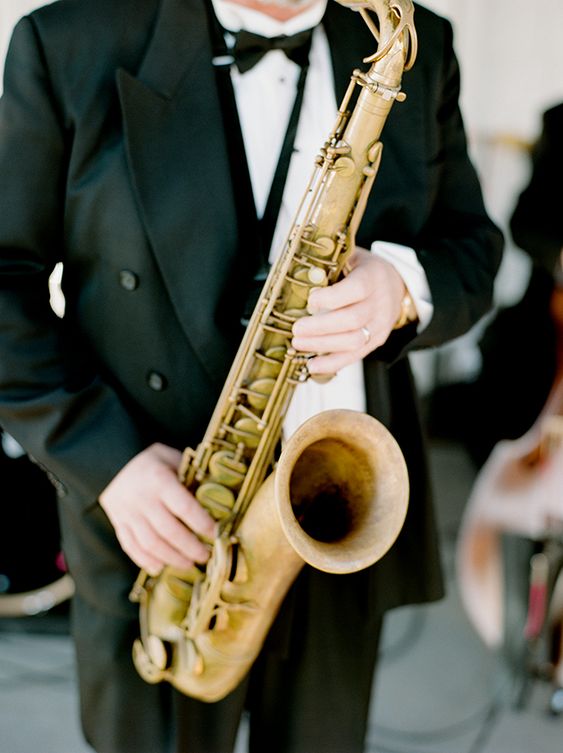 Photo by Amanda Nippoldt
If you want everyone to spend the whole night dancing, you have no other option but to choose the music people simply can't resist. A jazz band will surely play the energetic tunes you'll need to have the time of your life.
Casino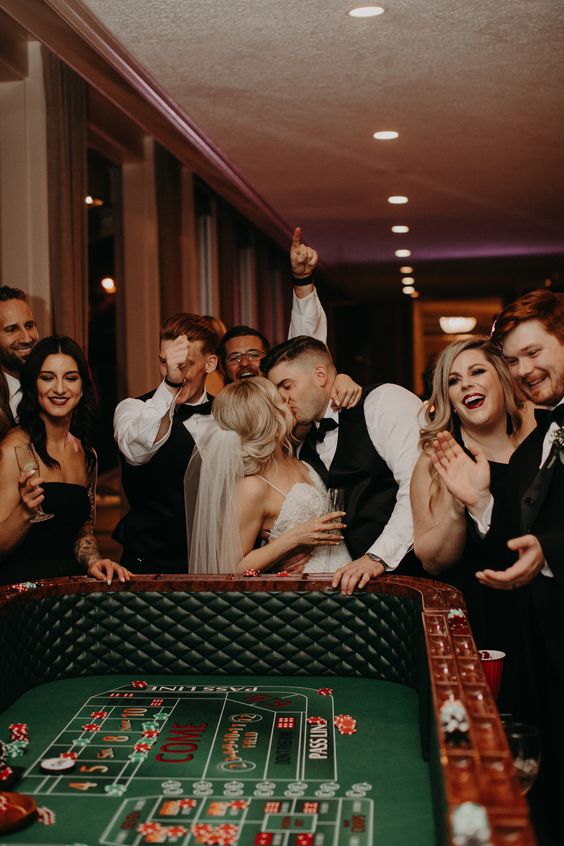 Photo by athornsphoto
Casino tables will bring glamor and chic to your evening party. You can even prepare a prize for whoever has the most of the chips.
Fancy Dress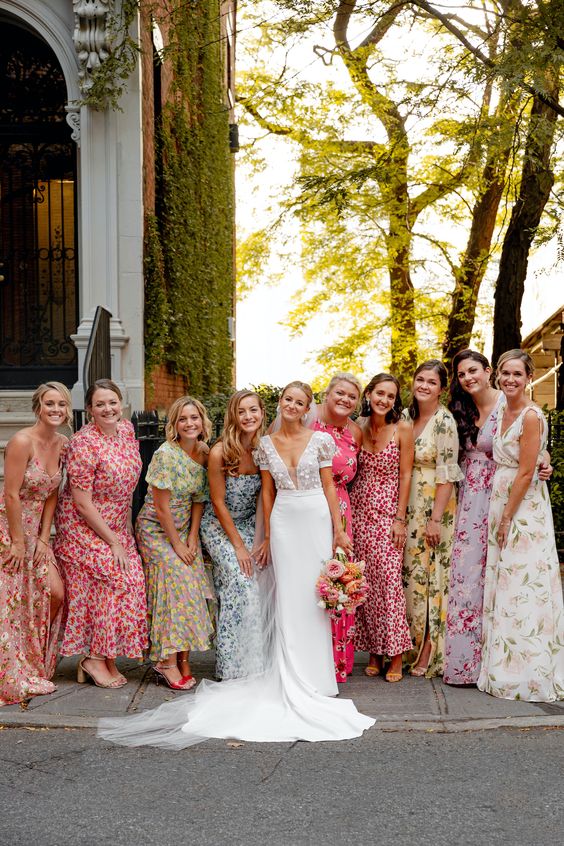 Photo by @kateedwardslove
Guests wearing unusual outfits would look gorgeous in your wedding photos.
Karaoke
Everyone knows how fun karaoke can be, especially after a few drinks. Save it for the evening and see your guests enjoy their time.
Ballroom Dancing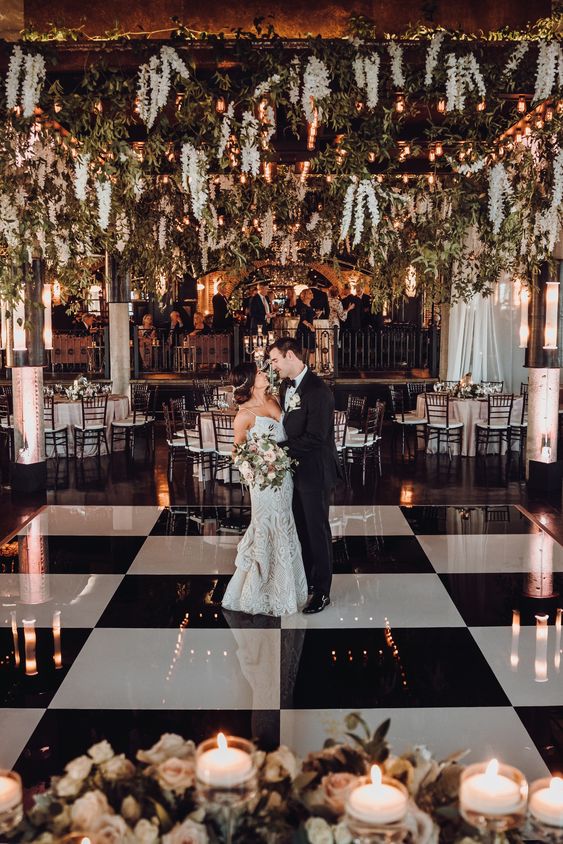 Photo by Ama By Aisha
If you think that it is better to share the first dance with your close ones, invite everyone to join you for a ballroom dance.
Fire Breathers
Make your reception truly memorable and hot by hiring fire breathers. The guests will be thrilled to see amazing and dangerous tricks.
Singing Waiters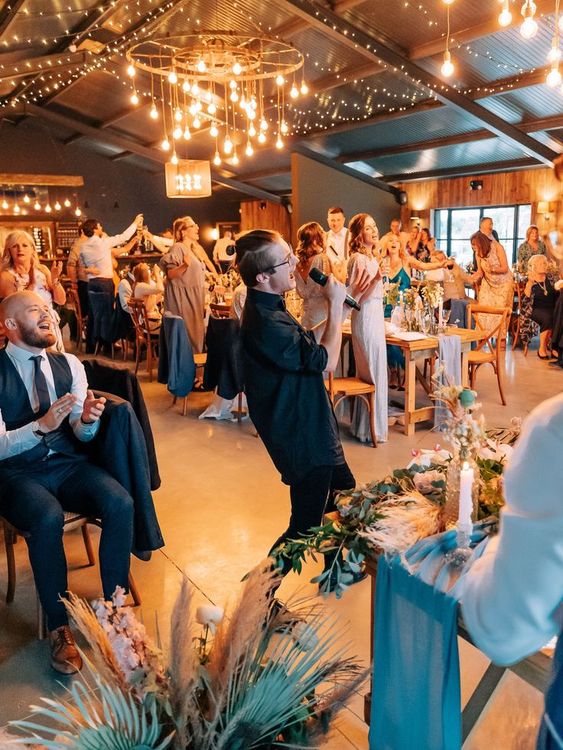 Photo by Paula Heron Phillips
The guests will be sincerely surprised to hear the waiters singing right after they have served a delicious meal. This wedding surprise will surely be unforgettable.
Lights Show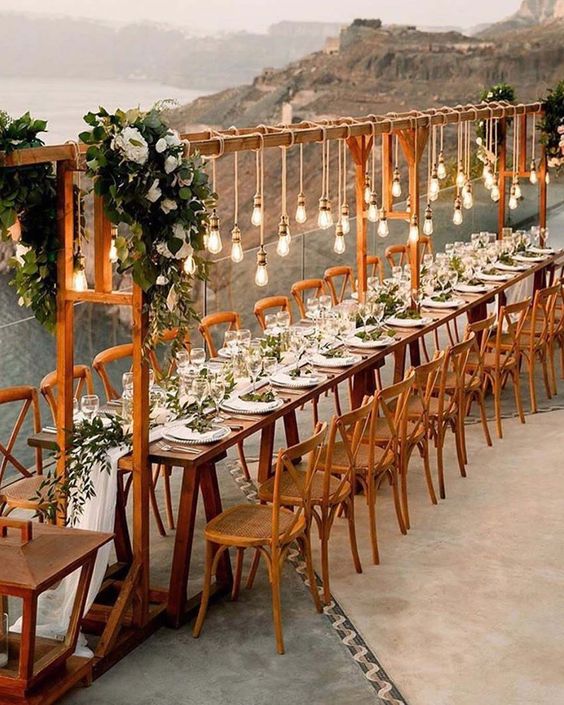 Photo by Jenny Yoo
If your venue will be decorated with up-lighting, ask the professionals to start a unique light show in the evening.
Surprise Talents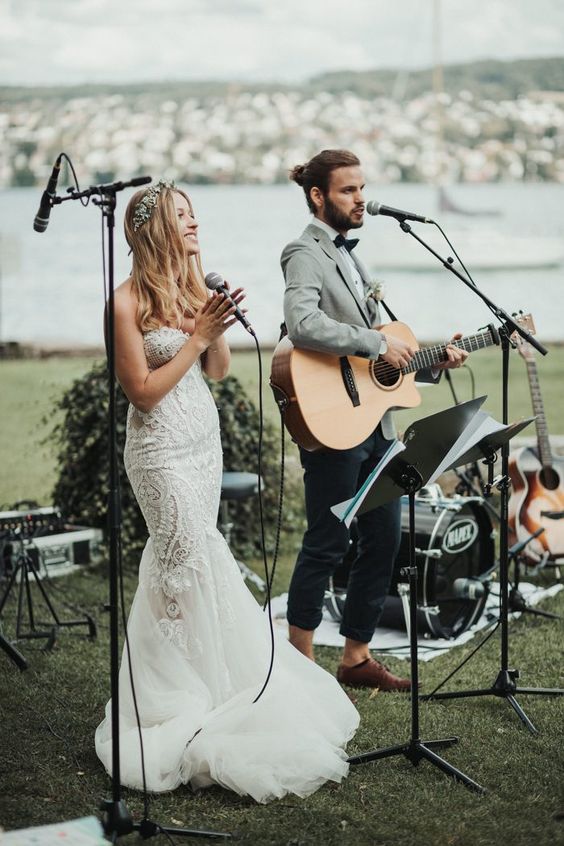 Photo by Cassidy Carson Photography
All people have some secret talents. A wedding celebration is a great opportunity to surprise everyone with your hidden skills. You can play your favorite song together with the band or perform a DJ set.
Flash mob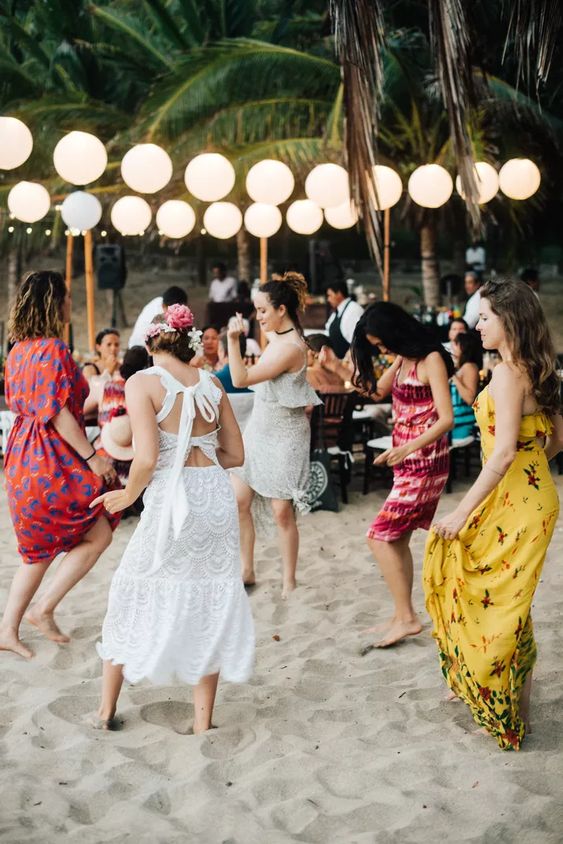 Photo by Jillian Mitchell
Ask your bridesmaid to organize a surprise song performance during toasts, or the bridal party can join you on the dance floor for an amazing first dance. The guests will be totally delighted.
Choreographic Program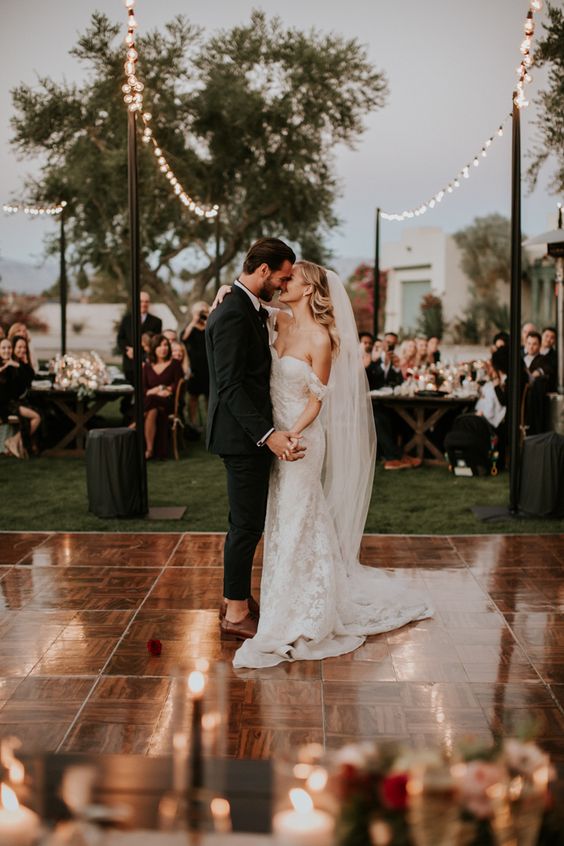 Photo by Jami Laree
To impress everyone during the first dance, consider taking dance lessons. You'll feel more comfortable and relaxed on the dance floor.
Face Paint
Your young guests will simply love this one. Hire an artist and organize a face paint area for the kids.
Afternoon tea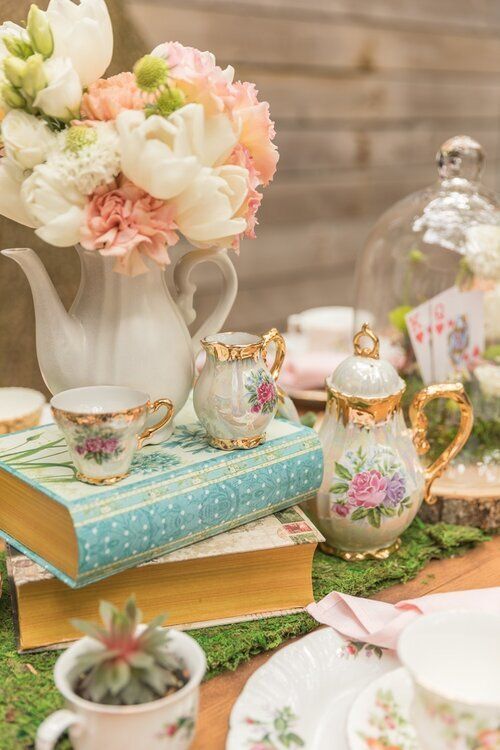 Photo by Luxury Moment Photography
If you want to add an English garden party vibe to your celebration, host an afternoon tea party. Get a bit creative and fill teapots with cocktails and offer cupcakes for dessert.
Treasure Hunt
This is another great idea for keeping kids entertained. Create a list of fun activities and let the little guests have some fun.
Dance-off Competition
Everyone has some secret moves up their sleeves. Organize a dance competition later in the evening. Surely, no one will wish to miss all the fun.
Foodie Flavors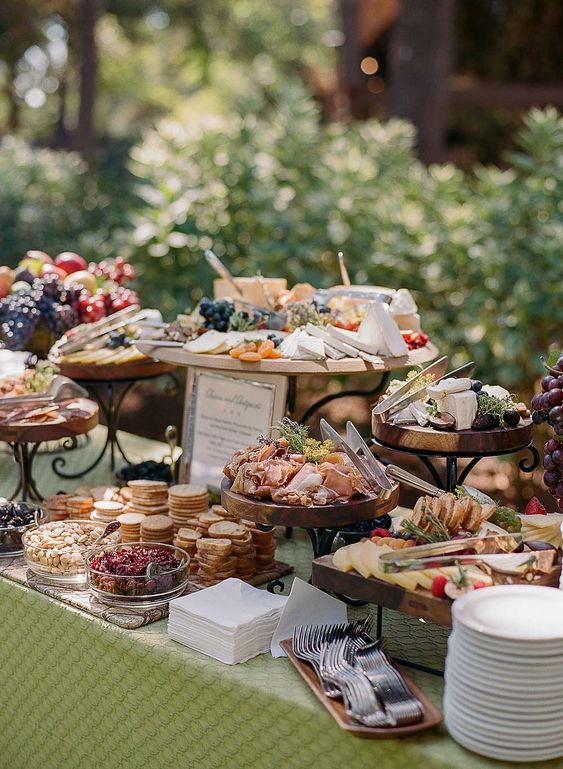 Photo by Briana Marie
Partying and dancing requires a lot of energy. Make sure your guests have delicious food to choose from.
DIY Cocktails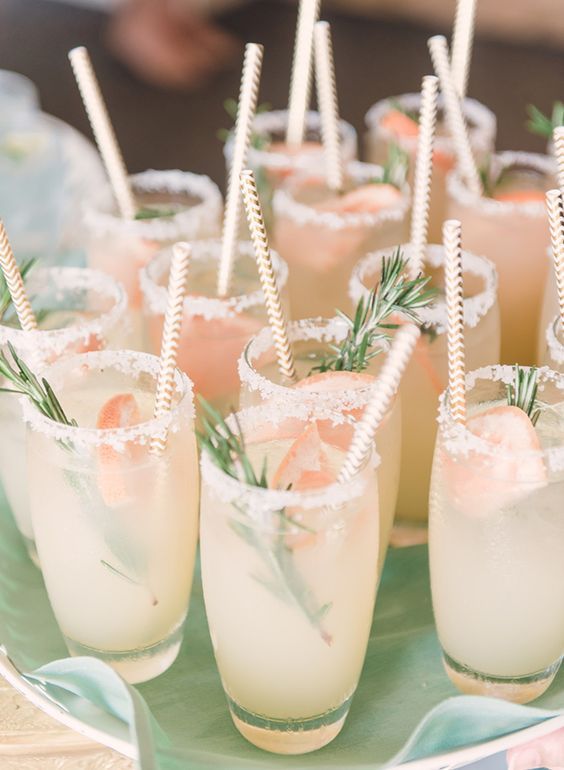 Photo by Joanna Fisher
Allow your guests to free their imagination and create their own unique cocktail. Provide everyone with different spirits, mixers, and glasses and just watch them dive into the process of cocktail creation.
Chocolate Fountain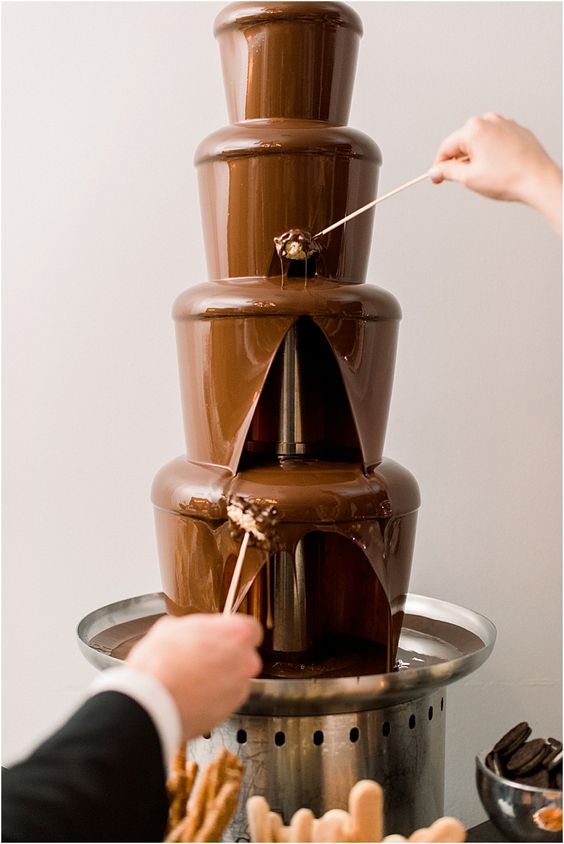 Photo by Hillary Muelleck
What can be more delicious than a chocolate fountain? You can even skip the desserts and simply serve a chocolate fountain bar.
Waffle Stand
Photo by Megan Rei Photography
Waffles are perfect for a late night snack when the guests need to refill their energy after all the dancing. Serve hot crispy waffles with both savory and sweet toppings.
Burrito bar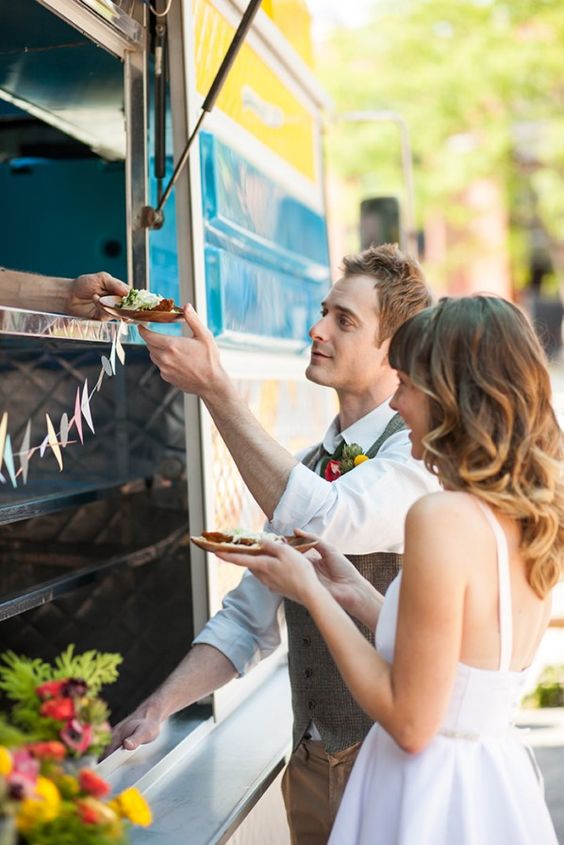 Photo by Lily Red Studio
Add a Mexican vibe to your wedding celebration and serve this delicious spicy meal. Your guests will surely remember it.
Burger Station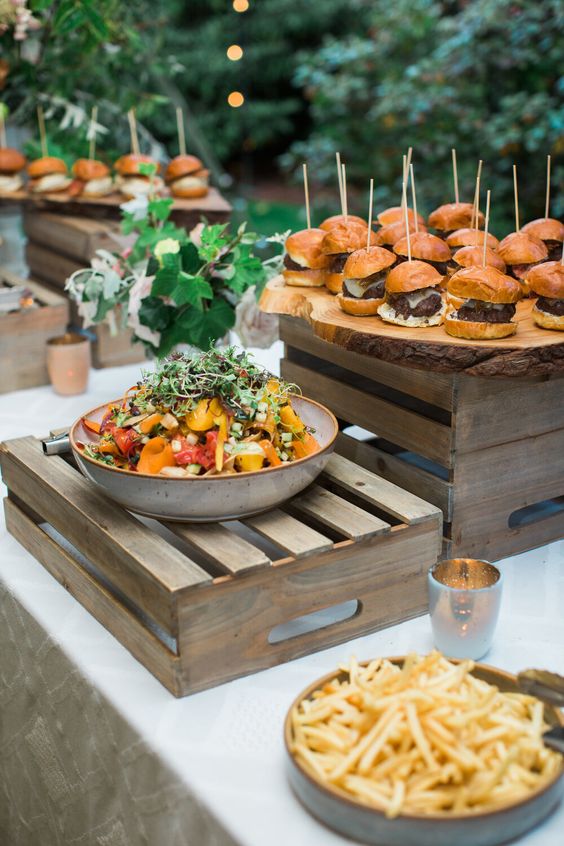 Photo by Michael Radford
If you're still not sure what food to serve after the official part of the celebration, organize a burger station. Guests will love the juicy taste of the street food.
Gin bar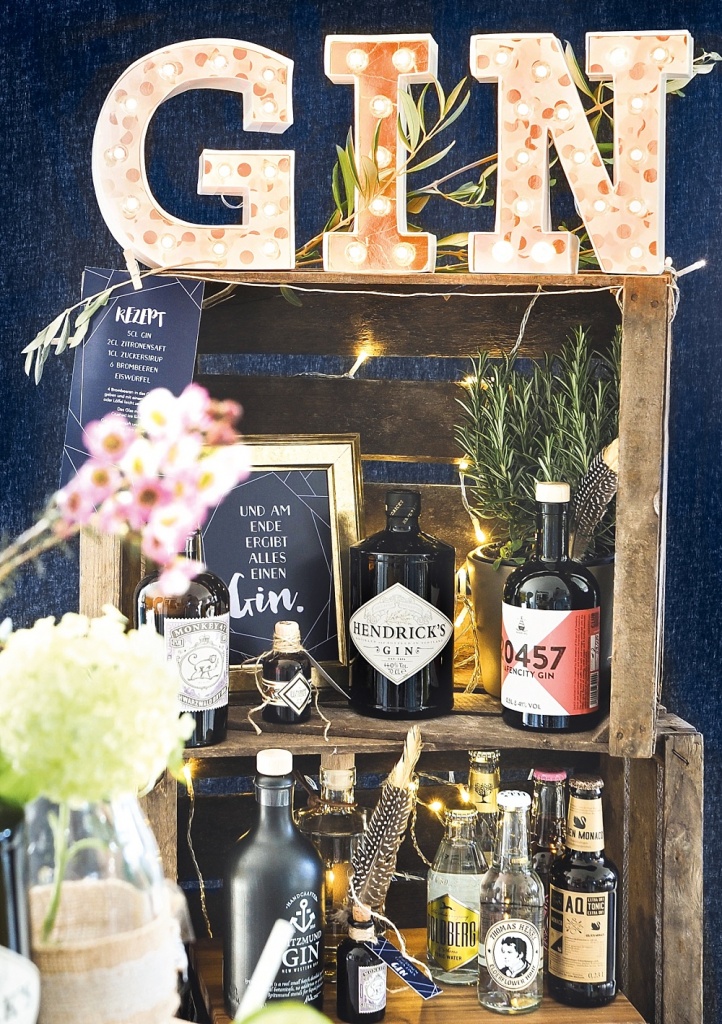 Photo by Lux und Liebe I Papeterie & Konzept und Styling
You may not be a fan of whiskey, so you can organize a gin bar instead. It will create a special festive atmosphere for your celebration.
Live Band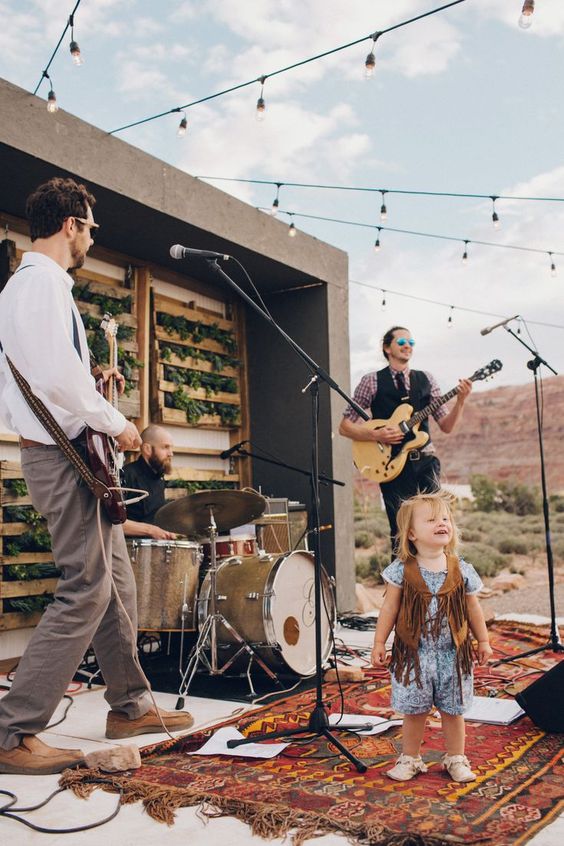 Photo by Laura Golbenberger
No matter what playlist you choose, the music is always better when played live.
Confetti Balloons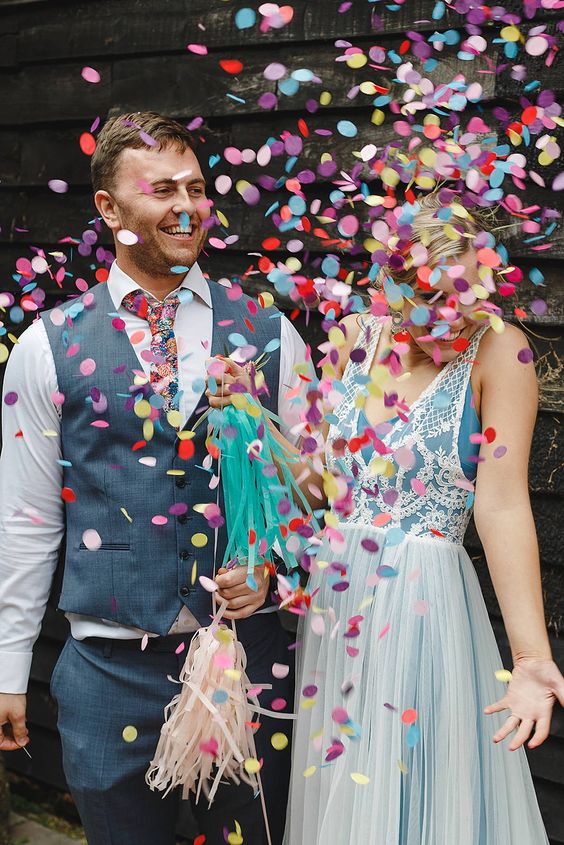 Photo by Hannah Green
If you don't see the party ending with fireworks, try confetti balloons. The guests can pop them before your grand exit to let your last confetti dance float in the air.
Animals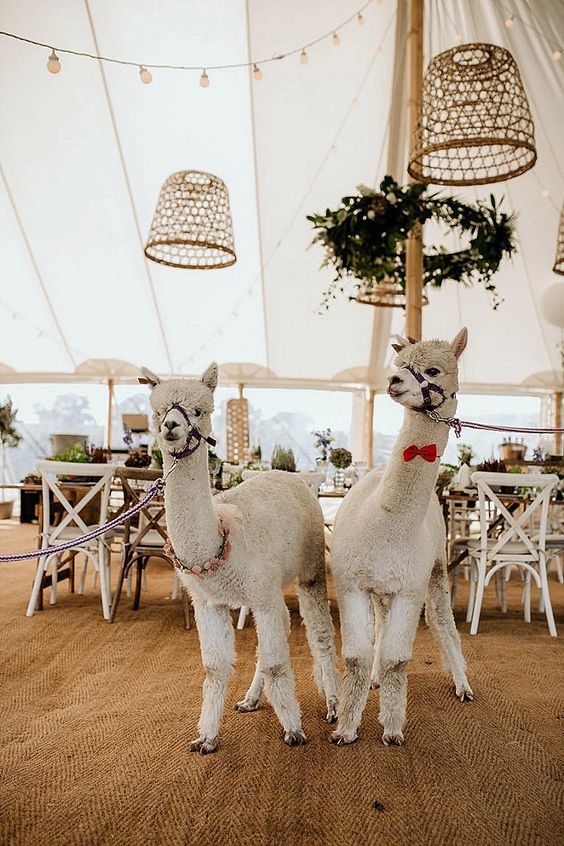 Photo by Elena Popa
If you've chosen an outdoor celebration, set up a petting zoo. The guests will definitely love to make friends with the cute and fluffy animals.
Bouquet Throw
Photo by Kylee Olivia
This is one of the oldest wedding traditions, so don't hesitate to embrace it.
Table Charades
If you think that this one is great only for family parties then you should certainly try it at your wedding to see how everyone will be happy to participate.
Champagne on Wheels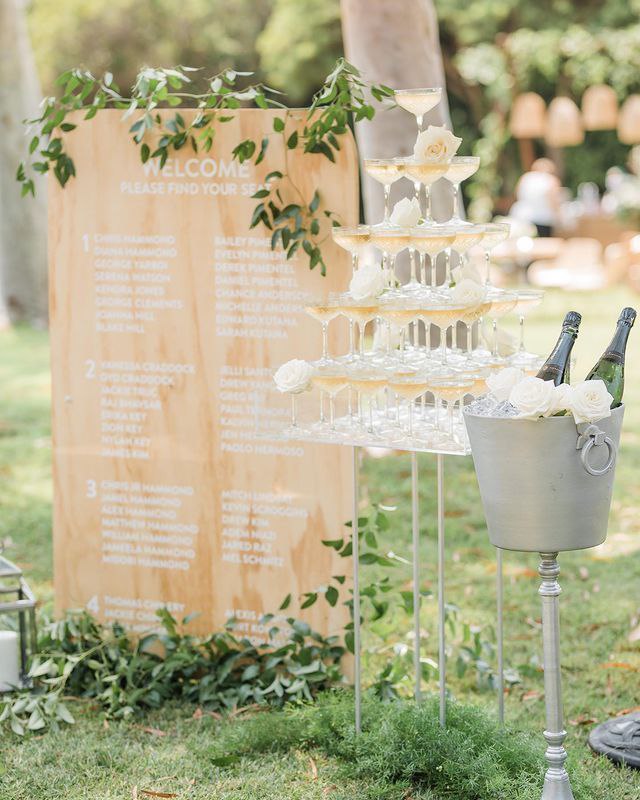 Photo by Jennifer Hunter-Costa
Is there any proper way to serve a sparkling drink? Even old rustic carts or vintage vans are great for delivering champagne.
Rock Show for Wedding Dances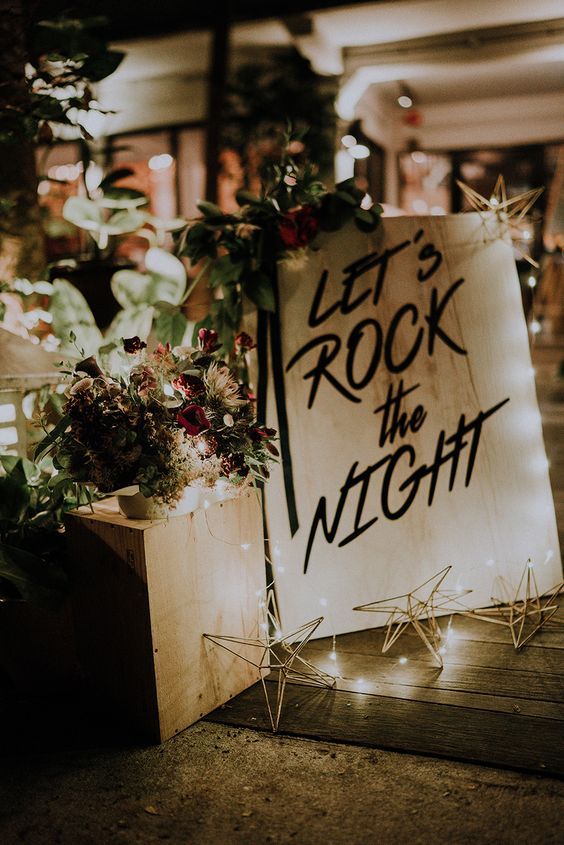 Photo by Joy De Vi
Can you imagine a first-class party without dancing? Prepare a dance together with your friends or just let the guests relax and show some artistic moves.
Drummers
Hire a professional drummer to create the beat for the music, and your guests will have no other option but to jump onto the dance floor.
Duck Racing
A classic game everyone enjoys. Let go of the rubber ducks and see who's the winner.
Guess who?
Just leave the playing cards on the tables for guests to have fun between toasting and dancing.
Doughnut Tower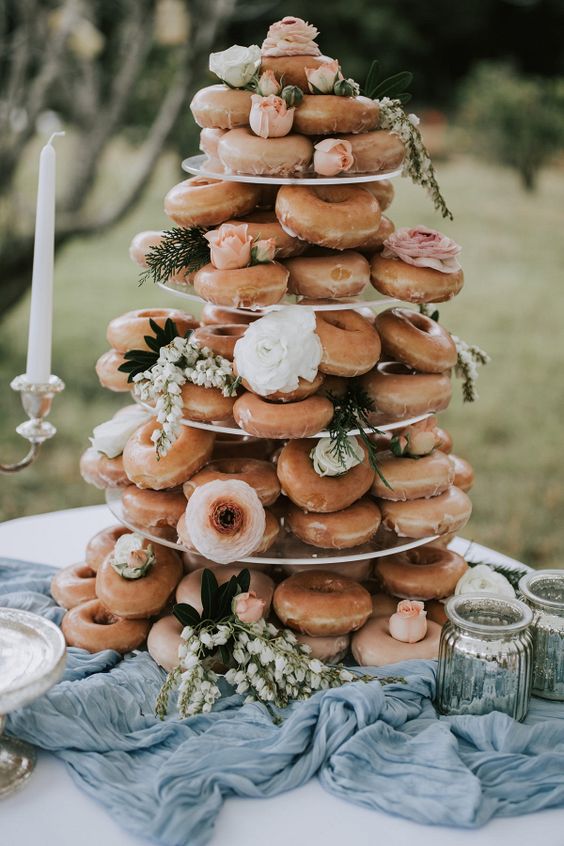 Photo by Salt Media
A delicious treat your guests will love to grab to stay energetic.
Silent Disco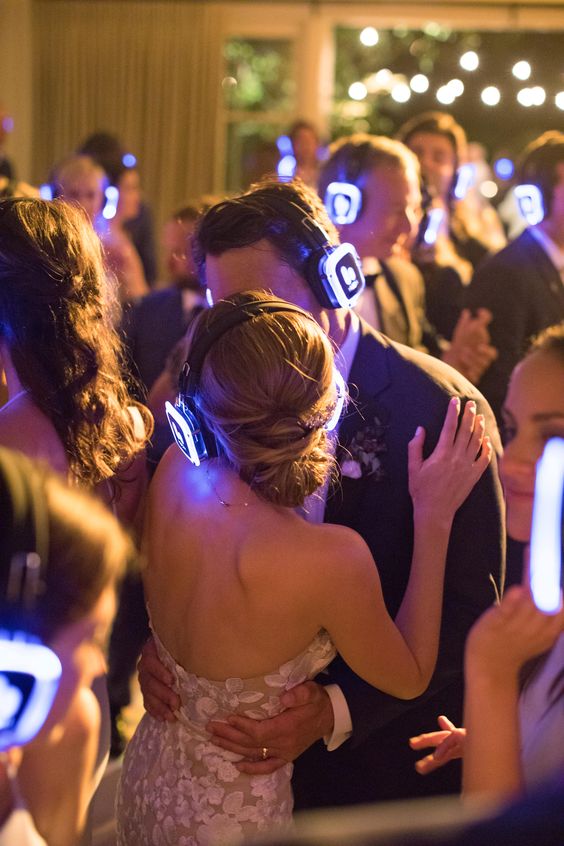 Photo by Meg Smith
If your wedding venue does not allow loud music after a certain hour, silent disco is your option. All you need is headphones and playlists to choose from and the party will last all night.
Wedding Crackers
Remaster a holiday tradition and create wedding crackers. You can even create personalized ones with a special message for every guest inside.
Easy Origami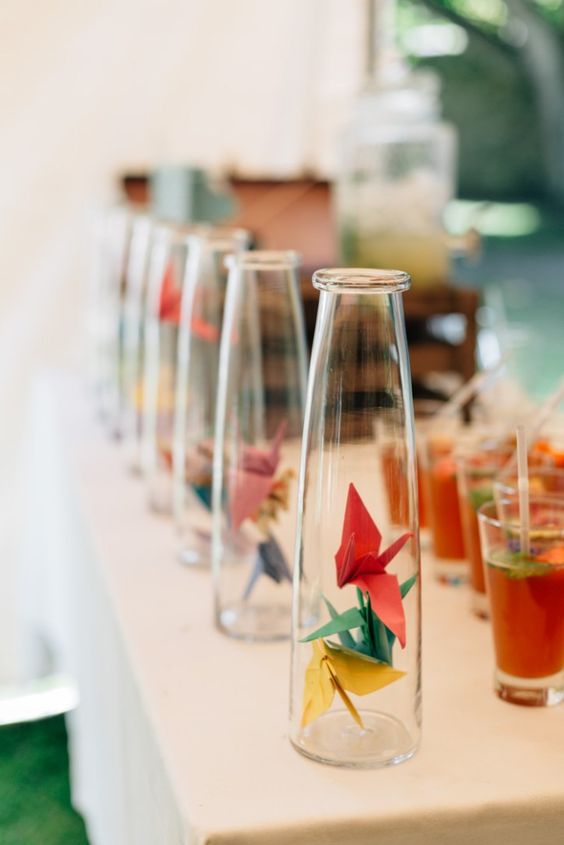 Photo by Janice Yi Photography
It is always entertaining to craft something together, so why don't you offer your guests to create simple paper cranes?
Line Dancing
It is a great opportunity to create a festive atmosphere and invite everyone to participate.
Slideshows
Your guests have gathered to celebrate one of the key milestones in your life. Get a bit sentimental and show a slideshow to share  important moments of your life with others.
Silhouette Artist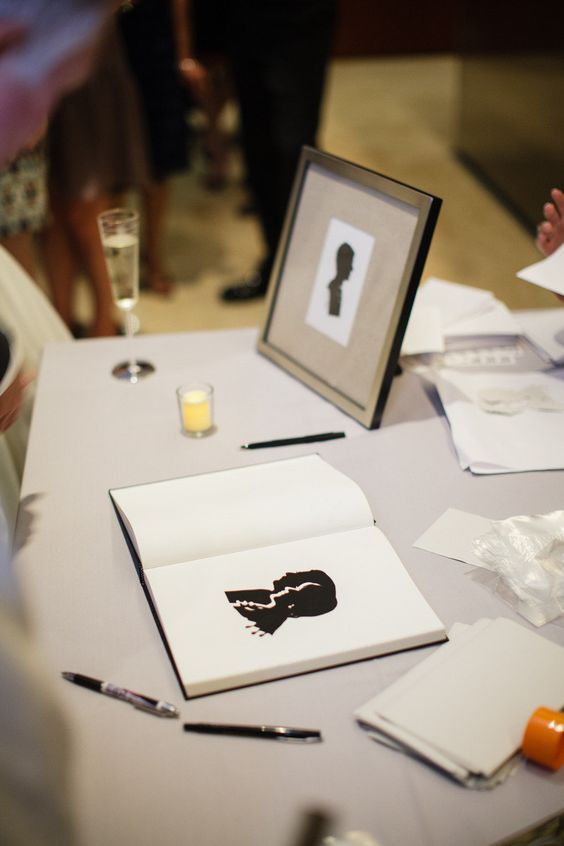 Photo by Koby Brown
Make your celebration memorable and hire a silhouette artist. This rare and unusual entertainment is unforgettable.
Champagne Tower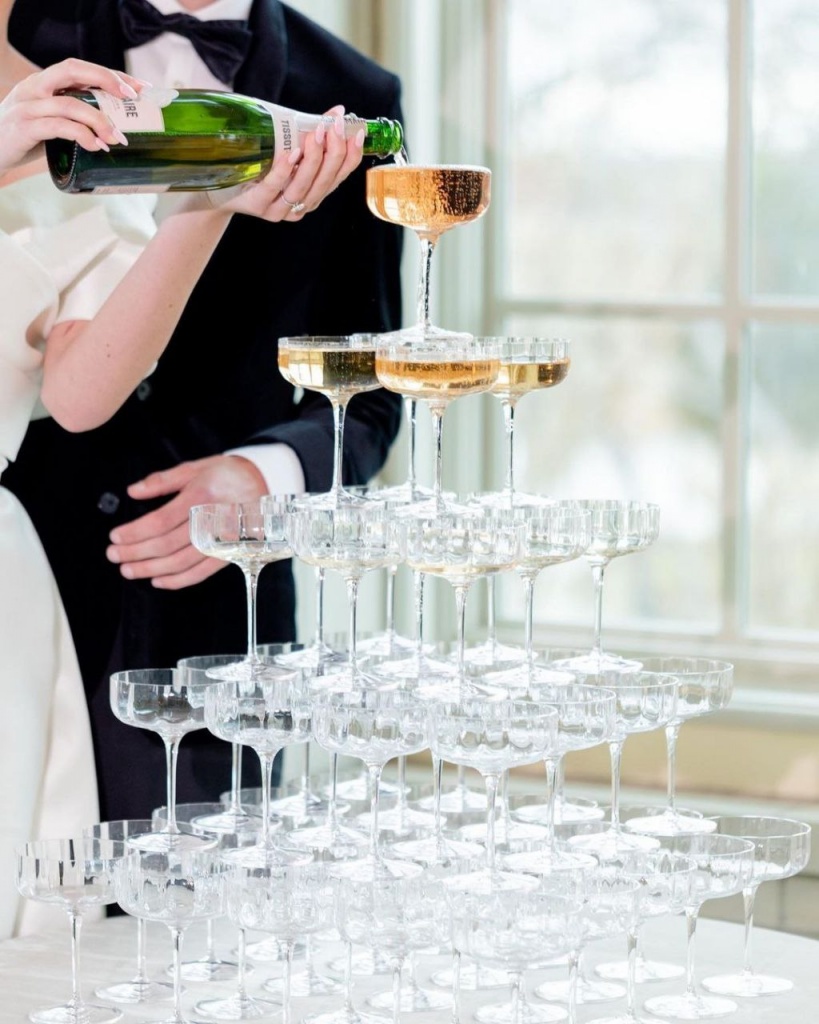 Photo by
Ashley Ice
If you aim for stunning wedding photos, you definitely need the magnificence of the champagne tower. Watching the golden liquid pour down is simply mesmerizing.
Father-Daughter Dance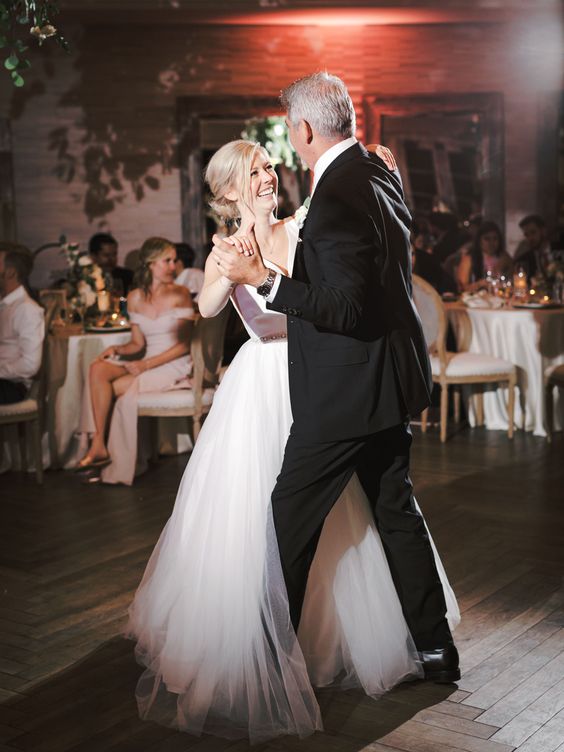 Photo by Cavin Elizabeth Photography
Dance with your father while the guests watch you in awe.