47 Best Wedding Venues In Chicago
Publication date:

22/10/2022

Updated:

01/05/2023
Chicago is the city of skyscrapers, the Windy City, the city of theaters, and the birthplace of jazz. There are countless luxury and simple hotels, restaurants, and cultural spots. Finding the best wedding venue in Chicago is essential, so we've rounded up over 40 ideas for your wedding celebration.
7 Best Luxury Wedding Venues In Chicago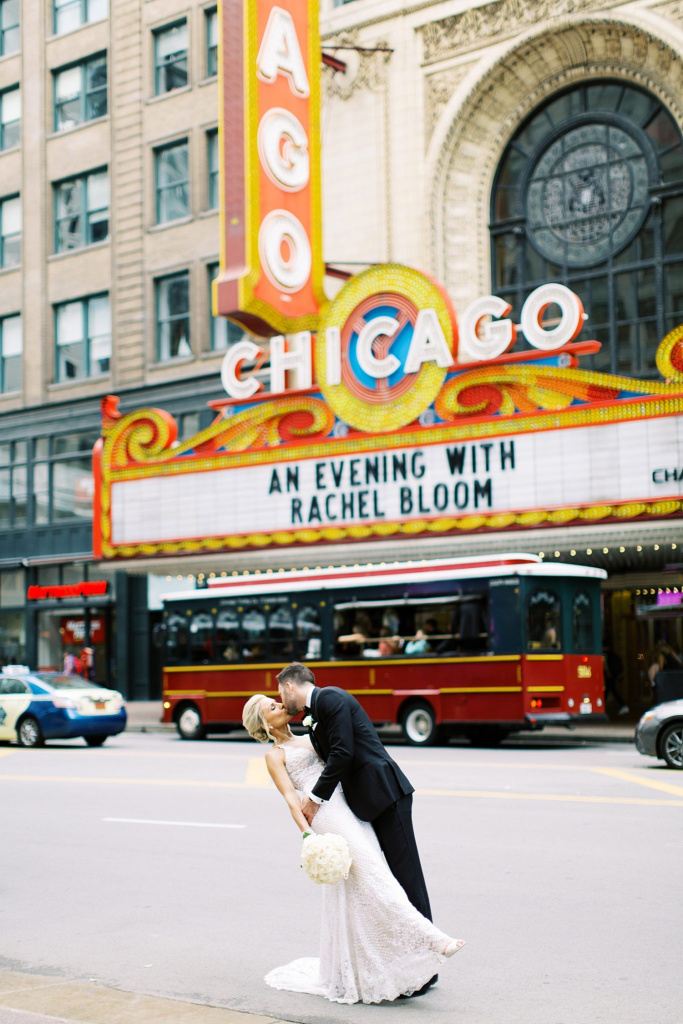 You must think about the most luxurious locations in town if you've dreamed of a lavish wedding. The prices there are higher than in many other places, but it is often a reasonable overpay for the extravagant decor, professional service, and exquisite dishes. We have selected 7 luxury spots in Chicago for you:
LondonHouse Chicago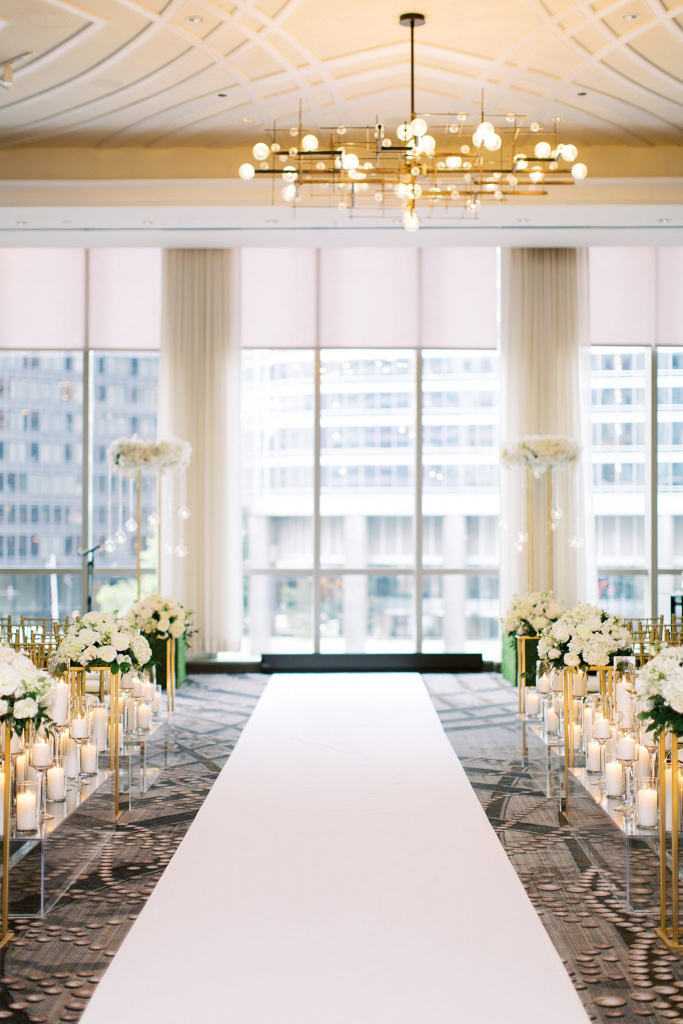 This place is on the list of top wedding venues Downtown Chicago. It is designed with huge windows, towering skyscrapers, and the river beyond the ceremony place. It's also an interesting opportunity to set a very modern wedding, or successfully combine modern style and classic.
The Langham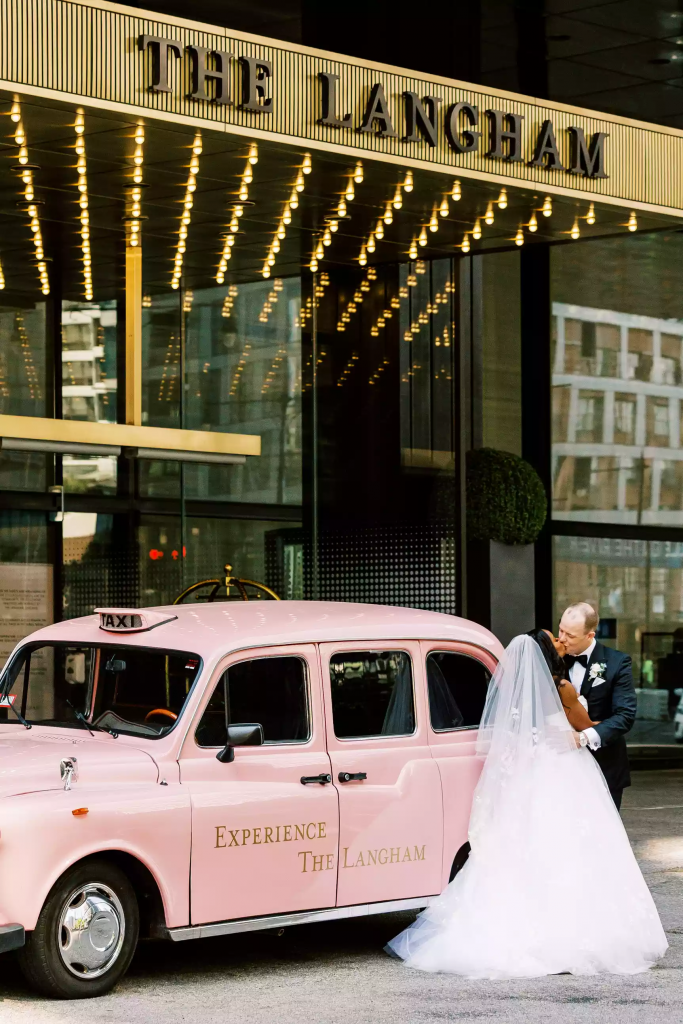 This lavish hotel is one of Chicago's newest wedding spots. It has a great location right next to the waterline and Magnificent Mile, home to expensive boutiques, shops, trendy restaurants, as well as historic buildings and attractions. Picking this location is an excellent opportunity to do a Chicago photo shoot near the spot of your celebration. This hotel has a lot of advantages: impressive illumination, waterline location near the park, recreational areas, open terrace, the cultural and historical center.
The Dalcy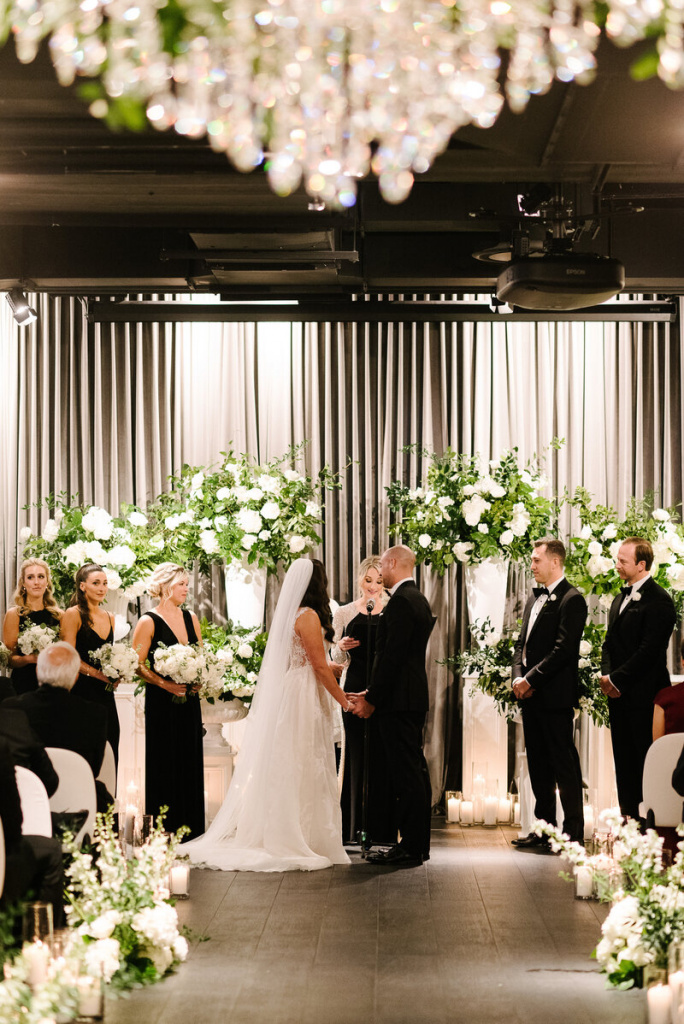 This location boasts of its culture because it is based in the city's historic Fulton Market District. The building was restored to retain the period decor: brick walls, arched windows, Italian porcelain floors, wooden columns, curtains and drapes. This spot has dozens of designer installations for luxurious photos, 10,000 square feet of celebration areas, a rooftop patio, a professional sound and lighting system, and a personalized menu. The guest capacity here ranges from 30 to 600 people.
The Ivy Room at Tree Studios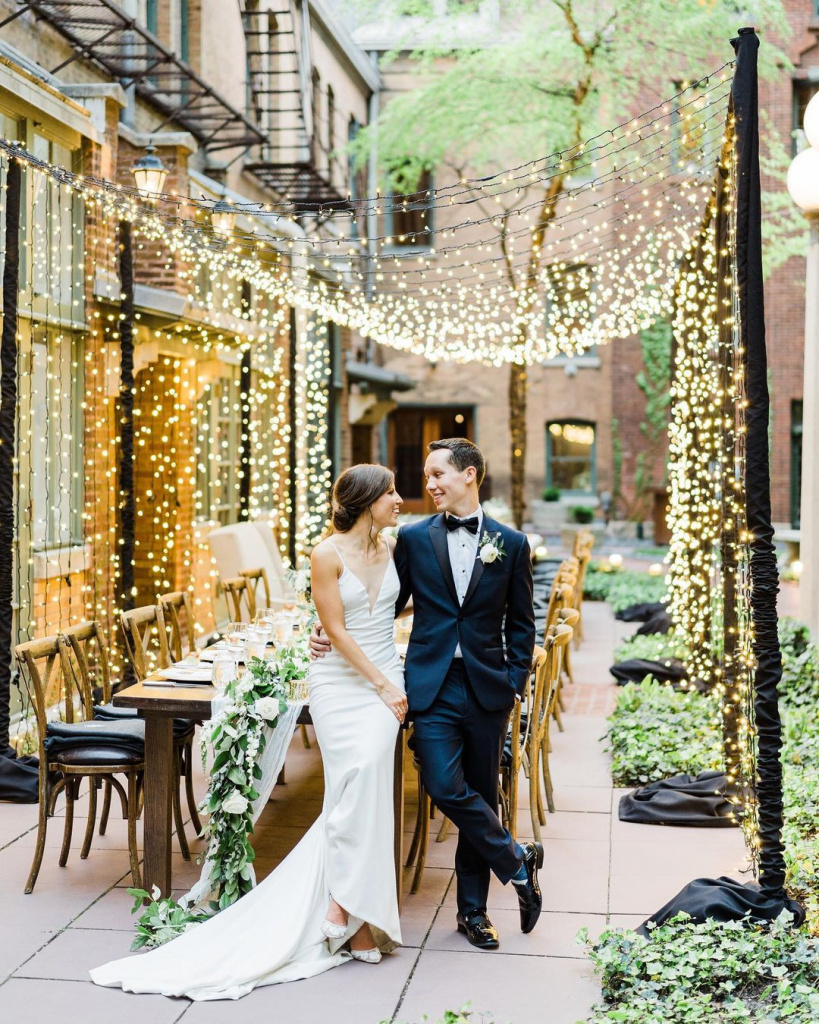 This location is also in the heart of Downtown and has the distinct advantage of a gorgeous garden. Ivy weaves around the building, so all group photos there will get some natural charm. Celebrating in this place allows you to make a modern urban wedding with touches of nature. The gardens and ivy are already a large part of the decor. There is also a recently restored hall for celebrations, historical locations, greenery, and trees in the middle of the city.
Museum of Contemporary Art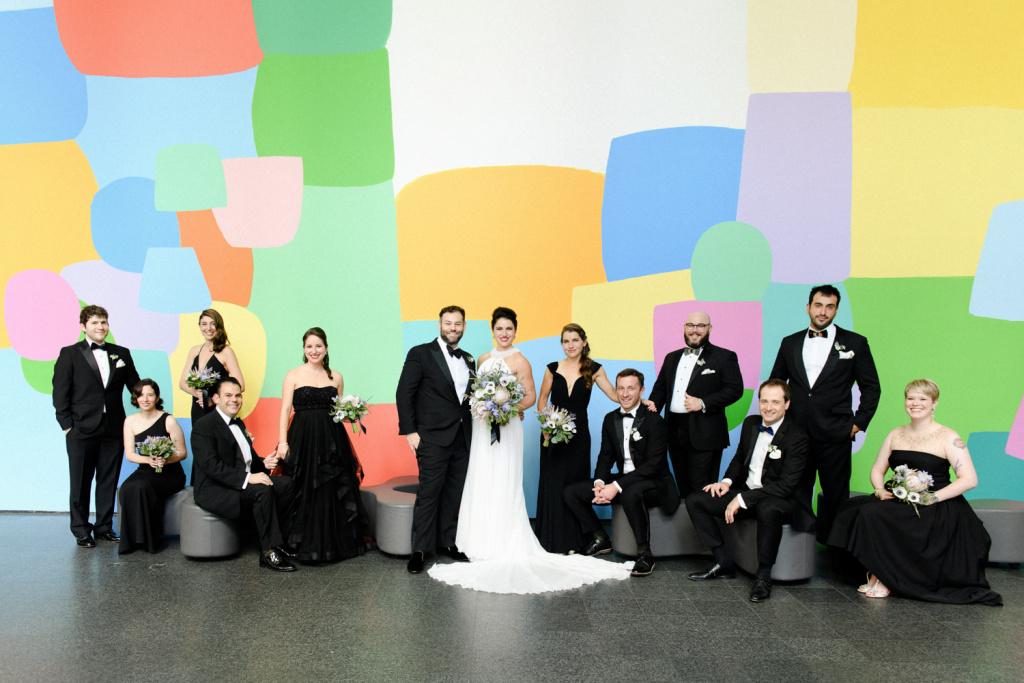 This location is extremely spacious. You could easily be mesmerized by the sculptured gardens, the huge sundeck, and the waterfront views. At this location, you can successfully fulfill any of your decor wishes. This museum has a large outdoor area for celebrations, a large garden, and a museum.
Chicago Illuminating Company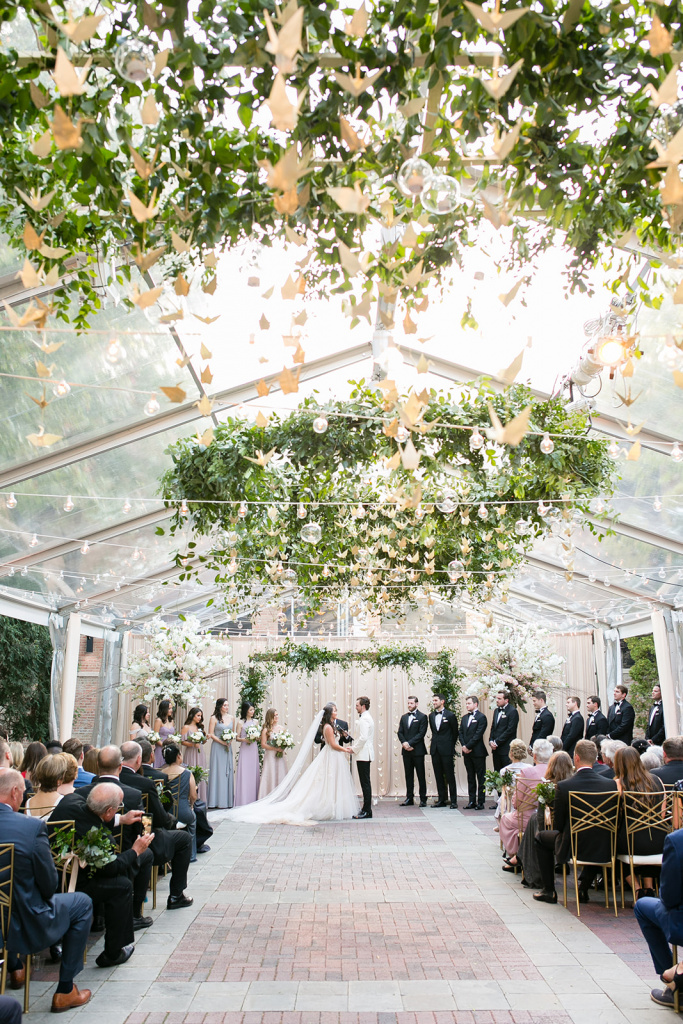 This location is ideal for loft and rustic-style weddings. The red massive door is the very first thing you see upon entering. It transports you to another world. Outside of the establishment is the bustling city, and dense green gardens inside. This location makes it possible to use a lot of greenery, flowers, and small lanterns in the ceremony. A tent in the outdoor area for celebrations, a garden ceremony, and creative lighting are good advantages.
Revel Fulton Market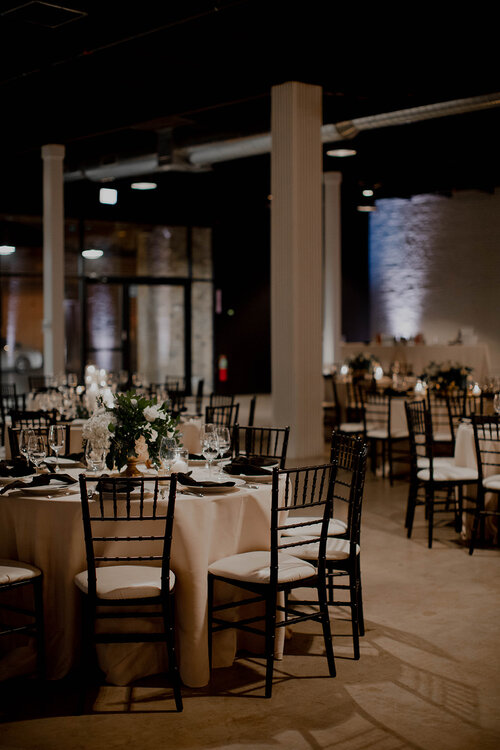 This location can be safely called completely unconventional for luxury weddings because it is a restaurant in an industrial facility. This place has a unique industrial charm, where you can turn a gigantic area into a wide hall for celebrations.
Each location has its own decorations, but each is also known for its impeccable food and assistance as well as a large menu of drinks.
5 Best Wedding Venues Near Chicago
The best locations for a celebration contain lots of free areas and special comfort facilities. These aren't always easy to find in town, so we've written a selection of 5 best locations less than 50 miles from Chicago.
Georgios Banquets, Quality Inn & Conference Centre
You cannot find a more gorgeous location near the Windy City. The owners renovated the hotel just in 2021. It has large chandeliers and beautiful lighting in festive halls. This place has zones for celebrations both inside and outside the building. Georgios Banquets, Quality Inn & Conference Center has also won numerous awards.
Concorde Banquets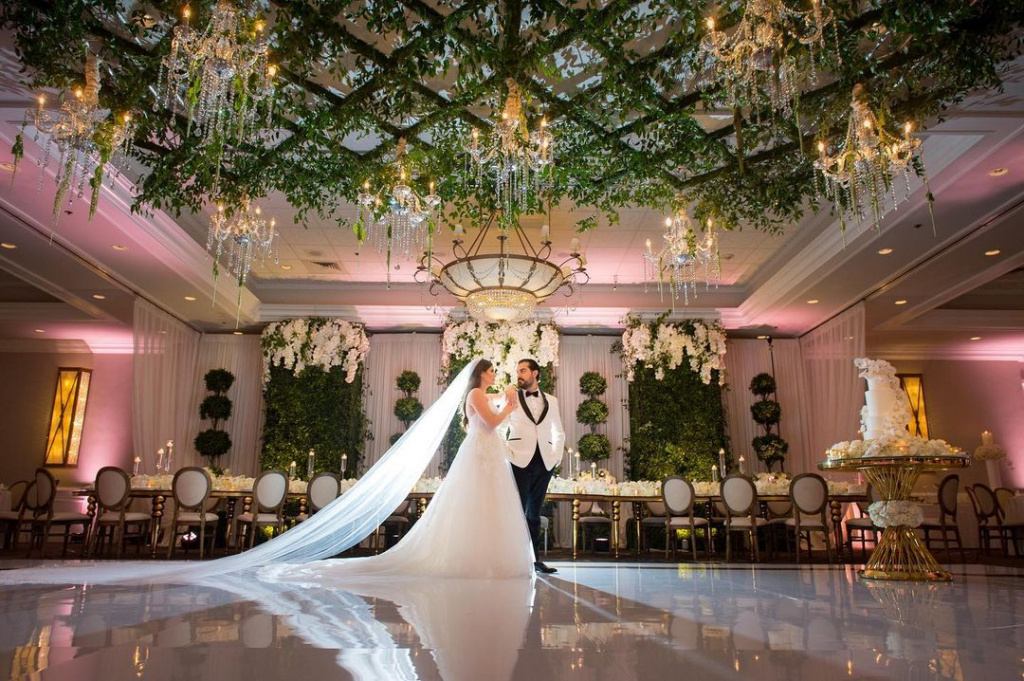 This excellent place is 40 miles from Chicago. The building is made in a classic manner. All decor is adjusted for events: spacious bright halls, light fabrics, and purple lights.A lot of greenery grows around the territory as well as many swans. Your guest could chat in cozy gazebos.
Hotel Baker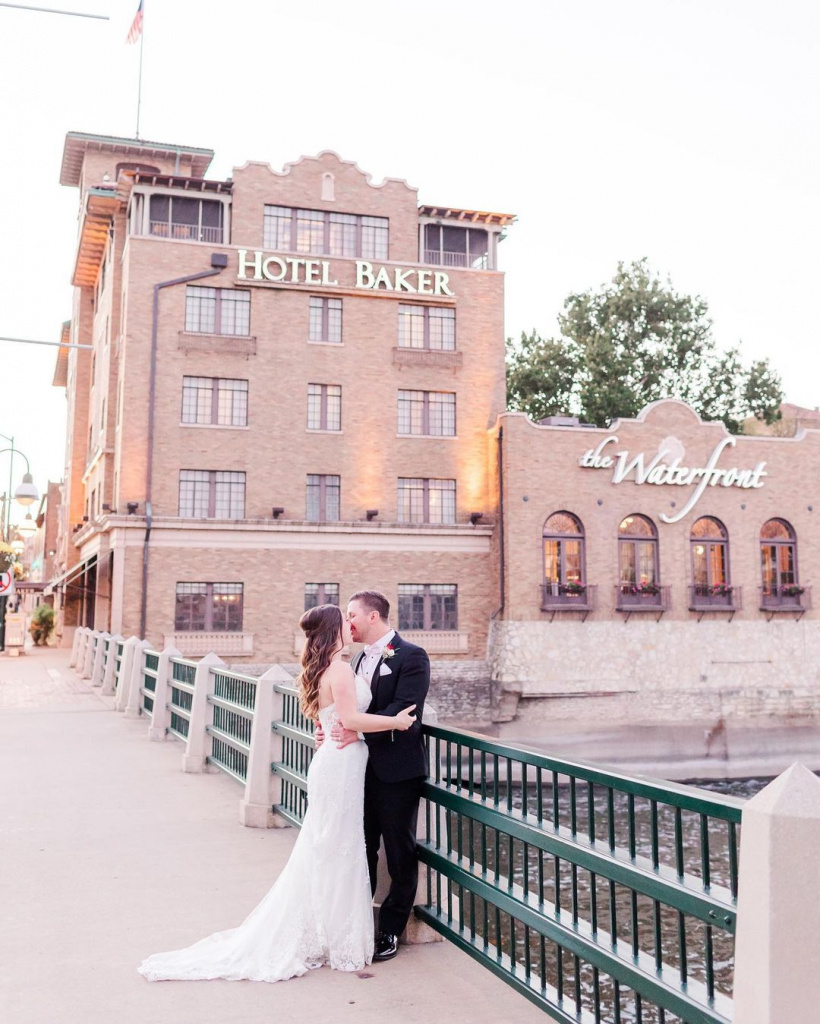 The National Register of Historic Places includes this riverside hotel. Gatsby's wedding style will look incredible in such an ancient and magical place. The great hall, waterfront patio, marble floors, and French doors are made in European style. There is a SPA in the hotel as well.
Mirage Banquets
At this location, pairs could select one of several halls for their celebration. The hotel configuration looks particularly elegant with hanging draperies and curtains. You could select their chairs, tables, and glassware according to your decor.
The Seville
A luxurious location with elegant style: 25-foot ceilings, sparkling heavy chandeliers, double staircase. Photos in such decorations look very vintage. There are both indoor and outdoor places for festivities.
5 Most Beautiful Wedding Venues In Chicago
Not everyone has the desire and opportunity to spend crazy money on a wedding celebration. If you want to hold a small ceremony with your loved ones or make your celebration simple and concise, then our next list is just for you.
Stan Mansion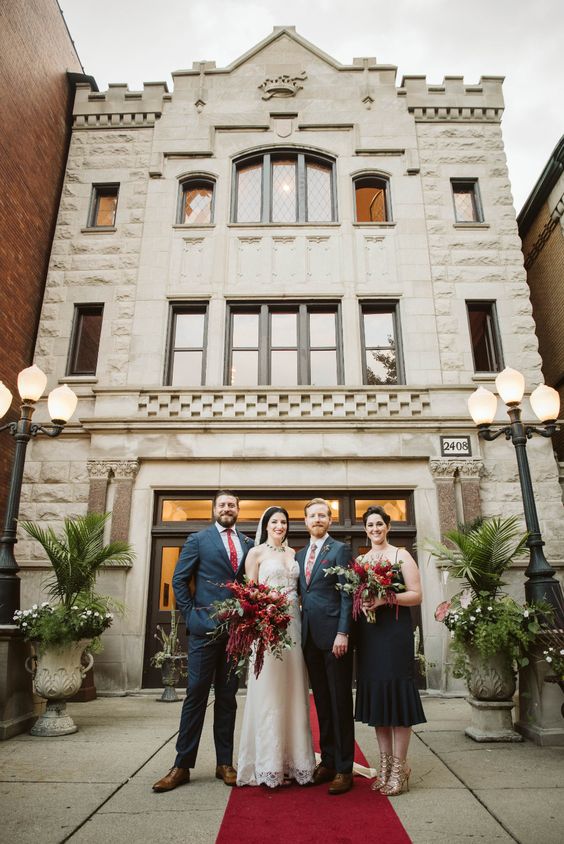 The historic 1920 building is located in one of Chicago's oldest neighborhoods. The building's design features 32-foot high ceilings, which create a ballroom palace impression. Celebration areas are available on several floors.
Pro: castle design, high ceilings, restored architecture.
Guest capacity: up to 400 people.
Chicago Athletic Association Hotel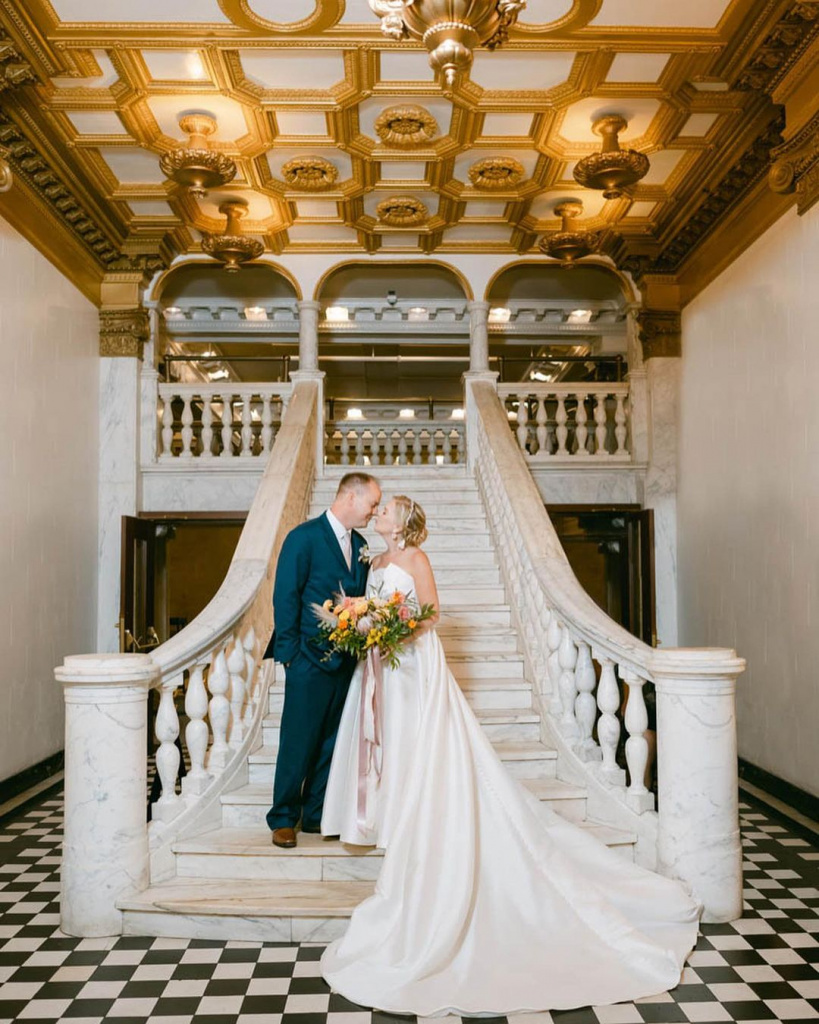 This Inn is part of the Hyatt hotel chain but has unusual Venetian Gothic architectural features. The area of the resort is more than 17 thousand square feet. You can also see unusual compositions everywhere on the territory and the entire Millennium Park from one monument.
Pro: 7 elegant halls for celebrations, 7 bars and restaurants, 241 rooms for accommodation, and an interesting heritage.
The Arbory Chicago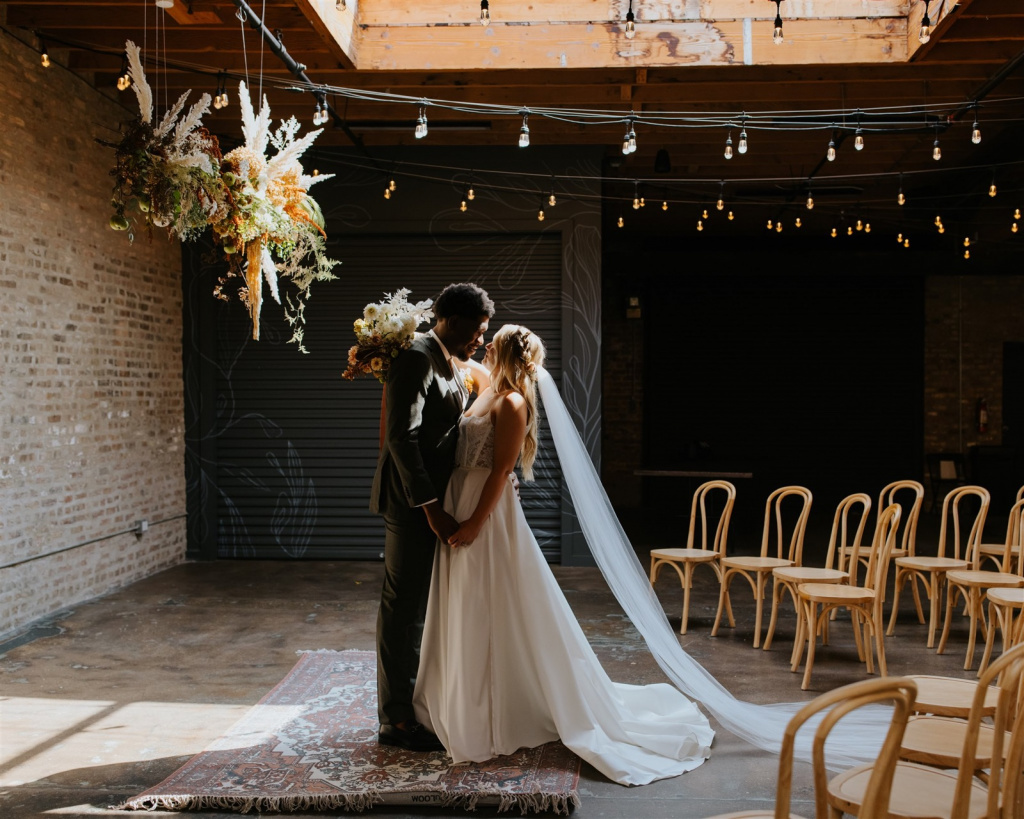 This place is based in the historic part of the metropolis in a 100-year-old industrial facility. The renovation was made in the style of New Orleans. There are a lot of brick fences and natural light in the design, so the total outlook is ideal for loft and trendy celebrations.
Pro: 2 large celebration spaces, 20 wooden tables, many lounge areas.
Carnival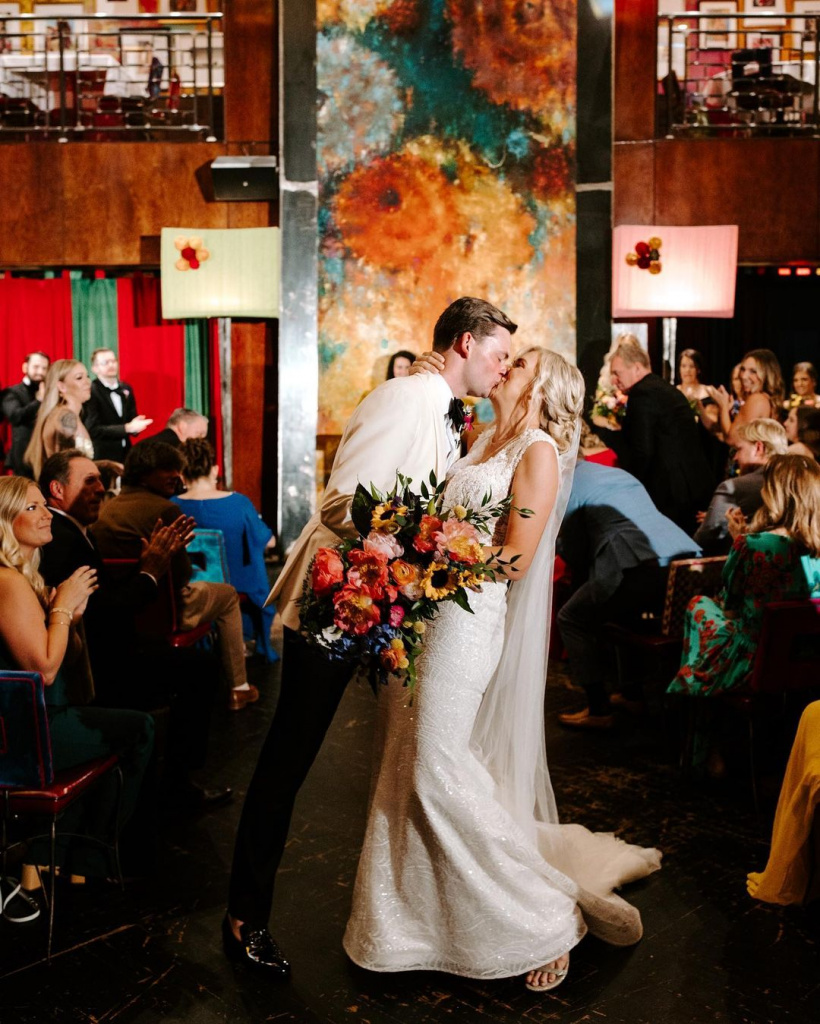 Carnival is an extremely unusual location. The entire decor is made in bright carnival colors, and there are many lanterns and kaleidoscopic paintings. Even the upholstered furniture in this location is in different colors. Weddings in pin-up style will look just cool here.
Pro: bright carnival colors, world cuisine with a Latin focus.
Salvatore's Wedding Venue
This place is based in Lincoln Park. The entire design is made in white colors and dark wood. The atmosphere of the park and light give this place an Italian charm.
Pro: an enormous walking area, cozy historical place.
2 Best Chicago Wedding Venues On A Budget
The next two spots we will talk about are the most budget-friendly venues on the entire list. However, these are great locations for your small or loft wedding, so consider them as well.
Trigger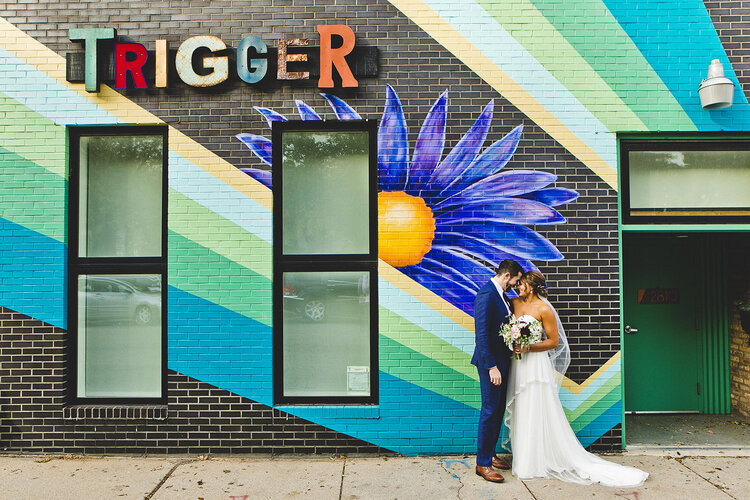 This location has its city-life vibe. There are 5 thousand square feet of outdoor space, which you could decorate in unusual ways. One more benefit is that the location is pet-friendly, so you could celebrate with your four-legged friends.
Pro: loft, huge open space with wooden floors, pet-friendly.
DANK Haus German American Cultural Center
This historical location was built in 1927. The design contains many stylish architectural details that fit into various decorations.
Pro: a spacious hall for dancing, a historical place-museum, 300+ guest capacity.
These two hotels are considered a very cheap option, but that doesn't mean they have worse service or you'll have a worse experience. You can think about them also for your rehearsal dinner.
16 Best Wedding Hotels In Chicago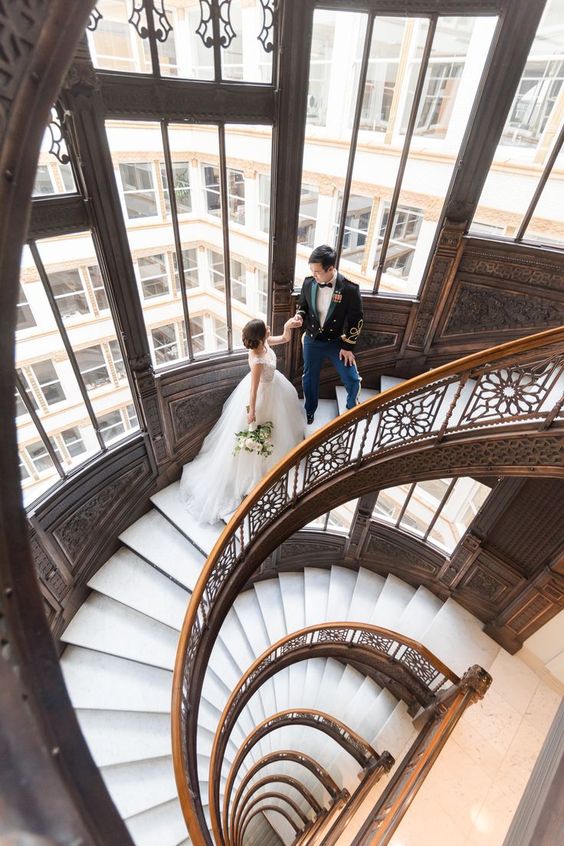 When preparing for a wedding, it's important to remember about the accommodation for guests. We have selected 10 best hotel wedding venues in Chicago. Some of them we've already mentioned in more detail, but we cannot exclude them from the list:
LondonHouse Chicago
The Kimpton Gray Hotel
Loews Chicago Hotel
The Langham
The Dalcy
The Ivy Room at Tree Studios
Chicago Athletic Association Hotel
Chez Hotel
The Drake
Waldorf Astoria
Congress Plaza Hotel
InterContinental Chicago Magnificent Mile Hotel
Hyatt Centric Chicago Magnificent Mile Hotel
Royal Sonesta Chicago
JW Marriot Chicago
Hotel Baker
Each of these hotels has its own completely unique design. Sometimes the bride and groom just need to see it to fall in love. These hotels are also the best hotels to get ready for a wedding in Chicago if you maintain a morning photo shoot.
12 Best Outdoor Wedding Venues In Chicago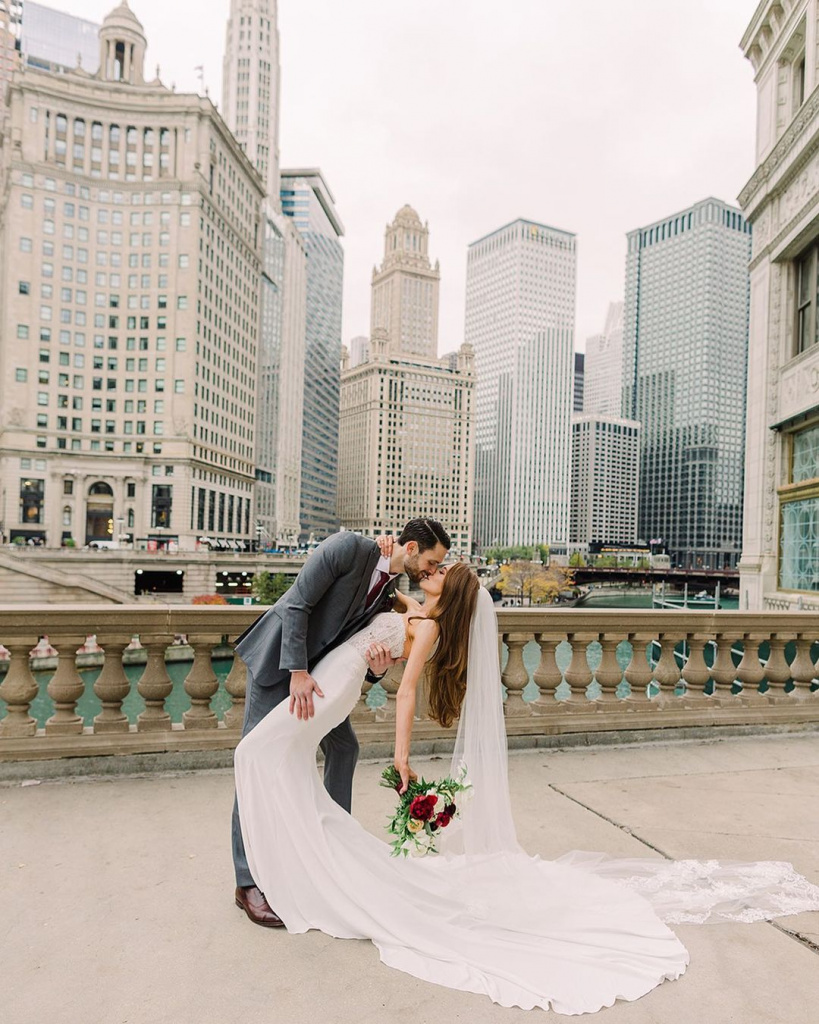 It's rare to discover a place with a beautiful and cozy yard or terrace in a bustling place like the city center. For those who want to allow guests to enjoy a quiet evening with a pleasant conversation, the option with covered patios or roofs is the most suitable.And you can take a lot of memorable photos in such locations.
We have selected 12 best places to celebrate an outdoor wedding:
Museum of Contemporary Art
The Old Post Office
City Cruises Chicago
City Winery Chicago
Zhou B Art Centre
South Branch
Prinstipes Chicago
Pendry Chicago
Architectural Artifacts Inc
Formento`s
The Study at University of Chicago
W Chicago Lakeshore
Remember that photos and videos of the most important day of your life will include shots with your location design, so choose the best one for you.