Top Spring Wedding Photo Ideas
Publication date:

04/15/2022

Updated:

02/06/2023
Spring is the most flowery season of the year that represents renewal, rebirth, and new hope. The days get longer and warmer, the colors get more vibrant, the flowers begin to bloom, and the desire to be outdoors increases. At this time, your wedding day will be full of romance, colorful palette, energy and joy. What is more, the sun's rays shine, a clear blue sky and a vivid nature will ensure that you can get the most beautiful pictures of your wedding photoshoot. Many elements of nature can be included in your wedding photography to capture the best moment of your life.
All these wonderful reasons make spring the favorite wedding season among newlyweds. Here we recommend you get inspired by the top spring wedding photo ideas!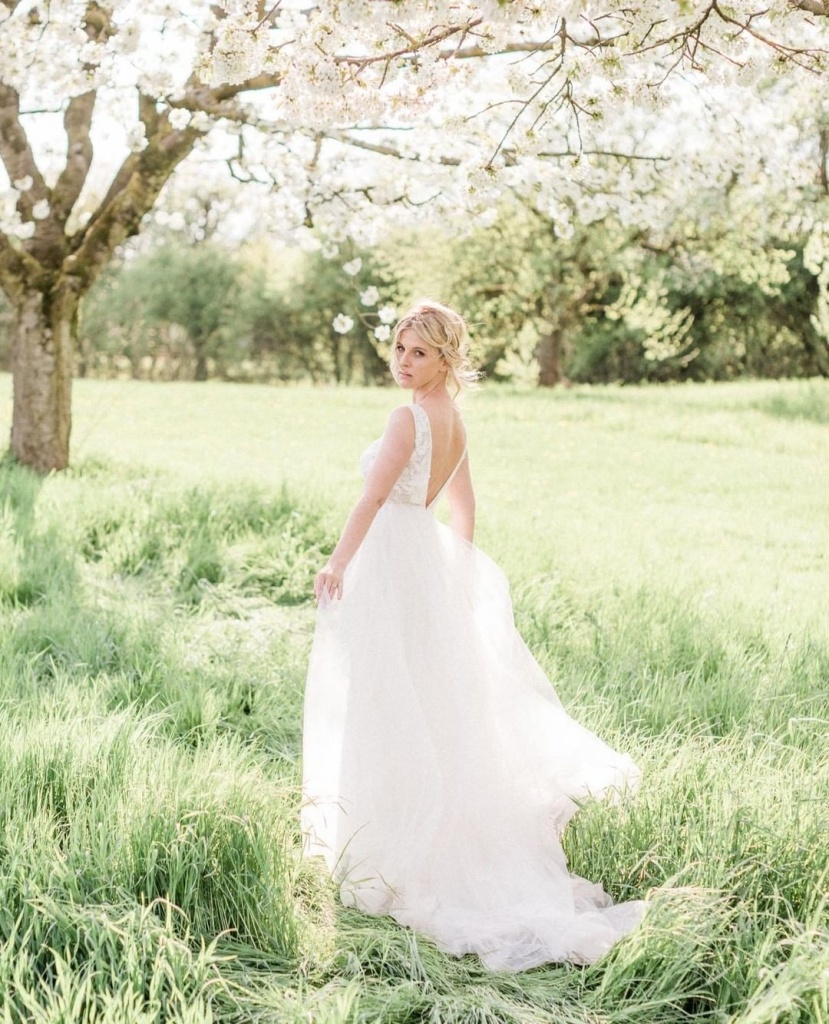 Pastels and Green In a Spring Wedding Photosession
A spring wedding photosession is primarily about photos taken in places where nature comes to life. Blooming orchards, green flower-strewn meadows, and magical lush forests are the best dramatic backdrops that will make your spring wedding photography unusual and charming. All these places are filled with a wide palette of colors. However, the main color of spring is green with all its shades. It can be perfectly combined with neutral pastel colors, creating a light and airy spring mood. Moreover, one cannot fail to mention apples and cherries in bloom, associated with childhood, happiness, and something ethereal, like a bride. The elegance of their white or rose flowers adds a beautiful and magical atmosphere to your wedding photoshoot.
What can be more beautiful than a newlywed couple walking through a spring fruit orchard or garden, holding hands and expressing love and happiness? These photos will be the best memory of your wedding day.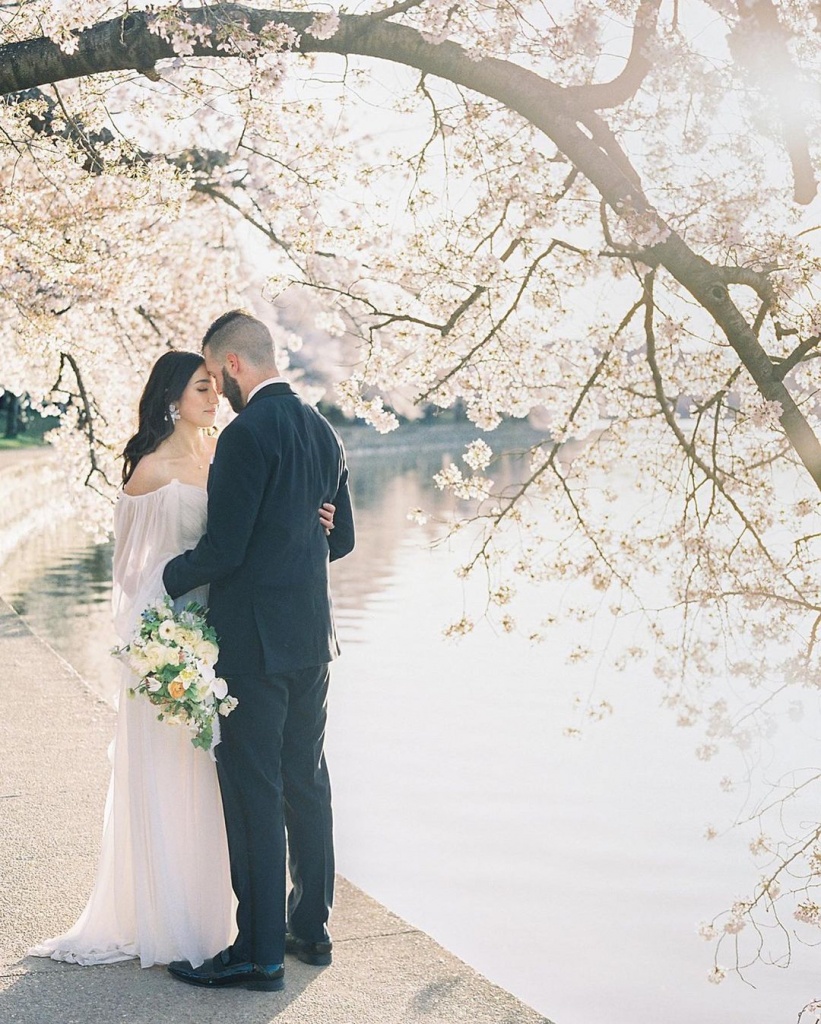 Colorful Palette For Weddings In Spring
Spring may remind you of blooming flowers, green fields and April rains, but as for the wedding season, it is all about the fresh and bright colors that mean the beginning of a new life. When it comes to choosing a color palette for a spring wedding, newlyweds are no longer afraid of using bright shades. Instead, they accentuate their wedding with vibrant colors, such as hot pink, mint green, denim blue, mustard yellow, or even pumpkin orange.
Although, you don't have to give up earthy or neutral palettes. Let's take a look at ivory, cream, champagne, beige, powder pink, and baby blue. Playing with the colors is a great inspiration for creating a unique wedding design that will look trendy in your wedding photos.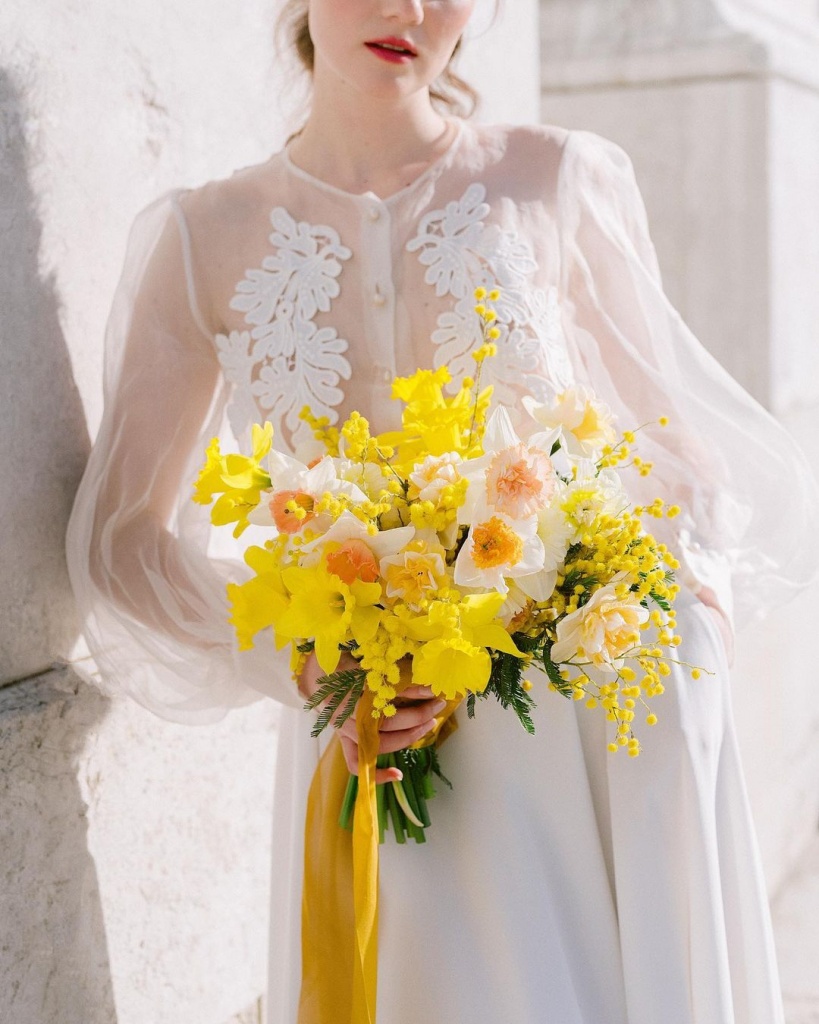 Soft Place Settings
Nowadays, it is becoming more and more popular to take photos of the setting to capture the smallest details of the wedding day. A white tablecloth, elegant glasses, plates with a metallic lip edge, silver or gold cutlery, decorative napkins, a floral centerpiece, and other decorations will look gorgeous in your wedding photos. As for a spring wedding, the best option is a soft and delicate table setting that will bring the spirit of the season to your reception. Try to choose the design of the wedding table in shades of pastel colors as they are always associated with love, tenderness and subtlety. Light shades of pink, green, yellow, or blue add a touch of romance to any wedding decorations, while gold gives the table setting a flair of sophistication. In addition, a spring flower arrangement is a beautiful object that makes the environment more charming and magnetic.
So, don't hesitate to include photos of the wedding table in your photo album.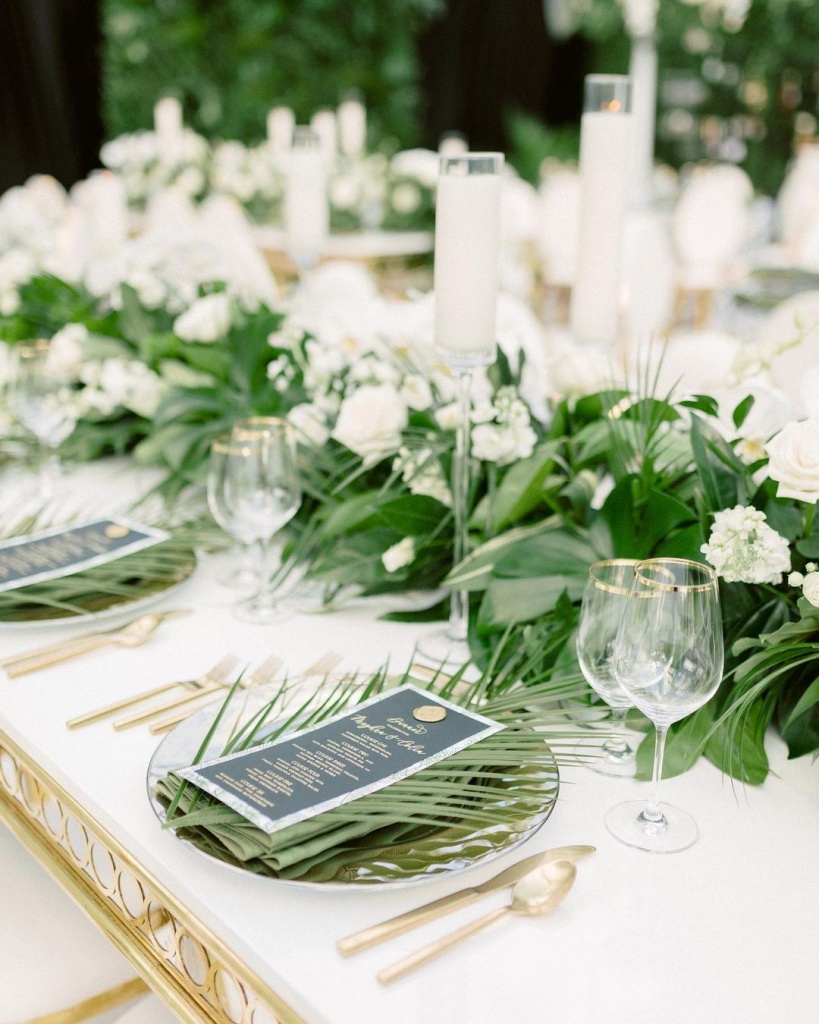 Memorable Centerpieces
Traditionally, a wedding centerpiece is a floral arrangement in the center of a table, customized to the style of the wedding venue. Searching for the best wedding photo ideas of memorable centerpieces is a real challenge. Whether you have round, square or rectangular tables at your banquet, creative centerpieces will make them look truly worthy of being featured in your wedding photos.
A wedding photographer can take some photos of spring flower arrangements, including tulips, daffodils, hyacinths, lilacs, hydrangeas, lilies of the valley, or freesias. Try to arrange different flowers and add other design elements for a stunning result. You will see that nothing will surpass the elegance of a fresh flower centerpiece as its color, design, and pomposity always stand out in wedding photos.
Eventually, flowers have not only the power to bring beauty to the environment and delight the eyes of guests, but also they convey the unforgettable atmosphere of spring celebration in wedding photos.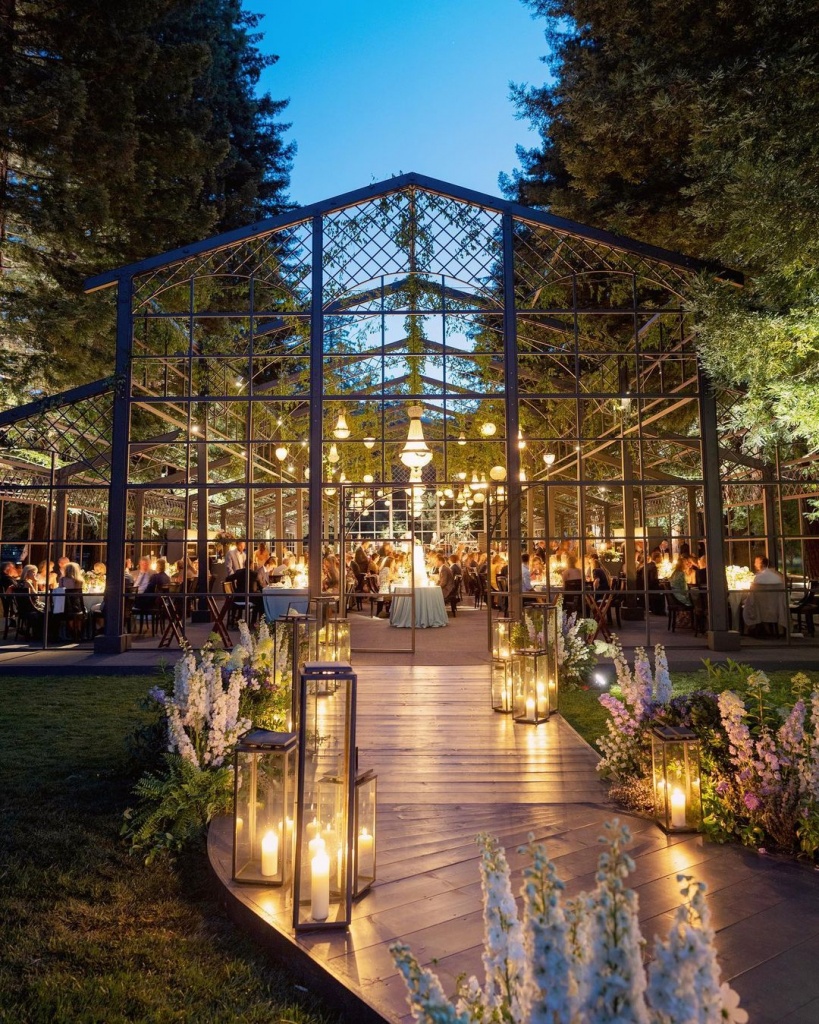 The Solo Bridal Shot
What can be better than the solo bridal shoot in the open air? Don't miss out on the gorgeous backdrops for a spring bridal photoshoot, like blooming orchards. It will look fabulous and feminine if a bride poses among white-flowering trees. Everyone likes wedding photos with the natural emotions of the bride. She looks radiant with a dreamy smile, moving hair and a great figure, walking, running, and laughing as a wedding photographer captures every moment of her special day.
It would be a great idea to complement the bride´s image with bouquets of beautiful and delicate flowers, such as lilacs, daffodils, lilies of the valley, snowdrops, or tulips, which will emphasize her passion and faithfulness, innocence and shyness, as well as love and affection.
If you use the spring beauty of nature correctly, the bridal photos will come out full of romance, tenderness, and sensuality. Keep in mind that the bride needs to feel relaxed and free to look good in wedding photos.