The wedding isn't just a fun party with friends and relatives. It's also a deep soul connection, a unity ceremony, religious, formal rites, and wedding toasts from guests. Parents or siblings always tell toasts first. The best maids and men are usually the ones who speak next.
Those friends who don't speak in public could be worried. You could complete every wish in your head, but they still can easily disappear the moment you start to talk. So you need to train and be ready. We've compiled the most comprehensive list of the perfect wedding wishes for the best man.
Best Man Speech Structure Examples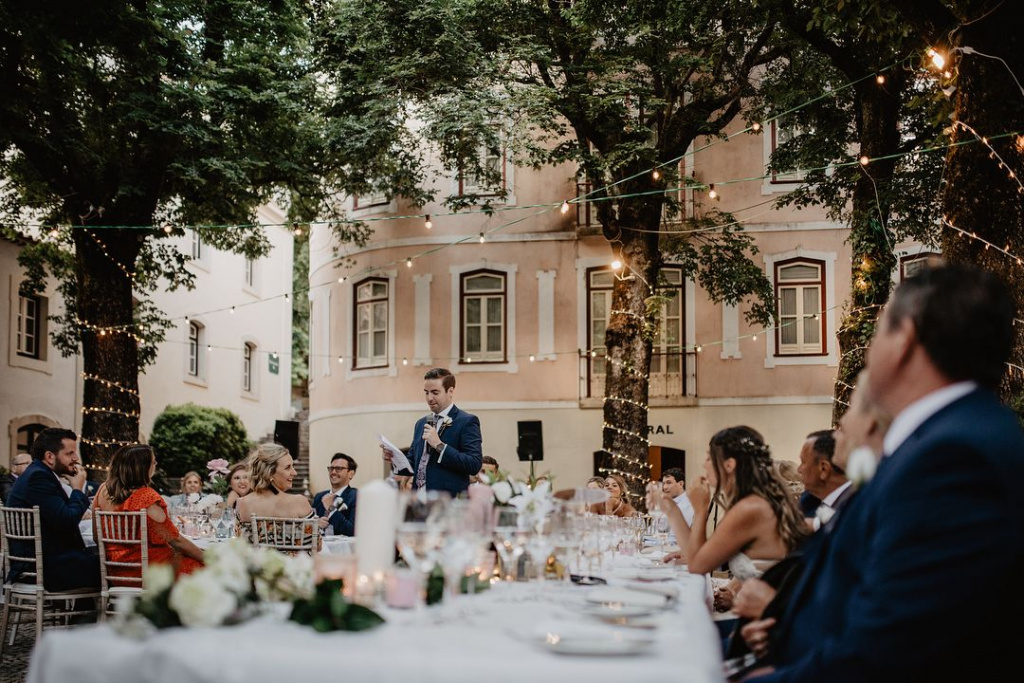 You need to understand the main structure of each toast before you complete the words of greeting. Note your text according to the plan. Speak for less than 5 minutes to hold the concentration of all guests.
Introduction
Wait for the most suitable moment of the wedding day timeline. Start with an introduction. The opening words should start with two short sentences about your relationship with the groom. Don't restrict yourself to facts and dates you met. It's better to add the first funny memory or an amusing situation that brought you together as friends.
Main part
You could choose 2 options for text. The first option is to thank the groom for his support, understanding, and joint achievements. It's necessary to highlight the features of the married couple you like the most. The second option is to concentrate on wishes. The ideal story must be connected to a fun event. You could describe how you were playing near the old tree house until it almost fell on the neighbor's beloved flowerbeds when you were kids. Associate wishes after this story with heavy materials for family construction, trust, and joint efforts.
Ending
This element is relevant for the version with wishes. It's definitely worth giving thanks to newlyweds at the end of the toast. Try to make this thank you unique. Think sincerely and tell about the situation when the friend seriously helped you avoid troubles.
Call to action
Do not forget to finish the speech by asking all guests to raise their drinks to a certain wish you talked about.
So, the quicker speech contains an introduction, mention, gratitude, and call to action. The prolonged speech version contains storytelling with wishes. To hold attention, you can arrange the toast with a video presentation, photo background, or a musical gift.
Best Man Speech Props Ideas
Speech props are just the item to help hold attention or visually provide your story with pictures and photos. It's especially true for childhood companions, classmates, or friends who've traveled a lot and have hundreds of pics together.
Use these props during your speech:
Video film.
Projector.
A song you composed yourself about your friendship.
Presentation with a photo collage.
Children's photo album.
Box of memories with things you have kept from your childhood.
Interactive records. Write some memories and ask the newlyweds to select one piece of paper. Then tell this very story.
The first gift you received from these married friends.
Memorable gift from you.
Bouquet or favorite sweets and snacks.
Flash mob from all buddies.
You could accomplish without all these props if such visual preparation seems unnatural. However, if you could sing much better and more sincerely than you can express in simple words, then don't hesitate to sing.
Best Man Speech Examples and Jokes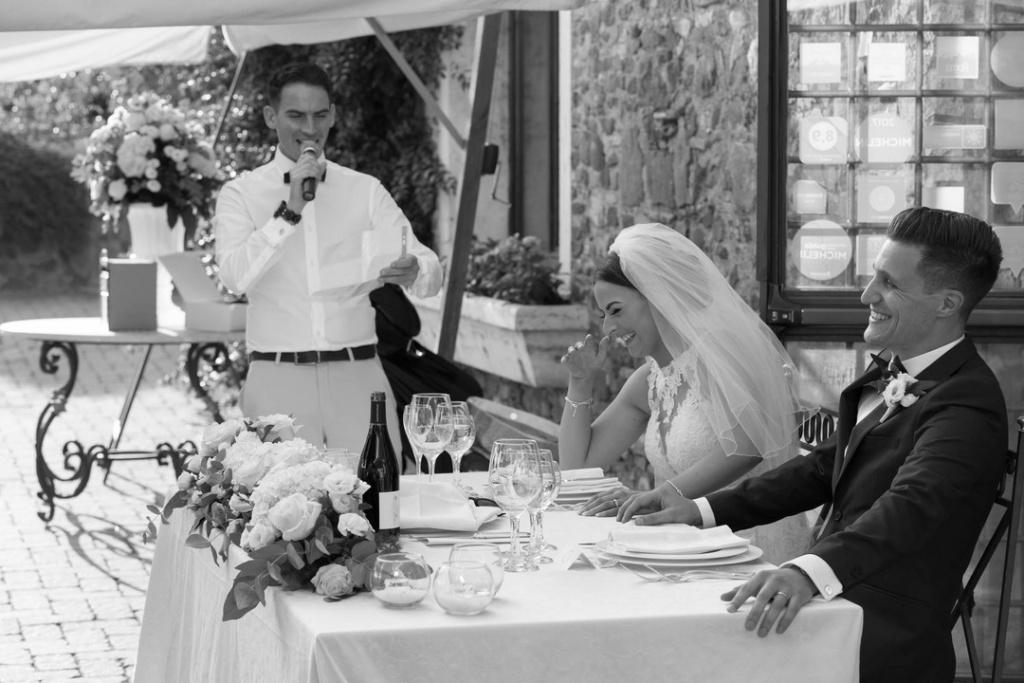 Jokes are constantly best supported by the audience. It's nice when everyone laughs at the suitable moments instead of staring at phones and being bored. There are several possibilities to make joy during the toast:
Joke about the upcoming first marriage night.
Remind that everyone is waiting for their first child.
Raise the eternal question of mother-son or father-daughter in a couple's relationship.
Tell a prank from another event.
Recall an amusing life story.
However, don't make fun of topics that will be unpleasant for the newlyweds. If they are child-free, you shouldn't joke about children. If you heard about a difficult relationship with parents, avoid this topic as well. Every joke should be light, funny, and appropriate. Better tell it in advance to a few other mates to make sure the trick is successful.
Funny Best Man Speech Examples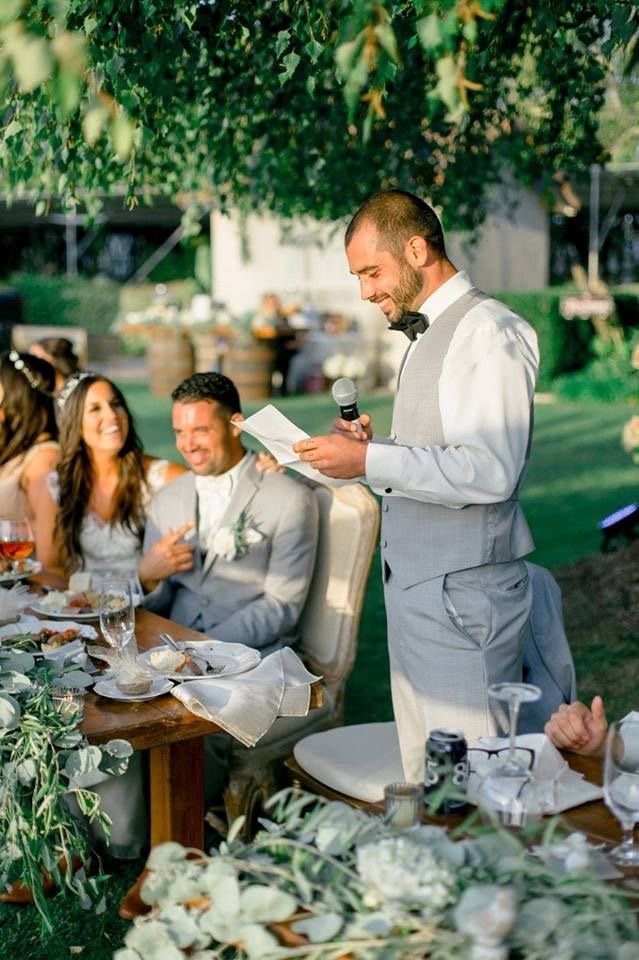 Here you could read some inspiring ideas for your future speech:
"I wish you to always be slightly drunk with each other, even without wine and champagne!"
"What kind of family do men and women consider exemplary? It's like in the animal world. Men believe that the finest family life is like a pride of lions when he is the king of animals, but I wish your family harmony is like dolphins. They are circling in the dance of love during all life, each time choosing each other over others!"
"I wish you a narrow bed, so you could rest on it only by hugging."
"I wish you some family mathematic things: division of sorrows and difficulties in half and the multiplication of your family through the birth of kids!"
"I once was at a wedding. The bride and the groom read the fairy tale "Snow White and the Seven Dwarfs" on their first night as a married couple. Now they have seven sons and a daughter! So let's raise a glass to the fact that our newlyweds read a fairy tale about seven dwarfs too!"
You could include references to music, movies, fairy tales, or famous stars who got married last year in your greeting for a humorous and successful metaphor.
Short Best Man Speech Examples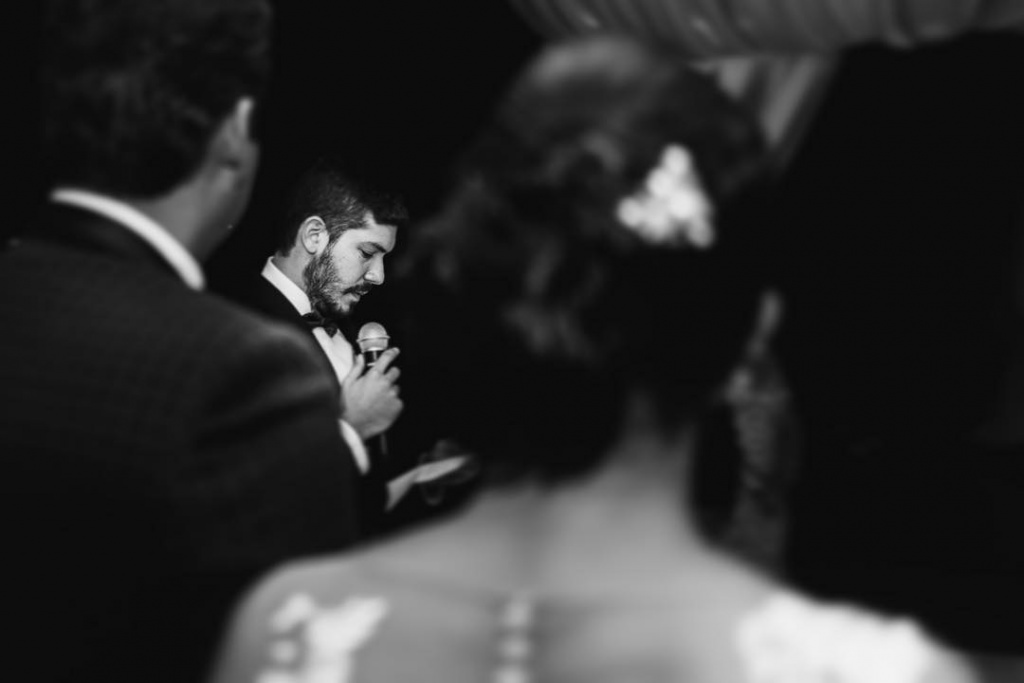 You are likely that man who doesn't want to make extended speeches. In that case, you should still have some short greeting ideas.
"I wish your hearts always be light with adoration and your pockets heavy with money!"
"I wish an unquenchable passion between newlyweds!"
"I wish only pleasant troubles fell on your shoulders, and you were forever together as one team!"
"For a strong and harmonious combination of both loving hearts!"
"The secret of a good marriage is hidden in some folk wisdom. You need to adore not as much as possible but for as long as possible!"
It's safe to tell that shortness is the sister of talent. Remember a unique situation and complement it with bright wishes, then your toast will become special.
Perfect Best Man Speech Examples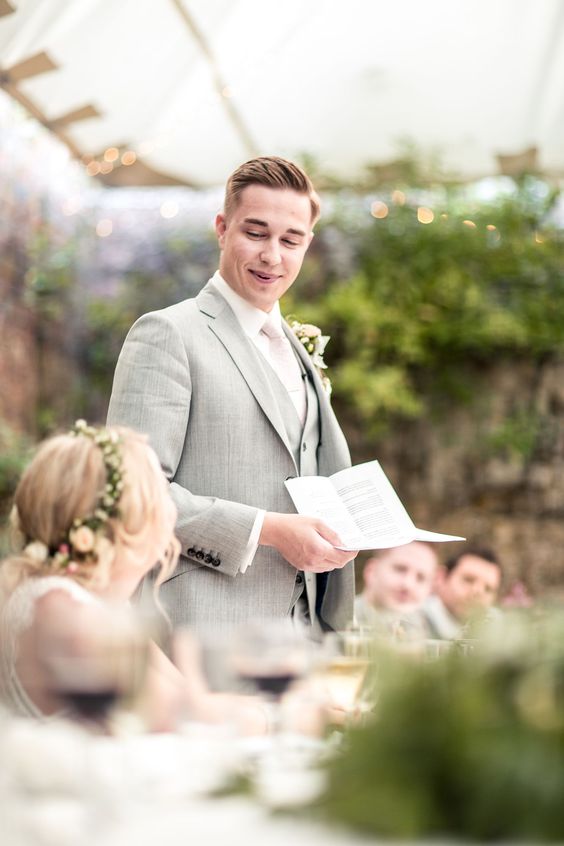 We've also selected some unique ideas for congratulating your closest buddy. Sometimes we don't need words to share happiness, but it is a great honor to say a toast to your best friends.
"My darlings! The Lord himself offered you a family heart! Constantly keep it warm, and it provides you a joyful family harmony!"
"Starting today, you have left our ranks of unmarried youth and entered a new era. Be the most satisfied person in the world!"
"I am incredibly pleased for my mate. Today, he became a real family man. Although I am not yet in danger of such a fate, I still want to wish you to live happily.
Summarizing everything, we could say that preparing a speech for best friends is very important. However, your desire to express your feelings sincerely is the most important thing. Find all the warmth and adore you feel for newlyweds, review the structure of the text, have a quiet evening, and note a unique text personalized for your relationship.