The Ultimate Guide to Every Wedding Dress Silhouette From A-Line to Trumpet
Publication date:

01/30/2023

Updated:

04/11/2023
How can you choose a single wedding gown from a sea of possibilities? What are the many sorts of wedding dresses and what makes them unique? These are the questions that every bride has when looking for her dream gown. We will guide you in resolving the problem today. We'll go over the different sorts of dress silhouettes and help you choose the ideal one for your body type! So, let's get started!
Wedding Dress Silhouette Guide
Here's the complete bridal dress silhouette guide for you to finally choose the right one for the big day!
Ball Gown
Among other shapes, this one will surely take the lead. It's hardly surprising, given that every little girl wishes to become a princess.
This silhouette is distinguished by the elegant cut of the skirt, which begins at the waistline. You can modify the volume of your skirt with sewed petticoats. Ball gowns look great on all body types. In comparison to the expansive skirt, the tight corset draws the waistline in and defines it.
A-Line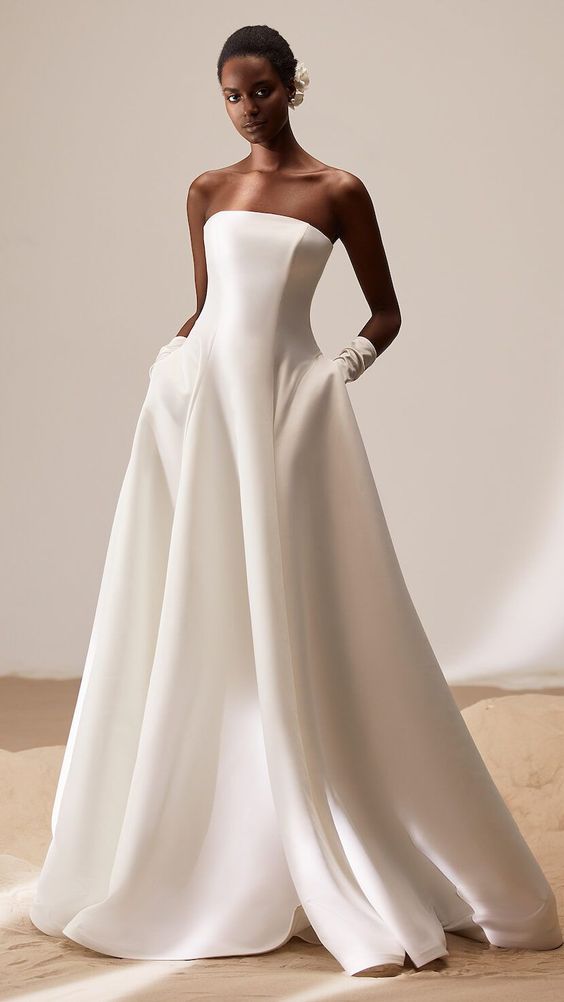 The transition from corset to skirt in this silhouette is smoother than in a ball gown. As a result, the waistline is less prominent. The A-Line silhouette is primarily defined by a vertical cut line that creates a trapezoidal contour. The upper section is loose and follows the body line to the hips. Longitudinal seams from the shoulder to the bottom optically cover the waist and hip bulges. This style of attire appears to be extremely aristocratic, charming, and rich.
Mermaid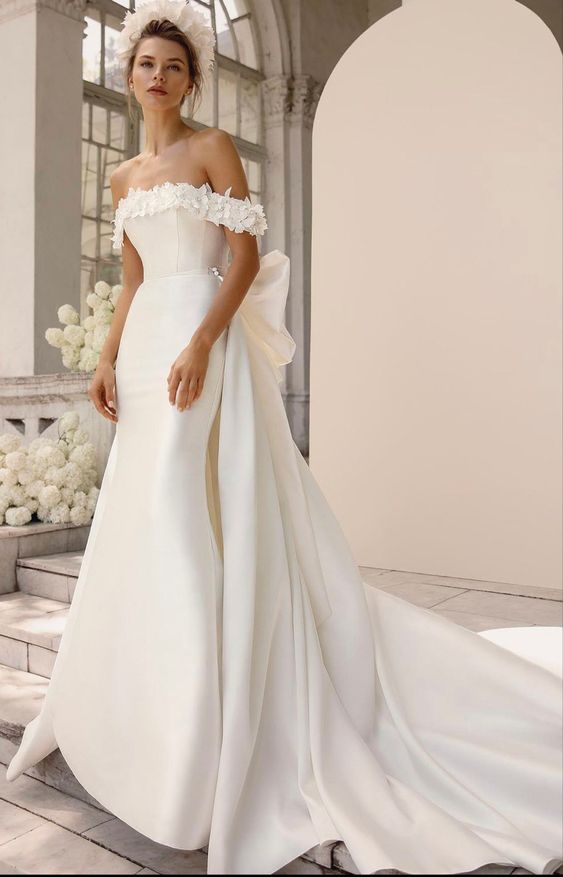 As much as brides adore this silhouette, it is not for everyone. Its cut draws attention to every line on your body, exposing it to worldwide admiration. These dresses are less comfortable to move, dance, or sit in because they are fairly tight.
The mermaid silhouette is ideal for a retro-inspired wedding. By accessorizing your hairdo with an air veil or hat and accentuating the neckline with a string of pearls, you may achieve a magnificent throwback Hollywood look.
Trumpet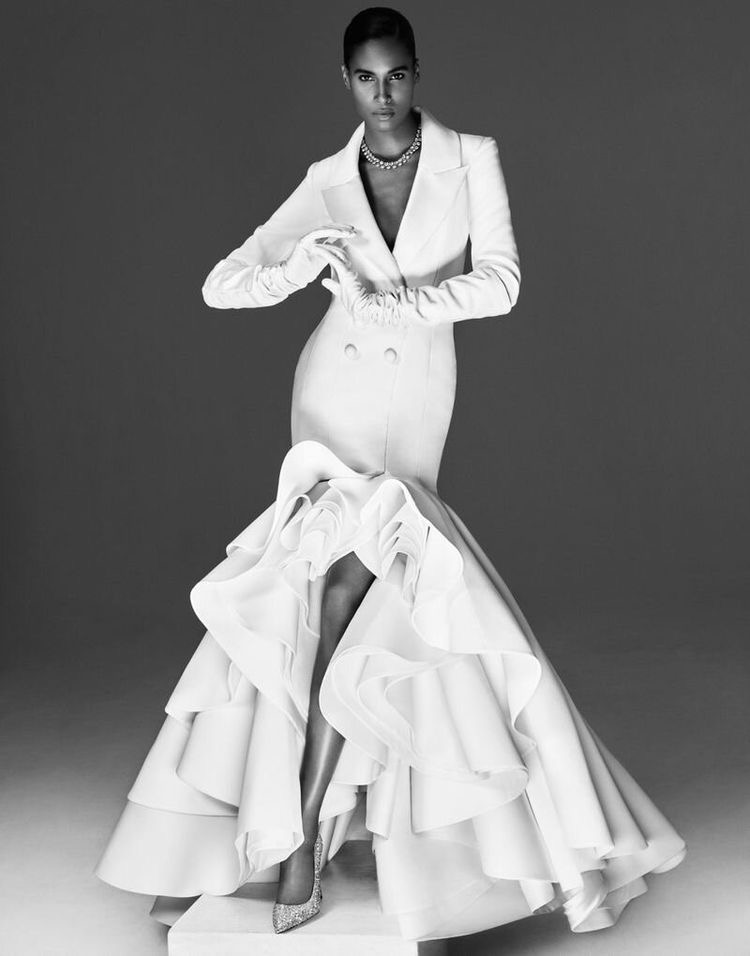 A Trumpet is used to highlight the bride's body. It has a fitted top with additional volume at the hips. In contrast to the Mermaid silhouette, this volume is not as confronting or provocative. Mermaid and Trumpet, on the other hand, are equivalent in their ability to accentuate the bride's exquisite body. They are also ideal for brides with petite waists. If you want to be comfortable, get a Trumpet wedding gown without hesitation.
Column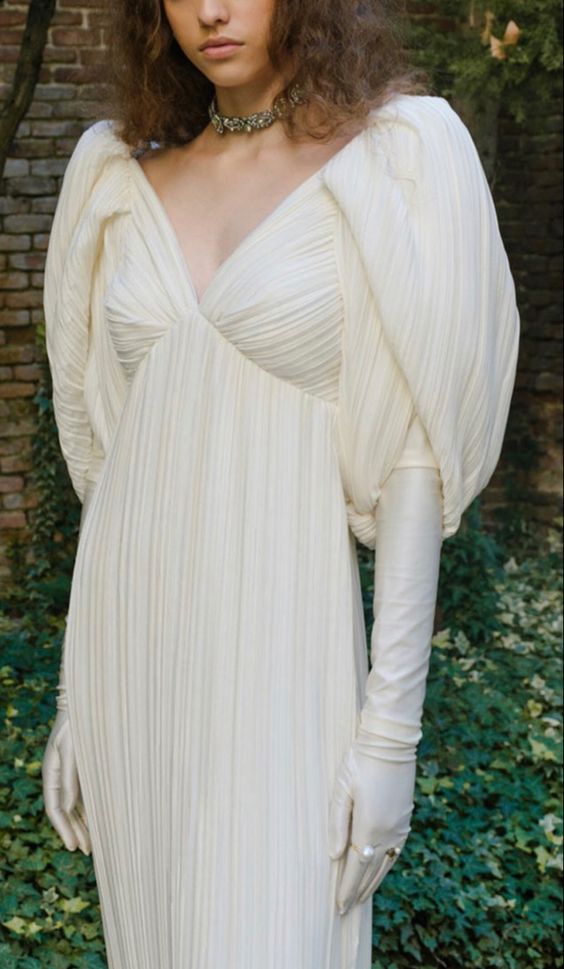 This silhouette is perfect for a small and elegant wedding. With an inflated waist, the dress is cut loose and light. Every year, more brides select this option. Column gowns, regardless of age or body type, transform brides into Olympus goddesses.
This wedding gown design is intended to emphasize the naturalness of female beauty. When choosing this cut, you should consider your hair and make-up, perfumes, and accessories - everything should be in harmony.
Tea Length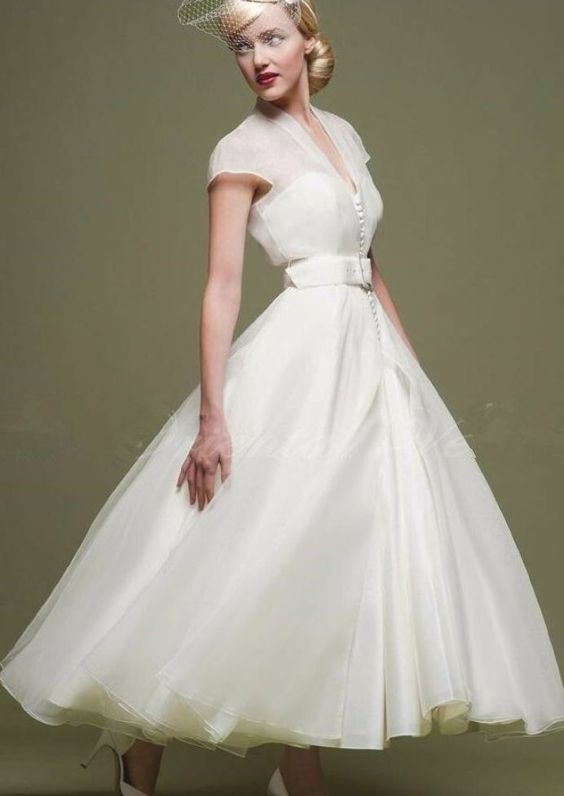 A coquette bride will look stunning in a short wedding gown. Although it is not a common choice, it is becoming more popular by the year.
Short wedding gown styles vary as well. There are Marilyn Monroe-inspired dresses, shortened fronts with long trains, slit alternatives and 1960s-inspired sundresses of various lengths. They are all incredibly adorable, simple, and opulent in their own way. They're perfect for a themed wedding, especially when paired with other details like ribbons, bows, and gloves.
Sheath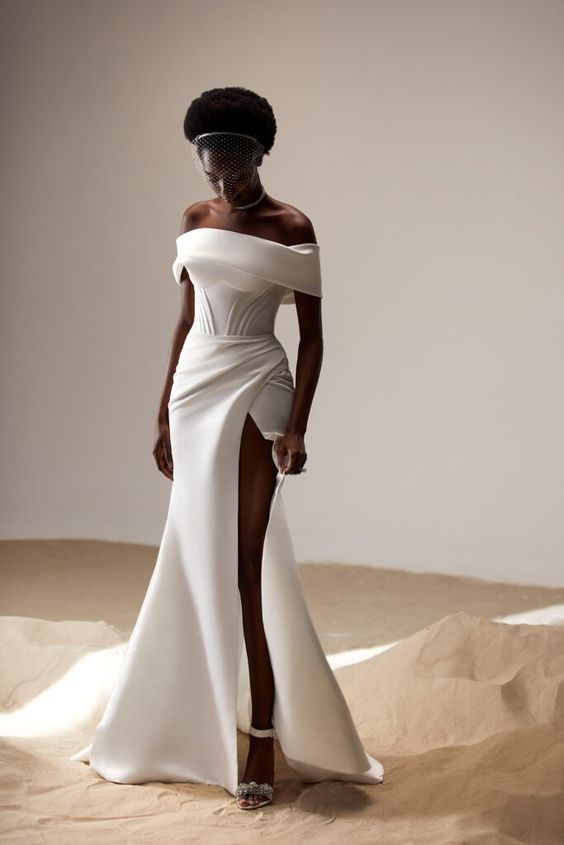 A sheath dress draws attention to the waist, hips, and chest, making it ideal for fit brides. This silhouette is also flattering on tall women. A dress like this might visually lengthen the height of a petite bride. It does, however, drastically restrict movement, which can be irritating.
One of its features is the lack of a seam between the bottom and the top. As a result, the silhouette appears to be obviously stretched. So that the emphasis stays on the waist, seemingly slimming it. The silhouette, however, increases the size of the thighs and chest slightly.
Wedding Dress Silhouette For Your Body Type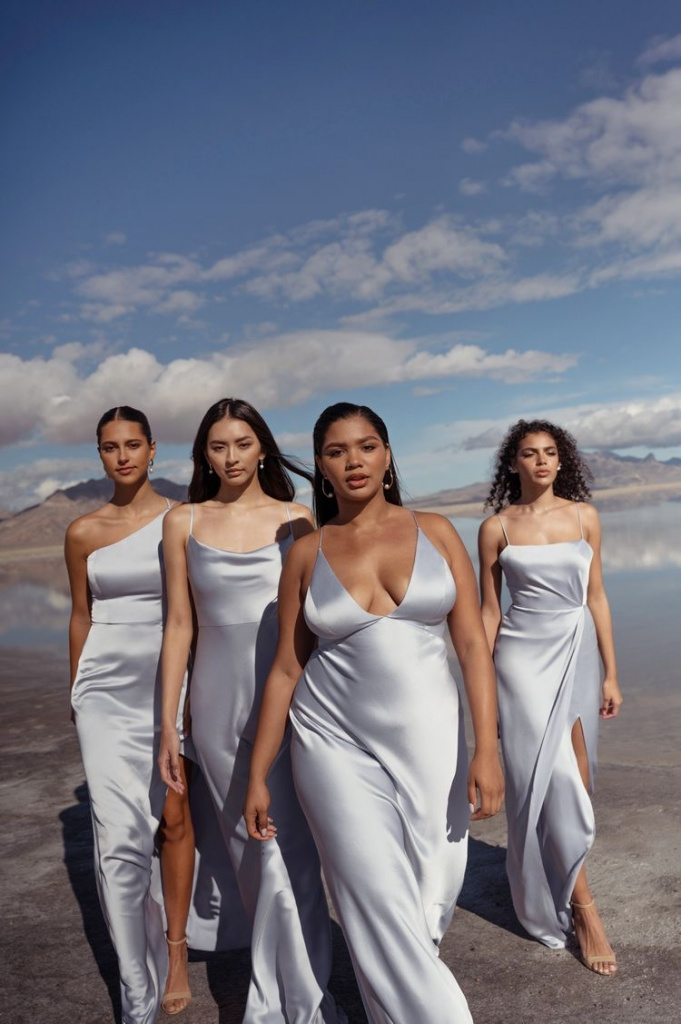 Choosing an outfit starts with determining the physique factors that influence the silhouette decision. You must first determine your body type. That is how you can select the best wedding gown for your appearance. So, here are several dress silhouettes for different body types.
How To Determine Your Body Type
Triangle. In this body shape, the hips are wider than the shoulders. As a result, the legs are larger and more prone to fullness, the waist is usually slim, and the chest is small.
Inverted triangle. With shoulders larger than hips and a tiny waist, everything is the polar opposite here. This body type benefits from beautiful thin legs.
Rectangle. Despite having a slim figure, this type's shoulders and hips are nearly the same sizes, and the waist is nearly invisible. Legs are long and slim.
Hourglass. The waist is thin and noticeable, while the hips and shoulders are rounded.
Round. The primary feature of this body type is a tendency toward fullness in the midsection. Legs and arms are frequently slender, and the waist is poorly defined.
The Best Silhouette Wedding Dresses For Every Body Type
Let's have a look at the greatest dress silhouettes for your body type right now!
Triangle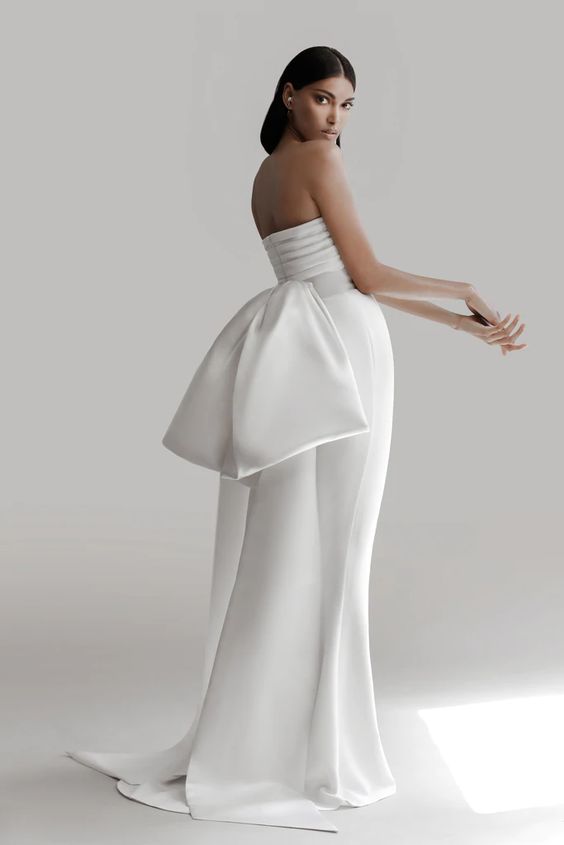 A tailored A-silhouette dress is ideal for women with this shape. The skirt should be below the knees or all the way to the floor in this attire. The dress draws attention to the strongest features, such as a slim waist, a smooth hip line, and a beautiful torso.
The garment should be selected with the goal of concealing the lower half of the body in mind. Dresses with trains as well as flowing fabrics are appropriate. Ladies with a triangular body type typically have really attractive shoulders. As a result, models with a pattern on one shoulder or a cut neckline should also be considered.
Inverted Triangle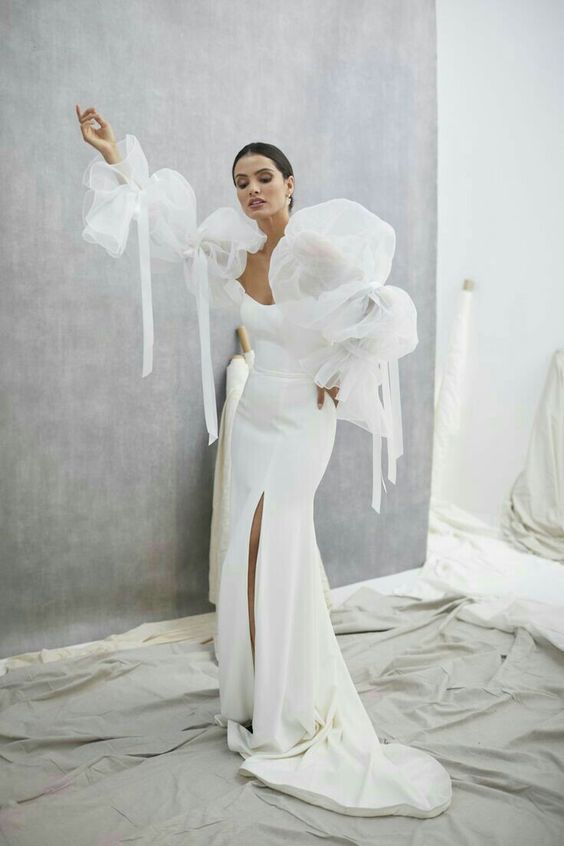 If you can't cover your shoulders with capes and shawls, you'll have to resort to a trick. Highlight areas that will capture the viewer's attention. Pay attention to the V-shaped neckline, fitting hips, and voluminous skirts. All of this will help to even out the figure's details, make the hips appear more rounded, and the waist appears thinner.
Rectangle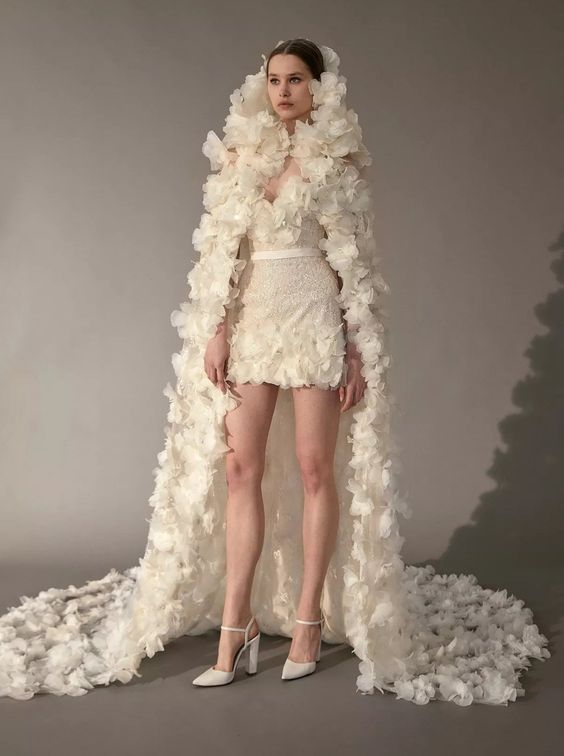 Brides with rectangle body types have skinny outlines and long legs. These ladies look gorgeous in long Column gowns. You might either go for a knee-length dress or an A-line one with a voluminous skirt. The goal is to emphasize the contrast between the waist and hips.
You can also wear the dresses we recommended for brides with an inverted triangle body type.
Hourglass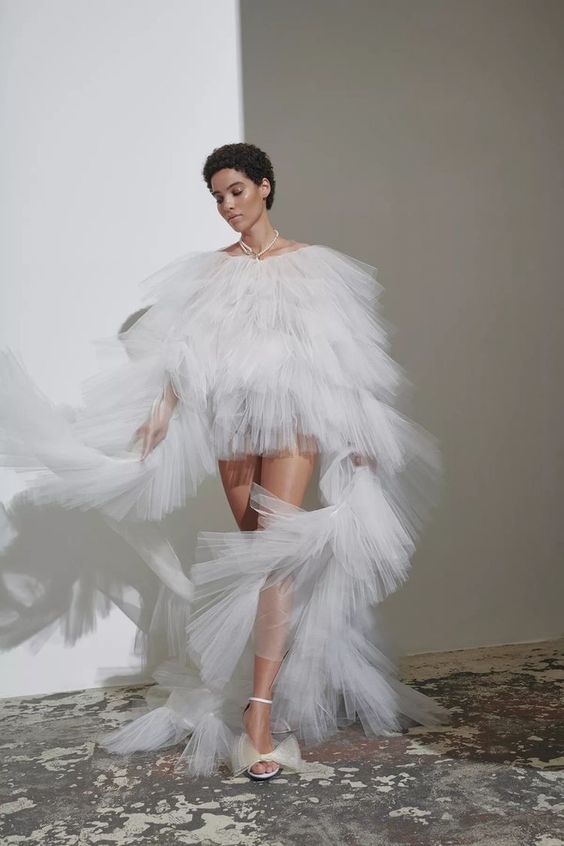 Women who have this body type are exceptionally fortunate. Any dress shape will do. Your sole responsibility is to select silhouettes that emphasize the benefits as much as possible. Look for V-shaped necklines, fitted dresses, and wavy A-line skirts. Mermaid is one of the best dress silhouettes for hourglass bodies.
Round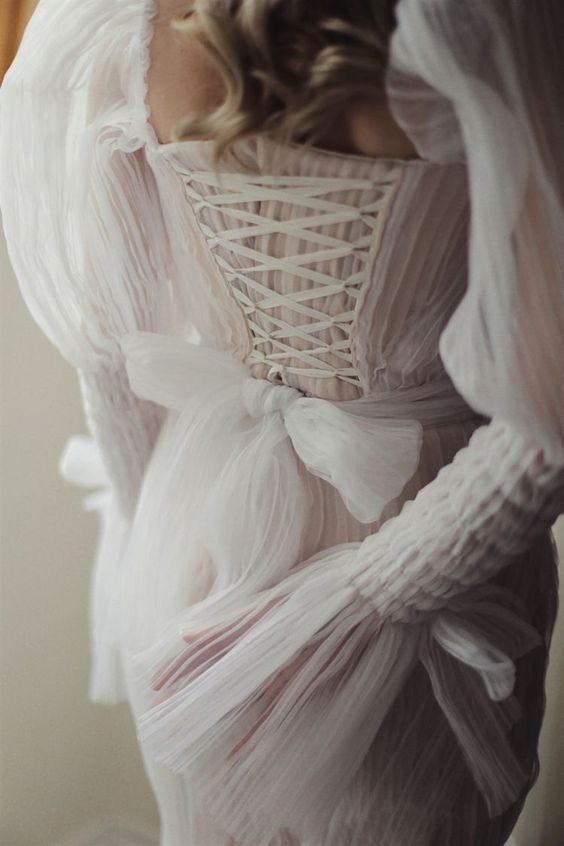 Dresses with draperies and an accentuated waist, as well as gowns with corsets, are the first things to think about. Lightweight clothing made of delicate, flowing fabric, such as chiffon, is recommended. Column or Trumpet wedding gowns are the greatest options for you. They will present your body type in the best possible way.
Wedding Dress Silhouettes For Plus Size
We believe that every girl should be confident in her own skin, and we will help you to look fabulous on your wedding day. Let's talk about plus size bride dress silhouettes now. How do you choose the right outfit? How can flaws be hidden while promoting strengths? Keep on reading!
General Tips
Don't think that wearing long, baggy dresses that completely conceal your shapes is your sole alternative. In reality, there are many stunning wedding gowns available for plus-size brides. Your bridal gown's principal role is to visibly lengthen your silhouette, correct your proportions, and showcase your feminine curves.
Dresses that are either too loose or too small should be avoided. Otherwise, long, straight-cut gowns might make you appear overweight, while narrow-fitting gowns, rather than emphasizing femininity, draw attention to your flaws. A tightening corset is widely used by brides to cover a bloated tummy, but be careful, as it is not very comfy.
Dress Silhouette Guide For Plus Size Brides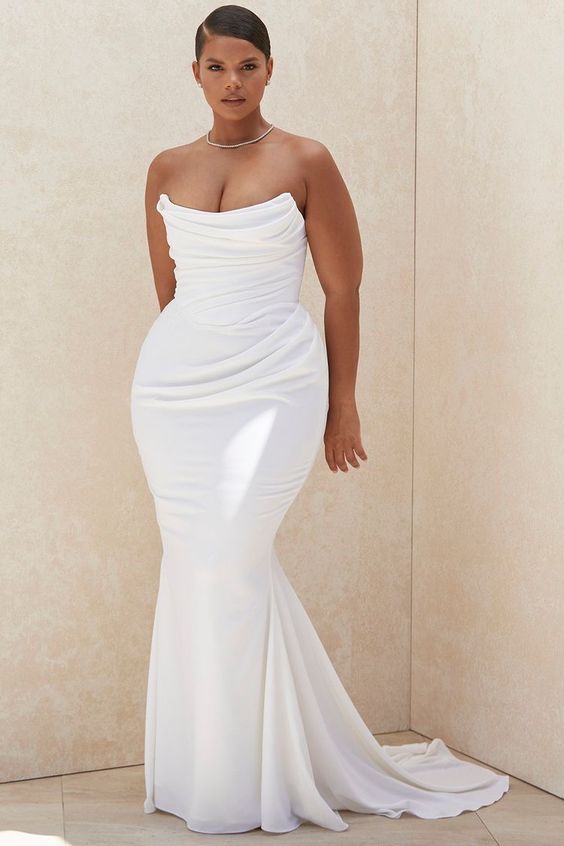 Here are some tips for choosing the best wedding gown silhouettes for curvy brides:
Triangle body types should wear dresses with a trapezoidal cut and a straight flowy skirt. It will highlight your main benefit - a well-defined waist.
The lack of a defined waist is the most problematic aspect of round body types. Simultaneously, the legs are usually quite slim, thus highlighting their beauty makes sense. A classic Trumpet knee-length gown will be appropriate. You may also opt for a long wedding Column gown.
A V-neck top will complement an inverted triangle figure with big shoulders. It is also better to choose bandeau versions that do not have sleeves (or with translucent sleeves).
Column wedding gowns are lovely on other body types. They are wavy, airy, and adorned with subtle draping to softly fit the figure without emphasizing its flaws.