Top 10 Ways to get the emotional wedding video
Publication date:

05/21/2022

Updated:

03/28/2023
An amazing wedding video is a dream of many couples because it is indeed one of the most emotional ways to keep the memories of your ' big day' over the years. Brides and grooms want to make sure that eventually, they will get such a result but sometimes worry about the way their wedding will be filmed. How is it filmed? What should we do? And how to get the most emotional wedding video ever? Read the article and find out about the top 10 ways to get it!
Make an Informed Choice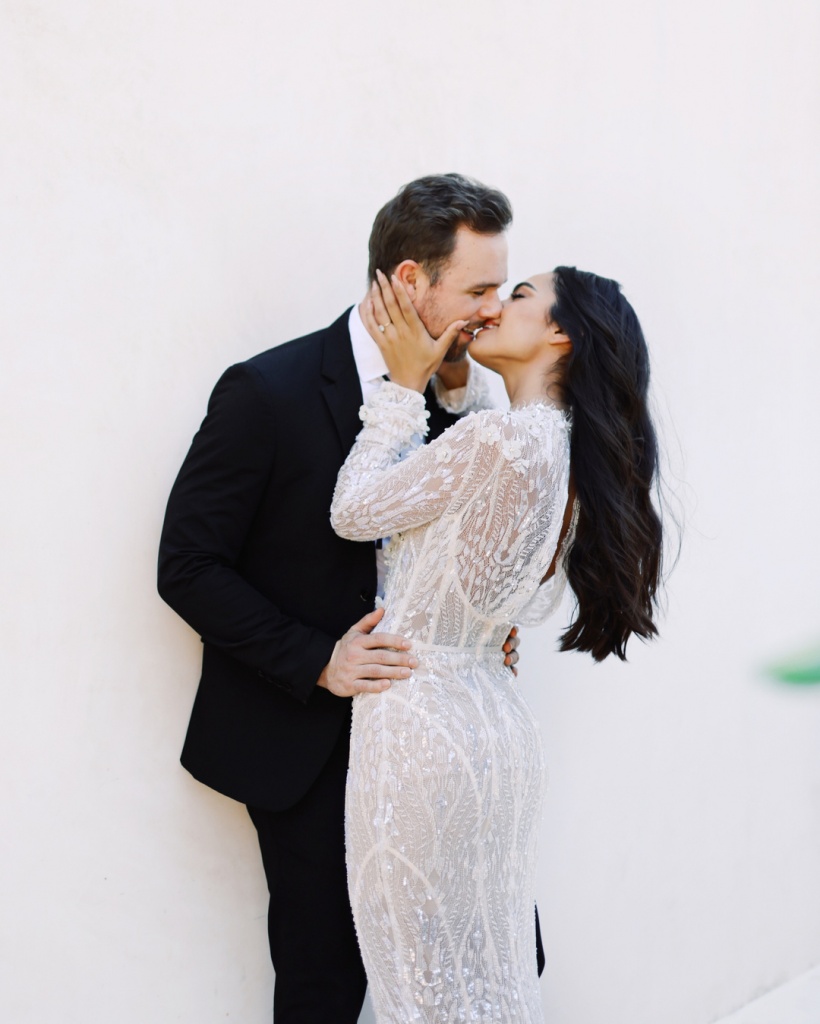 Photo by @lindleybattle
Before booking a wedding video maker, do research. Analyze their works and decide for yourself, what you find touching and emotional. Choose carefully and don't hesitate to ask more questions! Here's all you need to know about hiring a wedding videographer!
Communication is the Key
This truth is simple but vital. Talk to your wedding videographer and discuss as much as possible. Outline your plans, and share thoughts and ideas. If it's possible, meet face-to-face. Otherwise, organize a video meeting to communicate properly. Remember, you're going to work as one team on your wedding day to get a desirable result - an emotional and moving wedding video. That's possible only along with well-established cooperation.
Plan Your Shooting Time Carefully
You have to include the time for video shooting as well to make the process effective. Don't forget that even super talented video makers need enough qualitative material to work with and finally create an emotional wedding video. Schedule enough time. Even the documentary style of filming provides for some additional time to capture important details, your emotions, first looks, and some other significant moments to film. Plan this beforehand so as not to be disappointed with the result and get an emotional wedding video. It's a brilliant idea to find out about some modern video design ideas so get here to read about them!
Rule of 'Golden Hour'
Golden Hour starts before the sunset and is the best time to capture super romantic and gentle shots under the soft light. It isn't as harsh as at noon and gives you a unique opportunity to catch the most gorgeous backdrop. Give it a go, you'd absolutely love the result if you dedicate this time to such a shooting!
Don't Play Roles, Be Yourself
You're not actors, so don't play roles! Be yourself and enjoy every minute! You're now experiencing the most memorable moments of your life so let them go naturally. Act as you feel, don't pretend to be someone else, just relax. Stop thinking about the idea of how you look because you are being filmed, try to enjoy the moment!
Trust Your Wedding Videographer
Having plenty of weddings filmed in their experience, they will probably help you do your best in order to create the best emotional wedding video. Anyway, if you made your choice (that's tip 1) and selected a professional, you're supposed to trust them and listen to their advice.
Show Your True Emotions
True emotions never fail so don't hide them. Laugh and cry when you feel, and show tears and big smiles. A professional videographer will capture such precious moments and capture them to create your unique and stunning emotional wedding video.
Organize an Unplugged Wedding Ceremony
The era of technology has many advantages and at the same time gives us a strong understanding of the necessity to live every moment in real life, not virtually.  Eager to save and share all important moments, your guests will try to film your wedding ceremony as well. In order to create an intimate and emotional atmosphere, organize an unplugged ceremony. What does it mean? Kindly ask your guests not to use their devices during the wedding ceremony. You might emphasize the fact that you absolutely trust your wedding videographers and photographers, so they won't skip any important moments of the wedding day and are happy to share the materials with the guests so soon! As a result, the guests will be fully concentrated on the process and show their emotions as well. This component is not less important as we talk about emotional wedding video ceremonies.
And last, but not least - that will be a great advantage for your videographers both technical and practical. They will be thankful for free space to work without any obstacles like tablets and phones lifted above guests' heads.
Good Sound Matters
Sounds play a huge role in creating emotional wedding videos. A great combination of a melody, sincere words, and even whispers creates an unbelievable musical background and emphasizes the emotional effect. That's why you will probably be given a microphone. Listen carefully to your videographer's instructions and wear it when it's needed.
Write Your Own Vows to Get the Emotional Wedding Video
Speak from the bottom of your heart - that's how you can get candid shots and therefore have an emotional wedding video. It looks more sincere if you speak but don't read the vows. Looking at your partner's eyes, holding their hands, and saying some sweet words (even if your speech isn't perfect but still candid). That's all your videographers need to create a miracle.