Modern wedding video design ideas
Publication date:

03/03/2022

Updated:

03/22/2023
Having wedding photos is great, but it is even better to rewatch a wedding video after the party. A well-edited film captures precious moments with family and close ones, preserves your memories of the big day, and allows you to relive the celebration or share it with distant friends and relatives. We collected six great wedding video ideas for you to choose from, so read on to find your favorite.
Create a wedding trailer
Wedding trailers are shorter versions of your full-length wedding video, they last for two to three minutes and include the best highlights of your celebration. A trailer can be composed of music, dialogues, and various clips from the wedding day to create a beautiful and emotional story. The clips can be either arranged in a chronological order, or you can mix the key events with the moments that show the emotions you experienced throughout the celebration. 
Another great idea is to include some dialogue through voiceover to emphasize any thoughts or emotions of your friends and family. And don't forget to add music that reflects your feelings and the mood of the wedding party. You can show your wedding trailer to your close ones or upload it to your webpage or social media, and the full-length movie can be saved for your first anniversary.
Make a social media collage
A great way to connect with all your guests after the celebration and collect precious memories of the wedding is to create a social media collage. Probably, most of your friends and family will take videos through their cell phones and upload them to the internet. You can use your wedding hashtags to indicate videos from your ceremony and party on social media platforms, such as Facebook, Instagram, or Twitter, download them, and create a collage that would feature various moments filmed by your guests. Combine the clips in the order you like and add some music to create the specific mood. Share the final version of the collage on social media and tag everyone whose videos you used. Your friends will definitely love it.
Capture the proposal
Even though the proposal is a very emotional and memorable moment for the couple, time does its work, and in a few years neither of the two will remember in detail what they said or did on that special day. That's why oftentimes couples prefer to have the video of their proposal. 
There are two ways to film a proposal wedding video. It is possible to either set up cameras before the surprise or to ask the people who will be present during the proposal to help you  film the event with their smartphones. If you did not manage to capture the event on the video when it originally happened, you can also recreate this moment and hire a professional videographer. You'll be able to find a romantic location and choose among the best filming styles to create the video that you both will enjoy rewatching. 
Use mixed media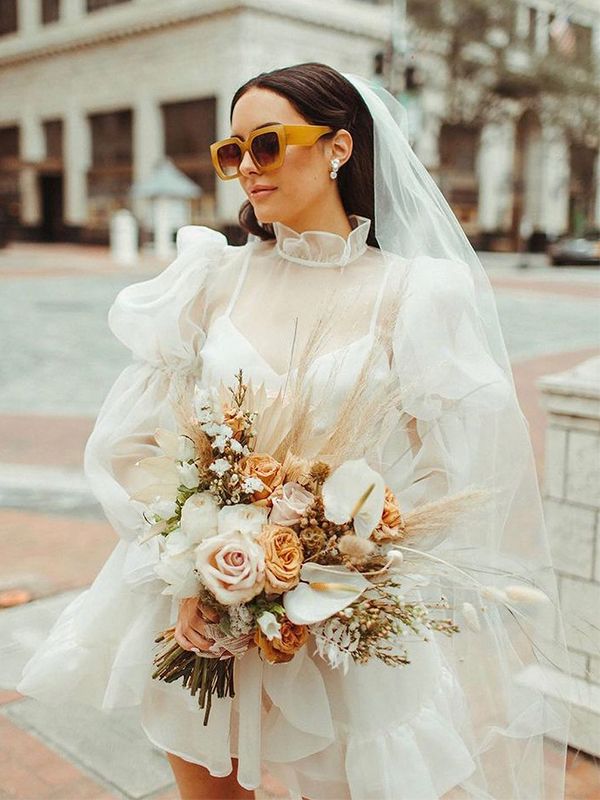 Photo by Halle Morgan
There are weddings when one filming style cannot reflect all the emotions and the mood of the celebration. If this is your case, ask your videographer to combine different shooting styles to create a truly unique film. For instance, if you want the wedding video to highlight the reactions of your loved ones to your marriage, you can combine interviews with friends and family with the wedding getting-ready footage. And remember that one of the benefits of a mixed-media wedding video is that most of the effects can be added after the celebration during editing. 
Love Story Rendezvous Video
One of the best ways to tell the couple's love story is to allow the partners to narrate it in their own words. That's why videographers often opt to film a love story video in the form of interviews. Each partner can separately talk about the day they've met each other, their first kiss, proposal, or emotions they feel before your wedding. The differences between the stories can be either emotional or funny. But in any case, these interviews will give you another opportunity to reconnect with your beloved one and relive your love story.
Wedding Documentaries
A documentary wedding movie is the best choice for the couples that wish to capture every moment of their wedding and get a mix of artistic angles and cinematography, just like in their favorite films. To get the perfect wedding documentary,  hire an experienced videographer and discuss specific scenes and important shots with the professional in advance. Some couples choose to include events that occured before the celebration, such as choosing a wedding cake or decorating the venue, while others focus more on the wedding day itself. That's why make sure your videographer knows what you want to see in the final video.