Bachelorette Party Favors
Publication date:

06/21/2023

Updated:

06/21/2023
Clear your calendars, break out the glitter, and put on your party hats because we're diving headfirst into the effervescent and enchanting realm of bachelorette party favors! We're here to guide you through the maze of tulle, confetti, and sequins to find the perfect goodies for your bachelorette goodie bags. Whether you're the bride-to-be, the maid-of-honor, or a bridesmaid, this rollercoaster ride of planning and prepping is about to get a whole lot easier. And way more fun, of course!
Imagine this - your guests arrive at the party, excitement twinkling in their eyes, and the first thing they see are these gorgeous bachelorette party bags, each personalized and brimming with treats that scream, "This is going to be the best bachelorette party ever!" Sounds like a dream, right? Well, buckle up, because we're about to turn this dream into a reality.
From DIY delights to store-bought treasures, we're going to explore every nook and cranny of the items for the bachelorette party world. So, get ready to bookmark this page, because by the time we're done, you'll be a veritable expert in all things bachelorette bag ideas! Let the fun begin, shall we?
What To Put In Bachelorette Gift Bags: General Tips
Alright, let's spill the tea on how to create bachelorette favors that will make your guests say, "Oh my gosh, this is so me!" The first rule of the bachelorette party gift bag club is - to know your audience. If your squad is a bunch of wine lovers, then maybe a mini wine bottle with a cute personalized label is the way to go. But if your crew is more about that healthy lifestyle, then a customized water bottle or a packet of artisanal tea might be more up their alley.
The second rule is - personalization is the new black! A bachelorette bag isn't just a gift, it's a memento, a tiny piece of this unforgettable party that your friends get to take home. So, splurge on that extra bit of personalization. It could be as simple as having their names on their favors or something more intricate like a personalized message.
Thirdly, coordinate your gifts with the theme of the party. If it's a beach bash, go for items like mini sunscreens, beach towels, or flip-flops. If it's a spa retreat, think about mini lotions, face masks, or even a plush robe.
Finally, don't forget to add a dash of surprise! Maybe it's a quirky item that no one expects or a sweet treat that makes everyone's heart (and taste buds!) sing. This unexpected touch will add an extra layer of delight and make your bachelorette party gifts for guests the talk of the town!
Bachelorette Party Favor Ideas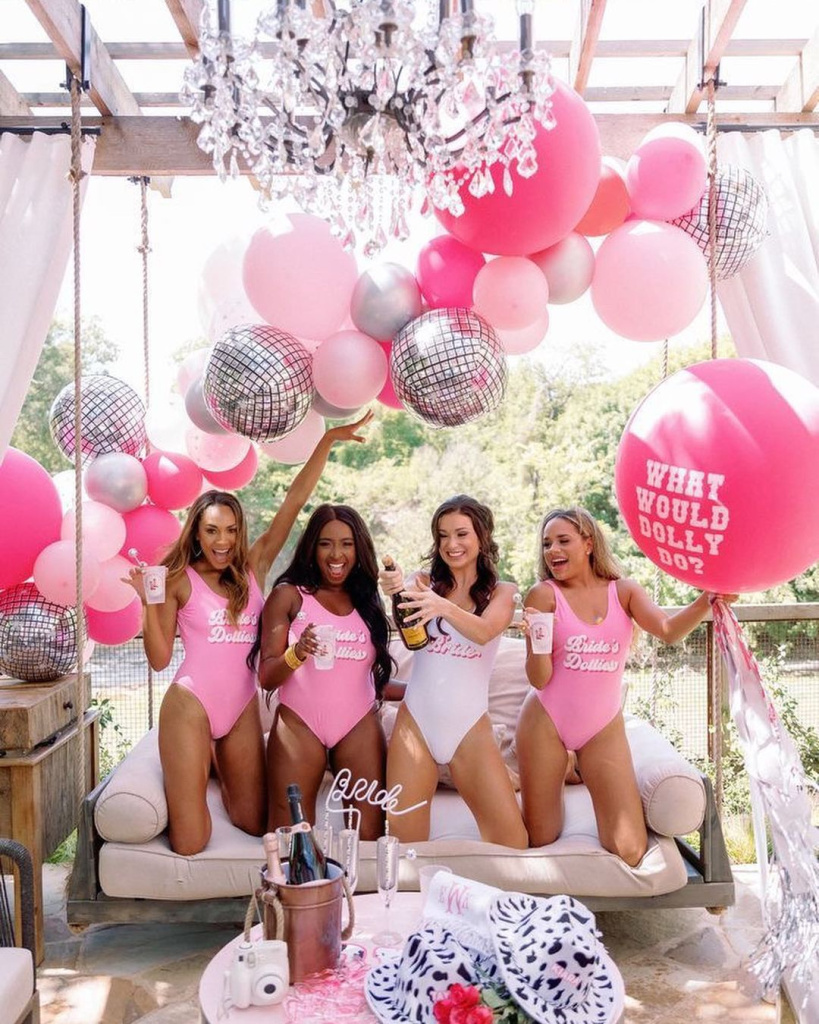 Alright, party-planning diva, let's dive into a sea of bachelorette gift bag ideas. We've got 37 fabulous items that will make your guests' eyes sparkle and hearts flutter. 
The Cutest Bachelorette Party Goodie Bags Ideas
Personalized Compact Mirrors: An adorable and practical keepsake that'll remind your guests of the fun times every time they touch up their makeup!
Mini-Scented Candles: Choose a scent that matches your theme or the bride's favorite fragrance. It's a sensory memento that's as cute as a button.
Custom Lip Balms: Pick a flavor that compliments your theme, like coconut for a beach party or mint for a winter bash. Your guests' lips will thank you!
Hand Sanitizer in Fancy Bottles: In these times, a cute sanitizer is a must-have. Go for a fancy bottle that can be refilled and used long after the party.
Mini Prosecco or Rosé Bottles: Because what's a celebration without some bubbly? Tie a cute straw with a ribbon for an extra touch of cuteness.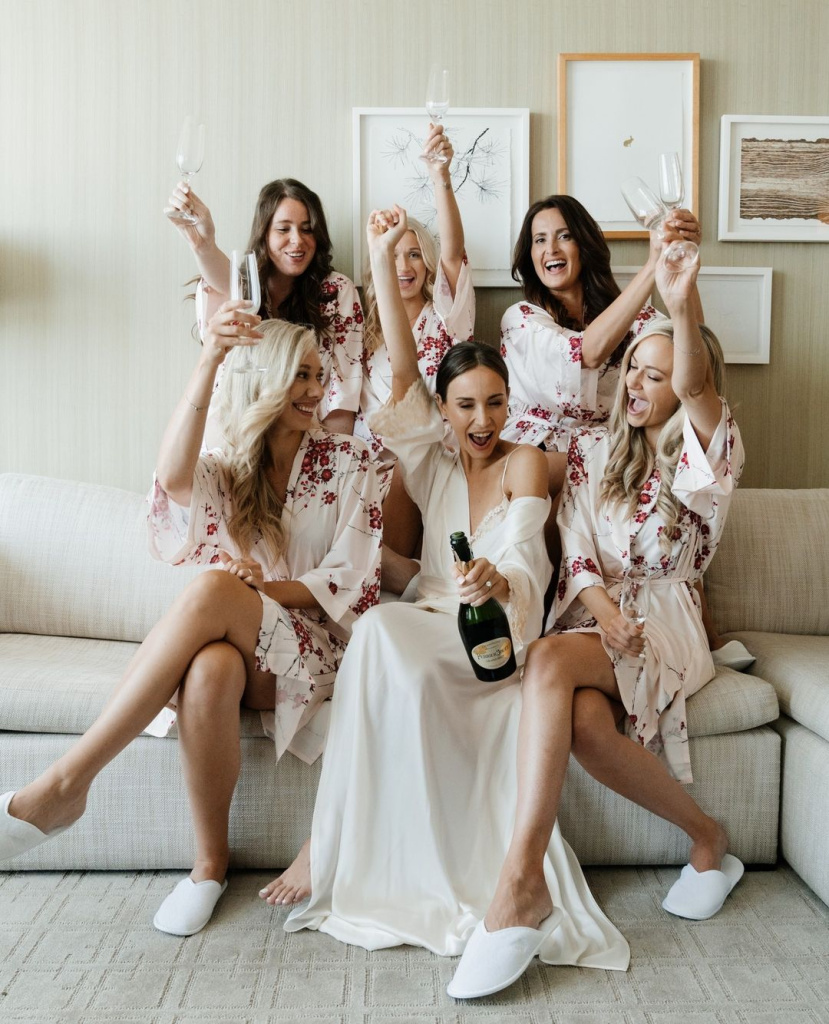 Personalized Cookies: Get cookies made in shapes that match your theme, like a wedding dress or a champagne bottle, and have them iced with your guests' names.
Hair Ties with a Fun Message: Hair ties that say "To have and to hold...your hair back" are super cute and incredibly practical!
Tiny Succulents: A live plant that's easy to care for and looks adorable? Yes, please! Plus, they symbolize growth and friendship.
Customized Badges: They're an immediate ice-breaker and a fun way to celebrate each guest's unique role in the bride's life.
Heart-Shaped Sunglasses: They're fun, they're flirty, and they're the perfect accessory for some unforgettable group photos!
Bath Bombs or Bath Salts: A little something to help your guests relax and recover after the party shenanigans.
Personalized Coasters: A cute and practical keepsake that can be customized to match your theme or your guests' personalities.
Mini Notebooks with a Fun Message: For those midnight thoughts or doodles. Plus, you can never have too many notebooks!
Cute Luggage Tags: If you're having a destination bachelorette and thinking of what to put in bachelorette gift bags, these tags are not just adorable, but also incredibly useful!
Customized Reusable Straws: They're eco-friendly, cute, and a constant reminder of the crazy fun times at the bachelorette party!
Beach Bachelorette Party Favors
Personalized mini champagne bottles: Nothing screams celebration like a pop of champagne. These beach bridesmaid bachelorette gifts are a hit because they're portable, affordable, and oh-so-fancy. Plus, who doesn't like fizzy toast on the sand?
Custom beach towels: If you're headed to the beach, these are an absolute must. They're practical, can be customized to match your theme, and will serve as a sunny reminder of the epic party long after the tan fades.
Sea salt spray: This is for those mermaid-at-heart brides. A sea salt spray is a unique, affordable, and thoughtful favor that your guests can use to achieve those perfect beach waves.
Themed sunglasses: Another brilliant beach bachelorette party favor idea. Choose a design that matches your theme, and voila, you've got a favor that doubles up as a fantastic photo prop!
Beach-themed candles: Mini candles that smell like the beach are a dreamy party favor. They're a sensory reminder of the party and are sure to light up your guests' faces with joy!
Cheap Bachelorette Party Favors
Throwing a fabulous bachelorette party doesn't mean you have to break the bank. Here are 9 cheap favors to put in your bachelorette welcome bags that your squad will absolutely adore:
Temporary Tattoos: They're fun, affordable, and can be customized to match your theme or the bride's personality. Plus, they make for some fantastic photos!
Personalized Bottle Openers: Practical and pocket-friendly, these can be customized with a fun quote or a cute design that matches your party theme.
Friendship Bracelets: Take a trip down memory lane with these affordable yet meaningful party favors. You could even have a bracelet-making session during the party!
Customized Buttons or Pins: These are an inexpensive way to celebrate each guest's unique role in the bride's life. Plus, they can be worn on the day of the party for some extra flair!
Beaded Keychains: They're cheap, cute, and can be made in colors that match your theme. Plus, it's something your guests can use every day!
Mini-Scented Hand Sanitizers: In the current times, a sanitizer is a must-have. Buy some bulk mini sanitizers, add a few drops of essential oils, and you've got a cheap yet practical favor.
Seed Packets: This is an eco-friendly and inexpensive favor. Choose seeds of flowers that have a special meaning or are favorites of the bride-to-be.
Personalized Bookmarks: If your bride tribe is full of book lovers, this is a cheap yet thoughtful favor. You can personalize them with a fun quote, the date of the party, or even the guests' names.
Personalized Tea Bags: If your guests are fans of a cozy cup of tea, create personalized tea bags by ordering bulk tea bags and designing custom tags or labels with a sweet message, the party date, or the guests' names. It's a thoughtful favor that brings warmth and relaxation to your guests, even after the festivities are over.
Bachelorette Party Favors DIY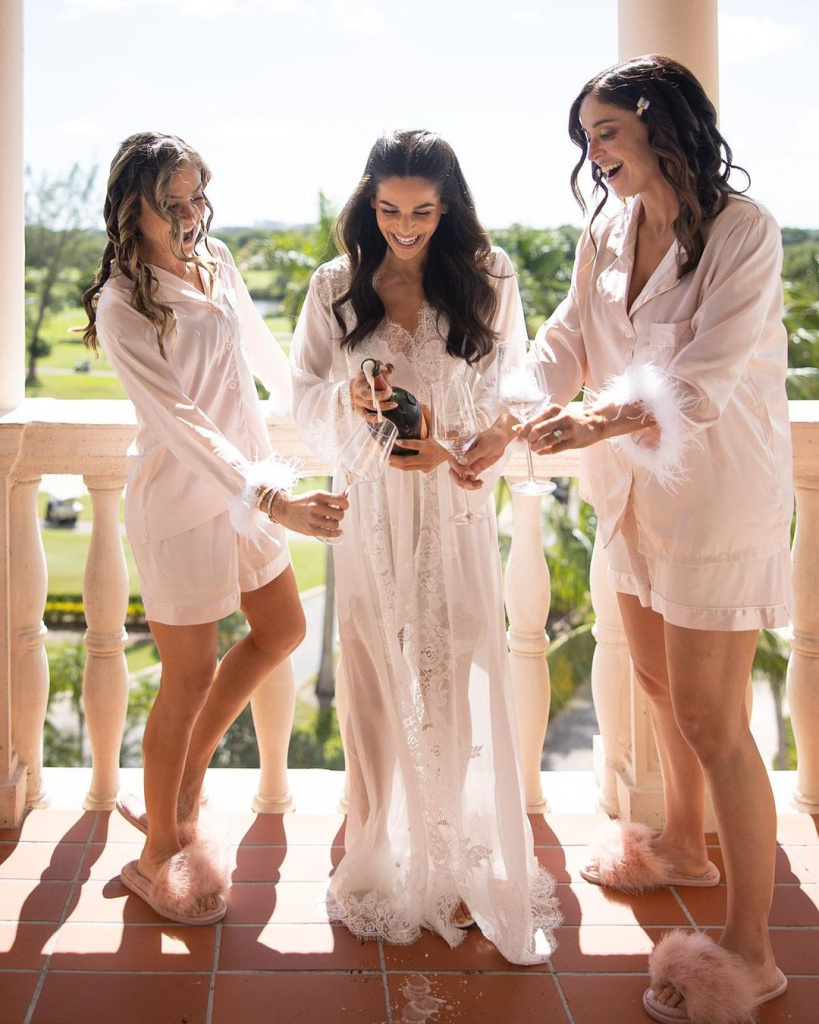 DIY Lip Scrubs: Whip up some lip scrubs with some sugar, honey, and coconut oil. Pop them into cute little jars for a homemade favor that feels luxurious.
DIY Face Masks: Pack some natural ingredients like clay and rose water into small jars. Your guests will appreciate this homemade, pocket-friendly pampering.
DIY Photo Magnets: Collect some memorable pictures of the bride-to-be with each guest. Print them out and stick them onto magnet strips. Trim to fit, and voila! You've got a personalized, heartwarming memento that's as affordable as it is meaningful. 
DIY Charm Bracelets: Gather a variety of charms that resonate with your theme or represent something significant about the bride or the group. Each guest can make their own charm bracelet, turning it into both a party activity and a personalized favor.
Hand-Painted Wine Glasses: Buy some inexpensive clear wine glasses and use glass paint to create custom designs. You could paint everyone's initials, add a splash of the wedding colors, or even create a cute design that matches your party theme.
Homemade Body Butter: You'll need shea butter, coconut oil, and essential oils of your choice. Whip them together to create a luxurious body butter that smells divine. Package in cute jars with personalized labels for a favor that feels high-end but is surprisingly easy and affordable to make.
DIY Photo Frames: Purchase inexpensive plain frames and customize them with paint, glitter, or even decoupage. Insert a photo of the bride with each guest for an extra personal touch. It's a memento that they can display at home and cherish for years to come.
Handmade Scented Soaps: With melt-and-pour soap bases, you can easily create your own soaps. Add colors and scents that match your party theme, and pour the mixture into cute molds. Wrap them in clear plastic and tie them with a ribbon for a favor that's as pretty as it is practical.