100+ Romantic Ways To Propose
Publication date:

06/15/2023

Updated:

06/15/2023
When you think about the most significant moments in life, a marriage proposal definitely ranks high on the list. This is the moment when two hearts decide to embark on a journey together, when love takes the next big leap, and the foundation of a lifetime commitment is laid. It's no wonder that you're searching for the best proposal ideas to make this moment as magical as it can be. With the right proposing ideas, you can create a memory that will be cherished forever.
One key element you should definitely consider is hiring a pro photographer to capture the moment. This is a once-in-a-lifetime event, and having a visual keepsake of the emotions and reactions will be a priceless treasure for years to come.
So, without further ado, let's look through some romantic proposal ideas. We've got 108 captivating ideas that will leave your partner swooning and saying "yes" before you even finish asking the big question.
Cute Proposal Ideas: 10 Adorable Ways to Pop the Question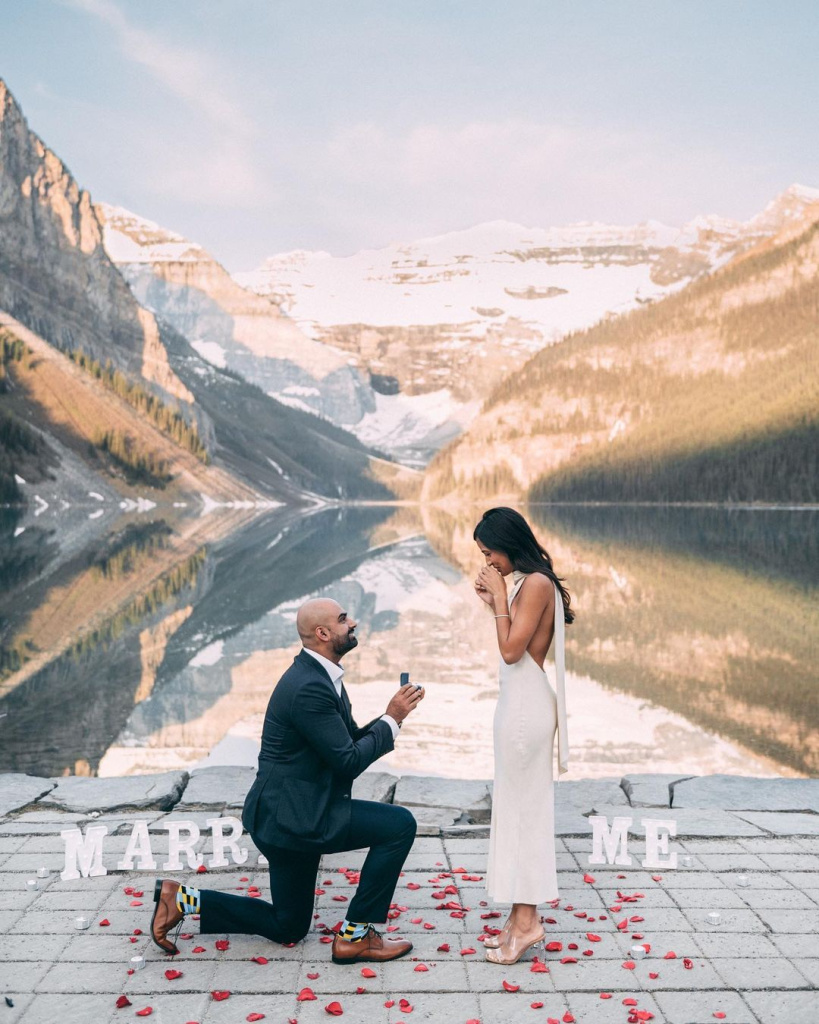 When it comes to a marriage proposal, cuteness can go a long way in making the moment even more special. These cute proposals will surely tug at your partner's heartstrings and leave a lasting impression. Here are some of the cutest ways to propose that will have your partner saying "yes" in no time.
Puppy Love: If you and your partner love animals, why not involve a furry friend? Attach a cute note or the ring to the collar of a puppy and let it walk up to your partner at the perfect place to propose.
Say It with Sweets: Create a dessert masterpiece with the words "Will You Marry Me?" written in icing, or present a custom-made cake with a hidden ring compartment that's revealed when you slice into it.
Enlist the Help of Children: If you have kids together or nieces and nephews, get them involved by having them hold up signs spelling out the big question or wearing matching t-shirts that read "Marry Our (Aunt/Uncle)?"
Surprise Love Notes: Leave a trail of romantic notes for your partner to find throughout the day, each one hinting at the upcoming proposal and culminating with the big question.
Plant the Seed: Give your partner a potted plant or a bouquet with a secret note or ring hidden inside, symbolizing the growth of your love.
Message in a Bottle: Write a heartfelt proposal message, place it in a bottle, and "discover" it together during a romantic walk on the beach.
Custom Puzzle: Have a custom jigsaw puzzle made that, when completed, reveals the words "Will You Marry Me?" or an image of the two of you together.
Movie Night Surprise: Arrange a cozy movie night at home, and during an intermission, surprise your partner with a homemade video of your favorite memories together, ending with the proposal.
Breakfast in Bed: Serve your partner breakfast in bed, complete with a plate that has "Marry Me?" spelled out in their favorite breakfast foods.
Love Letter: Write a heartfelt love letter expressing your deepest feelings, and as your partner reads it aloud, get down on one knee and present the ring.
Outdoor Proposal Ideas: Breathtaking Scenarios for Each Season
Nature can provide a stunning backdrop for a wedding proposal that will take your partner's breath away. Here are our favorite engagement proposal ideas for each season, with awe-inspiring proposals set up suggestions that will make your special moment unforgettable.
Winter Wonderland
Ski Resort Retreat: Plan a weekend getaway at a ski resort, and propose on a mountaintop or in a cozy ski lodge.
Ice Skating Romance: Take your partner ice skating at a picturesque outdoor rink, and propose as you glide hand in hand.
Snowy Picnic: Bundle up for a romantic winter picnic, complete with warm blankets, hot cocoa, and a crackling fire.
Igloo Hideaway: Build an igloo or snow fort together, and propose inside your frosty creation.
Sleigh Ride Serenade: Arrange a horse-drawn sleigh ride through a snowy landscape, and propose under a cozy blanket.
Spring Fling
Cherry Blossom Stroll: Find a park or garden filled with cherry blossoms, and propose beneath the fragrant, pink petals.
Garden Maze Adventure: Visit a garden maze or labyrinth, and propose at the center or a hidden spot within.
Spring Festival Excursion: Attend a spring festival, such as a tulip or daffodil festival, and propose amidst the vibrant blooms.
Butterfly House Enchantment: Visit a butterfly house or conservatory, and propose surrounded by fluttering, colorful wings.
Rowboat Romance: Rent a rowboat on a picturesque lake or pond, and propose as you float among the blossoming trees and flowers.
Summer Lovin'
Outdoor Movie Night: Set up a projector and screen for an outdoor movie night, and propose under the stars during the film.
Camping Getaway: Plan a camping trip, and propose by the fireside or during a hike in the great outdoors.
Stargazing Soiree: Find a remote spot for stargazing, and propose under a sky full of twinkling stars.
Summer Concert Proposal: Attend an outdoor concert or music festival, and propose during your partner's favorite song.
Fall Fantasy
Pumpkin Patch Proposal: Visit a pumpkin patch, and carve or paint your proposal message on a pumpkin.
Leaf Peeping Expedition: Plan a scenic drive or hike to take in the vibrant fall foliage, and propose at a picturesque overlook.
Apple Orchard Outing: Spend a day apple picking, and propose among the fragrant apple trees.
Corn Maze Capers: Navigate a corn maze together, and propose at the center or a hidden spot within.
Haunted House Surprise: If you and your partner enjoy a good scare, propose during a visit to a haunted house or ghost tour, adding an element of surprise and excitement.
Unique Proposal Ideas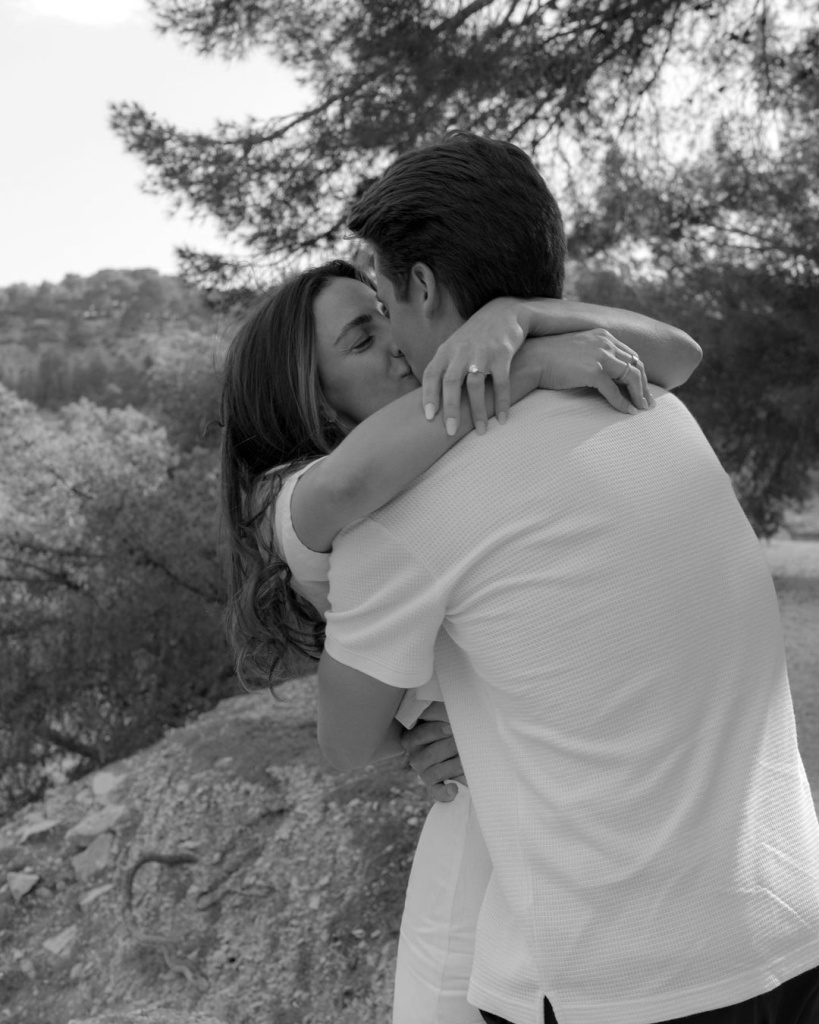 Stand out from the crowd with these marriage proposal ideas that are anything but ordinary. Your partner will be amazed by your creativity and thoughtfulness. Here are the most unique ways to propose that are sure to impress:
Flash Mob Extravaganza: Organize a surprise flash mob to perform a choreographed dance routine that culminates in your proposal.
Escape Room Experience: Work with an escape room company to create a custom proposal-themed room, where the final clue leads to the ring.
Art Gallery Magic: Arrange a private viewing at an art gallery and surprise your partner with a painting or photograph depicting the two of you, complete with a hidden proposal message.
Astronomy Adventure: Name a star after your partner and present them with the certificate during a romantic stargazing date, then propose as you point out their star in the sky.
Virtual Reality Voyage: Create a custom virtual reality experience that leads your partner through a virtual world, culminating in a virtual proposal that becomes real when they remove the headset.
Hot Air Balloon Ride: Take your partner on a hot air balloon ride, and as you soar through the skies, pop the question with the stunning view as your backdrop.
Underwater Enchantment: Go snorkeling or diving together and surprise your partner with a waterproof sign or a treasure chest containing the ring.
Aerial Banner Reveal: Hire a plane to fly a banner with the proposal message over a beach or park where you and your partner are spending the day.
Surprise Vacation: Whisk your partner away on a surprise vacation, and propose at a romantic location during the trip.
Sports Game Surprise: Arrange for your proposal to be displayed on the big screen at a sports game, or organize a surprise proposal on the field during halftime.
P.S. These are definitely the most unique girlfriend proposal ideas we've ever seen!
Simple Proposal Ideas: Heartfelt and Uncomplicated Ways to Ask the Big Question
Sometimes, simplicity is key when it comes to the will you marry me ideas. These uncomplicated yet meaningful ideas will show your partner how much you care without the need for an elaborate setup. Here are the best ways to propose that focus on the love you share:
Candlelit Dinner at Home: Cook your partner's favorite meal and set the table with candles and soft music, then propose during dessert.
Memory Lane Walk: Take a walk together through the location where you first met or shared your first date, and reminisce about your love story before asking for their hand in marriage.
Photo Album Proposal: Create a photo album of your favorite memories together, with the final page featuring a picture of the ring and the words "Will You Marry Me?"
Message in a Book: Buy a copy of your partner's favorite book and write a heartfelt proposal message on the inside cover, then surprise them with the book as a gift.
Love Song Dedication: Dedicate a love song to your partner on a local radio station, and propose as the song plays on air. When it comes to wedding proposal ideas this one is the classic.
Sunrise or Sunset Embrace: Watch the sunrise or sunset together from a scenic location, and as the sky fills with color, share your heartfelt feelings and ask for their hand in marriage.
Cozy Fireplace Proposal: Curl up together in front of a roaring fire, and as you share your favorite memories and dreams for the future, pop the question.
Love Lock Bridge: Visit a famous love lock bridge, and as you attach a lock symbolizing your eternal love, ask your partner to marry you.
Romantic Road Trip: Plan a road trip to a location that holds sentimental value for both of you and surprise your partner with a proposal at that special spot.
Bouquet of Flowers: Surprise your partner with a bouquet of their favorite flowers, and hide the ring or a proposal message among the blooms.
Creative Ways to Propose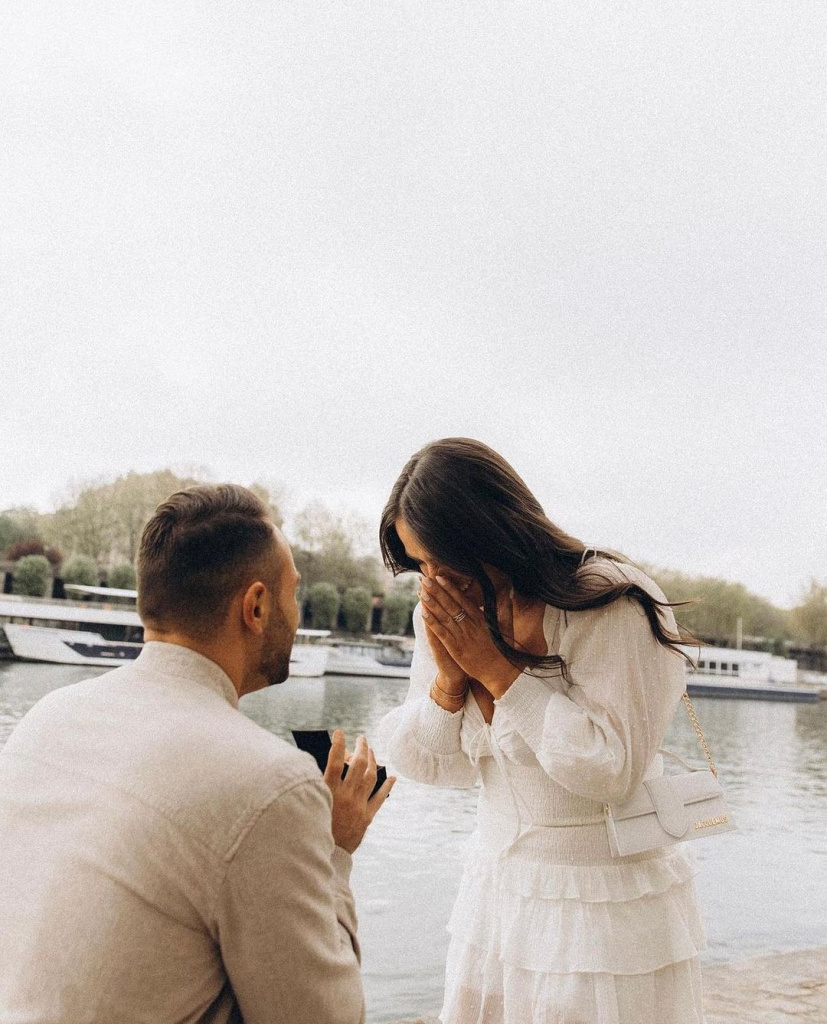 Thinking outside the box can make your surprise proposal even more unforgettable. These absolutely best proposals are brimming with creativity and originality. Here are some surprise engagement ideas that will leave a lasting impression:
Hidden Message Proposal: Create a custom piece of artwork or jewelry with a hidden proposal message that's revealed when viewed from a specific angle or under a certain light.
Reverse Surprise Party: Invite friends and family to a surprise party for your partner, but reveal the true purpose of the gathering when you propose in front of everyone.
Time Capsule Proposal: Bury a time capsule containing mementos of your relationship, and as you unearth it together, reveal the ring and propose.
Proposal Treasure Hunt: Create a treasure map that leads your partner on a journey to the ring, hidden in a location that's significant to your relationship.
Dance Proposal: Learn a choreographed dance routine and surprise your partner with a performance that ends with the proposal.
Proposal in Disguise: Dress up as a delivery person or service worker and surprise your partner with the proposal as they least expect it.
Magic Trick Proposal: Learn a magic trick that culminates in the appearance of the ring, and propose during a casual at-home magic show.
Fortune Cookie Surprise: Order custom fortune cookies containing the proposal message, and share them with your partner during a romantic dinner at home or at your favorite Chinese restaurant.
Fun Proposal Ideas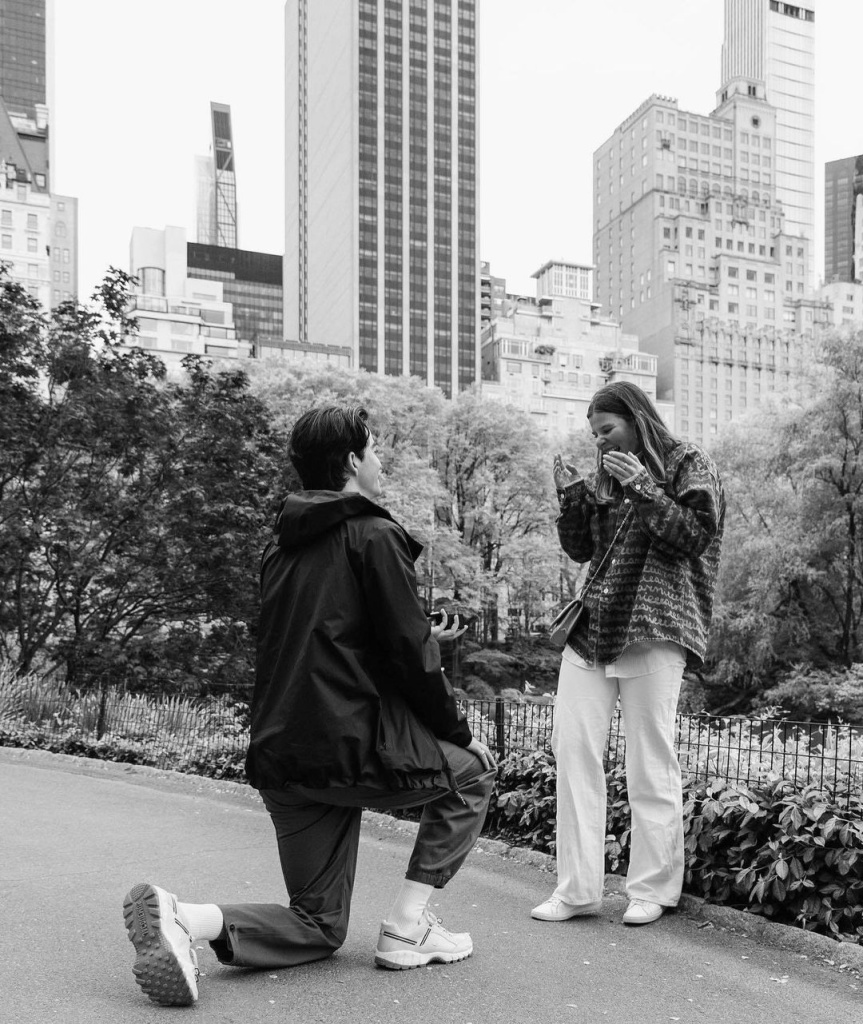 Inject some excitement and laughter into your big moment with these good ideas to propose that focus on fun and lightheartedness. These engagement surprise ideas will have your partner grinning from ear to ear as they say "yes." Here are some lovely ideas for where to propose that are both delightful and memorable:
Amusement Park Adventure: Plan a day at an amusement park, and propose on your partner's favorite ride or in front of a picturesque backdrop like a Ferris wheel or a carousel.
Geocaching Proposal: Create a custom geocache that contains the ring and coordinates, then enjoy a day of geocaching together until you discover the hidden treasure.
Karaoke Night Proposal: Dedicate a love song to your partner at a karaoke night, and propose on stage as the crowd cheers you on.
Board Game Night Surprise: Organize a board game night with friends or family, and surprise your partner by customizing a game to include the proposal as part of the gameplay.
Costume Party Proposal: Host a costume party and dress up as your partner's favorite character or celebrity, then propose in character during the festivities.
Sports Event Proposal: Organize a friendly sports match with friends and family, and propose to your partner during a surprise halftime show.
Arcade Extravaganza: Take your partner to an arcade, and win enough tickets to "purchase" the ring, then propose amidst the fun and games.
Cooking Class Proposal: Attend a cooking class together, and arrange with the instructor to have the ring hidden in a dish you prepare, revealing it during the big reveal.
Paint Night Proposal: Attend a paint night event, and secretly arrange with the instructor to create a painting that incorporates the proposal, then reveal it at the end of the night.
Movie Theater Surprise: Rent a private screening room at a local movie theater, and have the proposal displayed on the big screen before or after the movie.
Public Proposal Setup Ideas
For those who aren't shy about expressing their love, a proposal of Will you marry me in a public setting can be an exciting and memorable experience. These ideas will help you propose to someone in a way that's both captivating and heartfelt. Here are the top 7 moving engagement surprise ideas for public proposals:
Train Station Romance: Propose in a bustling train station, with the help of friends or family holding up signs with the proposal message.
Shopping Mall Surprise: Work with the staff at a shopping mall to coordinate a flash mob, live performance, or special announcement that leads to the proposal.
Street Performer Collaboration: Collaborate with a talented street performer to incorporate your proposal into their act, drawing a crowd and creating a memorable moment.
Coffee Shop Serenade: Arrange for a musician to perform a special song at a local coffee shop, and propose during the performance.
Aquarium Adventure: Visit a popular aquarium and work with the staff to coordinate a special underwater proposal, such as a diver holding a sign with the proposal message.
Public Transit Proposal: Pop the question on a bus, subway, or tram, enlisting the help of fellow passengers to hold up signs or join in a coordinated performance.
Citywide Scavenger Hunt: Create a scavenger hunt that takes your partner on a tour of your city's most iconic landmarks, with the final clue leading to the proposal location.
Cool Beach Proposal Ideas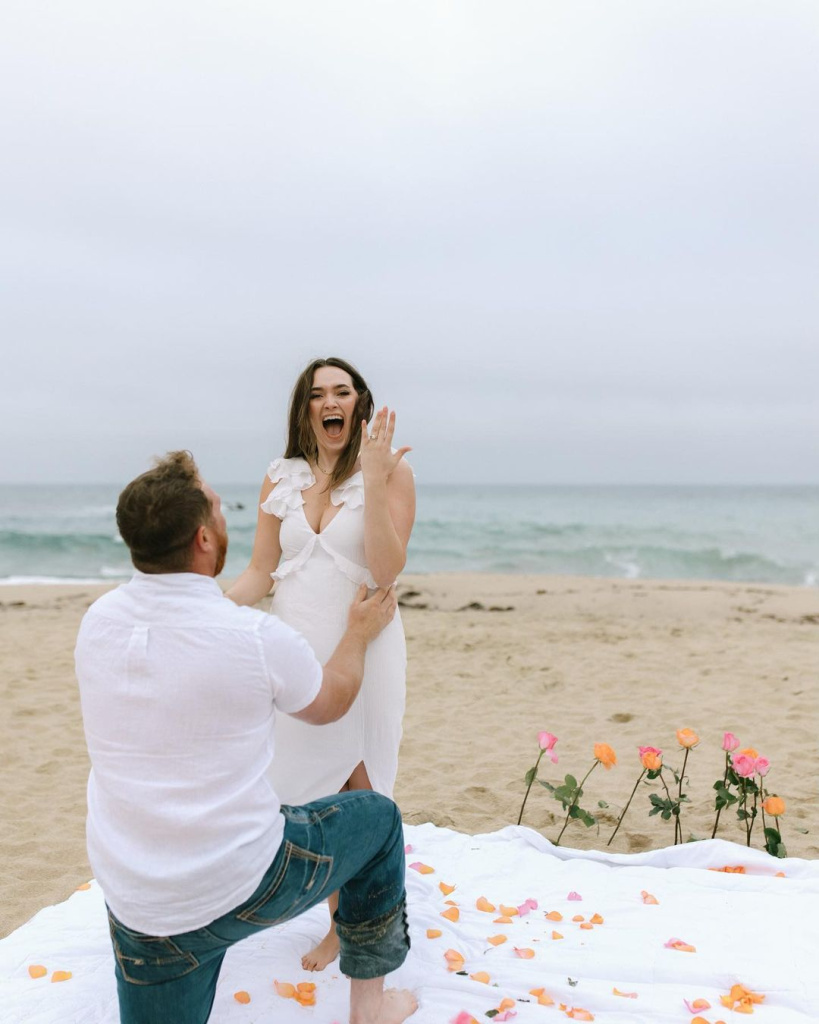 The soothing sound of waves and the warm sand beneath your toes create the perfect ambiance for a romantic proposal. These beach proposal ideas at night and during the day will make your special moment even more memorable. Here are the best wedding proposal ideas on the beach:
Sandcastle Surprise: Build a sandcastle together and hide the ring inside, revealing it as you put the finishing touches on your masterpiece.
Seashell Proposal: Collect seashells together, and present your partner with a special shell containing the ring or a proposal message.
Sunset Serenade: Hire a musician to perform a romantic song as the sun sets over the ocean, and propose during the performance.
Beach Bonfire Bliss: One of the most perfect ideas for proposing on the beach! Set up a cozy bonfire on the beach, and propose as you snuggle together under the stars.
Beach Picnic Paradise: Arrange a romantic beach picnic complete with a cozy blanket, delicious food, and the sound of the waves, then propose as you share a toast.
Surf's Up Proposal: Take a surfing lesson together, and propose as you ride the waves or share a quiet moment on the shore.
Beach Volleyball Victory: Organize a friendly beach volleyball match with friends and family, and propose during a break in the game or after scoring the winning point.
Seaside Proposal Photoshoot: Hire a photographer to capture a beach proposal, either by posing as a fellow beachgoer or by setting up a staged photoshoot that leads to the big moment.
Online Engagement Proposals
In today's digital age, online proposals can be just as heartfelt and memorable as in-person ones. These "marry me" proposal ideas take advantage of technology to create a unique and unforgettable experience. Check out these ideas for the best proposal in the virtual world:
Video Montage Proposal: Create a video montage of your favorite memories together, ending with the proposal message and the presentation of the ring.
Online Game Proposal: If you both enjoy gaming, propose within your favorite online game by creating a custom quest or in-game event that leads to the big moment.
Digital Artwork Surprise: Commission a digital artist to create a piece of artwork that incorporates the proposal message, and share it with your partner during a video call or in an email.
Livestream Love: Set up a private livestream event for friends and family to join, and propose to your partner during the virtual gathering.
Social Media Scavenger Hunt: Create a scavenger hunt that takes your partner through your shared history on social media, leading to the proposal reveal.
Virtual Concert or Theater Performance: Organize a virtual concert or theater performance featuring your partner's favorite musicians or actors, and work with the performers to incorporate the proposal into the show.
Custom Website or App: Design a custom website or app that tells the story of your relationship and ends with the proposal message.
Video Call Surprise: Coordinate with friends and family to join a surprise video call, where you'll propose to your partner in front of your loved ones.
Grand Proposal Ideas: Over-the-Top Ways to Make a Statement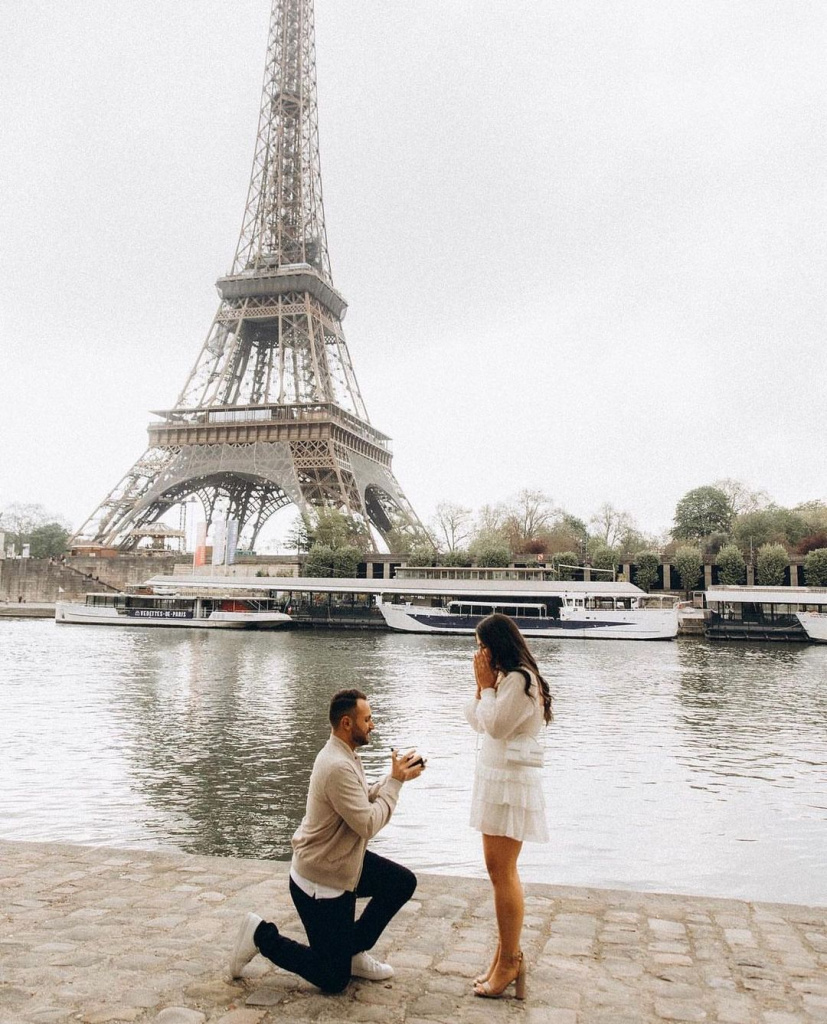 For those who want to go big or go home, these stunningly best wedding proposals are sure to make a lasting impression. Here are some great proposal ideas that will sweep your partner off their feet:
Helicopter Ride: Take your partner on a helicopter ride over a beautiful location, and propose as you soar through the sky.
Destination Proposal: Plan a surprise trip to a dream destination for your partner, and propose in front of an iconic landmark or stunning backdrop.
Private Island Getaway: Rent a private island for a romantic weekend getaway, and propose on the secluded beach or under the stars.
Cinderella Carriage Ride: Arrange for a horse-drawn carriage ride through a picturesque setting, and propose as you feel like royalty.
Luxury Yacht Excursion: Charter a luxury yacht for a day or weekend, and propose as you cruise along the water, surrounded by stunning scenery.
Celestial Proposal: Visit an observatory or planetarium, and arrange for a special star show or presentation that includes the proposal message.
Skydiving or Bungee Jumping: For adrenaline junkies, propose during a thrilling skydiving or bungee jumping experience, either before or after the big leap.
Opera or Ballet Performance: Attend a lavish opera or ballet performance, and work with the venue to arrange a special on-stage proposal during the intermission or after the show.
Castle or Palace Proposal: Visit a historic castle or palace, and propose in a grand room or garden, making your partner feel like royalty.
Best Places to Propose Near Me: 9 Local Gems for Unforgettable Proposals
Your own backyard can provide a wealth of amazing proposal locations. These "marry me" ideas focus on finding the best place to propose near me that's both meaningful and memorable. Here are 9 local gems for propose to her ideas:
Rooftop Romance: Find a rooftop with a stunning view of your city or town, and propose as the sun sets or the city lights sparkle below.
Botanical Garden Beauty: Visit a local botanical garden or arboretum, and propose amidst the lush greenery and colorful blooms.
Historic Landmark Love: Choose a historic landmark in your area that holds significance for your relationship or represents a shared interest, and propose at this meaningful location.
Local Park Picnic: Set up a romantic picnic in a picturesque local park, and propose as you enjoy the tranquility of nature.
Community Theater Magic: Attend a play or musical at a local community theater, and propose on stage during the curtain call or intermission.
Artisan Market Adventure: Visit a local artisan market or craft fair, and surprise your partner with a handcrafted item that incorporates the proposal message.
Brewery or Winery Tour: Take a tour of a local brewery or winery, and arrange with the staff to have the proposal incorporated into the tasting experience.
Local Festival Fun: Attend a local festival or street fair together, and propose amidst the excitement and festivities.
Scenic Overlook Surprise: Find a scenic overlook or viewpoint in your area, and propose with a stunning vista as the backdrop.