40 Custom Wedding Dance Floor Ideas
Publication date:

07/11/2023

Updated:

07/11/2023
The heart and soul of any wedding party aren't the fancy decorations or the tasty food spread; it's the dancing area. When daylight fades and nighttime starts, the dance floor turns into the hub of the party, marking the place where you'll share your first dance as husband and wife and where friends and family will gather to honor your love. The dance floor can make or break some of the most special moments of your day, so it's worth going the extra mile to make it stand out.
One approach to making your dance floor stand out is by customizing it. This is more than just picking a pretty color or design; a personalized wedding dance floor can have unique designs, monograms, and personal elements that showcase your personal style and love story.
Top Custom Wedding Dance Floor Ideas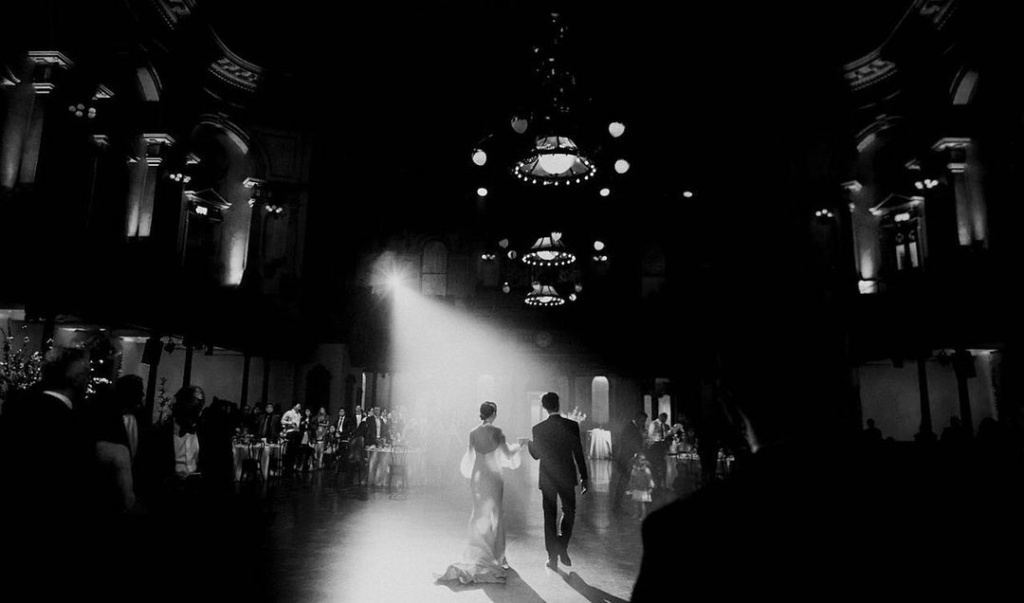 Though at first glance a dance floor may appear to be a plain necessity, it's also a great opportunity for personal creativity. With unique wedding dance floor decals, an ordinary dance area can become a unique piece of art.
Monogram Decals: Show off your union in a refined, traditional way with a monogram decal that carries your combined initials or a special logo made for your wedding. It's not just a personal touch, it's also a design element that links your dance floor to the overall look and feel of your wedding. This subtle but classy detail will surely leave a mark.
Quote Decals: A cherished love quote, a piece of your vows, or a line from your first dance song can all make romantic and personalized dance floor decals. These not only add to the design but also serve as a reminder of the love and commitment that gathered everyone there. It's a considerate detail that builds emotional connections and unforgettable images.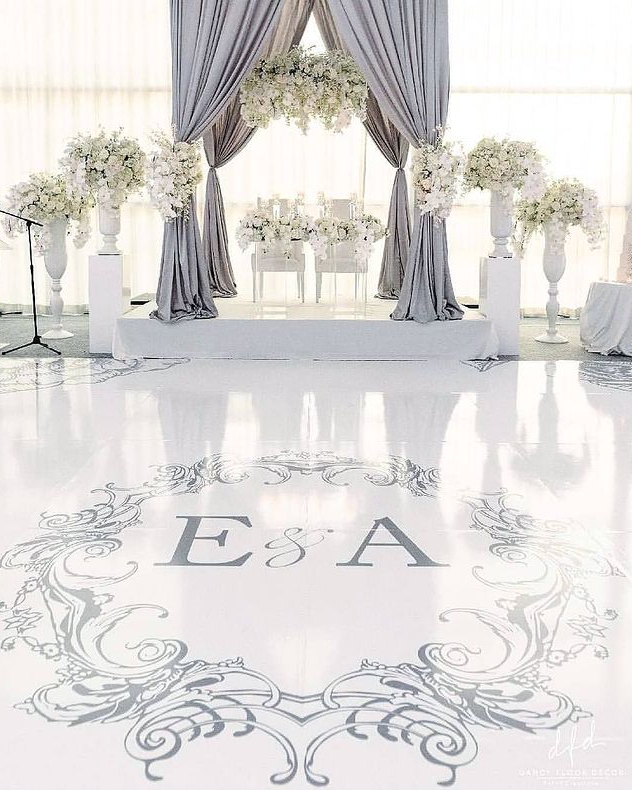 Floral Designs: For couples planning a garden-themed, rustic, or spring wedding, a flower design decal is ideal. For a united aesthetic, include your wedding flowers in the design, or use a beautiful botanical artwork. It's a delightful, natural element that adds natural beauty to your dance floor.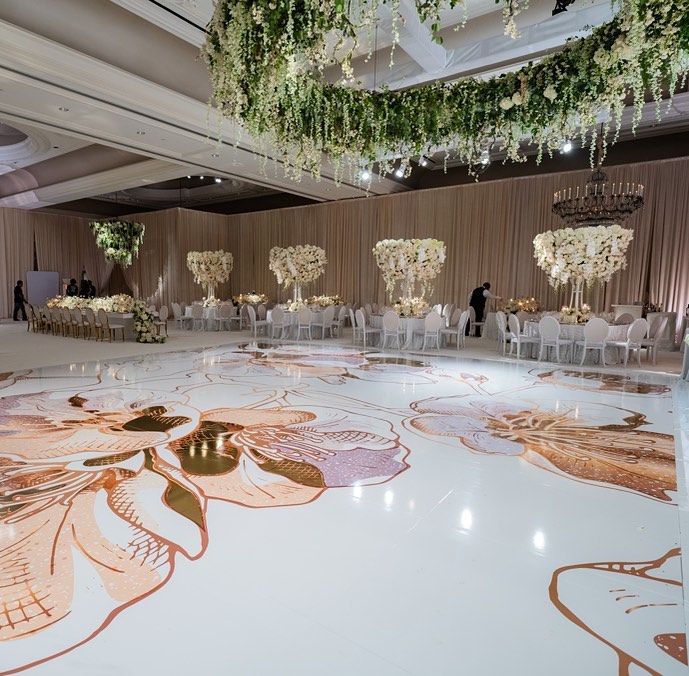 Abstract Art: An abstract art sticker allows the artsy couple to make a strong statement. It may transform your dance floor into a vivid artwork, whether it's a blend of your wedding colors, a geometric design, or an abstract picture of your love journey.
Minimalistic Geometry: A minimalistic geometric pattern for your wedding dance floor displays a contemporary and sophisticated look. This design can provide a beautiful visual effect while keeping things nice and simple, whether it's a visible grid, a repetitive form, or a complicated pattern of lines and figures.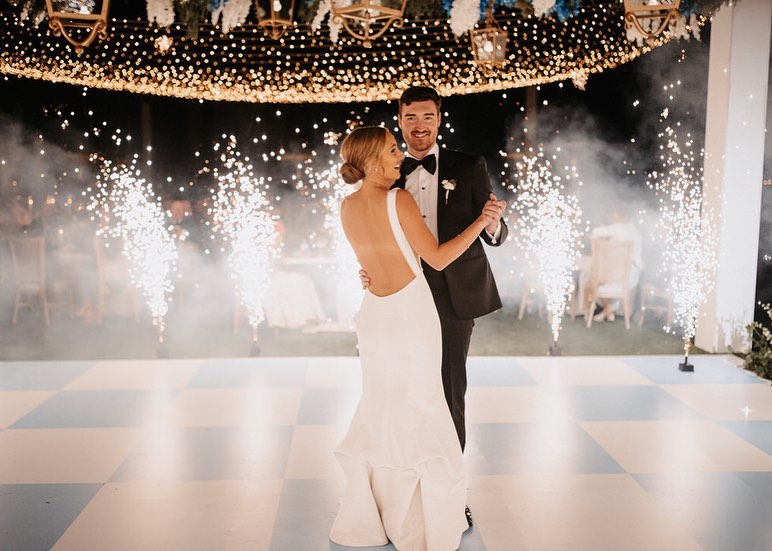 Personalized Photos: Create a collage of your best memories and turn them into a dance floor sticker. It's a unique design component that graphically chronicles your journey together, as well as a personal and sincere way to share your love story with your guests.
Mirror Dance Floors: Mirror dance floors are an excellent way to bring a modern, glamorous touch to your wedding reception. The reflective surface beautifully amplifies the light effects, giving sparkle to your dance floor. It's an eye-catching design choice that's sure to impress your guests.
LED Dance Floors: Craft an energetic, unforgettable party mood with an LED dance floor. The lights can be programmed to sync with the music, resulting in a lively and fun experience for everyone. Plus, the vibrant lights will make for some really cool wedding photos!
Romantic Outdoor Wedding Dance Floor Ideas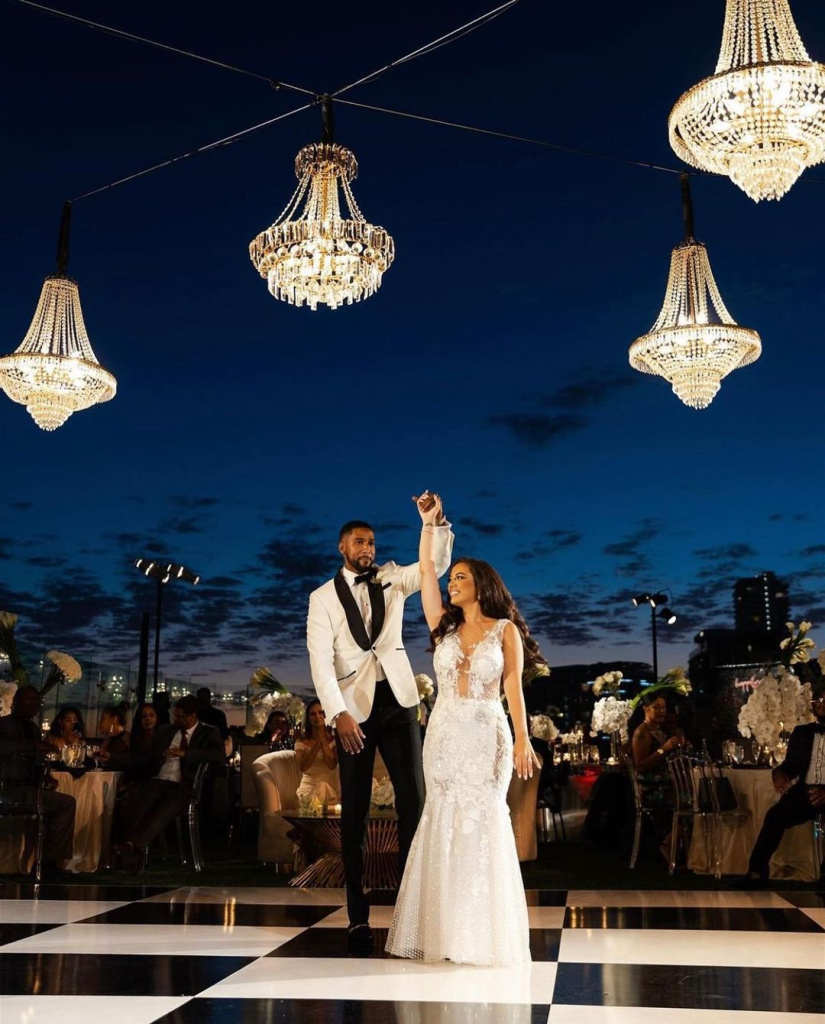 There's an indescribable allure about outdoor weddings. The wide-open spaces, the soft rustle of trees, and the glowing stars above can create an ambiance that's purely magical. While contemplating an outdoor wedding dance floor, it's essential to consider the wedding dance floor cost and choose an option that aligns with your budget and vision. Here are six delightful wedding dance floor ideas that blend naturally into an outdoor setting.
Lush Lawn Dance Floor: Utilize the velvety green carpet provided by Mother Nature herself. A lush, even lawn can be the perfect place to dance under the open sky. This idea is not only cost-effective but also allows you and your guests to feel truly connected with the surroundings.
Deck Dance Floor: If your venue has a deck or a patio, transform it into your dance floor. Enhance it with lanterns, string lights, or candles for a warm, inviting ambiance.
Gravel Dance Floor: For a unique and earthy vibe, consider a gravel dance floor. Outline it with logs, plants, or standing lanterns to make it distinctive. Remember to provide suitable footwear options for your guests!
Floating Dance Floor: If your outdoor wedding venue features a pool or a pond, a floating dance floor can be an incredibly romantic and unforgettable addition. Imagine dancing with your beloved, surrounded by water, under the starry sky – it's like a fairytale come to life.
Plexiglass Floor: This is an exceptional choice for a garden wedding. A clear plexiglass floor allows the natural beauty of the grass or flowers beneath to become part of your dance floor design. At night, lighting can enhance the effect, creating an ethereal ambiance.
Checkered Dance Floor: Rent a classic black-and-white checkered dance floor for a timeless and elegant look. It stands out in any setting and creates a visually pleasing contrast with the colorful outdoor scenery.
Ideas for Wedding Reception Dance Floor Rentals
Setting the stage for the perfect first dance and a night of merriment is easier than ever with a rented dance floor. Rentals can provide you with a vast array of options, making it a breeze to match the dance floor with your wedding theme, venue, or personal style. With so many options available, it can be tricky to decide on the typical size of a wedding dance floor or the type that suits your needs best. To help you out, here are five fantastic and unique ideas for your custom wedding dance floor.
Parquet Floor Rental: If you're looking for a timeless style, think about renting a wooden dance floor. Its detailed wooden pattern can provide a vintage feel that blends well with outdoor venues. It's versatile enough to be dressed up or down based on your wedding theme.
Round Dance Floor: Try something different and choose a round dance floor. It offers a unique visual charm and provides a full view of the dance happenings from all sides. Enhance the romantic mood by adorning it with twinkling fairy lights or an impressive floral display from above.
Black and White Checkered Dance Floor: Opt for a checkered black and white dance floor to produce bold, timeless contrasts. This standout design fits well with various wedding themes, from elegant to playful. It can serve as an intriguing and picture-perfect main attraction at your wedding party.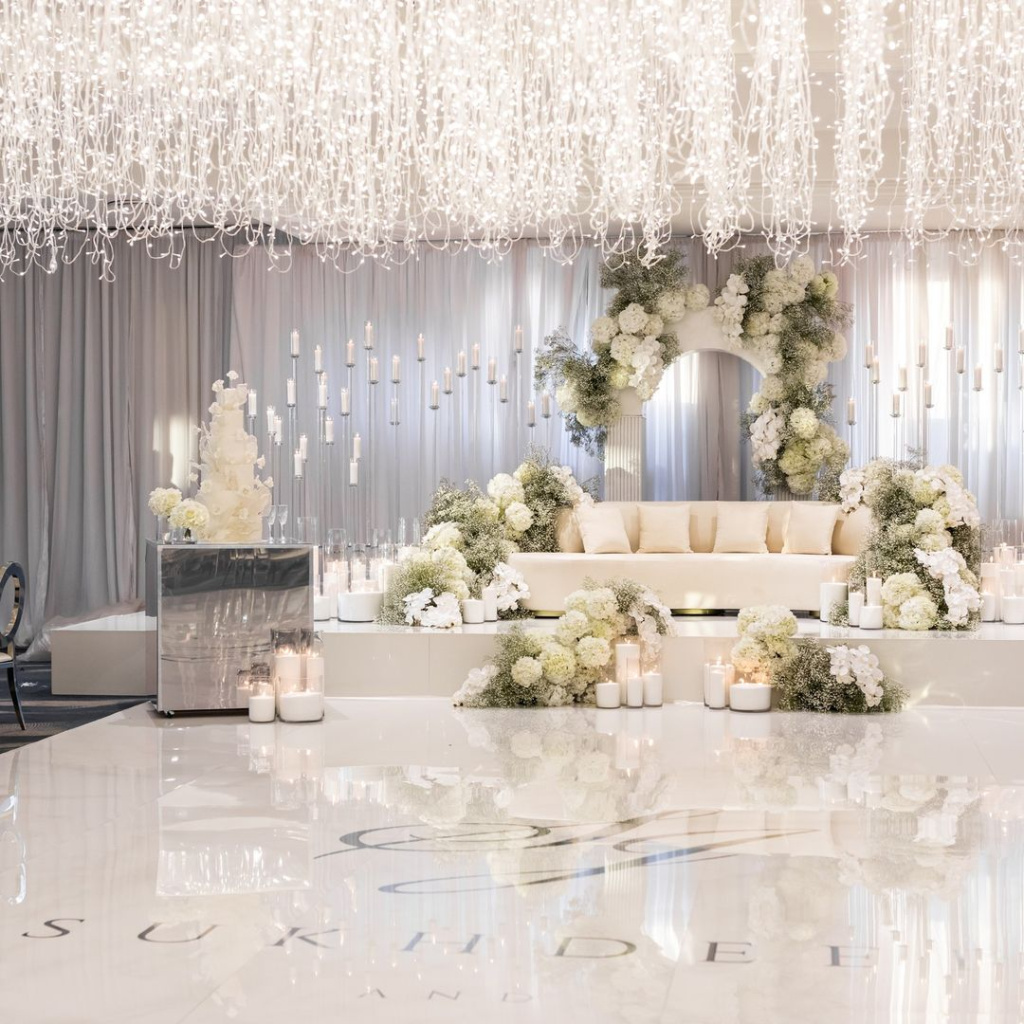 Shiny White Dance Floor: A glossy white dance floor is an elegant choice that infuses a bit of glamor and luxury. It effectively catches and bounces off light, enhancing the overall appeal of your wedding. Pair it with a unique decal or let it stand alone as a trendy and modern addition to your reception area.
Retro-Styled Dance Floor: Think about a dance floor with a retro design or pattern. A dance floor that looks beautifully aged can bring in a sense of nostalgia and allure, making it perfect for a vintage-themed wedding or for adding depth and character to a contemporary venue.
Infinity Dance Floor: If you're after a wow factor, an infinity dance floor could be just the ticket. This dance floor features LED lights beneath a clear surface, creating an illusion of dancing on an endless starry sky or a sea of lights. It's a high-impact choice sure to impress your guests and create a memorable experience.
Creative Customized Dance Floor Ideas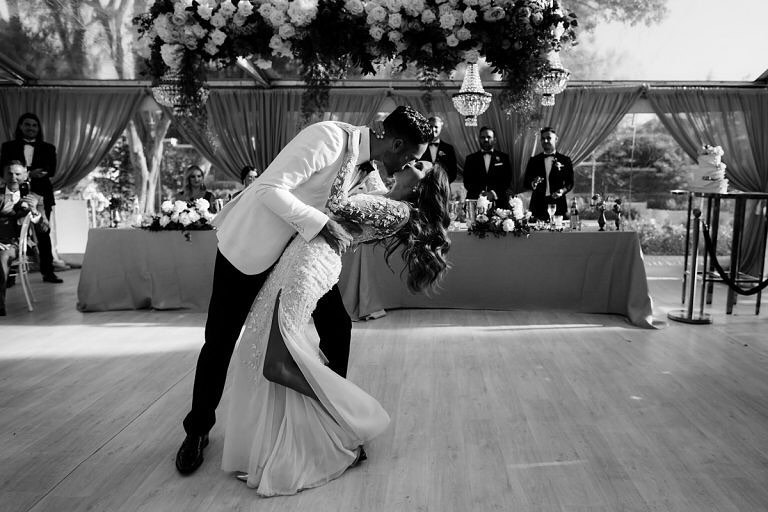 Personalizing your wedding extends beyond the centerpieces and menu. The dance floor, the center stage of your celebration, can reflect your love story and style too. Whether you're interested in personalized wedding floor decals or impressive lighting effects, there's no end to the customization possibilities. As you think about how much is a custom dance floor, consider these five unique ideas that go beyond the norm.
Thematic Dance Floors: Pick a dance floor that harmonizes with your wedding theme. For instance, a vintage-inspired black-and-white checkered floor could be the highlight of a retro wedding. Alternatively, a beach wedding might dazzle with a floor painted in hues of the ocean. Remember, your dance floor is a canvas that can reflect your chosen theme in a bold, visual way.
Interactive Dance Floors: Give your guests something to talk about with a pressure-sensitive dance floor. These floors are fitted with tiles that light up or change colors when stepped on. Not only will it be a visual treat, but it will also inject a ton of fun into your reception. Guests will be eager to dance and explore the interactive spectacle under their feet.
3D Projection Mapping: Immerse your guests in a world of enchanting visuals with 3D projection mapping. This technology can project images, patterns, or even videos onto your dance floor, completely transforming it into an interactive canvas. With the right images, you can create a dreamlike atmosphere that complements your wedding theme perfectly.
Illuminated Initials: Make your mark on your reception by illuminating your initials on your dance floor. You could use decals, light projections, or custom LED panels for this purpose. It's a wonderful way to personalize the space and create a memorable visual that will show up beautifully in photographs.
Custom Floor Shapes: Break away from the traditional rectangular dance floor by experimenting with different shapes. A circular, heart-shaped, or even free-form dance floor can make your wedding stand out. Remember, your dance floor is a reflection of you, so don't shy away from doing something unexpected.
Rustic Dance Floor Ideas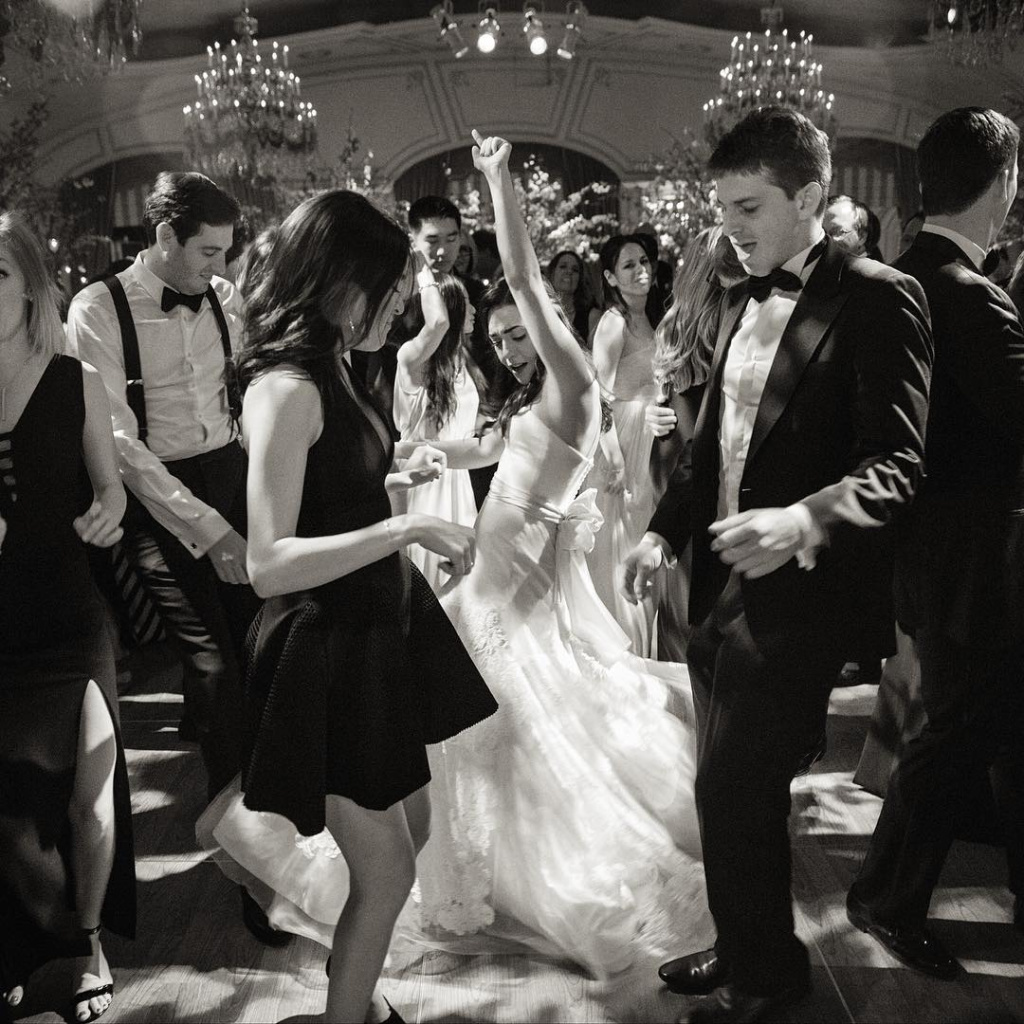 If your wedding leans towards the rustic aesthetic, filled with handcrafted details and natural elements, your dance floor should follow suit. A rustic theme dance floor can foster a warm, inviting ambiance for your guests to revel in. If you're wondering what wedding flooring options are available, here are some rustic dance floor ideas to stir your imagination.
Barn Wood Dance Floor: Reclaimed barn wood can make a dance floor that's full of cozy country charm. The weathered texture and natural color variations of the wood create an authentic rustic feel. To take the rustic vibe up a notch, surround the dance floor with hay bales for seating and string up some fairy lights for a gentle glow.
Hay Bale Dance Floor: Speaking of hay bales, why not use them as a boundary for your dance floor? They can add a fun and unique touch to a barn or farm wedding, and offer casual seating for guests who want to take a breather from all the dancing. Pair this with a simple wooden or pallet floor for a complete rustic look.
Palette Dance Floor: For the eco-conscious couple, a dance floor made from wooden pallets is an excellent choice. You'll not only recycle materials but also achieve a charming, rustic look. Soften the look with some area rugs and dress it up with string lights for when the sun goes down.
Checkerboard Wooden Floor: A checkerboard pattern can add a touch of sophistication to a rustic dance floor. Use contrasting shades of wood to achieve this effect. The pattern can draw the eye and make your dance floor the centerpiece of your reception.
Rug-Layered Dance Floor: Layer an assortment of rugs to create a unique and comfortable dance floor. This idea is perfect for a bohemian or vintage rustic wedding. In addition to being soft underfoot, the varied patterns and colors of the rugs can add a vibrant, eclectic charm to your venue.
Cobblestone Dance Floor: If you're hosting a rustic or old-world-themed wedding, a cobblestone dance floor can be a fantastic choice. It offers texture and charm, reminiscent of dancing in an old town square.
Unique Dance Floor Patterns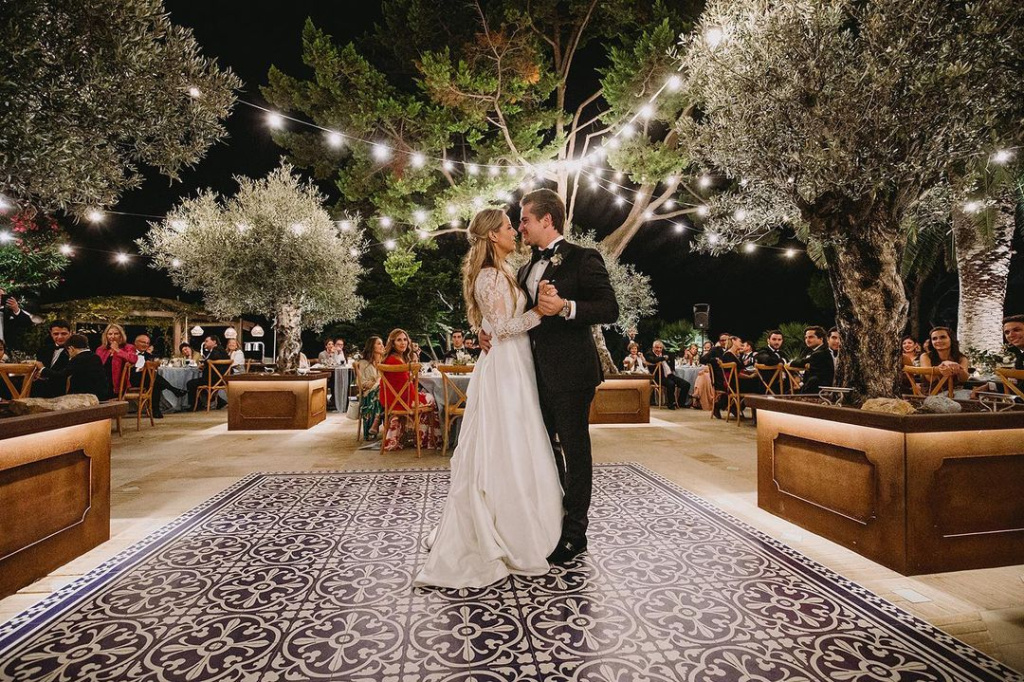 With a custom dance floor, your options are unlimited. You can let your creativity soar with unique patterns, from simple geometric shapes to complex mosaics. These wedding dance floor decor ideas might inspire you to think outside the box.
Tiled Dance Floor: Opt for tiles in various colors and textures to create a visually engaging dance floor. A Moroccan-style tile pattern, for instance, can provide a bold, exotic look, transporting your guests to a distant locale. On the other hand, a monochrome tile floor can offer a refined, elegant aesthetic.
Herringbone Pattern Floor: An age-old pattern can deliver contemporary elegance. Whether rendered in wood, tile or a printed design, a herringbone floor is timeless and chic. To add a personalized touch, consider custom-colored tiles that match your wedding theme.
Optical Illusion Floor: A 3D optical illusion on your dance floor can offer an unexpected surprise for your guests. Achievable with custom printed decals or professional floor painting, an illusion floor could feature anything from an abyss to a flowing river. It's an engaging and fun way to make your wedding uniquely memorable.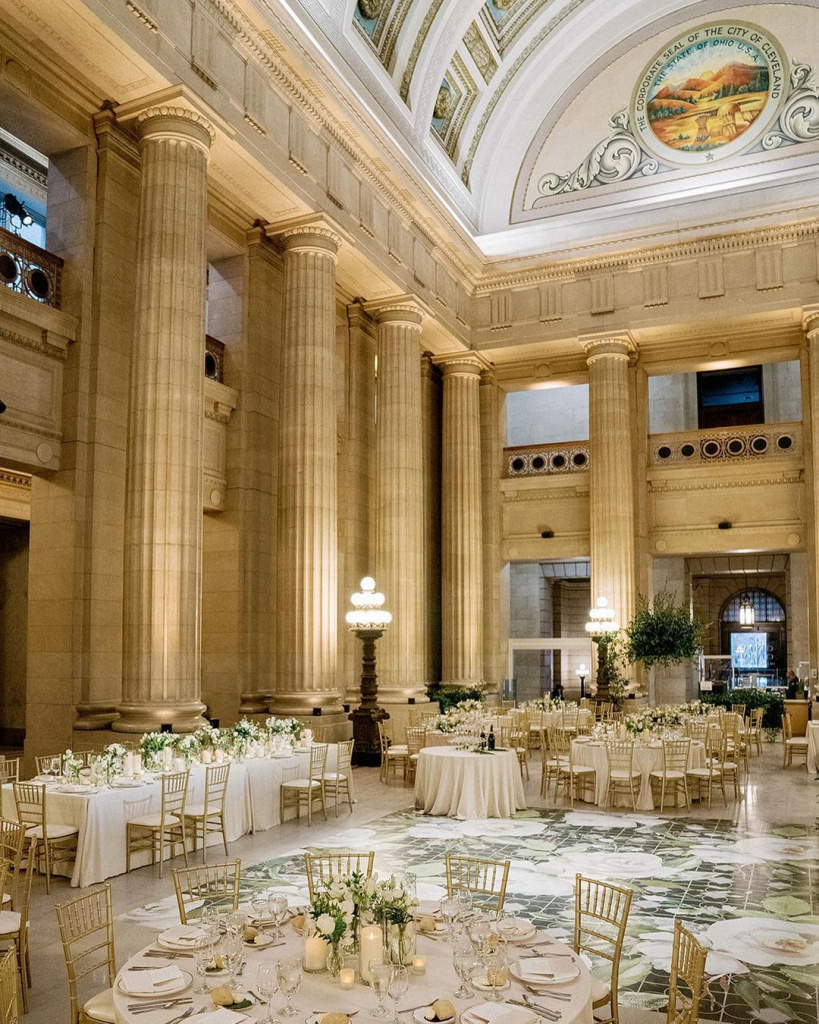 Constellation Floor: A constellation or star map printed on your dance floor can offer a romantic and celestial touch. Perfect for an outdoor or astronomy-themed wedding, a constellation floor could depict the stars as they were on the night you first met or on your wedding day, adding a truly personal touch.
Puzzle Piece Dance Floor: A dance floor made up of puzzle pieces can be incredibly meaningful. Each piece could be decorated or signed by a different guest or family member, turning your dance floor into a collection of well-wishes from your loved ones. This idea also serves as a beautiful metaphor for how all the pieces of your life have come together.
Cheap Wedding Dance Floor Ideas
You don't need to break the bank to have a memorable wedding reception. There are plenty of ways to figure out how to make a dance floor that's both affordable and eye-catching. Here are some ideas for custom dance floors that don't require a hefty budget.
DIY Painted Plywood Floor: This is a brilliant idea for crafty couples. Join plywood pieces together, sand them down, and paint your preferred design. Not only does it add a personal touch, but it also helps keep the budget in check.
DIY Painted Concrete Floor: If your venue already has a concrete floor, why not transform it with paint? You can apply a single color, a beautiful pattern, or even a mural that ties in with your wedding theme. The transformation can be drastic, turning a drab concrete slab into an exciting, personalized dance space.
Tarp and Tape Dance Floor: With a durable tarp and colored duct tape, you can create a fun, custom dance floor. This cost-effective approach allows you to play with colors and patterns. To make it more comfortable, you might place foam mats under the tarp.
Rent a Standard Floor and Customize: A standard wooden or vinyl dance floor rental can be made unique with decals, painted designs, or a DIY border. This way, you can save on costs without compromising on personalization. The beauty of this idea is in its flexibility - you can adapt it to any style or theme.