Independence Day Wedding Ideas
Publication date:

07/04/2023

Updated:

07/04/2023
There's something exceptionally romantic about tying the knot under the star-spangled banner of the 4th of July. Not only do you get to celebrate your love, but you also get to revel in the shared joy of a nation celebrating its freedom. Combining the elements of a quintessential wedding with the patriotism of Independence Day creates a unique and memorable experience that your guests will talk about for years to come.
An Independence Day-themed wedding captures the essence of camaraderie and unity while celebrating the love between two people. So, if you are considering having your wedding on Independence Day, this guide will inspire you to create a wonderful and unforgettable patriotic wedding.
Independence Day Wedding Ideas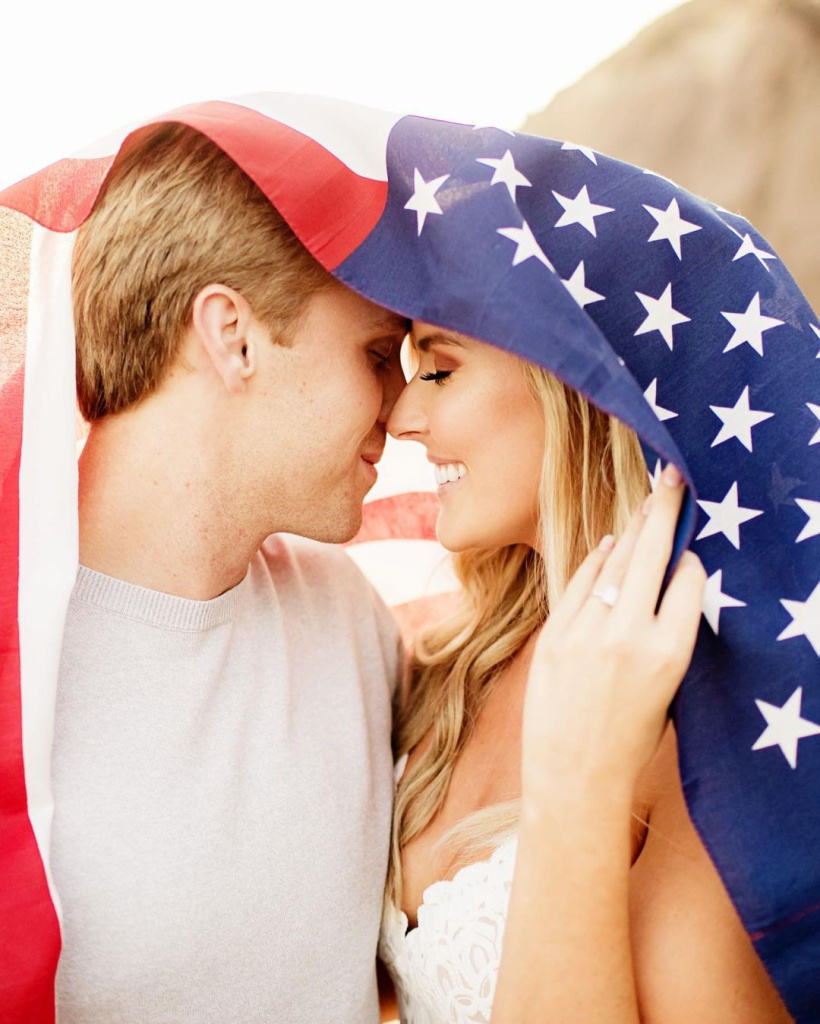 Making your Independence Day wedding truly special involves incorporating the theme into every detail. Here are a few ways you can create a red, white, and blue wedding and ensure that every aspect of your day is teeming with patriotic wedding spirit.
A Patriotic Dress Code. Ask your guests to dress in the colors of the flag to really embrace the theme. This will make for amazing group photos and really amplify the festive feel of the day. Keep reading to find out more outfit ideas for the guests!
Firework Display. What's an Independence Day celebration without a firework display? Cap off your evening with a dazzling show that lights up the night sky.

Photo by @caitlinalohilaniphoto

All-American Menu. Serve your guests classic American dishes. This is not only thematic but also comforting and delicious.
Patriotic Beverages. Quench your guests' thirst with beverages that echo the colors of the flag. Think blue curacao cocktails, strawberry daiquiris, and tequila for example.
Themed Wedding Music. Create a playlist of songs that celebrate America. This could include patriotic tunes, classic American rock, and anything that gets your guests in the Independence Day spirit.
July 4th Wedding Venues: How to Choose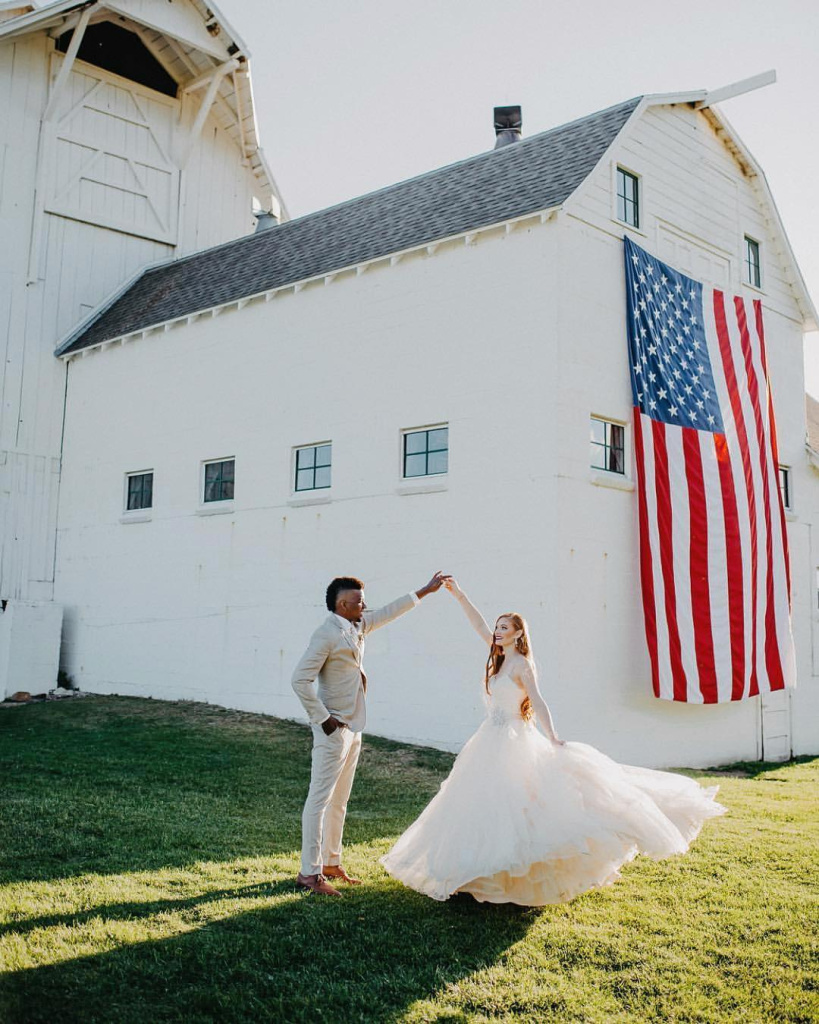 Choosing a venue for your 4th of July wedding is all about finding a location that can accommodate and enhance your Independence Day wedding theme. As you embark on your venue hunt, there are a few factors that can help guide your selection.
Outdoor Venues
An outdoor venue is a classic choice for an Independence Day wedding. The wide-open spaces are perfect for a summer celebration and give you ample opportunity to enjoy the quintessential Independence Day fireworks. Consider options like parks, gardens, vineyards, or even a picturesque Independence wedding venue like a historical site.
Waterfront Venues
If you're fortunate enough to have access to a waterfront venue, it could be an incredible setting for your wedding. The reflection of the fireworks on the water creates an unforgettable spectacle that will leave your guests in awe.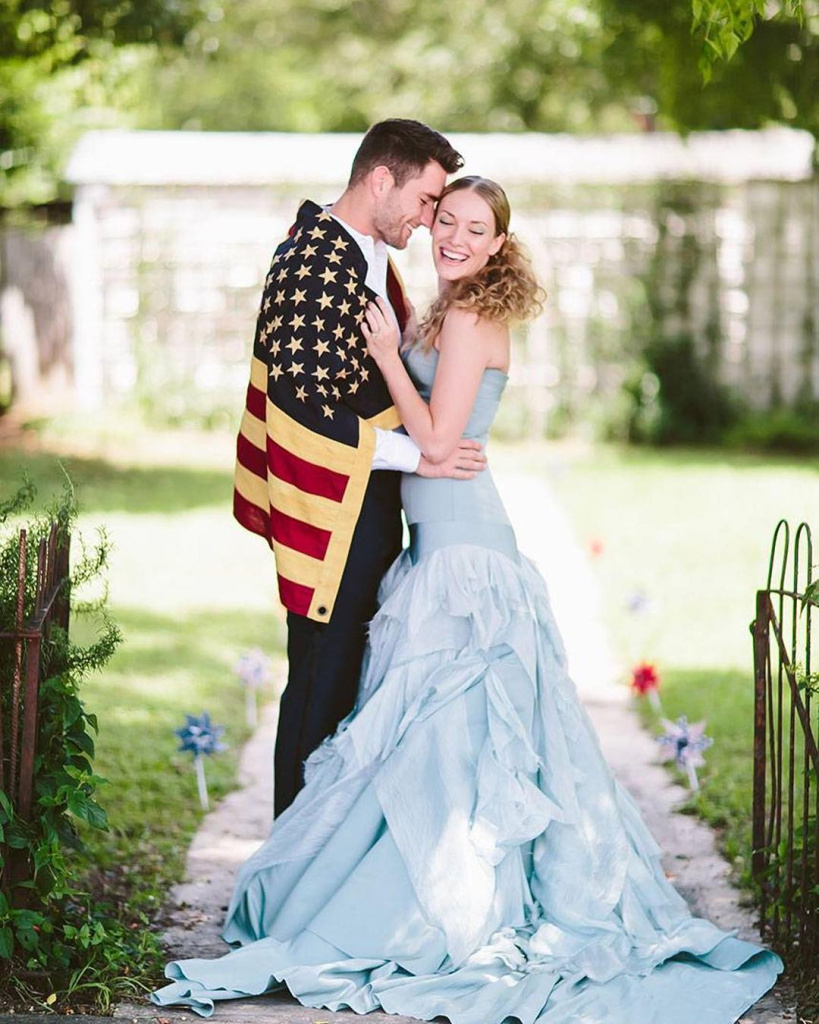 Historical Venues
To truly tie into the spirit of Independence Day, consider hosting your wedding at a historical venue. This could be a historical home, an old town hall, or any site with a significant connection to American history.
Farm or Barn Venues
For a rustic and laid-back feel, consider a farm or barn venue. They often offer plenty of space and are a great canvas for your red, white, and blue decorations. An Independence wedding in the barn could be the perfect location to create a rustic yet patriotic vibe.
Backyard Barbecue
Sometimes, there's no place like home. If you have a spacious backyard, it can be transformed into the perfect, intimate Independence Day wedding venue.
Patriotic Wedding Dress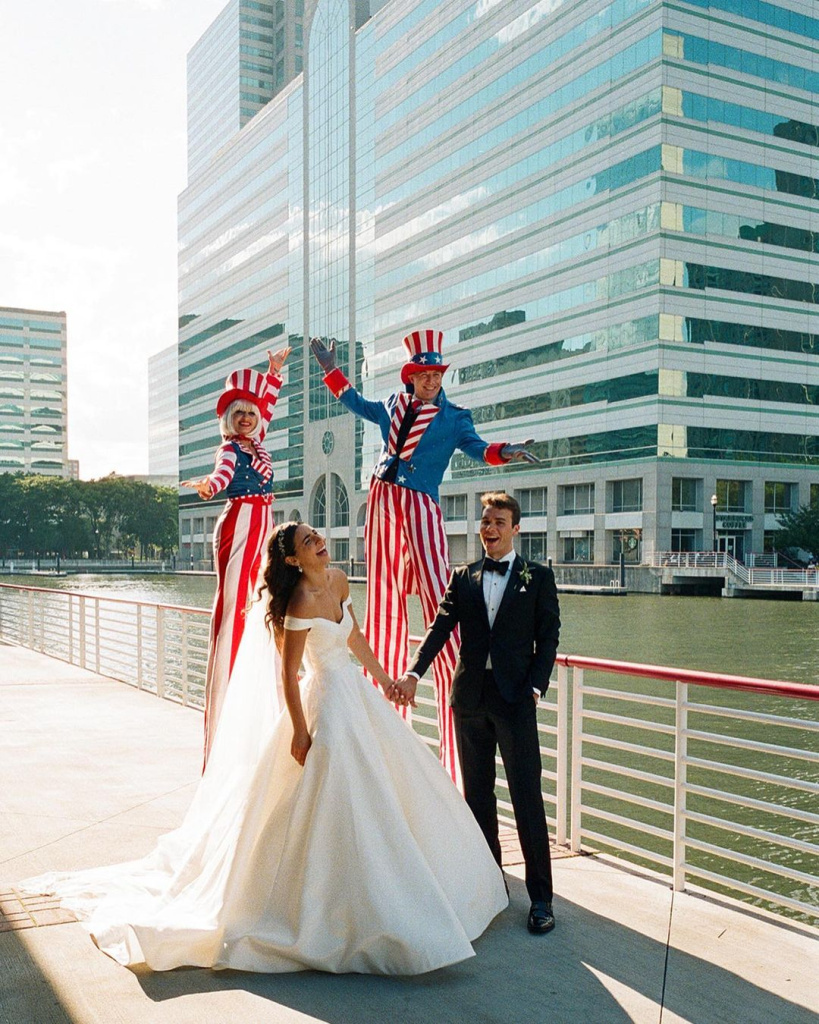 Deciding on your wedding dress is one of the highlights of wedding planning, it's your moment to truly express who you are. Having a 4th of July wedding? Now that's a fun opportunity to sprinkle a bit of patriotism into your bridal look. Let's dive into some exciting Independence Day wedding dress ideas.
How about a white dress adorned with touches of blue and red? Imagine a classic white gown with dainty red and blue elements - it could be a blue ribbon tied around your waist or fiery red shoes peeking out from underneath your dress, or maybe even a hidden underskirt popping in patriotic hues.
Let's bring the night sky onto your dress with a star-spangled number. Think along the lines of a dress gracefully overlaid with star-patterned lace, or a fabric scattered with twinkling star-shaped crystals. Even the bold choice of a dress with star-themed fabric could be a stunner!

Photo by @donegalwedding

For the daring bride who loves color, why not go all out with a red, white, and blue dress? It could be a bold design with defined blocks of color, soft stripes that seamlessly blend into one another, or even a gradual transition from red to blue, passing through a serene white middle.
Are you a history buff? What better way to pay homage to the past than a vintage-inspired dress? It could be a dress reminiscent of the 1770s fashion – the time when America gained its independence or a dress that reflects a unique style from a specific period in American history.
Prefer the timeless white wedding dress? You can still add a patriotic twist to your bouquet. Embrace red, white, and blue flowers or adorn your bouquet with small American flags or star-shaped accents to beautifully tie into the Independence Day theme. After all, it's all in the details!
4th of July Wedding Attire for Guests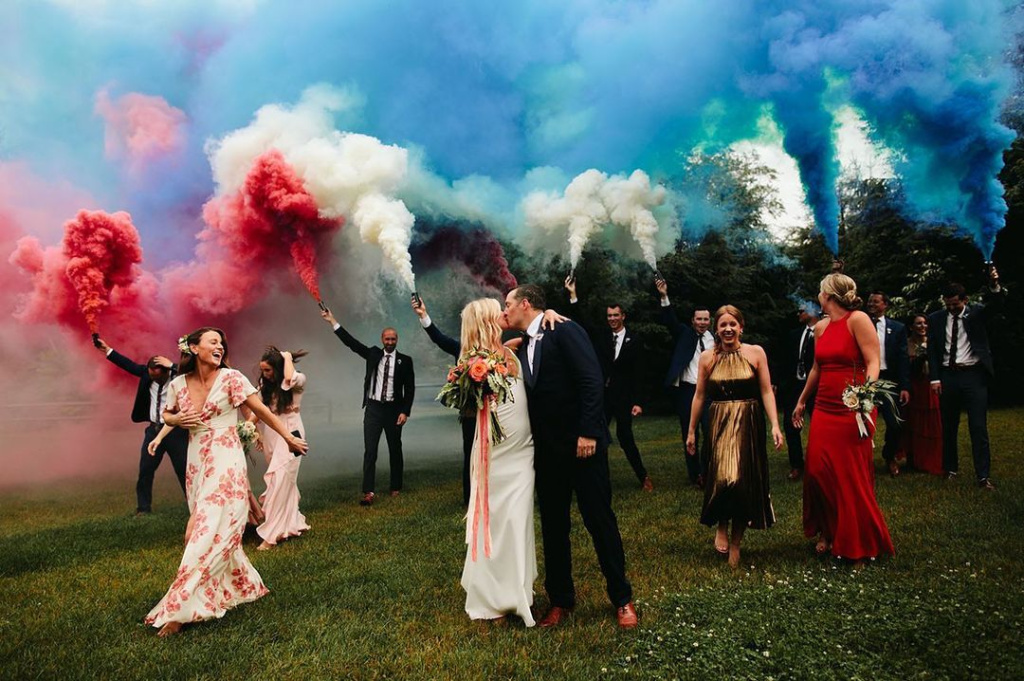 Got an invite to an Independence Day wedding? You're probably wondering how to blend in the theme without looking like a walking flag. Here are a few outfit ideas to inspire you.
Consider sporting an outfit in red, white, and blue. You don't need to wear all the colors at once, just pick one for your main outfit and let the others pop in your accessories. It could be a gorgeous blue dress with a dashing red purse, or a crisp white suit with a striking blue pocket square.
Want to take it up a notch? How about a Stars and Stripes ensemble? You could wear a dress or shirt boasting a star pattern, or if you're feeling adventurous, perhaps a tie or scarf showcasing a fun stripe motif. It's a playful way to honor the occasion without going overboard.
Fancy a throwback to yesteryears? Dress up in an Americana-inspired outfit. Whether it's a flapper dress reminiscent of the roaring Twenties or a '50s-inspired suit, you could use accessories that reflect historical American symbols to tie the outfit together.
If you're one for understated elegance, an elegant outfit with patriotic accents could be your go-to. Picture a sophisticated dress or suit in a neutral color, jazzed up with red, white, and blue accessories - think a blue tie, a red pocket square, or a white corsage.
Finally, if you're heading to a laid-back backyard or beach wedding, keeping it casual would be appropriate. You could slip on a sundress or a comfortable polo shirt in any of the patriotic colors. Don't forget to wear shoes that are perfect for a stroll in the sand or grass. Remember, comfort is key!
4th of July Wedding Invitations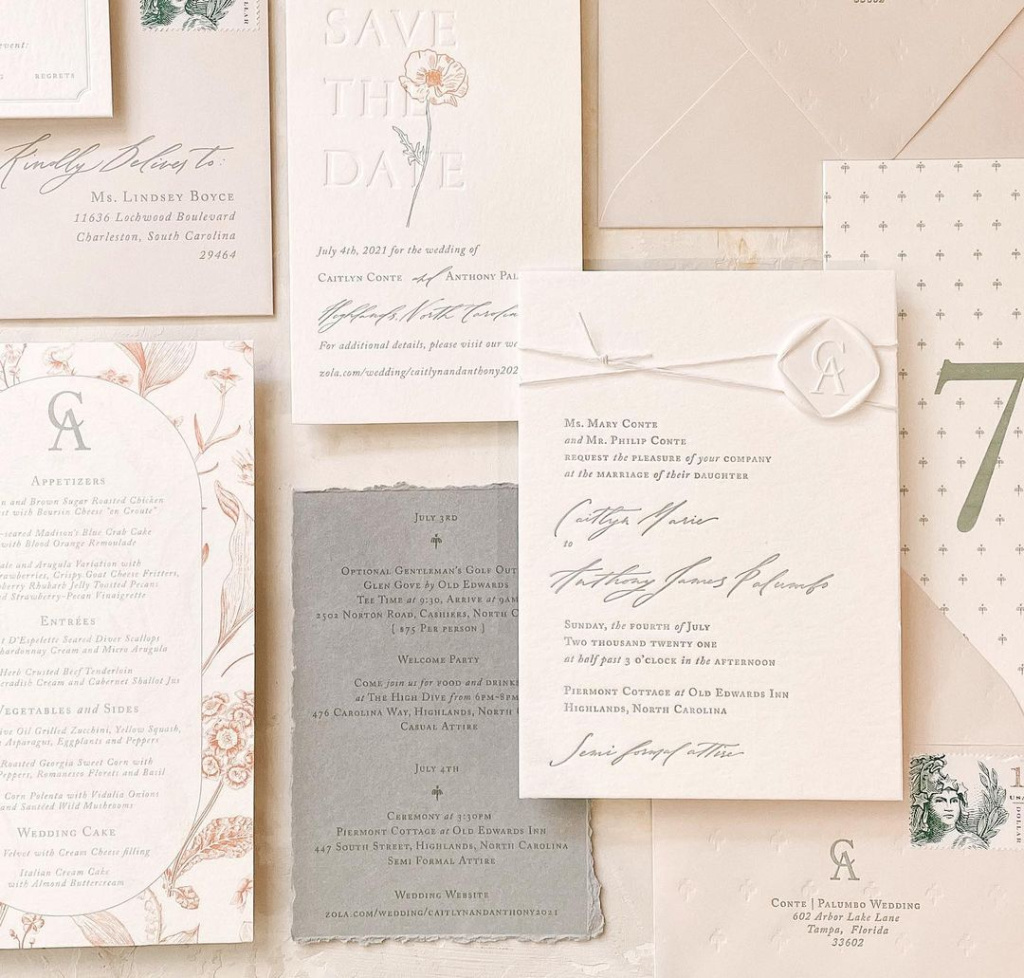 Wedding invitations are like the movie trailer for your wedding, they set the scene and get your guests excited for what's coming. They should be inviting, informative, and of course, in tune with your wedding theme. Let's brainstorm some ideas for the 4th of July wedding invitations.
Imagine a bold design splashed with patriotic hues of red, white, and blue. It could be a fun color-blocked design or soft stripes, or maybe even a mesmerizing gradient that seamlessly blends from one color to the next. It's a head-turner for sure!
How about an invitation with a vintage Americana theme? It could have motifs inspired by historic American flags, old-school illustrations, or maybe even famous quotes or sayings from American history. This theme adds a layer of nostalgia to your invites.
Embrace the joy and thrill of fireworks on your invitations. A firework-inspired design could have illustrations of bursting fireworks, sparkly embellishments that mimic the glittery display, or even a pop-up feature that surprises your guests, much like the actual firework display on the 4th of July.
For an understated and classy approach, a patriotic elegance theme could be your pick. Think along the lines of sophisticated shades of red, white, and blue, or perhaps subtle star and stripe details. You could even have a tastefully incorporated American flag motif.
Last but not least, a stars and stripes wedding theme on your invites could be the way to go. You could opt for a striped background punctuated by star-shaped details or a starry design accented with stripes. It's a festive and playful choice that will definitely have your guests excited for your big day.
July 4th Wedding Cakes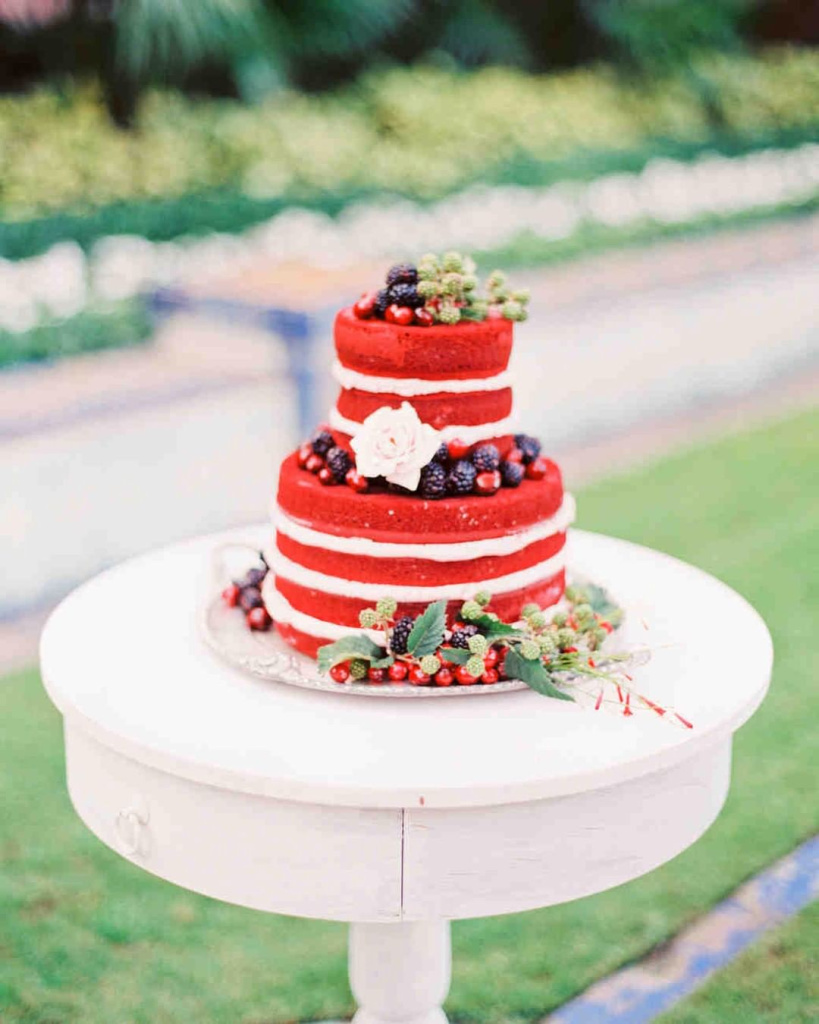 Your wedding cake is like the sweet, delicious exclamation point at the end of your celebration. It's not merely a dessert, but a centerpiece, a reflection of your wedding theme. So, let's look at some deliciously creative 4th of July wedding cake ideas.
How about a cake that mirrors the night sky on Independence Day with a star-spangled design? It could be a cake studded with star-shaped decorations, covered in starry frosting, or even crowned with a star-shaped cake topper.
What about a towering spectacle in red, white, and blue? Imagine a multi-tiered cake with each layer revealing a different color, with decorations creating a cohesive look that screams 'patriotic' in the sweetest way possible.
If you're a fan of the classics, an American classic-inspired cake might be right up your alley. Think along the lines of a deep red velvet cake, an apple pie-inspired cake, or even a blueberry muffin-flavored cake - a sweet slice of America.
Capture the electrifying spirit of fireworks on your cake. Visualize a cake adorned with firework-shaped decorations or a sparkler shooting off the top of the cake, or even a cake that surprises your guests with a burst of colored sugar sprinkles when you cut into it.
Lastly, for a cake that is truly a salute to the flag, consider a flag-inspired design. This could be a cake artfully decorated to mimic the American flag or cleverly incorporating elements of the flag's design. Your guests won't be able to resist taking photos of (and bites out of) this patriotic treat!
4th of July Wedding Menu Ideas
Your wedding menu is another opportunity to incorporate your theme. It's not just about the food, but the overall dining experience. Here are some July 4th wedding reception food ideas.
Barbecue Fare
How about embracing the laid-back, summertime vibes of July 4th with a menu chock-full of classic barbecue favorites? Imagine a spread with juicy hamburgers, sizzling hot dogs, buttery corn on the cob, and a smorgasbord of salads. And of course, don't even think about forgetting the apple pie - it's as American as, well, apple pie!
Picnic-Inspired Menu
Or, for a relaxed and informal feel, why not opt for a picnic-inspired menu? Think bite-sized sandwiches, refreshing fruit salads, crunchy chips, and a delightful assortment of cookies and pastries. Set up a picnic-style seating arrangement to really get the vibe going.
Seafood Feast
Planning a beach wedding? Let the venue inspire your menu with a scrumptious seafood feast. Imagine your guests feasting on succulent lobster, juicy crab, and tangy shrimp, alongside an array of seafood salads. Why not add a dash of sophistication with a raw bar offering fresh oysters and clams?
All-American Classics
You can never go wrong with all-American classics. Comfort food like creamy mac and cheese, crispy fried chicken, fluffy mashed potatoes, and a selection of drool-worthy pies for dessert. Consider setting up a soda bar offering classic American soft drinks to wash it all down. This menu is a sure-fire crowd-pleaser!
Gourmet Take on Traditional Favorites
For a more upscale approach, consider a gourmet take on traditional favorites. This could include gourmet burgers, lobster mac and cheese, truffle fries, and a variety of gourmet desserts. You could also have a wine pairing for each course.
Patriotic Wedding Decorations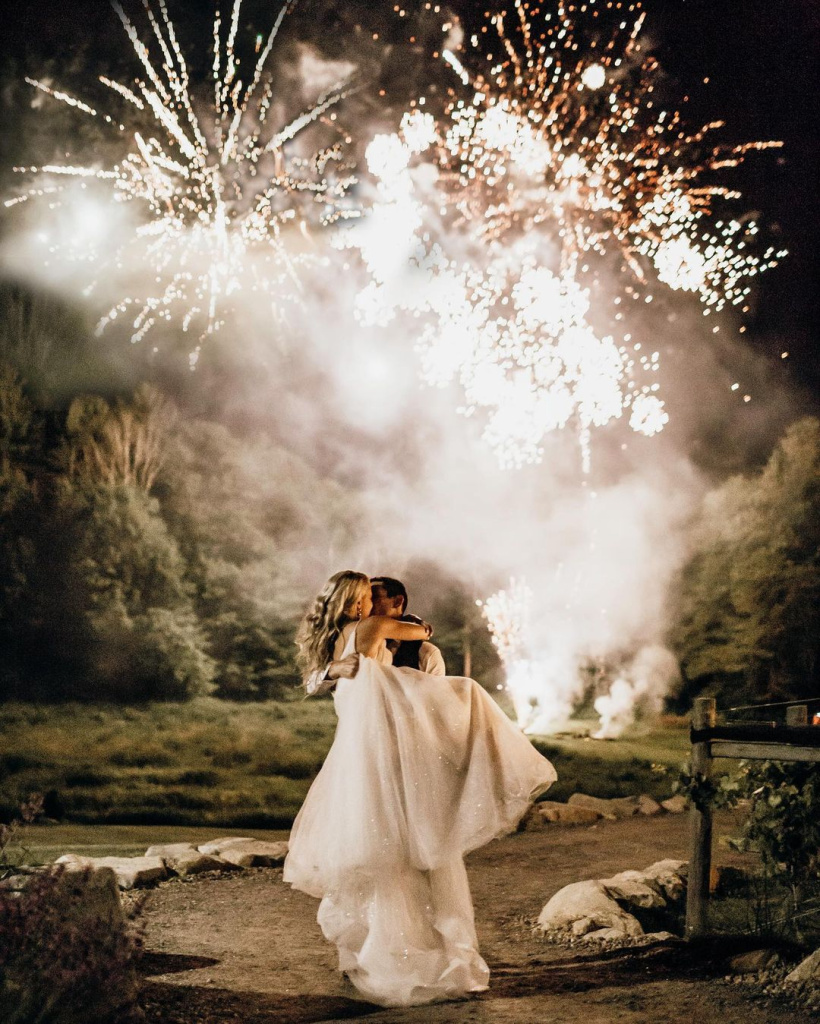 Now it's time to think about the decorations. Your wedding decor sets the tone for your celebration and is one of the first things your guests will notice. Here are some decoration ideas for your patriotic wedding.
July Wedding Decor
When planning your July wedding decor, consider seasonal flowers in red, white, and blue. You can also include summer elements like lanterns and fireflies in jars. Think about comfort too, providing fans or parasols if the day is expected to be hot.
Fourth of July Wedding Ideas
Add some sparkle to your wedding with these ideas: use sparklers as part of your send-off, incorporate mini fireworks in your decor, and consider a red, white, and blue confetti drop.
Red, White, and Blue Wedding Decorations
Bring the colors of the flag to your wedding with red, white, and blue wedding decorations. Use these colors in your floral arrangements, table linens, chair covers, and even your wedding cake. You can also add some fun with red, white, and blue balloons or streamers.
Red, White, and Blue Wedding Centerpieces
Your wedding centerpieces are a key part of your table decor. They should be visually appealing and tie into your wedding theme. Here are some July 4th wedding ideas.
Red, White, and Blue Floral Arrangements
Floral arrangements in red, white, and blue can make stunning centerpieces. You can use a mix of flowers in these colors, or create a gradient effect with separate arrangements for each color.
Star-Spangled Centerpieces
Stars are a key symbol of the 4th of July. Incorporate them into your centerpieces, whether it's star-shaped vases, star-shaped candles, or even star-shaped confetti sprinkled on the table.
Patriotic Candle Centerpieces
Candles add a romantic touch to any wedding. For a patriotic wedding, consider candles in red, white, and blue. You could have three separate candles in these colors, or one large candle with these colors layered.
Independence Day Wedding Barn Centerpieces
If you're having a rustic wedding in a barn, consider centerpieces that reflect this setting. This could be mason jars filled with red, white, and blue flowers, lanterns with patriotic-colored candles, or even mini hay bales with flags.
Firework-Inspired Centerpieces
Capture the excitement of fireworks in your centerpieces. This could be a centerpiece with sparkler-like decorations, a centerpiece with a pop of colored confetti, or even a centerpiece with a mini firework display (safety permitting!).
Patriotic Wedding Favor Ideas
Your wedding favors are a way to thank your guests for sharing on your special day. They should be thoughtful, personalized, and tie into your wedding theme. Here are some favor ideas for your patriotic wedding.
Personalized Mini Flags. Thank your guests with personalized mini flags. You can print your names and wedding date on the flags, creating a memorable souvenir from your wedding.
Fireworks-Inspired Favors. Capture the excitement of fireworks in your favors. This could be a sparkler kit, a fireworks-themed candle, or even a box of pop rocks.
Red, White, and Blue Edibles. Edible favors are always a hit. Consider red, white, and blue macarons, candy, or even mini bottles of wine or champagne.
Patriotic Seed Packets. For a green and patriotic favor, consider seed packets. You can include seeds of red, white, and blue flowers, along with a message about love growing.
Americana-Inspired Keepsakes. Americana-inspired keepsakes such as mini Liberty Bells, personalized star-shaped keychains, or mini bald eagle figurines can make for a memorable keepsake from your 4th of July wedding.
4th of July Wedding Hashtag Ideas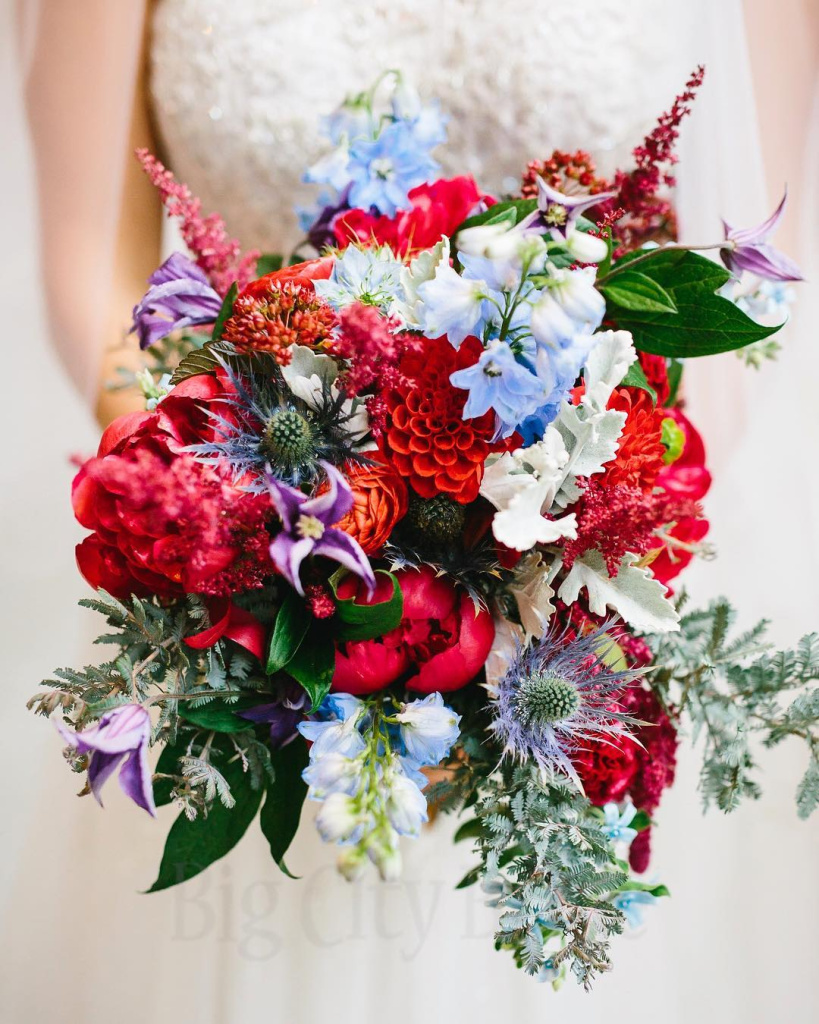 Think of your wedding hashtag as a fun virtual party favor, a way for your guests to share their snapshots and experiences from your big day. It should be distinctive, easy to remember, and tie into your wedding theme. So, let's delve into some hashtag ideas that can perfectly capture your 4th of July wedding inspiration.
Picture this - #IndependentlyInLove. This hashtag takes a playful spin on the theme of independence, weaving it with the idea of love. It's a quirky yet memorable choice that will perfectly echo the theme of your wedding.
Next up - #FireworksOfLove. This hashtag captures the exhilarating and passionate aspects of your love, comparing it to the brilliant fireworks that light up the 4th of July night sky. It's a fun and festive choice that brilliantly ties into the 4th of July theme.
How about - #StarsAndStripesForever? This hashtag playfully modifies the famous phrase, "stars and stripes forever", linking it to the idea of everlasting love and marriage.
We can't forget - #RedWhiteAndBride. This catchy and playful hashtag brings together the patriotic hues of red, white, and blue with a nod to the bride. It's an inventive and memorable choice that will beautifully highlight your red, white, and blue wedding theme.
Lastly, consider - #UnitedInLove. This hashtag cleverly uses the theme of unity, tying it into the concept of love. It's a powerful and memorable choice that perfectly mirrors the theme of your wedding.