25 Creative Sign Ideas for the Bar
Publication date:

07/13/2023

Updated:

07/14/2023
Wedding planning is all about creativity, personal touches, and making your special day truly unforgettable. One of the most exciting (and underrated!) ways to do this is through the bar. Yes, you read it right, the bar. You see, whether it's serving delightful cocktails or your signature brew, the bar becomes a significant gathering spot. So, what better way to make it stand out than with bar sign ideas that wow your guests? By adding a dash of personal humor, an ounce of unique design, and stirring it all up with your love story, you can create awesome and funny wedding bar signs that will leave your guests speechless. So, let's dive into the world of bar signs and see how you can raise the bar (pun intended) on your wedding day.
Creative Bar Sign Ideas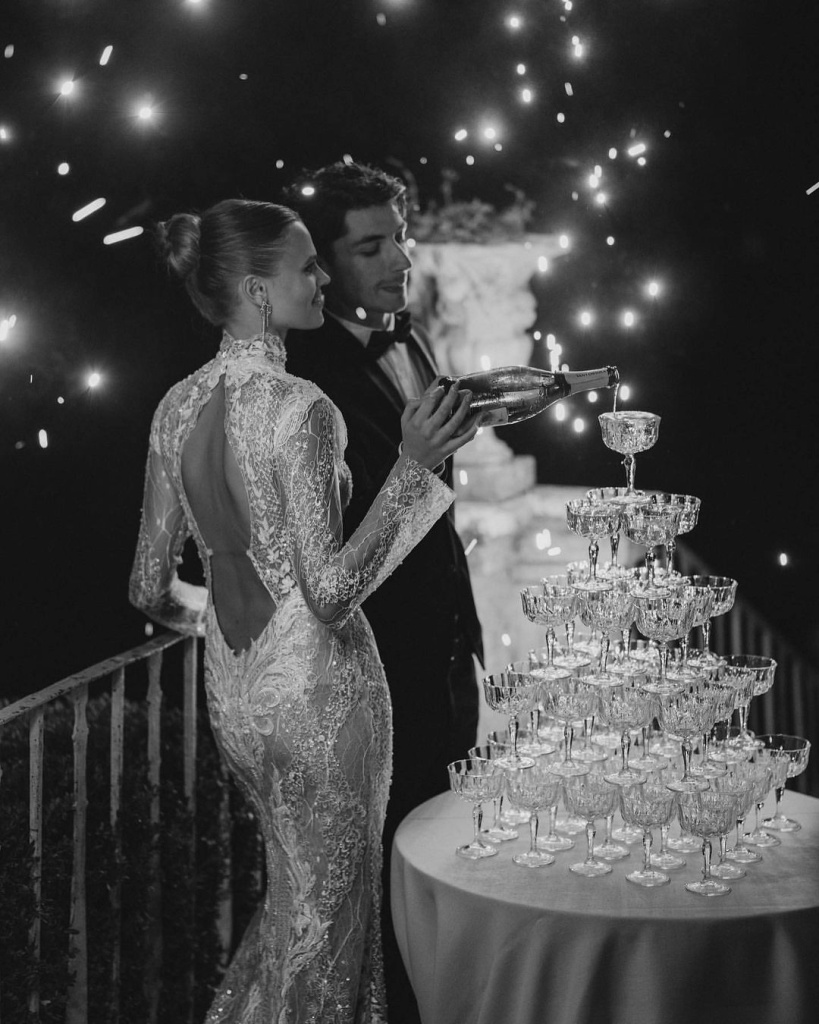 Spice up your reception with a unique twist on your bar setup using some fabulous sign ideas. Whether you're hosting your event under the stars with creative outdoor bar ideas or indoors, your signs can provide an unexpected delight to your guests.
Whiskey Business
This cocktail bar sign is for couples who appreciate a good whiskey on the rocks or a crafted Old Fashioned. The play on words captures your fun side and showcases your sophisticated drink choice. Imagine a wooden barrel with a vintage whiskey selection, where guests can have a mini-tasting experience. Your sign can be a stylish chalkboard or an engraved wooden panel to match the vibe.
Love Potion No. 9
For couples who believe in magic, this sign creates a spellbinding atmosphere. Pair it with a cocktail, specially concocted to represent your love. It could be a blend of your favorite spirits, served in a mystical potion-like bottle. A glittering sign, perhaps with twinkling fairy lights, can add a touch of enchantment.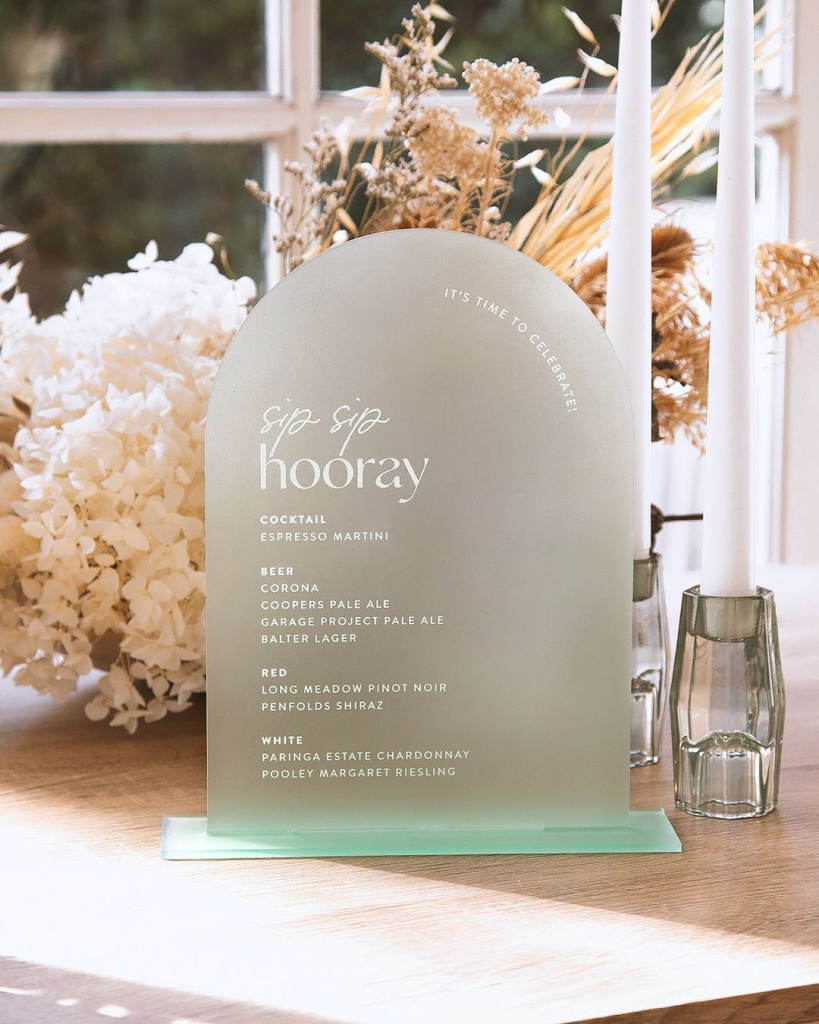 Sip Sip Hooray
This uplifting sign is all about celebration. The phrase instantly conjures a festive atmosphere, coaxing your guests to pick up a glass, join the revelry, and toast to your love. Picture a bubbly station, bursting with a variety of sparkling wines and champagnes, topped with a fun, brightly colored sign that shouts joy.
Hoppily Ever After
A perfect fit for the craft beer aficionados. The sign could be a focal point of your beer station, featuring an assortment of locally brewed favorites. Enhance the setup with unique tap handles, and personalized beer mats, and the sign itself could be a giant frothy mug, encapsulating your shared love for beers.
Tipsy Timeline
This creative idea is not just a sign but a timeline of your love story told through cocktails. Each milestone in your relationship can correspond to a specific cocktail, complete with an explanation of why it represents that particular moment. Your sign could be an elegant board, designed like a timeline, adding a personal and interactive touch to your bar.
Prosecco Pathway
This sign could be part of an enchanting walkway leading to a Prosecco station. Think about a garden pathway illuminated with fairy lights, guiding your guests to a twinkling Prosecco bar. The sign could be made from twinkling marquee letters, creating a bubbly atmosphere perfect for a sparkling wine lover.
Tequila Sunset
This idea is ideal for a sunset ceremony where tequila is your spirit of choice. Picture a beach bar with different tequila-based cocktails, lit by the warm hues of the setting sun. A rustic sign, perhaps painted on driftwood, can add an authentic touch.
Last Call for Alcohol
This sign is a humorous way to let your guests know when it's time for the last round. It could be a neon sign that lights up when the bar is about to close, creating a friendly reminder that it's almost time to wind down the celebrations.
Bar Sign Ideas: Funny Ways to Make Your Guests Laugh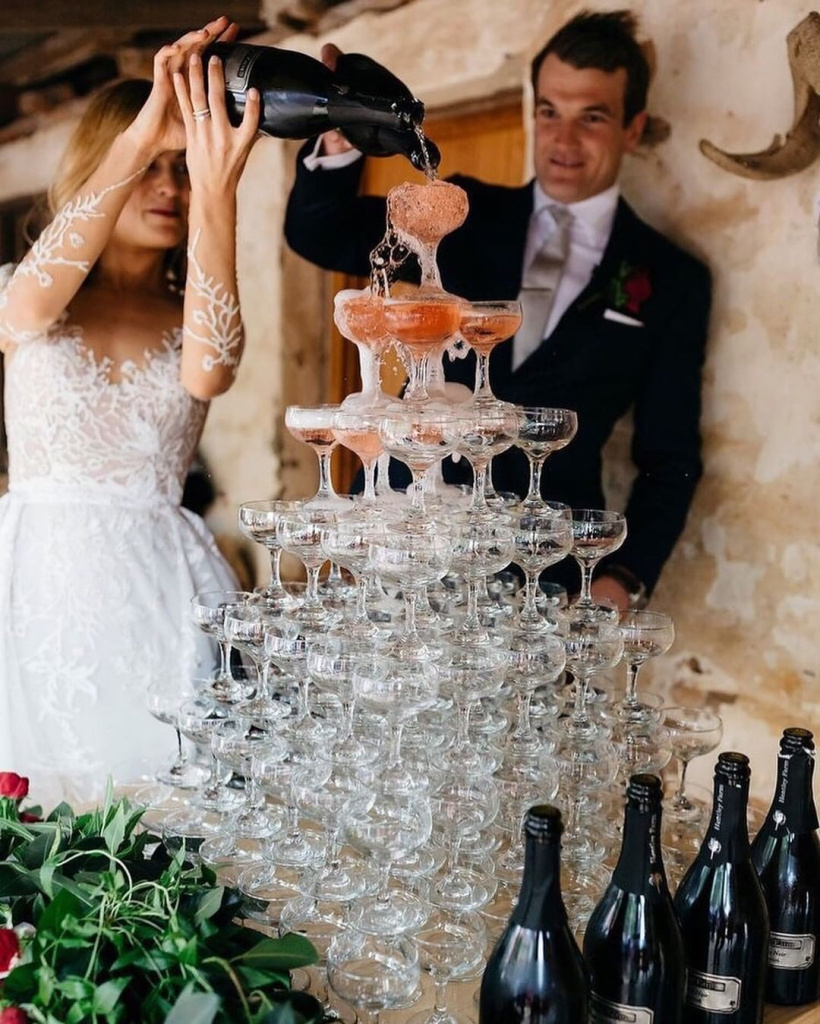 Adding a touch of humor to your bar display design can create a light-hearted atmosphere. These bar sign ideas aren't just about directing your guests to their drinks; they're about tickling their funny bones and using wedding bar signs to create unforgettable moments.
Beer Pressure
This smart little pun on 'peer pressure' adds some laughs. It's perfect for a beer-serving spot with all kinds of brews like craft beers, lagers, and ales. The sign could look like a big beer bottle label, decorated with fun drawings and beer puns that will get a chuckle.
Take a Shot, We Tied the Knot
This playful sign invites guests to enjoy a shot in honor of your new marriage. Picture a shot-serving area with different spirits and the sign being a big shot glass carved with the words, making it an eye-catcher and guiding people towards enjoyment.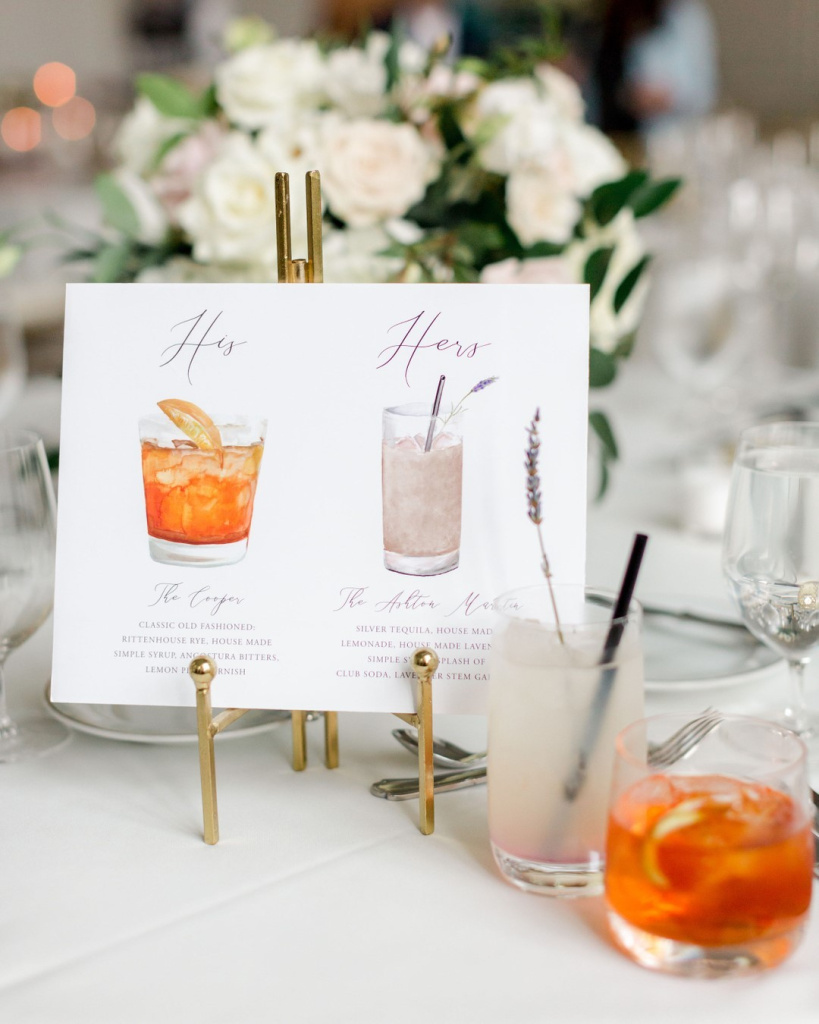 Sip Happens
This funny sign recognizes that sometimes, drinks spill during the party. It could be put up next to a spot for cleaning up messes, stocked with napkins or towels. The sign could look like a fun comic strip, showing a cartoon guest spilling their drink and cleaning up, adding a little humor to your wedding.
Trust Me, You Can Dance – Vodka
As the drinks flow and the evening progresses, this hilarious sign becomes more relevant. It could be placed near the dance floor, encouraging guests to let loose and dance their hearts out. This sign could be a playful light-up dance instruction chart, with funny dance moves inspired by different stages of 'vodka confidence'.
In Case of Emergency, Pour a Drink Here
A light-hearted reminder to enjoy the wedding to the fullest. This sign could be strategically placed near the most potent drinks, serving as a guide for guests to indulge and enjoy. The sign could feature an amusing illustration of a guest with an 'emergency drink route', marking from the bar to the guest's mouth.
Unique Bar Ideas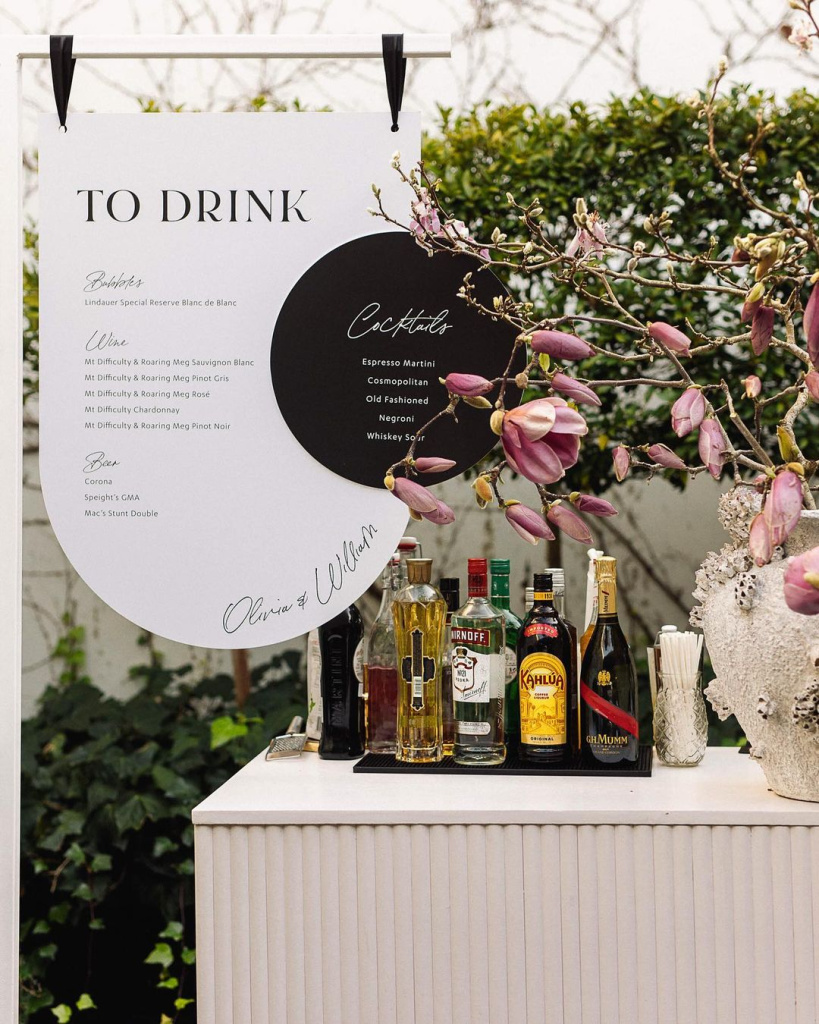 Creating unique bar design ideas is about breaking from convention and making a statement. Whether you opt for a traditional setup or explore some extraordinary ideas, your bar signs for the wedding should echo the personality of your wedding.
Vintage Trunk Bar
This setup involves converting an old trunk into a drinks station, giving a unique vintage vibe to your wedding. Your sign can be a classy, old-world-style placard saying, "Love is Intoxicating", reinforcing the vintage feel and playing up the charm of the past.
Boat Bar
Ideal for a nautical-themed wedding, a boat bar brings an authentic maritime feel. Imagine an actual boat, filled with ice and drinks, sitting atop a bed of sand. A sign stating, "Sea the Love, Feel the Buzz" on a piece of weather-beaten wood would be a perfect fit.
Pallet Bar
A perfect choice for a rustic-themed wedding. Assembled wooden pallets can serve as a unique bar structure. A sign like, "Rustic and Intoxicating", carved on a matching wooden board, would complete the look and evoke the feel of a charming country wedding.
Barrel Bar
For wine lovers, using wine barrels as your bar setup is a unique idea. Each barrel can serve a different type of wine, offering a variety for guests to taste. A sign saying, "Barrel of Love" would complement this setup, adding a romantic note to the rustic charm.
Ice Bar
An ice bar is a remarkable choice for a winter wedding. Everything, from the bar structure to the drink containers, can be made of ice. An LED-lit sign like, "Chill Out and Drink Up", will stand out against the icy backdrop, making this a truly unique and memorable bar setup.
Innovative Bar Sign Ideas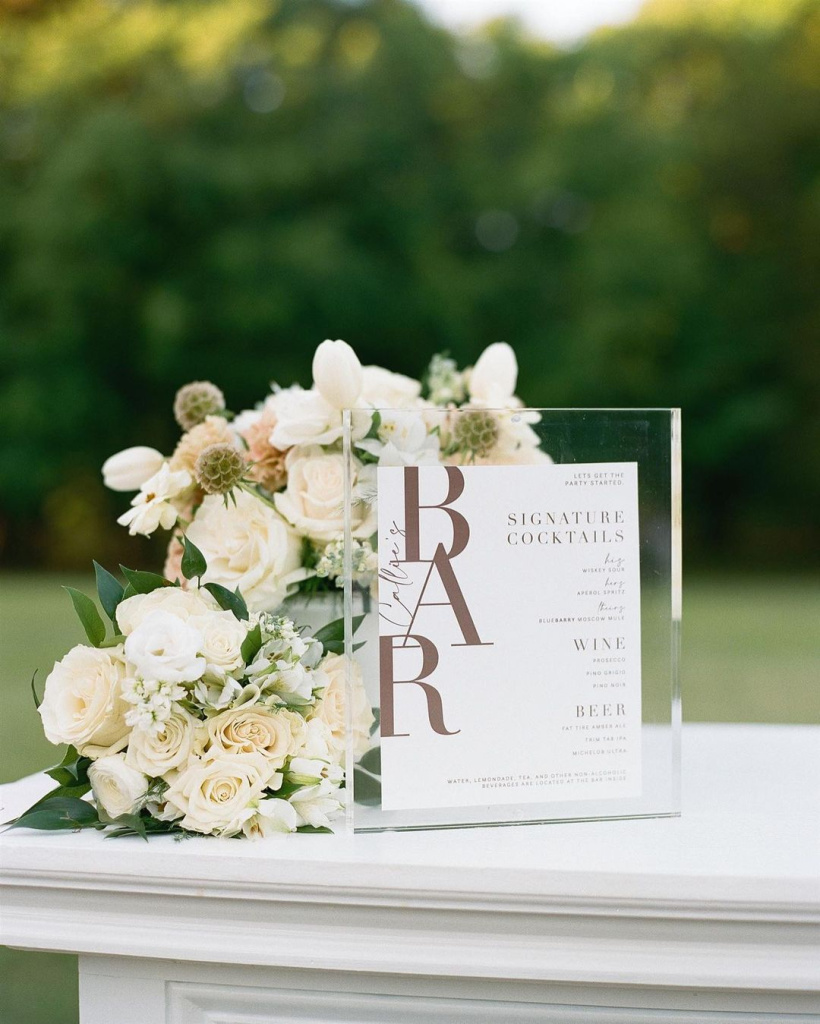 The innovation lies at the heart of a memorable wedding. These innovative bar sign ideas challenge the norms and add a unique twist to your wedding. Whether you choose bar design ideas to be simple or elaborate, your wedding drink sign concepts can transform your bar into an unforgettable wedding feature.
Interactive Chalkboard Signs
These signs can allow guests to write their cocktail recipes or messages for the couple. Each guest interaction would make the sign a unique piece of collective art, filled with personal touches from your loved ones.
LED Neon Signs
Custom neon signs with your names or a cute phrase like "Drunk in Love" could be a visually stunning centerpiece for your bar. The glowing neon sign would not only draw attention but also serve as an extraordinary photo backdrop.
Rotating Signs
These signs could rotate to reveal different drinks or messages throughout the evening. This could be a surprising element, keeping your guests engaged and looking forward to the next spin.
Puzzle Piece Sign
Each drink could symbolize a piece of a puzzle, creating a full image when all beverages are tasted. This could be a lively bar activity, encouraging guests to sample all the drinks to solve the puzzle.
3D Pop-Up Sign
This sign could spring up when a guest comes to the bar, introducing a fun and unexpected feature. The sign might showcase a pop-up image of the couple, a beverage, or an amusing note.
Flashing Marquee Signs
A classic marquee sign with twinkling lights can introduce a bit of old-school flair. The sign could flash playful phrases like "Raise Your Glass to Love" or "Time for Another Round", making the atmosphere lively and fun.
QR Code Signs
These signs could guide guests to a digital cocktail menu or a special message from the newlyweds. It's a cool way to add some tech to your bar arrangement, and the QR codes could be cleverly integrated into the sign's design.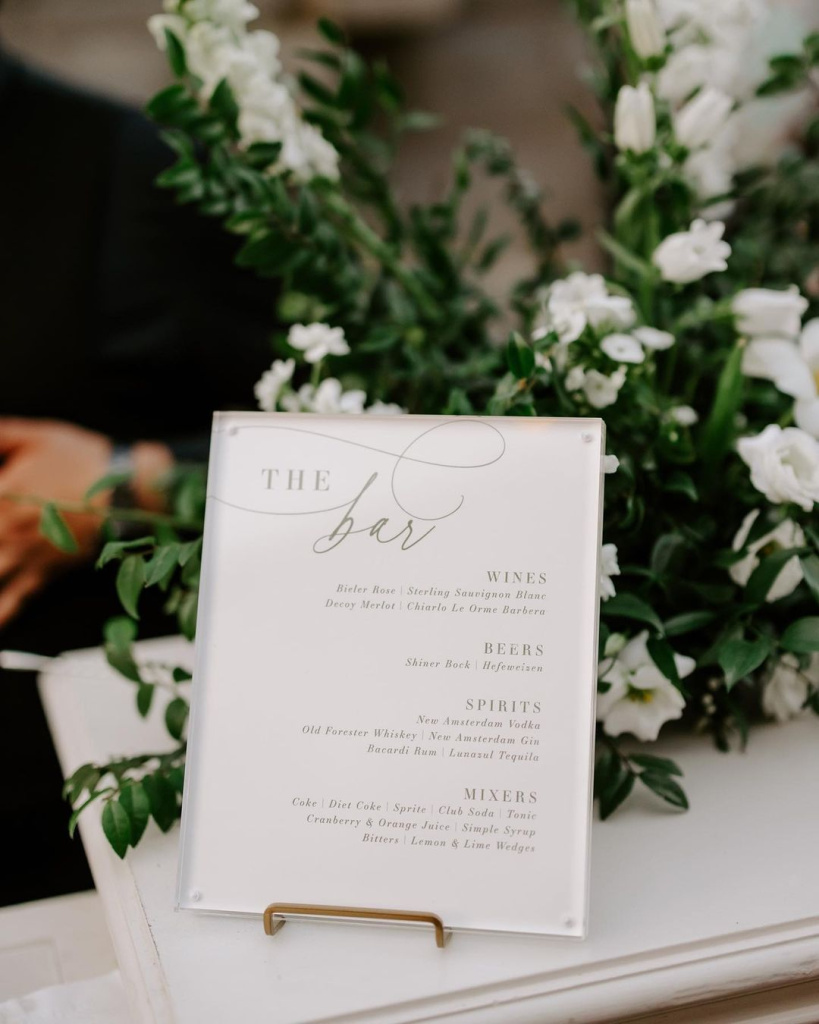 All these suggestions infuse creativity, fun, originality, and novelty into your wedding bar. With these signs, your bar will do more than just serve drinks; it will bring laughter, surprises, and cherished memories to your wedding guests.