Halloween Wedding Ideas
Publication date:

10/29/2022

Updated:

04/07/2023
This fall holiday is trendy among children and adults. Many people associate weddings with white color, the church, and classic vows. Others adjust their celebration with specific themes and recognition. Why is frightening decor at a wedding considered inappropriate if there is a phrase "until death" or "love to the grave"? Get ready to read all these creative ideas.
Halloween Wedding Dress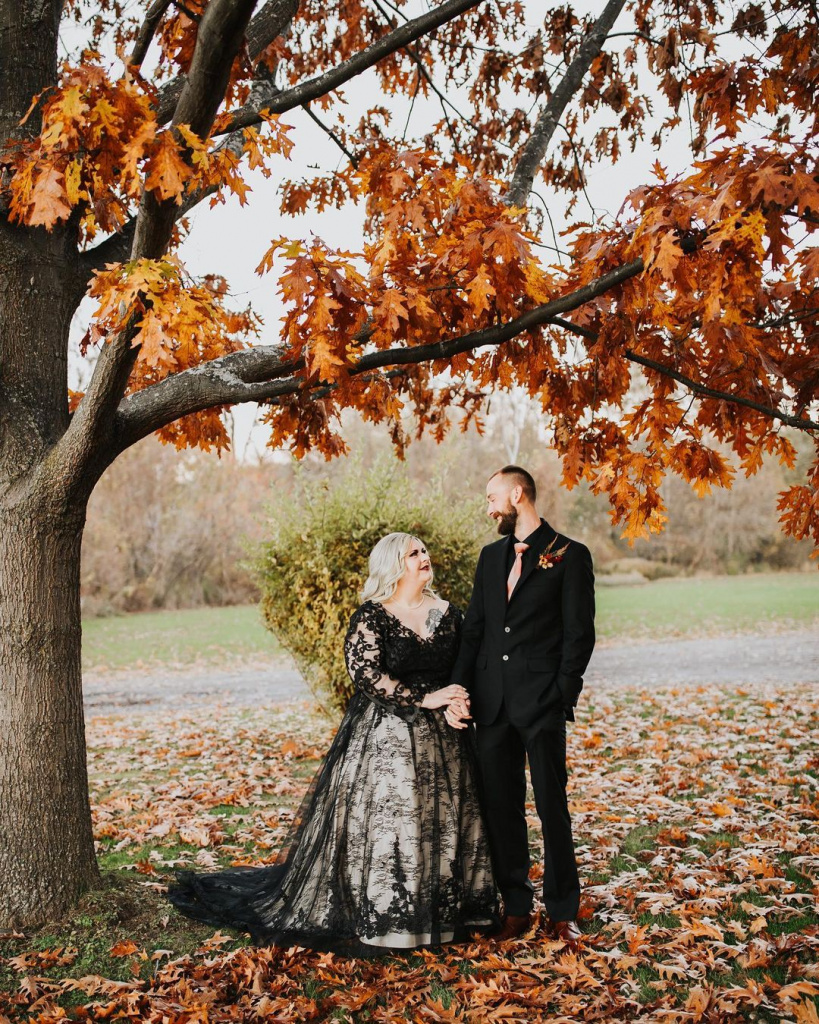 Let's start with what every bride is interested in. Everyone knows that the most spirited women wear not only a white dress but also a black or red one on their celebration day. How to make a dress terribly beautiful?
The asymmetric cut from the bottom will add the effect of "torn" and "worn".
Instead of pebbles and pearls, you can use black sequins and decorative ruby stones in the ornamentation.
The dress train may also be dark, or there may intertwine threads-cobwebs on the tulle fabric.
If you still choose an all-white dress, add accent black shoes to the look.
Not to destroy the image, you can make the terrible decor detachable: the upper hems of the dress or a black shiny bolero.
Don't stop at one option. Even if you are a total fan of transformations and fear themes, make your outlooks easy to change. You can also buy a separate short black dress for the after-wedding party.
Halloween Wedding Hairstyles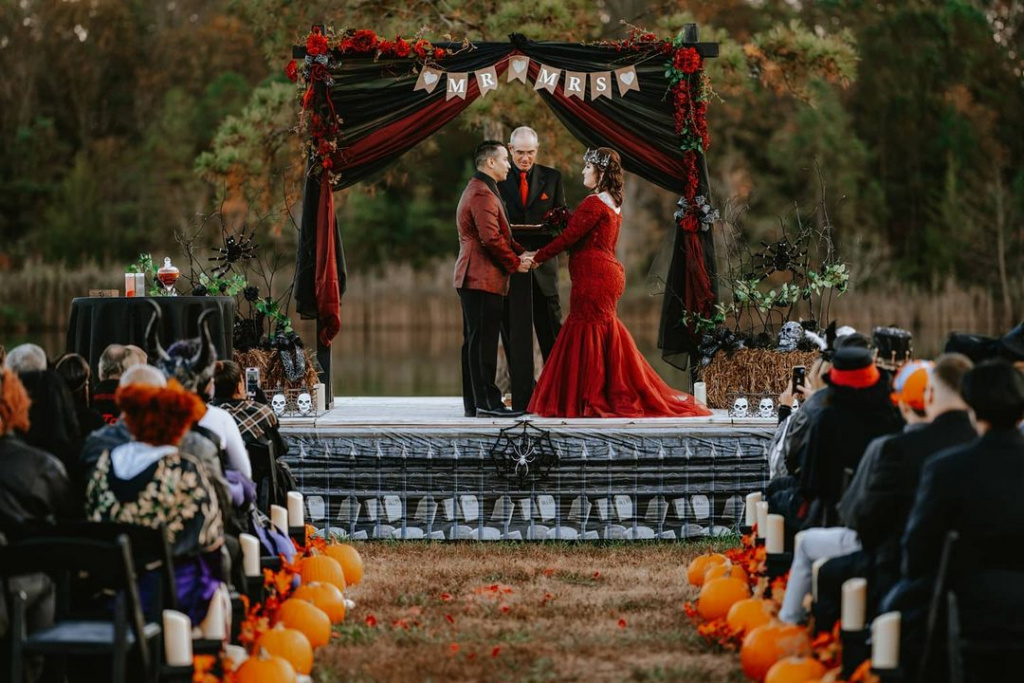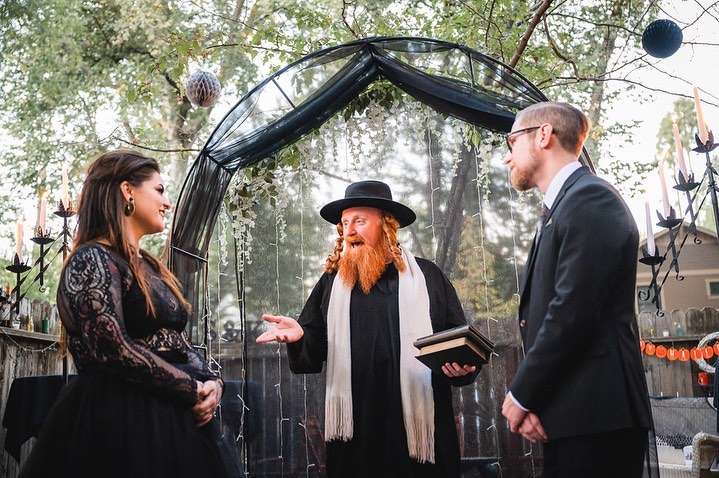 In order not to burden you with banalities, let's talk about the ideas right away:
Cut the ends of the short veil and make it double-sided, so that it lies on the face from the front and the back.
For a terrifying effect, wear a black wig instead of a veil, so that the hair covers the face.
Decorate the veil with silver sequins and cobwebs, and add a black spider as a hair brooch.
Decorate your hair with black or red ribbons.
Make a classic hair bun, but wrap it with decorative webs.
Play with all the attributes of the holiday. It won't spoil your beauty in any way, especially when you have amazing trendy wedding makeup.
Halloween Wedding Bouquet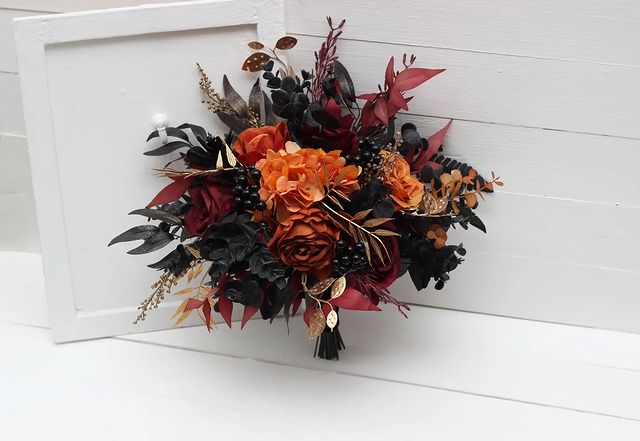 A bouquet is your perfect option to pay tribute to the holiday if you don't want to add dark colors to the dress or accessories.
Paint in black eucalyptus, ruscus, chico, or other greenery.
Tie a white bouquet with a black ribbon, and stick on some spiders.
Paint streams of blood on your hands.
Choose bright red flowers: anthurium, begonia, rose, anemones, carnations, poinsettias, or large asters.
Decorate the bouquet with metal spikes or a rim made of shards.
Each red flower fascinates the eye. It's designed to attract attention and create the effect of danger. A completely bloody bouquet is an ideal option for a fall wedding.
Halloween Wedding Invitations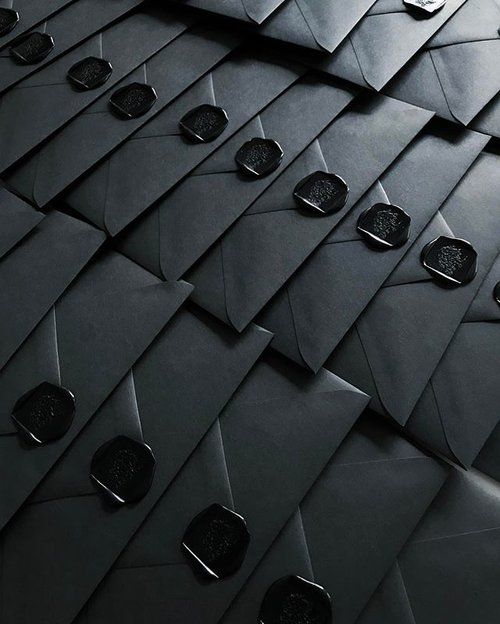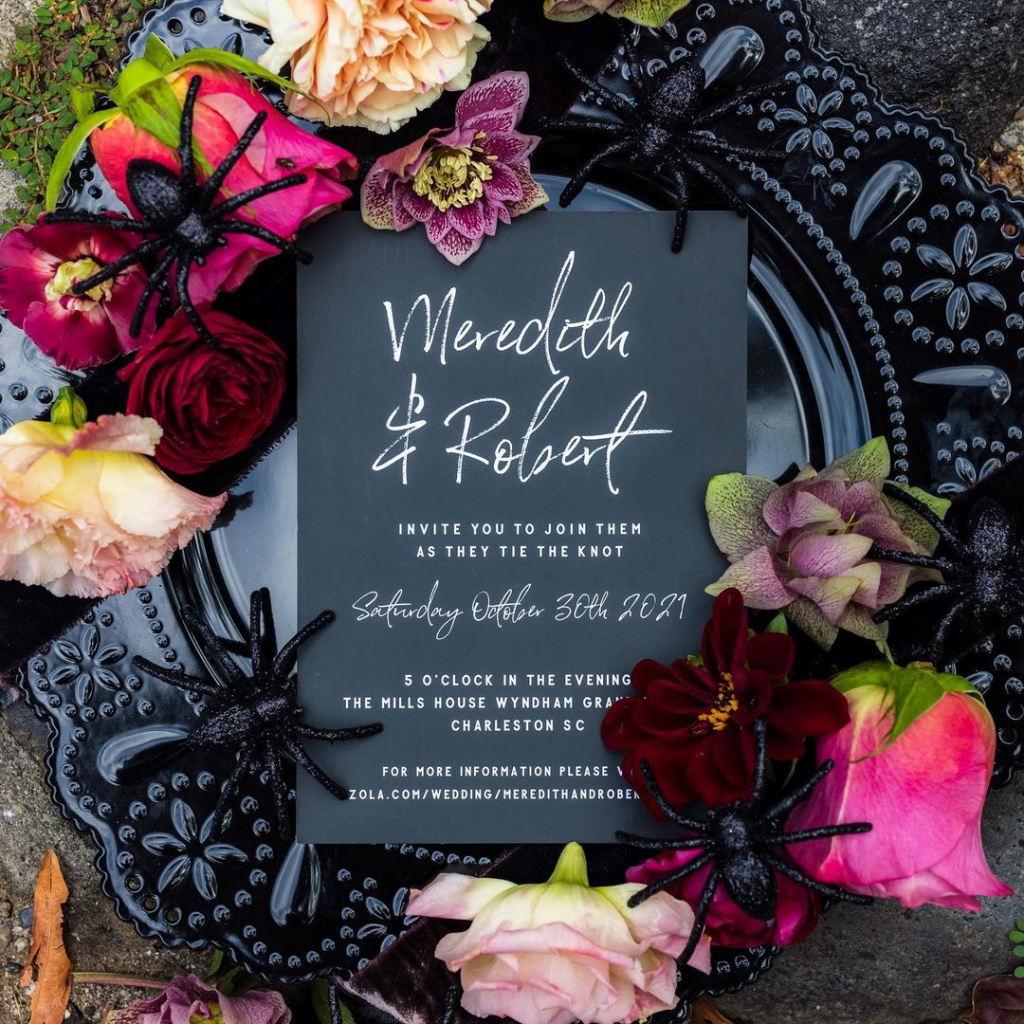 Before choosing your total look, let your guests know that it'll be a themed wedding. Send save the dates and invitations in an unusual arrangement.
Classic: decorate the vintage paper with red drops, and ink and add a call to action at the end like "Come, or she will kill us…"
Send an invitation in the style of a romantic horror movie: scary music, the bride runs away until she falls into the arms of the groom and the music is interrupted by your invitation.
Send out exploding confetti boxes to your guests. Of course, the confetti should be black.
Come up with scary storytelling about monsters and an event.
Write letters by hand with burgundy ink, and make a seal in the shape of sharp teeth.
Accumulate all your knowledge about vampires, scary stories, and love melodramas to make it creative.
Halloween Wedding Decorations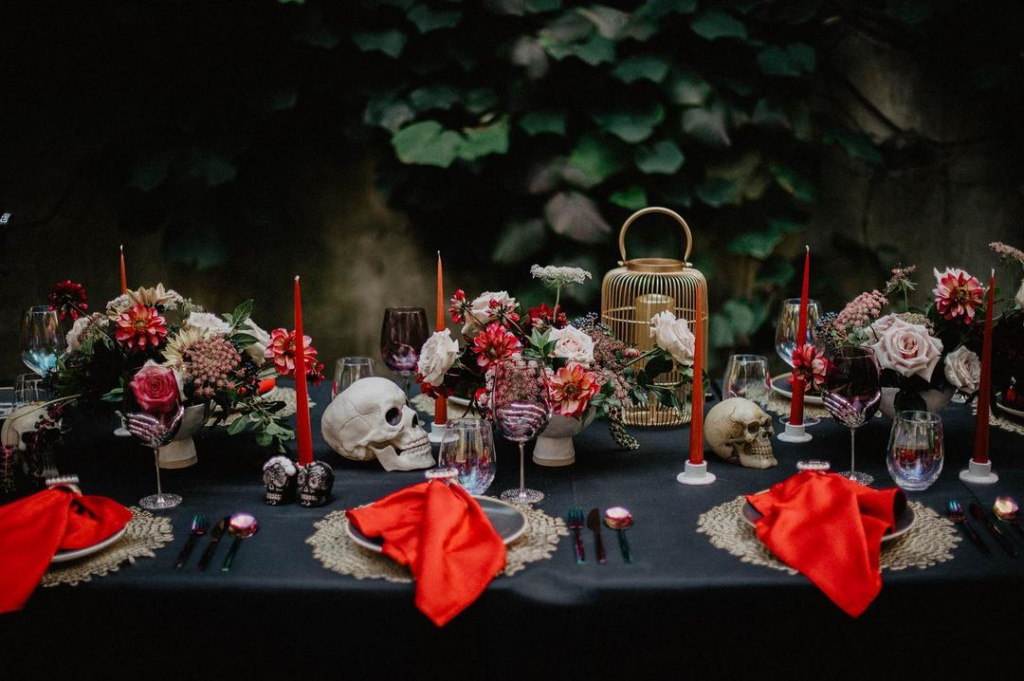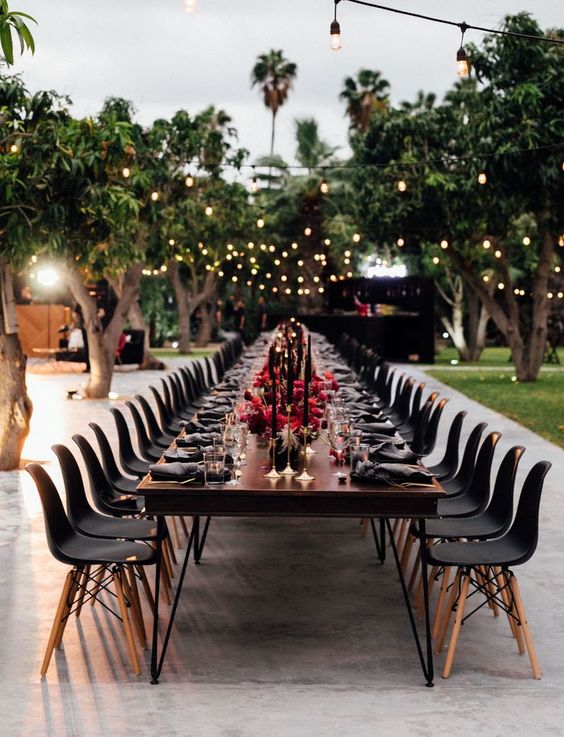 The main decorations of the holiday are known all over the world. There are pumpkins, spider webs, blood, ghosts, and many other monsters from Hotel Transylvania. A question is how to make such decorations unusual. Don't forget to combine them with the wedding theme.
Make thematic photo zones with scary props: old chandeliers, shabby furniture, and wax-covered long candles.
Pick an appropriate location: ancient castles with high walls or dark halls with chandeliers.
Create a make-up and instant photography corner: hire a make-up artist to apply scary masks, and don't forget to make room for Polaroid photos nearby.
Rent black cushions for chairs or black plates for tables, place red napkins and serve lots of red wine.
Set all decorative lights to flashing mode. Use no constant lightning because you need to maintain a secrecy mood.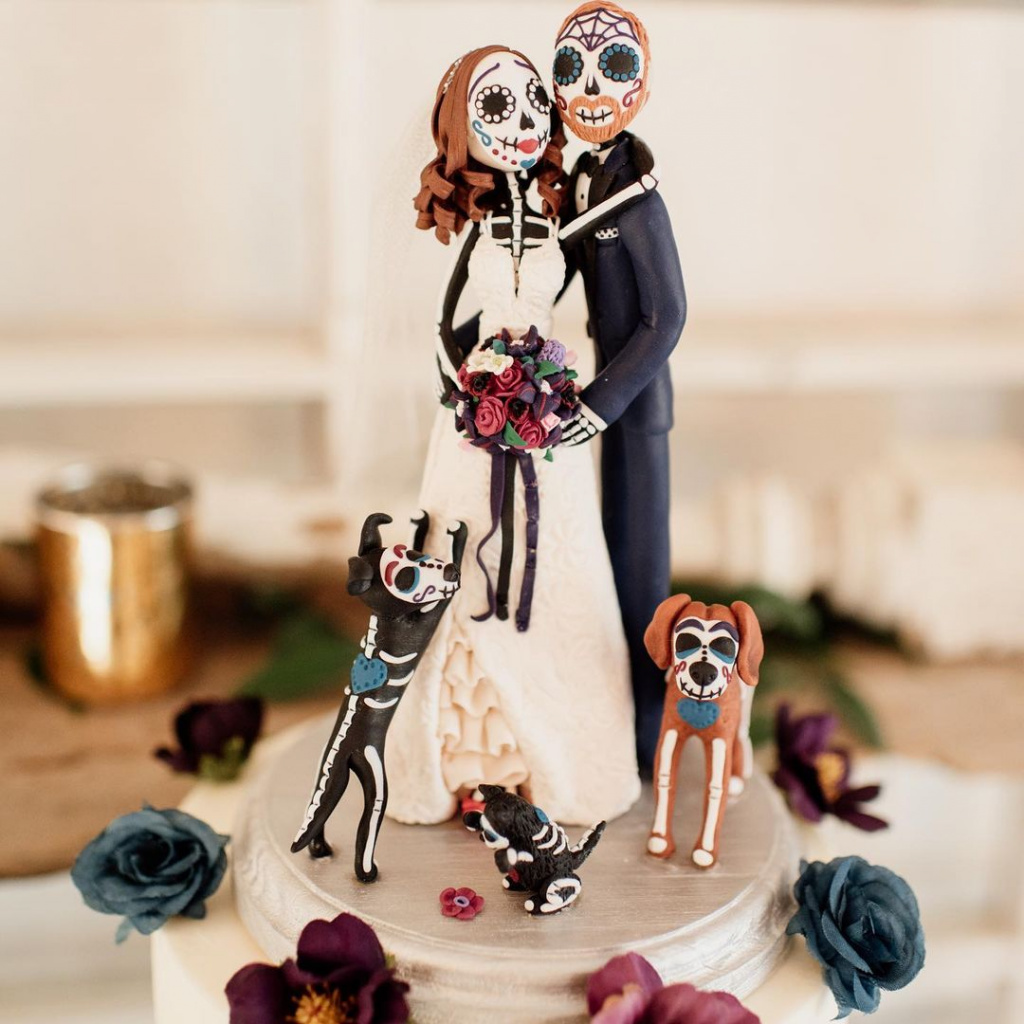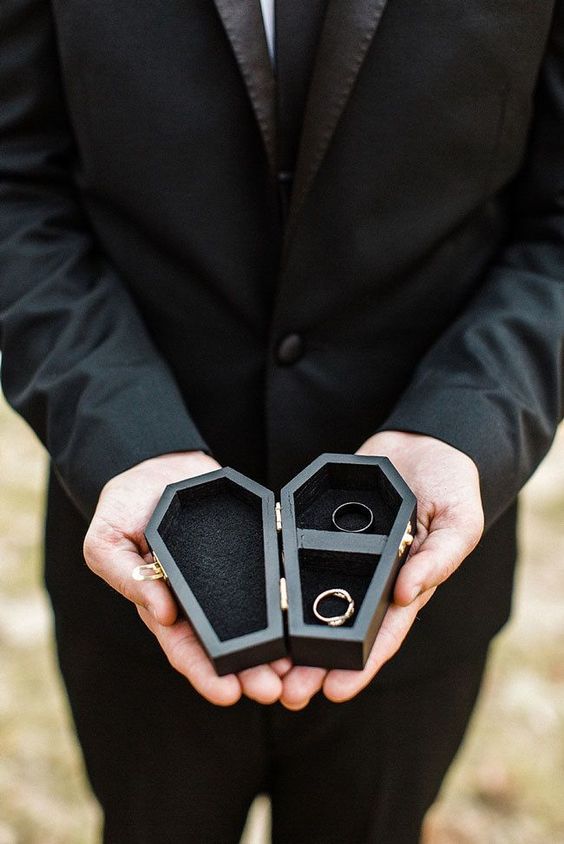 You can decorate any area, leave something untouched or keep Halloween just for the photo areas.
Halloween Wedding Food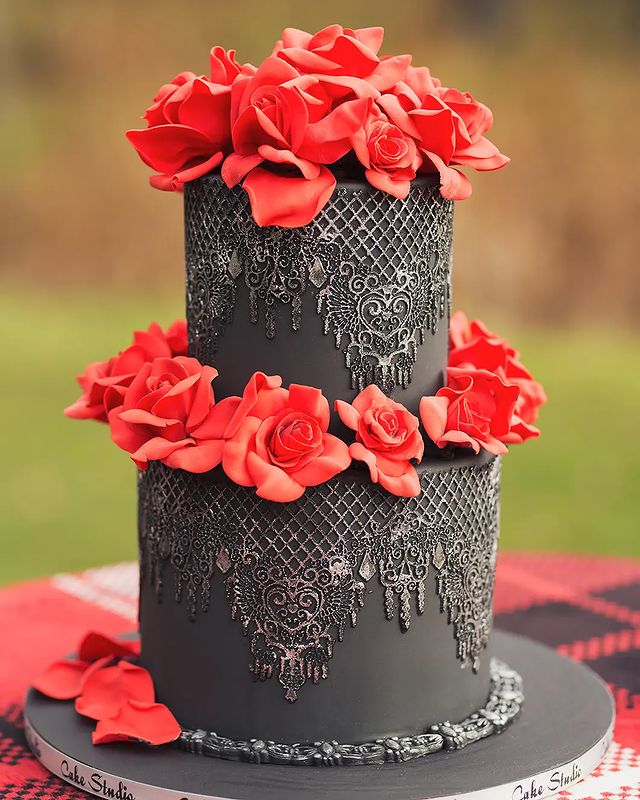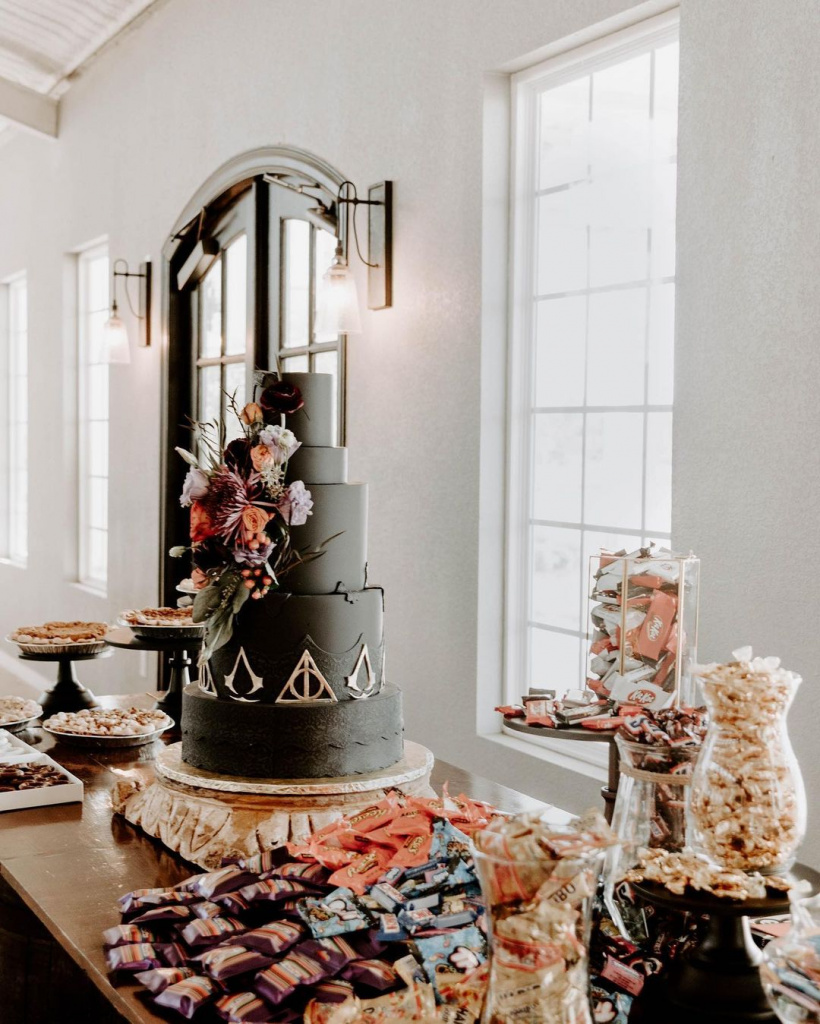 The first thing you can't take away from this autumn holiday is lots of candies and sweets! They can be placed as decorations, scattered on the floor, or hung on the walls. Sweets should be hidden everywhere so that the decor doesn't look too mournful.
Make a themed pumpkin table with pumpkin pies or even alcohol in a pumpkin.
Arrange the food on black, red, or mirrored plates.
Don't forget the warm drinks like colored bloody mulled wines and punches.
If possible, serve snacks in the form of bugs or spiders.
All sweets can be also made black. The secret is simple: make chocolate your main ingredient.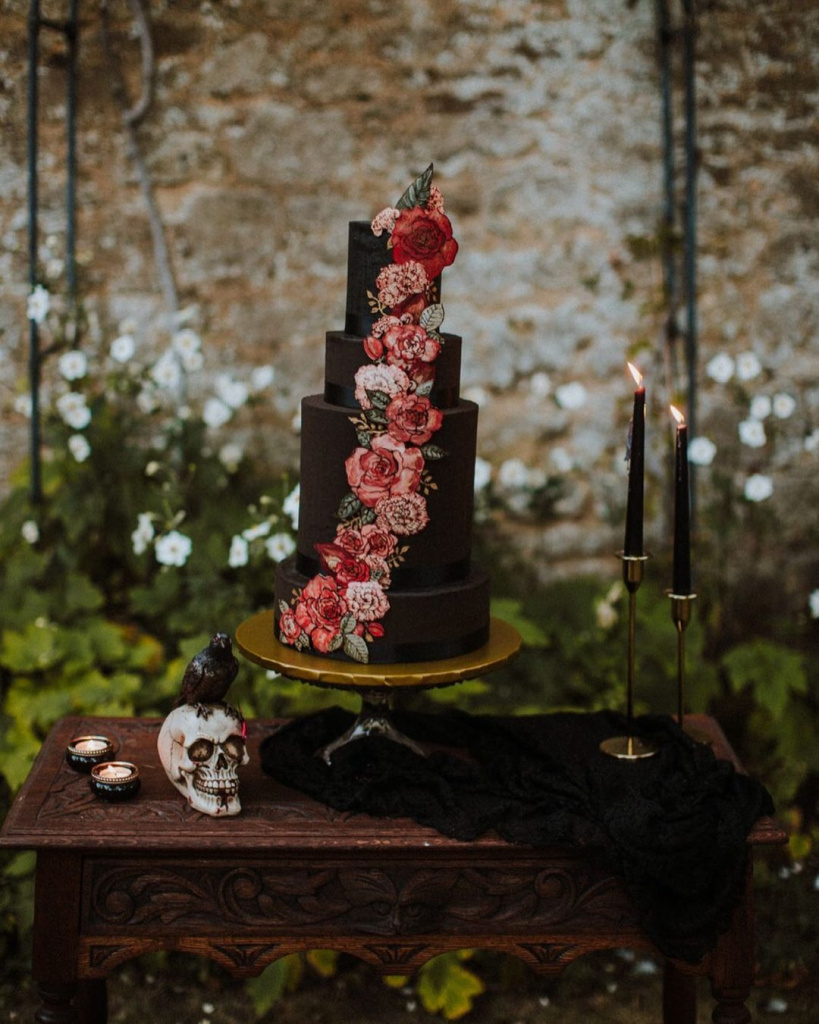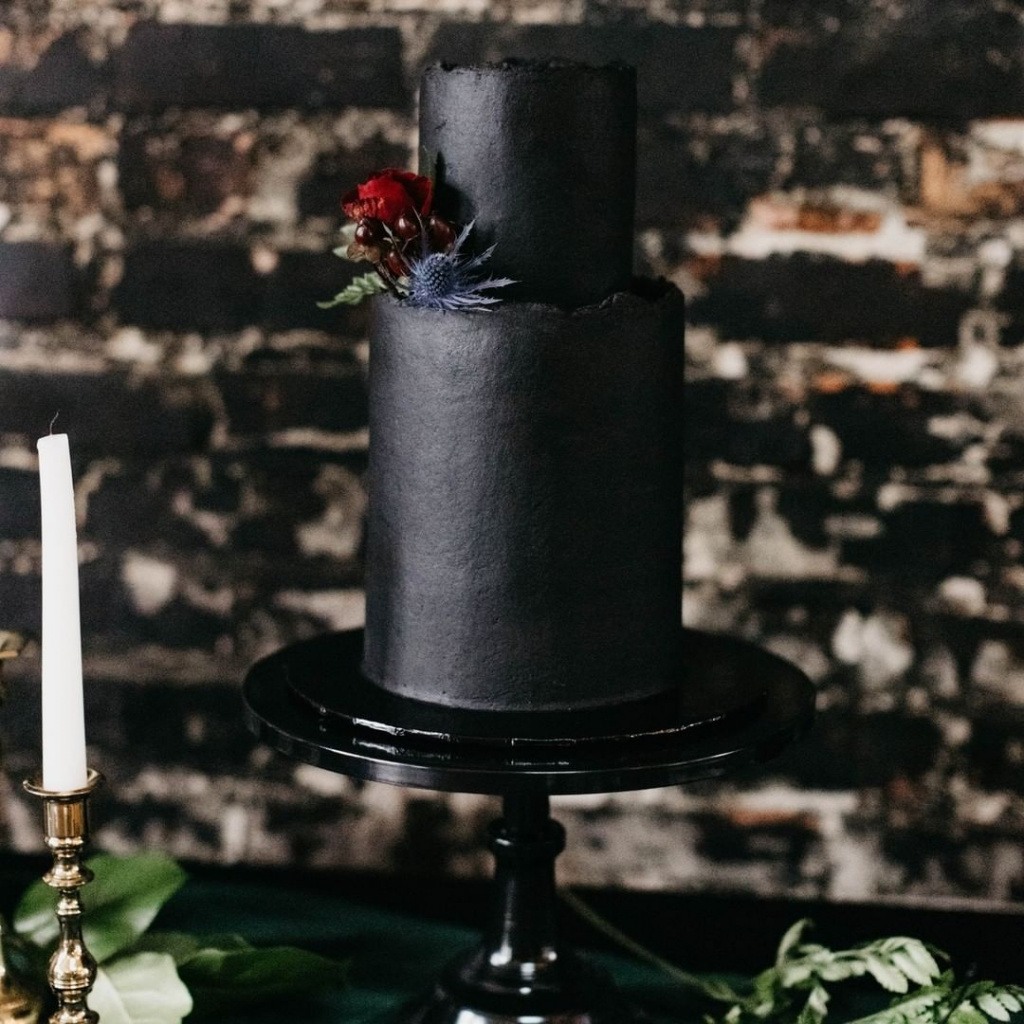 The wedding food should be delicious. Secondly, if you are sure about the menu, you can add scary decorations.
Halloween Wedding Entertainment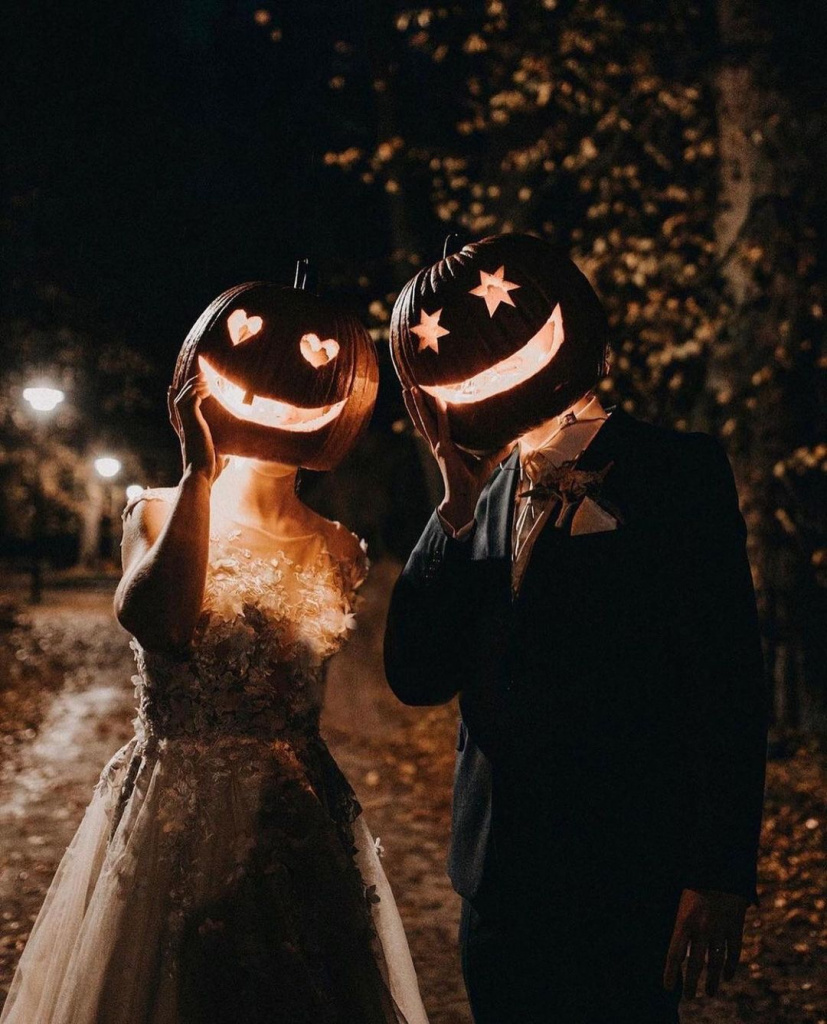 As for the games, you also have to come up with creative ideas here. It is the perfect celebration style if there will be many children among the guests. Among adults, you can try one of these games:
Team quests for survival or searching for a missing bride.
Team Mummy game: who can wrap the hero in toilet paper faster?
Classical Mafia. Decorate the game area with white chalk in the silhouette of a person.
Dance battle in the style of zombies and mummies.
Fear searching. In advance, you need to scatter decorative spiders around the hall and count in the game which team will manage to collect the most in 3 minutes.
Also, you can announce ordinary contests uniquely: "Test about the groom" as "Which skeleton hides the groom in the closet?". There are many such competitions, you just need to prepare and find some additional minutes for them in a wedding day timeline.
Halloween Wedding Outfit For Guests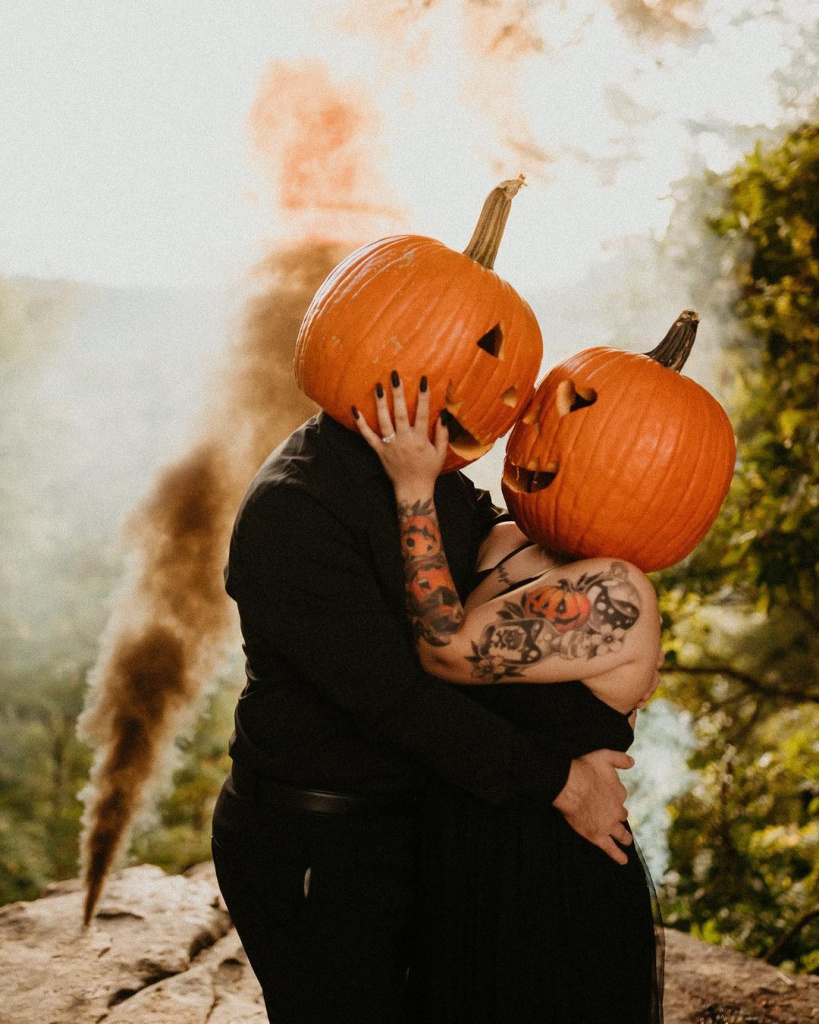 As for the dress code, it should also be discussed with the guests in advance, because not everyone wants to wear clothes like for a masquerade.
Offer a color scheme in black or red tones.
Ask guests to bring scary masks.
Offer your guests to do a thematic make-up or manicure.
Add boutonnieres with bloody flowers to the guests' looks.
Send black hair clips or other themed accessories in the invitations, which will already make the guests' clothes extraordinary.
People usually have the desire to dress thematically. Even if your guests are opposed to such a festivity, this won't prevent them from wearing a black dress or suit. Luckily, black is the most classic color in the whole world.
Halloween Wedding Photoshoot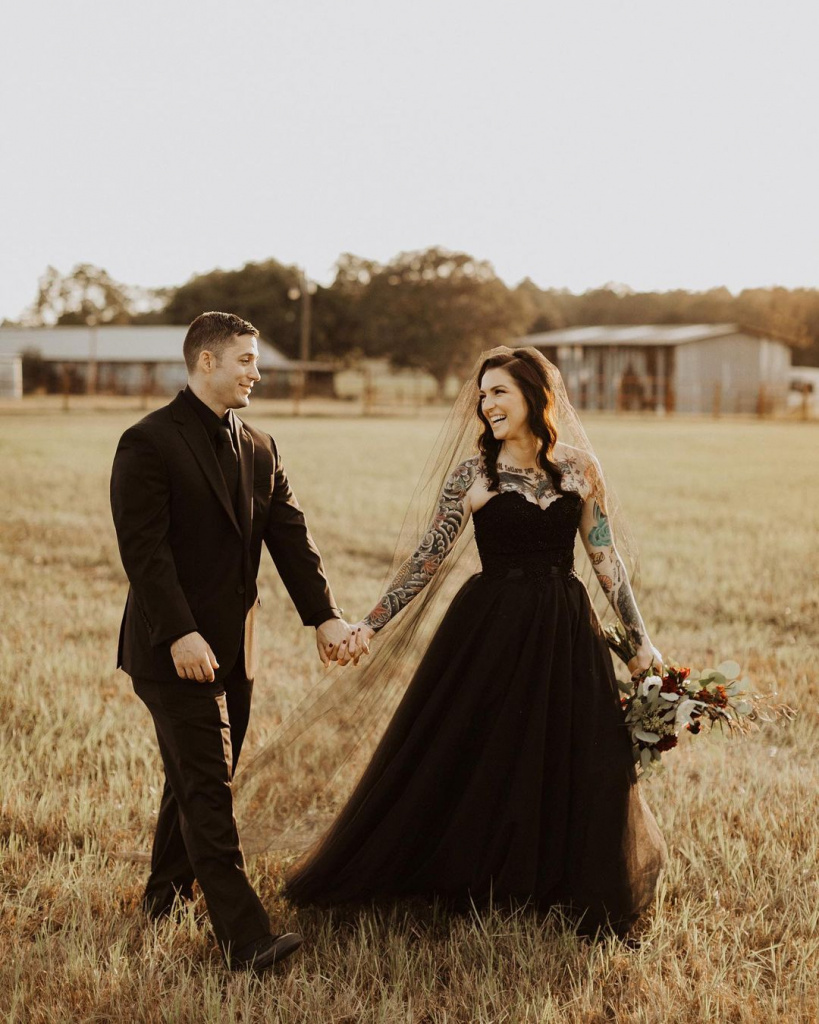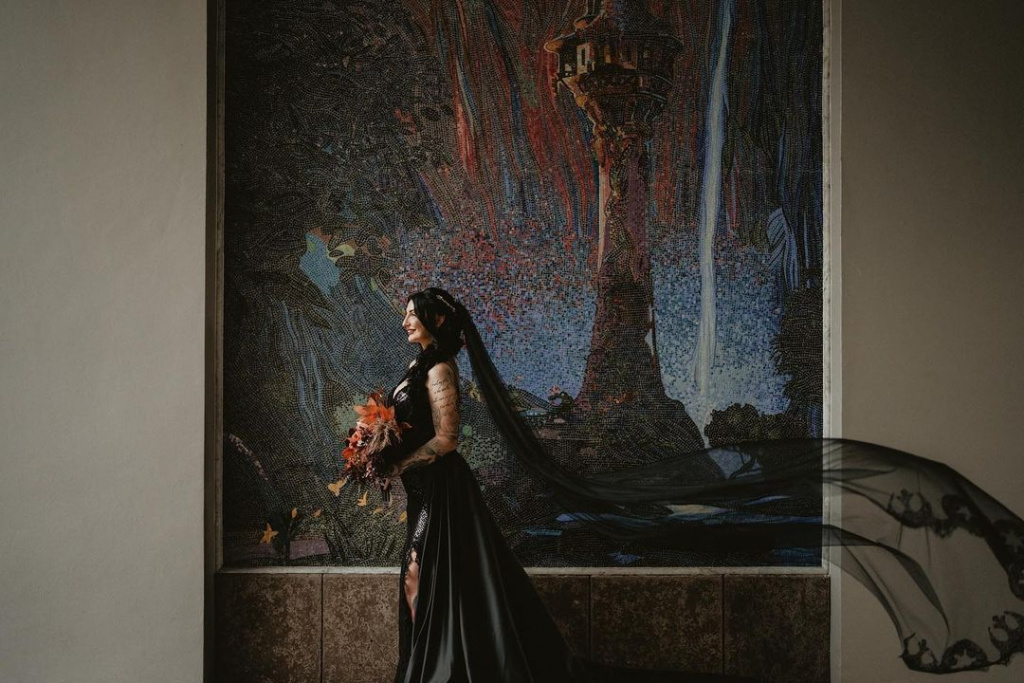 Your wedding photos will please you for a lifetime, so think carefully about whether you want all of them to be themed.
Consider the idea of making a pre-wedding photo shoot in a classic white way.
Be sure to take lots of dark photos at dusk and night.
Add artistry: decorative teeth and passionate kisses on the neck will look fabulous.
Use vintage props and pumpkins.
Don't forget to do dark make-up, take black fabrics, and add candles for a thematic photosession.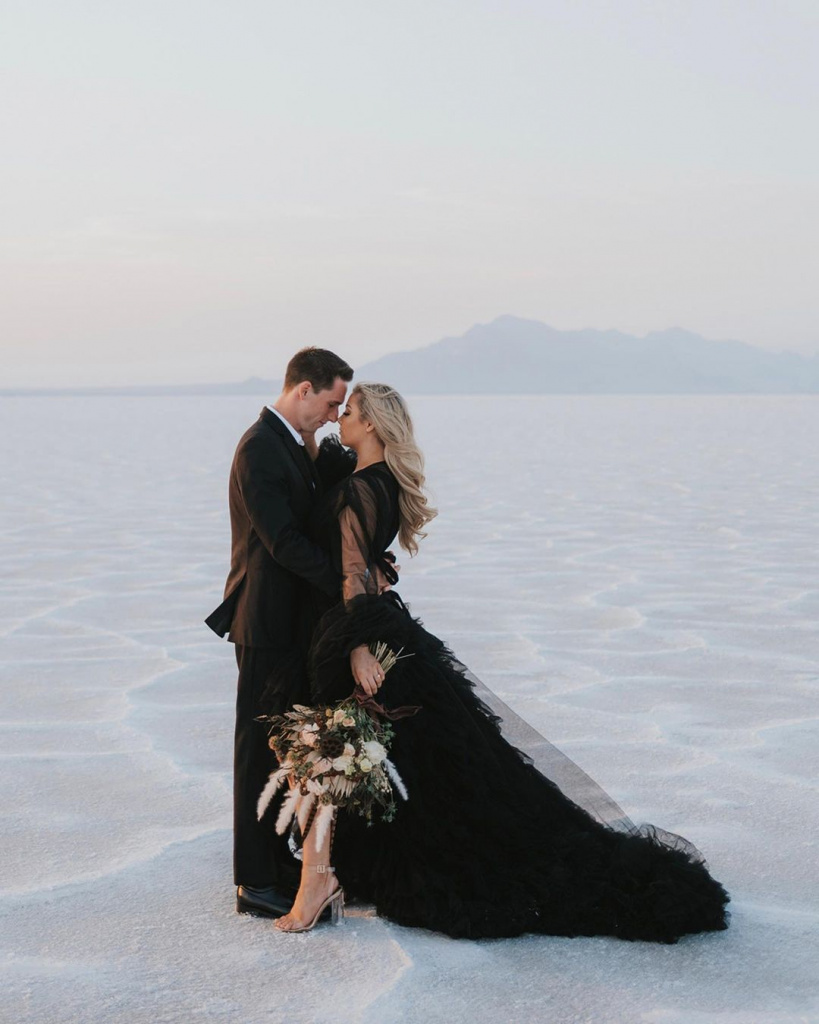 The main thing in such photos is a high-quality play of shadows, lighting, and props.
The most innocent thing you can do at a wedding on October 30-31st is to set candles in pumpkins around the territory. Less horror, more wedding joy, and candies!