Wedding Dresses 2022 - 10 Top Trends
Brides, planning a wedding next year, are already looking for the dress of their dreams. The Bridal Fashion Week 2022 offers you new dress collections that combine the minimalist wedding style with classic silhouettes. From the elegant and gorgeous designs to the most daring and sensual options, every bride can find a wedding gown that will suit her figure.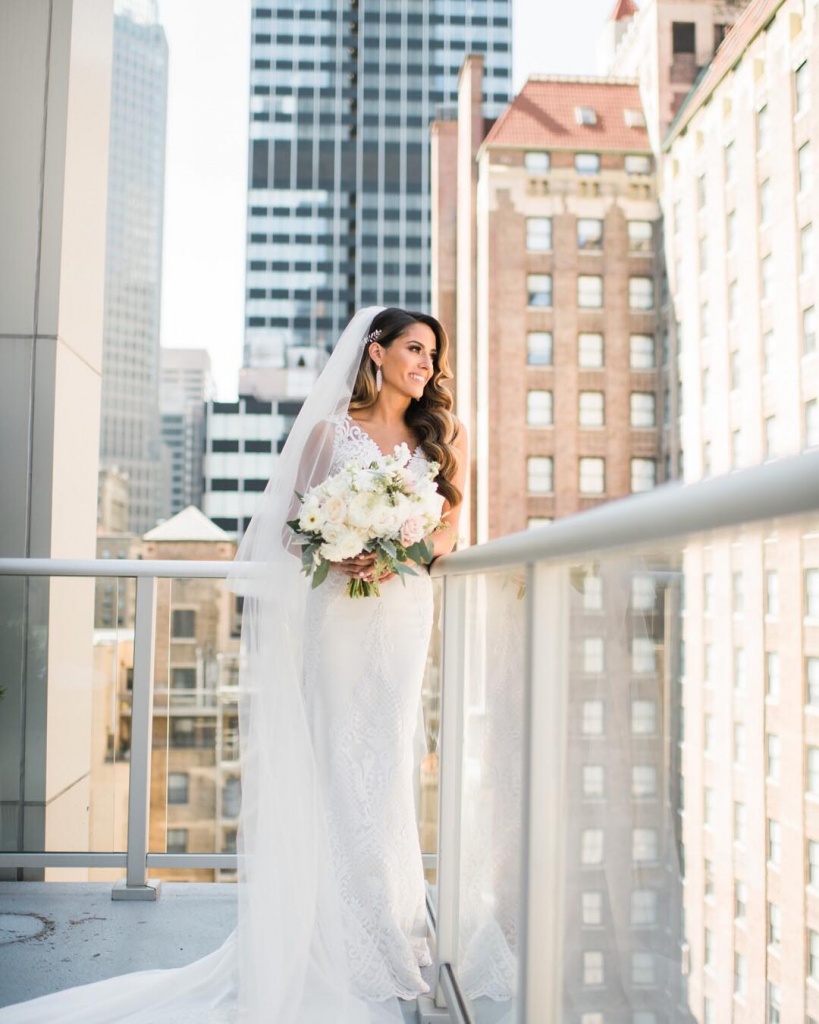 Photo by jaylimstudio
We want to help you choose your ideal bridal dress that matches the top 10 wedding dress trends for 2022. Take a look at the most beautiful wedding outfits for brides!
Short Dresses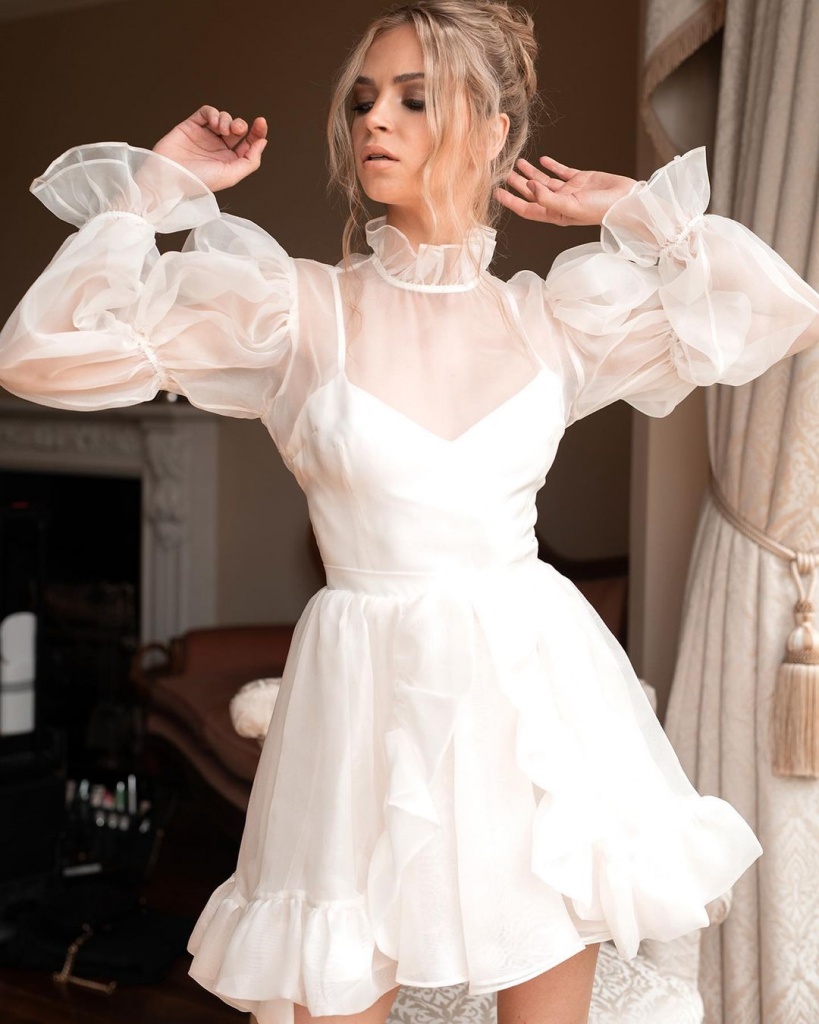 Photo by kayleighpope
Every year, bridal fashion presents hundreds of wedding dresses, among which there are always short options. If you are going to move away from traditional bridal attire by choosing a short dress, this trend is well suited for you. Fashionable short wedding dresses in 2022 are not only unconventional but also very practical and versatile. What is more, they show off the bride's slender legs that will not leave both groom and all-male guests indifferent.
When choosing from a wide variety of short wedding gowns, you will find straight and tight skirts together with voluminous and vaporous ones. These silhouettes are made of thick and heavy fabrics, such as satin or dupion, as well as soft and light ones, such as tulle, chiffon, silk, or crepe. Also, lace, сhantilly, guipure, and hand embroidery will give an elegant touch to your wedding look. In addition, there are different wedding styles of short bridal dresses: classic, bohemian, vintage, minimalist, modern or romantic. Whether your short wedding dress is for a civil wedding or you wear it as a bridal outfit for the reception, this great option has everything to cause a wow-effect on your guests.
Ruffles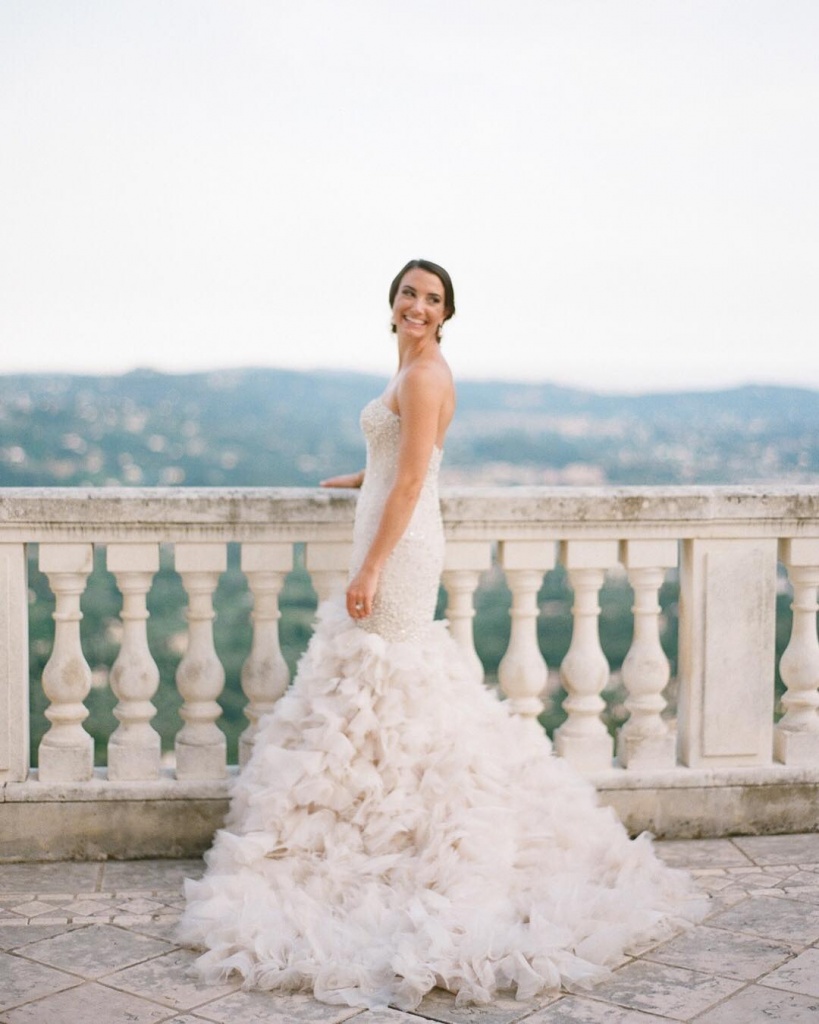 Photo by audrawrisleyphoto
Recently, ruffles have conquered the fashion, becoming the most beautiful design element of wedding dresses that bring a romantic and feminine spirit to the bride's outfit. When they appear on the skirt, you can be sure that your wedding gown will look beautiful in motion. This piece can be of different styles: glamorous or romantic, retro or modern, large or small. It all depends on the model, size and fabric of the dress. Tul, lace, and satin are the best option for creating fantastic ruffles on the skirt, sleeves or neckline.
You can choose a princess wedding dress with full-length ruffles that give your look an air of romance and majesty. Or maybe you would prefer a mermaid wedding dress with small ruffles at the bottom of the skirt to add a flamenco touch to your bridal outfit. It is up to you to decide what style of wedding dress with ruffles you like the most. In any way, you will be the most elegant and stunning bride at your wedding.
Colorful Florals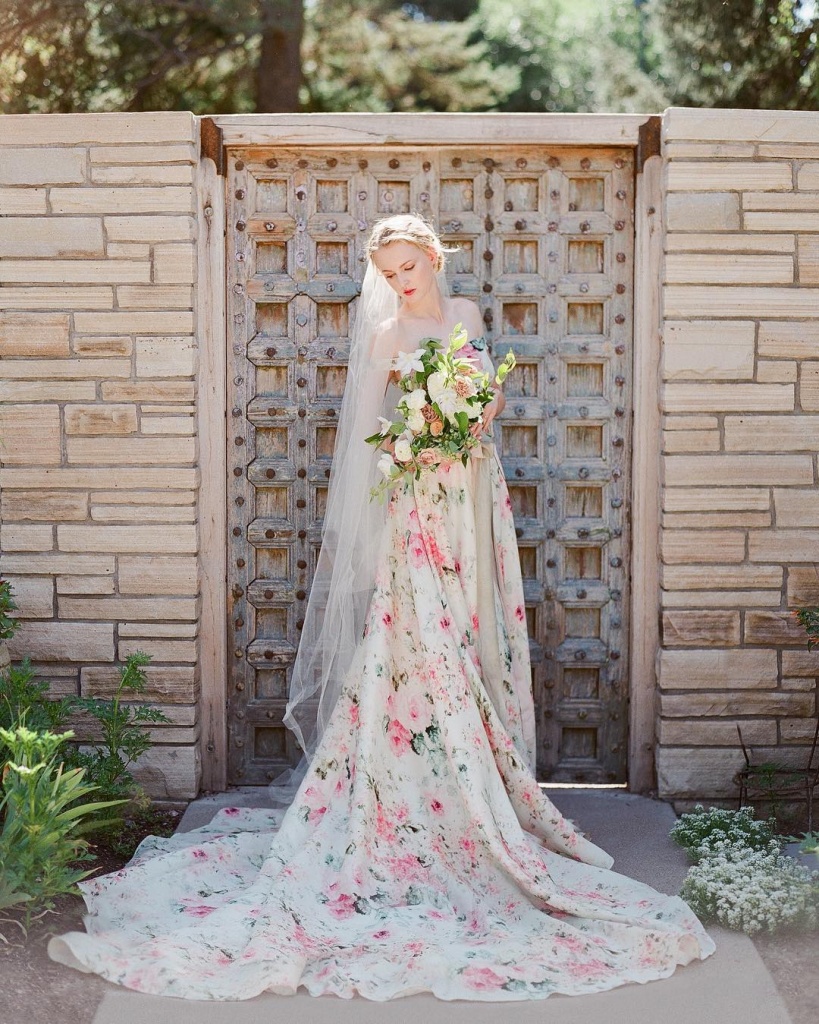 Photo by carriekingphotographer
It is not a secret that all brides love to bloom like flowers. Colorful floral wedding dresses from the Bridal Fashion Week Fall 2022 are becoming a dream of many brides. As an alternative to the traditional white dress, they are the best choice for spring or summer weddings.
Bridal dresses with floral print, lace, appliques, or embroidery will make you look romantic and feminine. The designers did everything to create various styles of floral patterns. Beautiful flowers can not only be placed on the bust, shoulders, waist, or sleeves but also spread their touch along the entire length of the skirt. When you think of the folkloric bridal style, a floral wedding dress embodies everything you want. With this wedding dress trend, you will surprise and shock all your guests.
Off the Shoulder Sleeves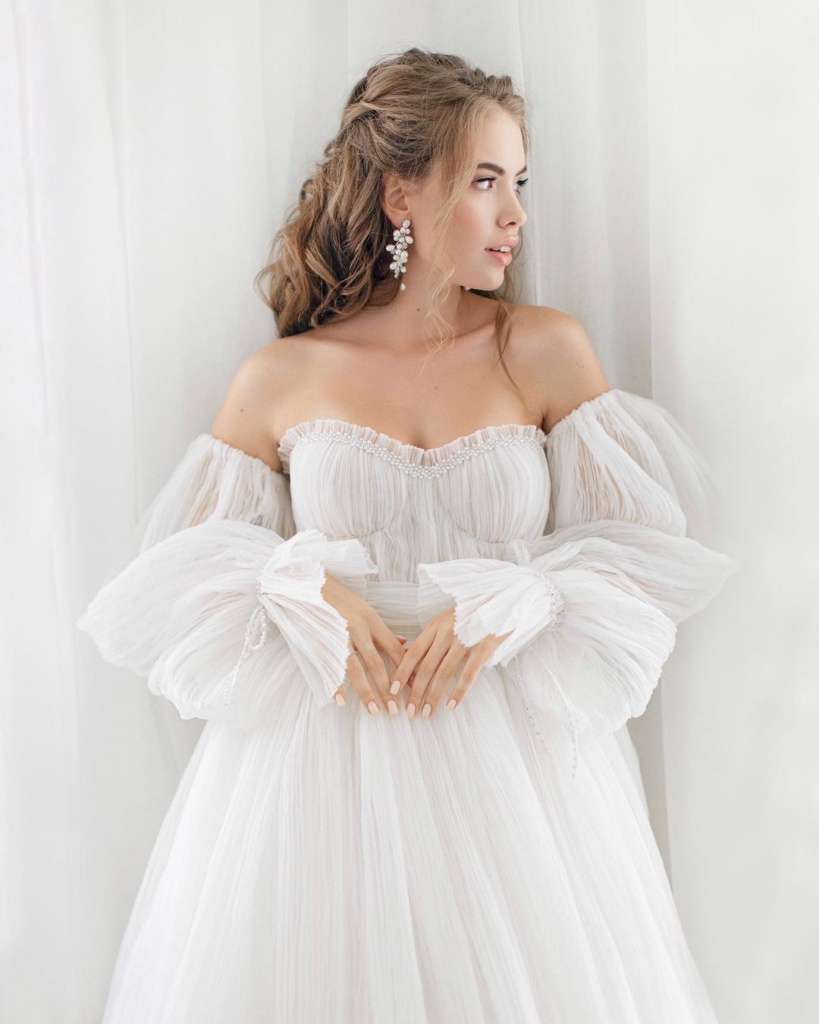 Photo by masha.golub
Wedding dresses with off-shoulder sleeves have gone from a new trend to a classic style in recent years. However, their newest variation is puff sleeves, which will be the main trend of 2022. A wedding dress with off-the-shoulder sleeves combines well not only with a voluminous skirt but also with a mermaid neckline that highlights your curves. Its beauty and charm are in the details. A delicate bridal bodice with a sweetheart neckline lends an elegant and flirtatious look to bare shoulders.
Different types of long, short, or three-quarter open shoulder sleeves perfectly suit any body shape, asthey stylize your back and shoulders. The bohemian balloon silhouette of sleeves will make your wedding dress more feminine and tender. It is worth mentioning that the puff sleeves may come as removable details of a wedding gown, making it easy to create two unique styles of the same outfit on your wedding day quite easily. Be sure this wedding dress is just for you!
Pants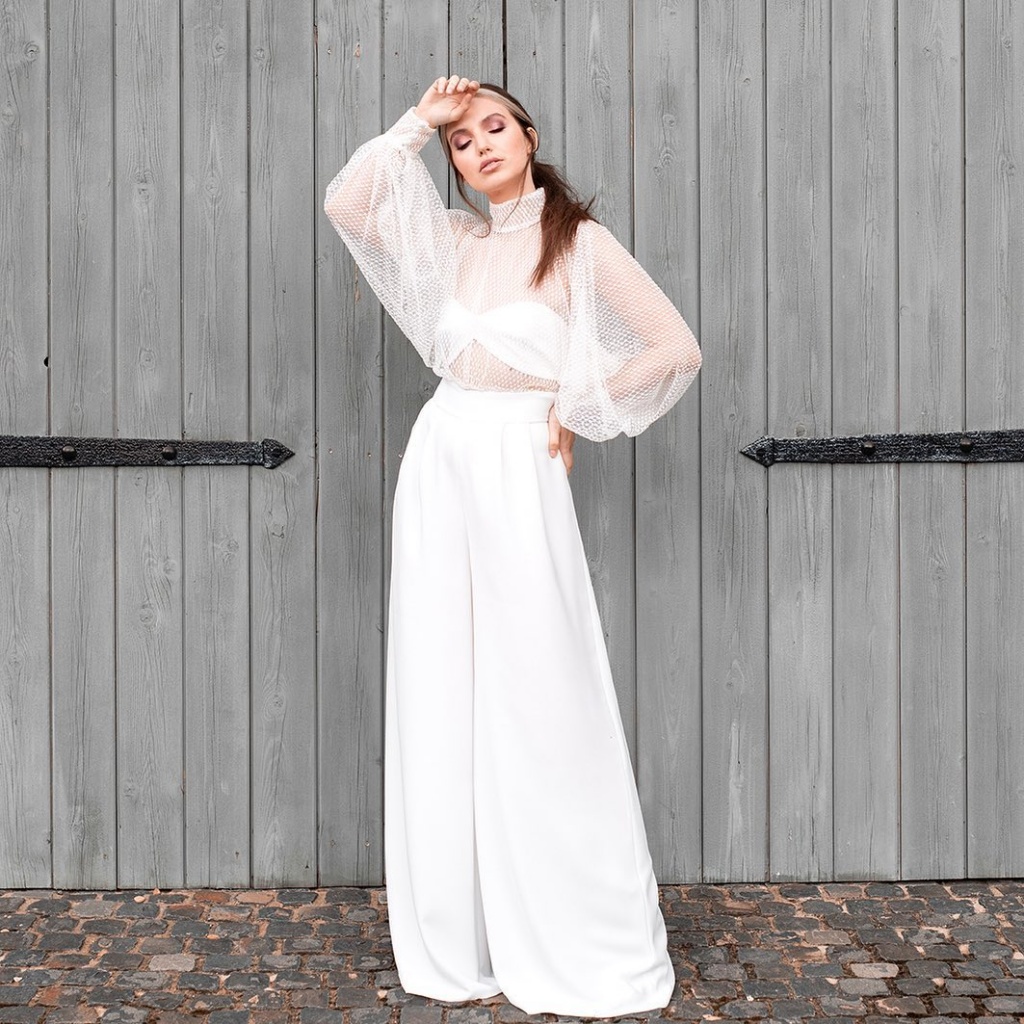 Photo by kayleighpope
We have always associated a bride with a classic long and white dress. However, now, it is possible to make a difference on a wedding day because more and more brides are choosing bridal pantsuits to say "I do". This unusual wedding look suits perfectly a woman with personality who looks for elegance and comfort while staying true to her style, even if it means putting aside the classic choice.
There are different types of wedding pantsuits and jumpsuits that can be worn with other clothes. You can create your own wedding outfit, combining pants with tops, blouses, coats, or jackets. Also, play with the volume, asymmetry and texture of your pants outfit to get the most extravagant wedding attire that takes all the attention to your fantastic body. Thus, you will definitely be able to showcase your unique fashion style.
Square necklines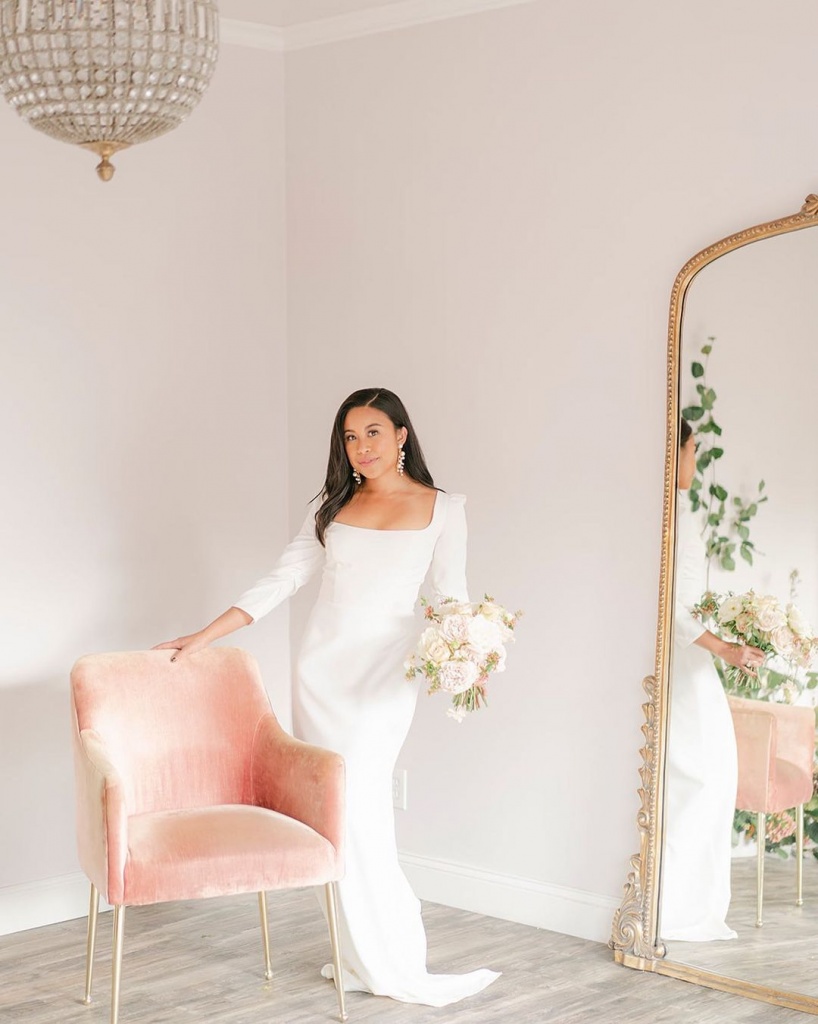 Photo by lilyputweddings
When you look at the minimalist fashion of the 1990s, which is now influencing the modern fashion world, you will see that this style is expressed in wedding dresses with a square neckline. This type of dress is a very delicate and sensual option that perfectly shapes both large and small breasts. In 2022, square neckline bridal dresses will come in different styles to satisfy every bride's taste. Empire, princess, A-line, mermaid, and ball gown wedding dresses look great with this modern cut.
The square neckline combines very well with a dress with or without sleeves, which makes it a good option in any season of the year. This neckline stands out the most when it comes with short, three-quarter, or long sleeves. Besides, the square neckline is suitable for any sleeve type such as cap, tulip, puff, mutton, and bell sleeves made from silk, lace, chiffon, or other fabric of your choice. In summer wedding dresses, the square neckline is formed using thick or thin straps. The square neckline is the best detail of a bridal dress that is not to be overlooked when choosing your wedding look.
High Slits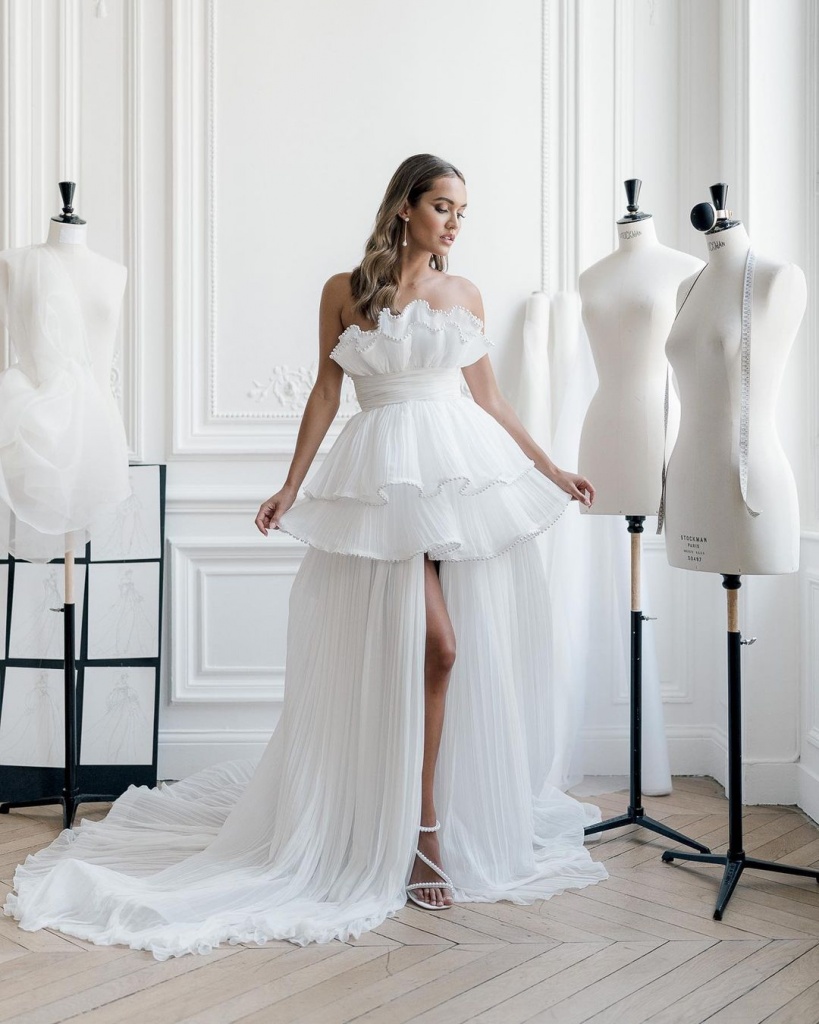 Photo by gregfinck
We all remember the spectacular appearance of Angelina Jolie in a black velvet dress with a provocative high slit on the Oscars red carpet in 2012. Ten years later, this trend came back in the wedding fashion of 2022.
A bridal dress with a high-slit looks more modest thanks to the light fabric texture and delicate embellishments. However, at the same time, it continues to be one of the most stylish and sexiest wedding dresses in the fashion world. What is more, it can become an original alternative to a short dress.
Everyone knows that high slits can convey a vintage charm that inevitably resembles classic cinema. When a bride wears a wedding dress with a high slit, she tries to express her personality and sensual feminine character. Besides, this element of allure gives a special touch of elegance to long dresses with flowing chiffon or tulle skirts. Let's choose a high-slit wedding dress that allows you to show off your legs at your wedding.
Slip Dresses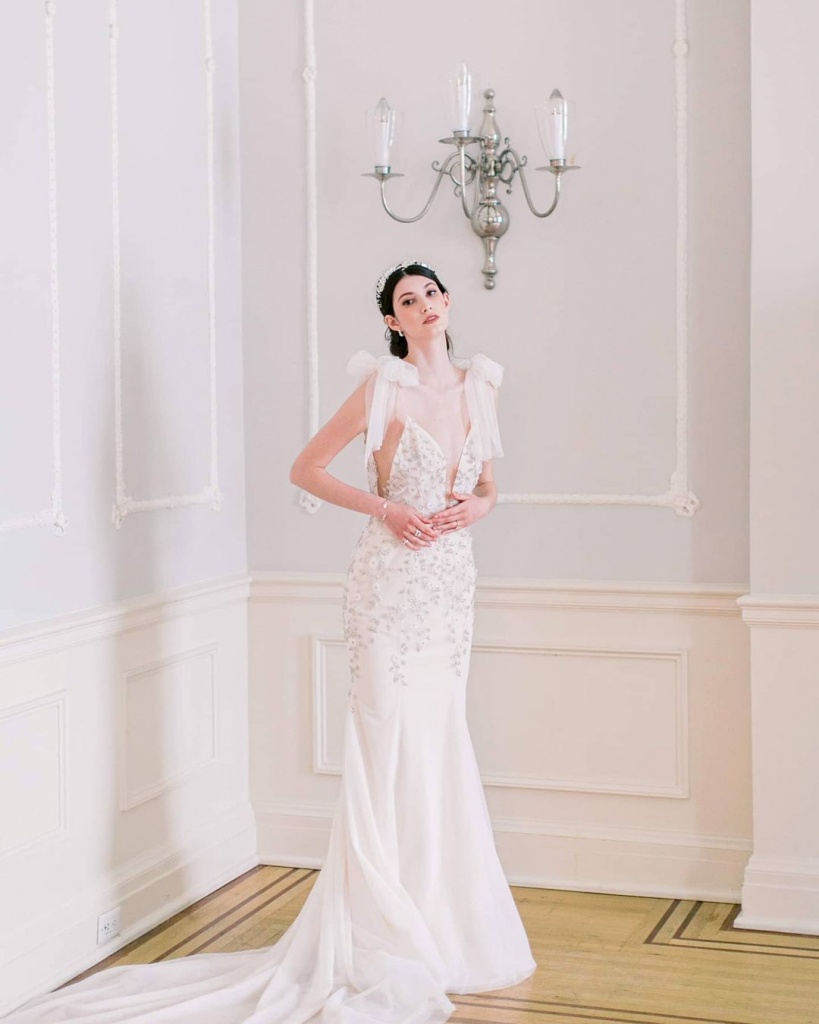 Photo by nadiahungphotography
There is nothing better than the discreet elegance of a slip dress for brides who prefer simplicity and grace. This sexy and sophisticated wedding dress brings tenderness and sensuality to the bride's look.
Today, a slip dress, which personifies the minimalism of the 90s, is experiencing a new renaissance in wedding fashion, as the trend on lingerie style makes this option more relevant in 2022. It represents a natural and feminine style suited for informal spring or summer weddings. Also, you can wear this dress as a second bridal outfit for the reception.
Wedding slip dresses are usually long, but you can also find midi ones. They are made of light fabrics with a shiny finish, such as satin or silk, that perfectly match with thin shoulder straps.
The simple cut and flowy texture of a slip dress will highlight all the curves and lines of your body. You will be fond of wearing this multipurpose wedding dress that makes you look beautiful and alluring.
Transitional Pieces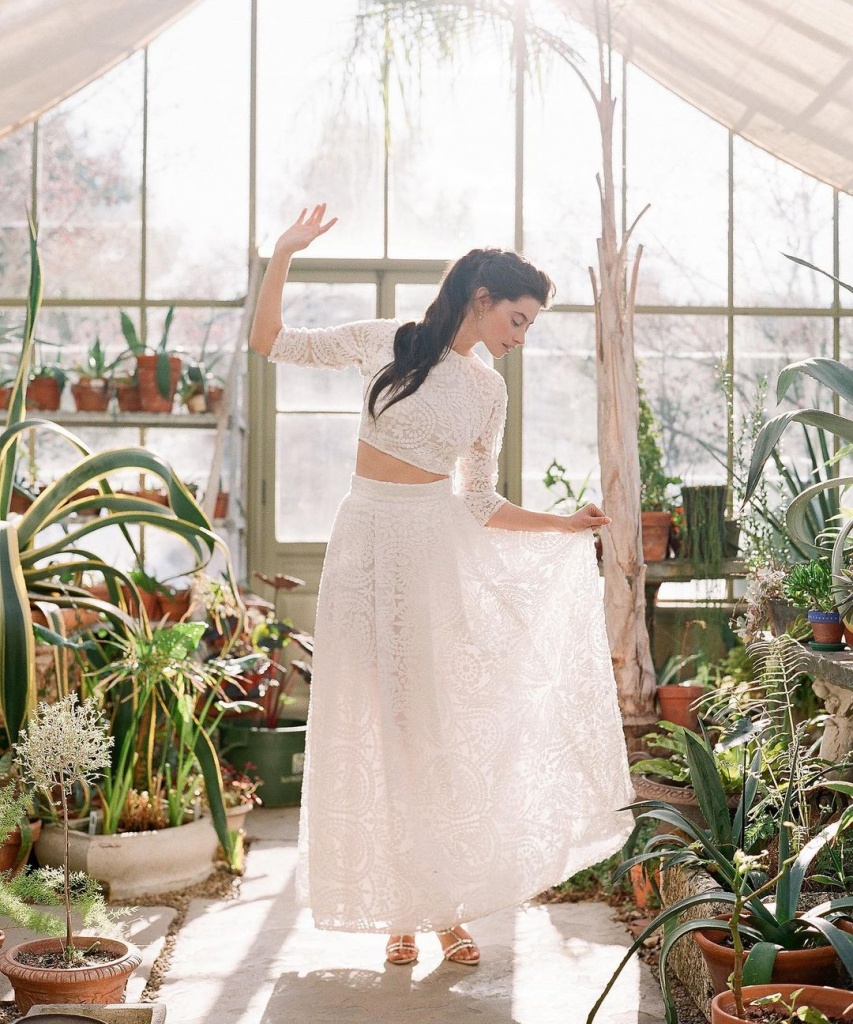 Photo by corbingurkin
Wedding fashion has changed a lot over the last few years, and the style of bridal dresses is not as it used to be. One of the hottest trends is a wedding dress with transitional pieces. Detachable elements of a bridal attire such as capes, skirts, tails, and sleeves help create an incredible and practical dress design.
Some brides already choose a wedding dress with transitional pieces to change their look at the reception without getting a second bridal outfit. They usually wear a crop top combined with a lace or tulle skirt for a light and fresh bridallook. But for those who prefer one-piece dresses, tails or capes will make a difference in your wedding attire. They are the undoubted favorites of the fashion collections 2022. These stylish elements can become a great alternative to a veil or train. With a transitional wedding dress, you will dare to follow a new fashion trend, which shows your style and femininity.