Top winter wedding photo ideas
Publication date:

02/21/2022

Updated:

02/06/2023
Winter is famous for its breathtaking snowy landscapes, which are ideal for organizing a magical winter wedding photoshoot. With the first snow, nature creates an atmosphere full of romance and holiday mood. However, low temperatures are a big challenge for newlyweds. To make everything perfect, you should know all the nuances of winter wedding photography that will help you successfully pose in the cold season. Here, you will be inspired by the best wedding photo ideas suggested by US wedding photographers for an unforgettable winter photoshoot experience.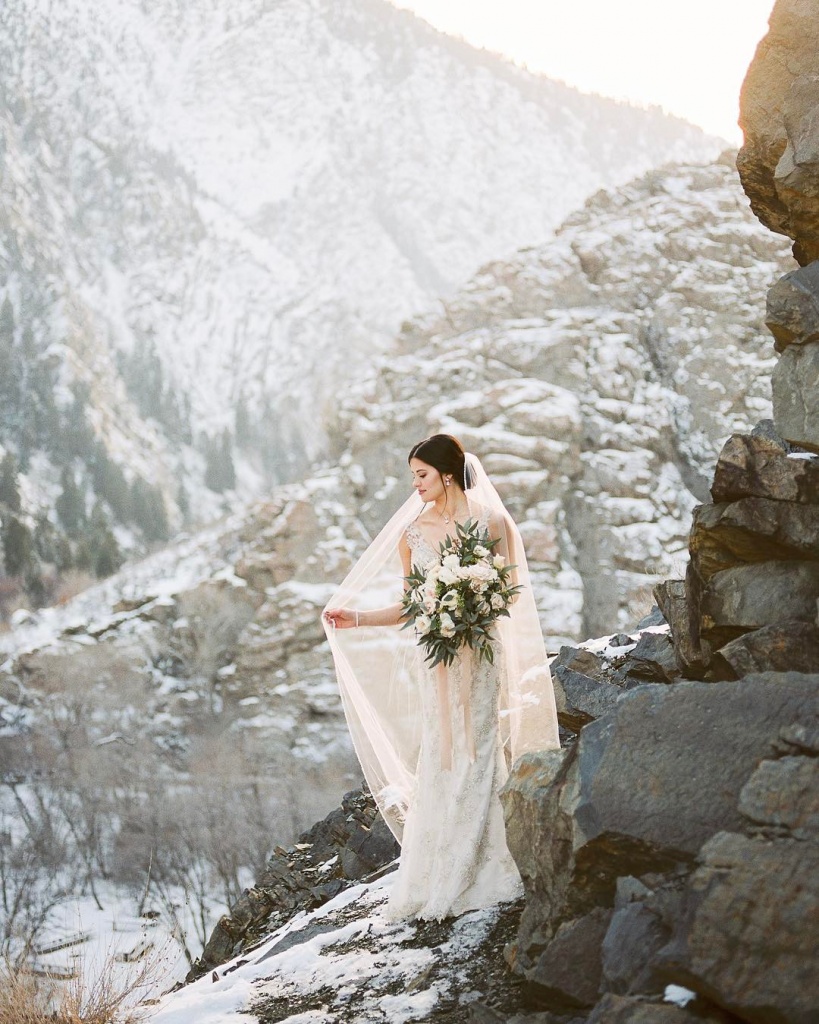 Photo by travisj_photo
Winter Wedding Photography
When you think about winter wedding photography, the first thing that comes to mind is the fascinating view of the snowy landscape. The winter season is an exceptionally charming time of the year and is ideal for wedding photography. For two loving hearts, there are no obstacles to having a wedding photoshoot in cold weather. On the contrary, the shiny fluffy snow, white landscapes, and a light blush on the cheeks of newlyweds will fit perfectly into the shot.
Preparing for winter wedding photography is not an easy task for a wedding couple. Therefore, it is better to immediately turn to a professional photographer, who will give advice and encouragement on how to move and act, also taking into account the location and lighting of the photoshoot. For inspiration, you can look at other winter wedding photos and discuss details with the photographer, or even collect the best winter wedding photos.
If you want your wedding photos to be successful, evoke a lot of positive emotions, and remain forever in your memory, first you need to explore the location of a winter photoshoot and snowy landscapes. Make a selection of places with the most breathtaking view, such as mountains, forests, lakes and rivers.
It is no secret that the winter period tends to be especially cold. When you take photos outside in winter, at some point you will feel that you get frozen. For this reason, your wedding outfit should include custom accessories that will keep you warm during the photoshoot. However, it is best to rent a cottage in a winter forest to take a break from shooting and drink hot coffee or chocolate near the fireplace. Be sure to trust the photographer to capture the best moments, and the magic of snow will be in your winter photos.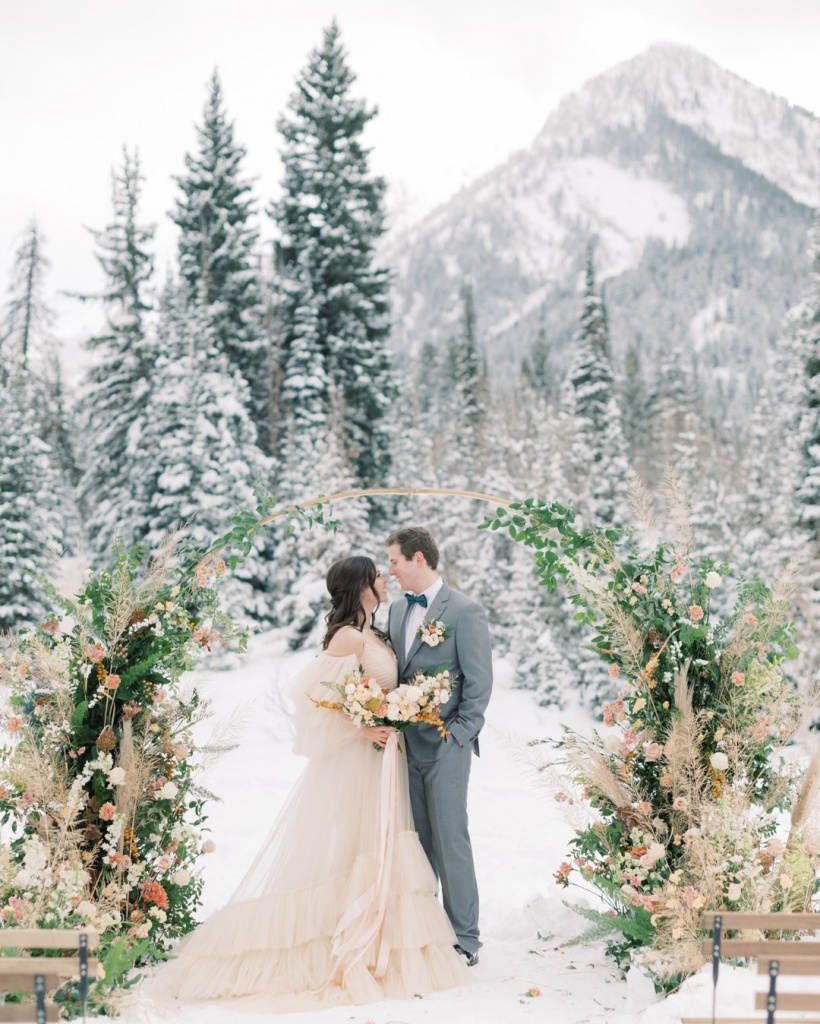 Photo by lovelylight_imagery
Wear custom accessories
For winter wedding photography, newlyweds need to wear proper custom accessories. Especially it concerns a bride, who wants to feel as charming as possible without freezing. A coat or fur shawl will perfectly complete her look and warm her on a winter day. In this wardrobe item, you will be elegant and stunning in all wedding photos. Instead of a veil, you can choose a white fur hat, in which you feel like the Snow Queen. Warm your hands with a stylish muff and finish your look with boots that match your wedding dress. As for grooms, they prefer men's winter accessories made of leather.
If you want to contrast with a white snow background, add more vividness with a winter hat scarf and a set of gloves. It will perfectly match both the bride's wedding dress and the groom's suit. The ornaments and bright colors of these accessories will create a unique joyful atmosphere for your winter wedding.
Try to play with your custom accessories and touch the edges of your hat, scarf or fur shawl. The photo composition will immediately change if you try to throw up a handful of snow. Remember, you can't do without a wide smile during a winter photoshoot.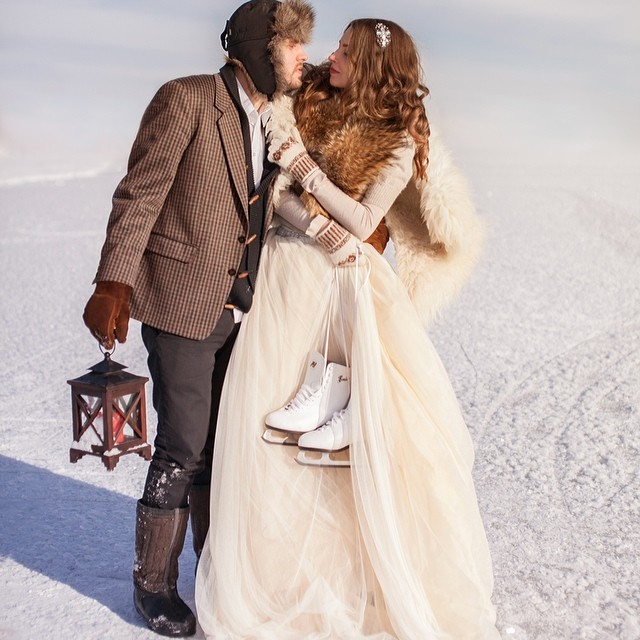 Photo by Masha Golub
A romantic walk through the forest
The forest is the most fantastic place for your wedding photography. In winter, surrounding trees and snowy trails create a fairy tale atmosphere for a romantic walk through the forest. If you get married at this time of the year, take advantage of the incredible snow-covered forest landscape.
To take beautiful winter wedding photos, a bride and groom can stroll hand in hand through the winter forest trails expressing the emotions of happiness and joy. Meanwhile, the photographer tries to capture the best natural photos of the couple walking towards or away from the camera. Don't be afraid to experiment with the movements. The bride can run a little forward, and the groom catches up with her. Apart from this, it is a beautiful scene when the newlyweds pose near winter trees, admiring branches bending under the weight of snow. Catch the moment of snowfall, as it will give your wedding photoshoot in the forest a magical look.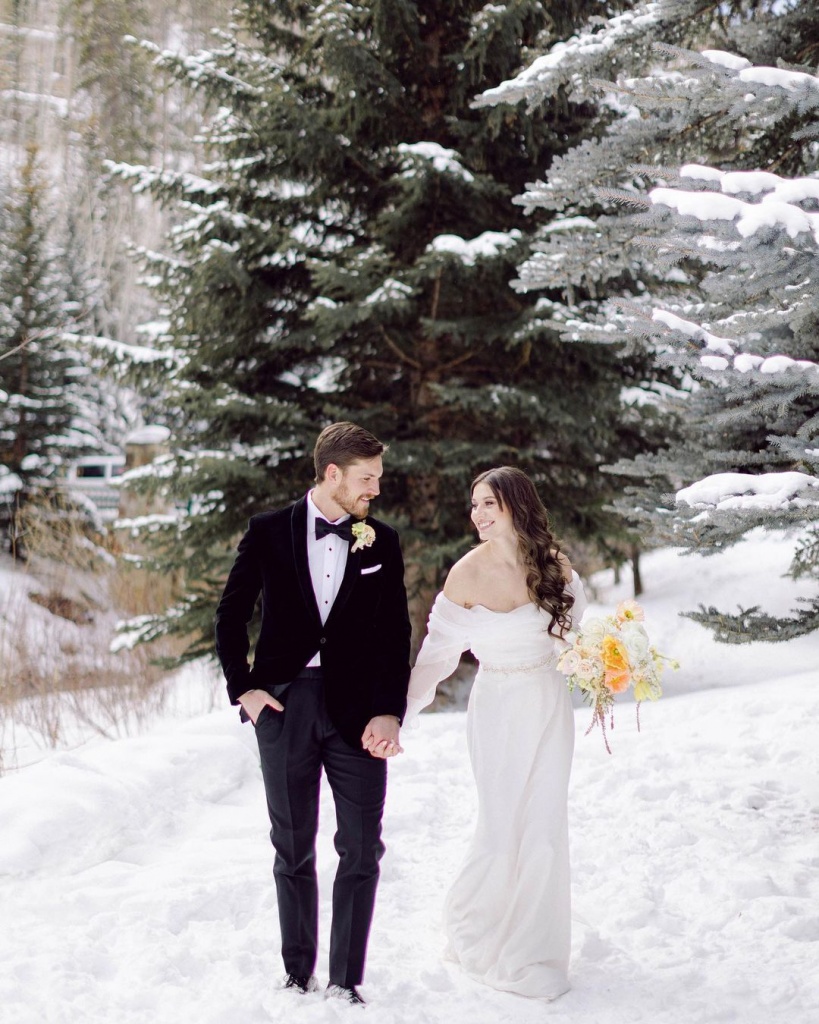 Photo by Hannah Quintana
Choose breathtaking landscapes for a photo
In the winter season, nature offers you the most breathtaking landscapes for your wedding photography. Snow-capped mountains, snowy forests, frozen lakes, and ice-covered rivers create epic and spectacular backgrounds for your photos. Let's get inspired by the best photo ideas in nature and dare to take the most exciting winter wedding photoshoot.
Starting with mountains, it is worth mentioning the best destinations of the USA for winter photography, such as Colorado Mountains, Glacier, Yellowstone and Yosemite National Parks. A married couple holding hands and standing against the backdrop of the mountains is an ideal photo that will forever remain in your memory. Another place for a winter wedding photo is the magical forest. You will be delighted to walk there and pose among dramatic wintry trees.
Finally, lakes and rivers are not inferior in their beauty, especially when they are covered with ice. Posing near a frozen lake or river will be a stunning and deeply intimate moment of your wedding photoshoot. The magic of wonderful landscapes will delight you and your wedding will be remembered as the most beautiful event in your life.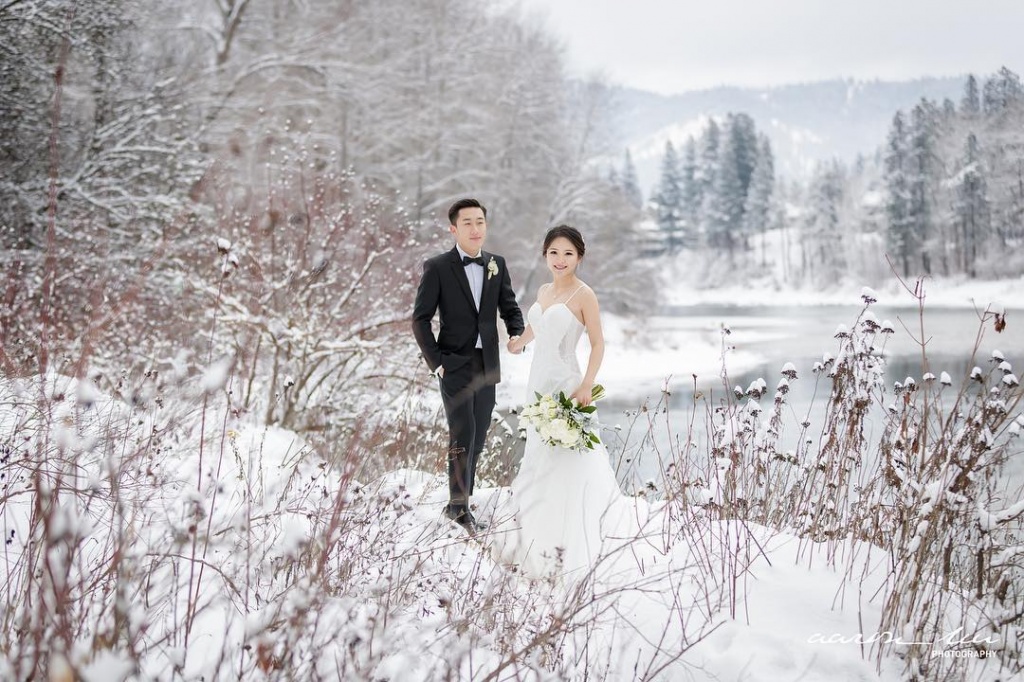 Photo by aaronliu.photography
Kisses under a snowstorm
Winter is a fairy time for a wedding photo shoot, as nature is the author of the most beautiful photography. Oh, how happy a loving couple will be if they get a present like a snowstorm on their wedding day. Flying crystal snowflakes create incredible scenery for romantic photos.
Newlyweds kissing under a snowstorm is the most touching moment of a wedding photoshoot. How much tenderness and love are in this kiss, aren't they? Certainly, the photographer manages to convey the infinity of mesmerizing feelings that cannot be described in words.
Not many of your friends can boast of having such a love-story wedding photoshoot. Undoubtedly, this winter photo will become a treasure in your wedding album and will remind you of this bright and joyful event for years to come.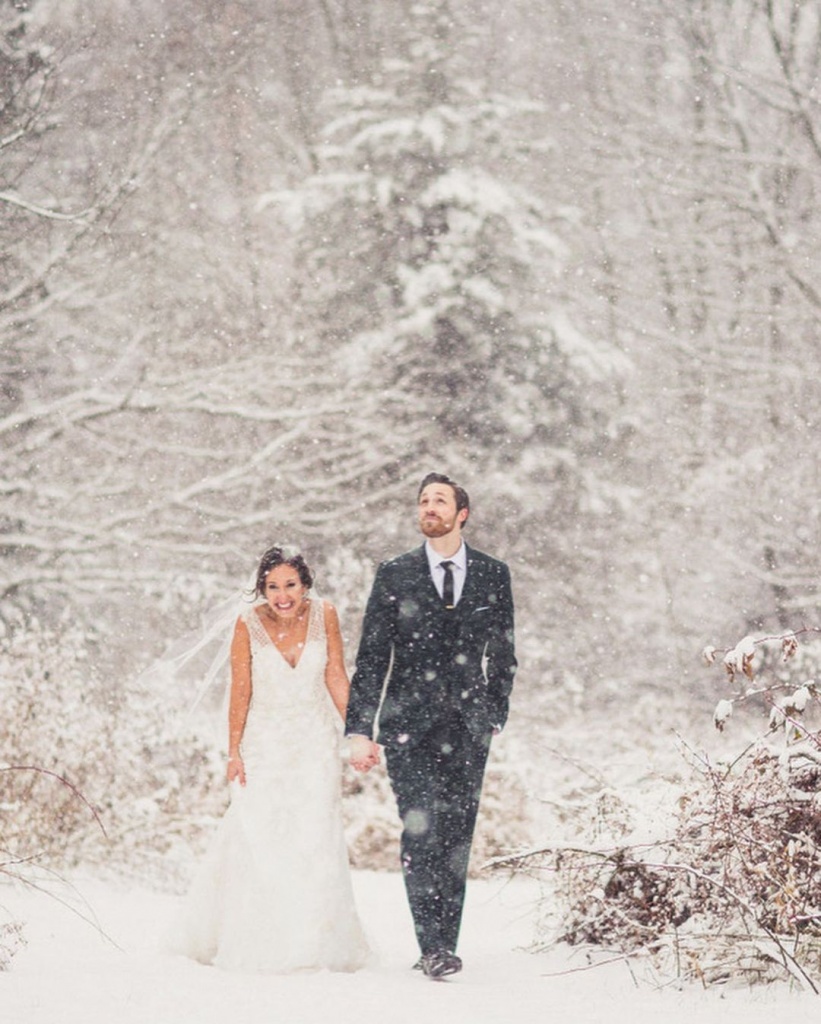 Photo by jaylimstudio
Photo with blanket
A blanket is a perfect item for your winter wedding photography. It will not only warm you up in the coldest time of the year, but also create a cozy ambiance and highlight your wedding photos.
The easiest photography pose is to wrap yourself in a warm blanket. Newlyweds can do it both in pairs and one by one. Besides, it will look very romantic and sensual if the groom wraps the bride in a blanket and embraces her, showing his love and affection.
To make the shot more interesting, spread a blanket and sit on it. After that, take different poses using extra items to add a winter mood to your wedding photos. Your hands in knitted mittens can hold cups of hot chocolate or sparklers while you are sitting together and enjoying a special winter moment. Obviously, this warm thing will be very useful for a winter photoshoot.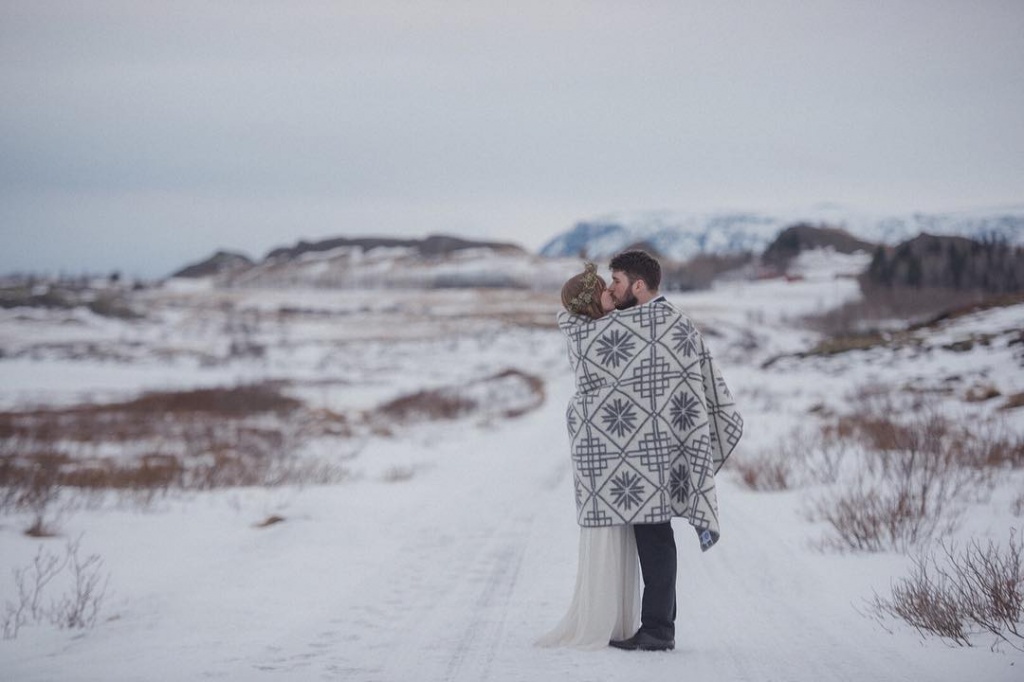 Photo by Rebecca Douglas Photography
The mistletoe scene
No less interesting is the scene with mistletoe branches. It has long been mentioned in songs, literary works, and films. According to tradition, it symbolizes eternal love. In wedding photography, green leaves and shiny berries contrast perfectly with the white snow and bridal dress.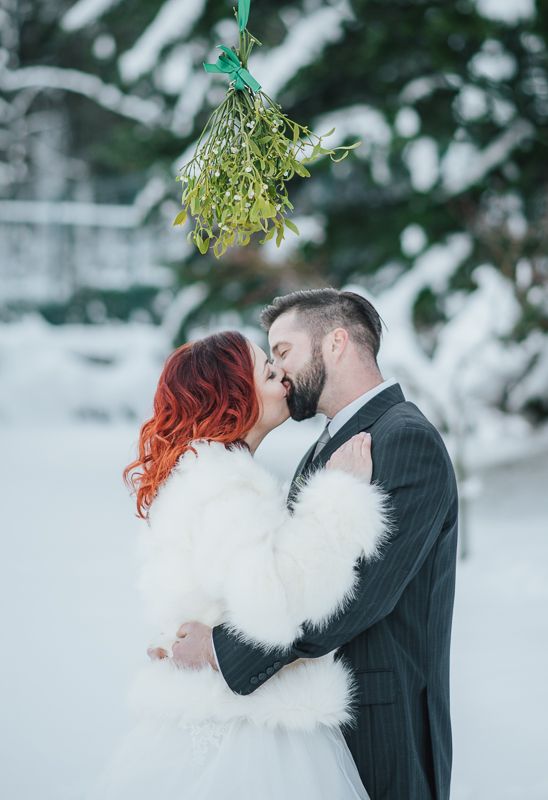 Photo by Iva Kjaer Photography
The pose of a bride and groom kissing under this amazing plant, surrounded by many myths and legends, shows that two loving hearts are united to be in love forever and never fall apart, as the leaves and berries of mistletoe that only grow together. This unsurpassed moment will be captured in your winter wedding photo to predict a long and happy marriage.