Trending wedding hairstyles for 2022
For all brides, the wedding hairstyle plays no less important role than the wedding dress itself. It should complement and finish the entire dreamy bridal look. As 2022 is getting closer, the new wedding hair trends are going to appear soon. Choosing a trending wedding hairstyle is not an easy task for brides. They need to get hair inspiration to know what hairstyle suits them best and matches their style and personality.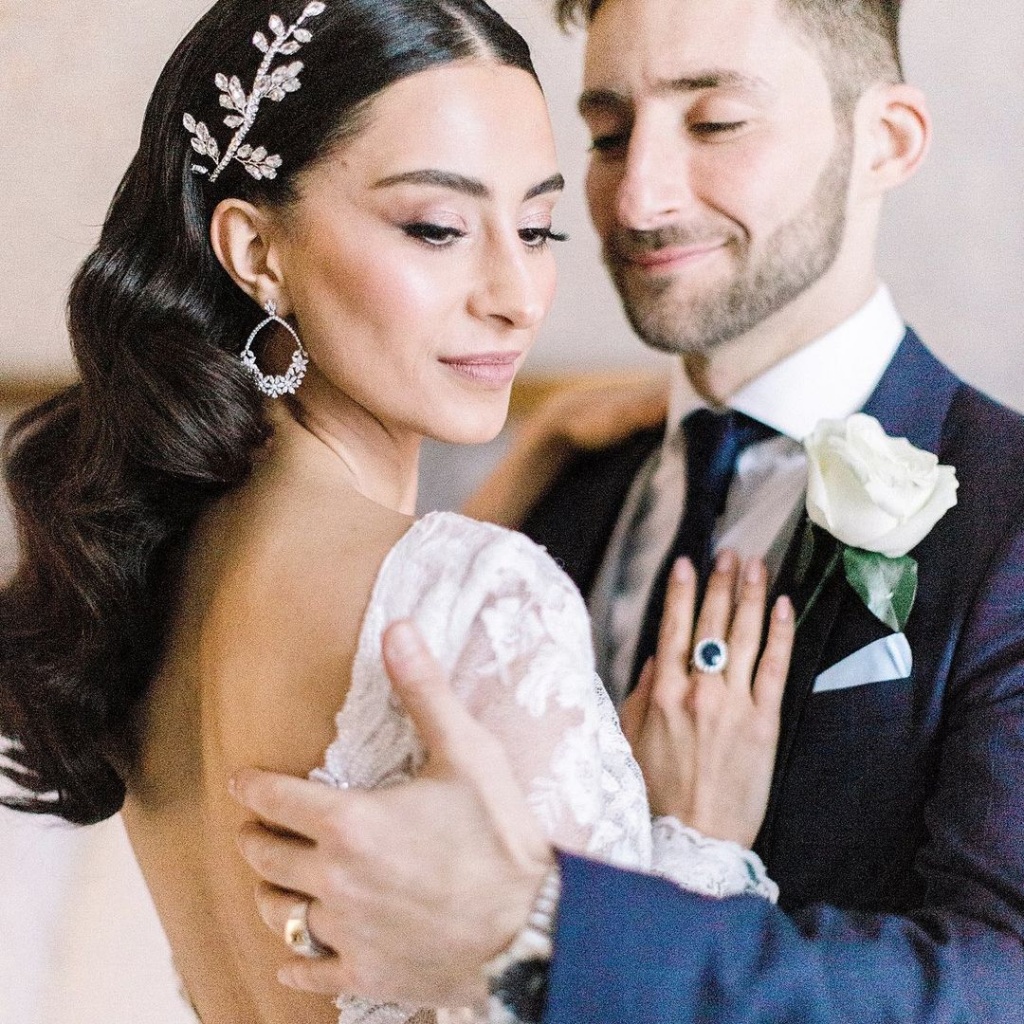 Photo by jacob_and_pauline
According to what we saw in the last fashion weeks, everything seems to point out that details of the 60s, 2000s, and even previous centuries will dominate in wedding hairstyles. If you are a fan of romantic waves, elegant updos, and glossy hair, the fashion of the coming year will fascinate you! Here, you can find the wedding hairstyle trends 2022 from our updated collection that will make you look amazing on your special day.
Trendy Ways To Wear Your Hair Down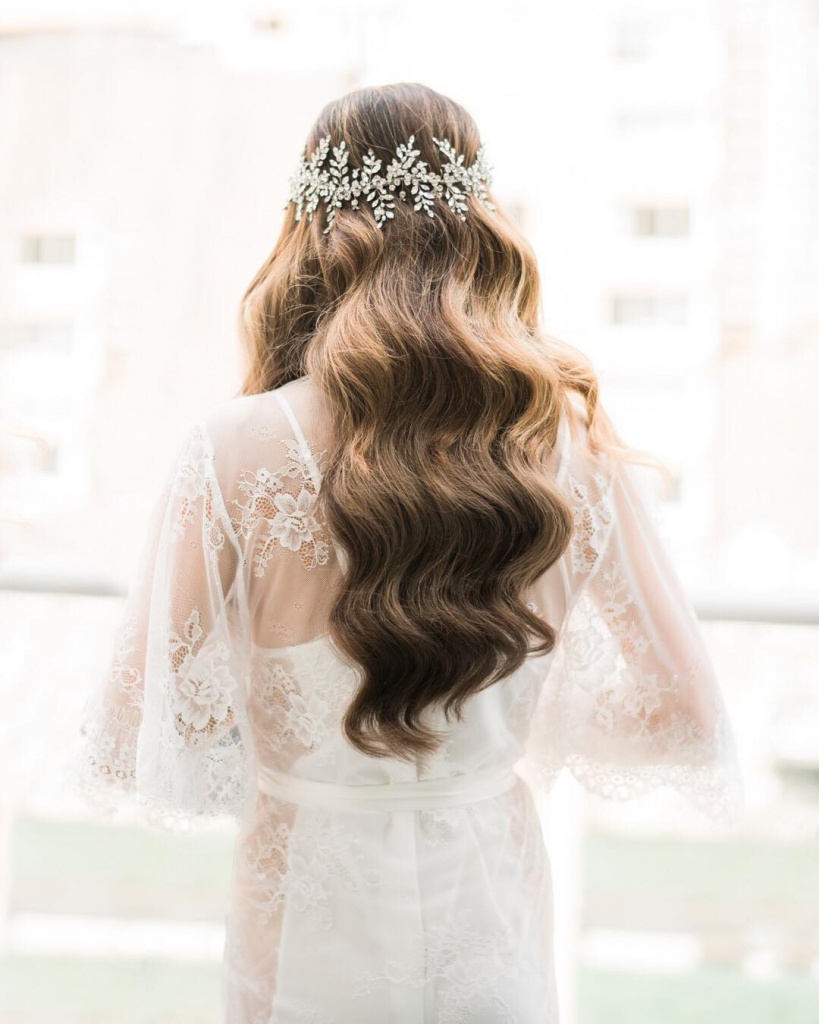 Photo by jaylimstudio
Wedding hairstyles trends 2022 offer nothing but beauty and elegance for your bridal look. Bridal hair down will become the most fashionable next year. Ultra-smooth, shiny and long hair comes back from the early 2000s to take a leading place in the world of fashion. Most wedding hairstyles are similar to your everyday ones, but they catch the eye with a special charm. It is worth mentioning that a wedding hairstylist should professionally and gently accentuate the beautiful features of the bride, without disturbing natural harmony. Having added a stylish accessory to the hair, a bride will look more stunning and elegant, wherein there will be no pomposity and ostentation.
Never before has the simplicity been as attractive as in bridal hair 2022. Besides, loose curls are especially magical this year. They create gorgeous and voluminous wedding hairstyles that suit different lengths of hair. Be sure that next year, you will be an unrivaled bride. All those wedding hair trends say that nothing can surpass your natural beauty!
Trendy 2022 Wedding Accessories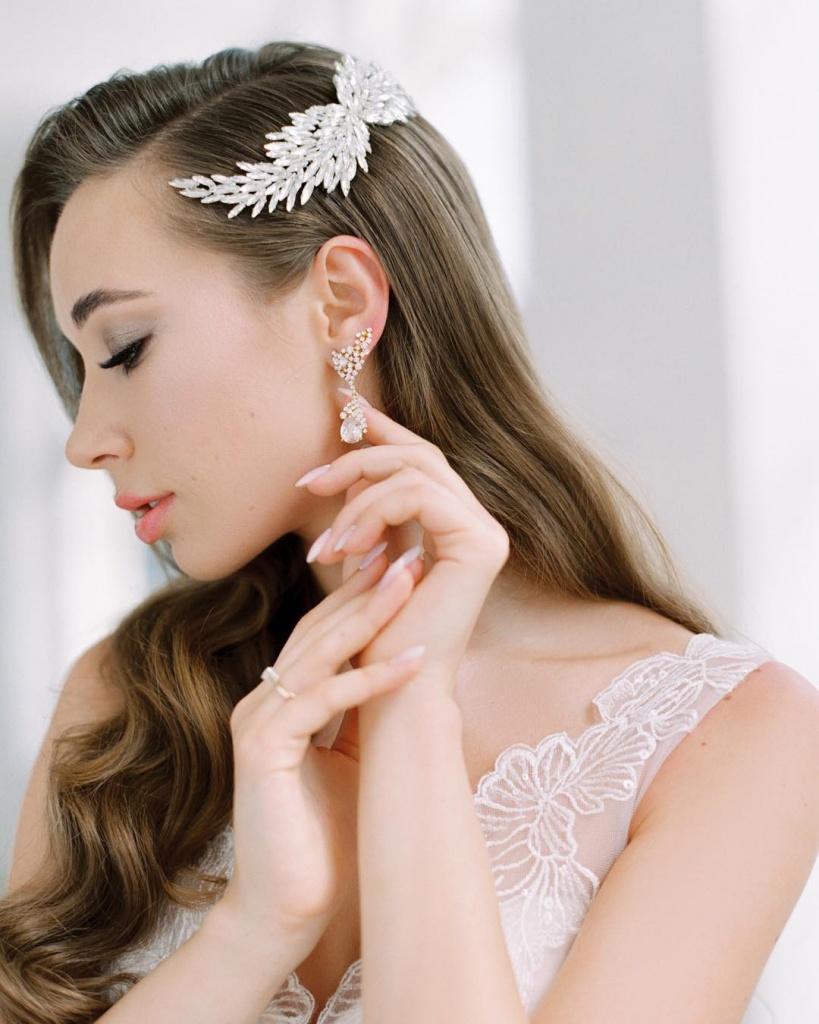 Photo by juliakaptelova_photography
The success of wedding hair accessories is due to their timelessness and style that transcends the ages. Every bride desires to highlight her personality with a pearl headband, a bridal tiara, a rhinestone comb and сrystal hairpins.
Without a doubt, the most beautiful wedding accessory is a bridal tiara. It creates a glamorous look and makes the bride feel like a queen. A crystal tiara perfectly adorns long hair in a simple but elegant style. However, a bridal halo with stones, pearls or flowers will be also popular in 2022. It can be worn with a loose hairstyle, a ponytail, or a textured updo and is suitable both for short and long hair.
A headband is an ideal element for romantic brides, who want to add a subtle touch to their hair. It goes well with dresses of classic silhouettes and minimalist hairstyles. For those who want a vintage style, there are flapper headbands with feathers and crystals. Moreover, boho style lovers might prefer hair pieces with flowers and green leaves to add freshness and originality to their look. Don't forget about gemstone hairpins and rhinestone combs. They look great on all types of hair, especially on curly one.
As for big accessories, they are at the peak of their popularity. In this season, wedding hairstyles with a bow in the hair will be very fashionable. They are romantic and give youth to the bride. It can be a hairpin with a big bow or a long ribbon tied up in a bow. When choosing hair accessories, make sure that their color corresponds to the style of your wedding dress.
Textured Updos For Brides With Thin Hair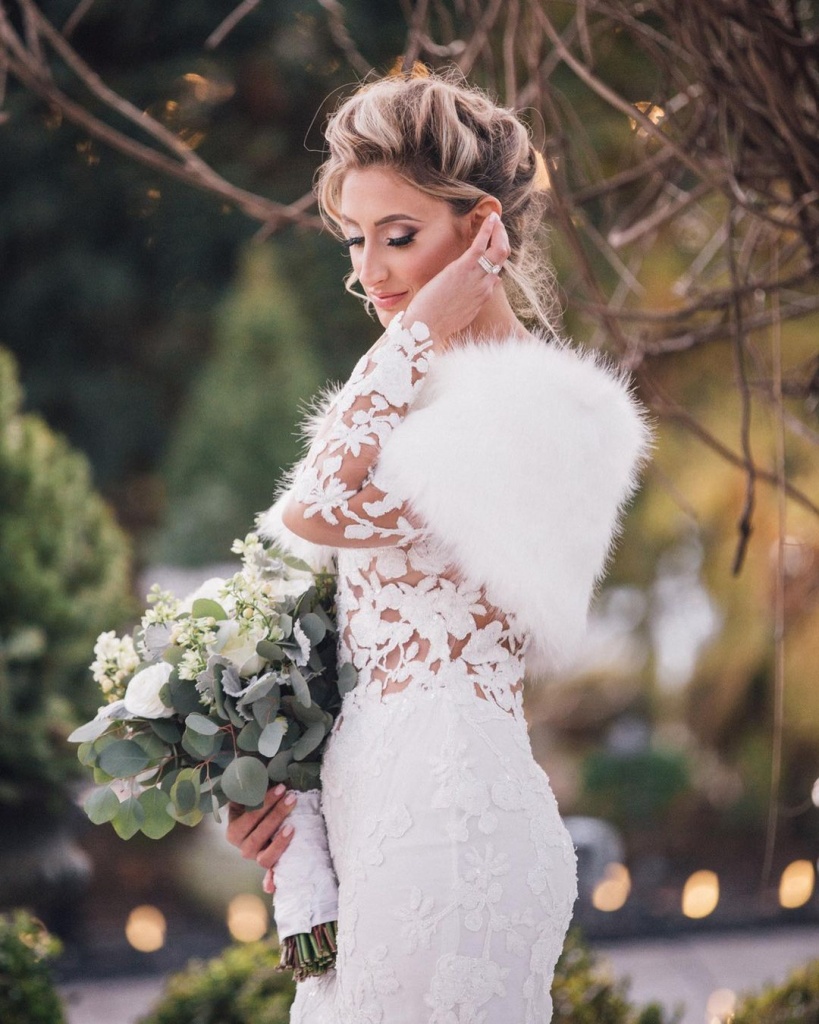 Photo by jaylimstudio
Textured wedding updos will continue to be the most popular hairstyle among brides with thin hair in 2022. They suit perfectly for any style of the wedding dress and can be done both on long and short hair length. Most importantly, textured updos give your wedding hairstyle more volume and make you look natural and elegant. Besides, they go well with a veil, jewelry and hair accessories.
With a texturizing volume spray, you will get an airy hair texture that will create the illusion of voluminous hair. If you worry that your hair is not long and thick, many types of hair extensions will help you look radiant on your wedding day.
Without a doubt, this textured hairstyle with lightly twisted hair strands creates a sophisticated wedding updo that will never go out of fashion because of its magical charm and natural simplicity.
Spectacular Wedding Ponytail Ideas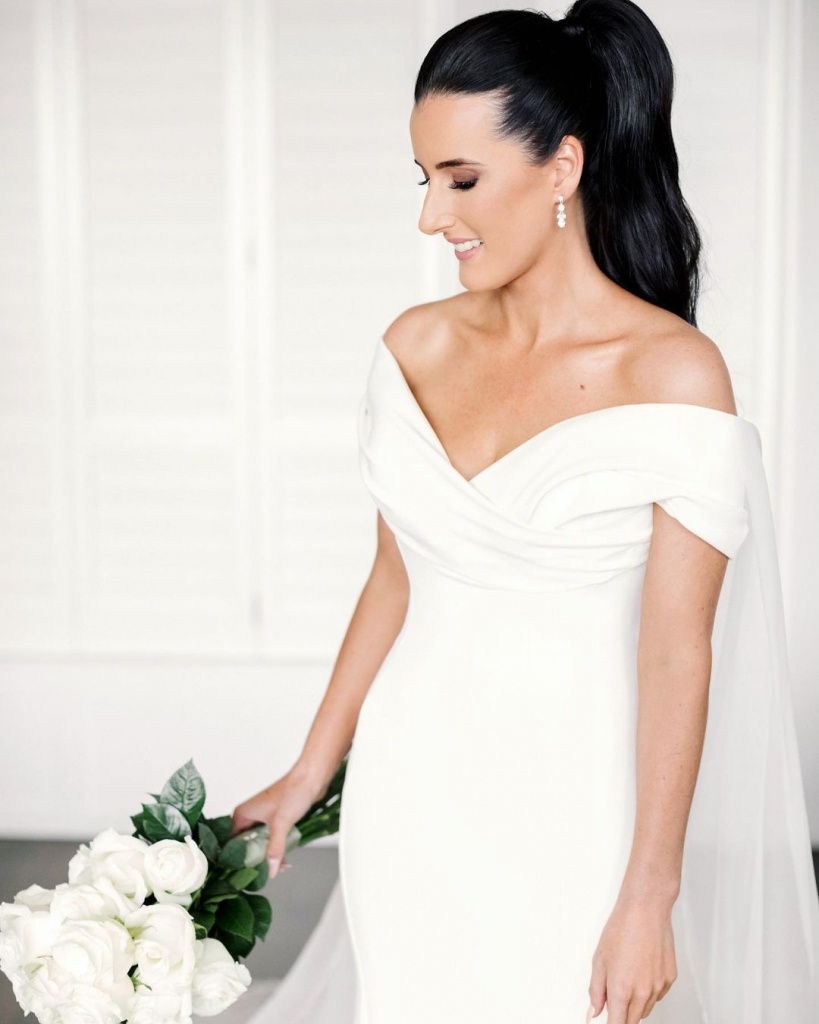 Photo by andrewbayda_wed
There is no simpler wedding hairstyle than a ponytail. This long-lasting hair trend will continue to be in 2022. You can find sleek, braided, and voluminous options for any length of hair.
Most brides prefer a low ponytail with volume at the crown. This hairstyle will elegantly complete a wedding look, especially when it is adorned with hair jewelry, ribbons or bows. With the centerpiece, you will also accentuate the delicate style that lace wedding dresses and illusion necklines always create.
Another romantic option is a wavy side ponytail, which will give a flirty and bohemian touch to your style. By wearing a thick braid on your side, you will bring sophistication and tenderness to a bridal ponytail.
A high ponytail is a perfect wedding hairstyle for those with a round face as it visually makes the face look longer and thinner. Remember, the higher you wear a ponytail, the more it will elongate your face. If you want to add glamor to your hairstyle, a tiara or a brooch with rhinestones can be the accessory you are looking for. Women with straight hair will get an urban ponytail which will also look very classic.
Modern Hairstyles With Loose Curls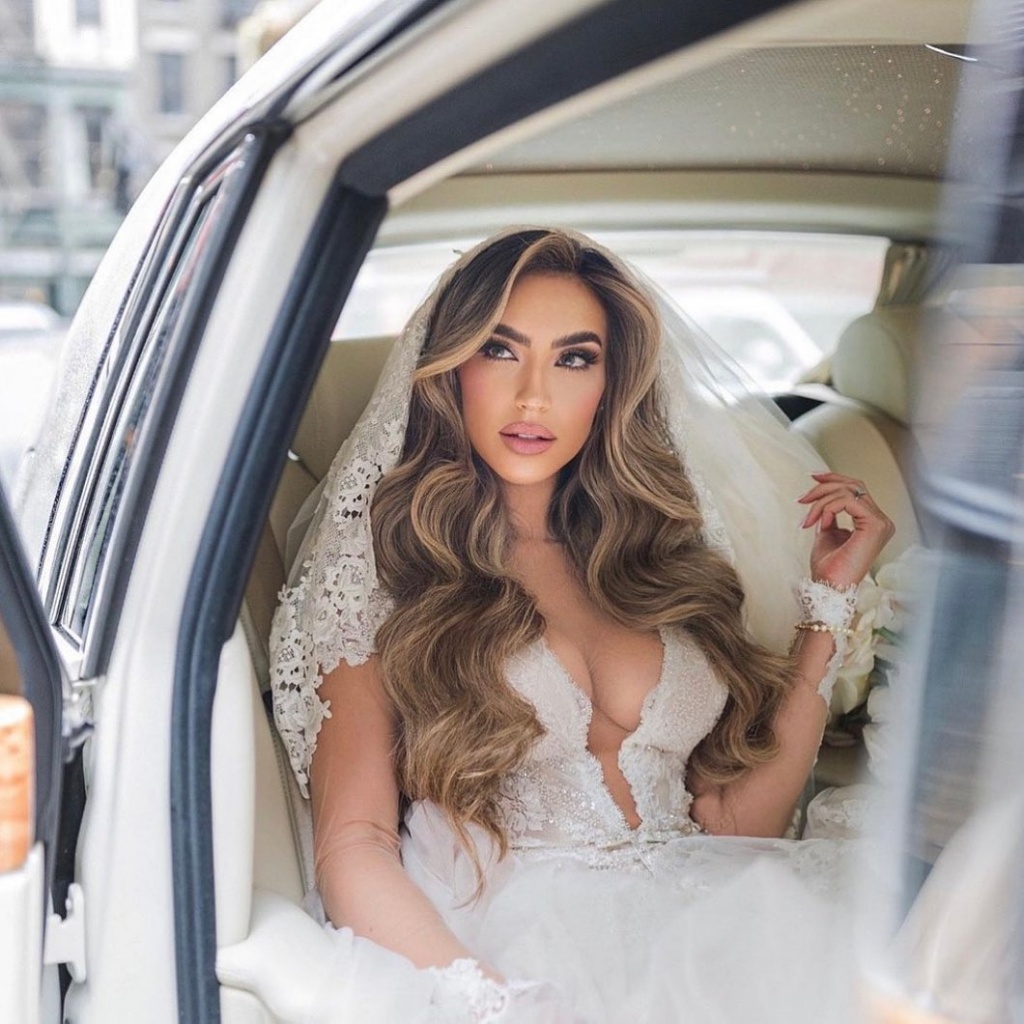 Photo by jaylimstudio
Loose curls have always adorned the wedding look of any bride. Now, they are one of the most trending wedding hairstyles of the next year. It is not surprising because hairstyles with curls look incredibly solemn, making the bride's style more sensual and charming.
With a wide variety of options, you can show off your loose hair by choosing old Hollywood curls, loose beach waves, or big voluminous curls. These hairstyles are full of sophistication and elegance since wedding hair stylists have mastered to model the most unusual and sophisticated curly hairstyles for a wedding day. Hair accessories are perfectly combined with glamorous, retro-inspired or soft waves to get a chic hairstyle. One thing is true that well-textured curls add some volume to your hair like nothing else. You will definitely look like a fabulous and romantic bride.
Airy And Loose Natural Bridal Hairstyles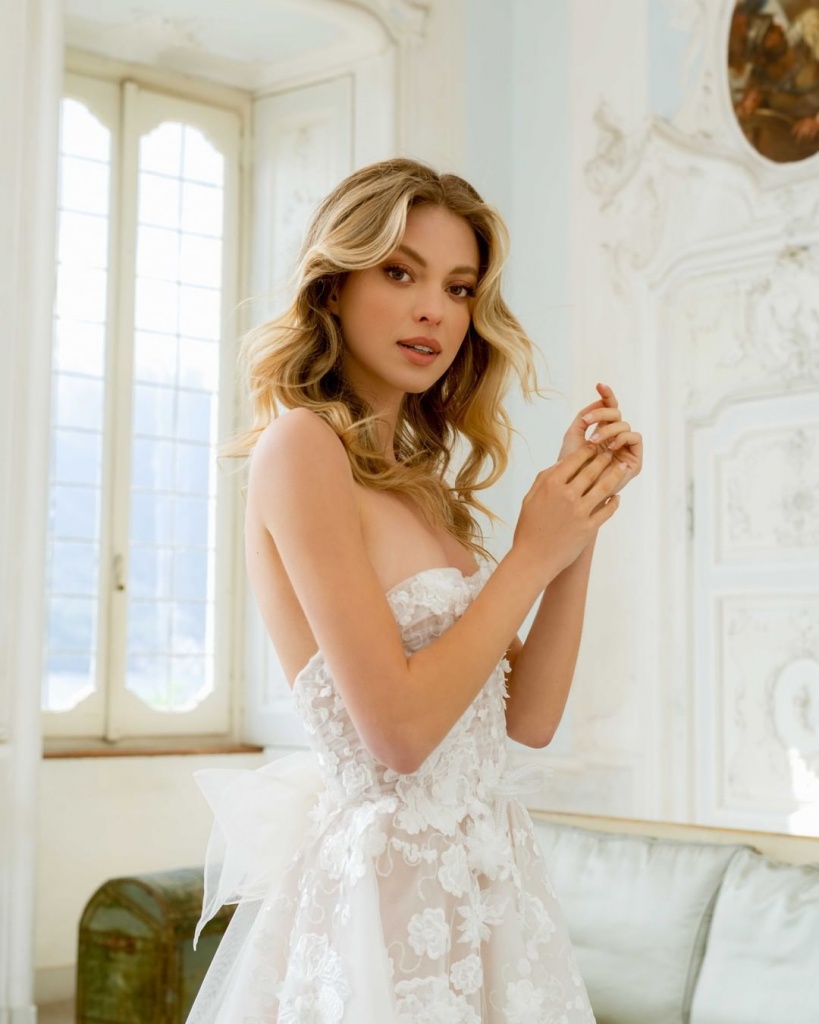 Photo by bottega53
Nowadays, it is increasingly popular among brides to wear loose hairstyles for their wedding day, notwithstanding that only a few years ago, this option was impossible for any holiday. Airy updos, messy braids, loose curls perfectly suit free-spirited brides, who love rustic or boho style. This type of hairstyle can be easily made, and you will look natural and romantic in your wedding hairdo.
Although most of the brides, who choose airy hairstyles usually boast long hair, they are also preferred by those whose haircut is short. In this case, the wavy bob hairstyle with a wedding accessory is an ideal choice for brides with short hair. This effortless hairstyle will transform the bride's haircut into gorgeous and chic waves.
When a bride does not want to wear the hair completely loose because it is not very comfortable for her, as well as she is not in favor of fully tied up hair, a half updo with waves will become a great alternative. It will create volume at the crown and enhance the youth of a bride giving her wedding look a soft touch of bohemian style. In addition, this hairstyle will last all day.